Spinach and Blue Cheese Burgers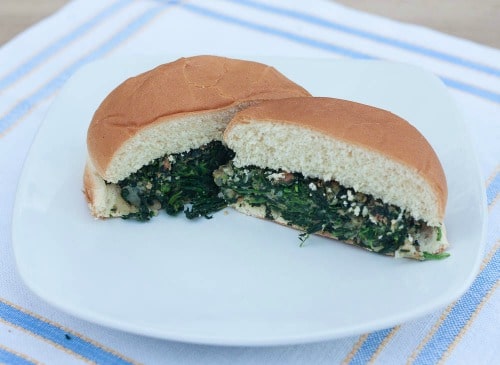 2 (10 oz) packages frozen chopped spinach, thawed
1 (4 oz) package crumbled blue cheese
1 cup Italian-seasoned bread crumbs
1 sweet onion, diced
4 garlic cloves, minced
1 large egg, lightly beaten
½ to 1 tsp salt
1 tsp pepper
6 buns, toasted if desired
Drain spinach well, pressing between layers of paper towels.
Combine spinach, cheese, bread crumbs, onion, garlic, egg, salt, and pepper.
Shape into six patties.
Cool patties in 1 T. oil heated in a large nonstick skillet over medium heat 5 minutes per side or grill 5 minutes per side.
Serve on buns plain or with spicy mustard.
Recipe by
Sweet Pea
at https://www.virginiasweetpea.com/spinach-blue-cheese-burgers/