A DIY 2×4 Shelving Unit helped to solve the organization problem in our basement. This 2×4 shelving is easy to build and very sturdy.
With the new year comes the urge to purge and organize. This month I've been working on organizing my side of our basement and since I have so much stuff that I'm not willing to part with, shelves were needed to hold my treasures. A DIY 2×4 Shelving Unit was just what was needed to help in my organization quest.
It's not just me that has the organizing bug this month, so do my Power Tool Challenge Team gals. You'll find links to organizing projects that my friends created at the end of this post. I can't wait to see what my friends made for this month's organizing theme!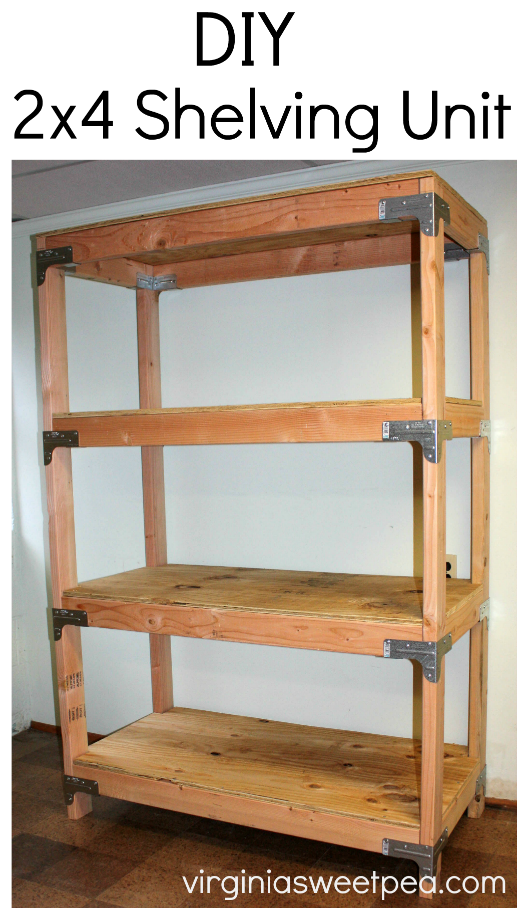 The picture shows one of the DIY 2×4 shelves that I built. I actually built two because I knew that one wasn't enough for the number of treasures that I needed to store.
How to Make 2×4 Shelves
It took just two afternoons of work to complete two 2×4 shelving units and the storage that they supply is wonderful. I like that I can move them around and if I ever needed to disassemble them, all that I would have to do is take out the screws.
Let me show you how easy it is to make these 2×4 Shelves.
Materials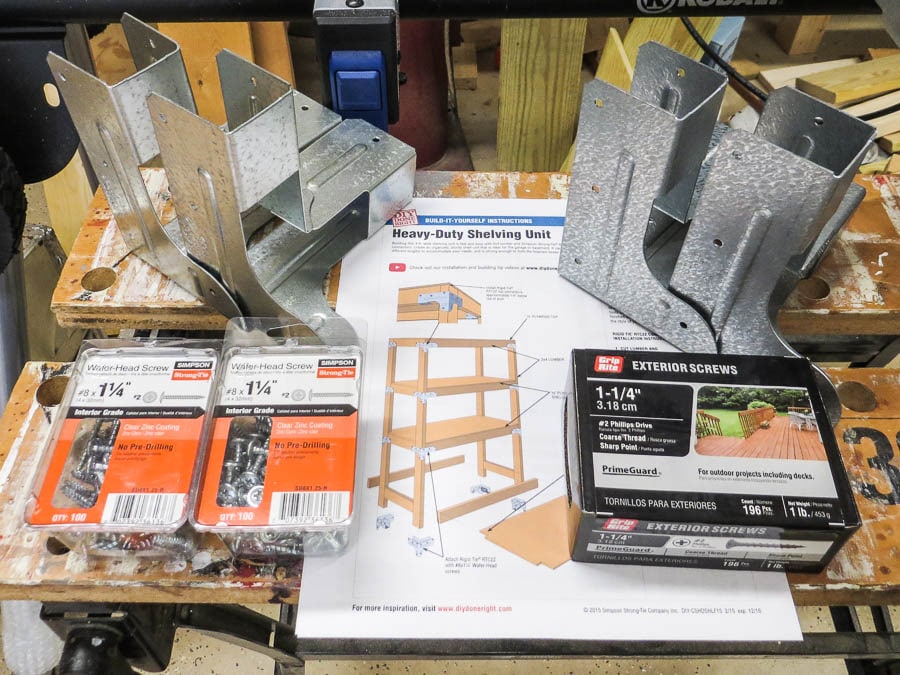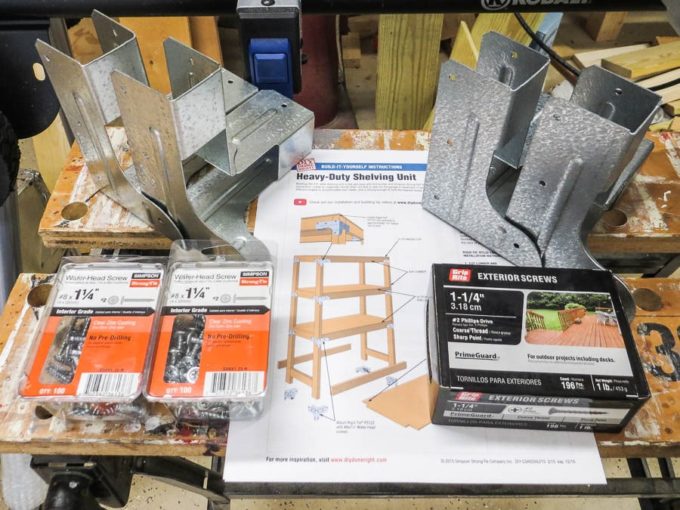 Procedure
1. The Plans
These are the 2×4 shelving plans that I used to make my shelving units. In my area, Simpson Strong Tie products are only available at Home Depot, so that's where all of the materials for this project were purchased.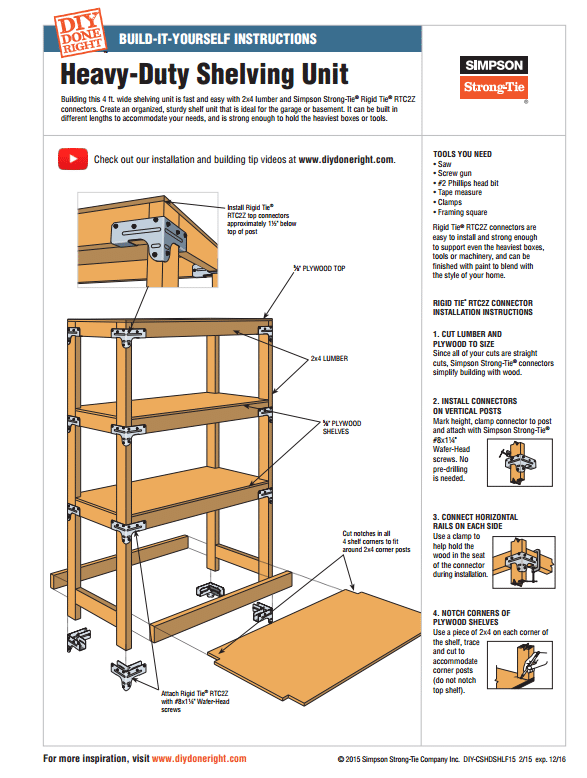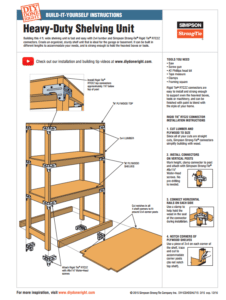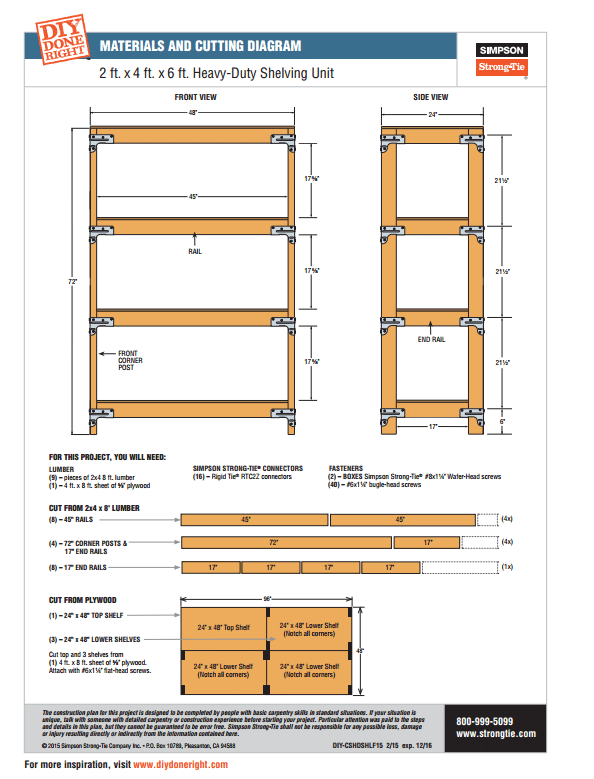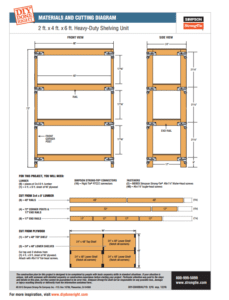 Read the 2×4 shelving plans before you start your project, gather your supplies, then get busy!
2. Cut the Plywood for the Shelves
The shelves were cut first because the sheets were large and it was easier to cut them on the trailer and then bring the pieces into the house.
Remember that I made two diy 2×4 shelves, so I needed two sheets of plywood. Each sheet of plywood was cut to 24" x 48" using a circular saw.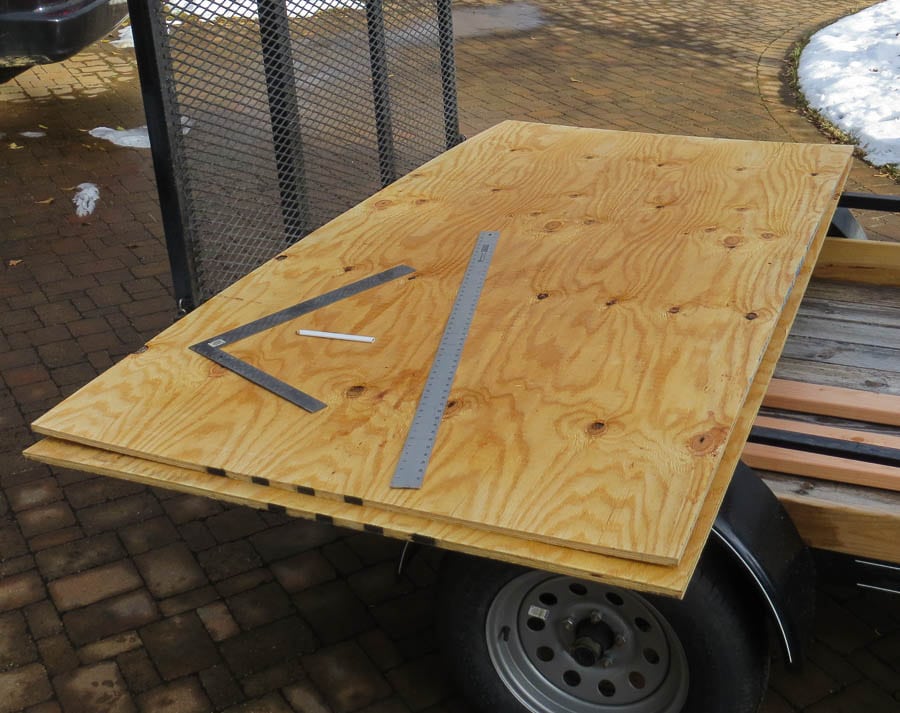 Shown here are four shelves. I cut four more since I made two shelving units.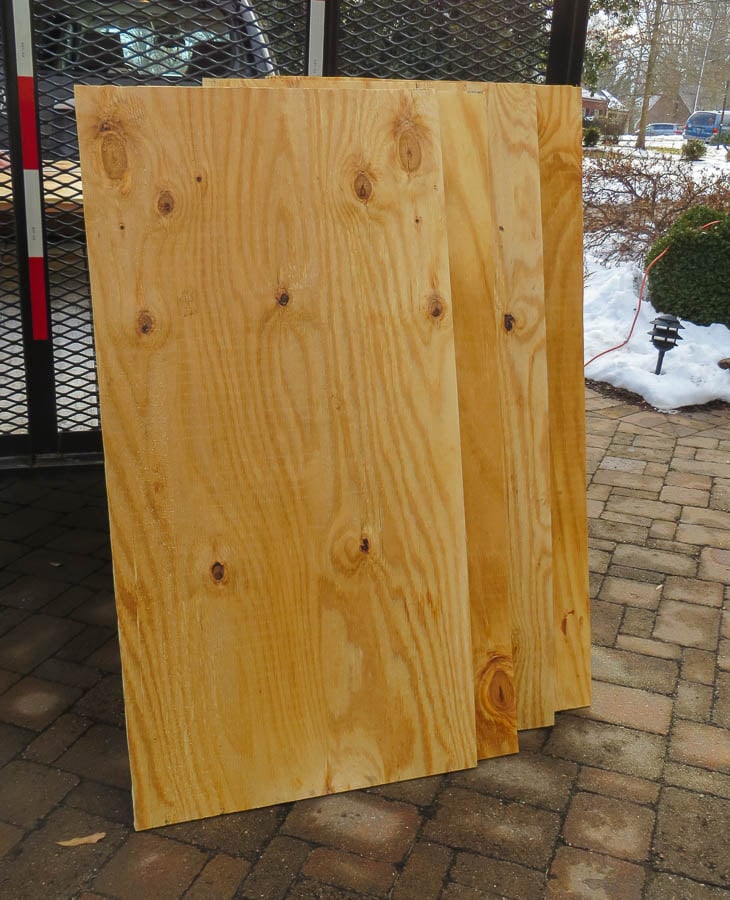 3. Notch the Corners of the Plywood Shelves
Trace around a scrap piece of 2×4 on each corner of three of the shelves to accommodate the corner post. The top shelf is not notched.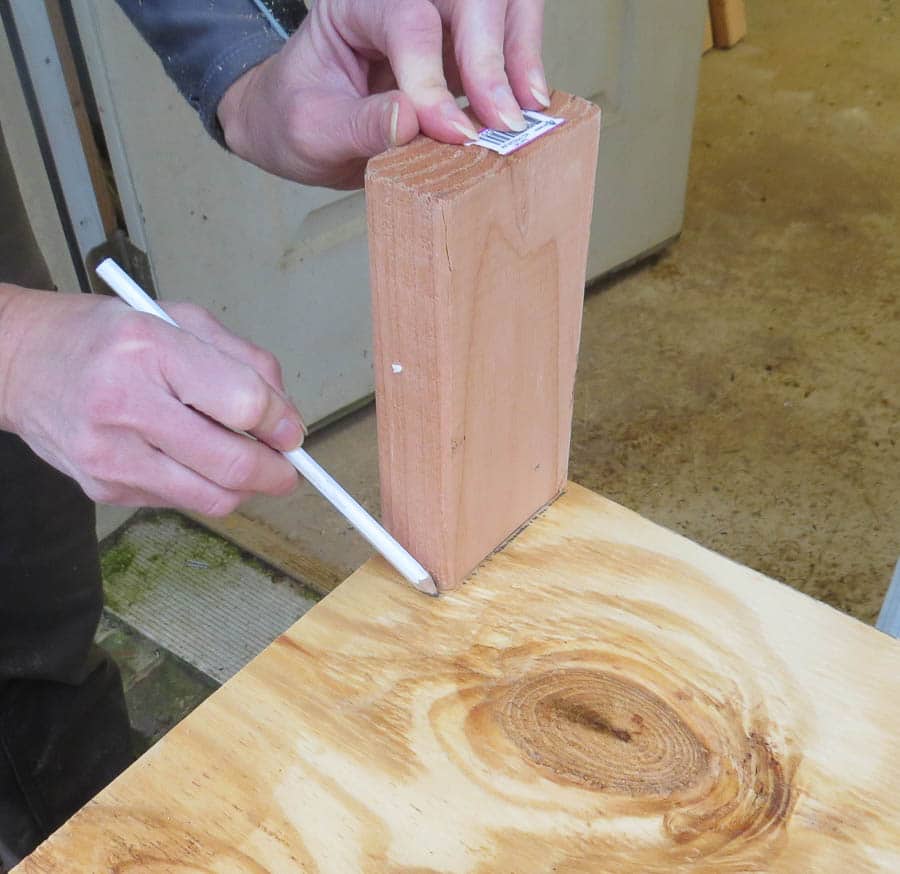 4. Cut Lumber to Size
Each shelving unit required 8 – 45" rails; 4 – 72" corner posts; and 8 – 17" end rails. These were quick and easy to cut with our sliding compound miter saw. (Probably my favorite workroom tool!)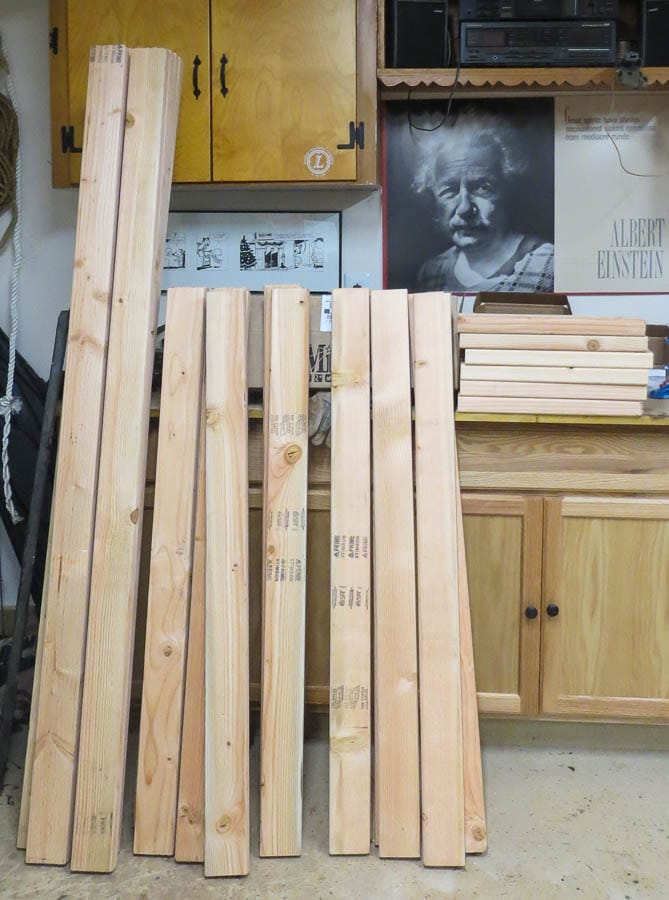 It didn't take long at all to cut all of the pieces needed to build two shelving units.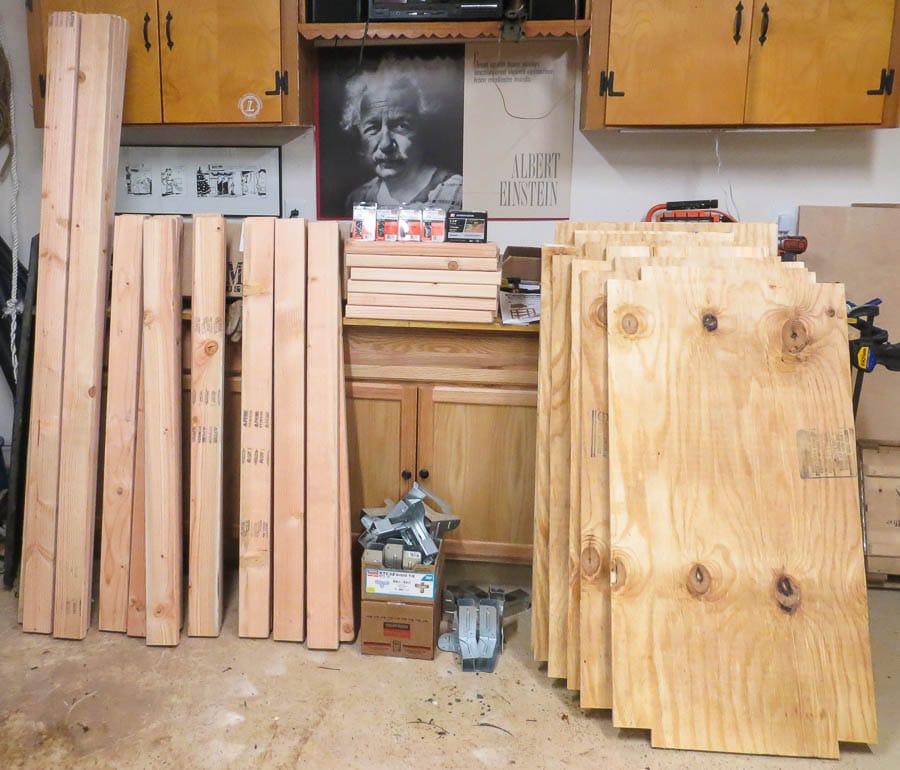 5. Build the Shelves
The connectors were first installed on the vertical posts. To make it easy, the posts were squared off and clamped together so that lines could be marked with a pencil where each connector was to be attached.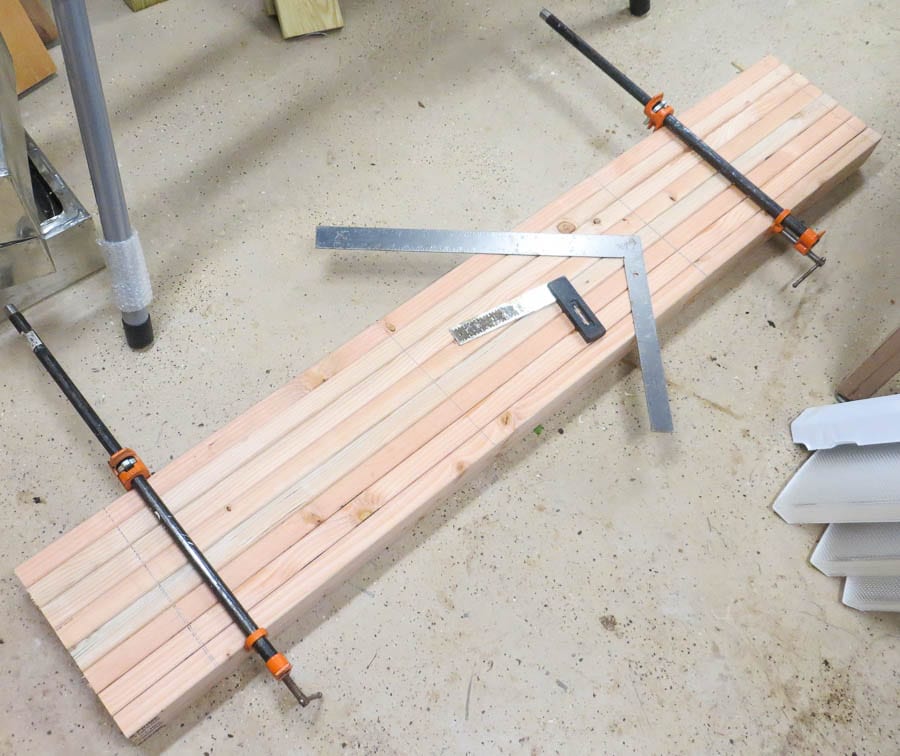 This is what one vertical posts looks like. Keep on screwing connectors into place until four vertical posts (or in my case eight) are ready for the next step.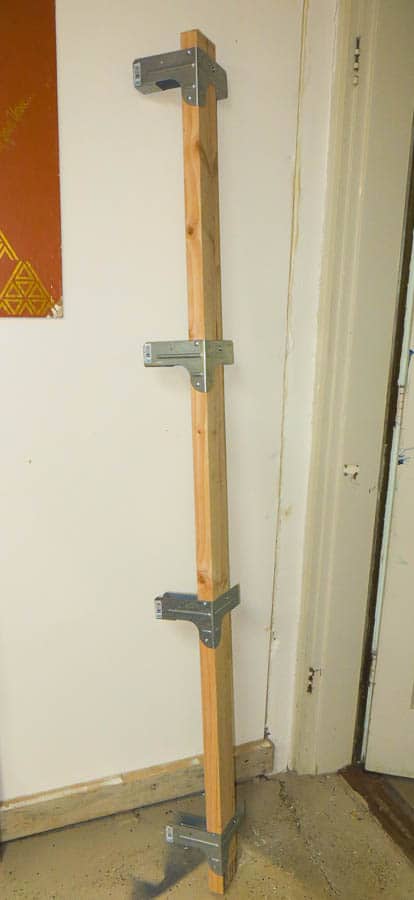 The side rails were then attached between two end posts. Clamping squares and clamps were essential her to keep things square.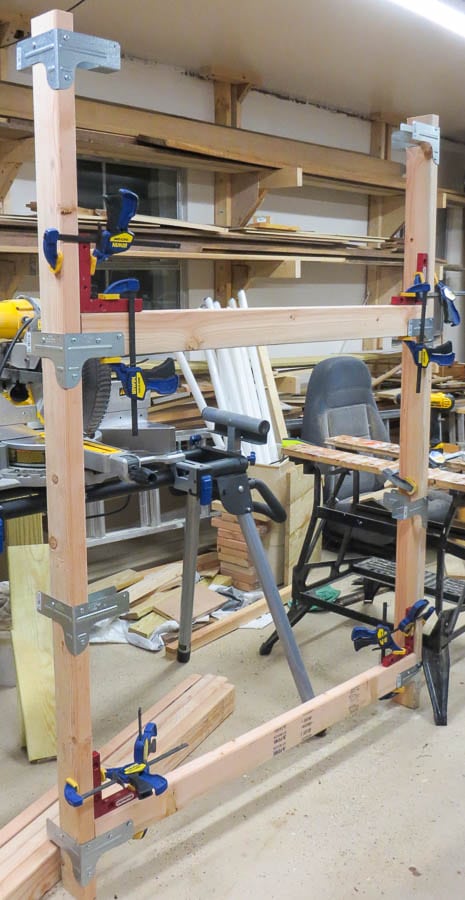 After the sides were complete, I finished construction the shelves where they would be used. Here the end rails are added.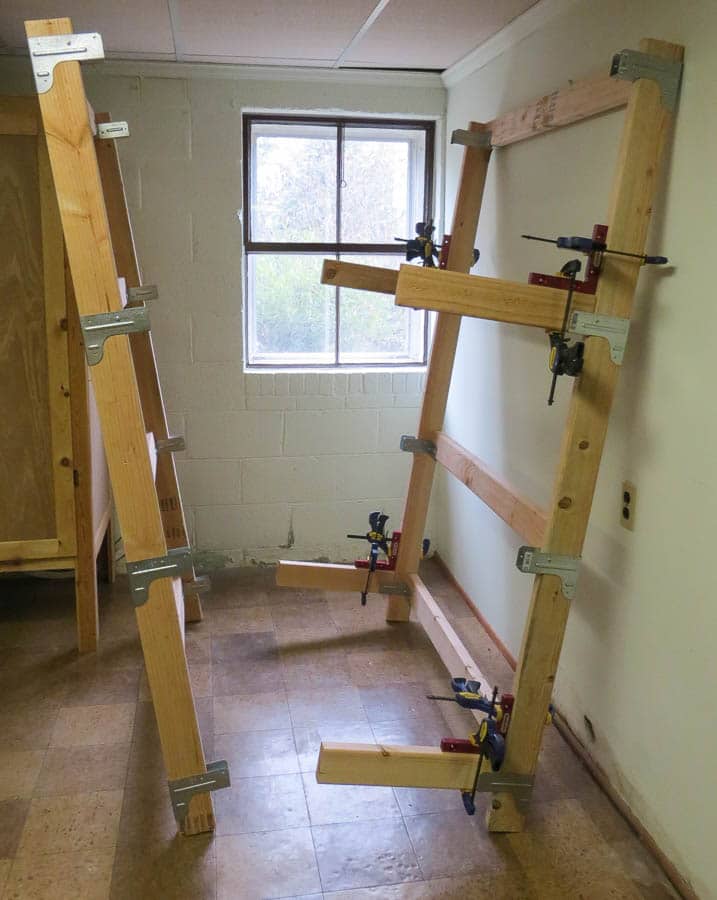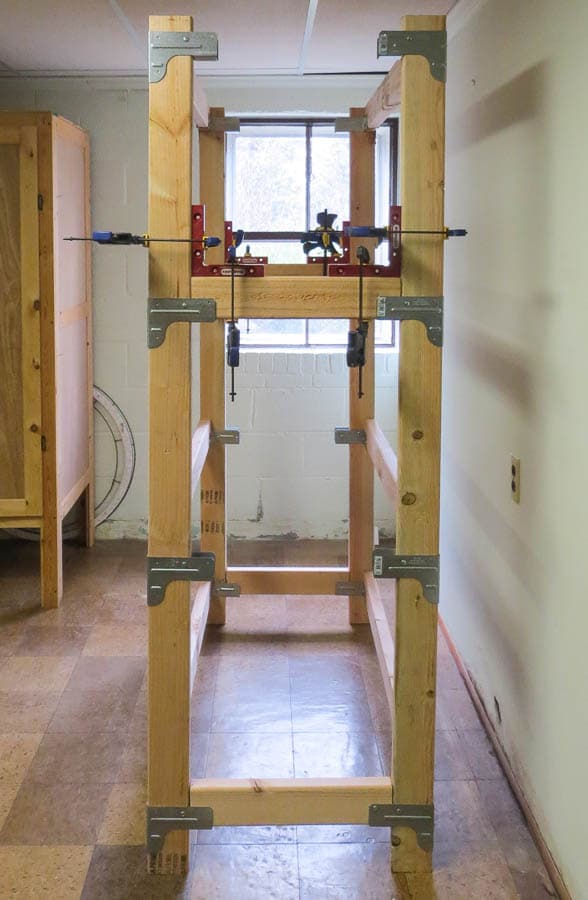 Again, to make sure that the shelving unit was square, I used clamping squares, clamps, and pipe clamps to hold it together as I screwed the connectors in place.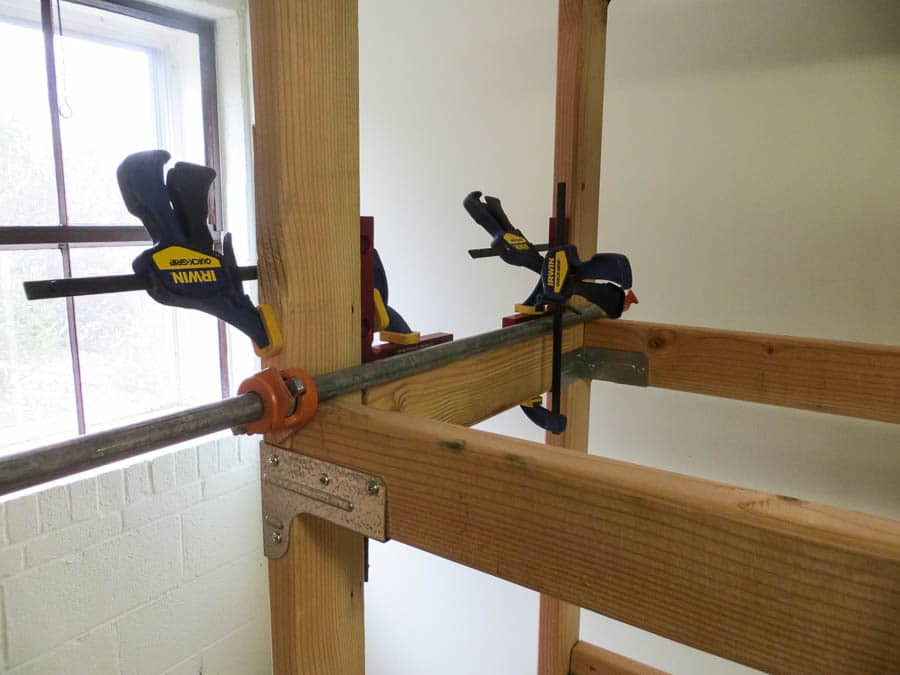 This project is not at all difficult but it did require a lot of screwing!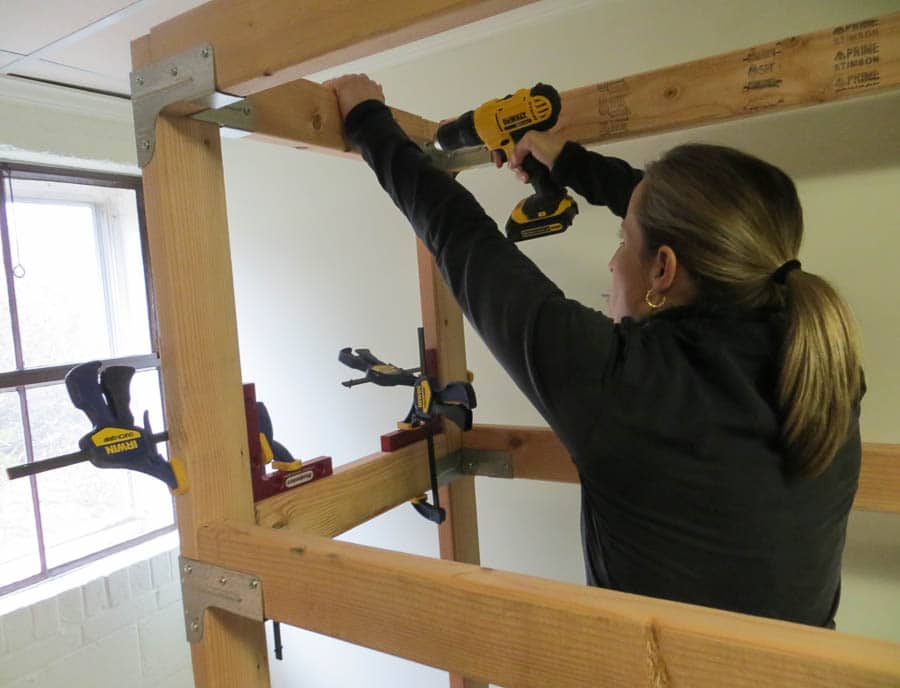 The next step is to screw each shelf into place. I started at the bottom and worked my way to the top.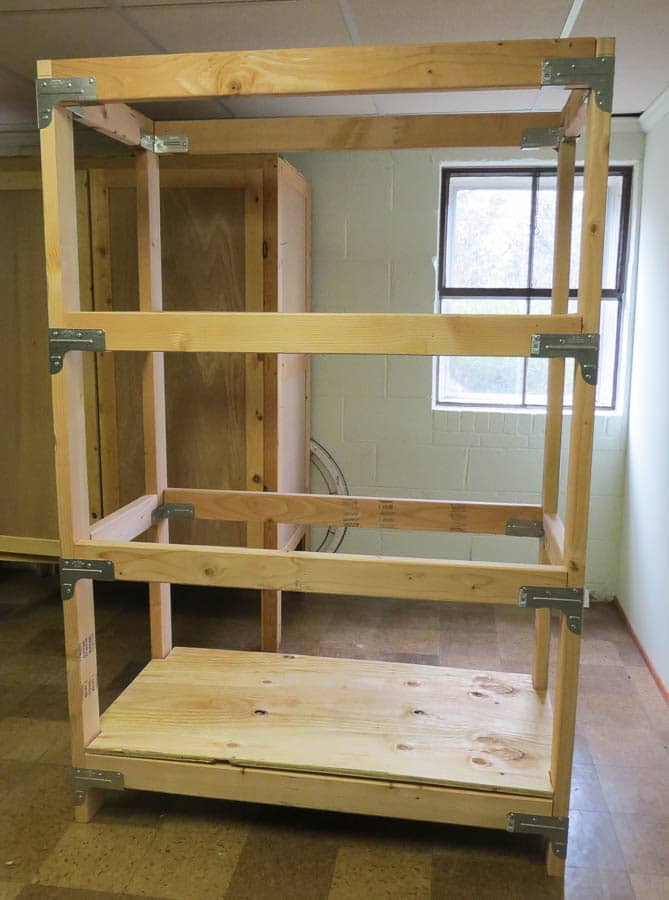 I used three screws on the long sides and two on the short sides.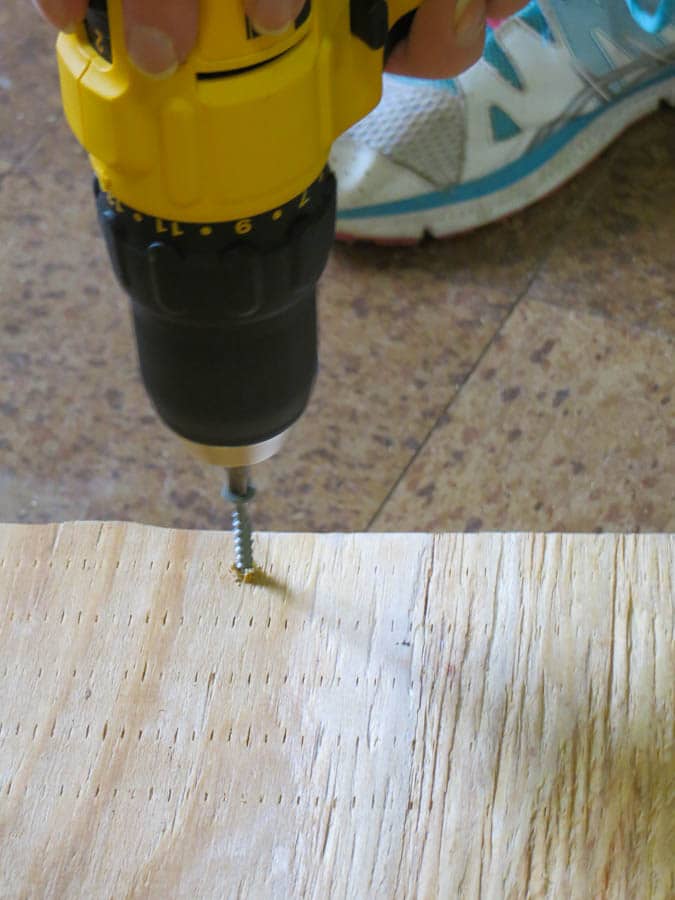 Here are the two DIY 2×4 Shelving Units in place, ready to be filled with my treasures.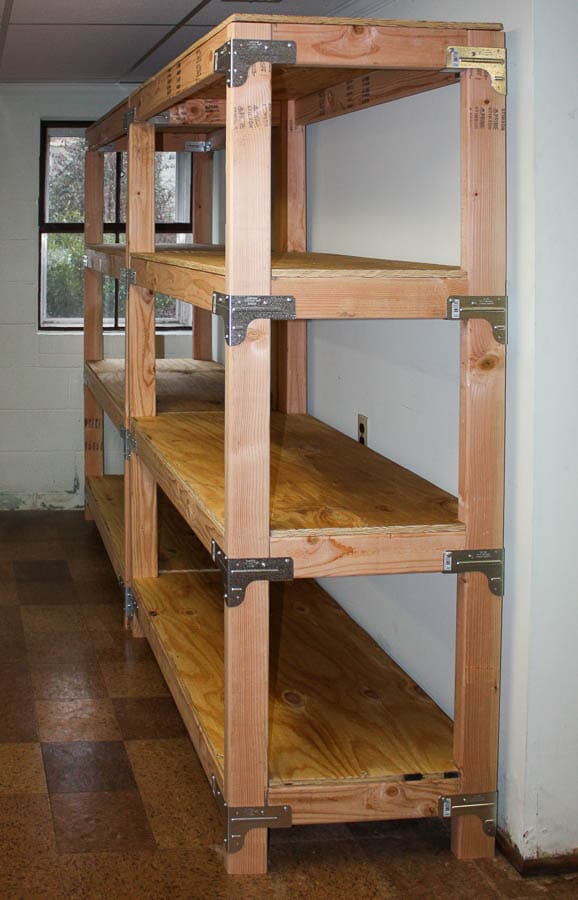 Here they are from another angle. The shelf to the right of the brown pole was added by the former owner of our home. It's really not empty, I just moved things out of the way for the picture. There is no shortage of stuff at my house!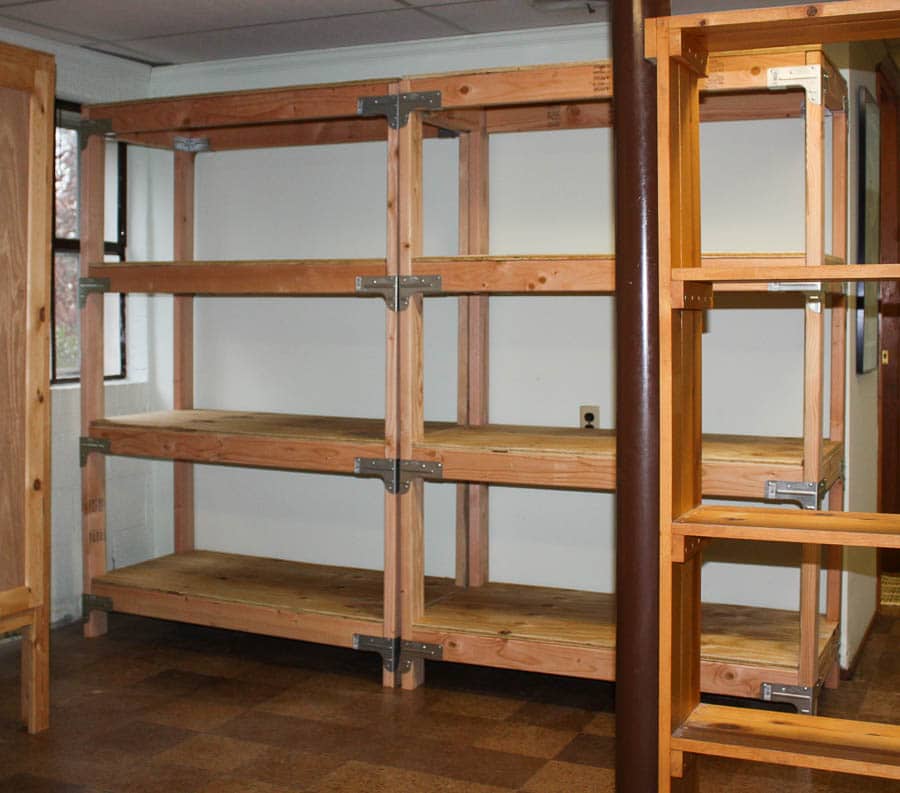 This isn't a decorative piece, but I like the industrial look that the Strong Tie Connectors give my shelves.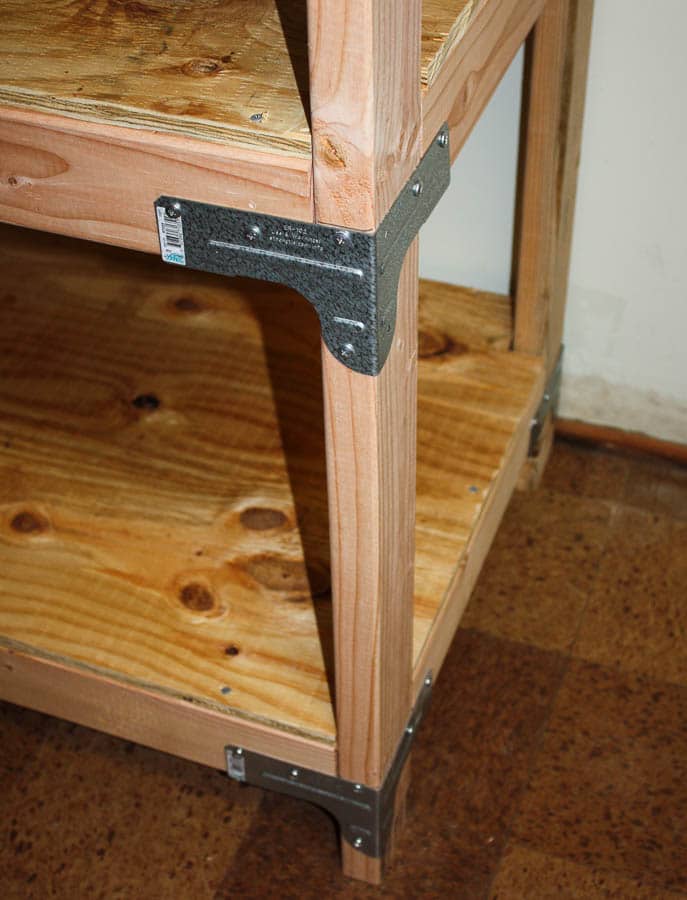 The connectors also make these shelves incredible sturdy.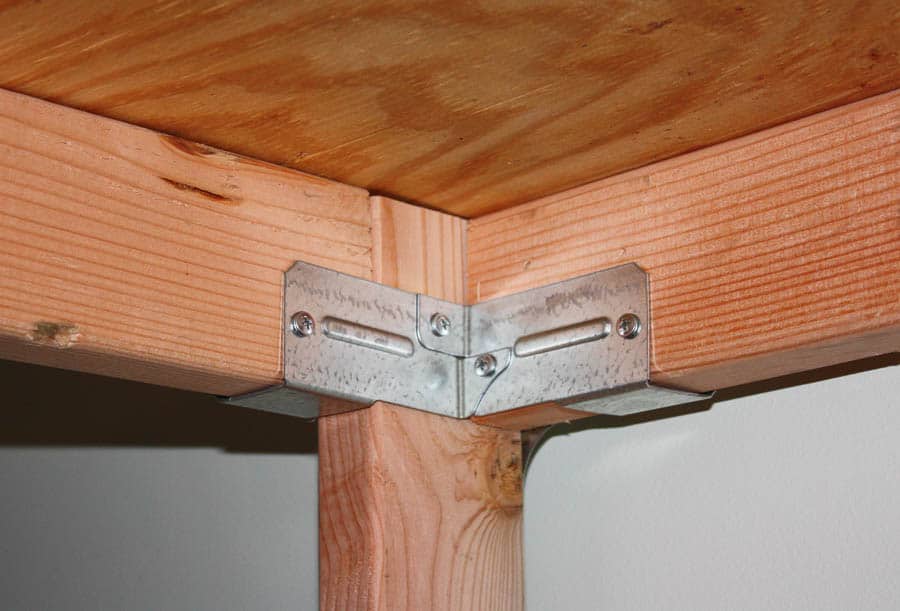 Here are my new shelves filled with my treasures. I don't have room upstairs for decorative items that aren't currently being used and these shelves are the perfect spot for storing my things. Most bloggers probably wouldn't show you a picture like this that isn't perfectly styled but this is real life and I'm all about sharing that.
If you are wondering about the cabinet to the left of the shelves, Mr. SP made it for me years ago and it's full of craft supplies.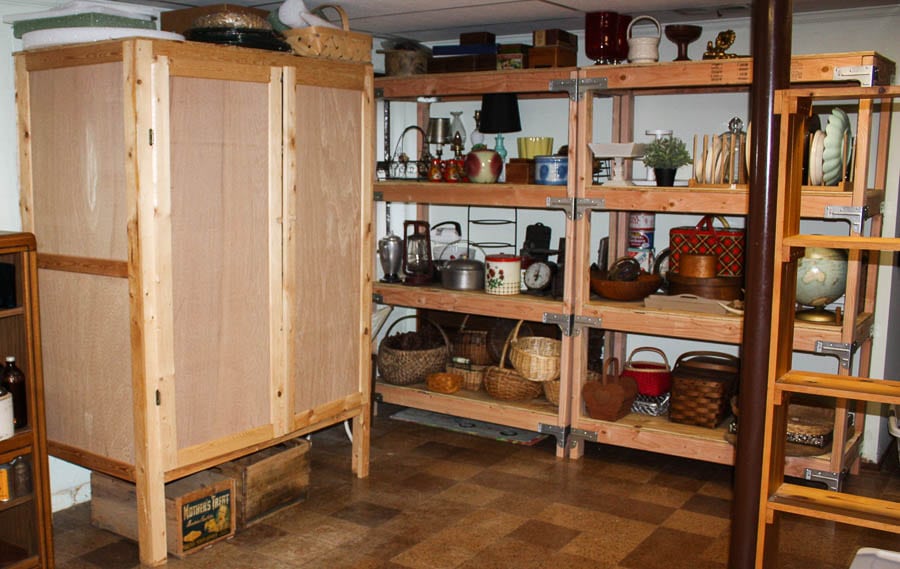 My side of the basement is looking better and is much more organized thanks to my DIY 2×4 Shelving Units. If you have a basement or garage that needs shelves, this may be a project that would be very useful in your home.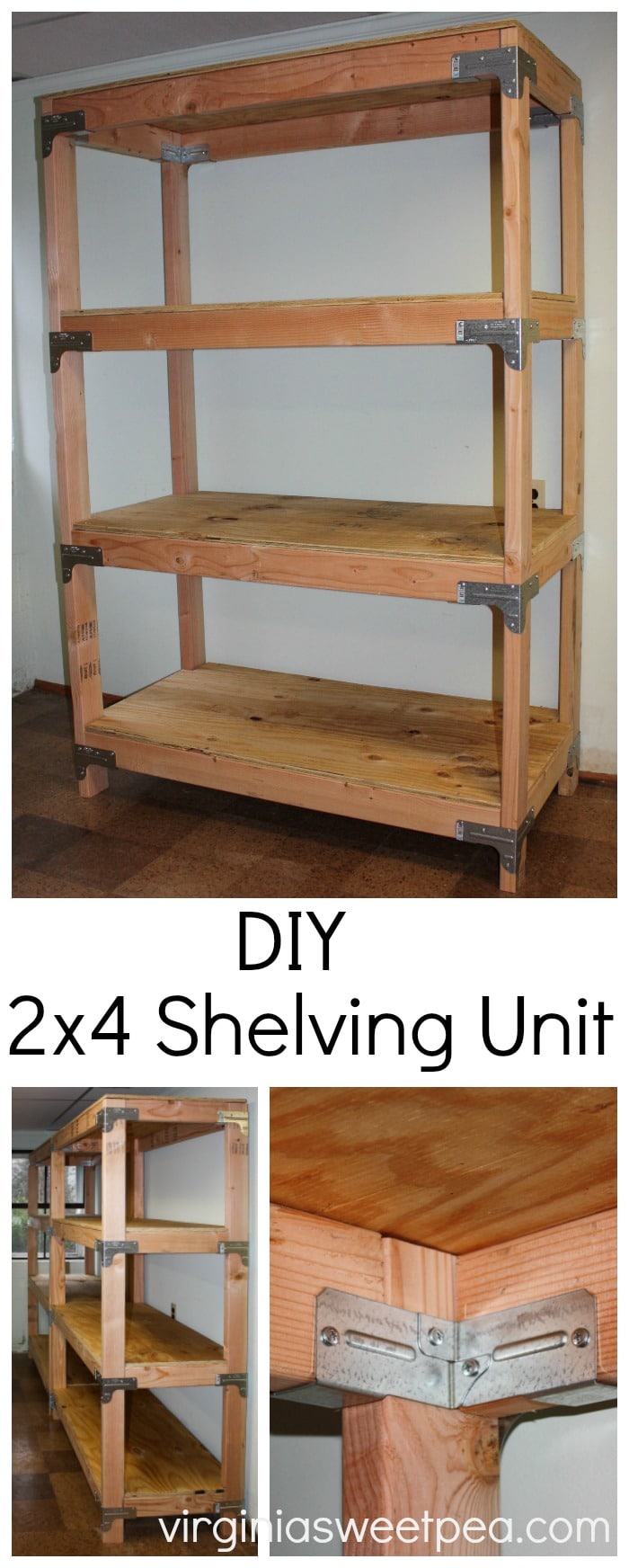 Now for the fun part! Enjoy these organizing projects created by my friends.
The Kim Six Fix – Under Cabinet Storage
My Repurposed Life – Repurposed Drawer Dog Toy Box
H2OBungalow – DIY Hanging Jewelry Organizer
Create And Babble – Pallet Wood Entryway Bench with Shoe Storage
The DIY Bungalow – Reclaimed Wood Shelves
Designed Decor – Repurposed Radio Cabinet Coffee Bar Drink Station
Domestically Speaking – Easiest DIY Drawer Organization
Refresh Restyle – Mudroom Storage Idea
My Love 2 Create – Drawer Storage Shelf
Thrift Diving – How to make a DIY Pegboard Organizer for Your Garage or Craft Room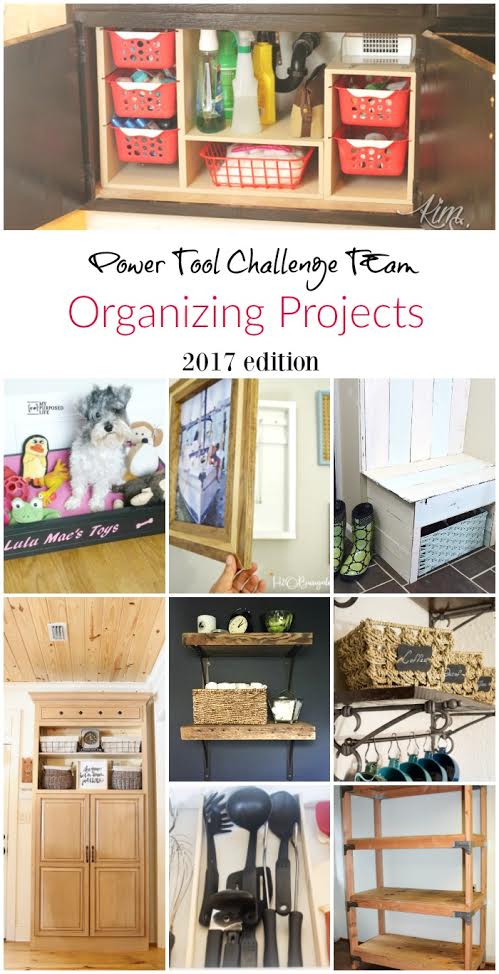 Favorite Projects
If you liked this post, check out more popular projects.