This post and photos may contain Amazon or other affiliate links. As an Amazon Associate I earn from qualifying purchases. If you purchase something through any link, I may receive a small commission at no extra charge to you. All opinions are my own.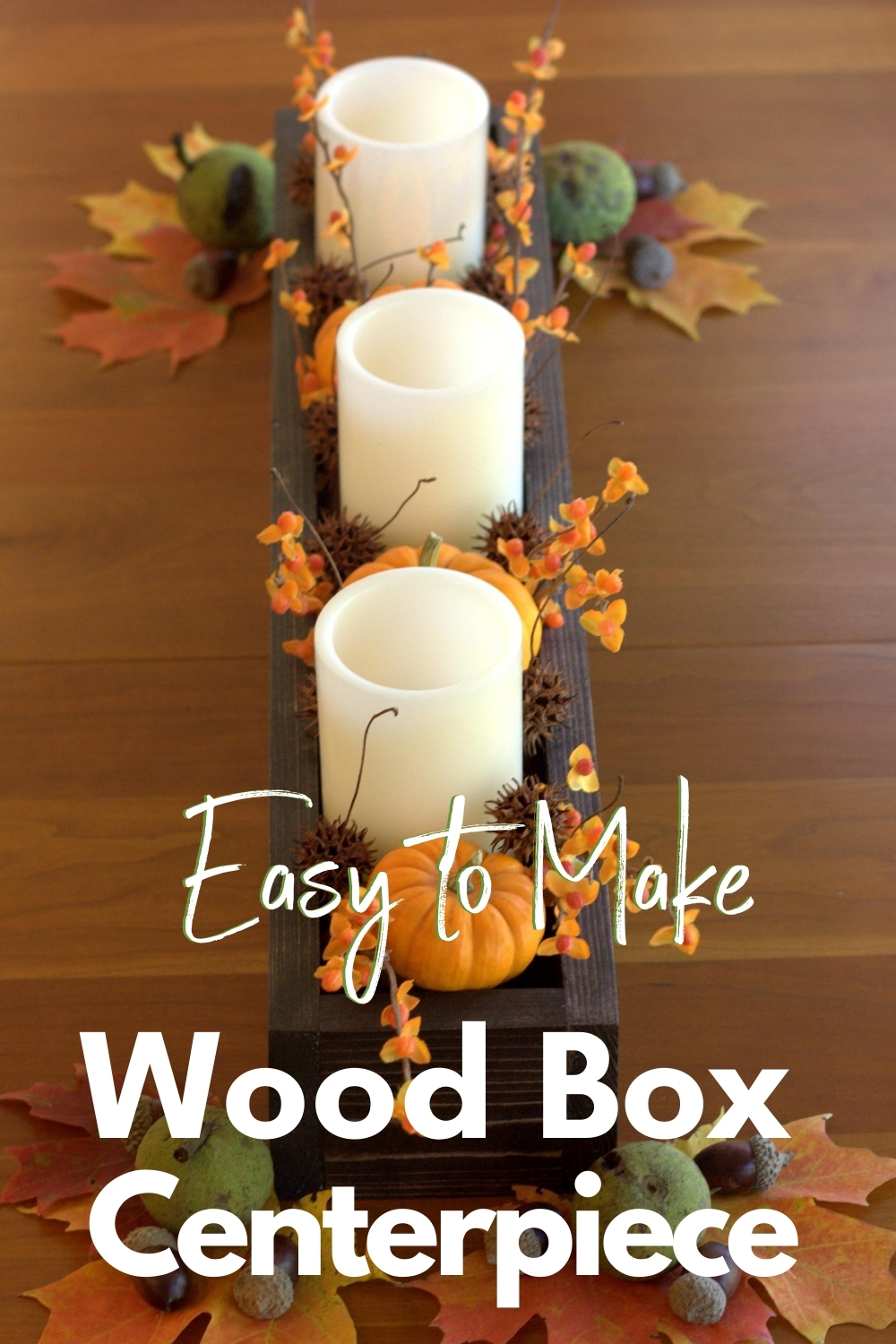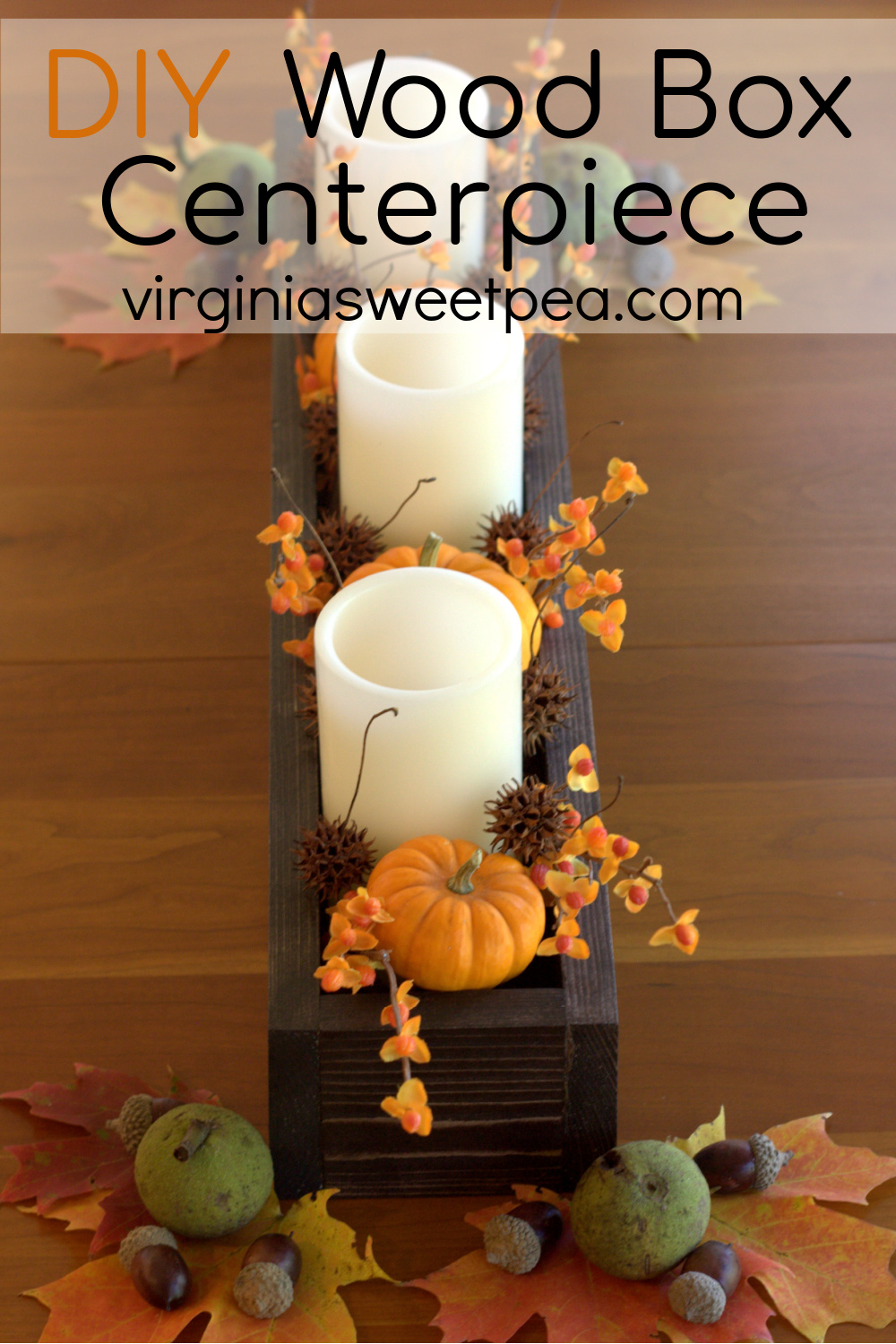 It's time for another woodworking challenge with my Power Tool Challenge Team girls. Our goal is to encourage women to use power tools. Each month we share a project made according to a theme and this month our theme is "$10 and Under".
I had to put on my thinking cap for this challenge because I wanted to make something that I would both use and enjoy and I knew my budget was $10 and under.
While shopping at Home Depot, I spotted 1" x 4" x 3 1/4 ft. pine bed slats that were just $1.87 each and the idea popped into my head to make a DIY Wood Box that I could use for a table centerpiece in any season.
Not only was this an inexpensive project, it was an easy one. I started the project on a Saturday evening and was enjoying the stained, polyurethaned, and decorated box by Sunday afternoon.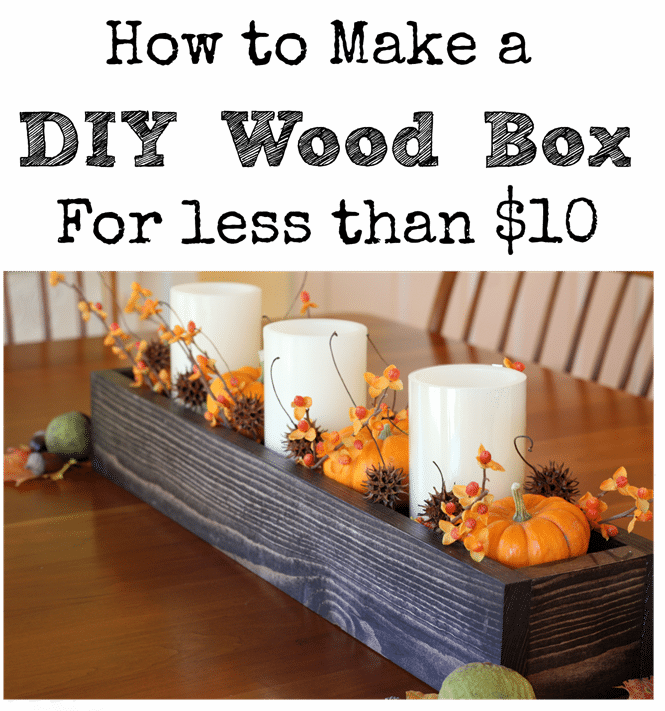 Fall Decorating with My Wood Box Centerpiece
By changing out the décor of the box, I'll be able to enjoy this as a table centerpiece in any season.
I'm already picturing it filled with greenery for Christmas.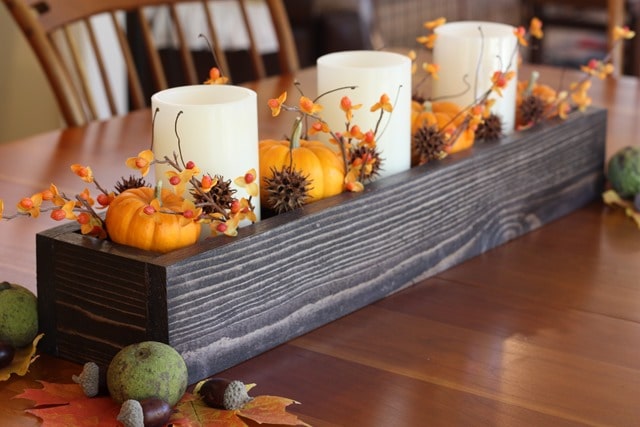 For fall décor I filled the box with flameless candles, small pumpkins, faux Bittersweet, and Sweet Gum balls.
After our first frost I'll be able to switch out the faux Bittersweet for the real thing.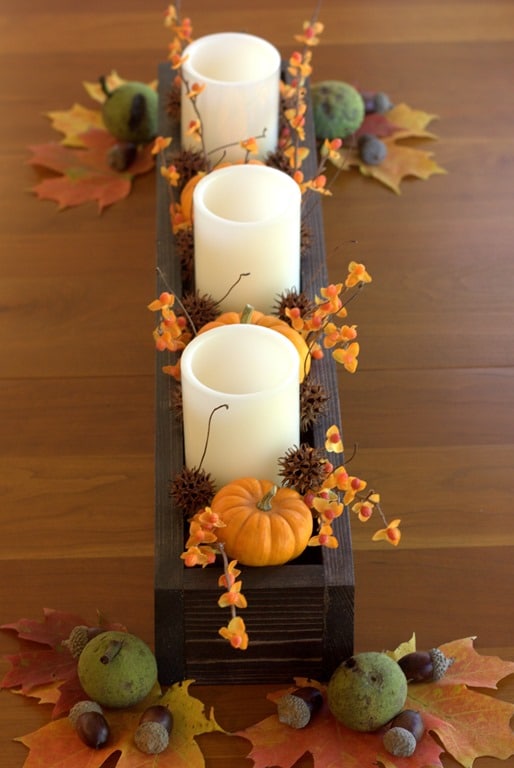 I pick up Sweet Gum balls when I'm walking my dog. You can see how I used them to make a winter wreath here.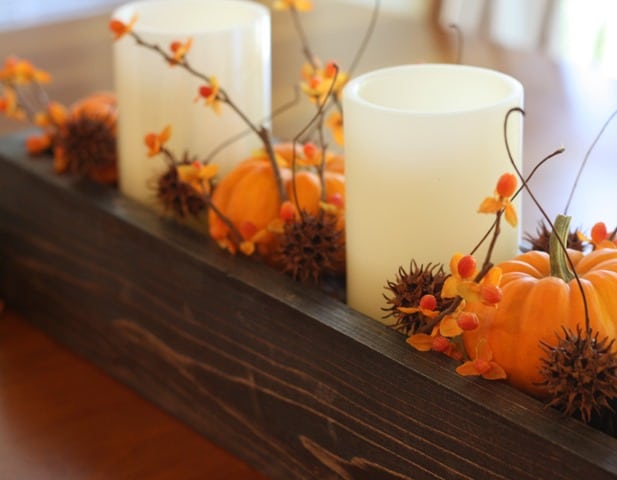 The trees around here are super late in changing to their fall color. In fact, most of them are still green.
I spotted these pretty leaves on Sunday while walking my dog and picked a few to use as a decoration around my DIY Wood Box.
The Walnuts were picked up on the same walk.
These acorns are faux but I definitely could have picked up plenty of acorns while walking because they are thick this year. I
hope that mean lots of snow this winter.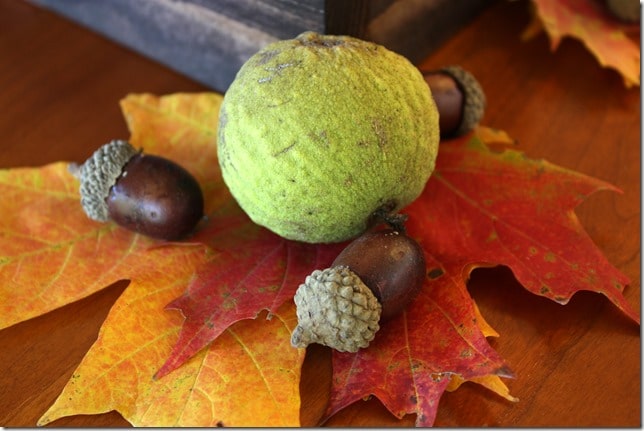 Let me show you how easy it is to make a DIY Wood Box. I chose to use mine as a table centerpiece but one could be used for storage in most any area of your home and you can customize the length to meet your need.
If you love DIY, home decor, crafts, and recipes, you'll want to subscribe to Sweet Pea so that you never miss a post. It's free and the best way to follow along with my blog. You'll also get access to my members-only free printable library.
How to Make a DIY Wood Box Centerpiece
Supplies
3 – 1" x 4" x 3-1/4 ft pine bed slat boards
Saw – We love this Sliding Compound Miter Saw for projects like this.
Clamping Squares – We have four of these and find them to be super handy!
Clamps – This type is my favorite and you can never have enough of them.
Pipe Clamp
Wood Stain – I used Dixie Belle No Pain Gel Stain in Espresso
Polyurethane
Procedure
1. I purchased four bed slats but only ended up using three of them for this project.
While I was at Home Depot purchasing lumber for this project, I also purchased a set of three flameless candles.
I spaced the candles out on one of the bed slats to figure out how long I wanted my wood box to be. 2 feet long ended up being the perfect length.

2. I clamped the three boards together and made a mark at two feet for cutting.
Clamping the boards together means one cut and it also means that the boards will be exactly the same length, 2 feet.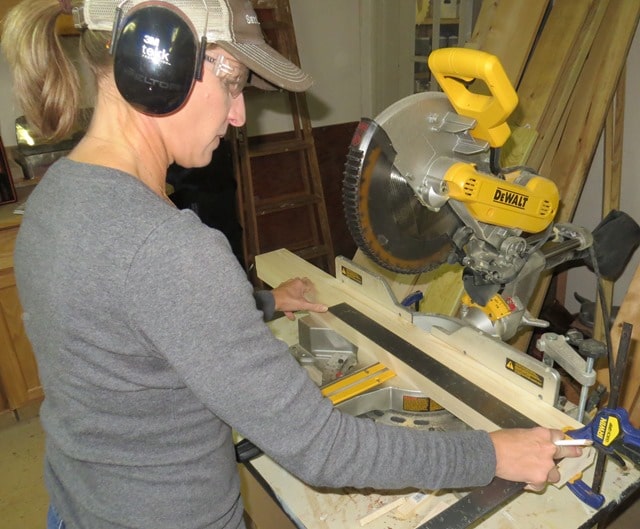 Here are the three bed slats each cut to two feet long.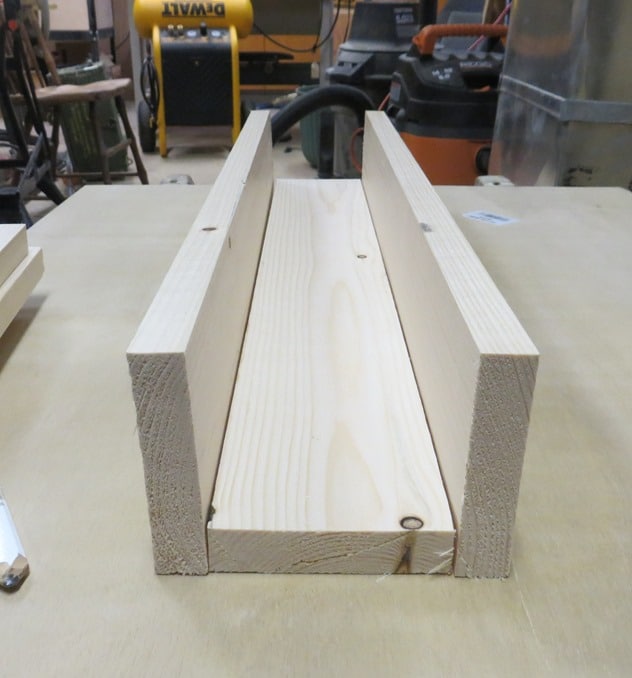 3. Next I used two end pieces left over from the previous cut for creating end pieces for the box.
No measuring was necessary because I cut the pieces the width of a bed slat. You can see that I have two pieces clamped together and I'm marking the wood for cutting the width of one bed slat.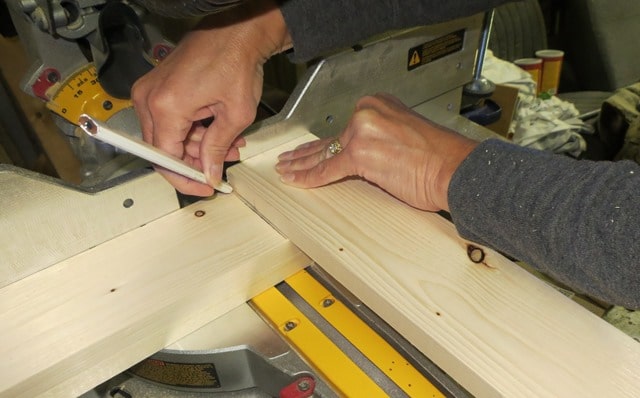 4. I then had to decide if I wanted my end piece to fit into place like this, which would mean cutting a piece off of the top.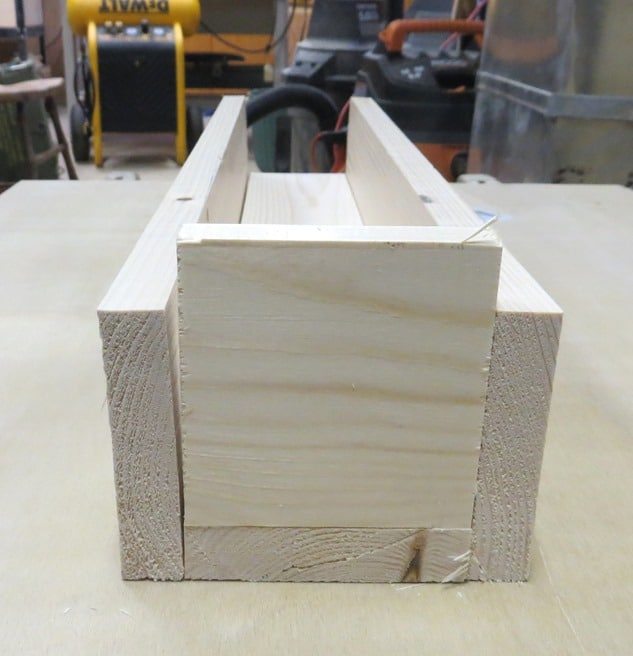 Or did I want the end piece to fit into place like this? I chose this way which meant my next step was cutting off twice the width of the end piece from the bottom board.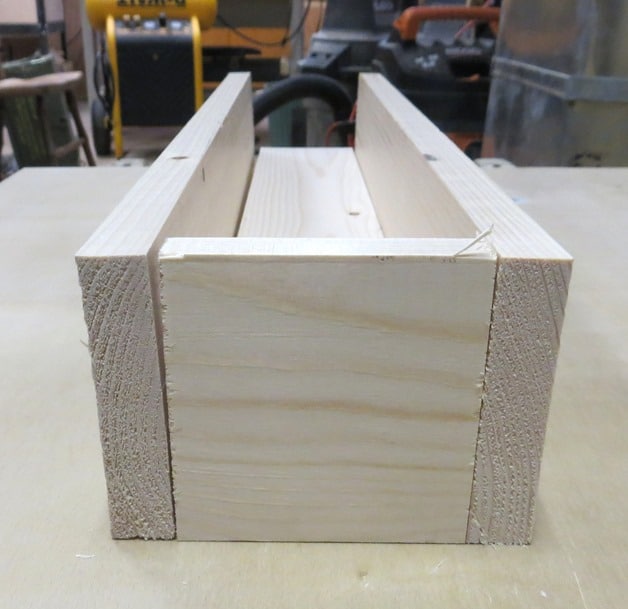 5. No measuring was necessary. I lined up the two end pieces on the bottom board…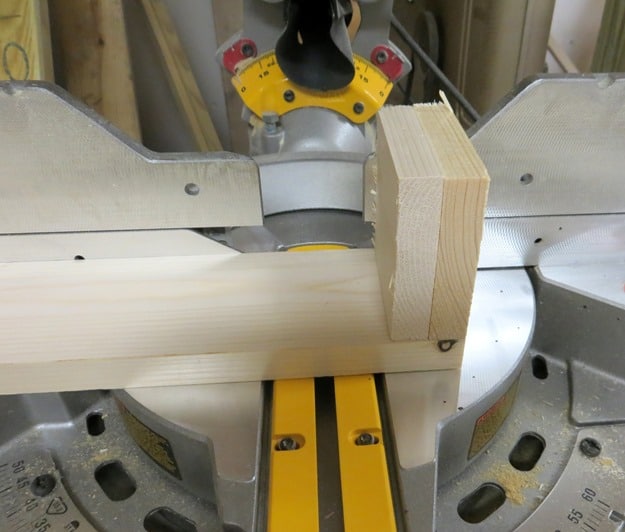 And then drew a line for cutting.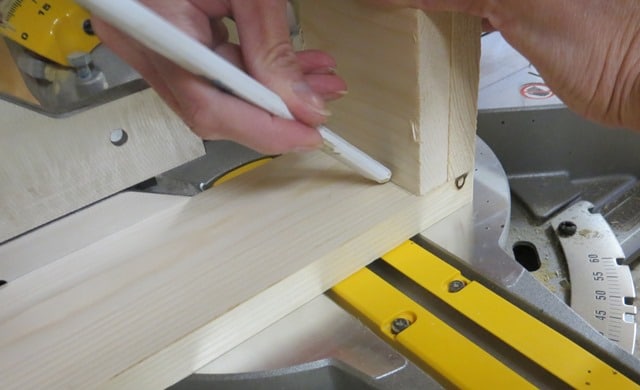 After making the cut, the bottom board is the perfect size.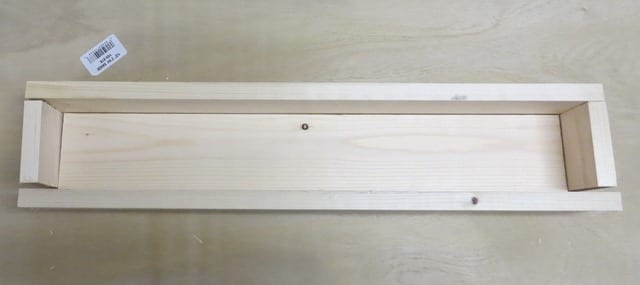 6. I sanded all of the pieces using an orbital sander.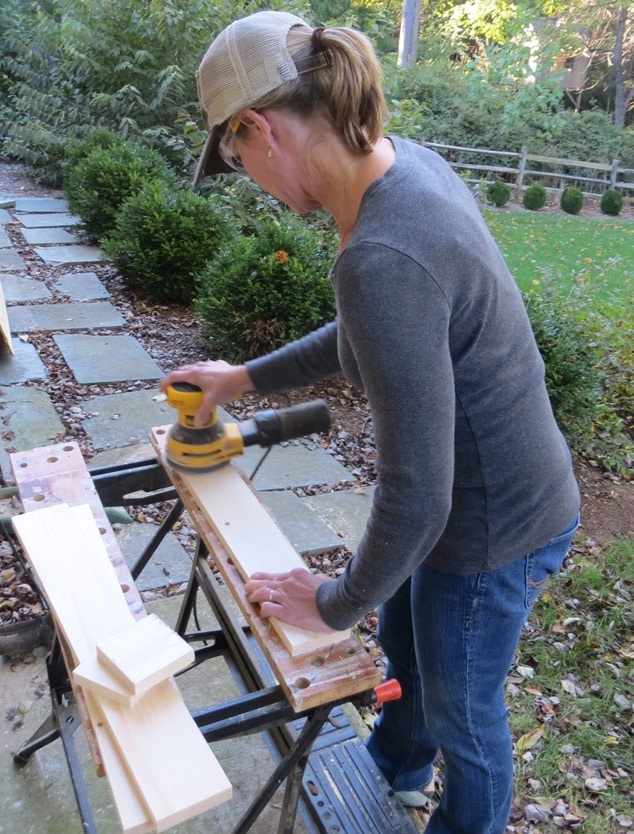 7. Glue the box together.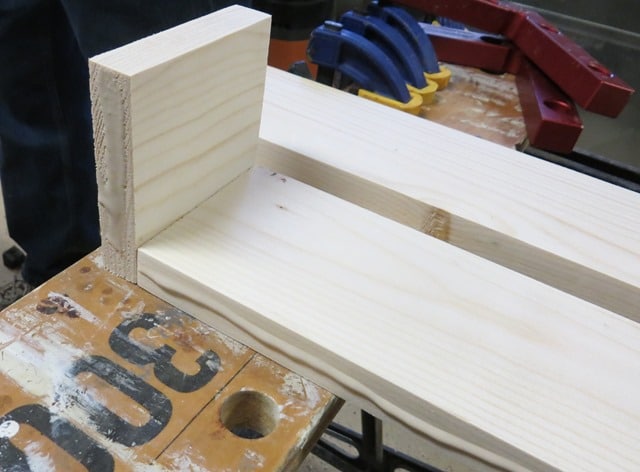 Use clamping squares, clamps, and a pipe clamp to make sure the box dries square.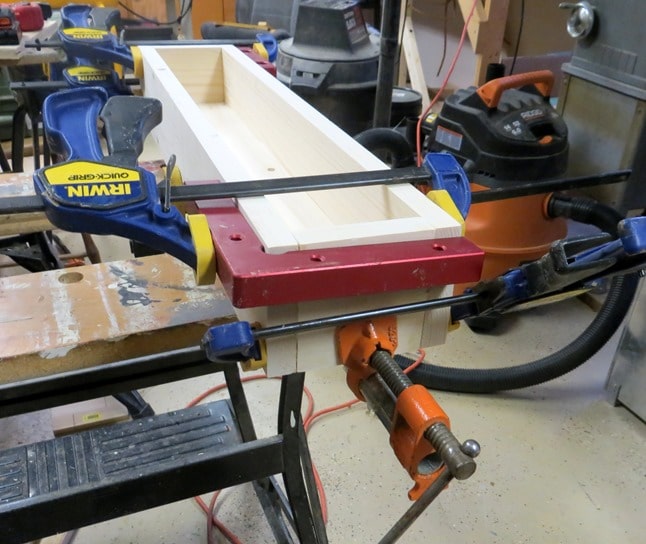 8. After the glue is dry, sand the box, and then stain it.
After the stain was dry, I rubbed the box down with fine steel wool and then applied a coat of polyurethane for protection.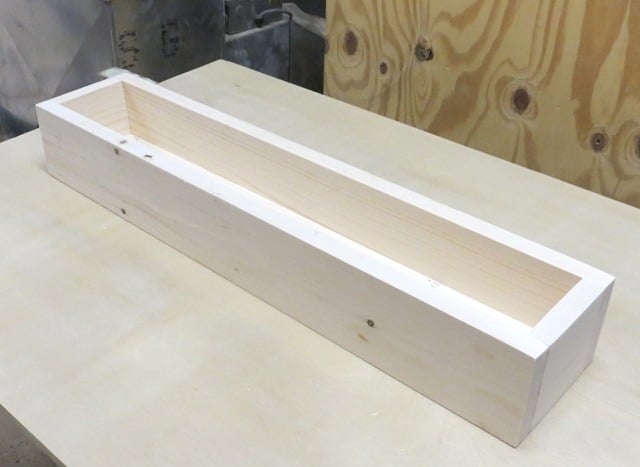 The box is now ready to be filled with decorative items and enjoyed.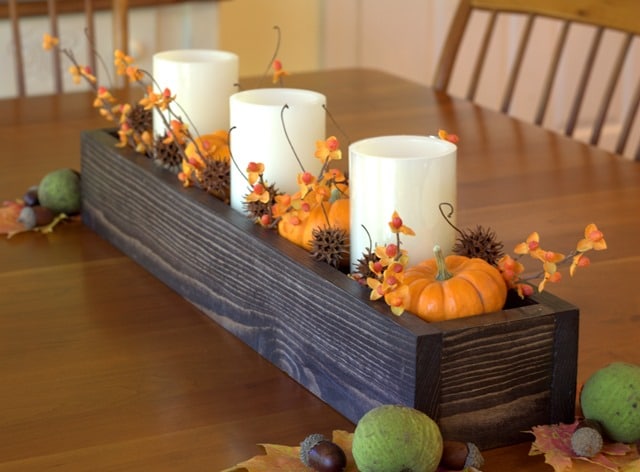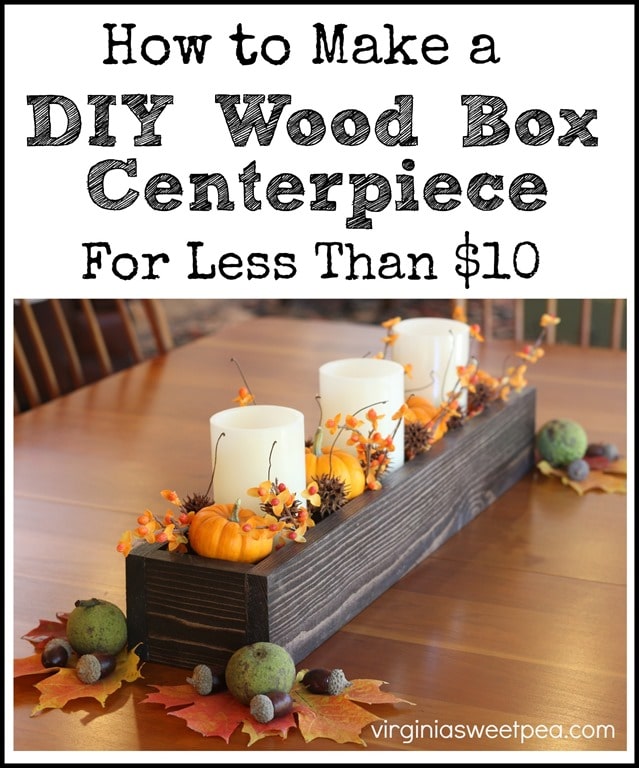 $10 and Under Projects
I can't wait to see what my Power tool Challenge Team gals share this month for this $10 and Under challenge.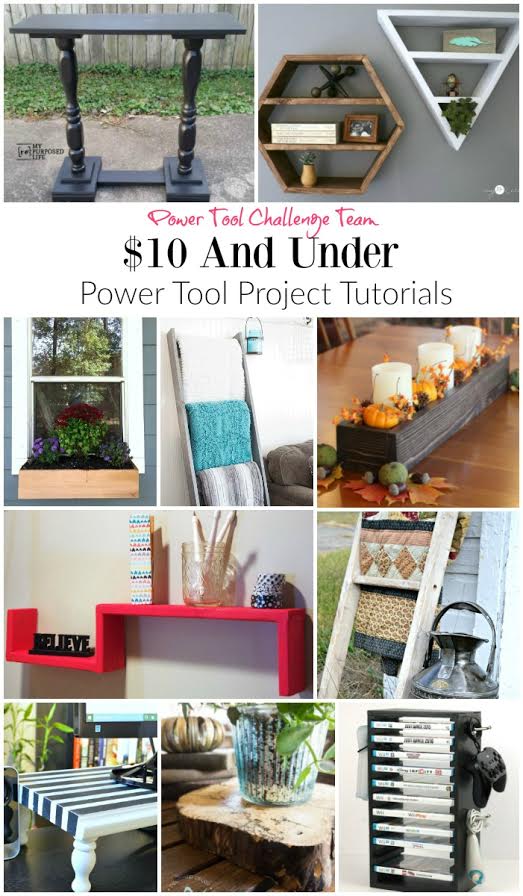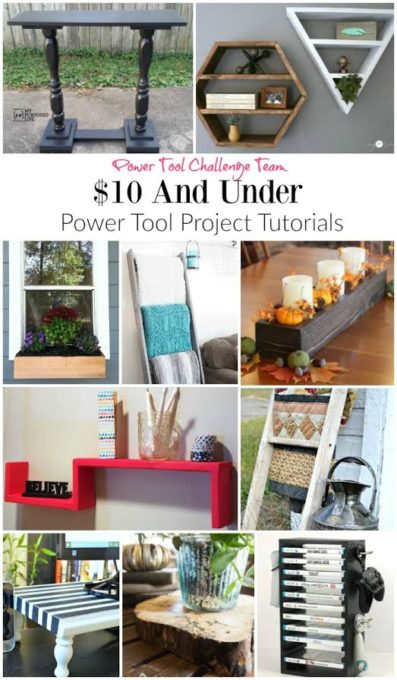 Click on the links below to see each project.
Double Pedestal Scrap Wood Table by My Repurposed Life
Hexagon and Triangle Shelves by My Love 2 Create
Window Box by Dogs Don't Eat Pizza
Blanket Ladder by Domestically Speaking
DIY Wood Centerpiece Box by Virginia Sweet Pea
Easy DIY Shelves by Create and Babble
Vintage Peg Blanket Ladder by H2OBungalow
Computer Monitor Stand by Interior Frugalista
Wood Slice Plant Stand by Designed Decor
DIY Video Game Organization Station Holder by Kim Six Fix
Favorite Projects
If you liked this post, check out more popular projects.