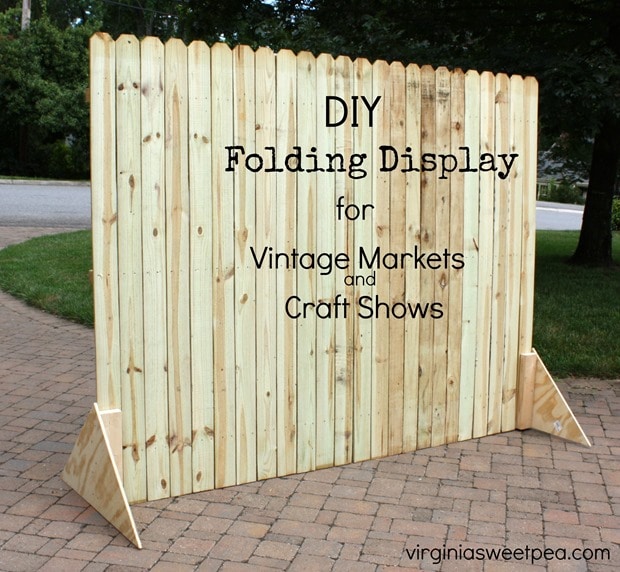 Back in July I joined the Picket Fences Vintage and Antique Pop Up Event held at Millstone Mercantile in Madison Heights, VA.  This has become a monthly event that features local vendors who sell either antique, vintage, repurposed, or handmade items. I haven't participated again since July but this coming Saturday I'm joining in once again to sell some of my vintage and handmade things.
For the July sale I needed a wall to display some of my things and Mr. SP and I designed and built one that proved to be quite handy.  Our wall folds for storage and it is free standing. I was able to hang my things for display during the sale and when the sale was over, I removed the nails, folded it, and it's been stored ever since.
Our wall was easy to make and I thought that others who do markets and shows might be interested in how we made it.
How to Build a Folding Display for Shows and Markets
Supplies
Links are affiliate.
Pressure Treated Privacy Fence Panel (6 ft. x 8 ft)
Plyboard
2 x 4  (Scraps)
2" Deck Screws
1 – 5" Lag Bolt
Clamps  (These are our favorite and you can never have enough of them!)
Procedure
1.  Buy the Supplies
We purchased our supplies at Lowes and had one of the guys cut the privacy panel in half for us so that we could easily take it home.  We have an Explorer and strapped the pieces to our roof.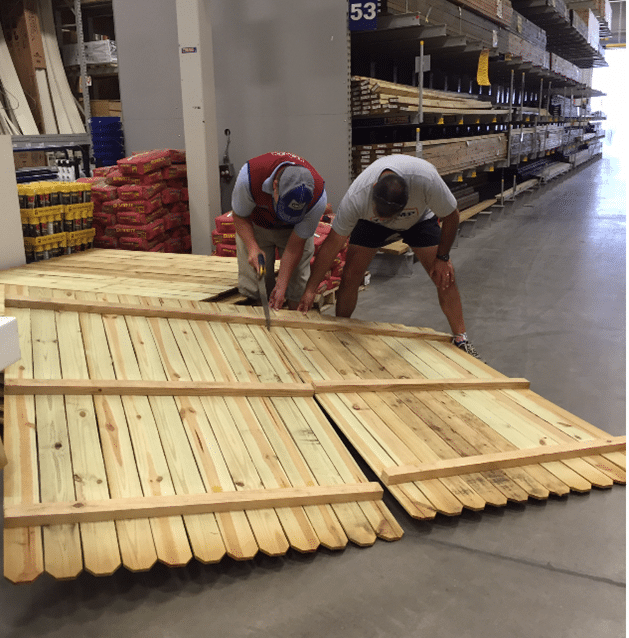 2.  Screw the fence pieces together.
The two fence pieces were lined up and screwed together using the hinges.  Now the fence will fold for easy storage and for transport.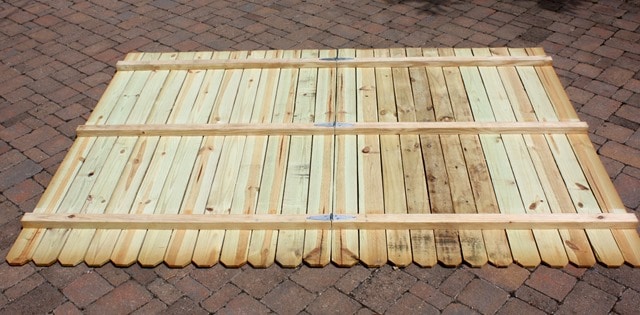 3.  Build braces so that the fence will be free standing.
We wanted the fence to be free standing, so we devised braces to use on the sides of the fence.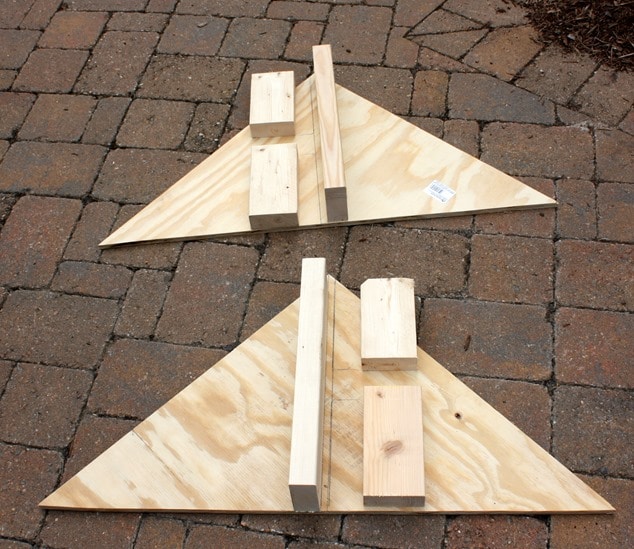 We cut two triangles from scrap 1/2" plywood, and utilized scrap 2×4's to hold the fence vertically.  The triangle's base measures 34" and its height measures 17".  The bottom 2×4 piece is 7" and the top on 5 3/4".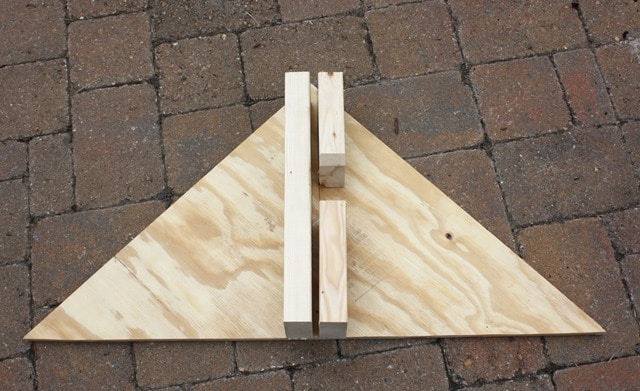 We first attached the long 2×4 to the triangle base (glued with 2" deck screws), perpendicular to the bottom.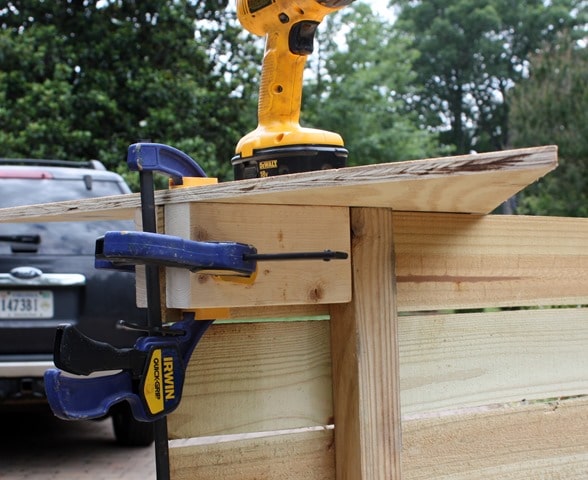 Then we clamped the base to the bottom edge of the fence so as to place the smaller 2×4 pieces to the triangle base.  Once clamped in place, these smaller pieces were glued and screwed into place.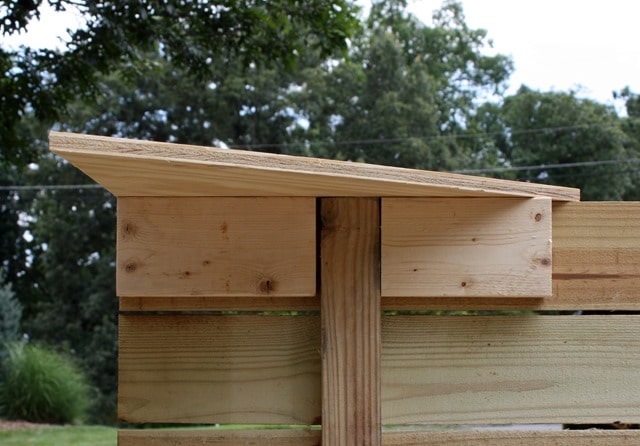 Here you can see what the brace looks like in place.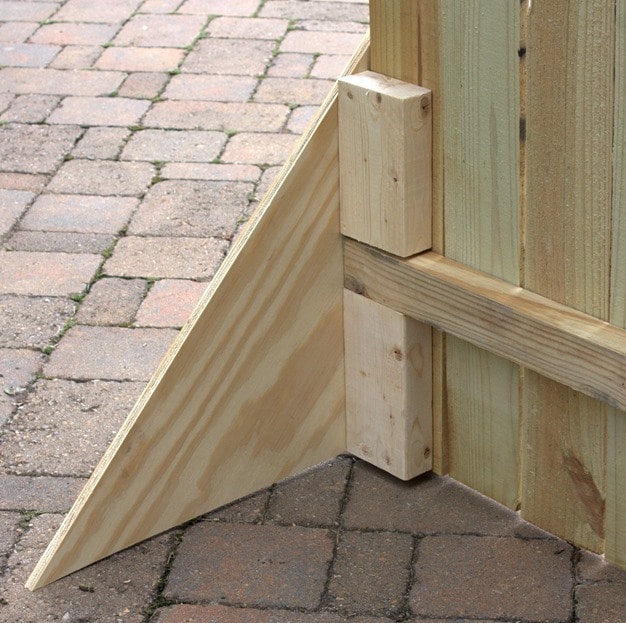 A ~3/8" hole was drilled diagonally through the brace and fence, into the opposite side 2×4.  Through this hole we inserted a 5" lag bolt, so as to lock in the brace to the fence.  Gravity keeps it in place – we did not bolt the other end.  The bolt is simply used as a peg.  Therefore, a long wooden dowel would suffice for this function.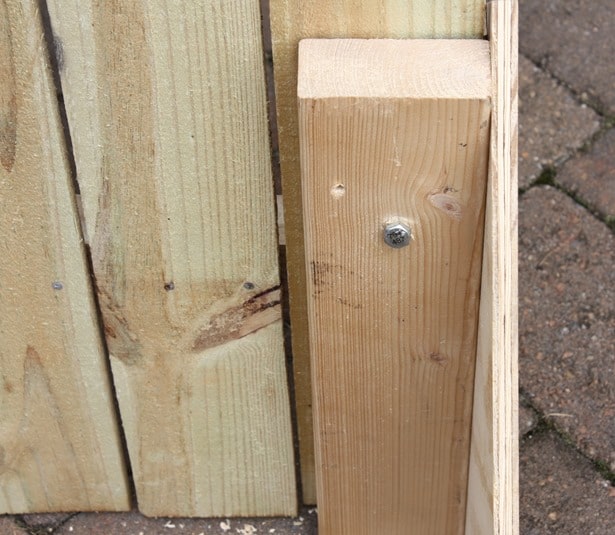 The lag bolt easily slides in and out of the hole.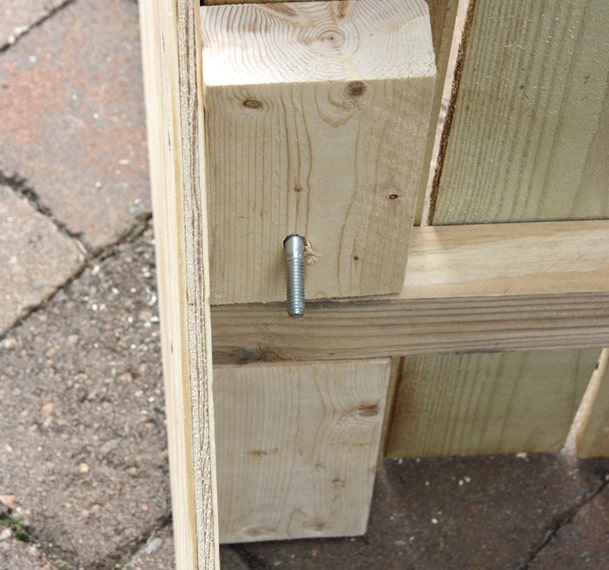 This was a quick and easy project and I'll be able to use it for years for shows.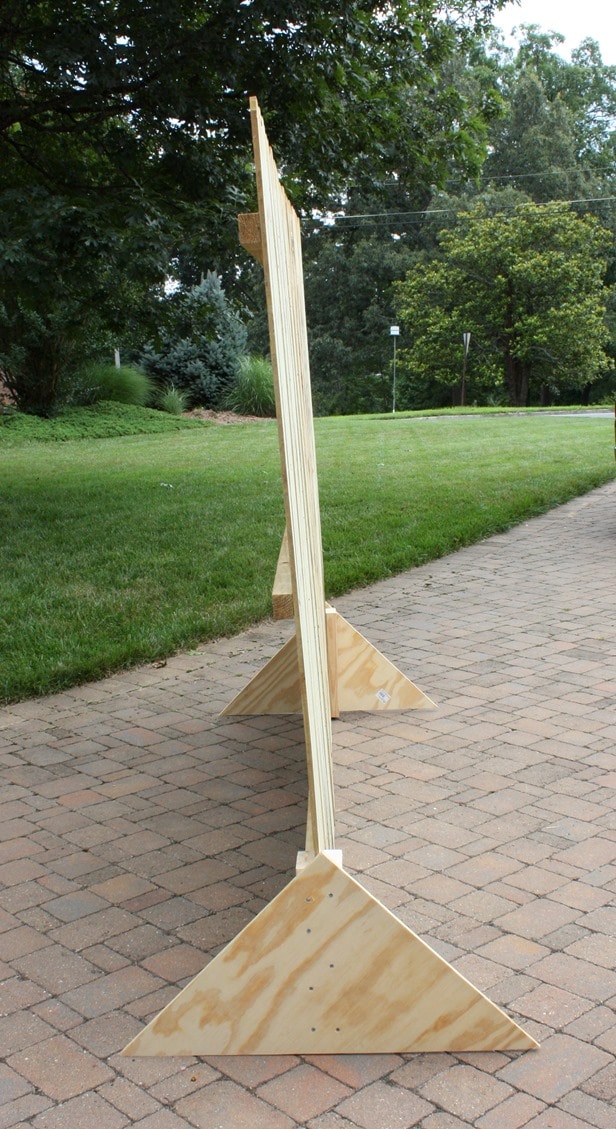 With the addition of a rug in front of the wall, I could also use this for photographing furniture makeover projects.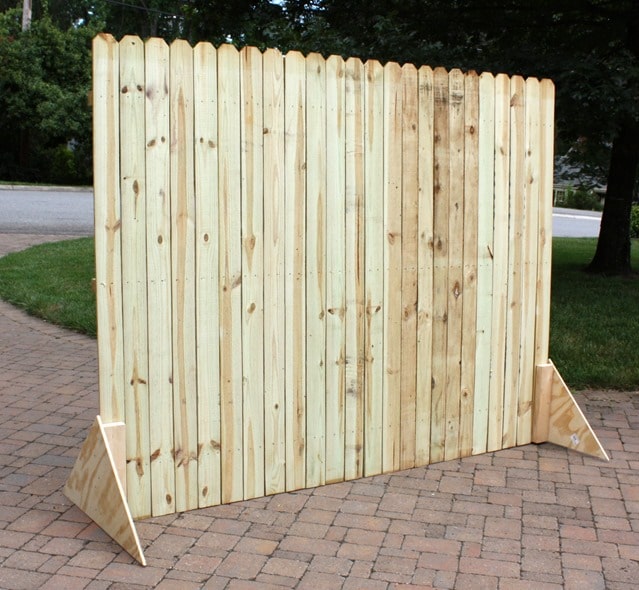 This picture is from the July sale.  Since we were outdoors and it was windy, we further secured the wall by adding a few screw eyes to the back of the wall and tying it to the fence.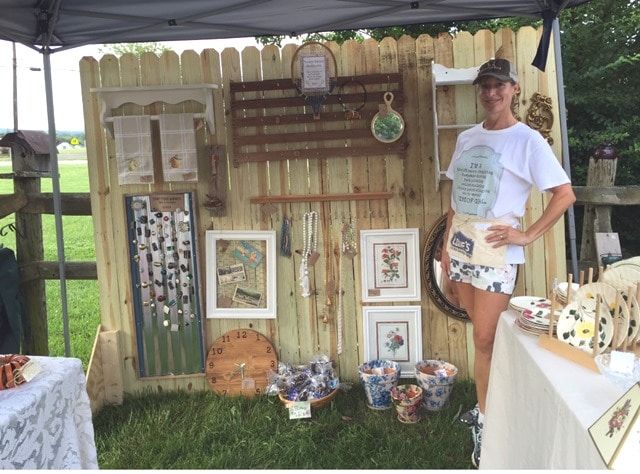 My sweet Mama joined me for the sale in July and I'm hoping that she'll join me again on Saturday.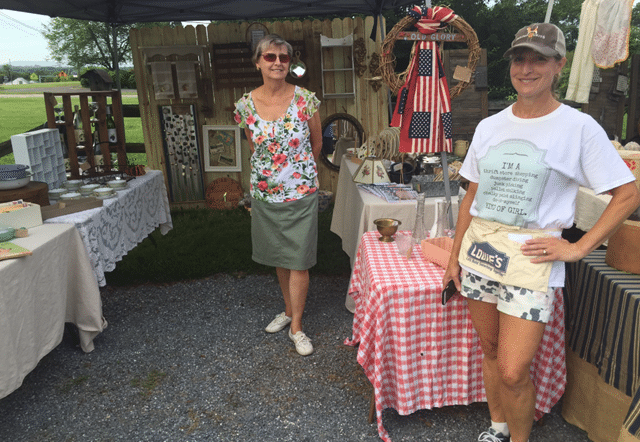 If you are local, come on out and join us at Millstone Mercantile in Madison Heights.  The sale starts at 9 am.  There are 13 confirmed vendors and Mama Crockett's Cider Donuts and Nomad Coffee Co. will also be there.  It's worth the trip just to get a Mama Crockett Donut.  They are so good!  I hope to see you on Saturday!