This post and photos may contain Amazon or other affiliate links. As an Amazon Associate I earn from qualifying purchases. If you purchase something through any link, I may receive a small commission at no extra charge to you. All opinions are my own.
For this month's Power Tool Challenge, I made a DIY Footstool. Actually, I made two and they are so useful!
When we are at the lake, we love to relax on the deck in rocking chairs or on the dock in Adirondack chairs. My preferred way to relax is with my feet up, so these DIY footstools will get a lot of use on both our deck or dock.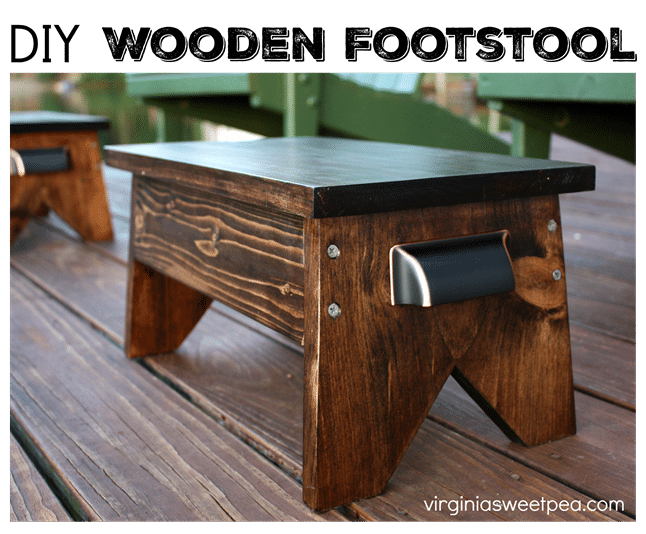 Instead of designing my own footstool, I followed these plans from Ana White. This is the second time that I've followed woodworking plans, last month I followed these to make a DIY 2×4 Bench, and slowly but surely, I'm starting to understand woodworking lingo.
I'm thrilled with my DIY Footstools and look forward to using them all summer.
If you love DIY, home decor, crafts, and recipes, you'll want to subscribe to Sweet Pea so that you never miss a post. It's free and the best way to follow along with my blog. You'll also get access to my members-only free printable library.
How to Make a Footstool
Making these two footstools was relatively easy and only took a few hours.
Finishing them with stain and several coats of polyurethane took longer than the construction.
1 (1 x 10) pine board
1 (1 x 3) pine board
1 5/8" exterior deck screws
1 1/4" pocket hole screws
Woodworking Square
Tape Measure
2 cup pulls or any drawer pull (optional)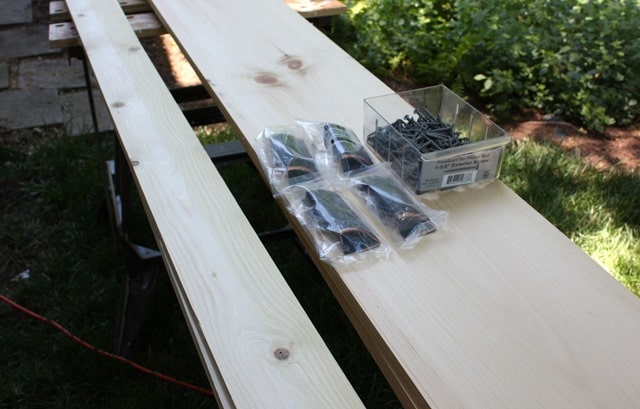 I made two footstools, so note that I have double the wood needed and four cup pulls.
Building the Footstool
1. Square off the end of a 1 x 10 and cut a 16" piece to form the top of the footstool.
2. The two end pieces are cut at 7 1/2" (edge to edge) with parallel 5 degree angles.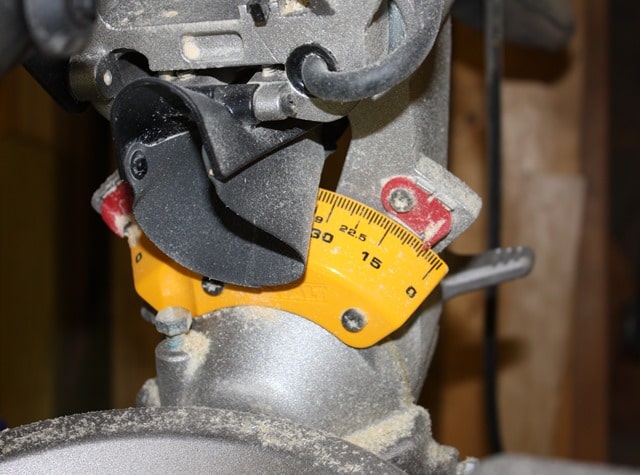 Setting up a stop block jig ensures that each side piece will be 7 1/2". Note that the board is also marked at 7 1/2"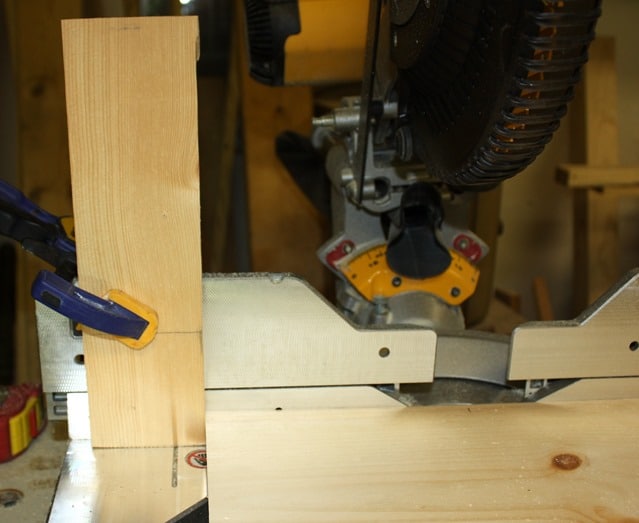 After the first 7 1/2" piece was cut, flip the board to cut the other end at a 5 degree angle such that the edges have parallel 5 degree miters.
After cutting the top and bottom parallel 5 degree angles, the sides of the board are tapered, also at a 5 degree angle, from bottom to top (angles tapered so that the top is narrower than the bottom). Note that the jig is now set to the width of the bottom edge for these tapered cuts.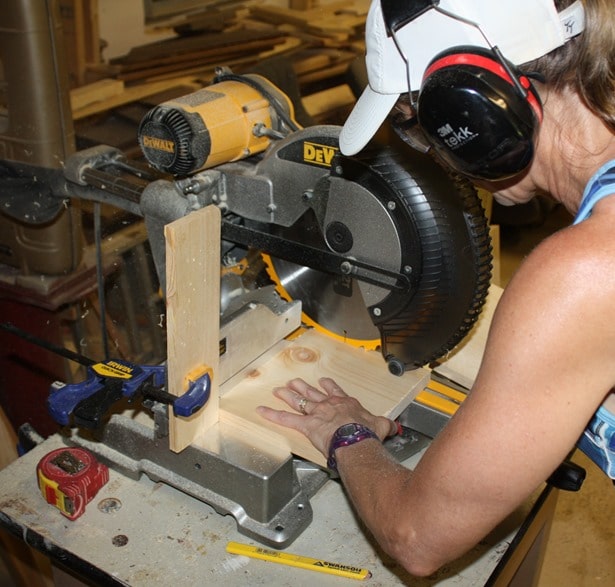 3. Cut 2 – 13" pieces, also at a 5 degree angle (not parallel, but tapered to the top) for the side pieces.
4. Notch the bottom of each side. I measured in 2" on each side and three inches up and then connected the points with a pencil. These lines were cut with the band saw.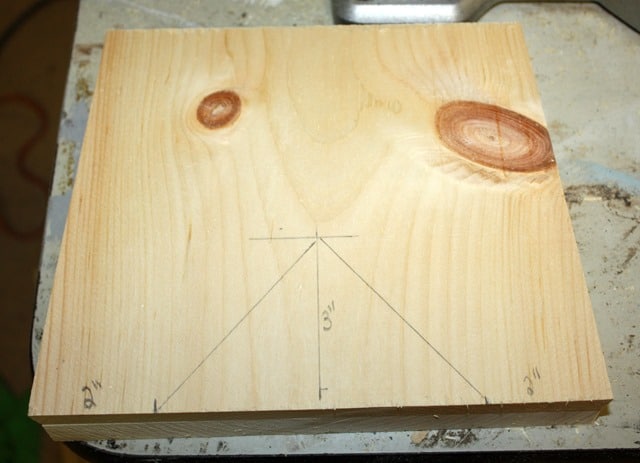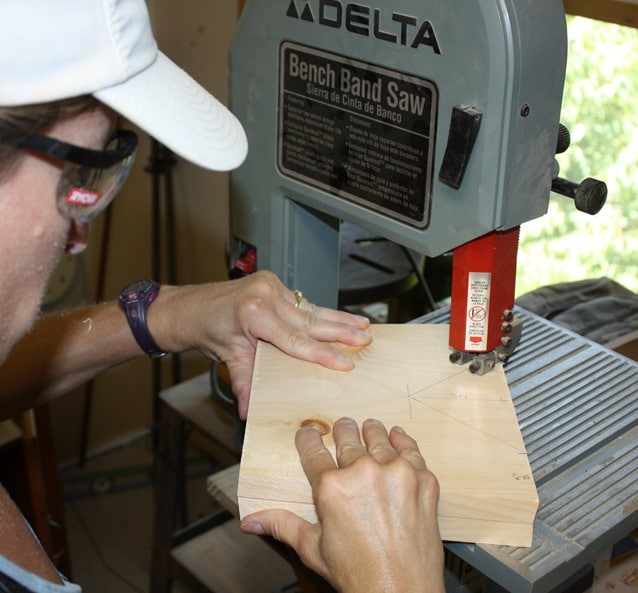 5. Sand each piece.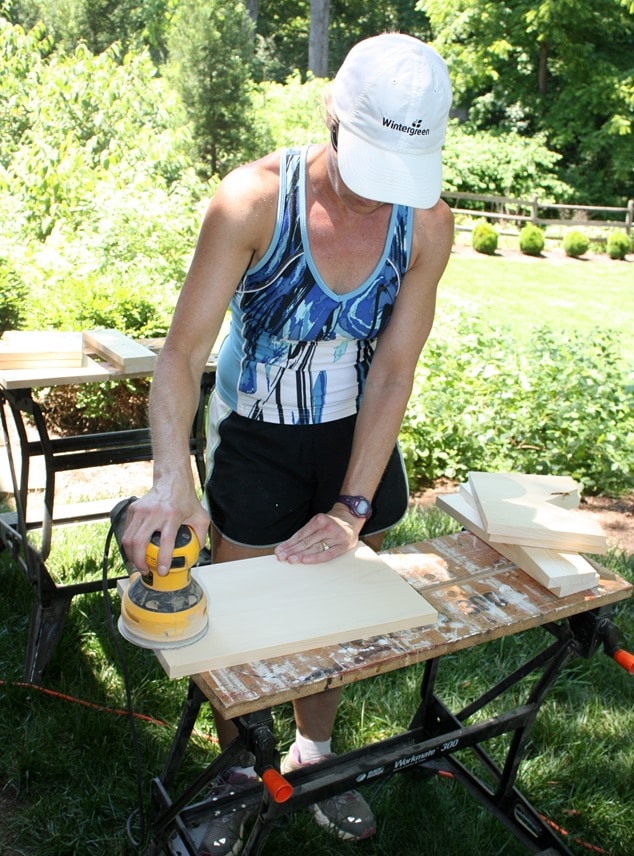 6. Connect the side pieces and end pieces. These side pieces can either be attached vertically (w.r.t. the ground), or aligned with the edge. I chose to align the sides with the tapered edge of the legs. Start by marking points for screw holes 3/8" from the side and 1" down and 2 1/2" down – noting that there is a distinct outside and inside surface to these legs. Countersink the screw holes on the outside of each side piece.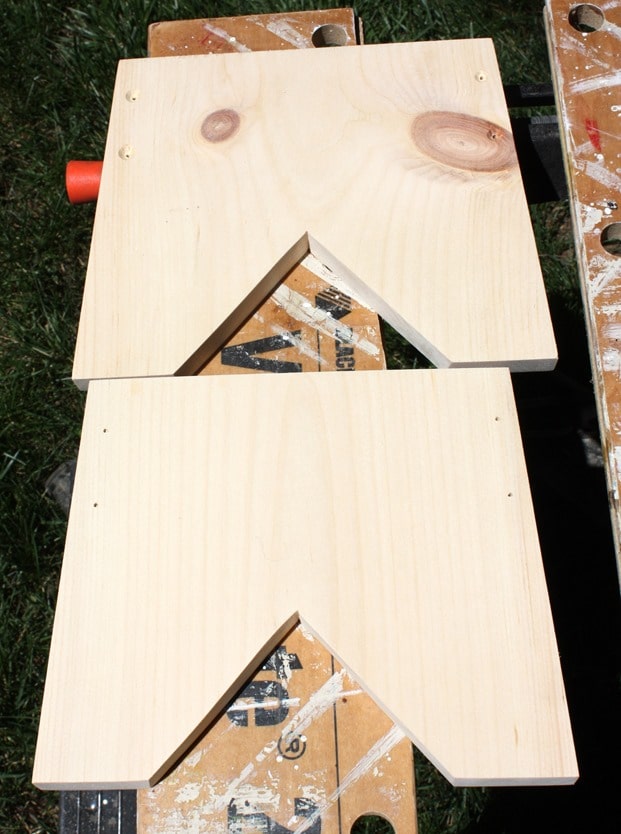 Apply glue to the end pieces and screw to the side pieces.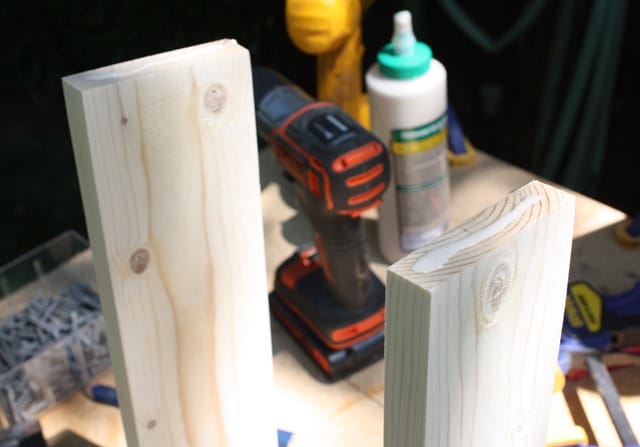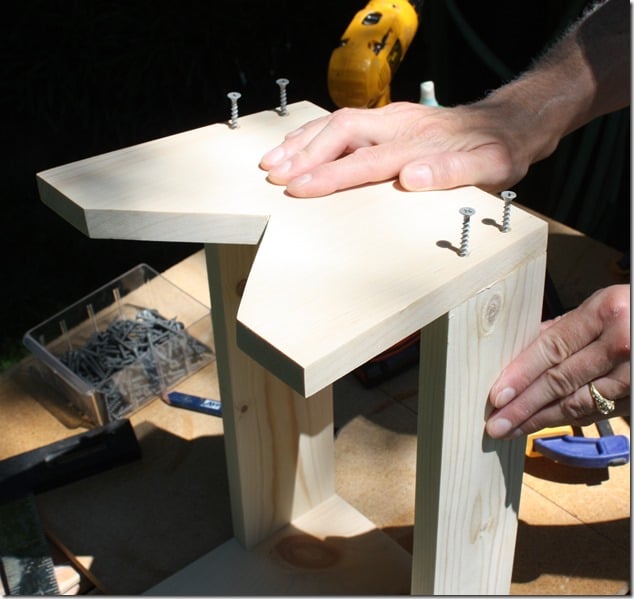 7. I wanted the screws to be hidden when I attached the top to the base, so I used my Kreg Jig to make 3/4" pocket holes that face upwards from the inside.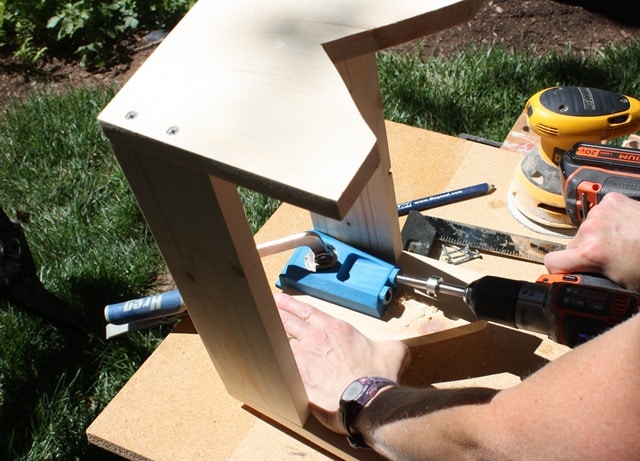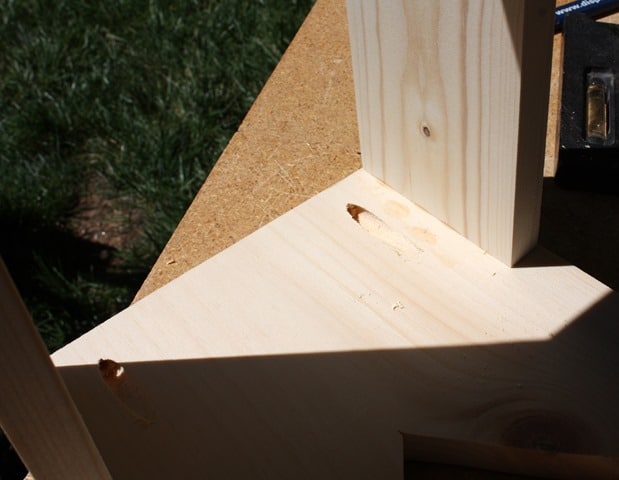 8. Center the base of the footstool on the bottom side of the top and mark with a pencil on the inside. Apply glue around the pencil line.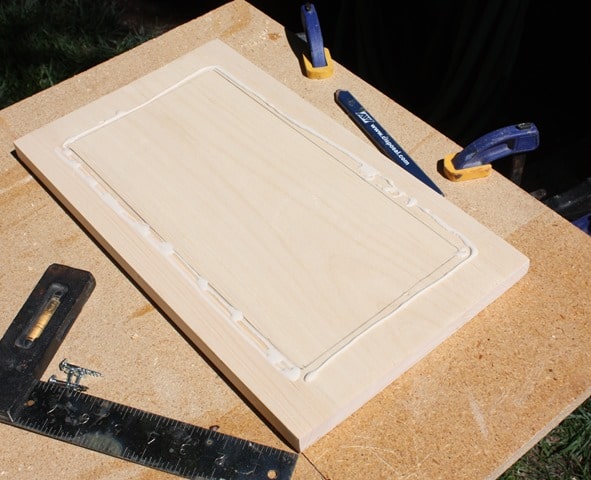 Put the base on the top upside down and screw into place.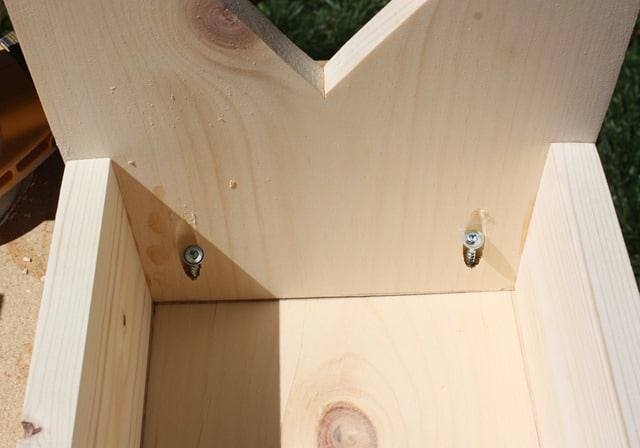 The footstool is now complete other than staining and attaching the cup pull handles on the sides.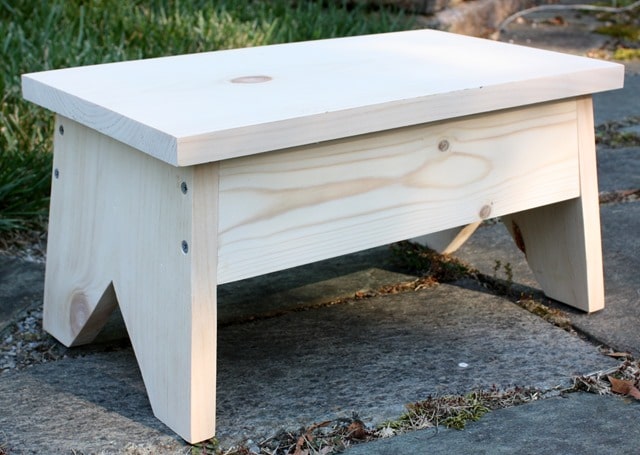 Staining the Footstool
Here the footstool has been stained and protected with polyurethane, ready to be used at the lake.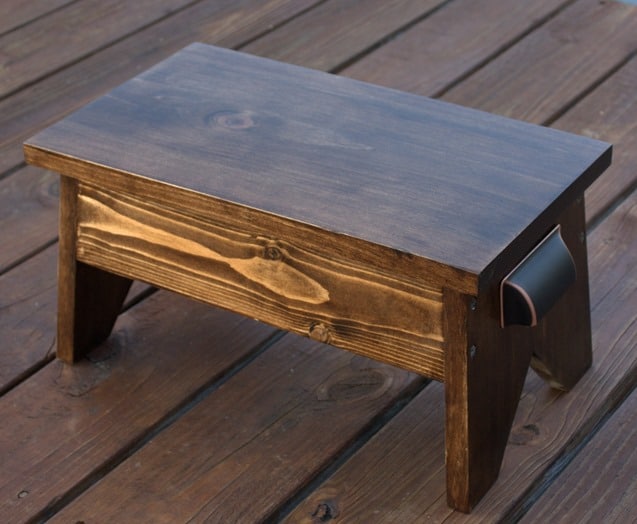 The stools were stained in Dark Walnut by Minwax
.
After the stain dried, I sanded each stool, wiped the wood down with a tack cloth, and applied a coat of polyurethane
.
After the polyurethane dried, I went over each with fine steel wool to make the finish super smooth and then applied a final coat of polyurethane.
After the polyurethane dried, the cup handles were screwed into place.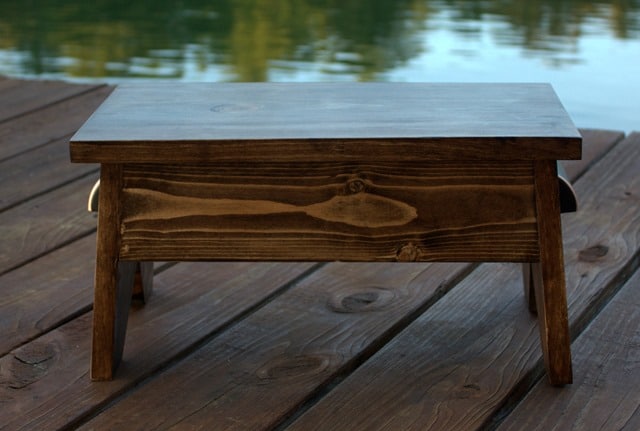 Enjoying the Footstools
At the end of the day, we will pull our Adirondack chairs to the end of the dock, prop our feet up on our footstools, and watch the sun go down.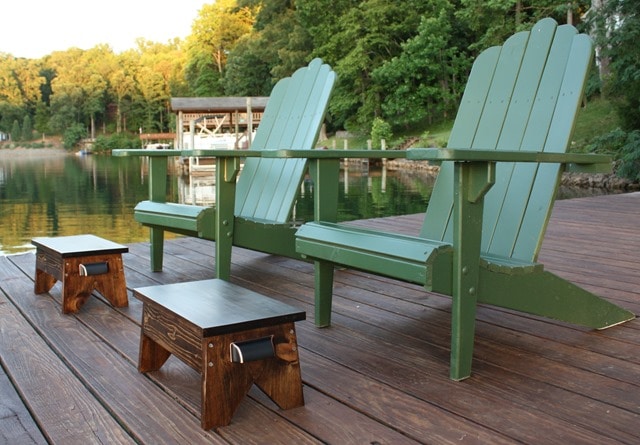 The Adirondack chairs are another DIY project, you can see how we made them here.
This is one of the rockers that usually is on our deck, but since it folds, it's easy to carry down to the dock. Sitting in this rocker with my feet propped up is going to be pure heaven.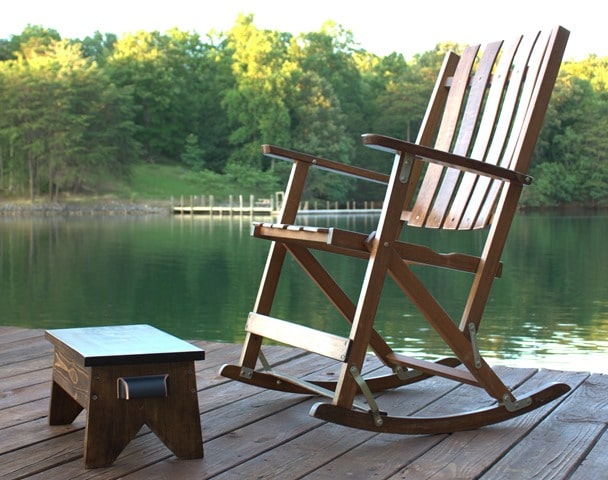 I'm really happy with this project and can't wait to make something else to use at the lake.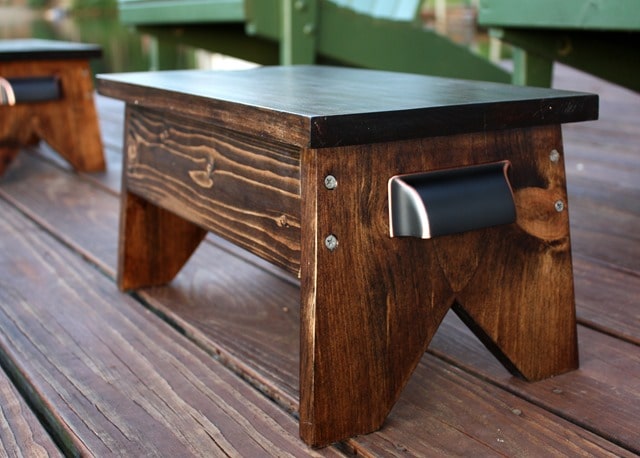 If you like this project, please pin it for others to discover.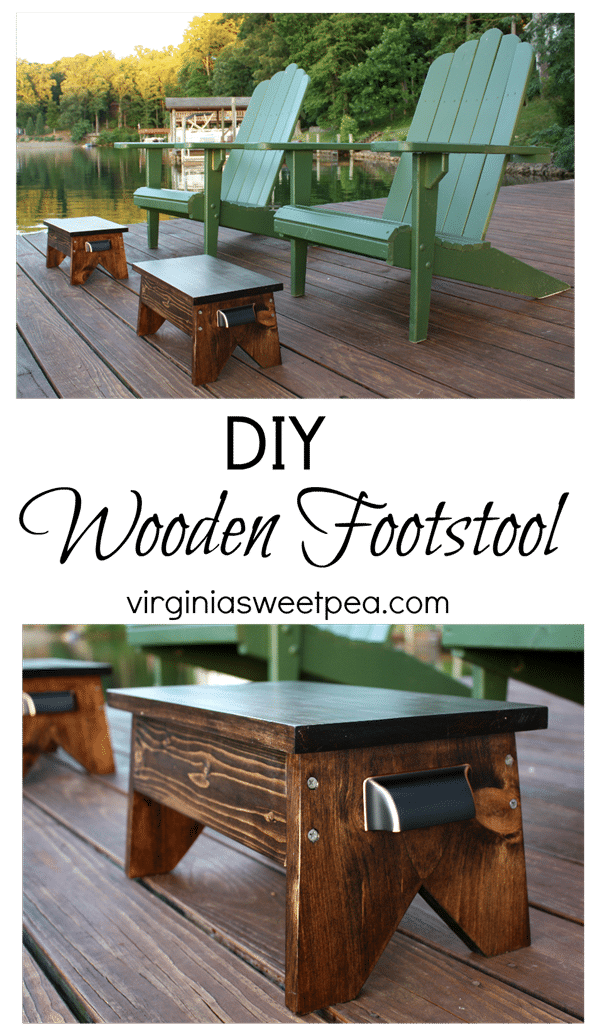 Summer Power Tool Project Ideas
Now it's time to see what my friends made for this month's Power Tool Challenge.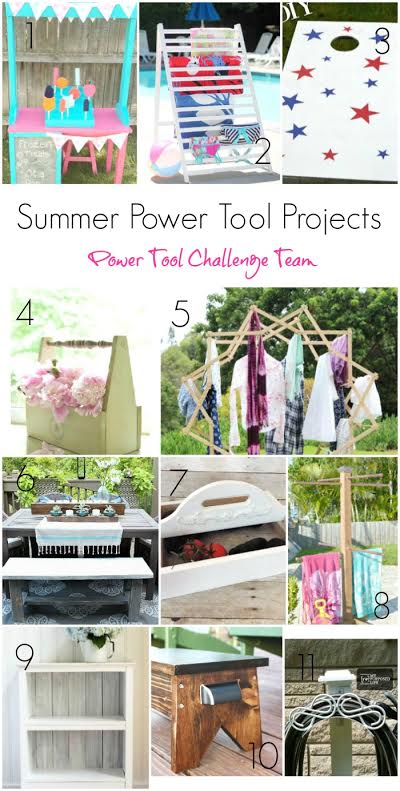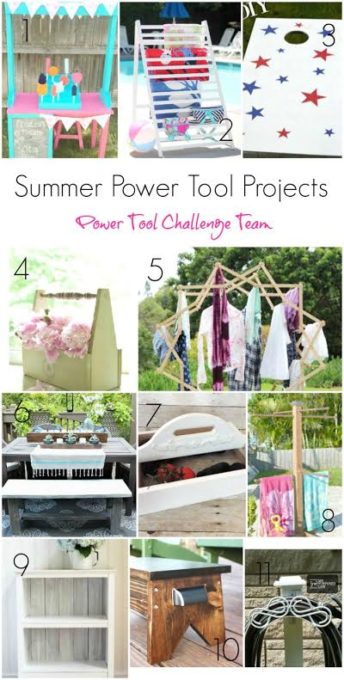 Click on the links below to visit each project.
Frozen Treat Stand by My Love To Create
Red White And Blue Cornhole Game by Create And Babble
Drying Rack From Old Crib rail by The Kim Six Fix
Chair Spindle Wooden Garden Caddy by Interior Frugalista
Star Clothes Drying Rack by A Piece Of Rainbow
Farmhouse Bench Building Plans by Refresh Restyle
Vegetable Gathering Basket by Designs By Studio C
DIY Standing Towel Rack Tutorial by H2OBungalow
Reclaimed Wood Bookcase by Confessions of A Serial DIY'er
DIY Footstool by Virginia Sweet Pea
DIY Hose Hanger by My Repurposed Life
Favorite Projects
If you liked this post, check out more popular projects.