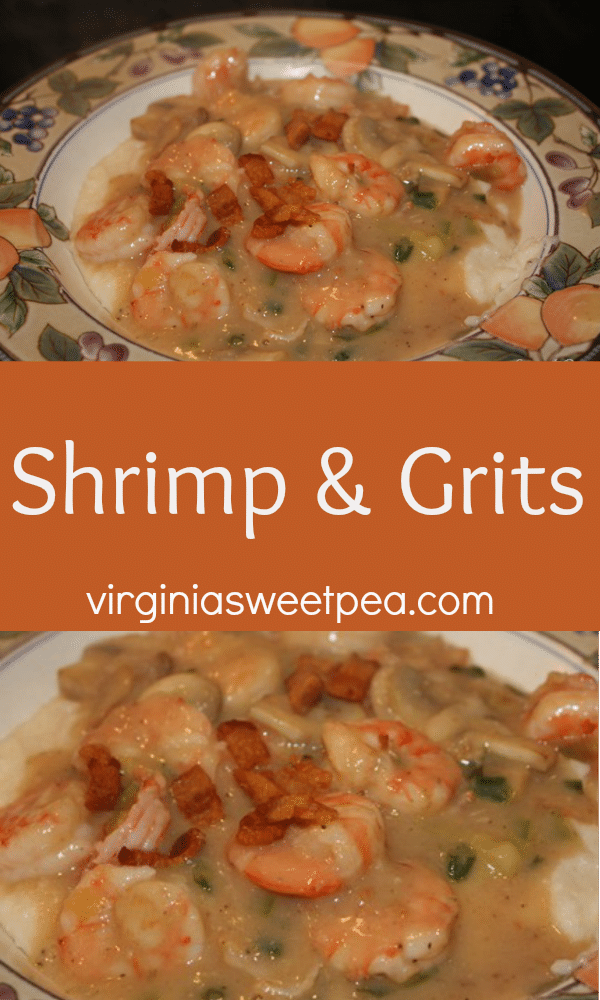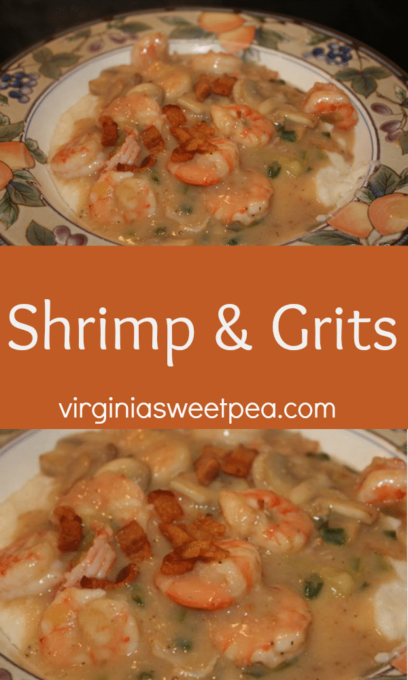 Do you like Shrimp and Grits? We sure do! This recipe from February 2008 Southern Living is one of my favorites to use for this dish.
I bought shrimp the last time we were at the beach and froze it. I wish there were more in my freezer.
Cheese grits topped with this shrimp concoction is heaven in your mouth!

Shrimp and Grits
The original recipe is from Bill Smith, executive chef at Crook's Corner, the landmark Southern restaurant in Chapel Hill, North Carolina.
Preparation Time: 20 minutes minutes
Cooking Time: 21 minutes minutes
Yield: Makes 4 to 6 servings
2 bacon slices
1 pound unpeeled, medium-size raw shrimp
1/8 teaspoon salt
1/4 teaspoon pepper
1/4 cup all-purpose flour
1 cup sliced fresh mushrooms
2 teaspoons canola oil
1/2 cup chopped green onions
2 garlic cloves, minced
1 cup low-sodium, fat-free chicken broth
2 tablespoons fresh lemon juice
1/4 teaspoon hot sauce
Cheese Grits
1. Cook bacon in a large nonstick skillet over medium heat 10 minutes or until crisp; remove bacon, and drain on paper towels, reserving 1 tsp. drippings in skillet. Crumble bacon.
2. Peel shrimp; devein, if desired. Sprinkle shrimp with salt and pepper; dredge in flour.
3. Sauté mushrooms in hot drippings with oil in skillet 5 minutes or until tender. Add green onions, and sauté 2 minutes. Add shrimp and garlic, and sauté 2 minutes or until shrimp are lightly browned. Stir in chicken broth, lemon juice, and hot sauce, and cook 2 more minutes, stirring to loosen particles from bottom of skillet. Spoon shrimp mixture over hot Cheese Grits; sprinkle with crumbled bacon.
Southern Living, FEBRUARY 2008
Cheese Grits Prep: 15 min., Cook: 15 min.
This recipe goes with Shrimp and Grits
Yield: Makes 4 to 6 servings
1 (14-oz.) can low-sodium fat-free chicken broth
1 cup fat-free milk
1/2 teaspoon salt
1 cup uncooked quick-cooking grits
3/4 cup (3 oz.) shredded 2% reduced-fat sharp Cheddar cheese
1/4 cup freshly grated Parmesan cheese
1/2 teaspoon hot sauce
1/4 teaspoon ground white pepper
1. Bring first 3 ingredients and 1 1/3 cups water to a boil in a medium saucepan over medium-high heat; gradually whisk in grits. Reduce heat to low, and simmer, stirring occasionally, 10 minutes or until thickened. Stir in Cheddar cheese and next 3 ingredients.
All I can say is, Mmmmmmmm!!!!!

This is a perfect meal for a cold winter night.