Touring Chateau-sur-Mer in Newport, RI
I had the pleasure of traveling to Newport, RI with my mom and cousin in early June. I last visited Newport, RI in 2011 and on that trip I decided that one day I would take my mom there because I knew that she would love it. We invited my cousin, Susan, on our trip as she's a fellow old house lover and we knew that she would also enjoy the trip.
We started our adventure in Charlottesville at o-dark-thirty in the morning.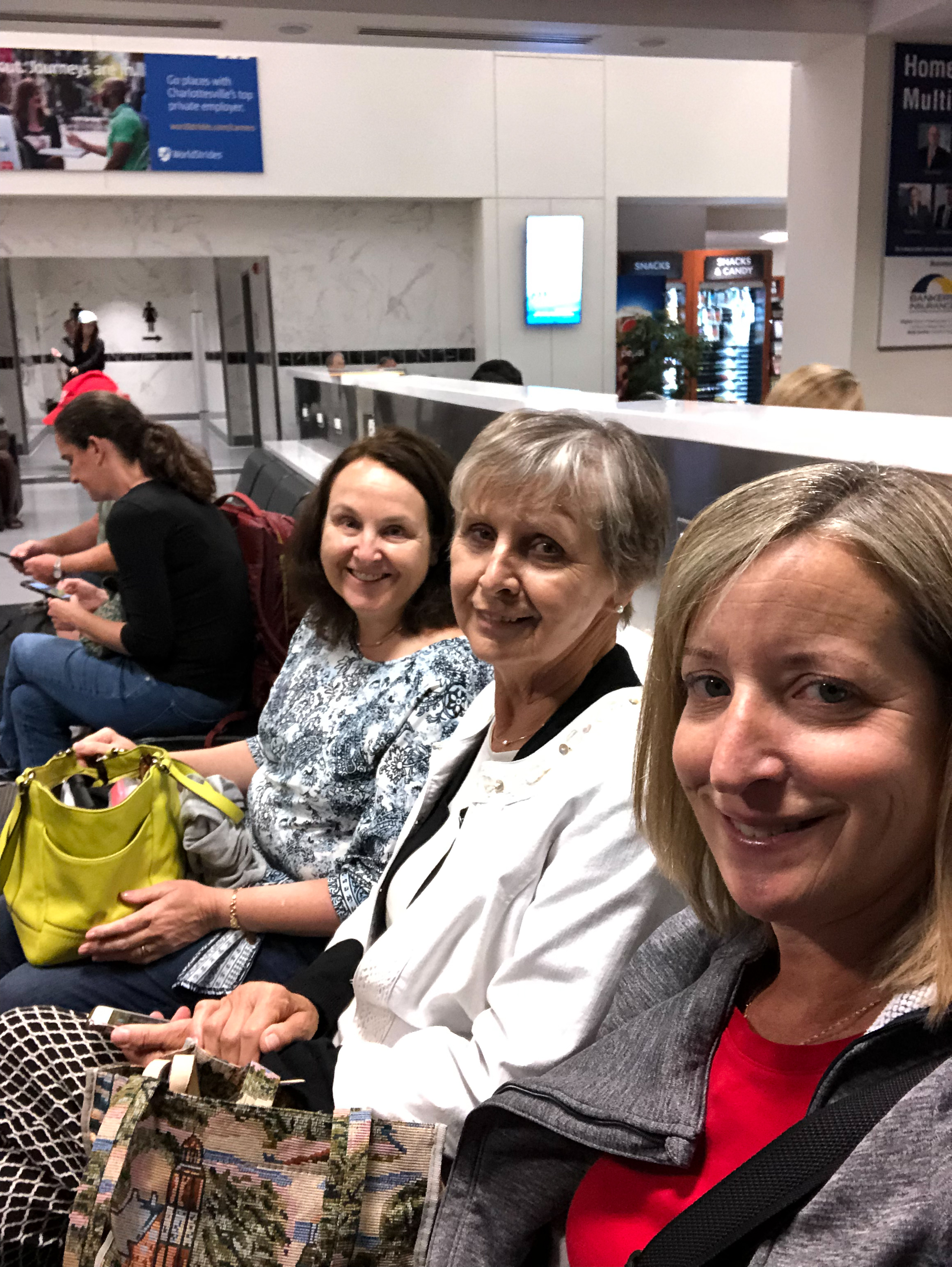 After flying through Philadelphia, we were in Providence by mid-morning and then in Newport before lunch. Our hotel room wasn't ready, but the hotel kept our luggage so that we could have fun while waiting on our room. After a yummy late breakfast at Annie's located near our hotel and also near the Tennis Hall of Fame, we were off to walk around and to decide which mansion we would first tour.
We decided to start with Chateau-sur-Mer, saving the larger mansions for the next few days of our vacation.
Touring Chateau-sur-Mer
Chateau-sur-Mer is an Italianate style 1852 mansion built for William Shepard Wetmore who made his fortune in the American-China Trade. Unlike most of the Newport mansion, this home was lived in year-round.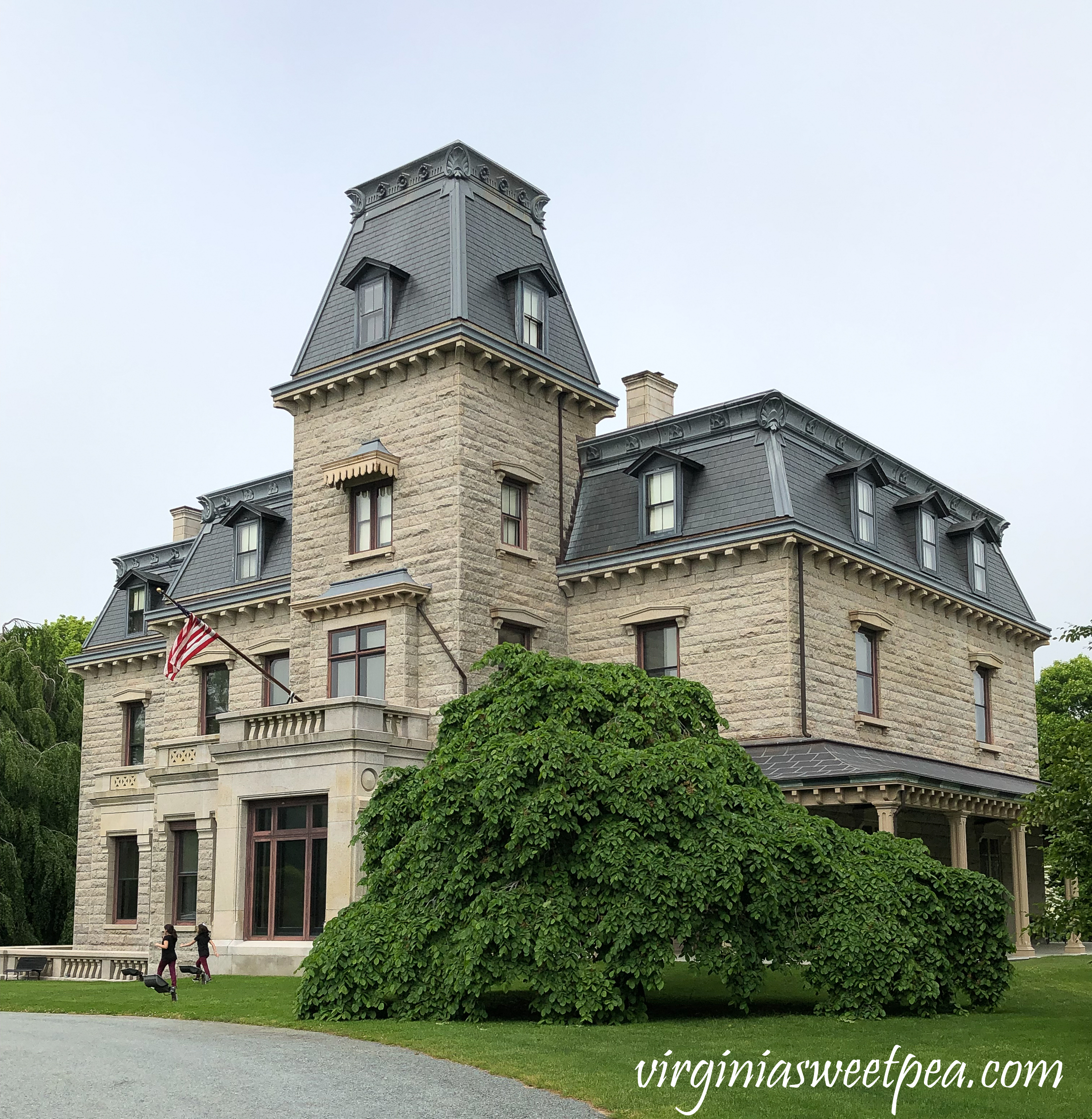 The grounds of Chateau-sur-Mer were lovely and we toured them while waiting for our inside tour time. This is a garden house, perhaps used as a tea room located at the rear of the property.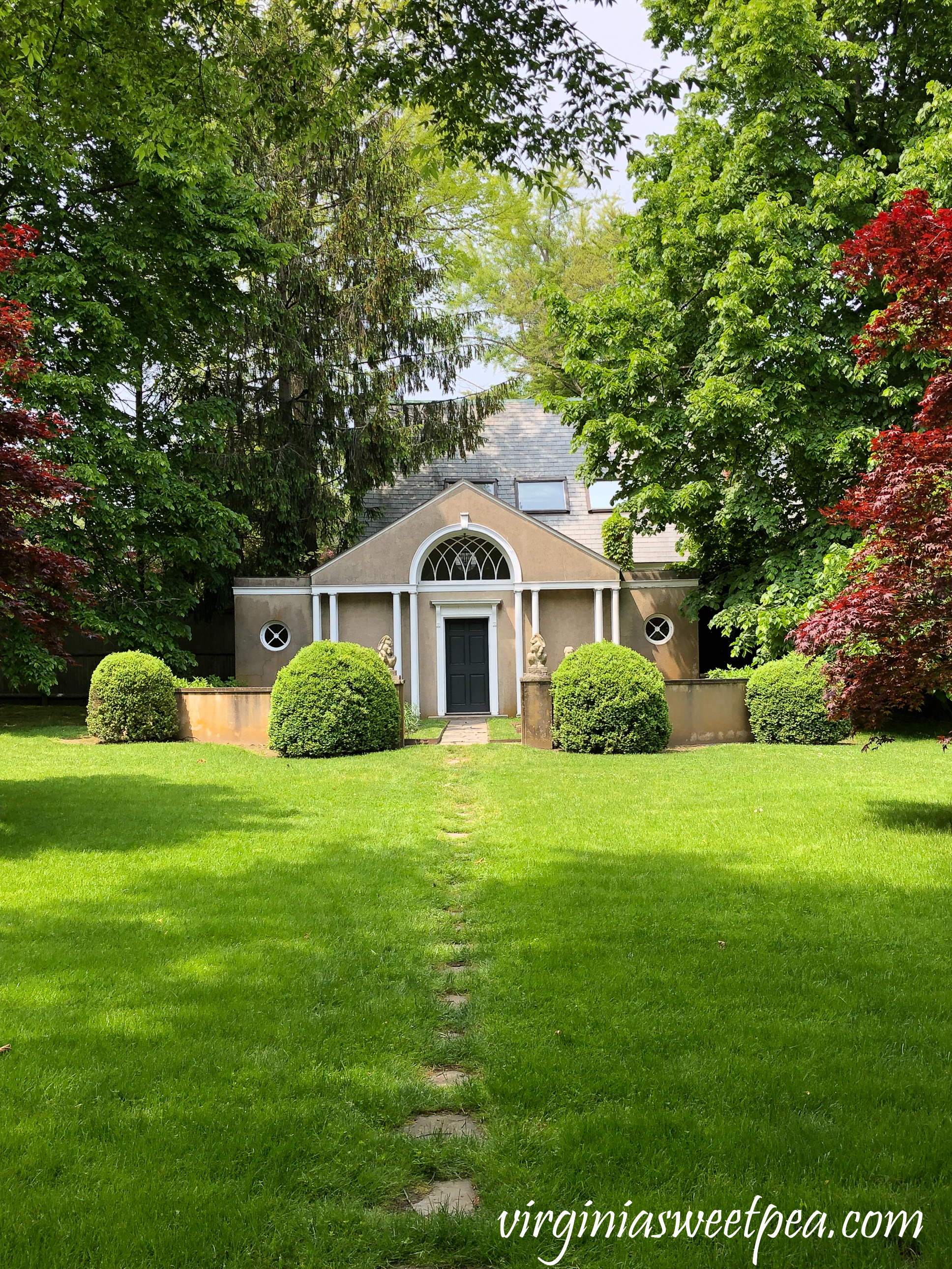 Newport blooms are way behind Virginia's and we enjoyed seeing a second spring while vacationing there. I love Iris and wish I had this color combination in my flower bed.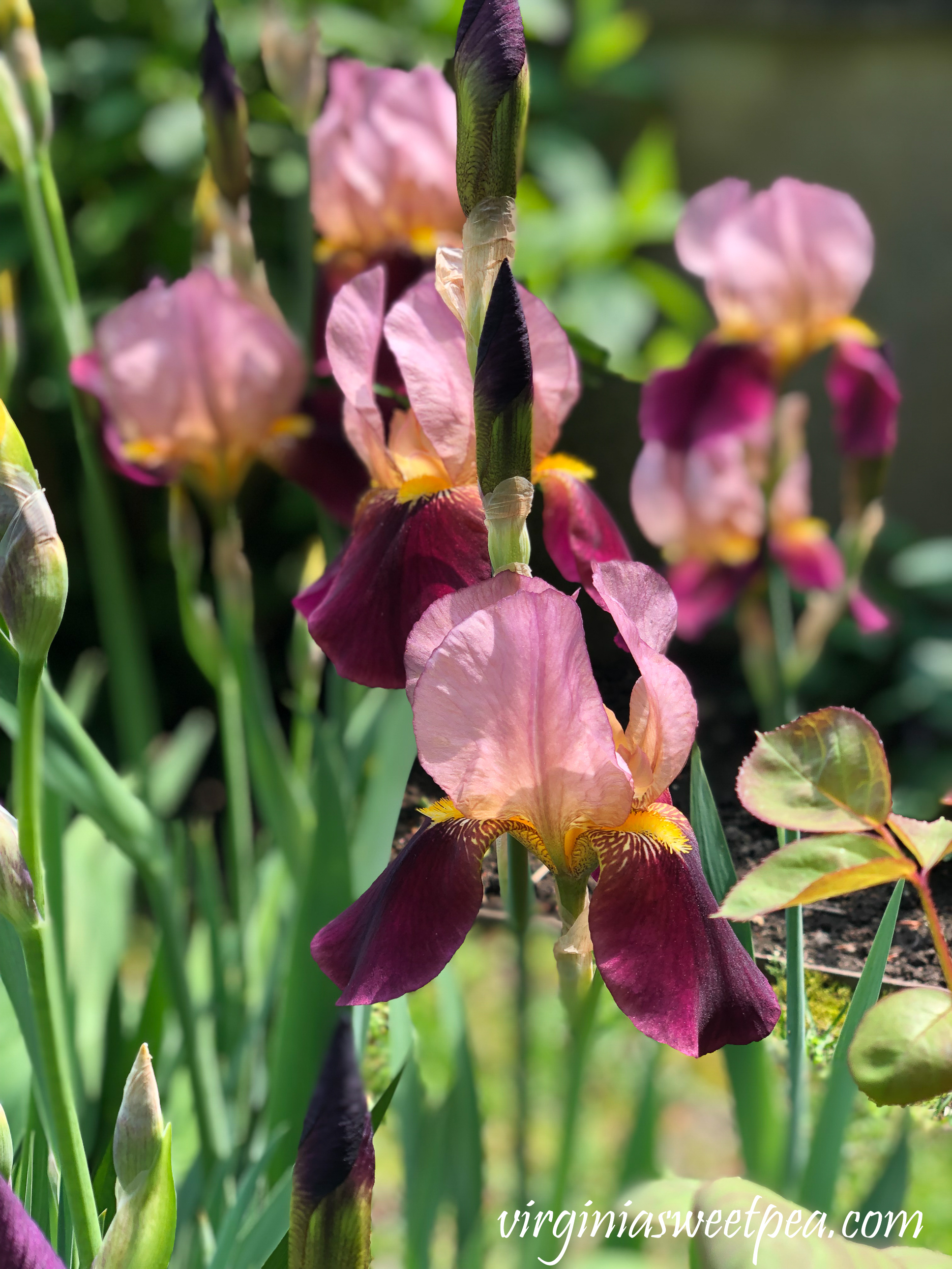 Poppies are another flower that I love and want to add to my landscape. I think that they are deer proof which is a huge plus for my deer infested yard.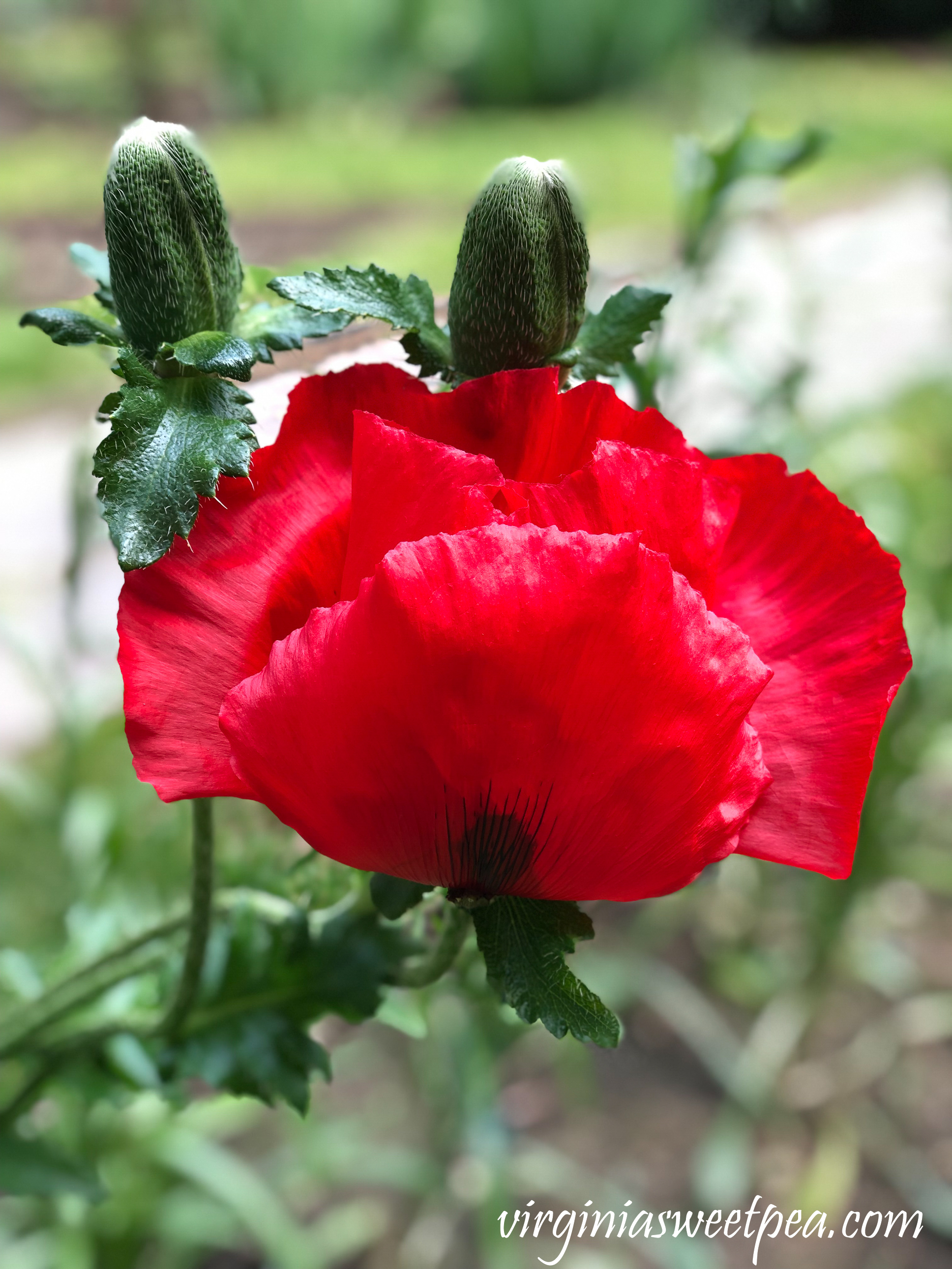 Finally it was time for our tour to start. This room filled with beautiful woodwork is where you check-in for the tour and where you can see photos of the Wetmores.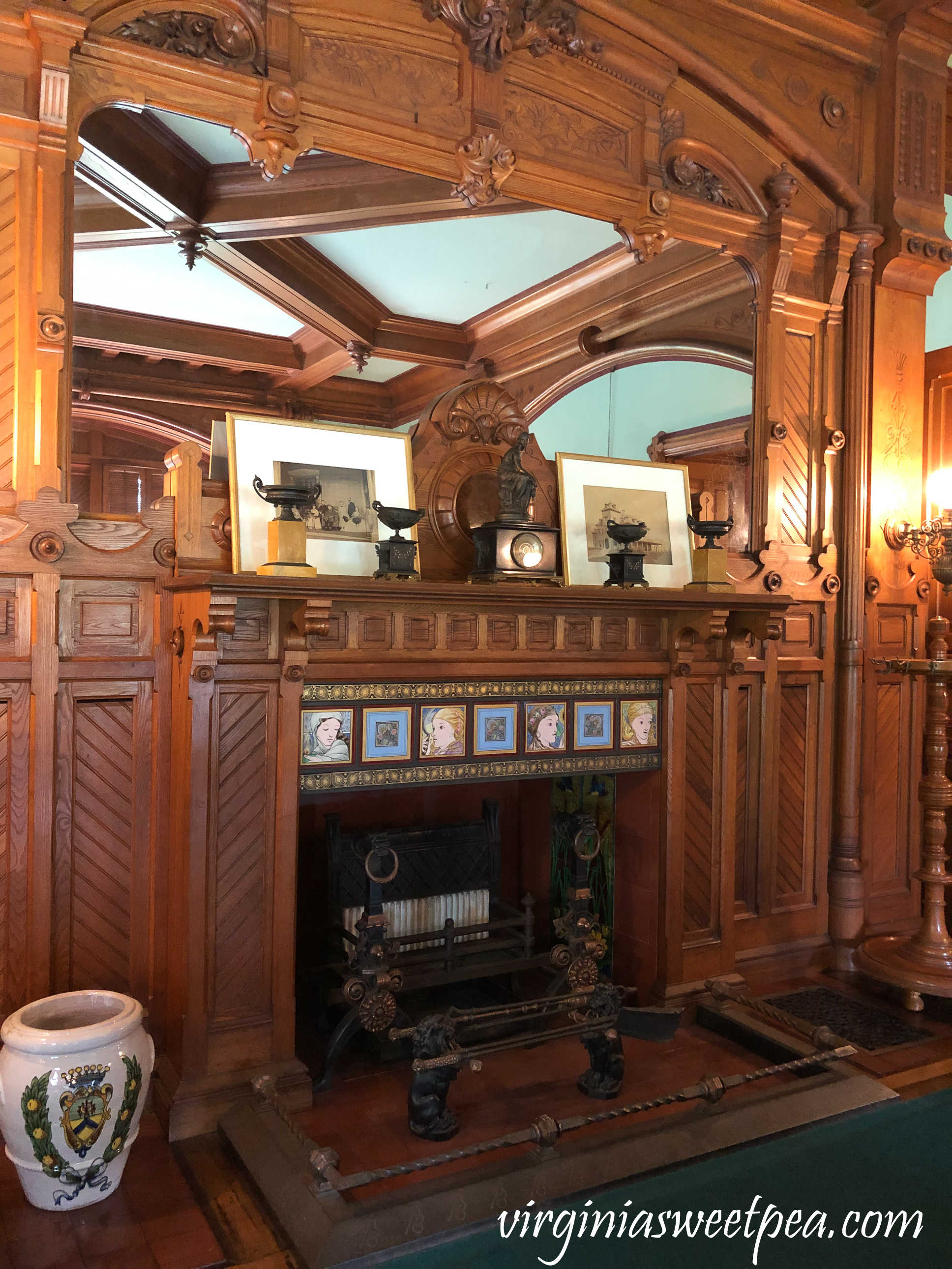 The marble hallway originally served as the house's main entrance and is finished with a variety of different marble colors. It was closed off in 1920 by replacing the main door with a bay window.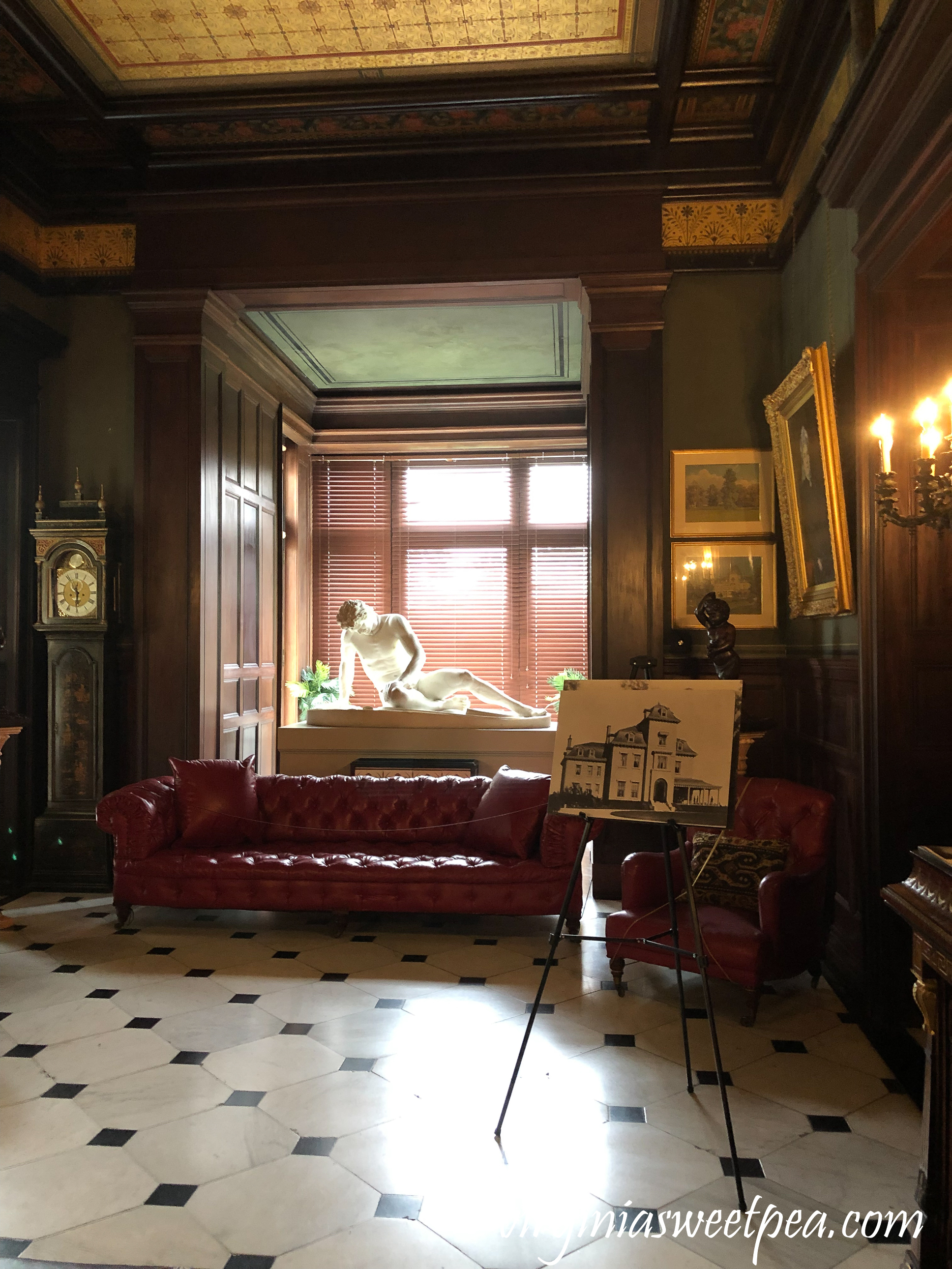 I spent a lot of time on this tour admiring the ceilings. This center hall ceiling really struck my fancy, I loved the colors and patterns combined with the dark wood.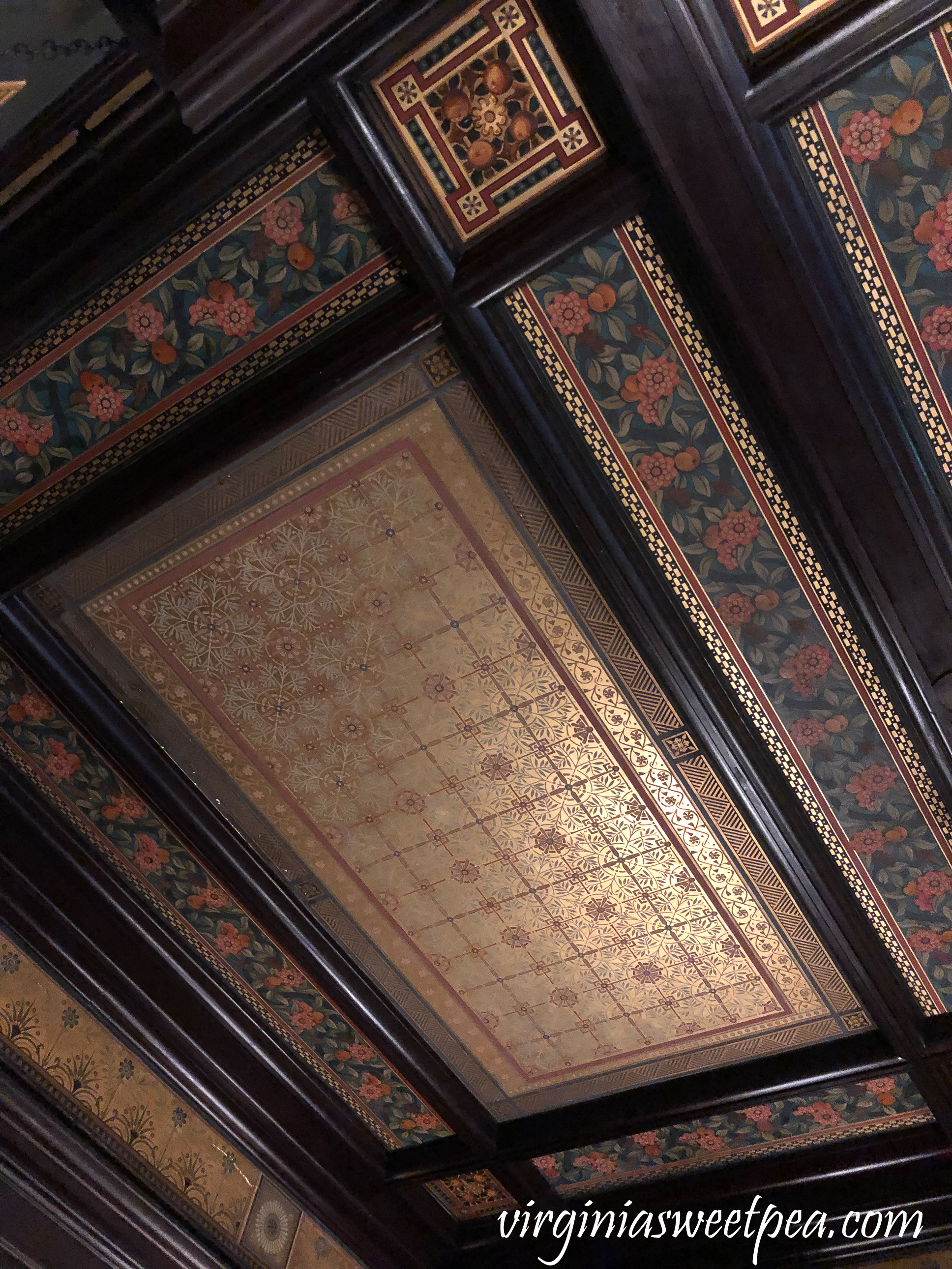 The green room served as a ladies' reception area and was designed in 1900.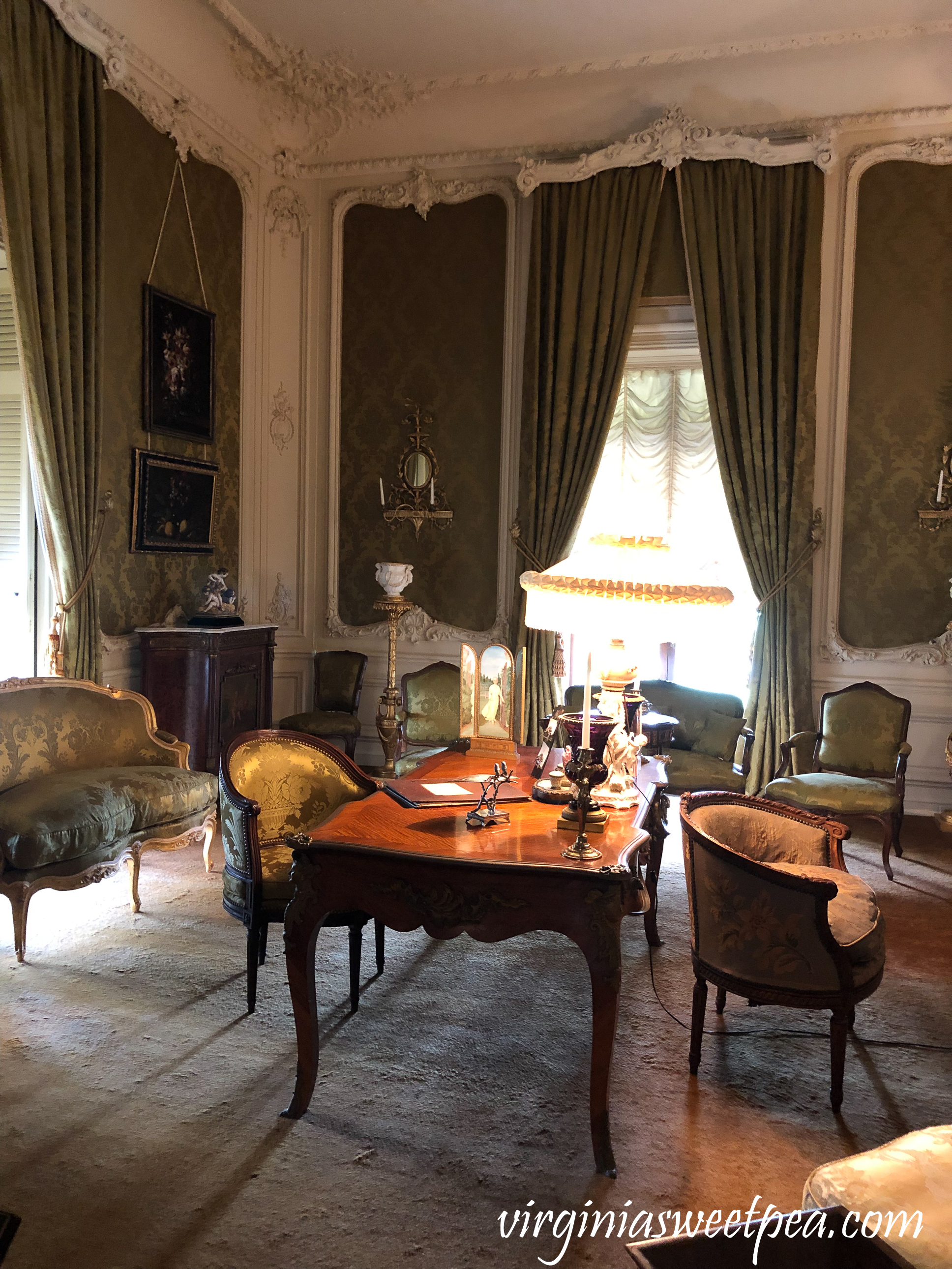 This is the ballroom. Can you picture ladies and gentlemen dressed to the nines having fun in this room?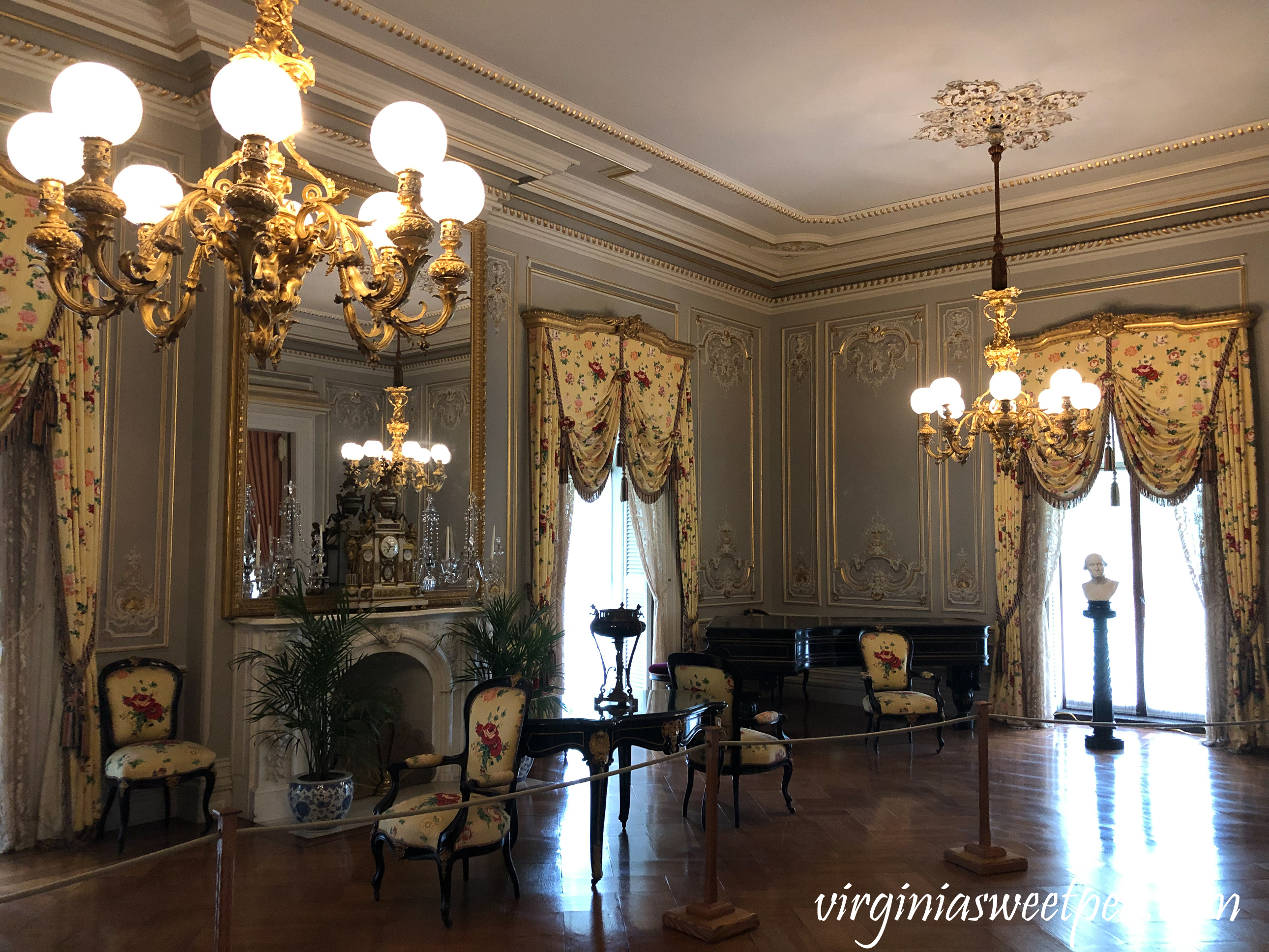 This shot shows the second and third floors.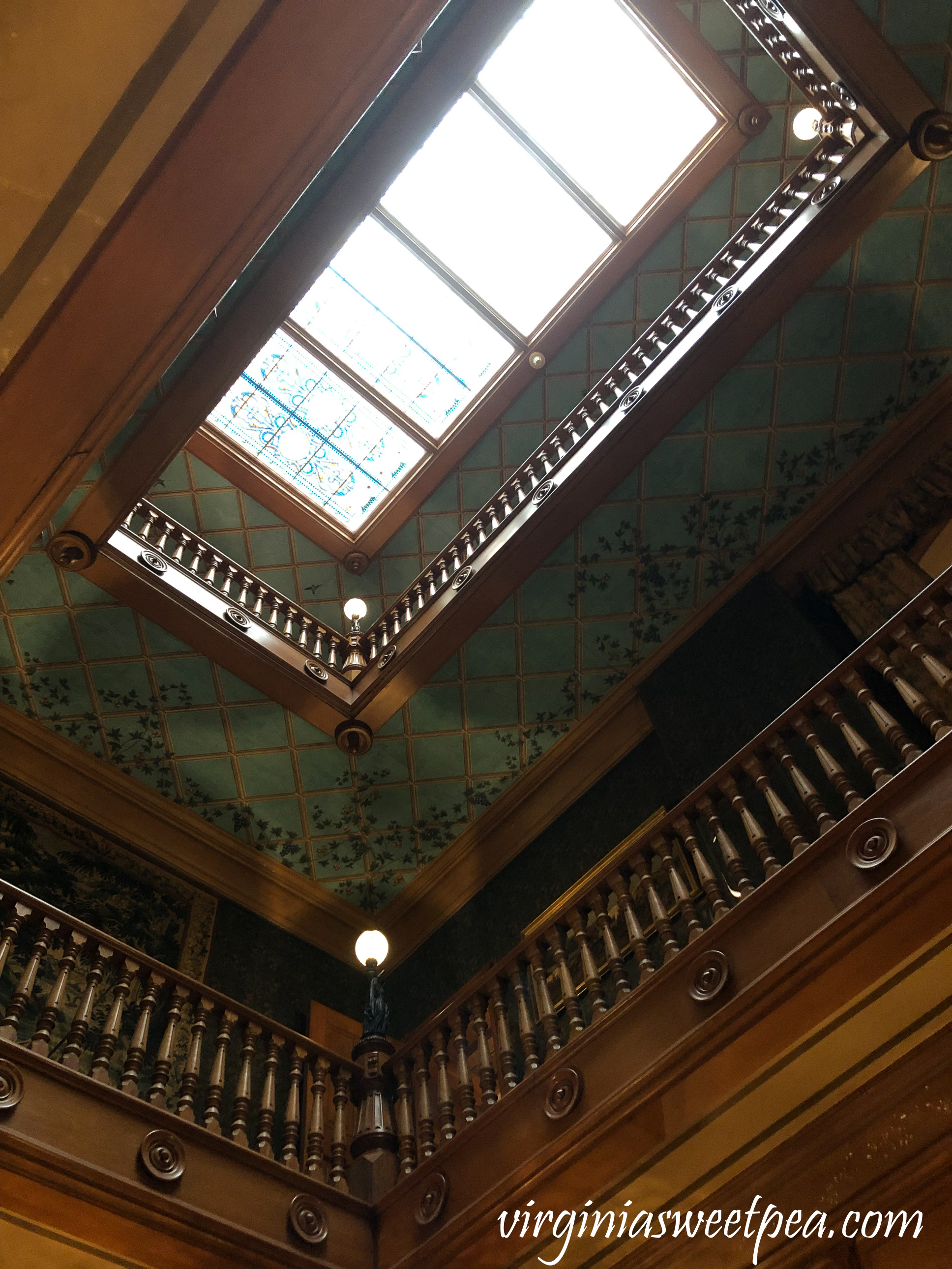 This is the library, designed and built in Italy and then transported to Newport and installed in Chateau-sur-Mer.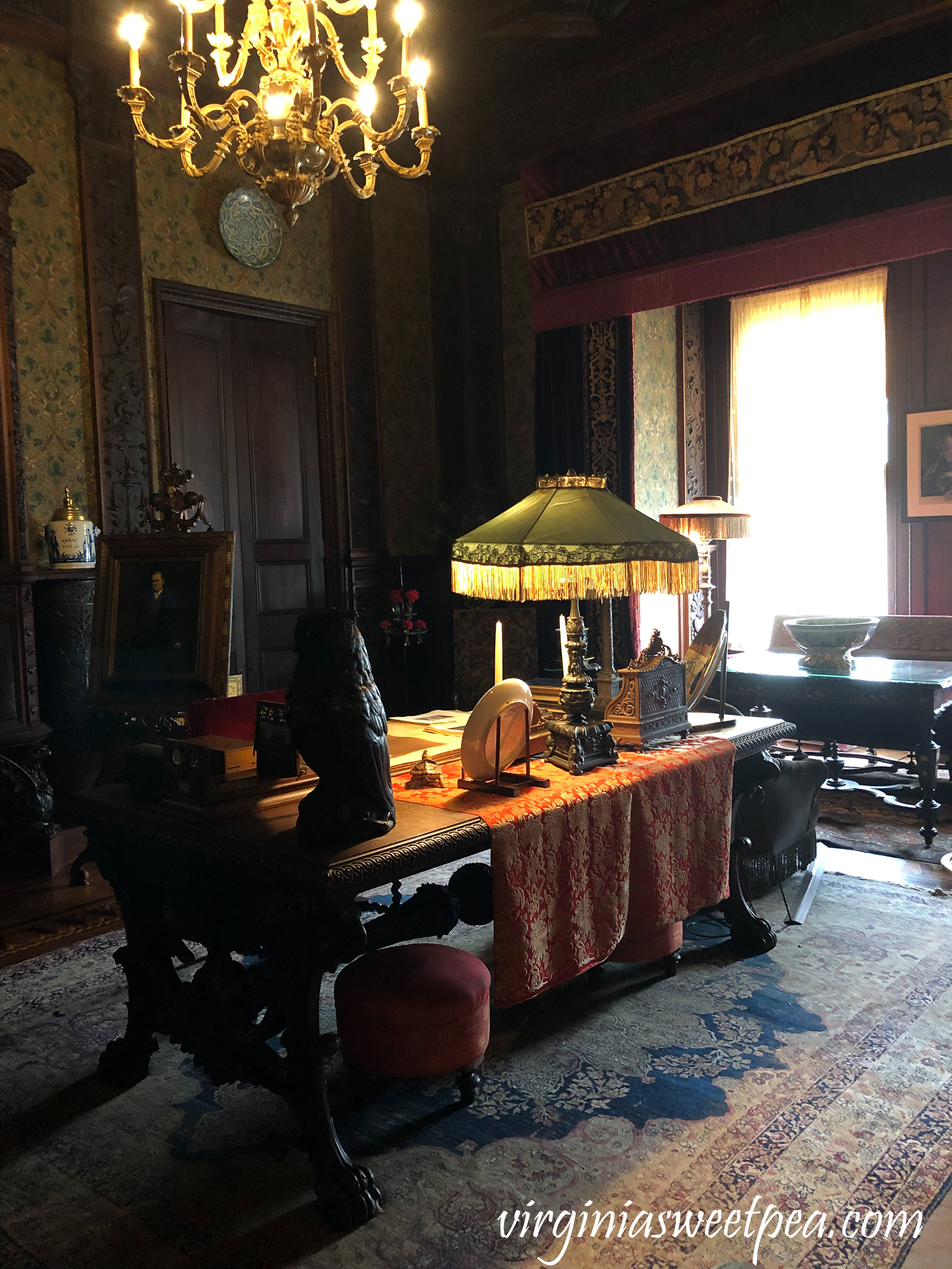 To the right of this fireplace was a bookcase that was also a hidden door.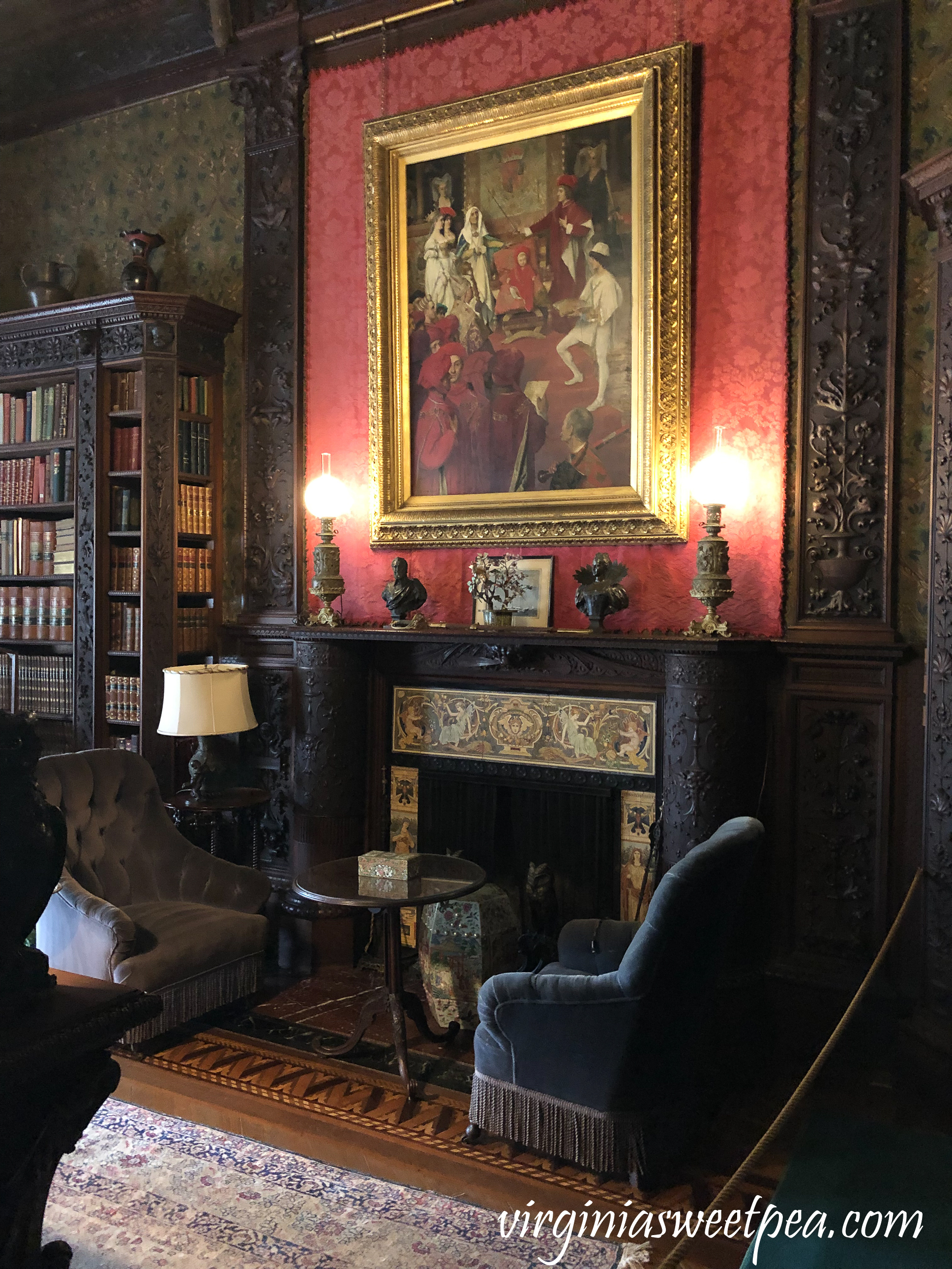 This room also has a very ornate ceiling.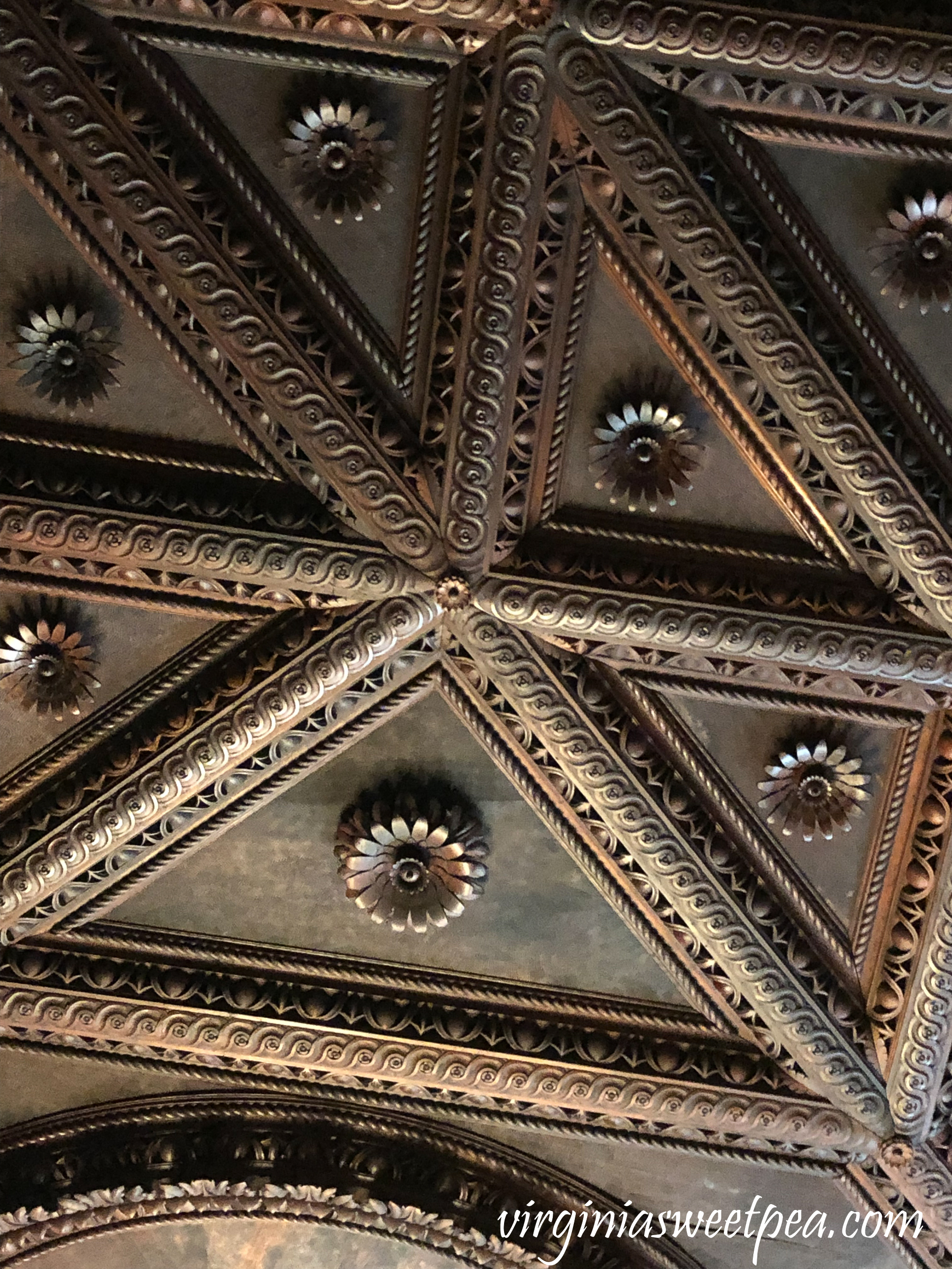 This is the dining room, another room that was designed and built in Italy and then transported to Newport and installed in Chateau-sur-Mer.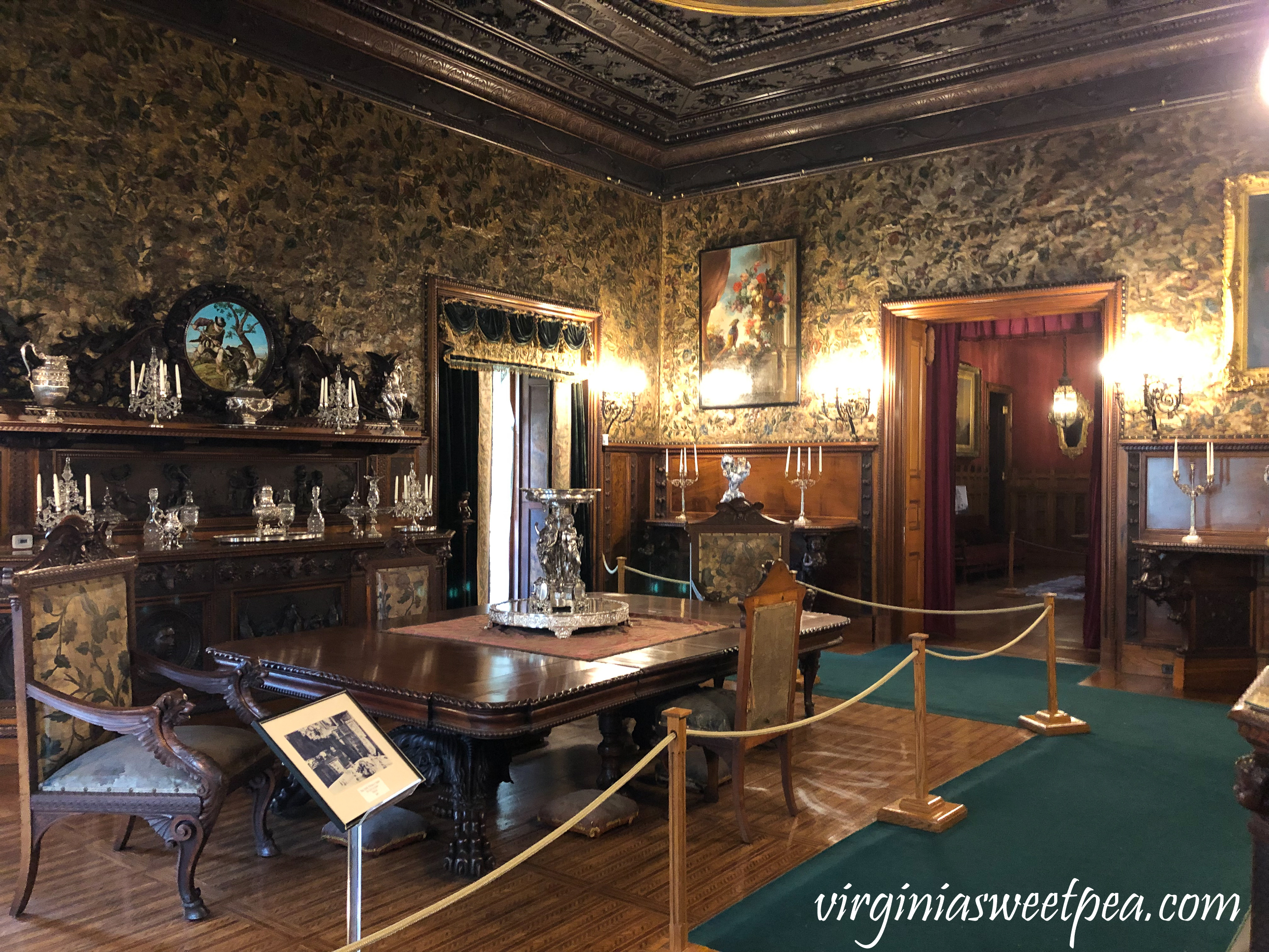 This is the ceiling in the dining room.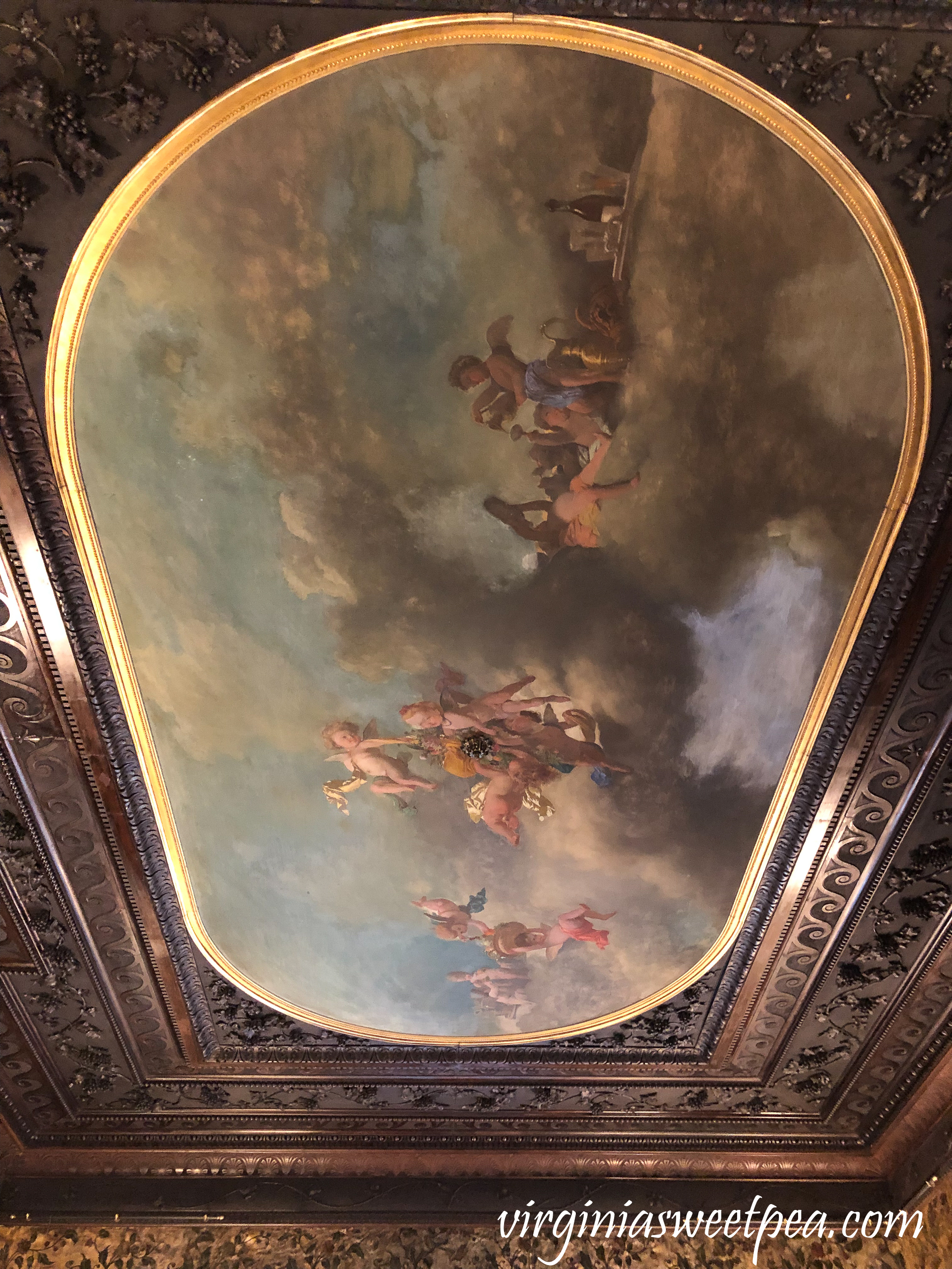 I can't imagine anyone designing and carving this furniture piece. Nor can I imagine keeping it dusted!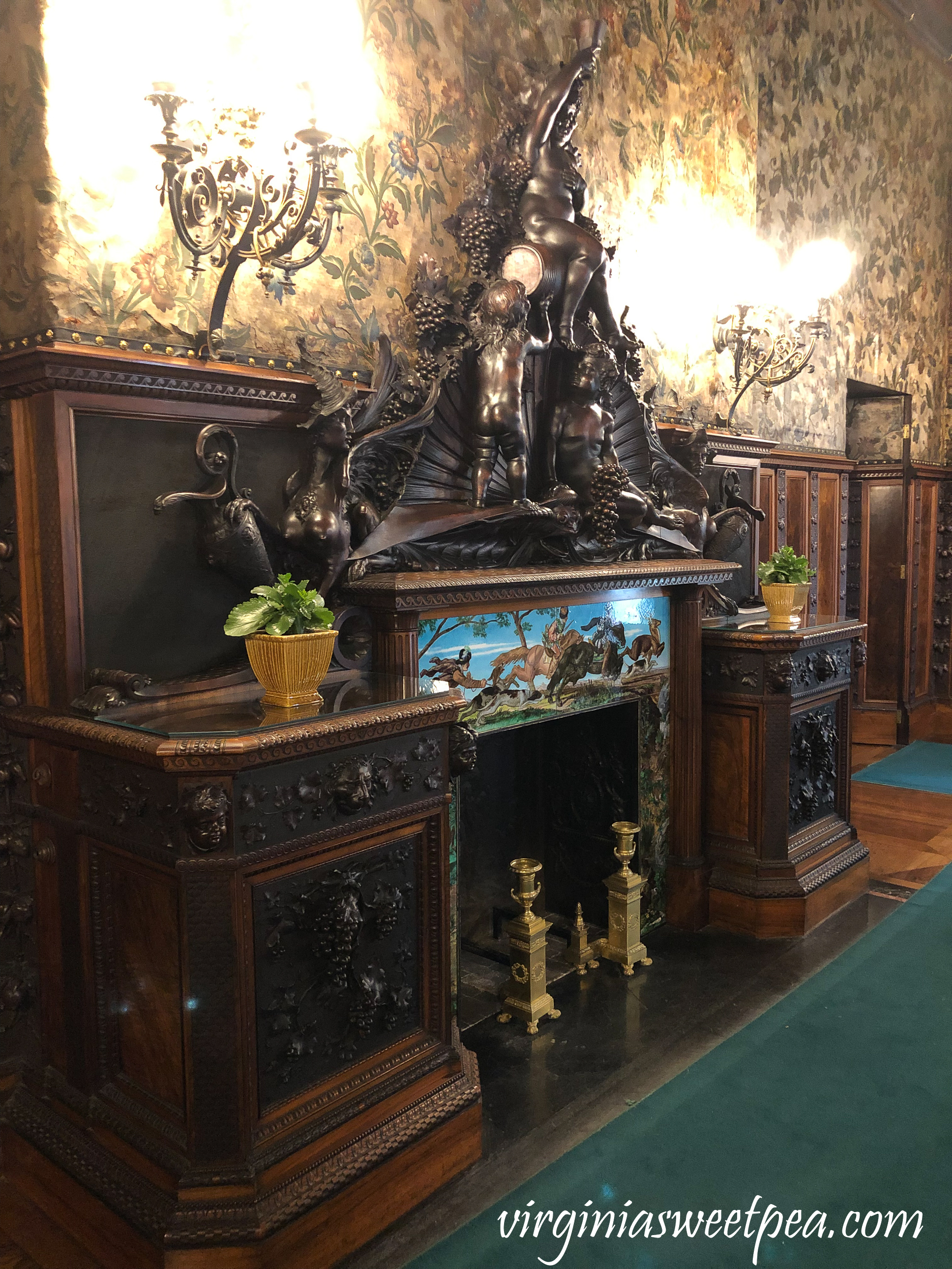 Chateau-sur-Mer, like many of the Newport mansions, has beautiful stained glass windows to enjoy.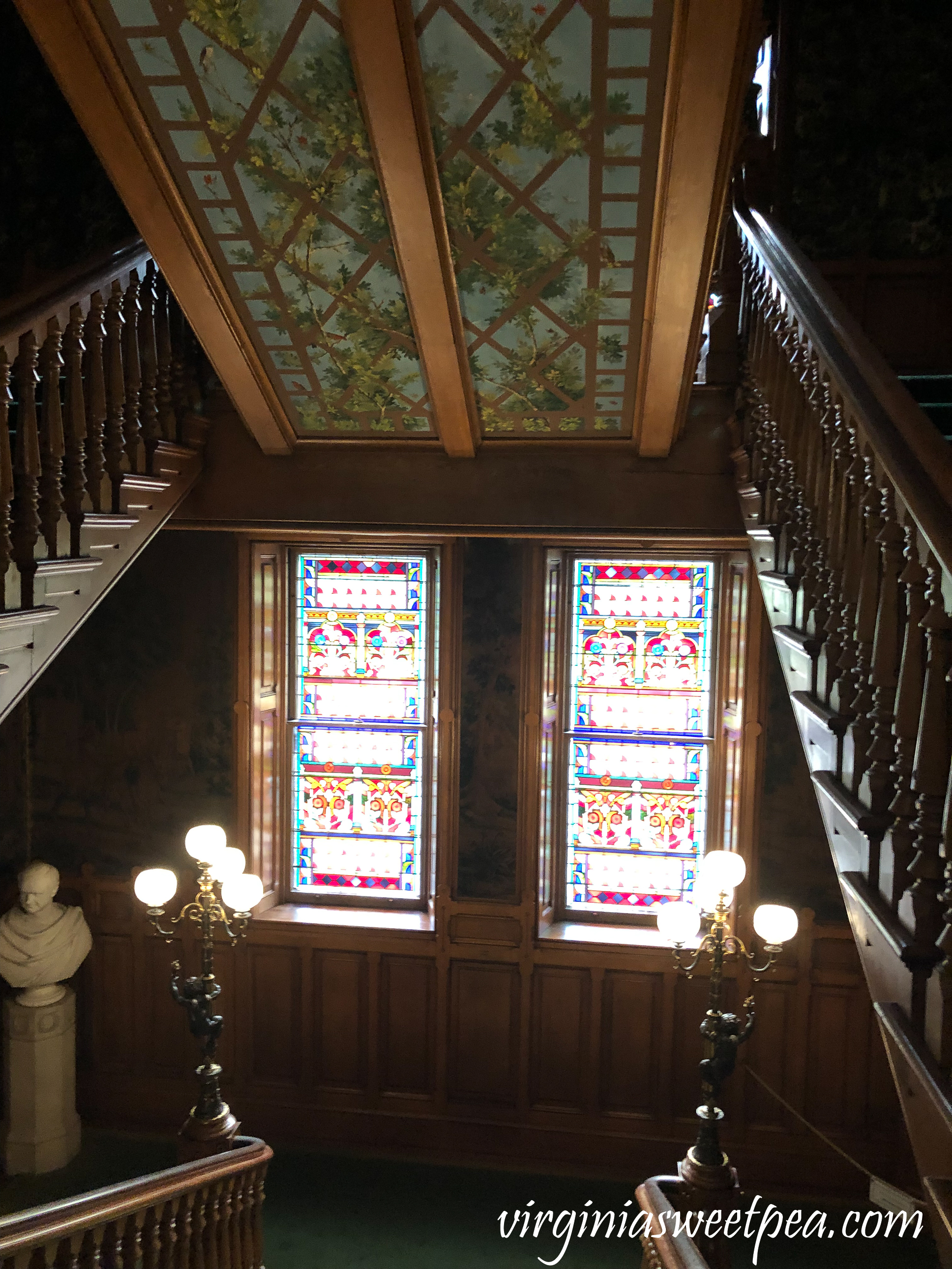 This is one of the Chateau-sur-Mer bedrooms. I spent a lot of time in this home admiring the wallpaper. A lady on the tour with me recommended Bradbury wallpaper to get a similar look.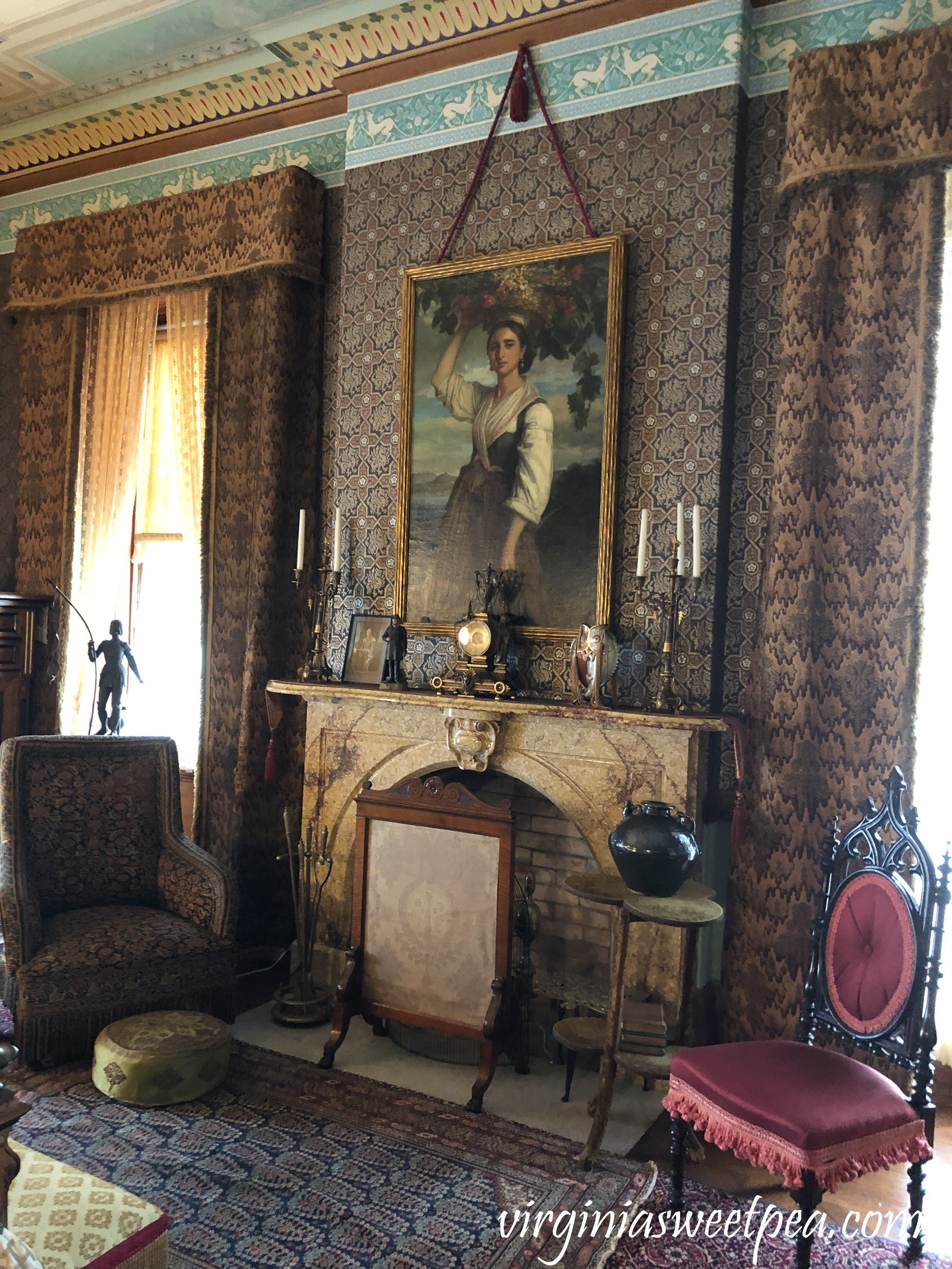 In this time period, gentlemen and ladies had separate bedrooms.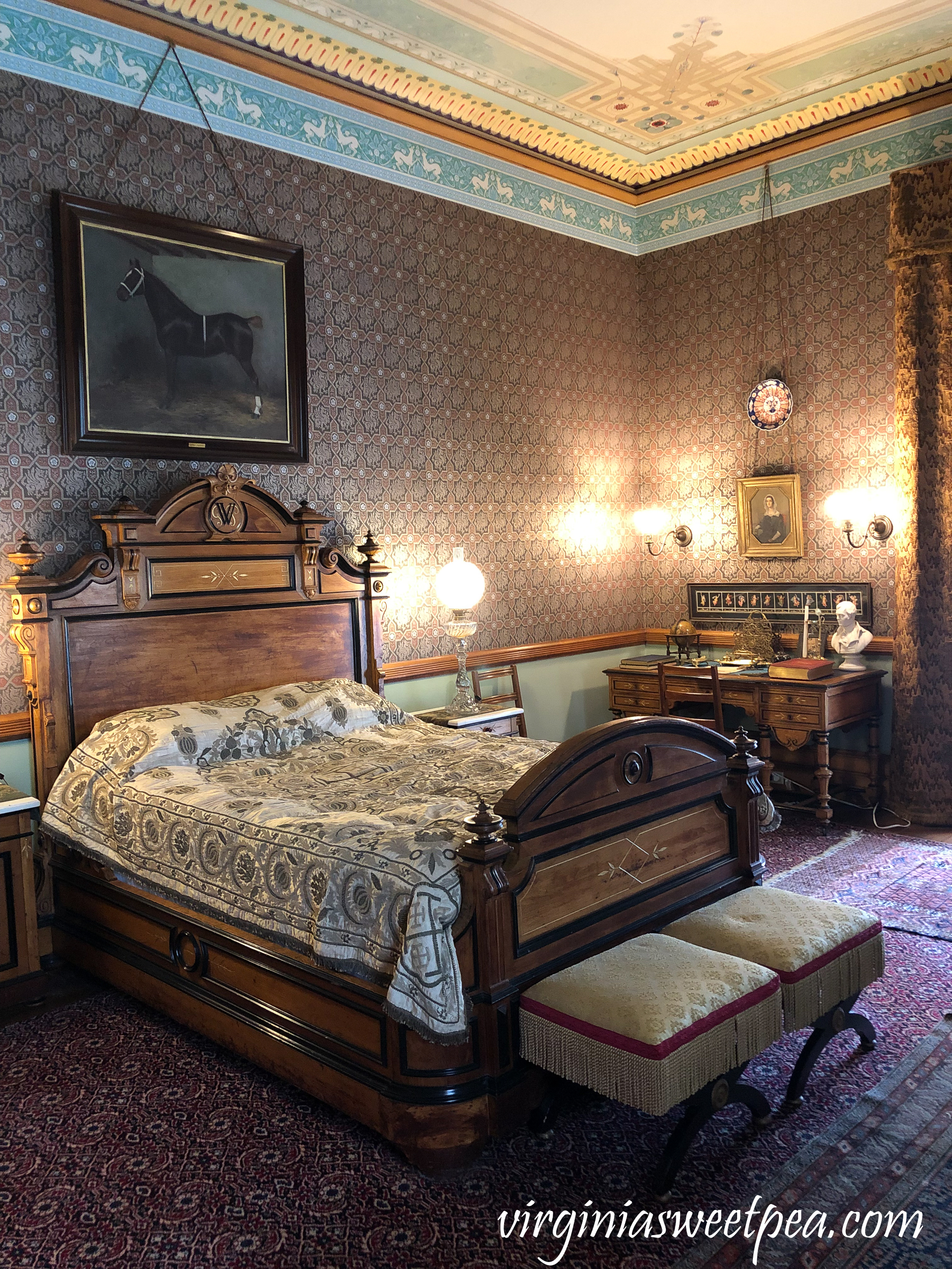 Here we have a beautiful bedroom for the lady of the house.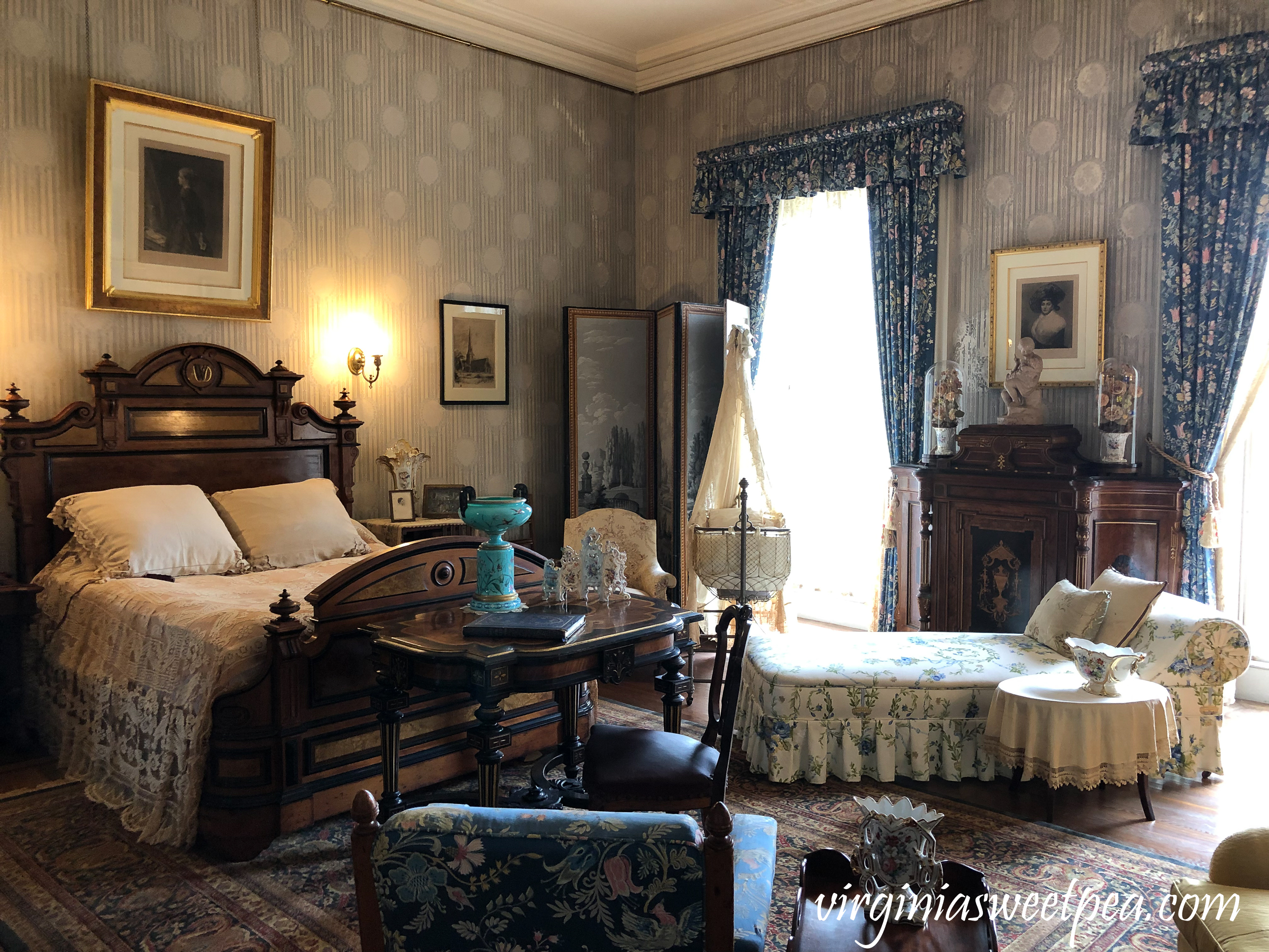 Every wall and ceiling of this home was decorated.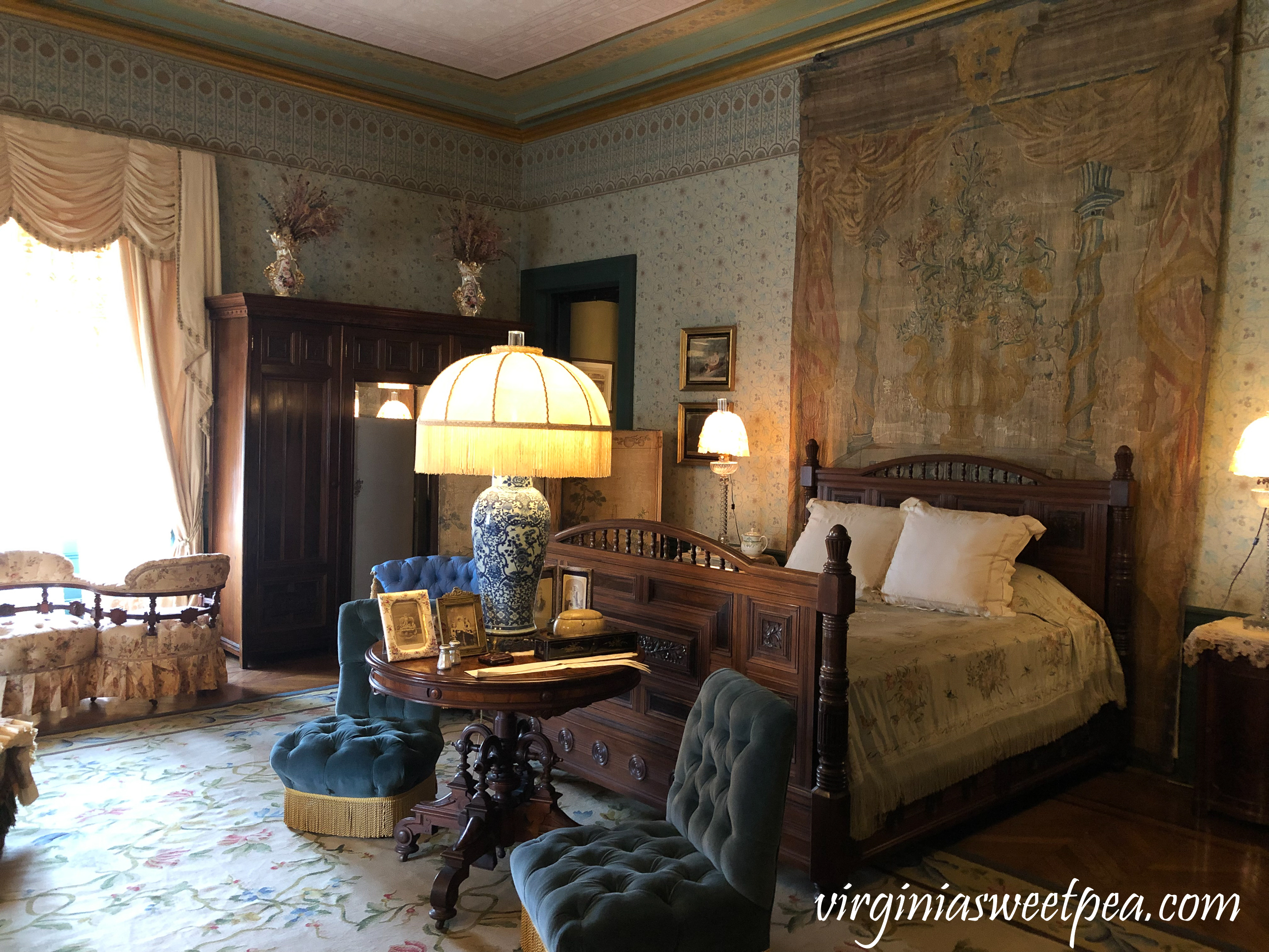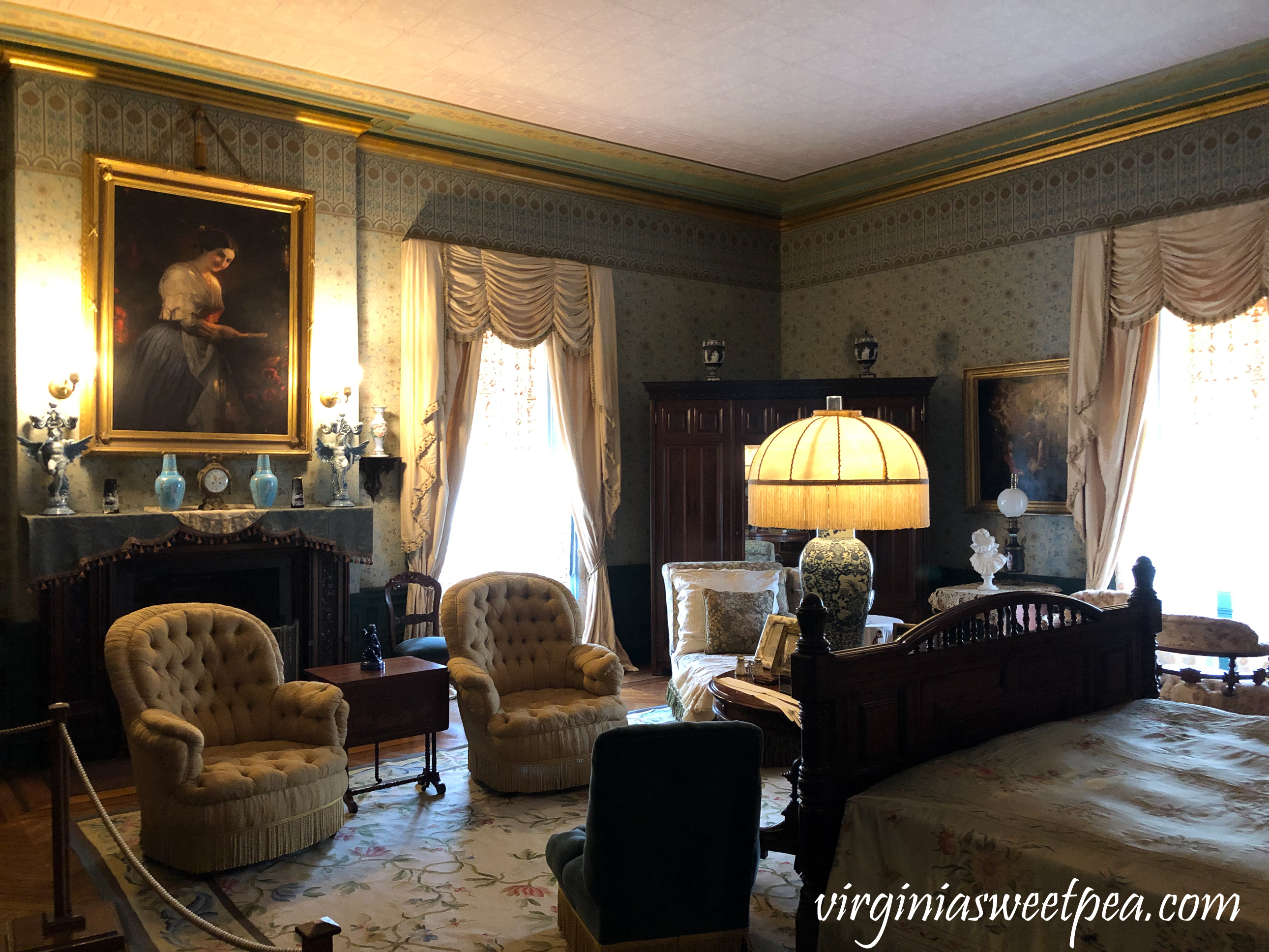 We really enjoyed touring Chateau-sur-Mer. It was a great way to start our vacation!
I always enjoy reading about other people's travels and I hope that you do as well. We stayed in Newport Sunday through Thursday which gave us three full days to tour the mansions and to do the Cliff Walk. We were able to tour eight of the nine homes that we wanted to see. We also wanted to take a boat tour but it was too cold and we ran out of time.
For dinner Sunday night we ate at The Red Parrot Restaurant and we enjoyed it so much that we returned there later in the week for another meal. I had lobster pizza which was super yummy!
I'll share be sharing another Newport, RI trip recap tomorrow, so be sure to check back in to read about what we did on our first full day of vacation in Newport.

I would love it if you would pin this post to Pinterest for others to discover.