Summer Decorating with Vintage
Summer is in full swing and I've been a busy girl. After celebrating my 50th birthday with family, I headed to Newport, Rhode Island with my mom and my cousin. We had a great time and I hope to share our trip here with you soon.
Before my Newport trip, I decorated both our living room and family room for summer using vintage. As I shopped my house for items to use, I kept a summer theme in mind. We'll start the tour in our formal living room.
Summer Decorating with Vintage in the Formal Living Room
Our formal living room is Sherman's domain. He hangs out on the sofa in this room and if I have visitors during the day, we join him in this room to chat. I love to decorate this room seasonally and since I'm in and out of this room multiple times a day, I really enjoy my decor.
Bird Themed Vintage Vignettes
When I think about summer, birds come to mind. I created two bird themed vignettes in this room, one on a chest and the other on a table to the right of our fireplace. Our fireplace still is decorated for spring and I still am enjoying it, so it will stay this way for a few more weeks.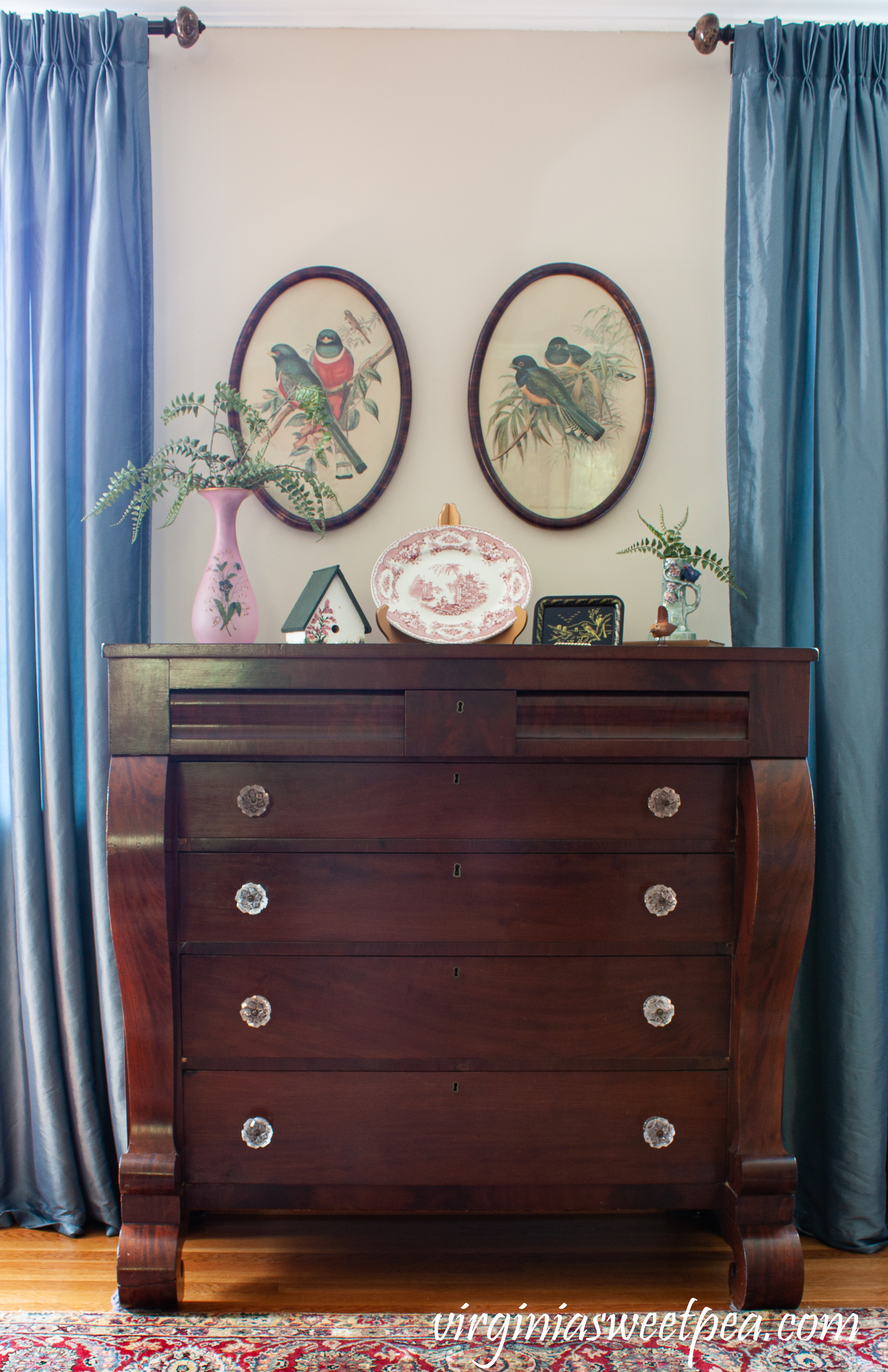 This chest already has two bird prints hanging over it, so my summer bird themed display works perfectly here.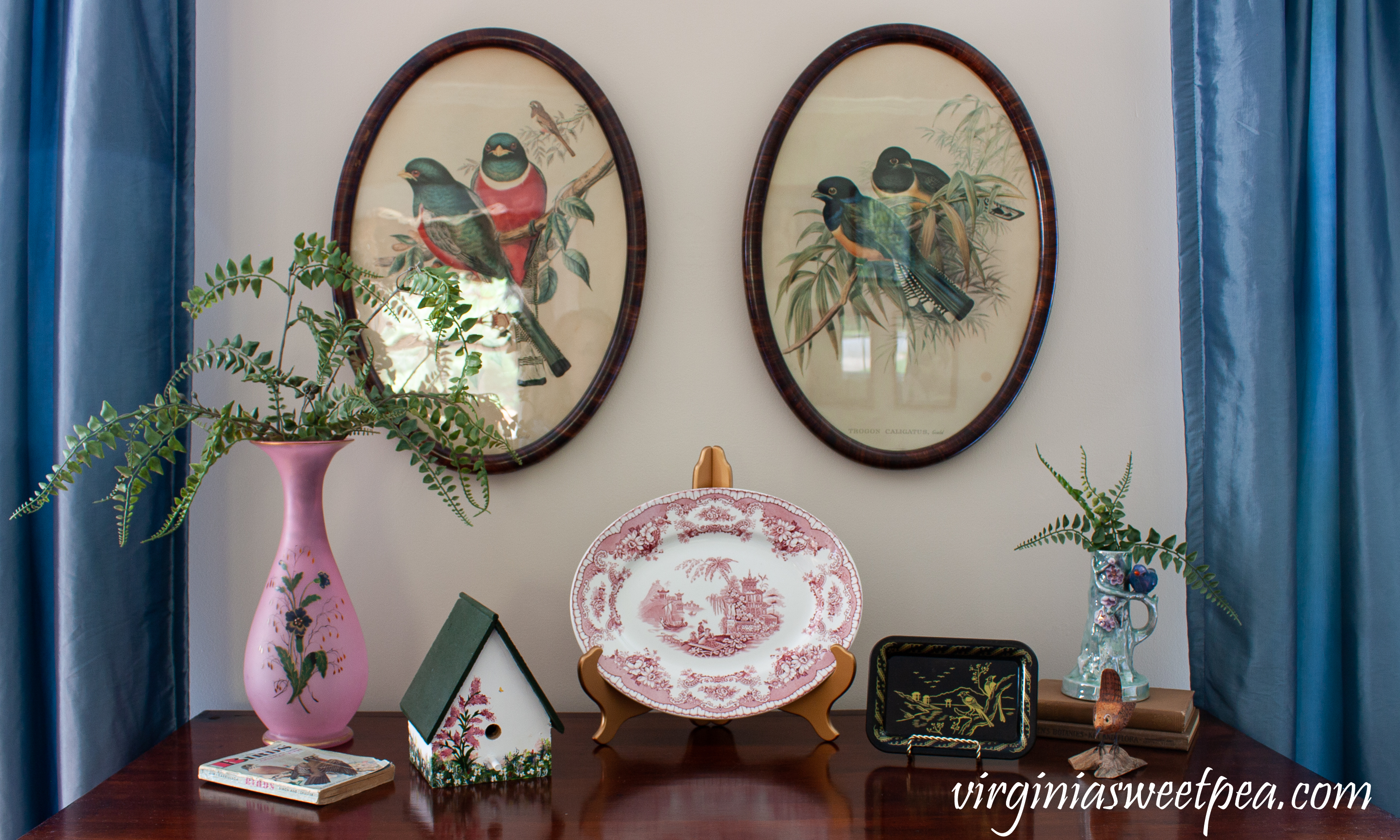 In the middle of the vignette is a red transferware platter that belonged to my grandmother. It is a John Maddock & Sons Fine Vitreous in the Bombay pattern. I don't remember my grandmother using this and I think that this was the only piece of this pattern that she owned.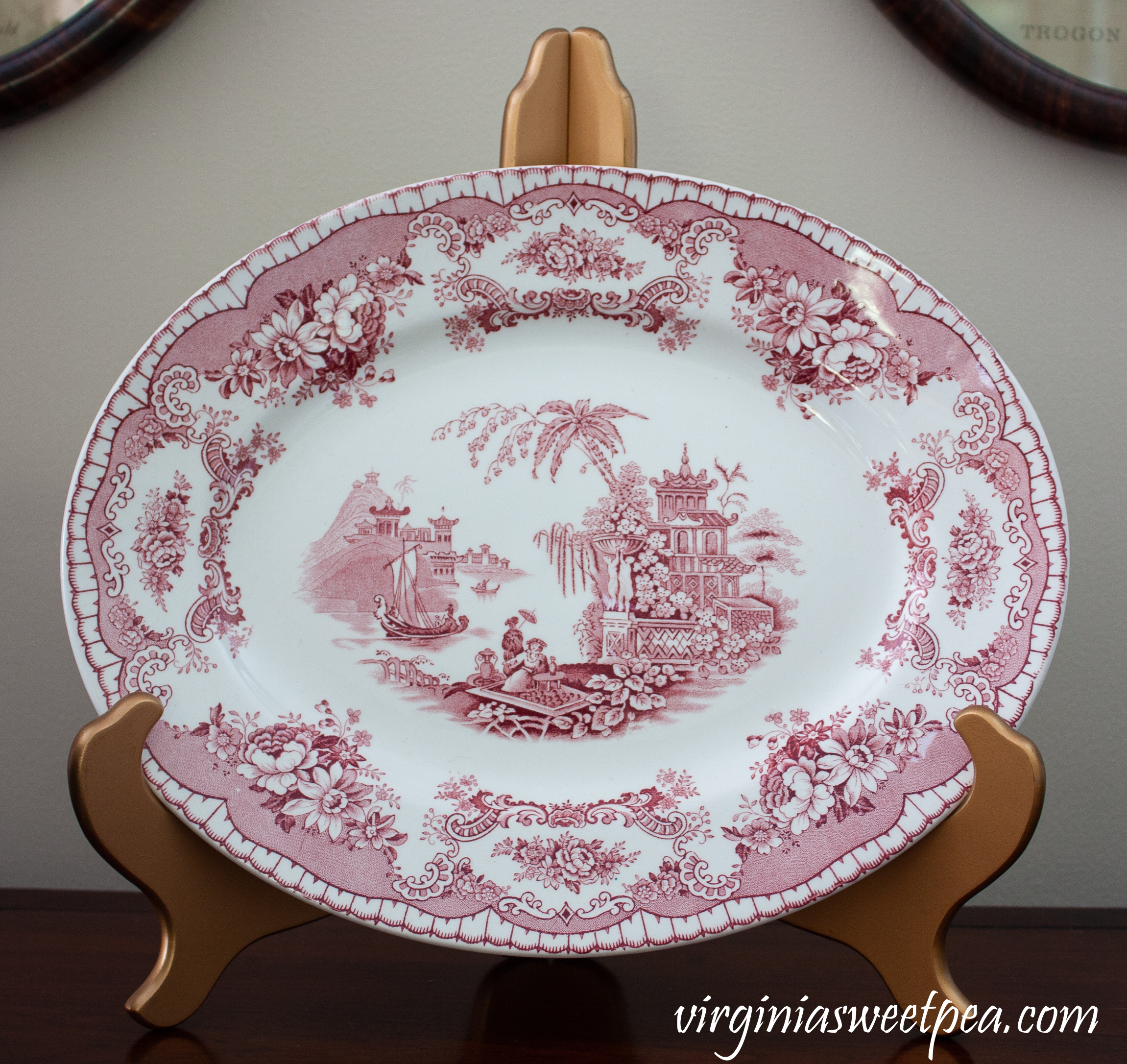 I carried out the pink in the platter to the left side of the vignette with a pink vase filled with faux ferns, a birdhouse and a 1949 Golden Nature Guide for birds. The bird book was my grandmother's and the birdhouse was made by my dad and painted by my grandmother's neighbor. The vase belonged to my friend's mom who recently passed away.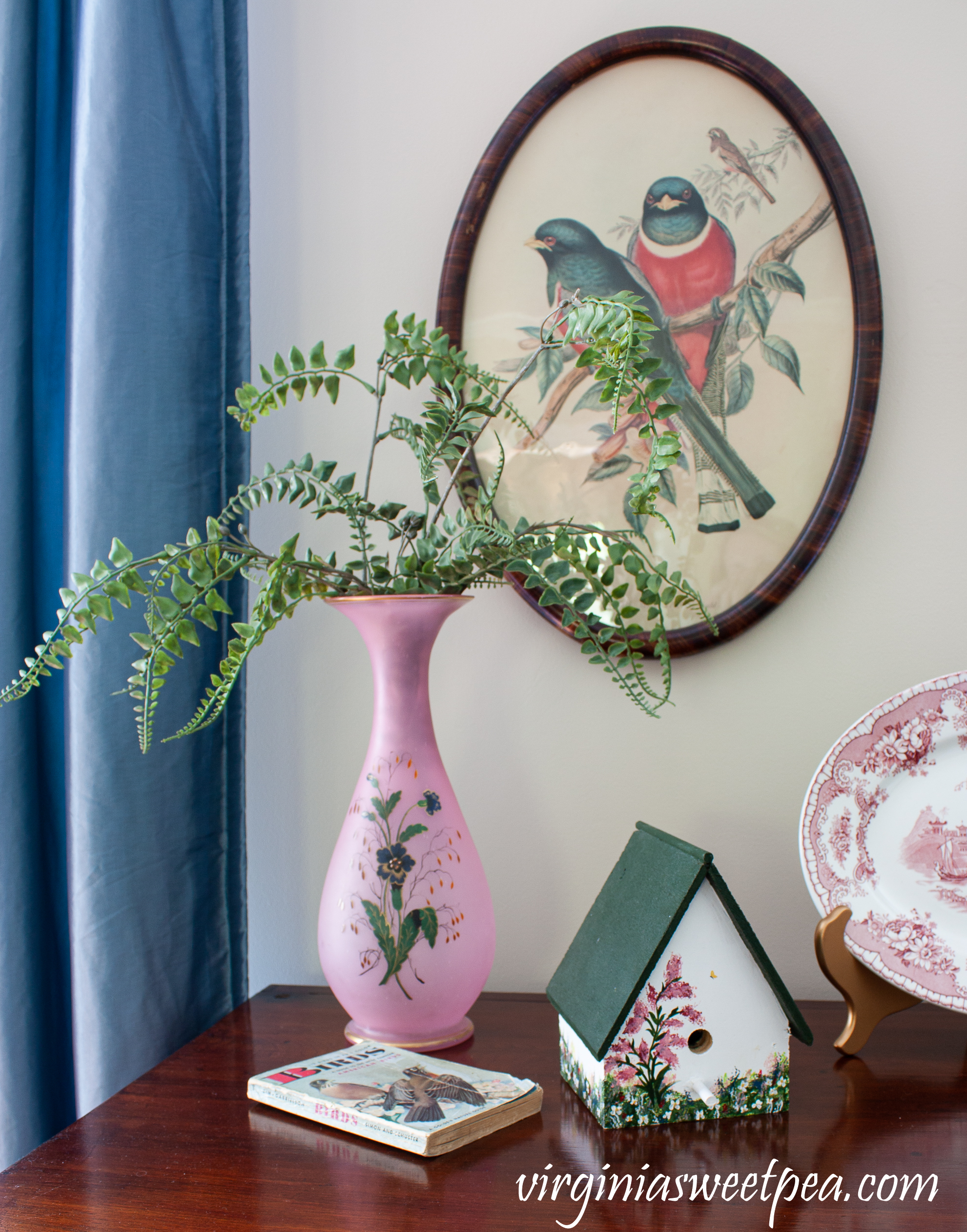 To the right of the platter, I used a small bird metal plate, a carved bird, and a bird vase elevated by two books: a 1897 Spanish reader and a 1908 Bergan's Botany Key and Flora.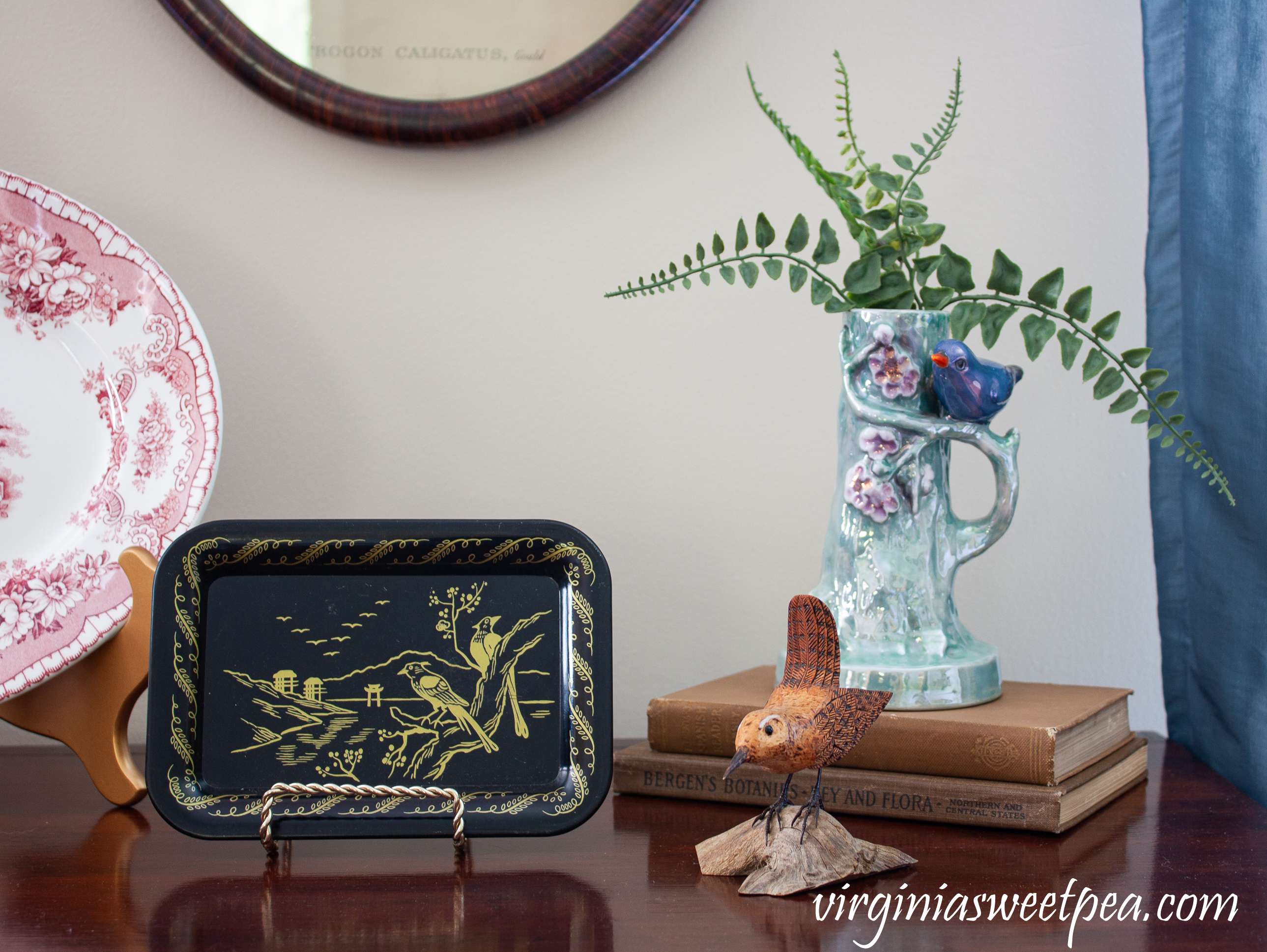 The other bird vignette is on a table to the right of our fireplace. This summer vignette features a chalkware bird and a pair of vintage binoculars. You need binoculars to watch birds, right? My dad's shoe brush from his shoe polishing kit holds a 1907 patriotic postcard.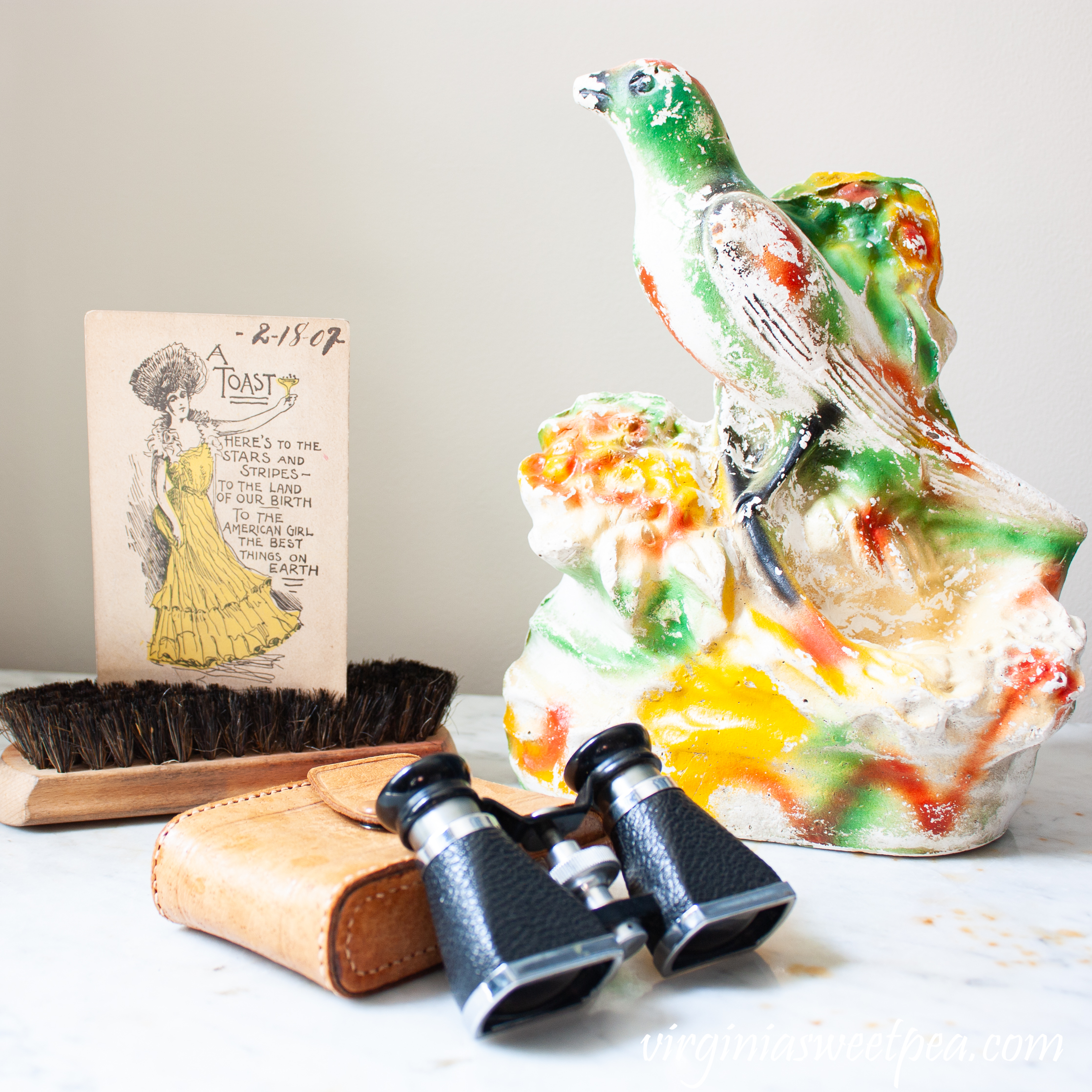 Indian Themed Vignette with Vintage
As I shopped my basement for summer decorating ideas, I saw my grandmother's 1922 Indian themed basket. As a child I liked to play cowboys and Indians and I thought it would be fun to create an Indian themed vignette for summer decorating. A long time ago I did a Vintage Cowboy and Indians mantel. Don't miss my dad's Straight Arrow game!
For my Indian themed vignette, I used what I believe to be a Mexican pottery piece. My great-great uncle fought in the Spanish American War and this lidded jug was a souvenir that her brought back to my great-great aunt after he attended a war reunion. The Red Eagle novel with the awesome Indian cover is from 1901.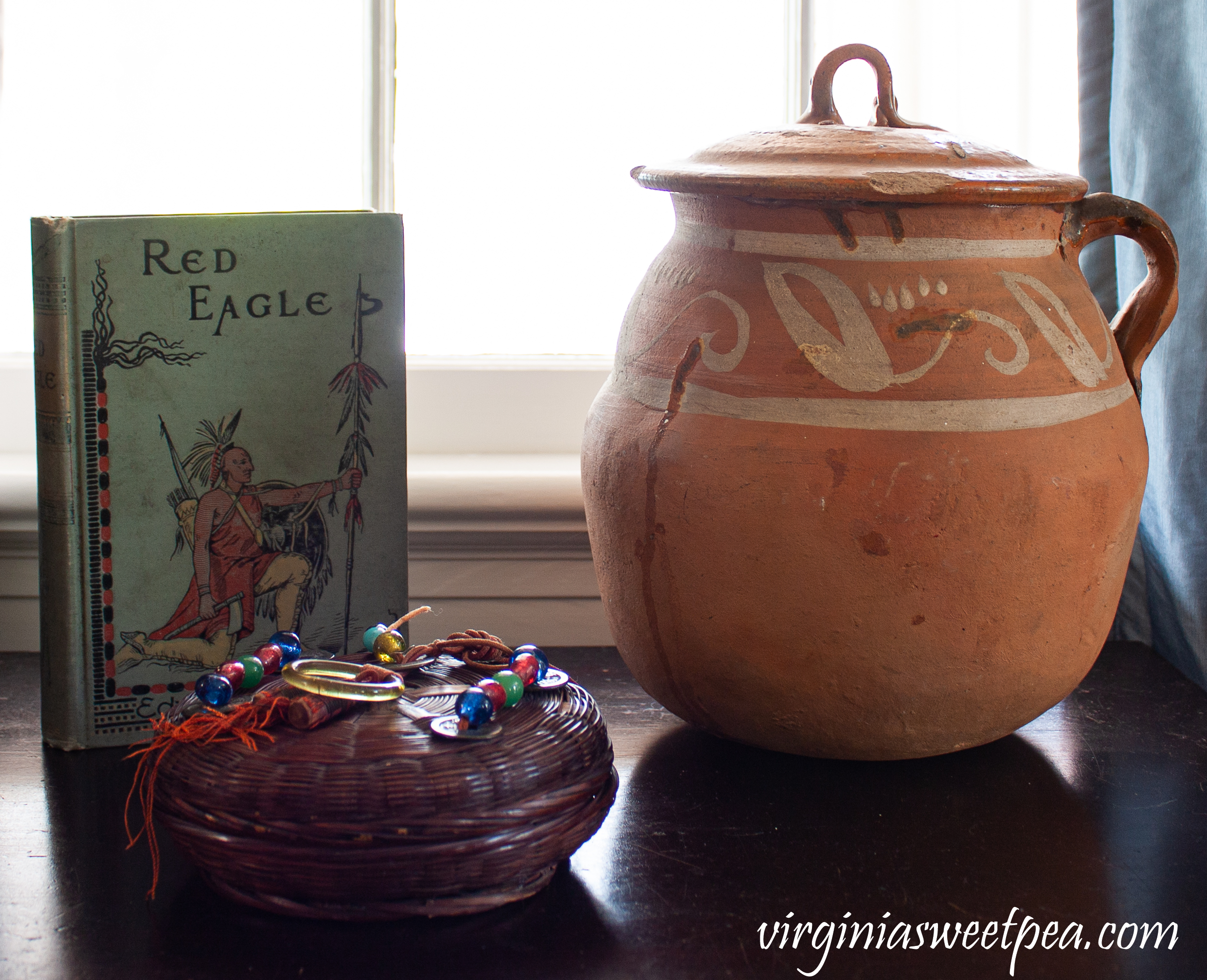 My grandmother's 1922 basket was one of the gifts she received from her only childhood birthday party held in Norfolk, VA. My aunt has a photograph from the party hanging in her living room.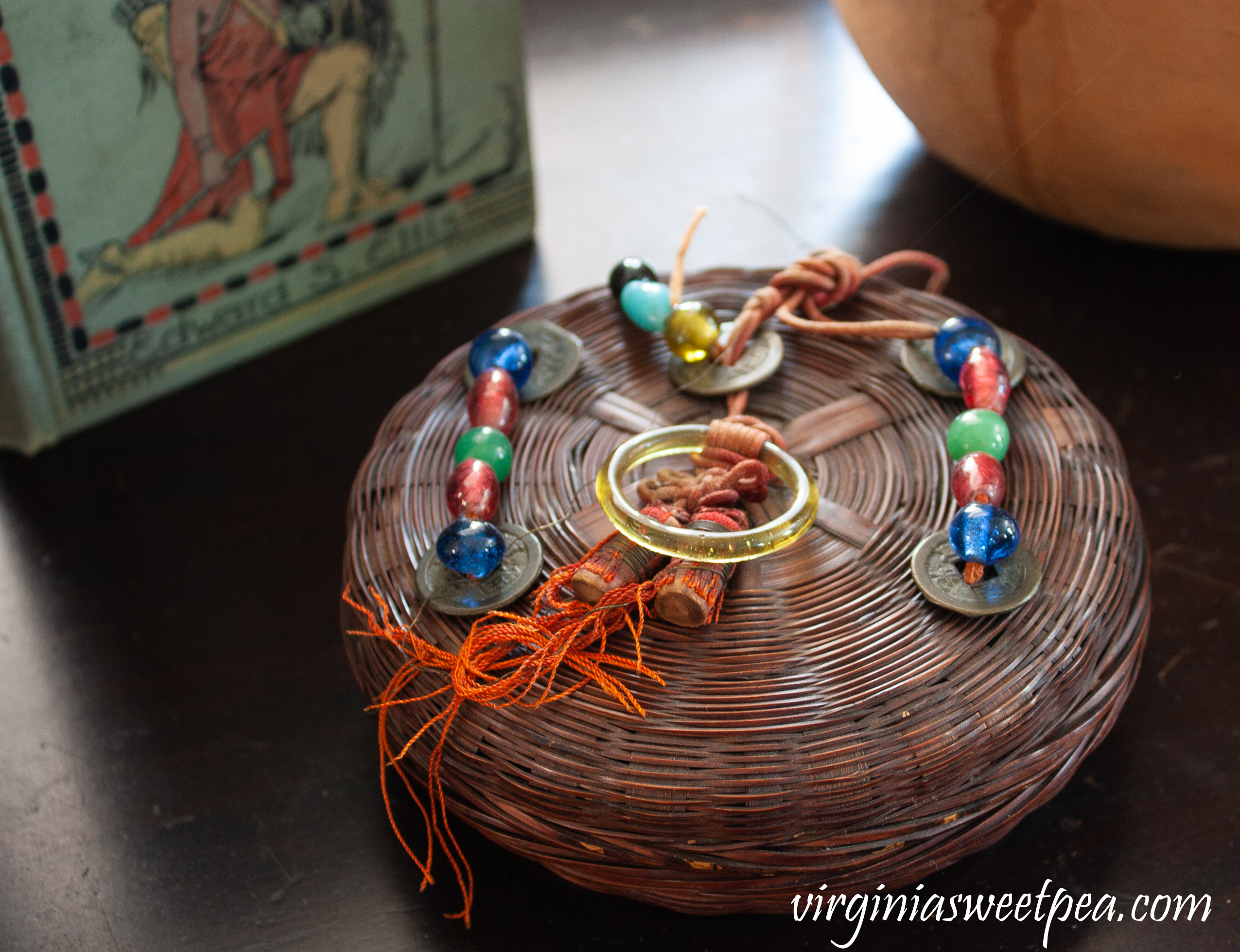 Dining Room Indian Themed Vignette with Vintage
I continued the Indian themed summer decorating into the dining room with my dad's Indian toy drum and an Indian Queen Bean & Brother perfume ad.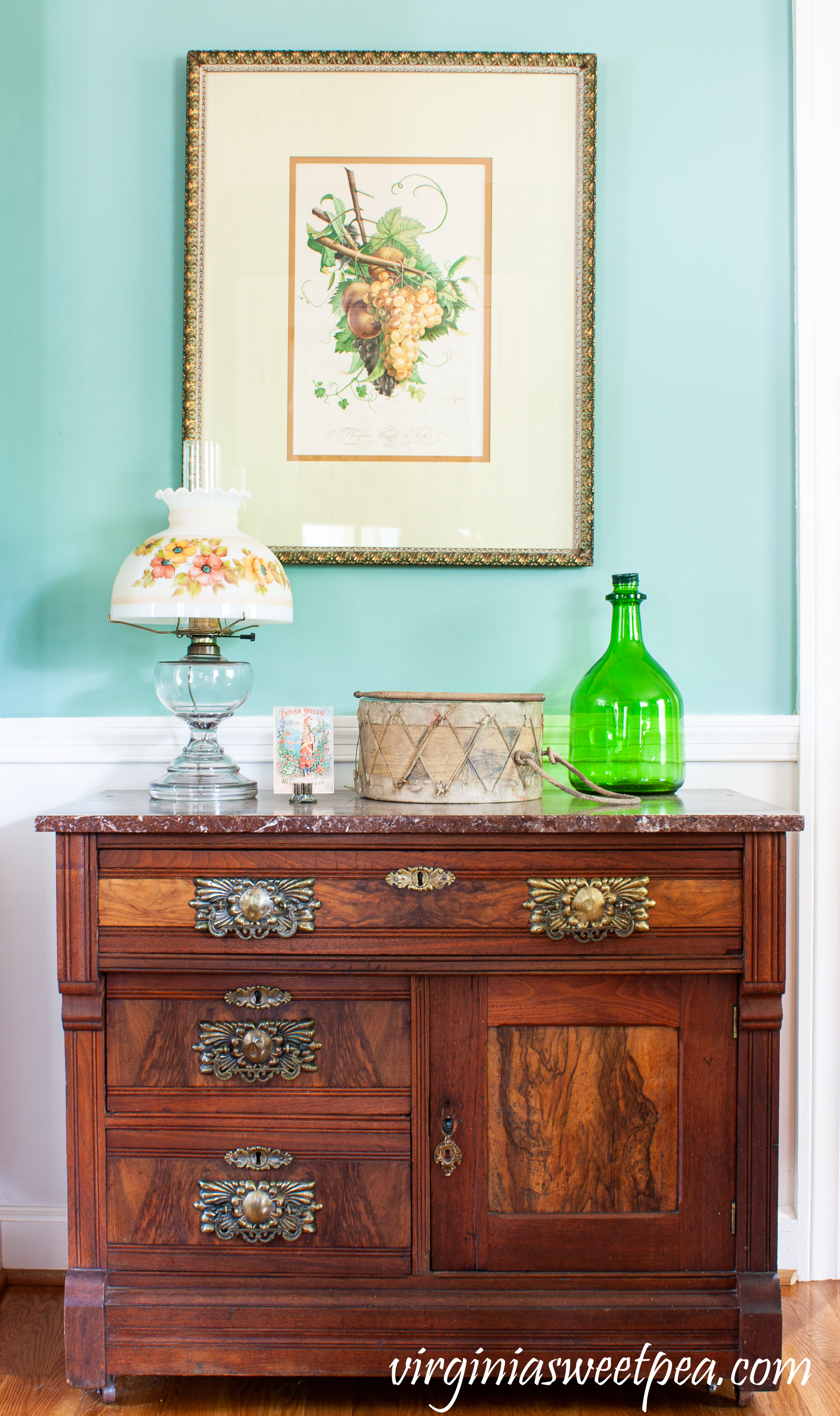 I also have my dad's Indian costume that he played in while drumming on this drum. It's so cute and I am planning on making a stand so that I can display the outfit along with the drum. Since the top of the drum is green, I added a green wine bottle to fill the rest of the space on the top of this chest.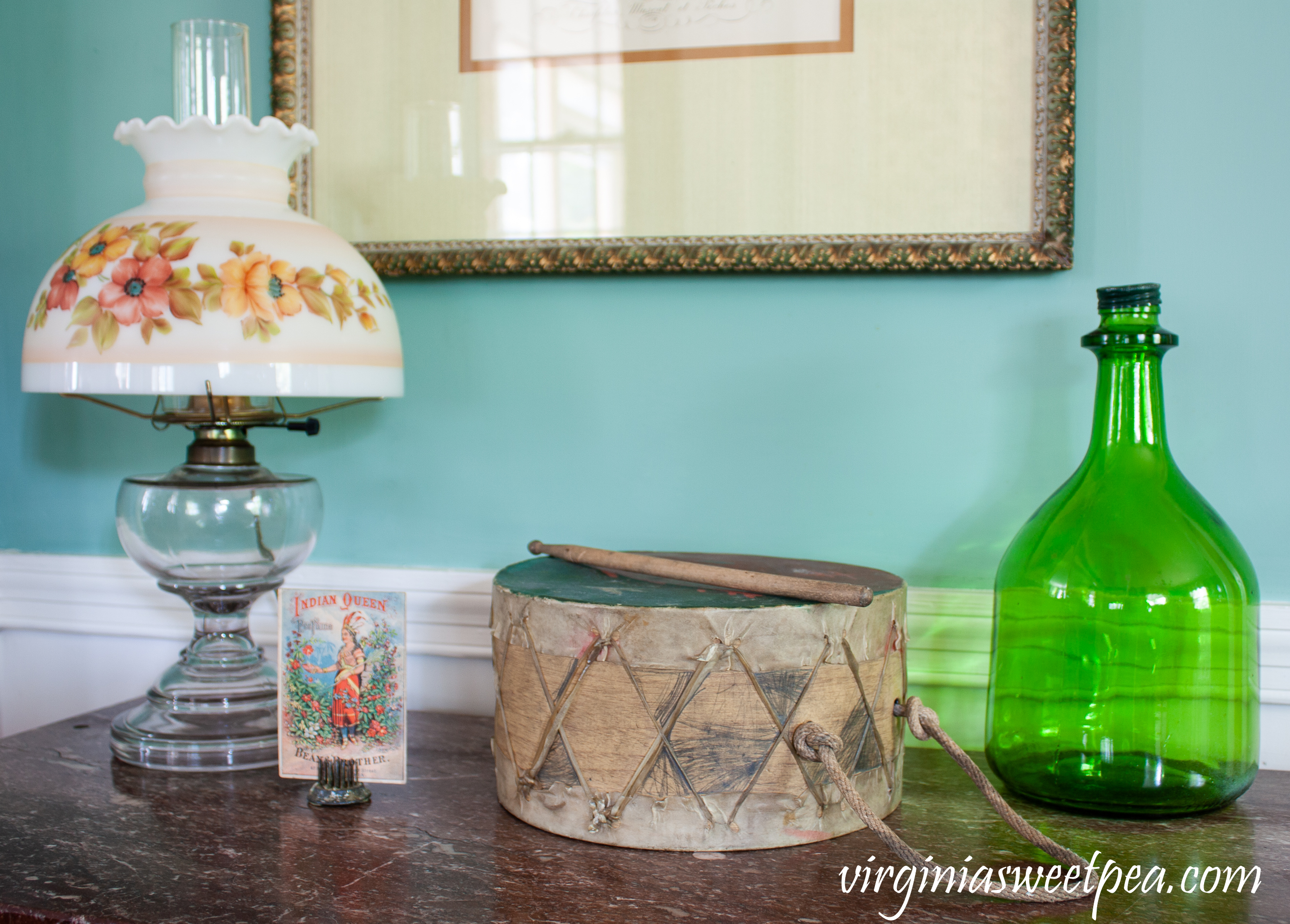 I'm not positive, but I think that my aunt bought this perfume ad at a flea market in Florida.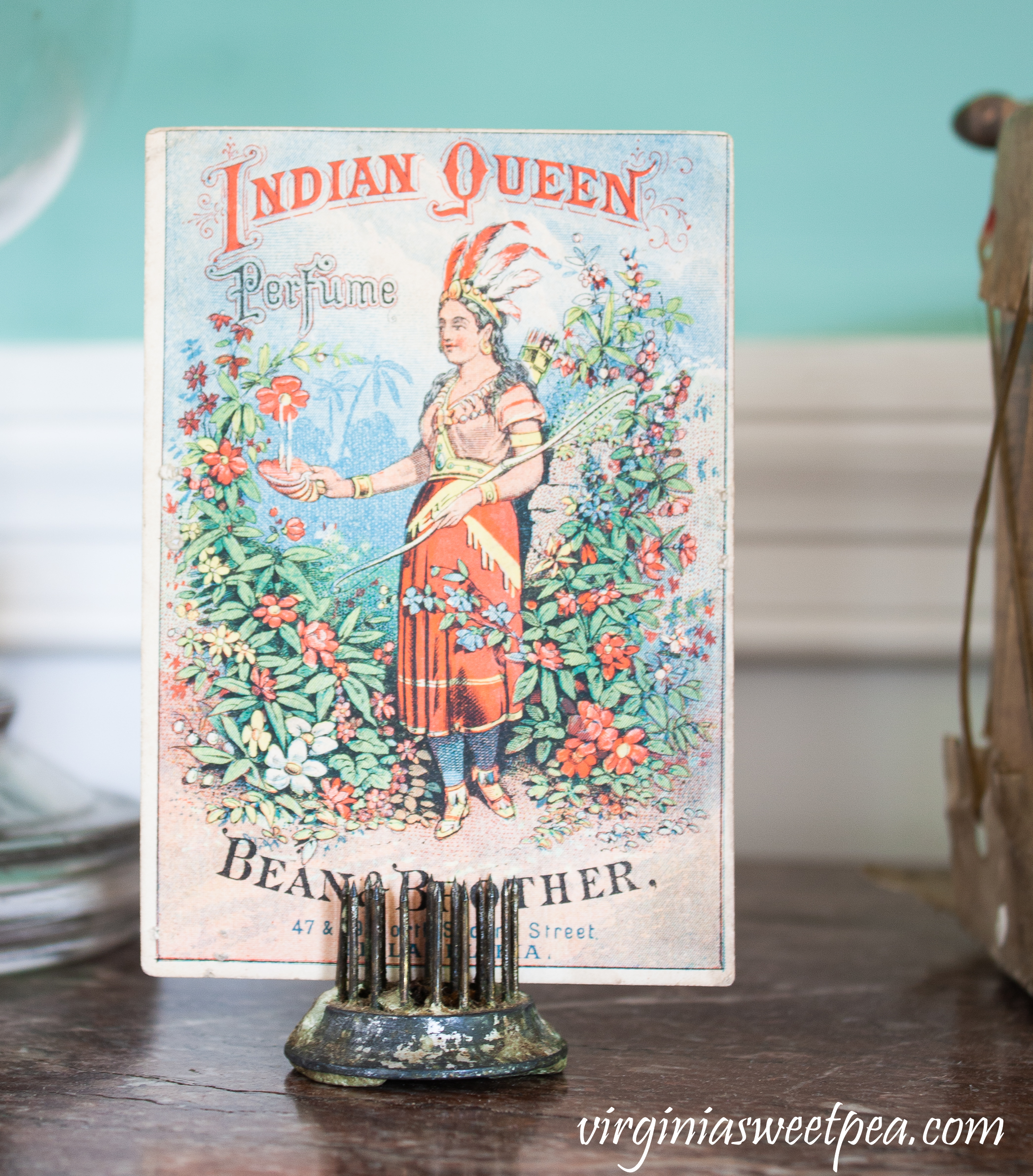 Summer Decorating with Vintage in the Family Room
We relax in this room every evening and it's another space that I enjoy decorating seasonally. I started summer decorating in this room with the pie safe behind Sherman's leather chair. This chair used to be my husband's but Sherman has claimed it as his own. He watches tv from the leather chair while we relax on our sofas.
Have a Coke and a Smile
Do you remember the ad that said, "Have a Coke and a Smile?" Since two of the things in this vignette are Coke items and you smile for the camera, I thought it a fitting vignette title.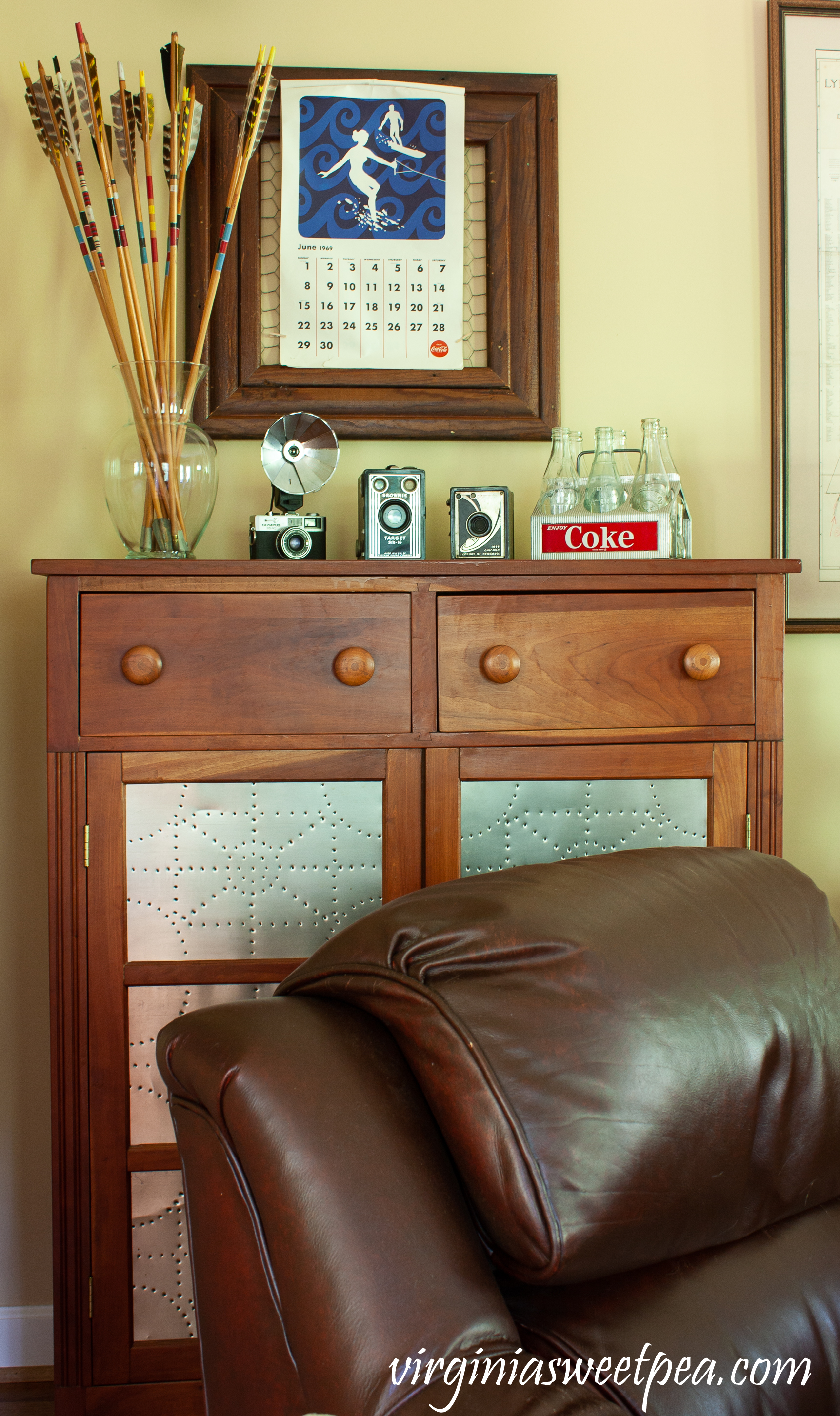 I started this display with a June 1969 Coca-Cola calendar page. My dad's arrows are in a vase. (I also have his quiver.) Summertime means taking lots of pictures so I included a few vintage cameras in this vignette. Since the calendar is Coca-Cola, I also included a vintage Coke caddy filled with vintage Coke bottles.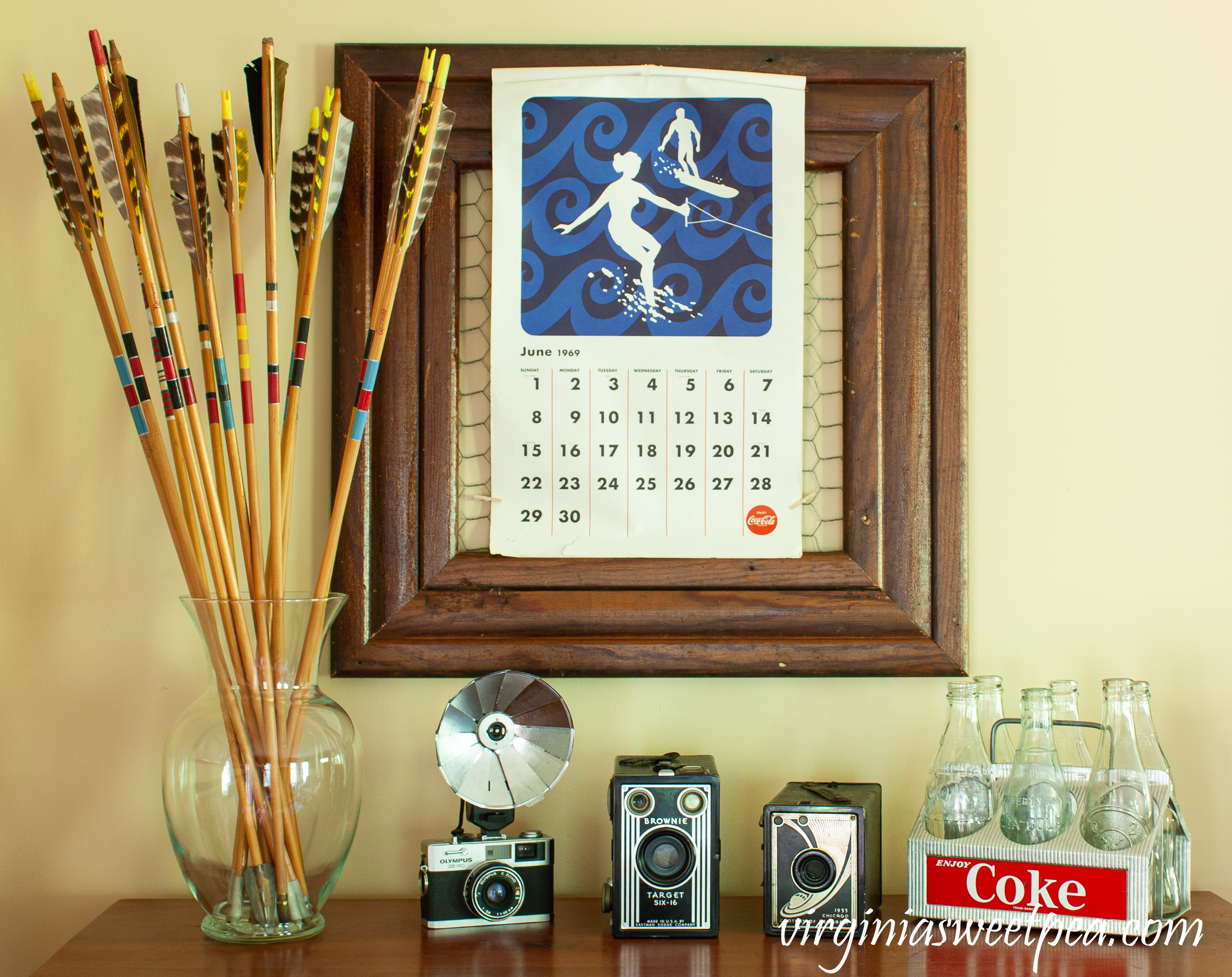 Fish Themed Vintage Summer Vignette
Since many folks love to fish in summer, I decided to use a few of my vintage fish platters to decorate a corner of our family room. These platters used to hang in our kitchen but after I painted the kitchen last fall, I didn't rehang them.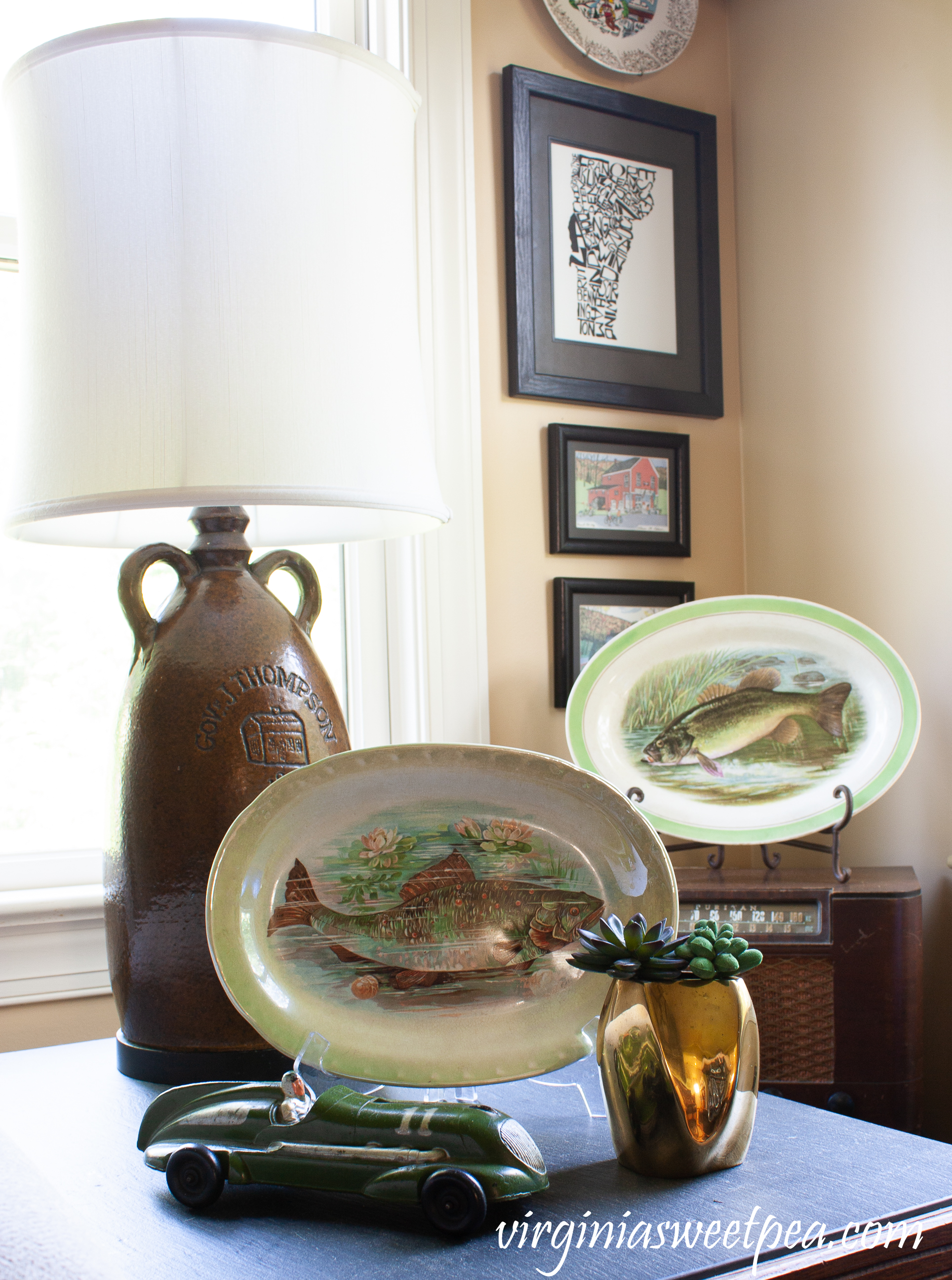 The brass vase, a thrifting find, along with the succulents complements the green and golds in the platters. The 1940's car was my dad's and let's imagine that this fellow is on his way to go fishing after a hard day's work.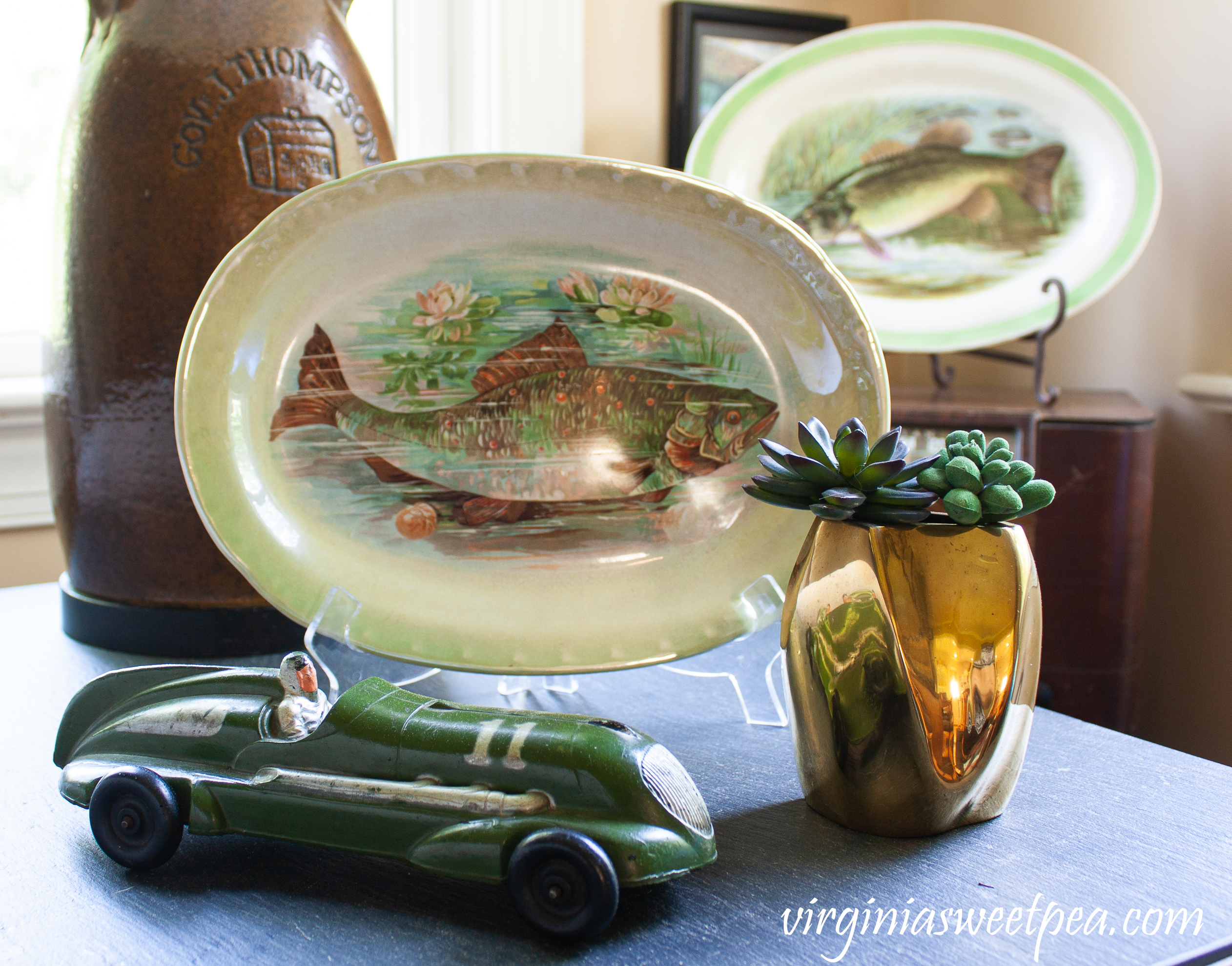 Cat Themed Summer Vignette
The final summer decorating with vintage vignette that I'll share today is cat themed. While shopping my basement, I spotted a glass cat that my cousin gave me 30+ years ago and I decided that it was time for this figurine to make its way out of the basement to be enjoyed for the summer. I paired it with a vintage cat planter that my mom's friend snagged for me at a yard sale. The basketweave print tin holds a trio of vases that were my grandmother's.
Pin it!
I would love for you to pin this post for others to discover on Pinterest!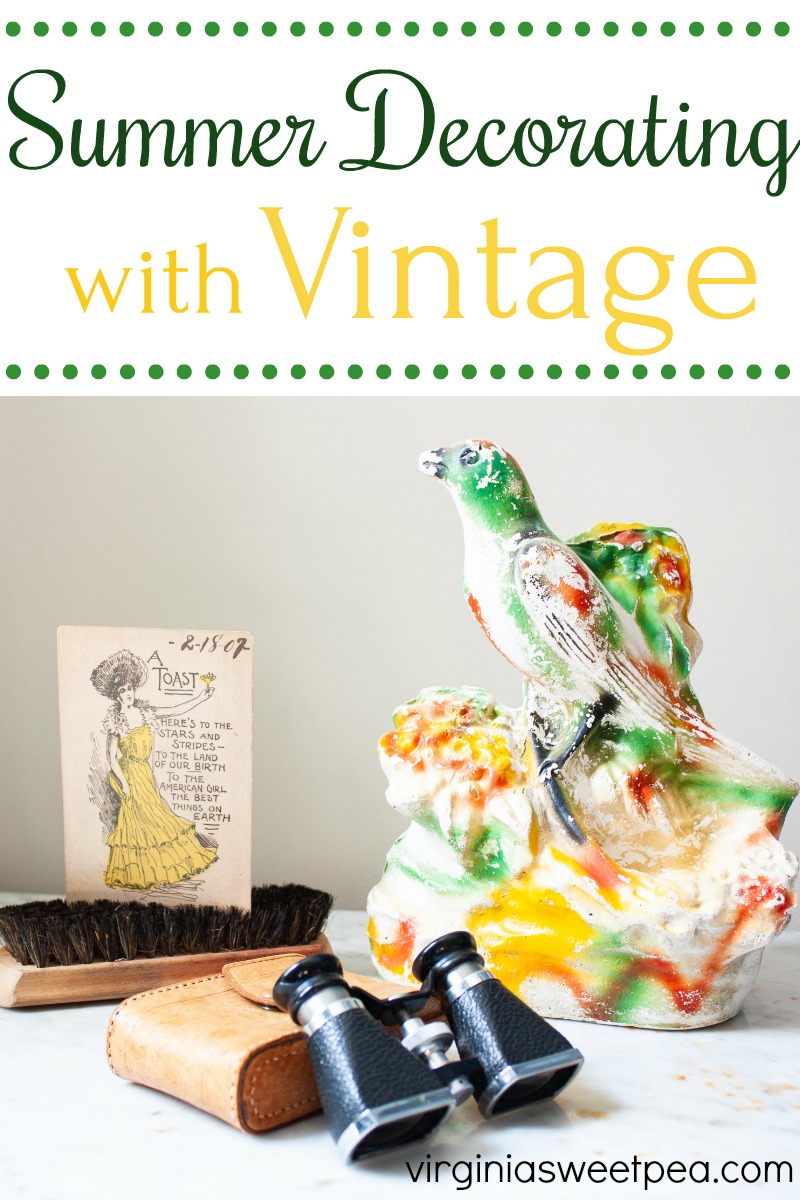 June is a fun filled month for me. This week I'm spending a few days at The Homestead in Hot Springs with three friends to celebrate my birthday. I used to play tennis with these ladies and so much miss seeing them on the tennis court and being on a tennis team with them. Our Homestead weather isn't looking good at all but I know we'll still have a fun time there.
Next week I'm headed to the Antiques Roadshow in Delaware. I'm taking my Ahalt Whiskey bottle and I'm still debating on a second item to take to have appraised. Many thanks to Joan in Maryland, a reader and very distant relative, who sent me pictures and information about Ahalt Whiskey to take with me when I have the bottle appraised.
More Summer Decorating Ideas
If you are working on decorating for summer, you may enjoy these posts: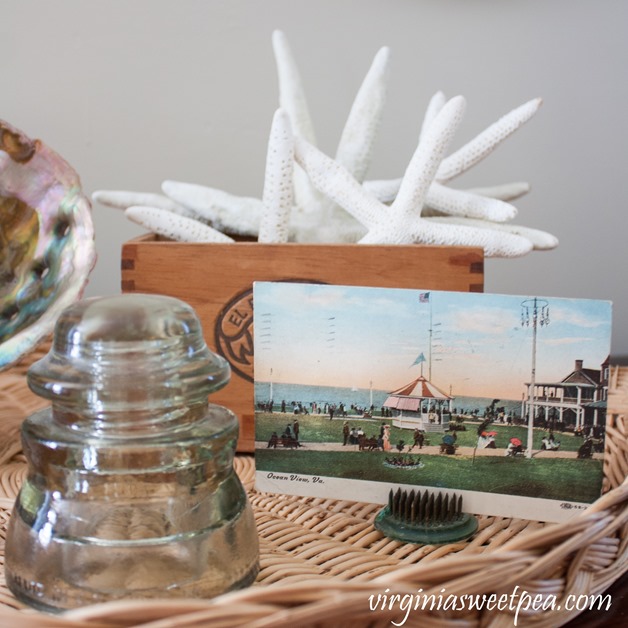 Decorating for Summer with Vintage Beach Decor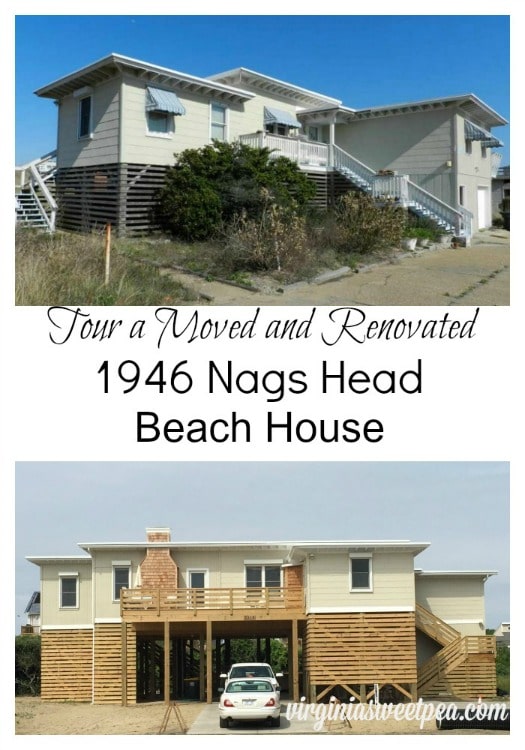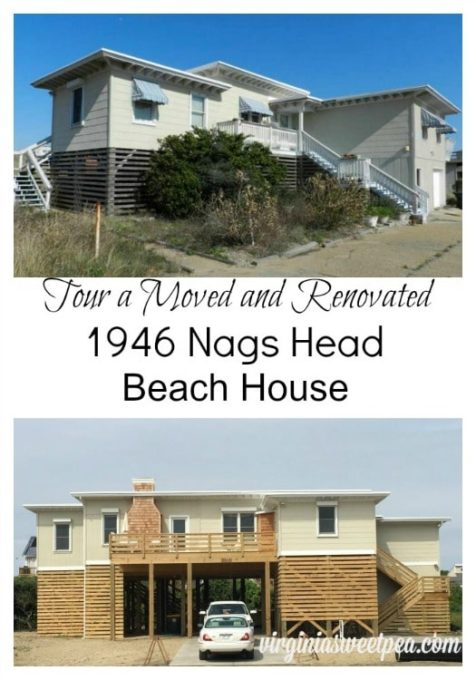 Tour a Moved and Renovated 1946 Nags Head Beach House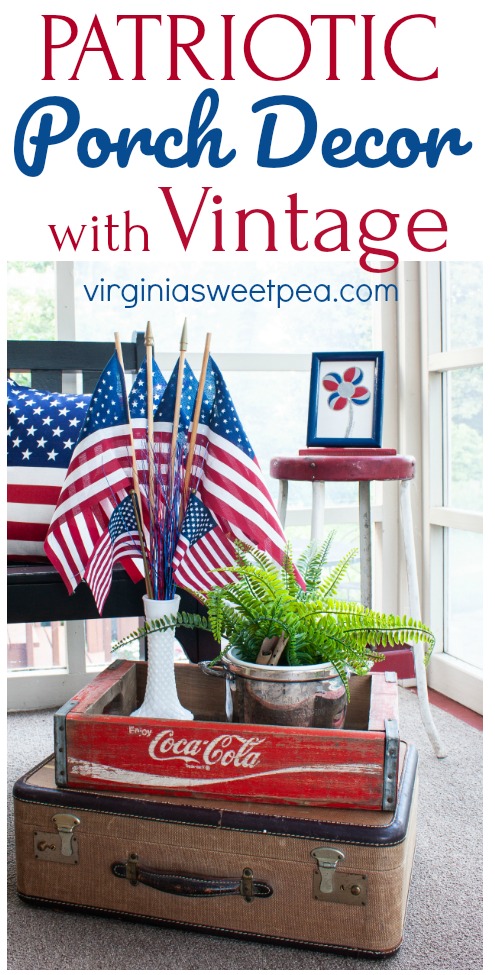 Patriotic Porch Decor with Vintage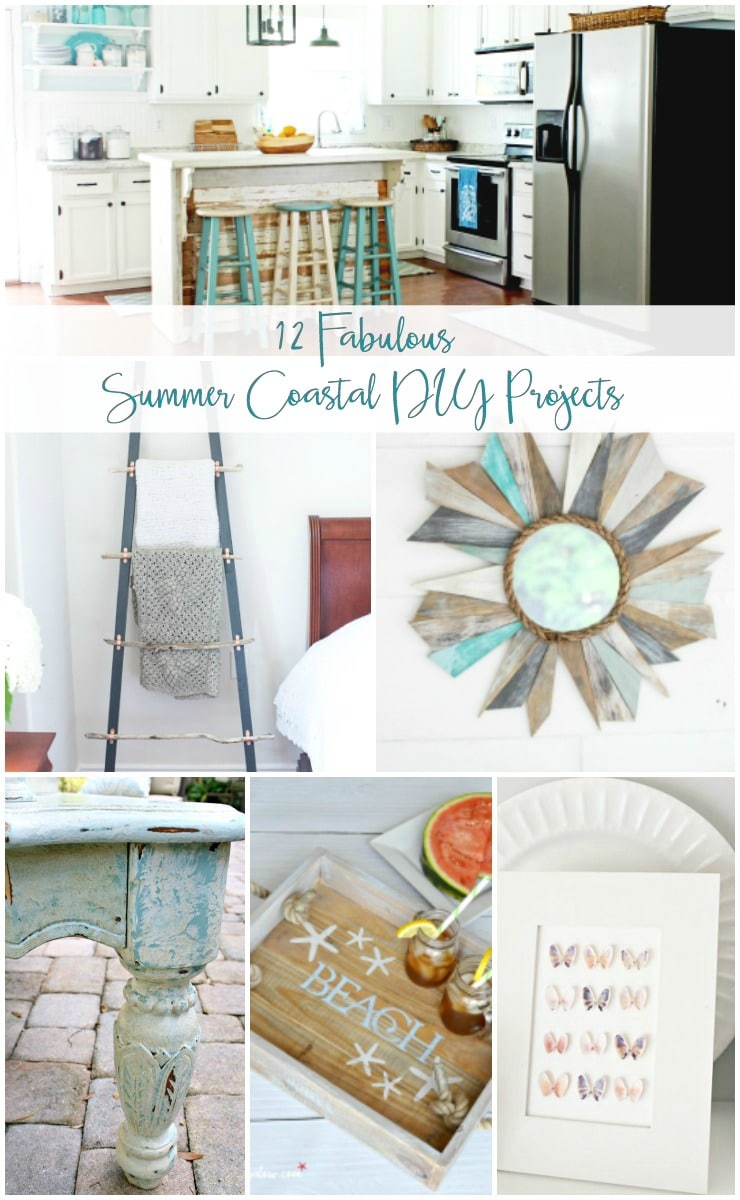 12 Fabulous Summer Coastal DIY Projects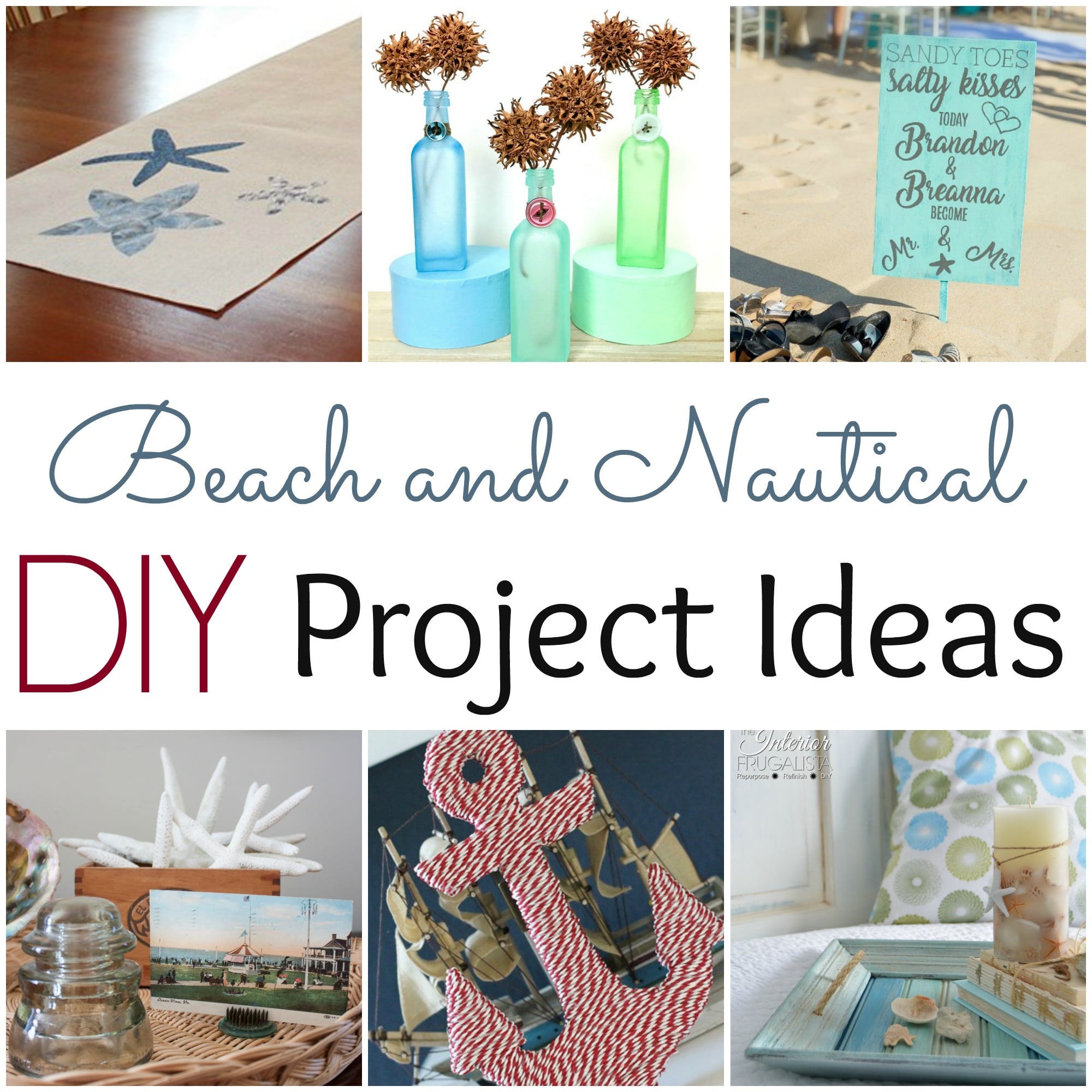 Beach and Nautical DIY Project Ideas