All You Inspired Health Tips
"This post is part of a social shopper marketing insight campaign with Pollinate Media Group® and All You, but all my opinions are my own. #lifeforless #pmedia https://cmp.ly/3/8vNxcO
Are you a magazine lover? I come by my love of magazines honestly. My grandmother subscribed to many, many magazines and I'd love to sit in her kitchen reading them. I recently found myself at the beach with a finished book and no magazine. A quick trip to Food Lion where I purchased the July issue of All You solved my "nothing to read" problem.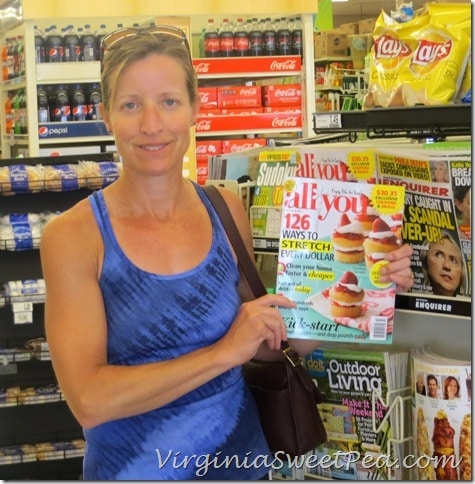 Are you familiar with All You Magazine? It's packed with articles that cover topics including health, food, home, and beauty. Best of all, each issue includes valuable coupons. The July issue contains $30.35 worth of coupons and deals. A few coupons from this issue that I know I'll use include $.50 off Treasure Cave blue cheese, $1.00 off Rimmel, $1.00 off Suave, and $1.00 off Butterball deli meat. Using the coupons makes the magazine feel like you're getting it for free.
We take a family trip to the beach every year. Susan, my cousin and dearest friend, and I have been sitting on the beach together for 30++ years. We have similar interests and I wouldn't leave her alone while browsing through this magazine because the articles were so interesting. We both enjoy exercise and healthy living and found the tips in the article "A Faster Metabolism at Any Age" to be very helpful. Susan and I are both in our mid-forties and are finding that our metabolism isn't what it used to be. We learned that we should eat early in the day, pack in the protein, exercise, and get enough sleep. The article includes "The Fat Burning Dozen", foods that boost the metabolism. We both enjoy 11 out of the 12 foods listed and now know what to make sure to put in our grocery cart each week. Sharing health tips from the magazine with Susan was fun.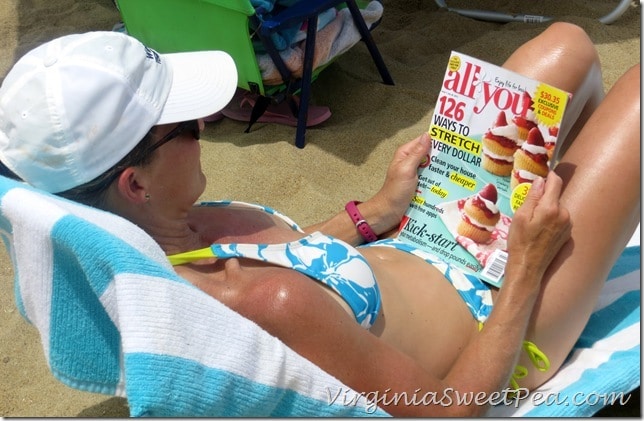 After I got home from the beach, I tried a basic yoga routine explained in the article, "Yes, You can do Yoga!". It's been a long while since I've done yoga and I felt these poses stretching and challenging my muscles in a good way. This routine takes 20 minutes making it easy to incorporate into anyone's busy day.
Below are a series of yoga poses the article suggests doing. The model in the magazine has her hands wrapped around the back of her calves in the standing forward bend pose but you can see that it's all I can do to get my fingers near my toes. I know that if I keep this routine up I'll soon be able to touch my toes.
Pose nine goes back to Downward Dog and pose ten to Tadasana.
"Garlicky Angel Hair With Roasted Broccoli" caught my eye in the Home Economics section of the magazine. This recipe is vegetarian, quick to prepare, and inexpensive. We really liked this recipe and I'm sure to make it again.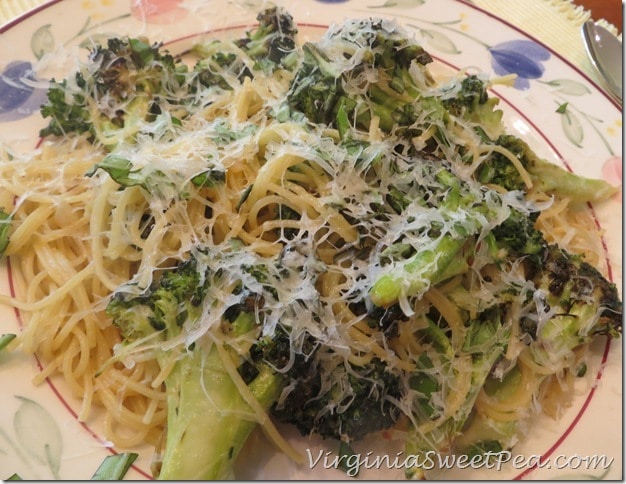 The July issue of All You is currently available at Food Lion. Be sure to visit All You to print a $1.00 off coupon.
All You provided hours of reading enjoyment for me on the beach. After I read it cover to cover, it was passed on to Susan, my mom, and then my aunt. We all agreed that All You is a great magazine.