Have you seen the latest Planters Peanut commercials? A peanut as an MC "cracks" me up. Get it? Cracks me up. Ha-Ha! If you haven't seen the video, take a look, it's only 30 seconds.
I'm no comedian but I do know a healthy snack when I see one. Mr. Peanut says that Peanuts are the symbol for snacking success. What makes peanuts a snacking success? They are salty, crunchy, easily transported, and they are nutrient dense. If you are going to snack, you may as well snack on something good for you.
According to Mr. Peanut, peanuts are full of six essential nutrients for health. I wasn't sure what the six essential nutrients might be and after research found that they are: protein, fat, carbohydrate, vitamins, minerals, and water. If you are health conscious, you many worry that peanuts are too high in fat for your diet. The majority of the fat is unsaturated, the "good" kind, so snack away! B Vitamins, including folate and niacin, are found in each serving of peanuts. Mr. Peanut tells us that niacin is important to skin health and asks us, "Who has ever done anything without skin?" Niacin also helps your body utilize sugars and fats, and help release energy from foods. Peanuts provide 10% of the RDA of Magnesium per day. What's so special about Magnesium? It helps with energy metabolism and protein synthesis as well as helping the body to relax and contract muscles.
I will admit that I've felt "guilty" in the past for eating peanuts. (Mostly because I ate too many.) No more guilt! Now I know the Power of the Peanut! Though heavy on calories, it's a nutrient powerhouse.
I can't see a jar of Planters Peanuts without thinking of my grandfather, as peanuts were one of his very favorite snacks. In the good old days peanuts came in glass jars or in cans like this vintage one in my collection.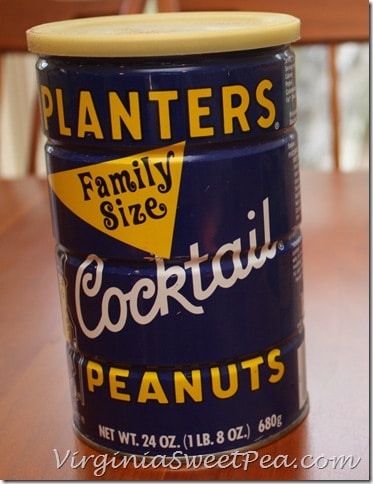 If you need a snack, grab a handful of Nature's Tiny Miracle and enjoy!
I was selected for this opportunity as a member of Clever Girls Collective and the content and opinions expressed here are all my own.