Garden Inspired Spring Vignette
Today I'm joining my Creative Vintage Darlings friends for another round of Thrift the Look ideas. I'm sharing a Garden Inspired Spring Vignette that I created based on a look that I spotted on Instagram.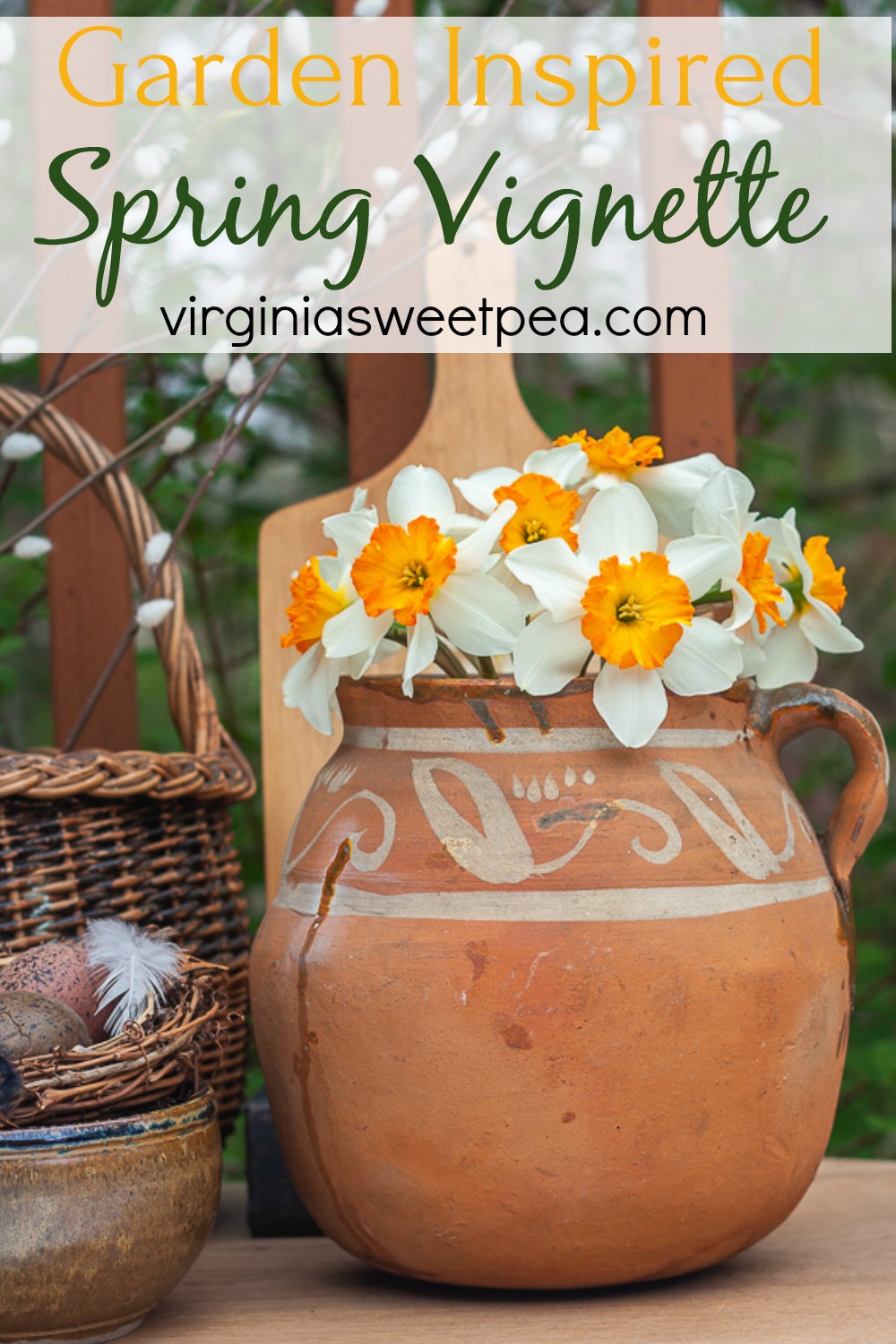 The Thrift the Look challenge is hosted b y Sarah from Sadie Seasongoods who is a master at finding thrift shop items and transforming them into lovely home decor.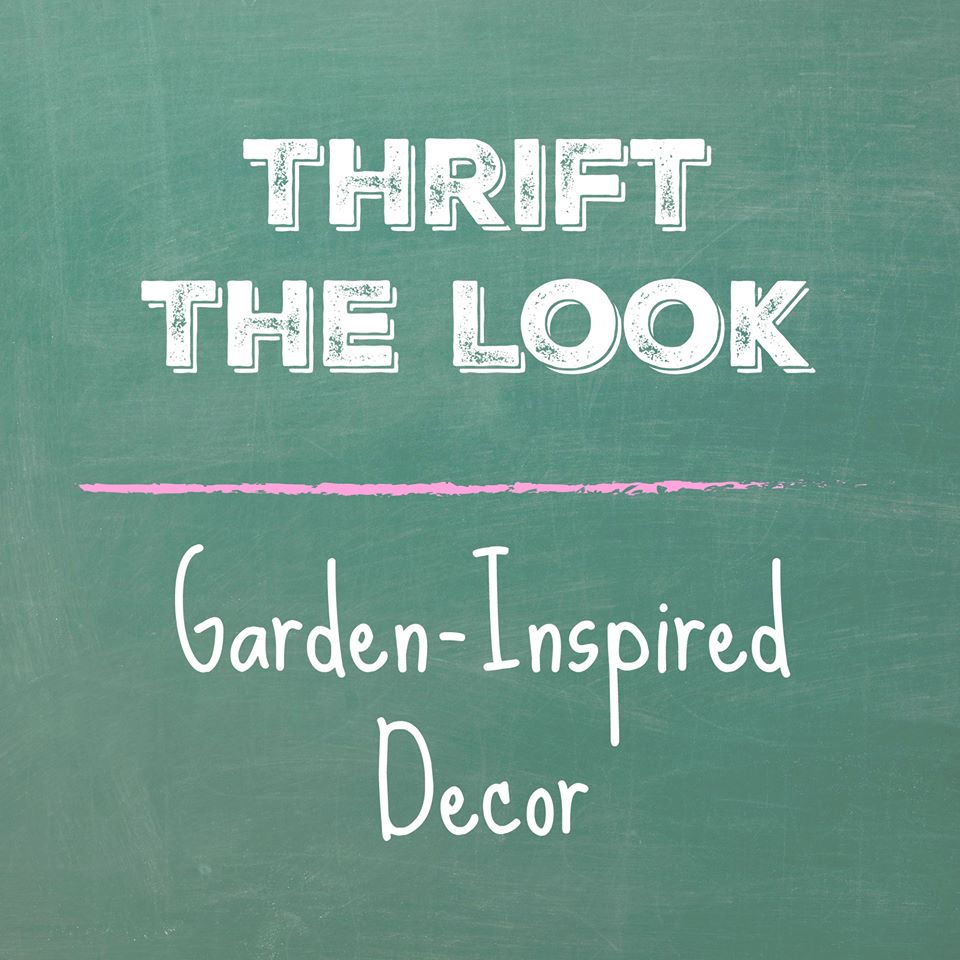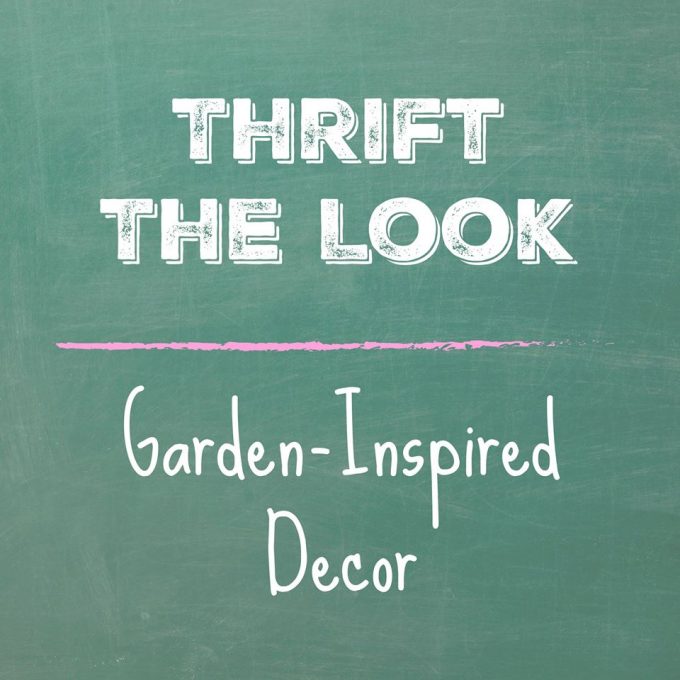 Our last theme was Winter Cabin where I shared our lake house coffee table styled using a picture from Pinterest as my inspiration.
Sarah challenges a group of us who belong to the Creative Vintage Darlings Facebook group to replicate the look of an inspiration picture with items found at thrift shops. Speaking of Creative Vintage Darlings, we would love to have you join our group on Facebook where we share vintage seven days a week. Click here to join us!
Thrift the Look Garden Inspired Decor
Since it is spring, our theme for this challenge is garden inspired. For this challenge, the goal is the thrift the look to show how you can get a look that you love for your home on a budget.
Since we aren't thrift shopping right now due to what is going on in our world, most of us shopped our homes to create our look for this challenge.
Garden Inspired Inspiration
My inspiration for this challenge is this picture posted by Vibeke Designs found on Instagram. Vibeke also has a very popular blog that is filled with lovely images.
My Garden Inspired Vignette
A few trips to the basement and one into my yard to cut flowers was all I had to do to create my version of Vibeke's garden inspired vignette.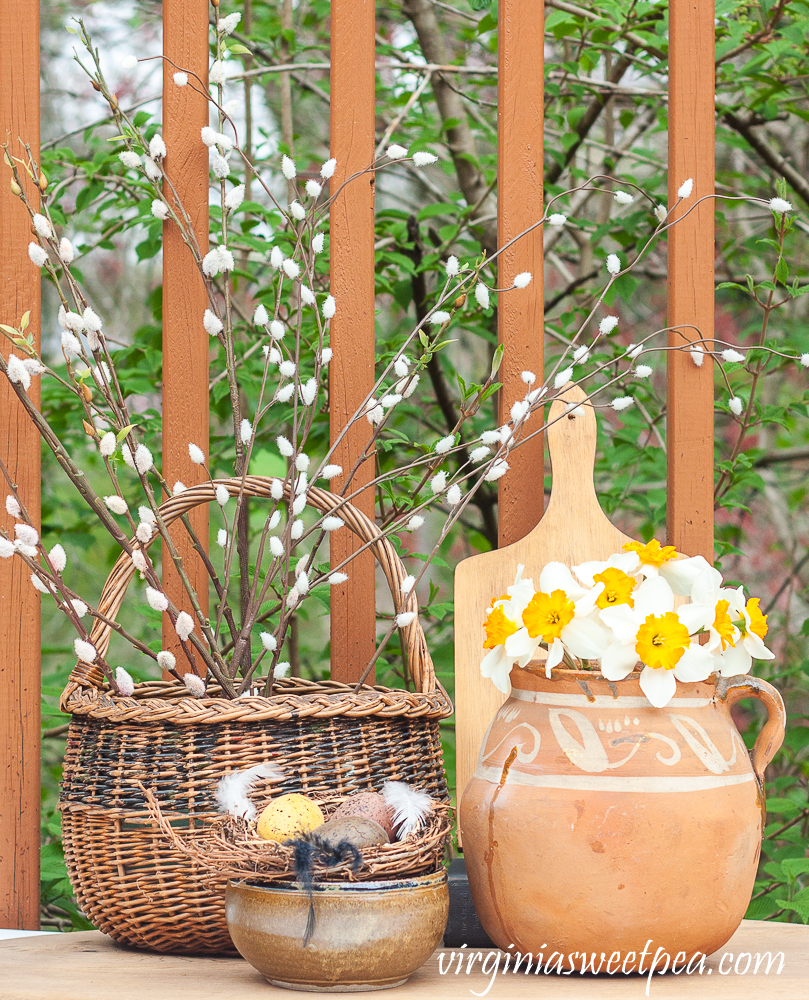 I photographed my garden inspired vignette outdoors and then moved it into my family room where it is now displayed on a pie safe.
My version of Vibeke's design doesn't have as many layers but I am super pleased that I created it simply by shopping my house.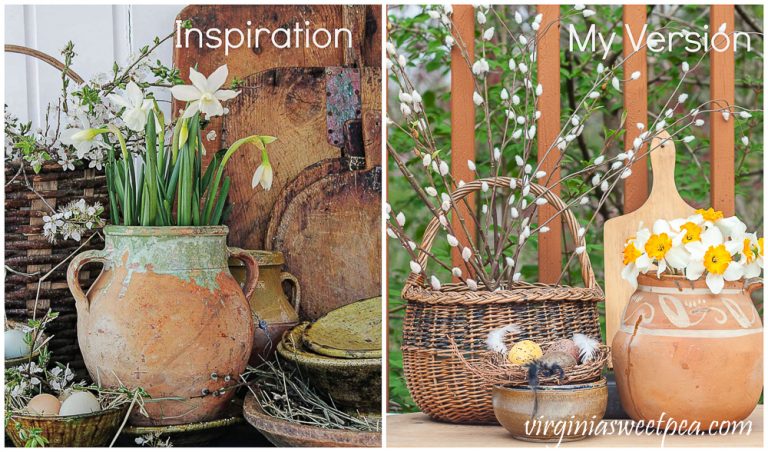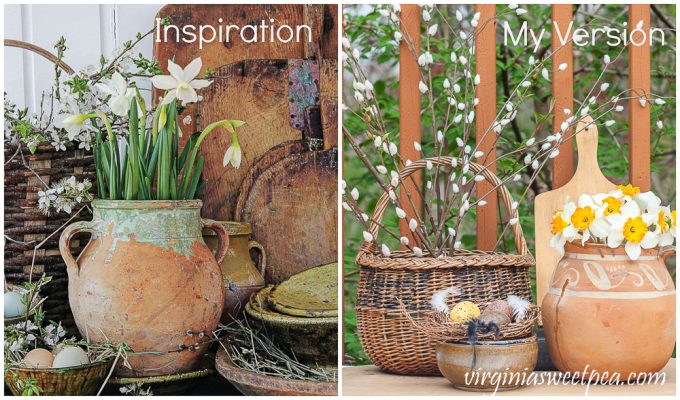 Garden Inspired Vignette Details
Many of the pieces that I used to create this look are family pieces given to me by either my grandmother or my mom.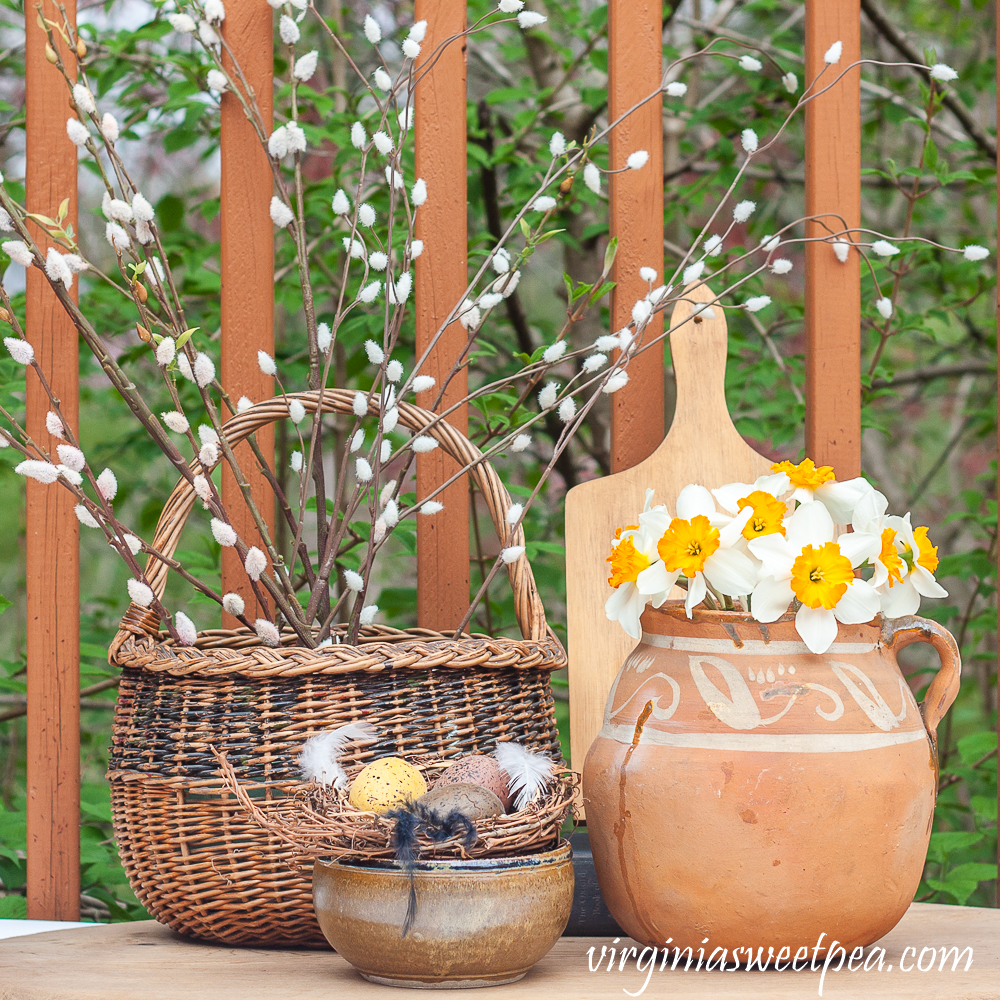 The Pottery Jug
The jug filled with daffodils from my yard is what I believe to be a Mexican pottery piece.
My great-great-uncle fought in the Spanish American War and this lidded jug was a souvenir that he brought back to my great-great-aunt after he attended a war reunion.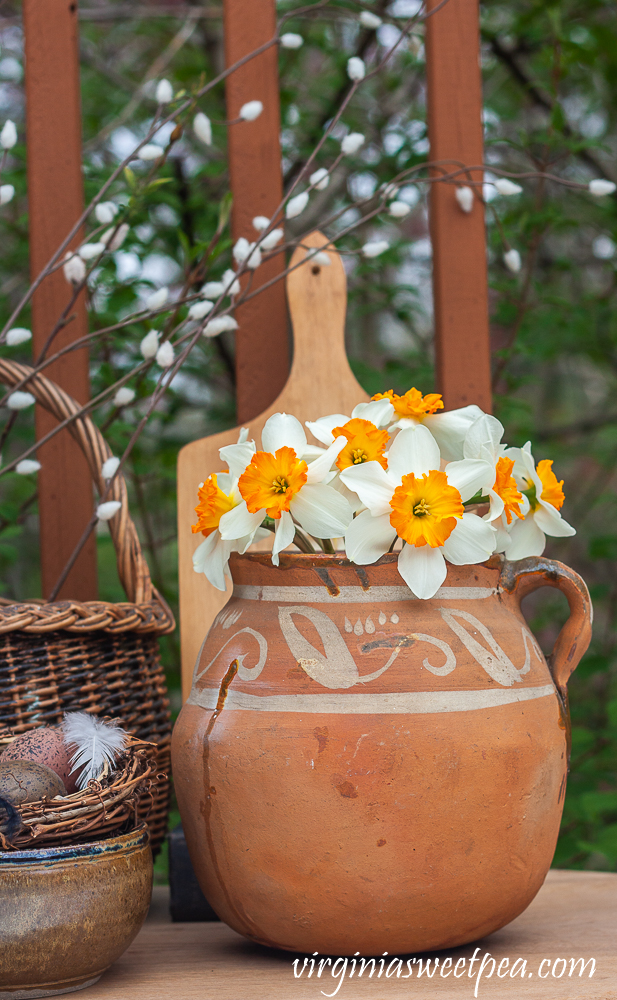 My mom passed along this jug to me many years ago.
The couple who owned our home lived here for 30+ years before my husband purchased it in 1992. Daffodils and other flowering bulbs that they planted many years ago come up and bloom each spring.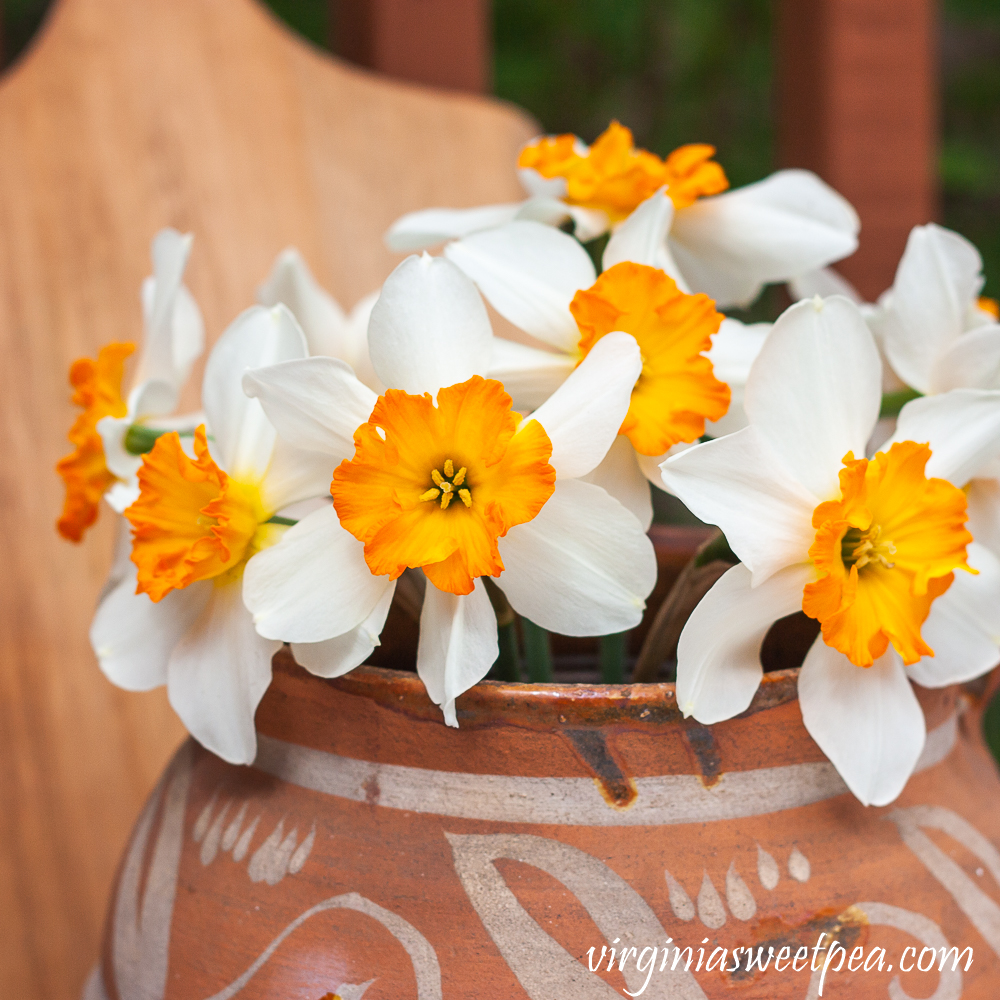 The Cutting Board
Behind the jug is a wooden cutting board that my grandfather made long ago.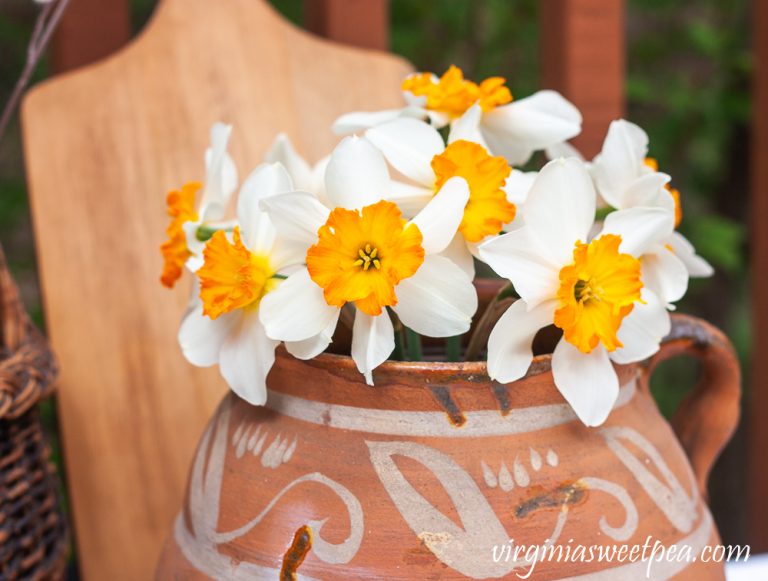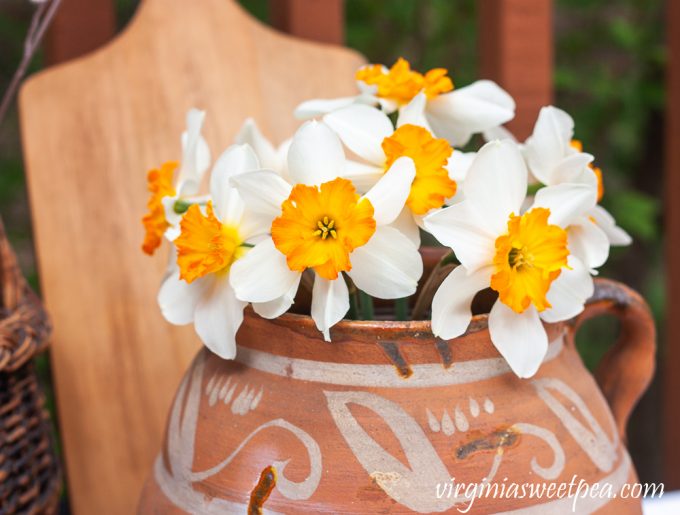 Granddaddy made this cutting board for my artistic great-aunt to paint. I flipped the board around so that you can see the artwork painted on it.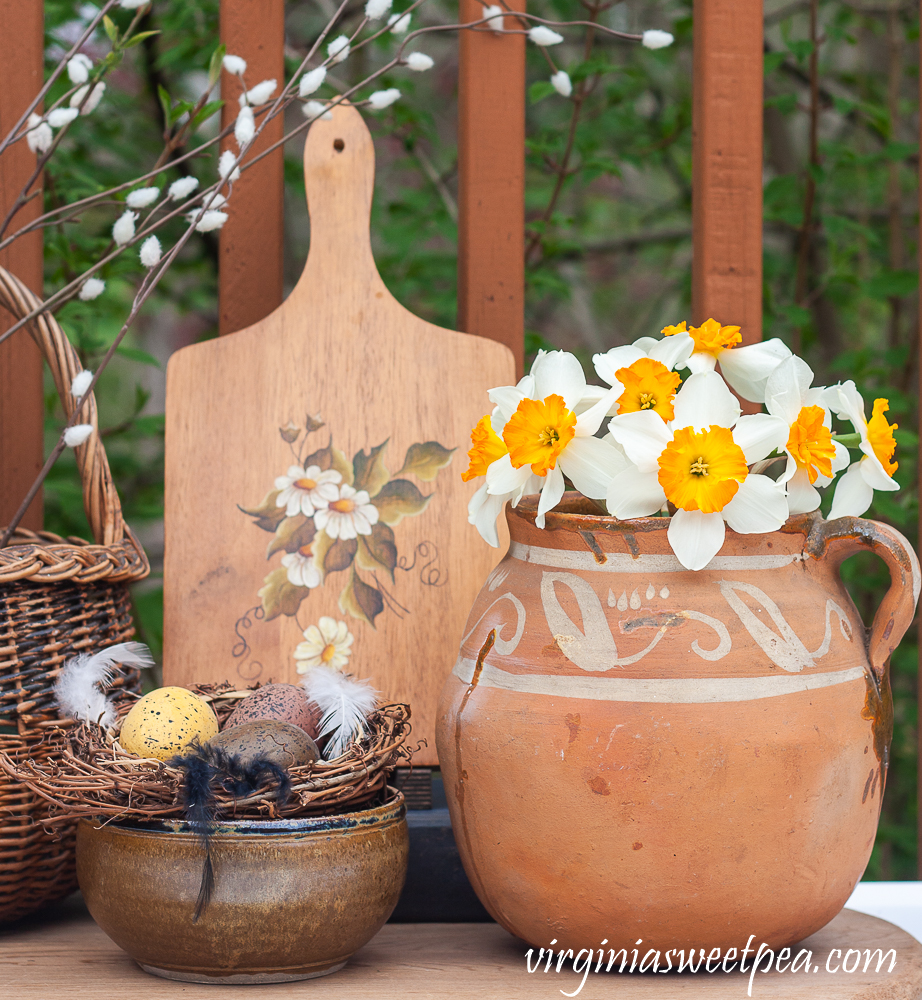 The Basket
This basket came from my grandmother's house and I know nothing about it. It could have belonged to one of her aunts or it could be something that she used either in her garden or for garden club flower shows.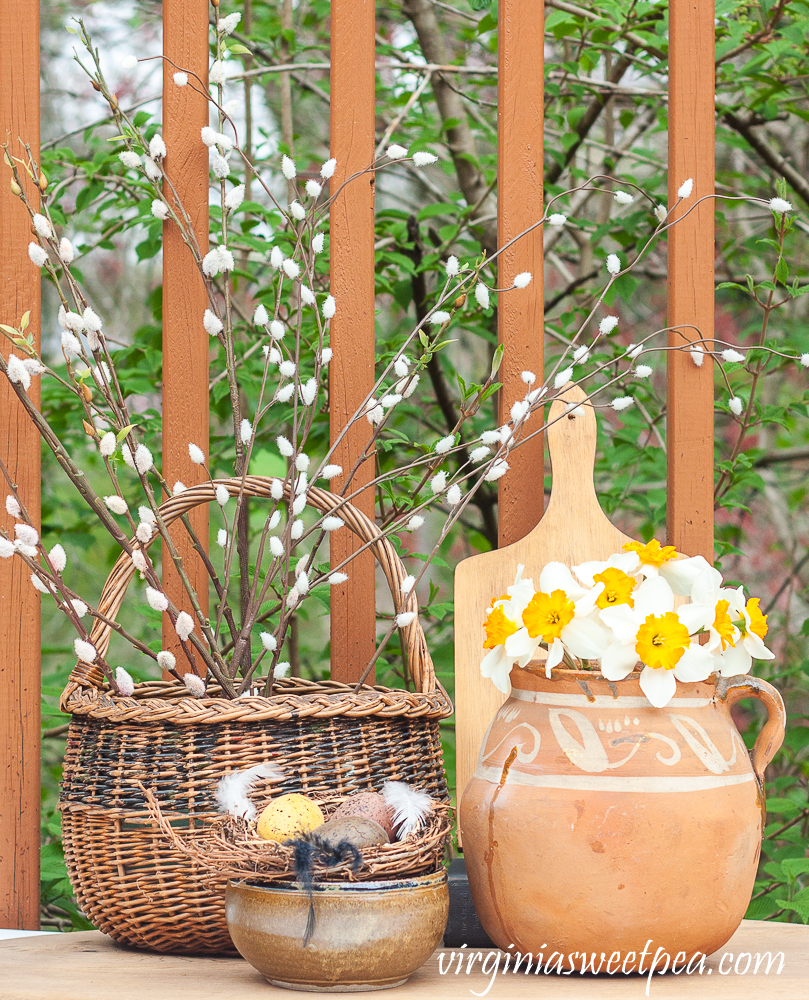 Nest and Pottery Bowl
The pottery bowl holding the nest was a gift from my good friend who goes to a pottery show in North Carolina each spring.
The bowl is marked, "Cross Creek, Seagrove, NC". This pottery appears to be no longer in business. It was operated by Terry and Vivian Hunt. I found a 2011 obituary for Terry, no website, and their Facebook page is no longer active, which makes me believe that Terry was the maker of this bowl and that the business is no longer.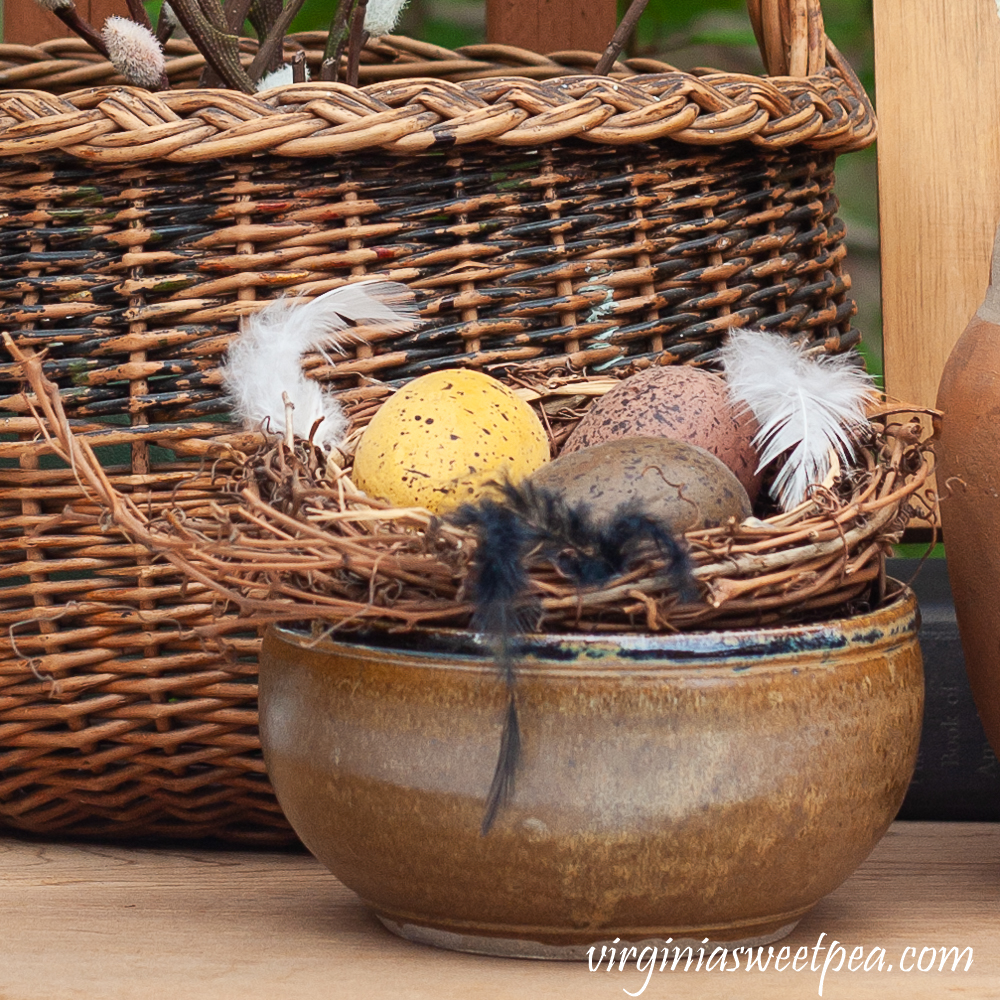 I have had the nest for many years and it makes a frequent appearance in my spring decor.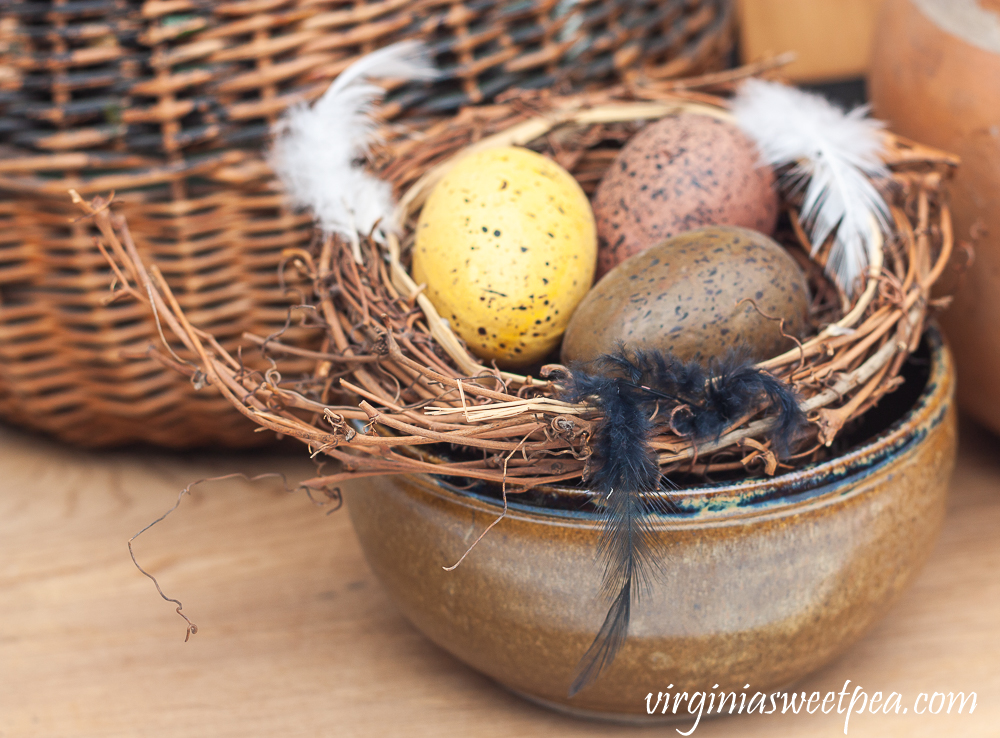 Last Look
I had so much fun creating this garden inspired spring vignette by shopping my home. I encourage you to do the same thing when you find a look that you love on Pinterest or social media.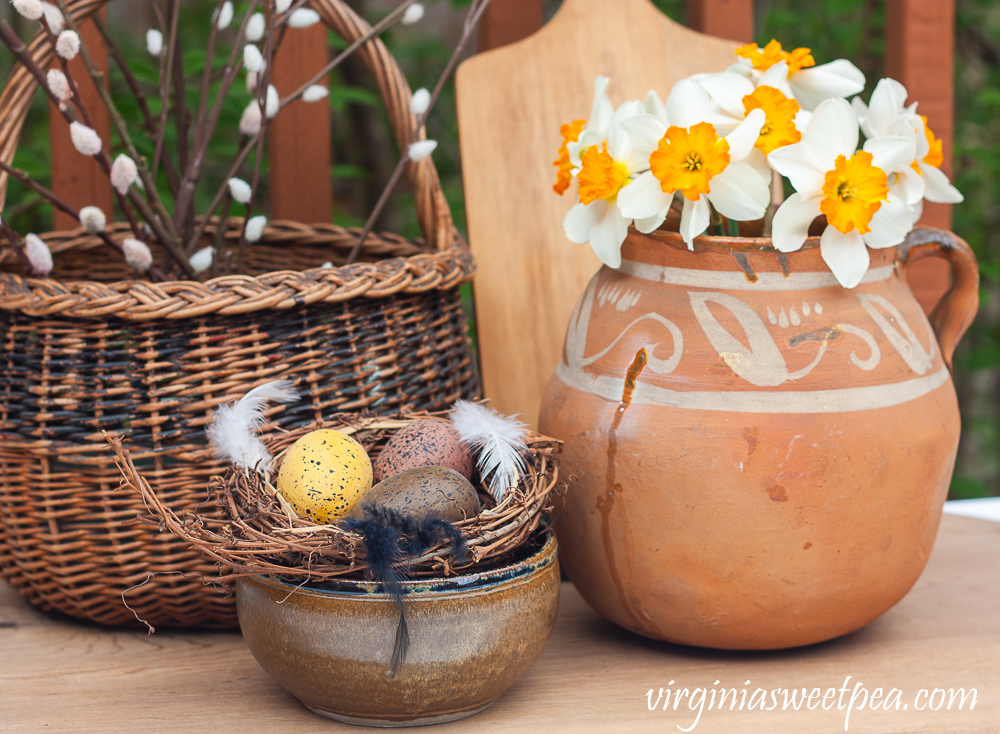 More Garden Inspired Looks to Enjoy
I can't wait to see what my friends share for this challenge. You can visit each participating blogger by clicking the link below each picture.