Garlicky Angel Hair Pasta with Roasted Broccoli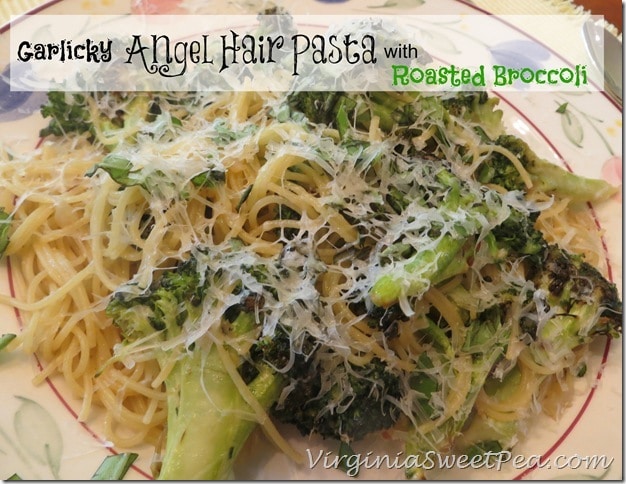 Yesterday I shared health tips, a yoga routine, and a picture of a dish that I tried from All You magazine. We liked my version of the recipe in All You for Garlicky Angel Hair with Roasted Broccoli so much that I thought I would share it with you today. If you like pasta dishes, you may want to consider trying this!
I liked this recipe because it was quick to prepare, required few ingredients, and tasted great. An added bonus is that it is vegetarian.
The original recipe from the magazine can be found here. My changes are in the printable version below.

Garlicky Angel Hair Pasta with Roasted Broccoli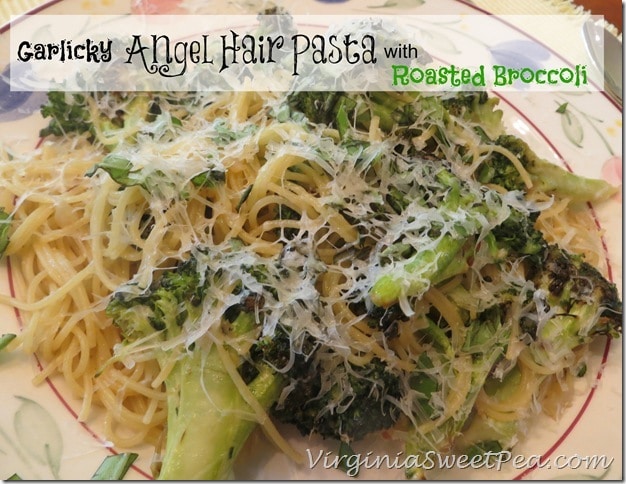 Ingredients
2 packages of fresh broccoli florets
4 tablespoons olive oil
1 tablespoon Italian seasoning
Salt
16 ounces angel hair pasta
10 cloves garlic, thinly sliced
1/2 teaspoon crushed red pepper
1 cup grated Parmesan
2 T prepared pesto
2 tablespoons chopped fresh basil
Instructions
Preheat oven to 450°F. Combine broccoli, 1 Tbsp. olive oil and Italian seasoning in a large bowl; toss to coat. Place broccoli in a single layer on baking sheet. Roast, stirring once or twice, until broccoli is crisp-tender and beginning to lightly brown, about 15 minutes.
Bring a pot of salted water to a boil. Cook pasta until al dente, about 4 minutes or as package label directs. Drain, reserving 1 1/2 cups pasta cooking water.
Warm 3 Tbsp. olive oil in a Dutch oven over medium heat. Sauté garlic until just golden brown, about 2 minutes. Remove from heat; stir in crushed red pepper, 1 tsp. salt, 1 1/4 cups reserved pasta water and 2 T pesto. Add pasta and 1/2 cup cheese; simmer over medium heat, tossing gently, until sauce thoroughly coats pasta (add remaining 1/4 cup pasta water if needed), 2 to 3 minutes. Remove from heat and toss in broccoli, remaining cheese and basil. Serve immediately.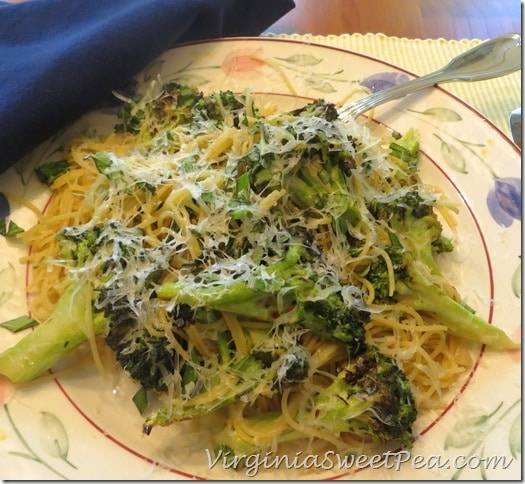 Pasta is a dish we could eat every night. It's nice to have recipes like this one that are good and quick to prepare.