Hash Pictures from the Past
My last post was about going back to the hash after being gone for 12 years. Today I'm sharing some "Hashing from the Past" pictures borrowed from our friend John's Facebook page. I started hashing in 1993. I wish digital cameras had been invented then so that I'd have pictures of all of the fun times I've had hashing.
In 1997 we had a hash at my parent's farm. My dad bush hogged the fields to prepare the area for camping and helped Mr. SP and I figure out a trail that ran from my dad's farm to my grandmother's farm. Mr. SP and I bought a pig and our family friend, Russell cooked it.
We took a group picture before the hash. My dad and I are in the center of the picture. I'm wearing pink shorts and have on a black top and daddy is wearing a striped shirt.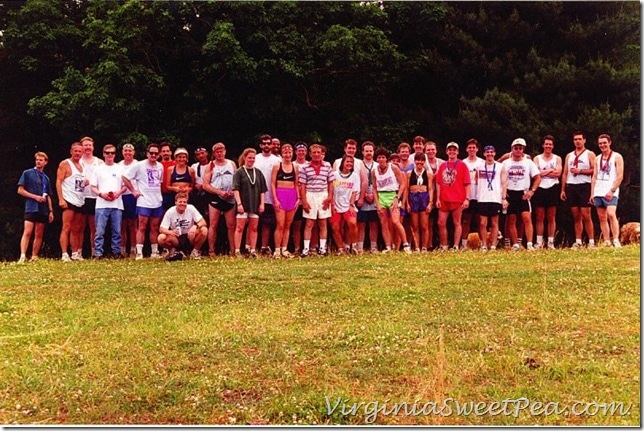 Here's the same group at the end of the hash on top of the hill on Granny's farm. Mr. SP is to the left, I'm kneeling in the front, and Daddy is standing to the right.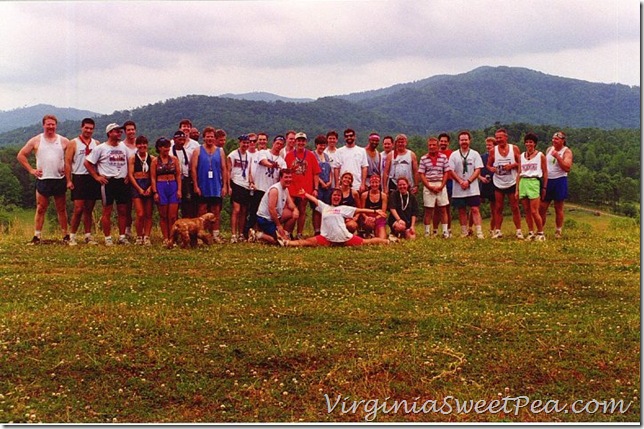 Our trusty 1990 Ranger took hashers back to Mama and Daddy's farm for camping and a pig roast.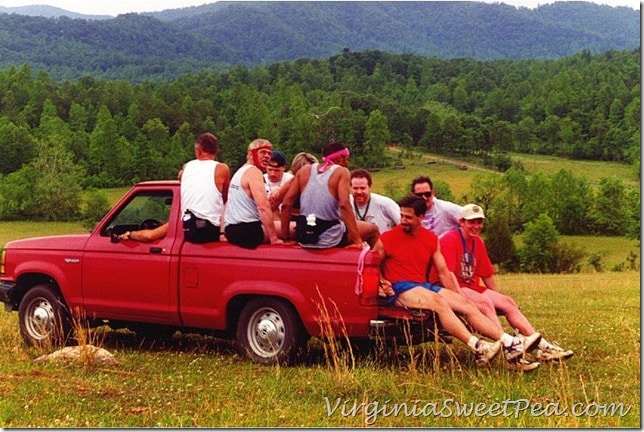 Daddy has another load of hashers on his truck. The house that you see in this photo is now surrounded by trees.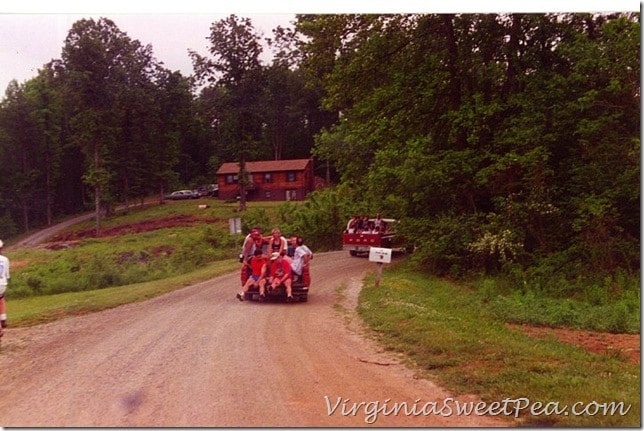 My father-in-law took the pictures above and below of the festivities.

What a great time that was. Daddy was sick with cancer and undergoing chemo but he didn't let that stop him from having a good time with the hashers. We stayed up late into the night with a fire, beer, and singing.
An annual hashing activity is a "Red Dress" run where the men and women run in red dresses. Mr. SP (Happy Hurl) shakes our friend Dave's (Enjaleech) hand.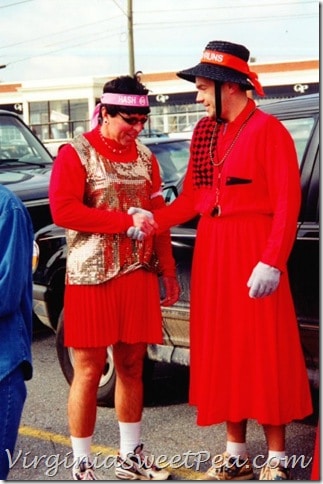 Mr. SP poses here with our friend Vindy (Cow Poke).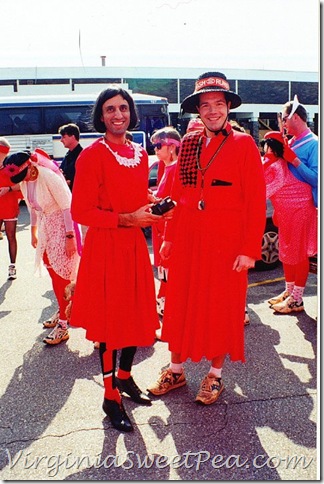 We met John and Suzanne at the hash and have been friends every since. Here we are post hashing in the late 90's.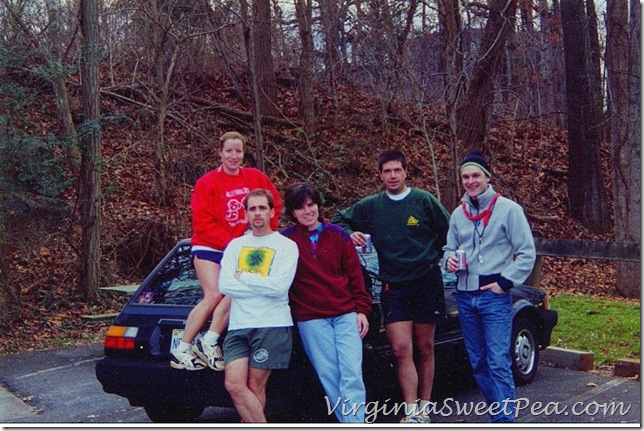 Hashing and camping at the river every June was a much anticipated activity. Mr. SP looks so young in this picture. I of course haven't aged a bit. Ha-Ha!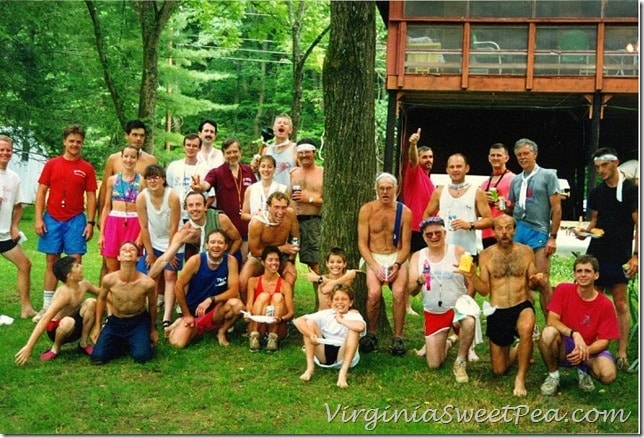 The hashers annually gather for a picture before the VA Ten Miler. I'm on the front row kneeling along with John in yellow. Mr. SP is in the last row, 3rd in from the right side. It's been a few years since either of us has run the VA Ten Miler.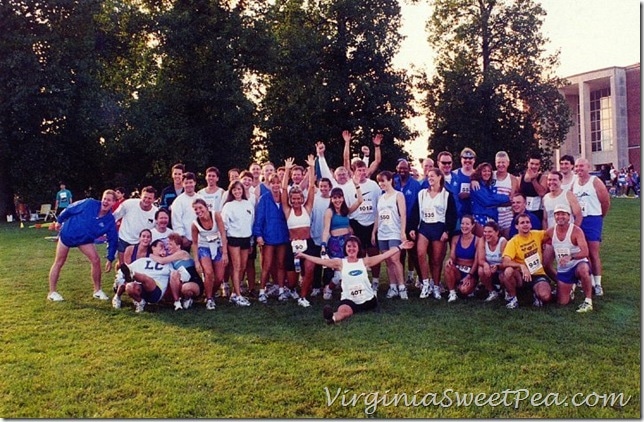 We've hashed all over Virginia. Here we are in Bedford in 1995. I'm on the ground and Mr. SP is sitting on the back of a pick-up.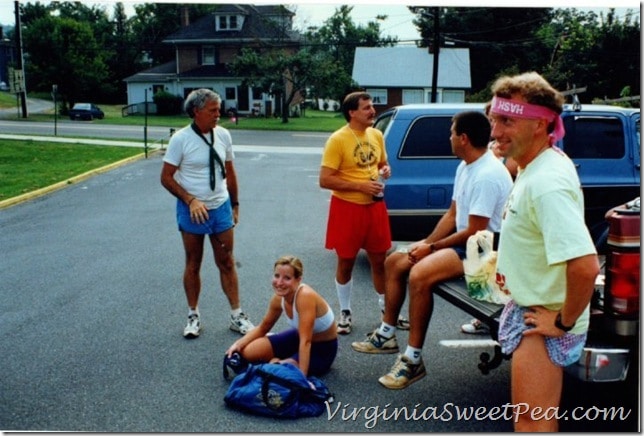 This picture is from a 1993 hash.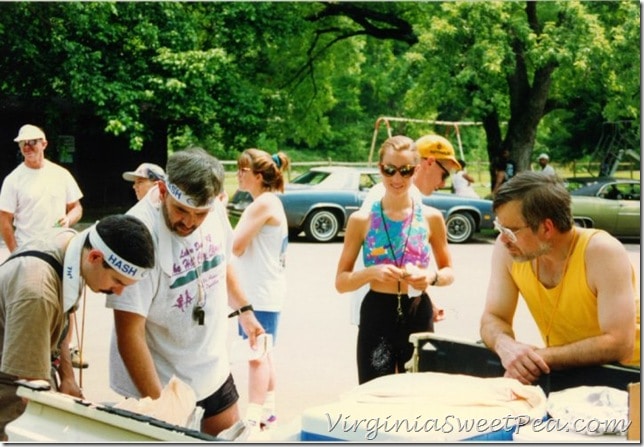 Hashing was a weekly activity for us from 1993 until about 2000. Great memories of lots of great runs and fun times!