I recently received Fashom box filled with affordable fall fashion.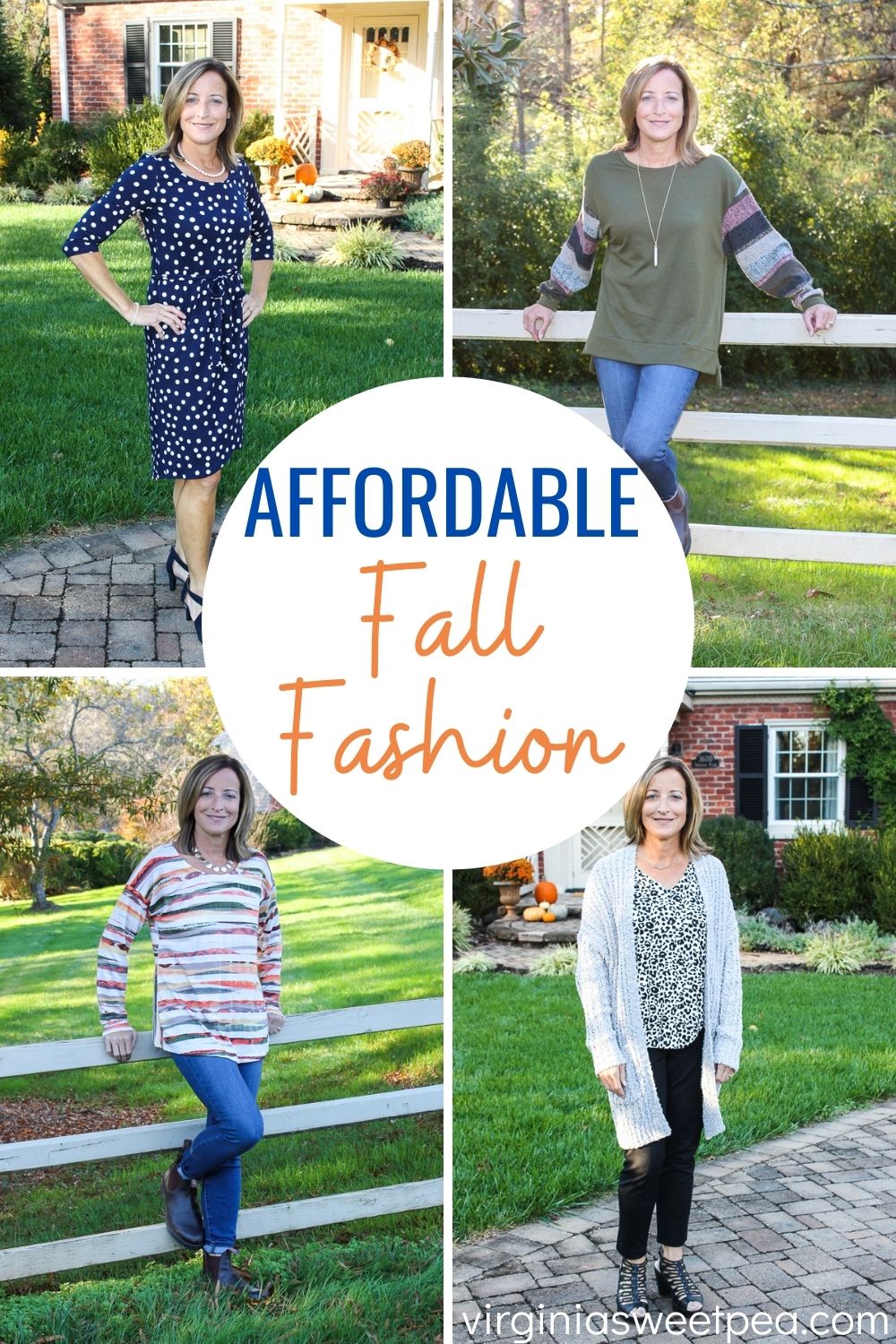 I love receiving my monthly Stitch Fix box and a few times a year I order a box from Fashom whose concept is like Stitch Fix, but Fashom's prices are lower. I'll share more details about Fashom at the end of this post.
I've received quite a few Fashom boxes but haven't blogged about each one. These boxes I did write about:
I recently shared my 87th Stitch Fix box and all of my Stitch Fix reviews can be found here. If you are interested in Stitch Fix, you can sign up here to get $25 off your first box.
Affordable Fall Fashion from Fashom
With my Stitch Fix box, I never make a final decision on what to keep and what to send back until we take pictures for my blog post. Seeing the pictures really helps me decide what I truly like.
My Fashom box arrived at a time that wasn't convenient for taking pictures and I had to check out before we took the pictures for this post.
I requested an extra two days to get pictures taken for my blog post before mailing my clothing back to Fashom. After I saw the pictures, I realized that I made two mistakes on what I kept and what I sent back.
My advice to you is if you get a Fashom box or a Stitch Fix box, get someone to take pictures of you in each outfit before you make your decision about what you keep or what you send back.
Les Amis Rhea 3/4 Sleeve Dress
This Les Amis Rhea 3/4 Sleeve Dress is my big regret for this Fashom box. This dress is exactly my style and it fit me perfectly.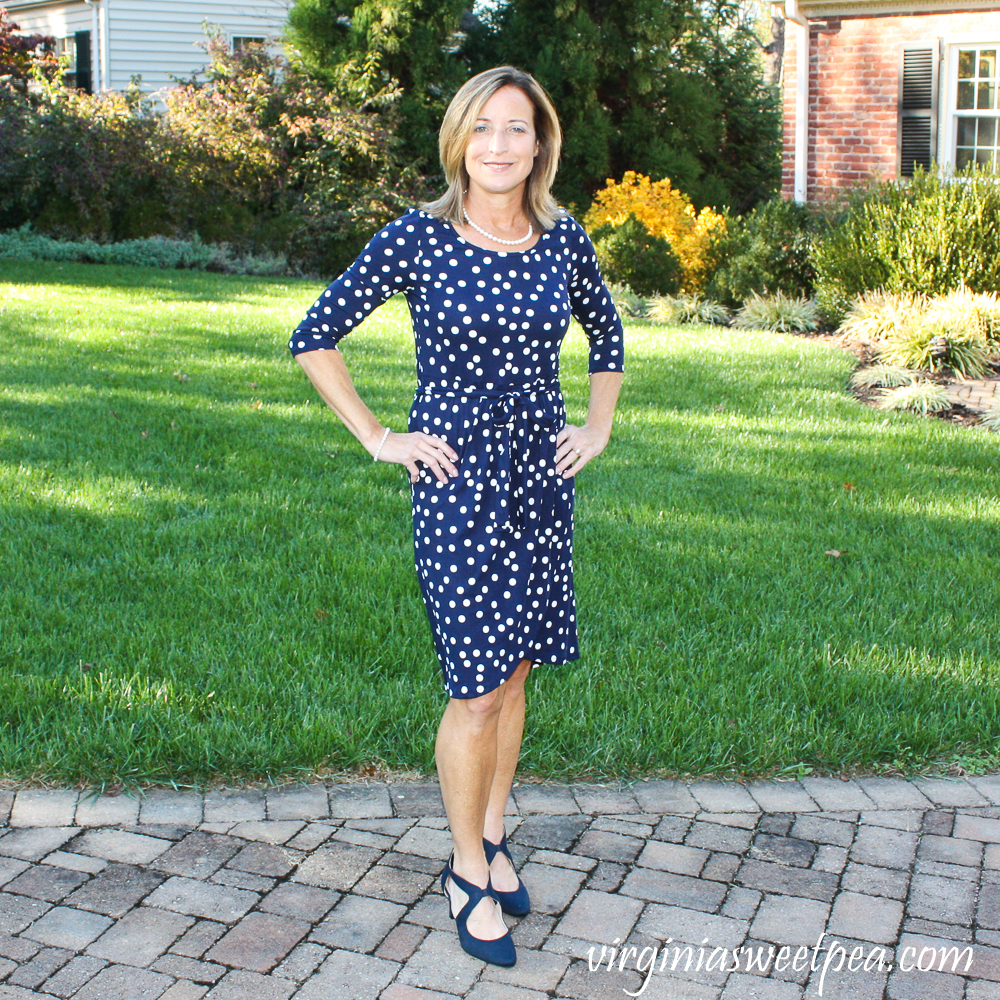 In my rush to check out, I decided not to keep this because I don't often wear dresses these days. I am kicking myself for that decision because this dress is one that could be worn in almost any season.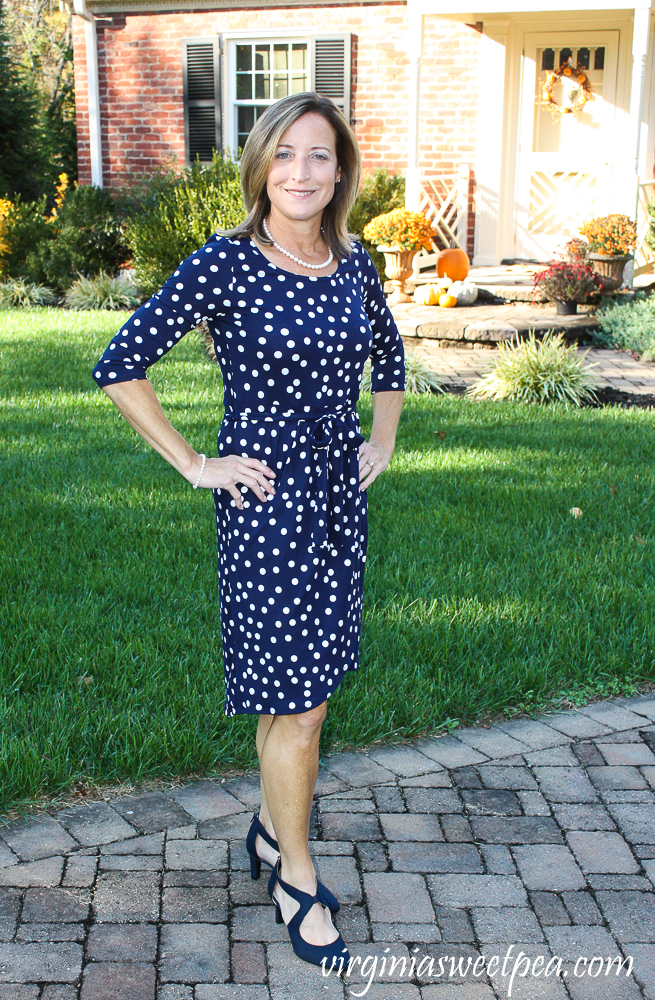 I am a sucker for polka dots and navy blue. My first year of teaching, one of my students once told me that I had worn navy blue 12 days in a row.
This dress was super soft and made out of a fabric with stretch. The back was longer than the front and the front was a wrap style.
I paired it with Lifestride pumps in navy.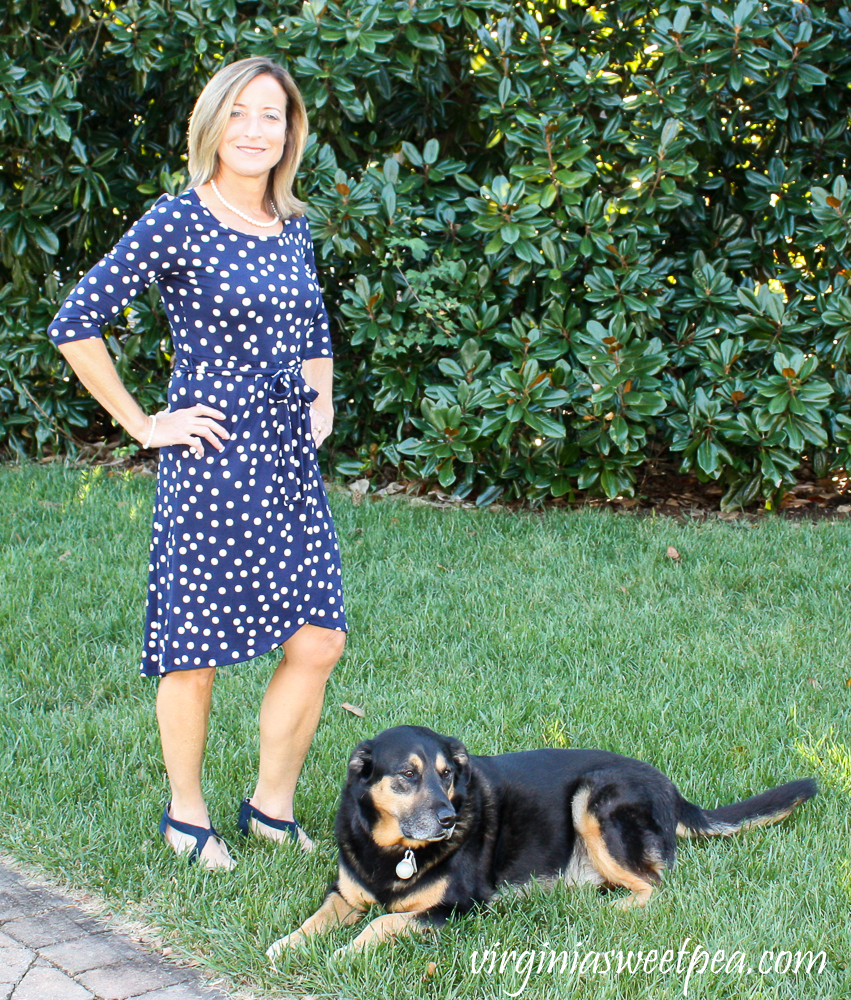 I should have kept this but I didn't.
I called this post affordable fall fashion because Fashom is so affordable. This dress was just $46.
Update: I contacted Fashom and they are sending me this dress! I am so happy to add this to my wardrobe and I appreciate Fashom's great customer service.
Les Amis Contrast Sleeve Sweater
Fashom calls the Les Amis Contrast Sleeve Sweater a sweater but it was more like a sweatshirt with sweater sleeves.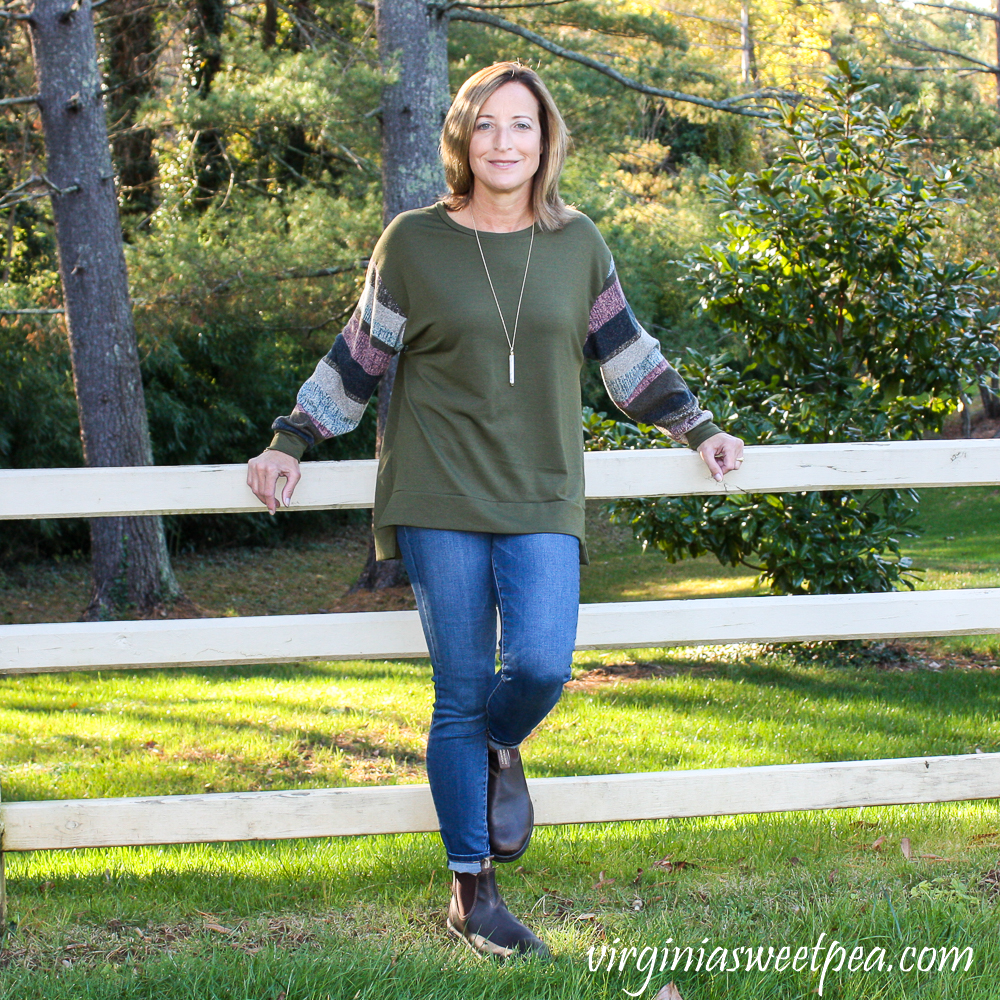 This sweater was oversized and so comfortable. The back was longer than the front making it great to pair with leggings.
I paired it with a Rocksbox necklace and my favorite Blundstone boots.
Rocksbox is a jewelry subscription service that sends three pieces of jewelry that you can wear for as long as you like each month. When you send your three pieces back or buy what you like, a new box is sent. If you'd like a free month of Rocksbox, sign up with this code: PAULABFF54.
It is really cold here in Virginia so we had to take pictures inside this month. To see details on my winter decor, click here and here.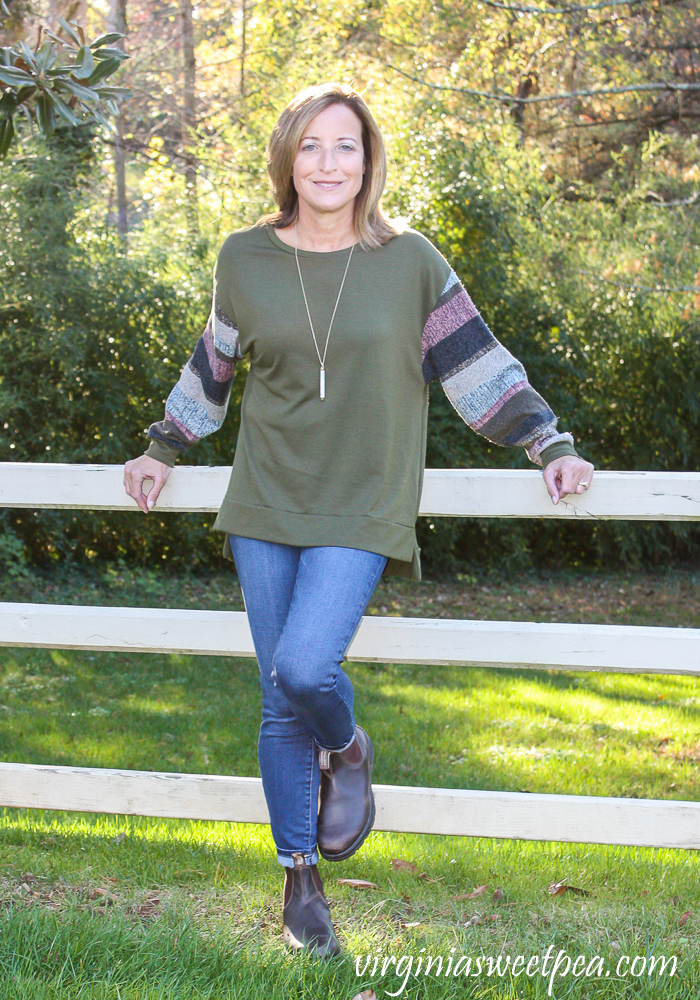 I didn't keep this top because it is very similar to a top that I purchased from Fashom last winter. (I didn't blog about that box.)
I did like this top and it was affordably priced at $43.
Twenty Second Chrissy Long Sleeve Stripe Top
If you read my November Stitch Fix review, you saw this Twenty Second Chrissy Long Sleeve Stripe Top in that post paired with a Stitch Fix cardigan.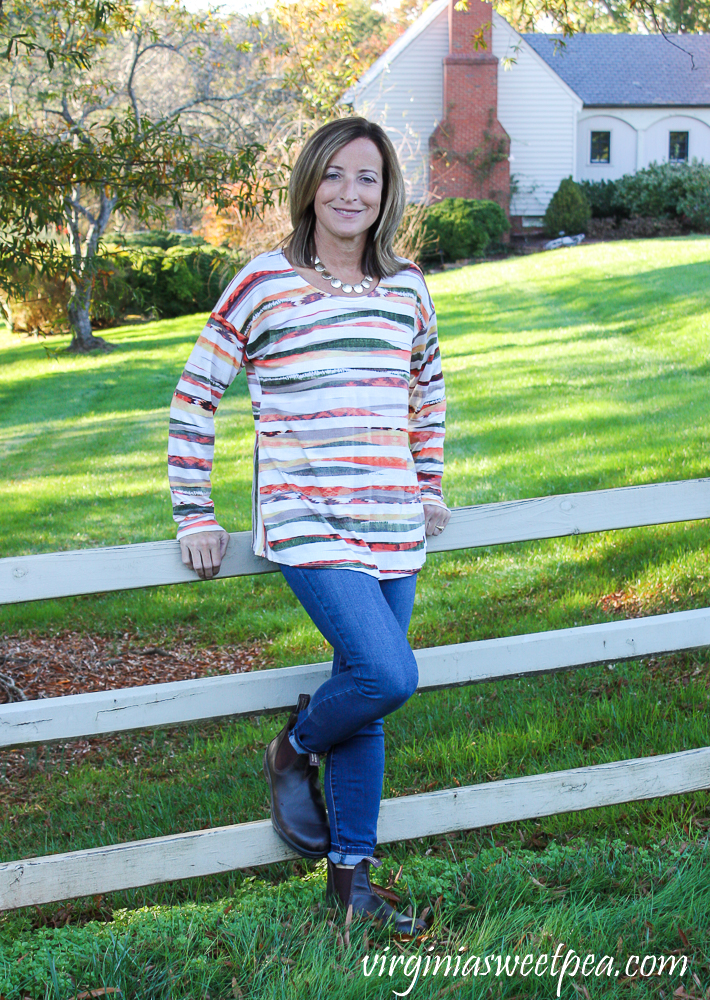 This top was business in the front and party in the back. I liked the party in the back but when Mr. SP was taking these pictures, he mentioned that he liked the front of this top but not the back.
My necklace is another Rocksbox piece. I have so much fun getting boxes from them!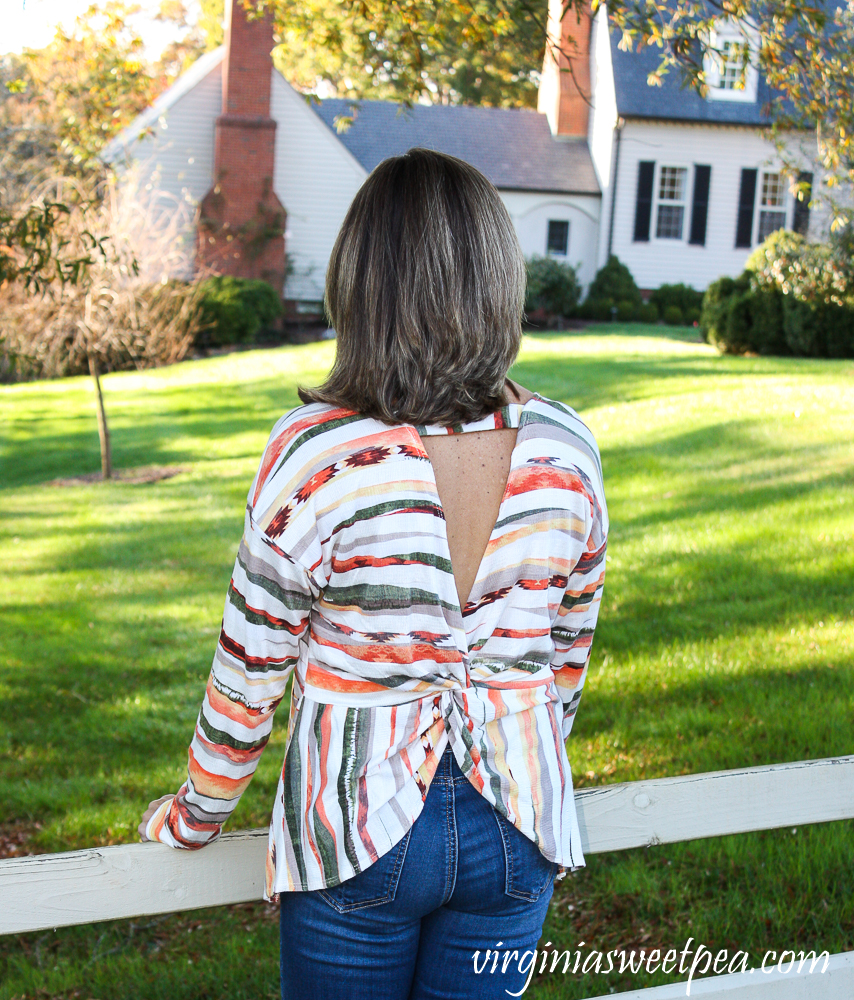 Even though I liked the back, I didn't particularly like the busy stripe pattern nor its colors. This top was priced at $43.
Chris and Carol Mara Animal Print Top
When I ordered my box, I requested an animal print top and my stylist found this Chris and Carol Mara Animal Print Top for me to try.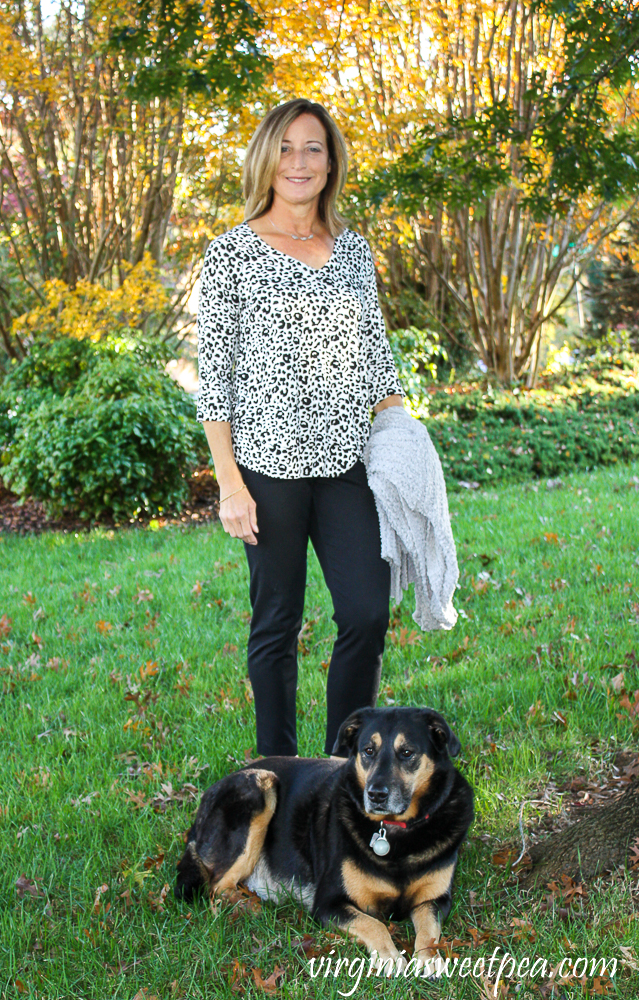 As soon as I tried this on, I knew I was keeping it. This top is super soft and stretchy and is has an interesting gather in the front hemline.
My necklace is another one from Rocksbox.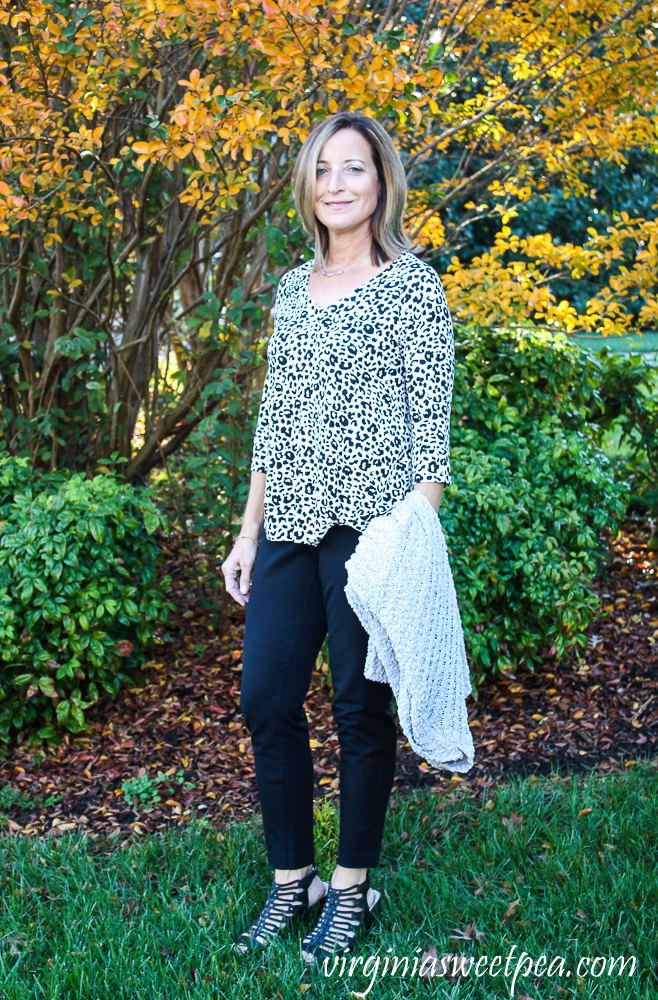 After taking these pictures, I had dinner with some friends and I wore this outfit.
I obviously kept this top whose price was $41.
Sweet Generis Cassidy Textured Cardigan
This Sweet Generis Cassidy Textured Cardigan was the item that I kept but if I had looked at pictures before checking out, I would have sent back.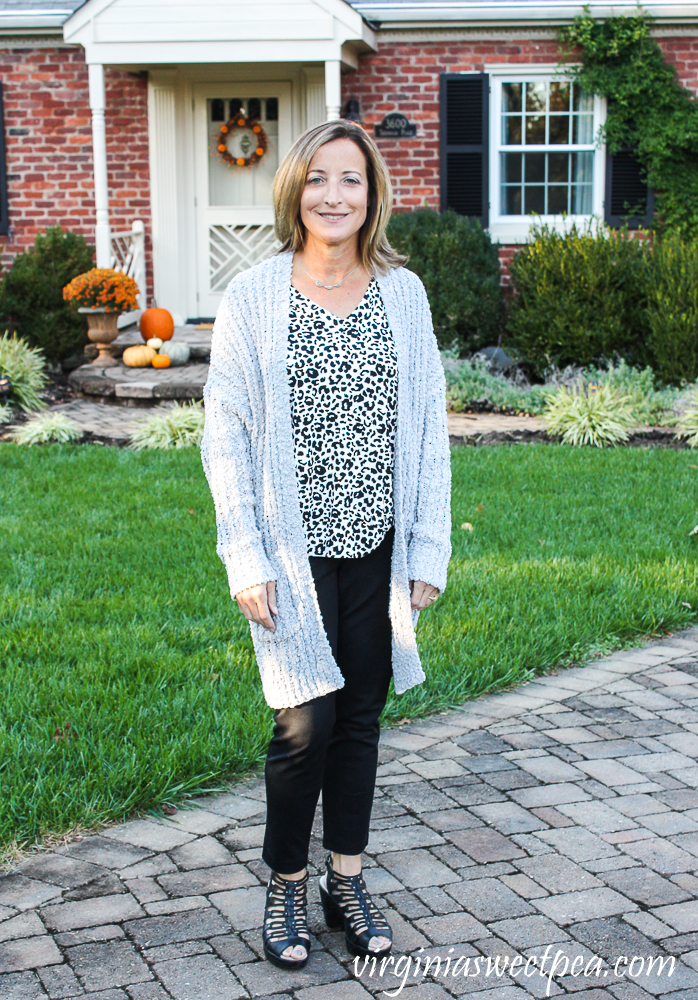 In this sweater's defense, it is cozy and comfortable. I kept it knowing that it would be great to wear over tops this fall and winter.
What I'm not crazy about is its color and that it is kind of sloppy looking.
We keep our house really cold in the winter, so even if I don't wear this out and about much, I'll enjoy wearing it around the house.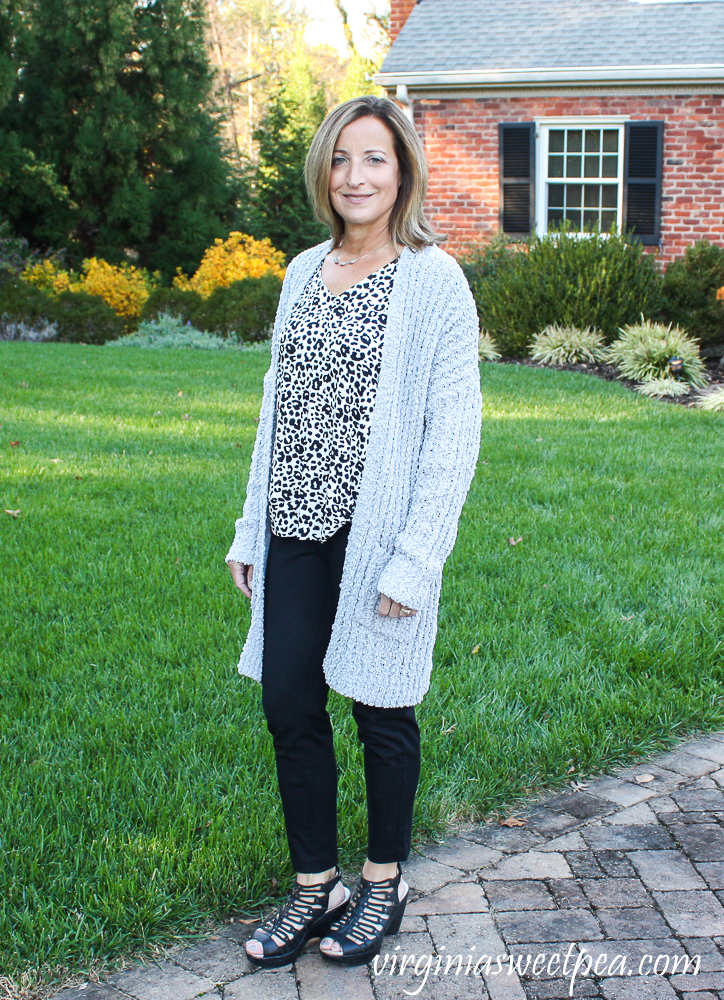 Priced at $51, this sweater was the most expensive thing in my box.
Like always, it is fun to receive a box from Fashom. If you are looking for some affordable fall fashion, give Fashom a try!
Fashom Details
The styling fee for Fashom is $15 and you get it back when you purchase an item. Your first Fashom box styling fee is FREE.
Shipping is free both ways.
Like Stitch Fix, 5 items are sent for you to try but they are more budget-friendly than Stitch Fix.
If you sign up for a Fashom box using my referral link, you get $10 credit and so do I.
Fashion boxes are so much fun to receive. With getting a $10 credit and no styling fee for your first box, why not give it a try?