This post and photos may contain Amazon or other affiliate links. As an Amazon Associate I earn from qualifying purchases. If you purchase something through any link, I may receive a small commission at no extra charge to you. All opinions are my own.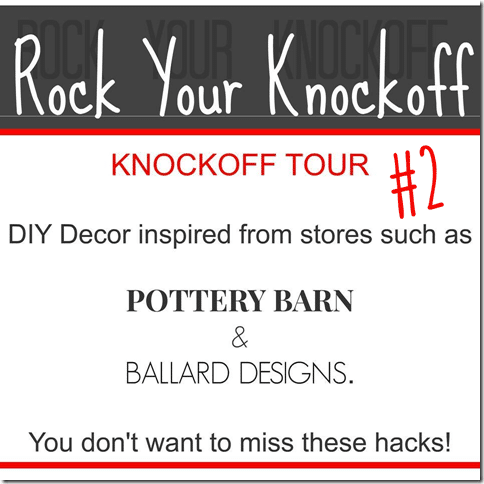 It's time for another knockoff tour! Back in the spring a group of my blogging friends decided to challenge each other to knockoff a project from a popular design store or catalog. My project for was a knockoff of Plow and Hearth's Chevron End Table. For this fall's second knockoff tour, I was inspired by LL Bean's wooden Adirondack chairs.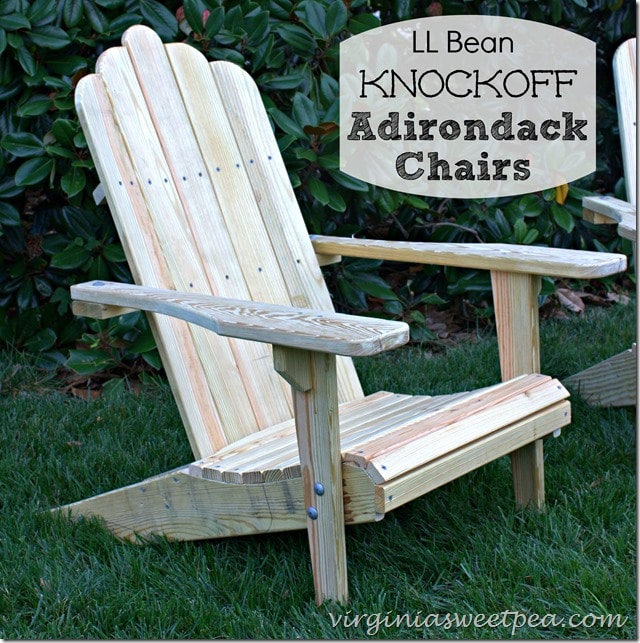 The price for a LL Bean Adirondack chair is $199. Our DIY version cost less than $40!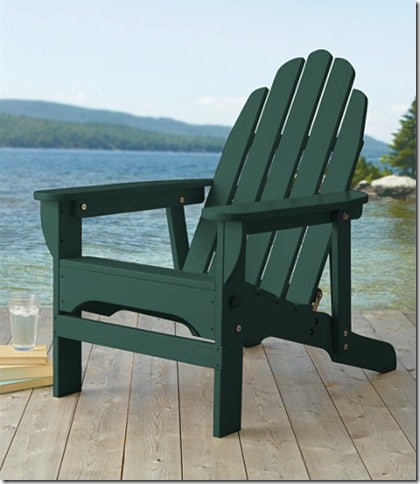 Our chairs aren't a carbon copy of the Bean chairs. I like the wider arms on our chairs and the rounded seat in the front of the chairs. Our chairs can hold a drink on one arm and a snack on the other. They are made for relaxing in comfort!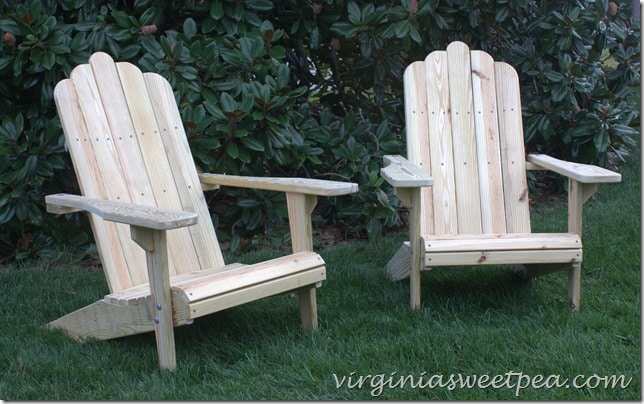 We used treated pine deck boards to construct these chairs. They are super sturdy and should last for years. We will eventually stain them but will have to wait until the treated wood thoroughly dries. I like that our chairs are as attractive from the back as they are from the front.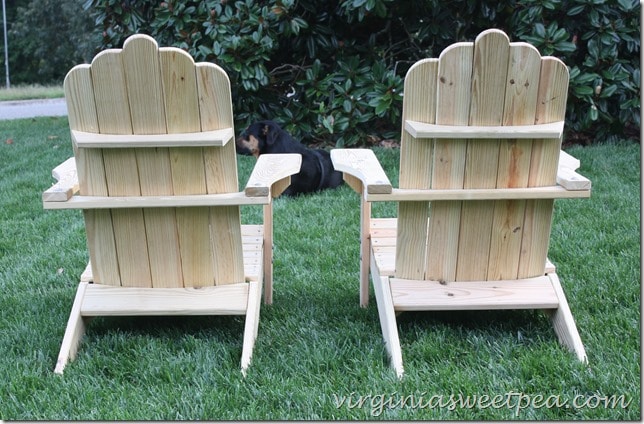 Adirondack chairs patterns are readily available on the Internet. Mr. SP made the templates that we used for our chairs out of scrap wood. Where dimensions were not apparent, we adlibbed. We started the construction process by tracing the arm and leg pieces onto the deck boards and then we cut them out.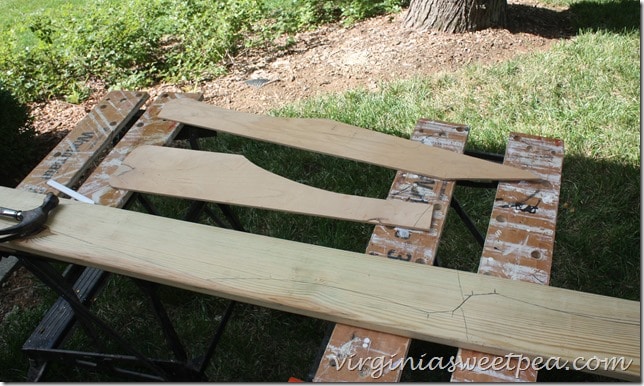 The pieces were cut with a jig saw purchased just for this project. (Mr. SP loves his tools and was glad to have an excuse to buy something new!)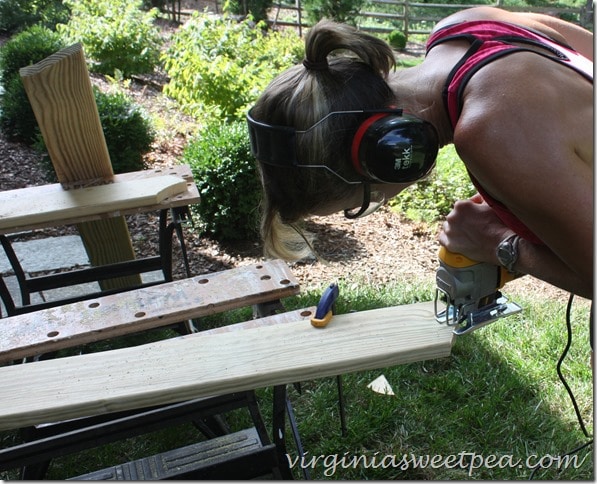 Straight sections were cut with a circular saw. Note that two pieces were cut at a time so that they would be identical.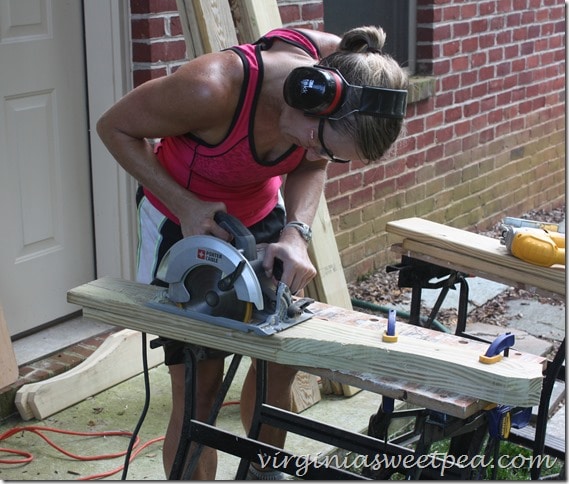 The arm edges were then rounded with the router so that they would be comfortably smooth.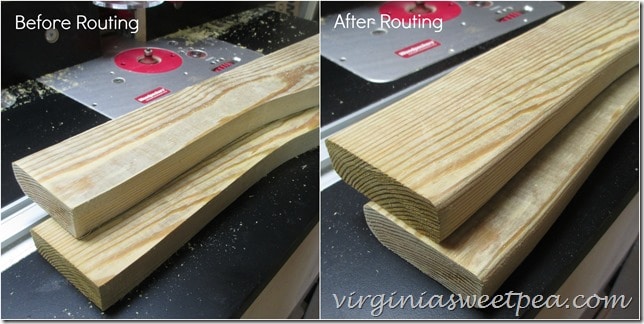 The lower seat cross brace was glued with waterproof carpenter's glue and screwed to each of the chair bases. A triangular brace was added for extra strength and stability.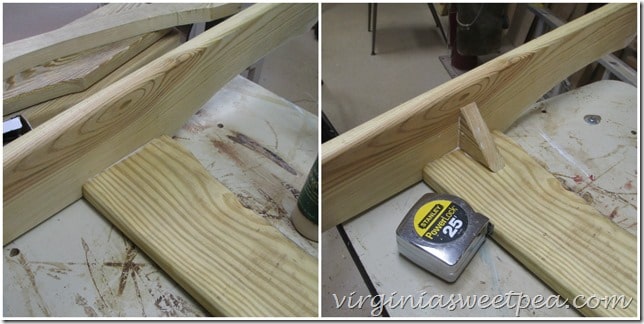 The arms were put together and connected to the base of the chair using zinc plated carriage bolts. Clamps and a board hold the arms in the correct place until the back is constructed.

The back was constructed and screwed into place using deck screws. The tops of the boards were cut with a radius defined by using various sized paint cans to trace the curve. All the seat back boards had the edges rounded. Each screw hole was predrilled, and countersunk so that all the screw heads would be flush.

And finally the seat pieces were cut with the table saw, edges rounded, holes drilled and countersunk, and then screwed into place.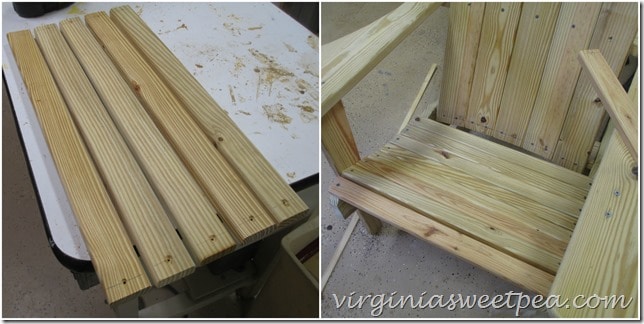 These chairs will live on the dock at the lake. I can't wait until next summer to enjoy sitting in them.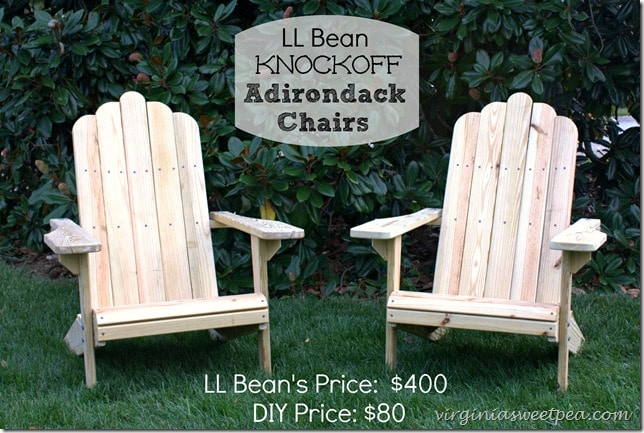 (Links to tools used to construct the chair are affiliate links.)
Sharing With: Serenity Now
Knockoff projects will be shared each day this week. Scroll down to see them all!