Vintage and Antique Chairs
Today I am sharing vintage and antique chairs from my home, my mom's home, and from the homes of two cousins.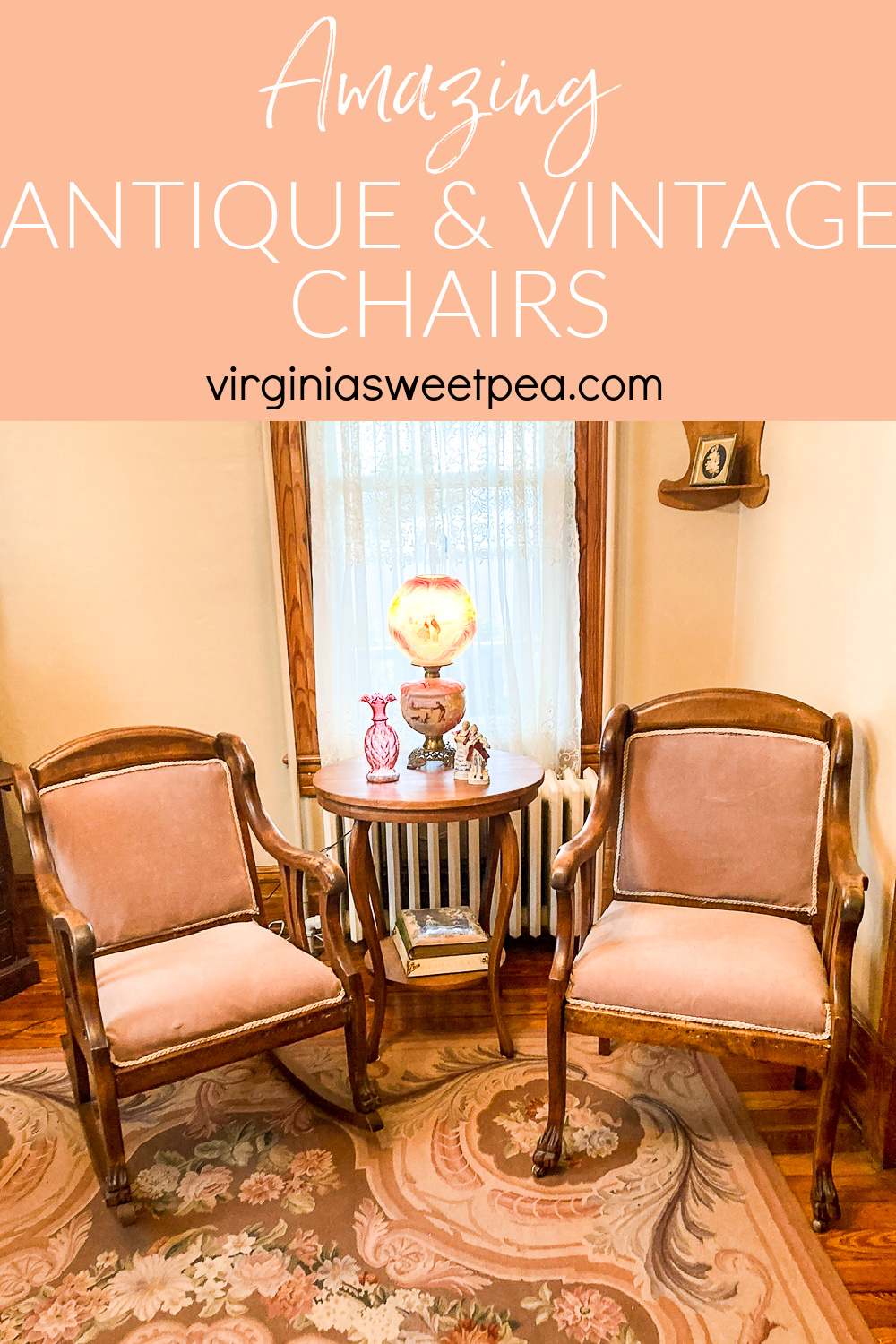 I'm sharing chairs for this month's Lifestyle of Love Blog Hop hosted by Cindy of County Road 407. This is an every other month themed series where we share our love of antiques and vintage.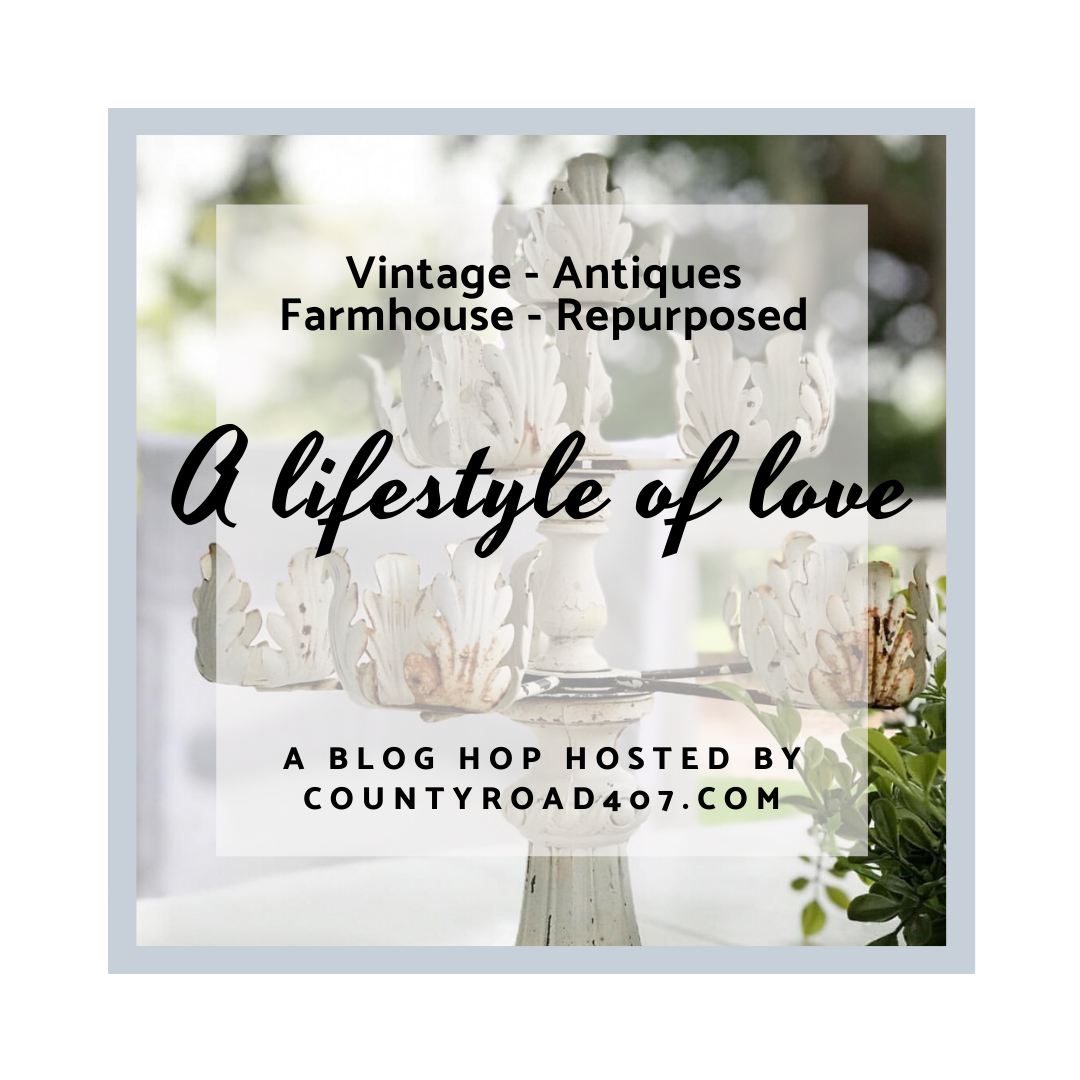 These are the other ideas for decorating with vintage items that I've shared in this series:
The theme this month is chairs and footstools and at the end of my post, you'll find links to the chairs and footstools that my blogging friends are sharing. I'm really looking forward to enjoying these posts!
If you arrived from Emily of LeCultivatear, welcome!
My Home
I don't have a lot of antique chairs because Mr. SP finds them uncomfortable. I do have my maternal great-great-aunt's dining room chairs. You'll see more of her furniture when we visit my mom's home.
My dining room table was purchased at an auction by my paternal grandfather, refinished, and given to my parents when I was a child.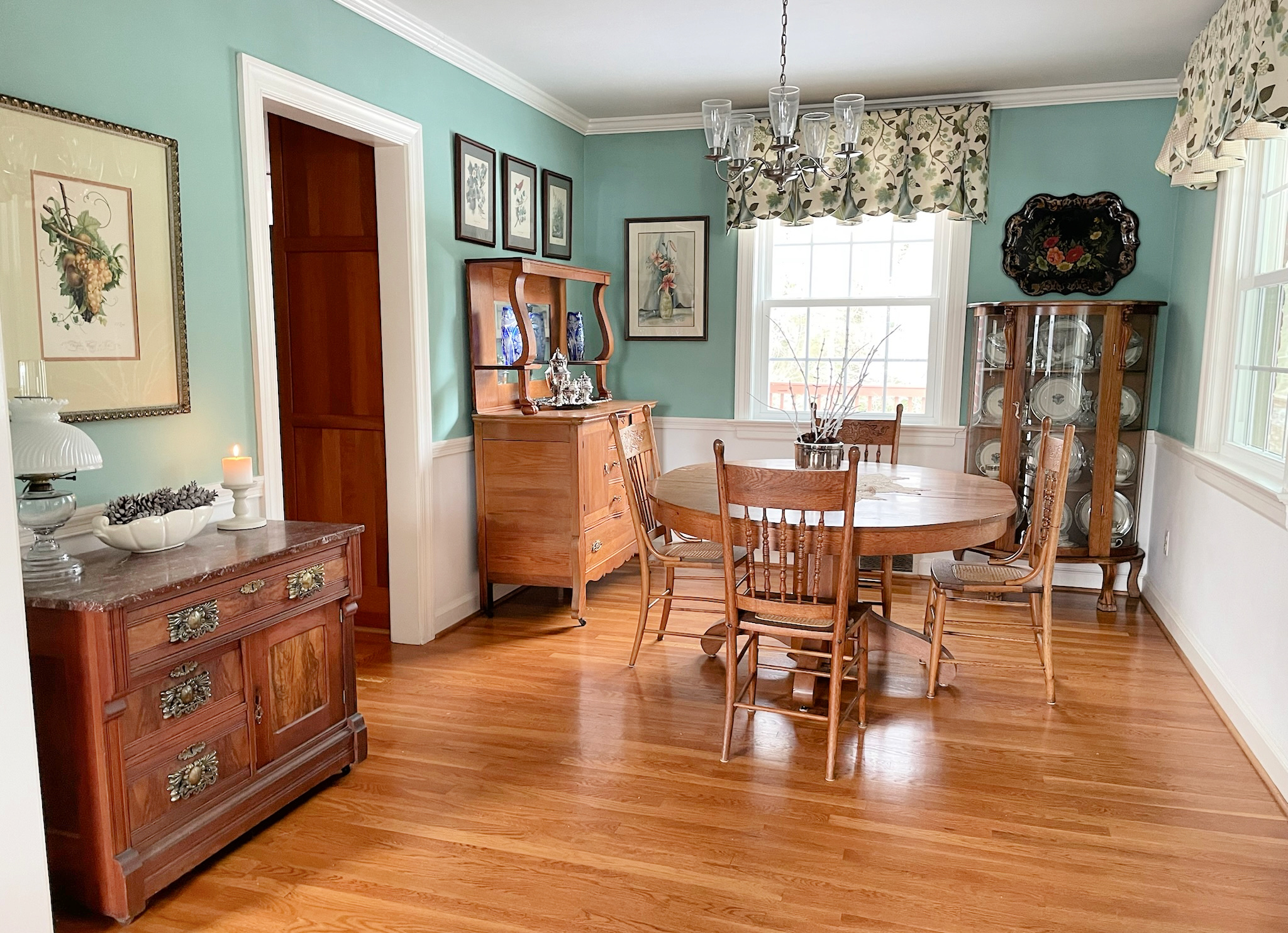 I agree with Mr. SP that these chairs aren't comfortable, but they sure are pretty.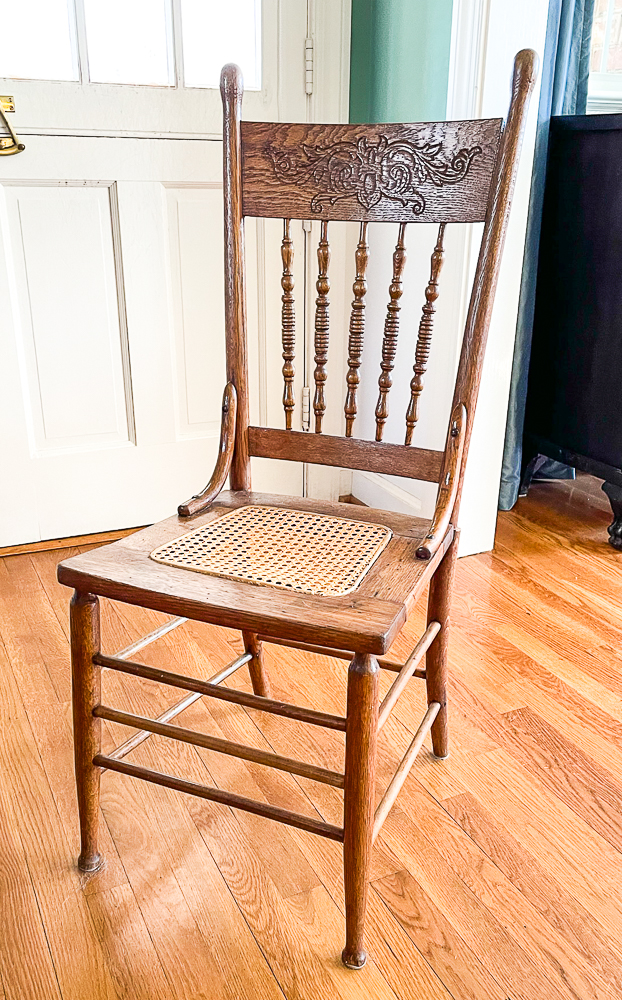 Mama's Home
Mama's home is filled with antiques. The only modern pieces of furniture that she owns are a sofa and two recliners.
This is my paternal grandparents' dining room table and chairs. They were purchased second-hand by my grandparents in the early 1950s.
Granny made a flower arrangement for my parents' 1969 wedding reception using the glass bowl on the table.
Don't miss reading the history of Mama's antique china cabinet.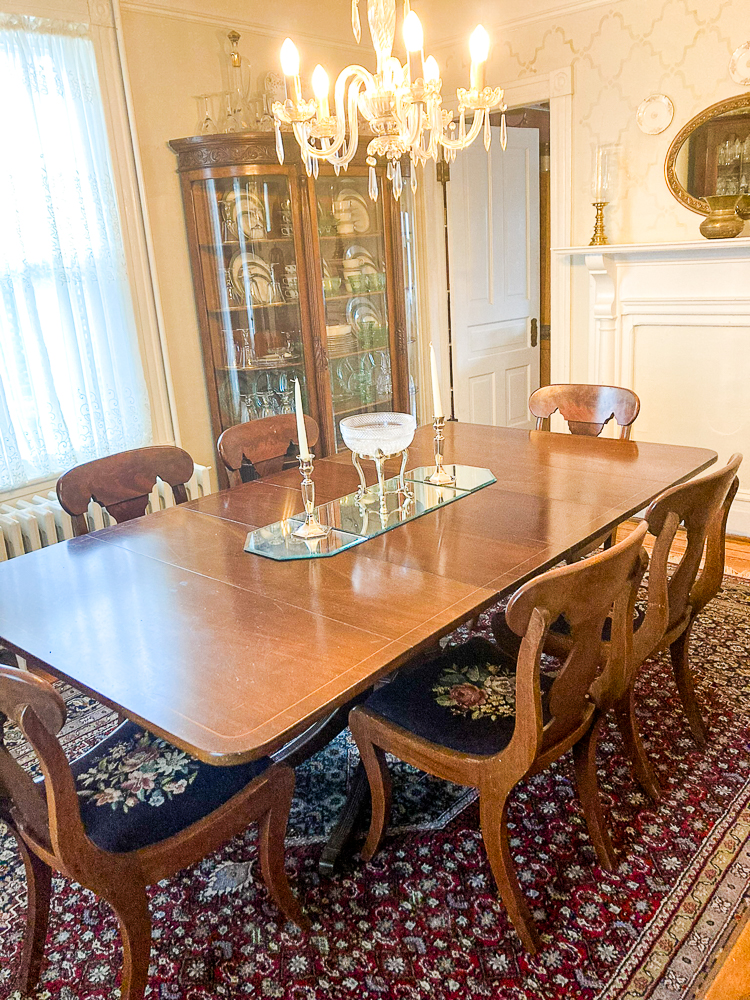 My grandmother made all of the needlepoint chair covers.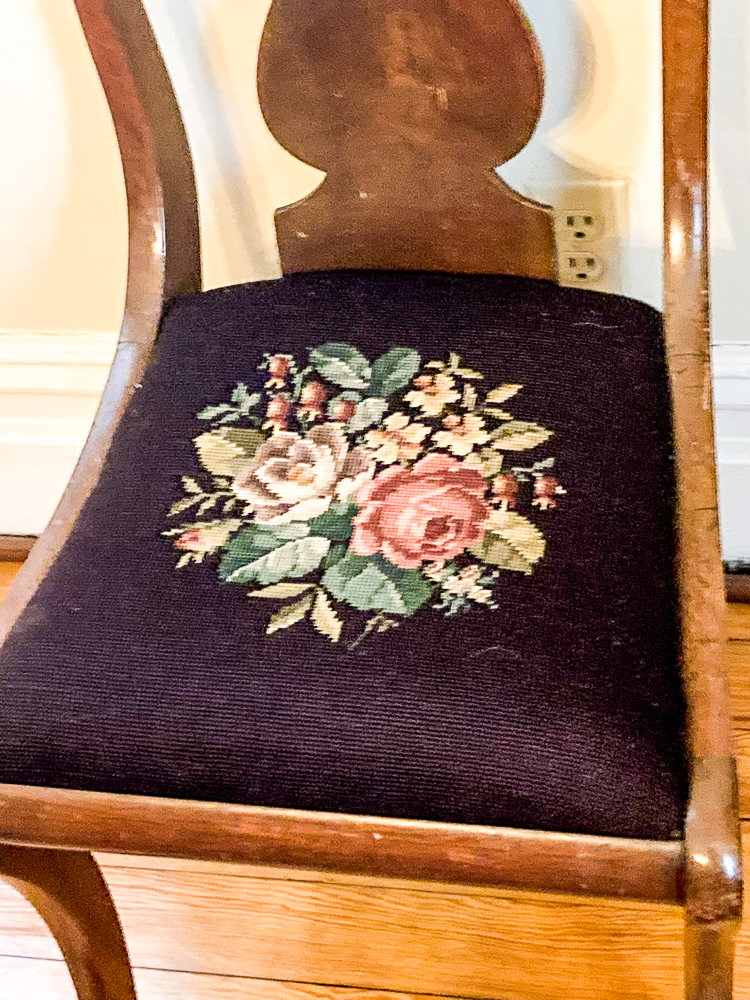 Mama's parlor furniture originally belonged to Aunt Lillian, the aunt that raised my maternal grandmother after her mother and brother died of typhoid fever. Granny's father was killed in Pittsburg a short time later.
The parlor furniture was purchased by Phillip and Lillian Rodes when they married in 1890 from Barksdale Furniture Store in downtown Waynesboro. The chairs originally were covered with black oilcloth.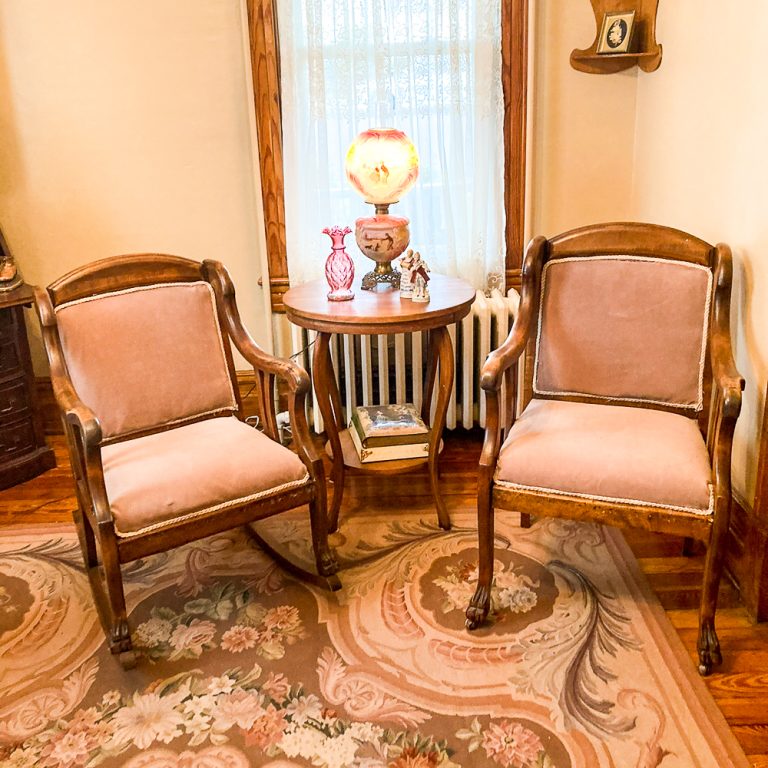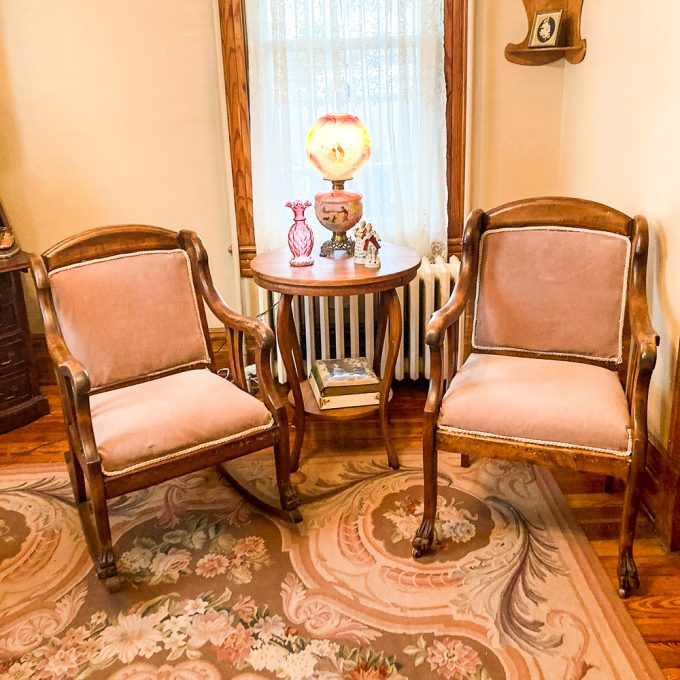 This furniture was in our formal living room when I was growing up. I remember my grandmother telling me that she would rock in the chair and could hear Aunt Lillian pumping water from the well and would feel guilty for not helping.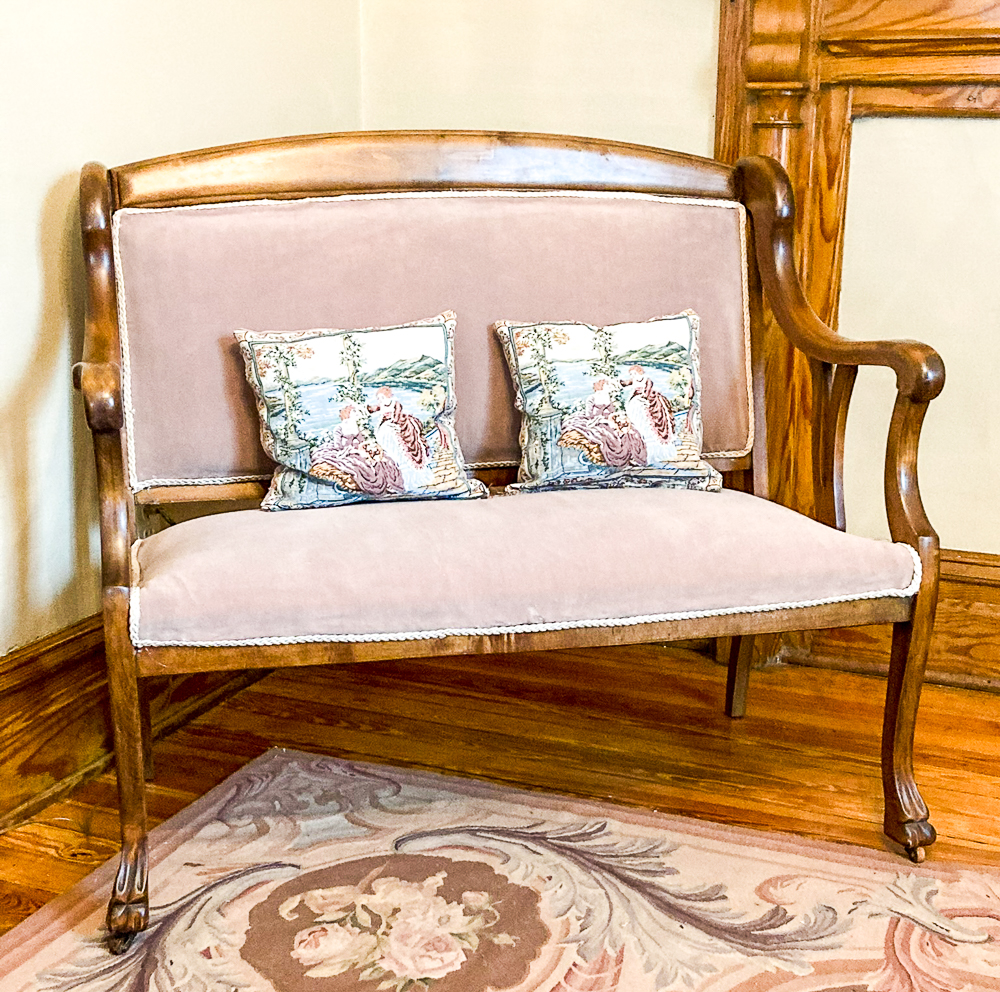 Mama bought this chair at an auction when I was a child. She refinished it and has reupholstered it several times over the years.
Bragging on my Mama. She recently removed paint from all of the doors, trim, and the fireplace in this room. She did an amazing job and the woodwork looks so good now.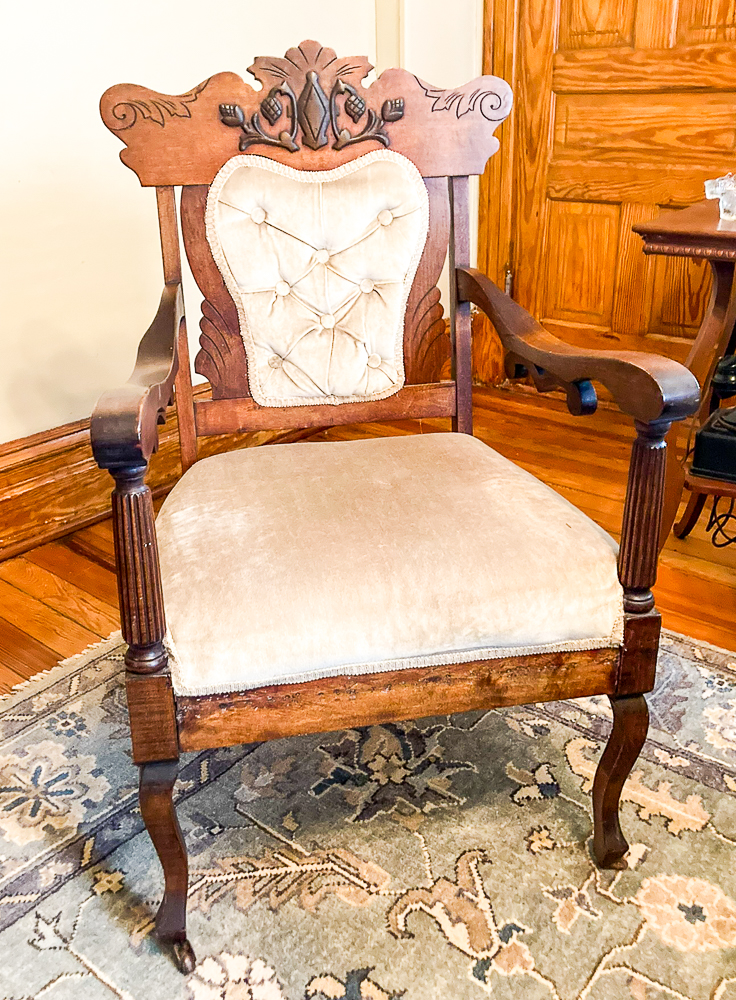 This chair belonged to my paternal great-great-aunt who raised my grandmother. Both of my grandmothers were raised by aunts. My paternal great-grandmother was institutionalized by my great-grandfather and she never came home. My aunt suspects that what was really wrong with her was postpartum depression.
That great-grandfather went to West Virginia and had a second family. I once went to an eye doctor who had the same last name and we looked very much alike. She looked at me and said, "Do I know you?". I am convinced that she is a relative.
This used to be my dad's desk chair.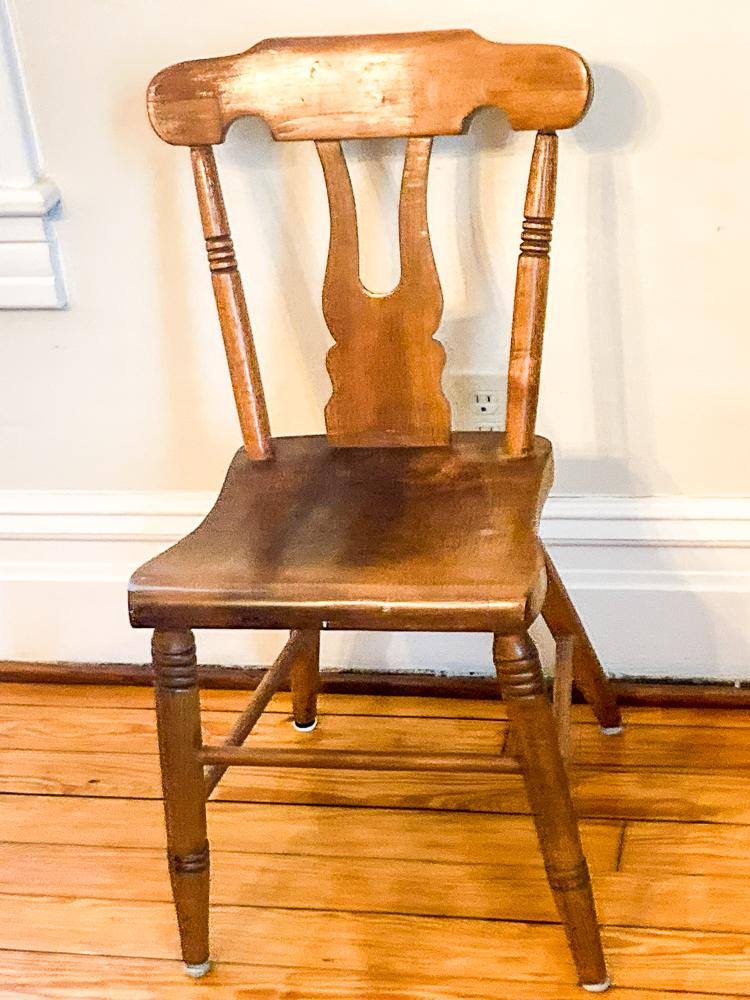 This chair was one of the original dining room chairs used at the family farm in Maryland. You'll see the replacement chairs later in the post.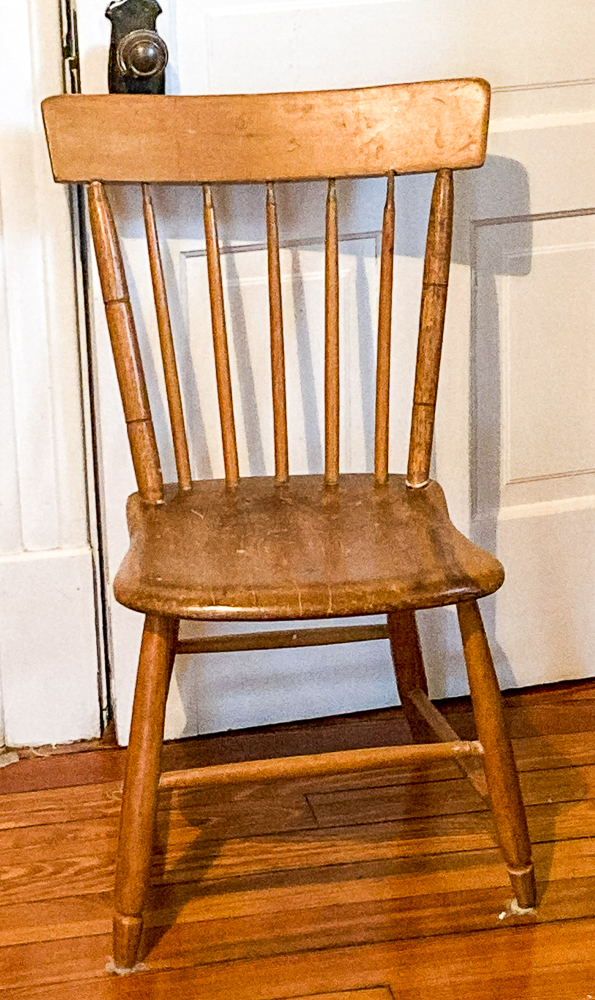 Stacey's Home
My cousin Stacey's home is beautifully decorated with vintage and antiques.
Stacey inherited our maternal grandmother's dining room table and chairs. Our grandfather's dad made the table and the chairs are from Clure Furniture in Madison County, Virginia.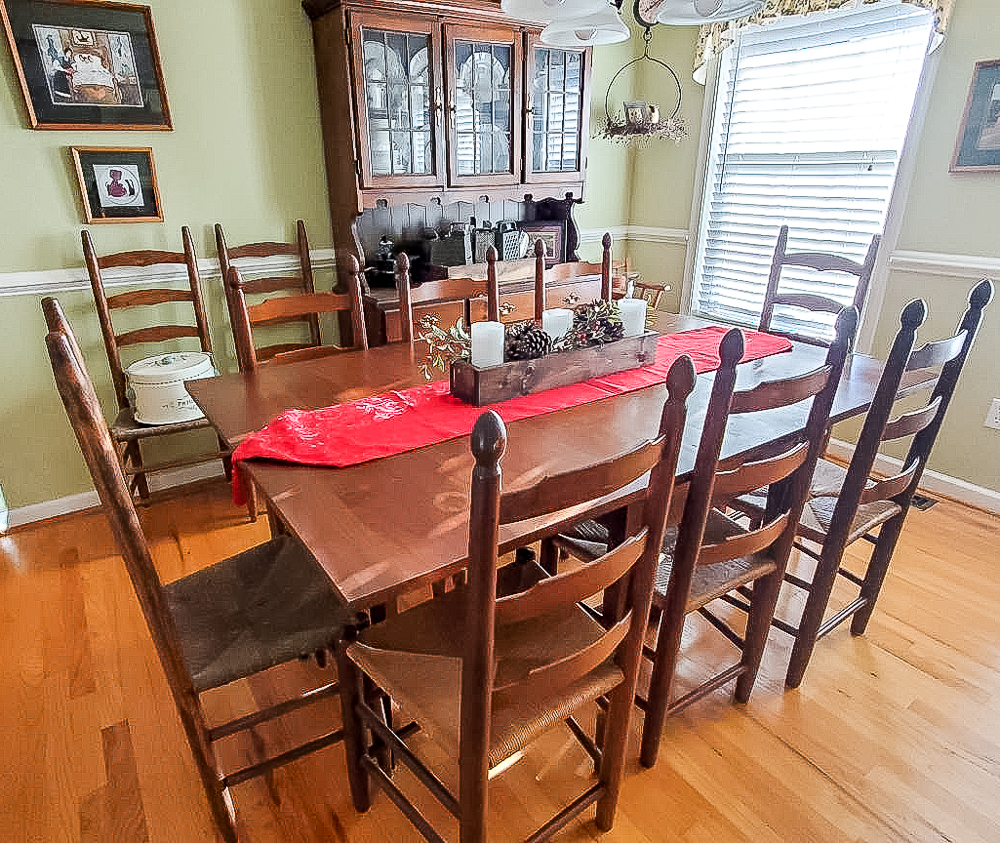 Stacey is an incredibly talented seamstress. She made her own wedding dress at our grandmother's house using an antique foot pump sewing machine.
Stacey's daughter uses our great-great-aunt's kitchen table as her sewing table.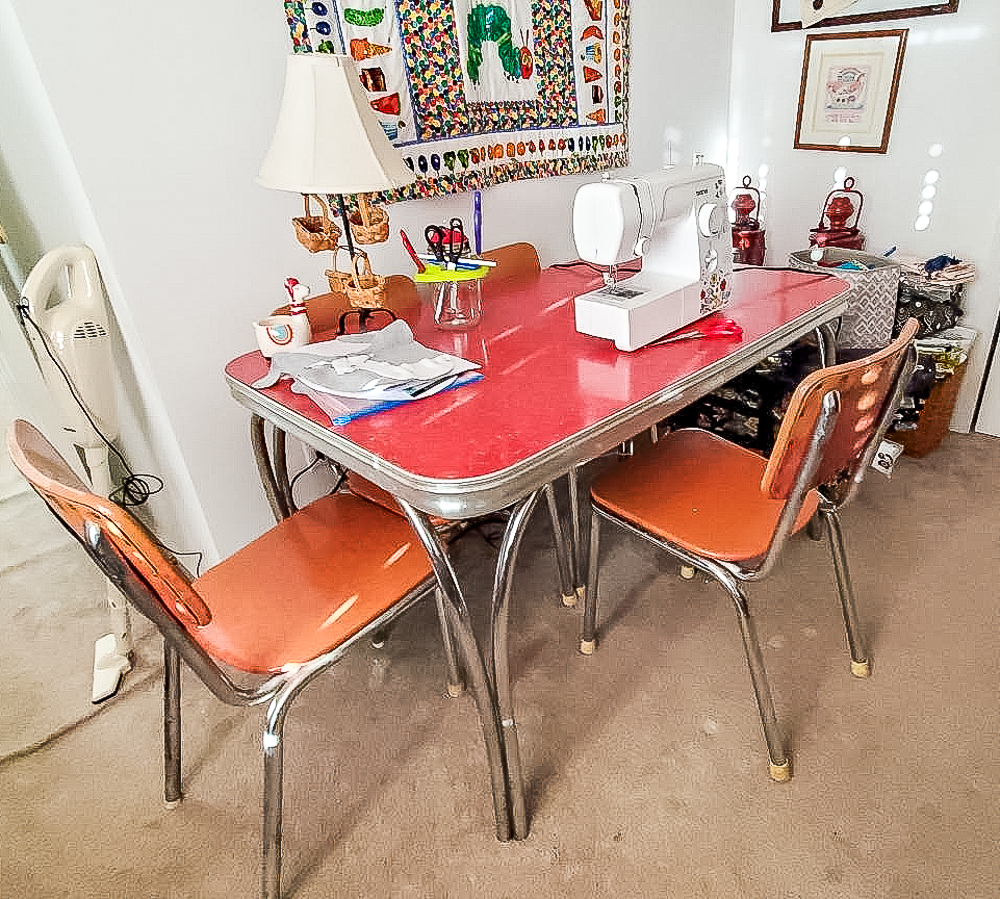 On Stacey's heath is a stool that she inherited from her husband's great aunt. Todd and Stacey were told it was a shoe shine kit. Last summer when Stacey and I were antiquing, we saw a very similar chair and Stacey was surprised to find out that it is really a potty chair.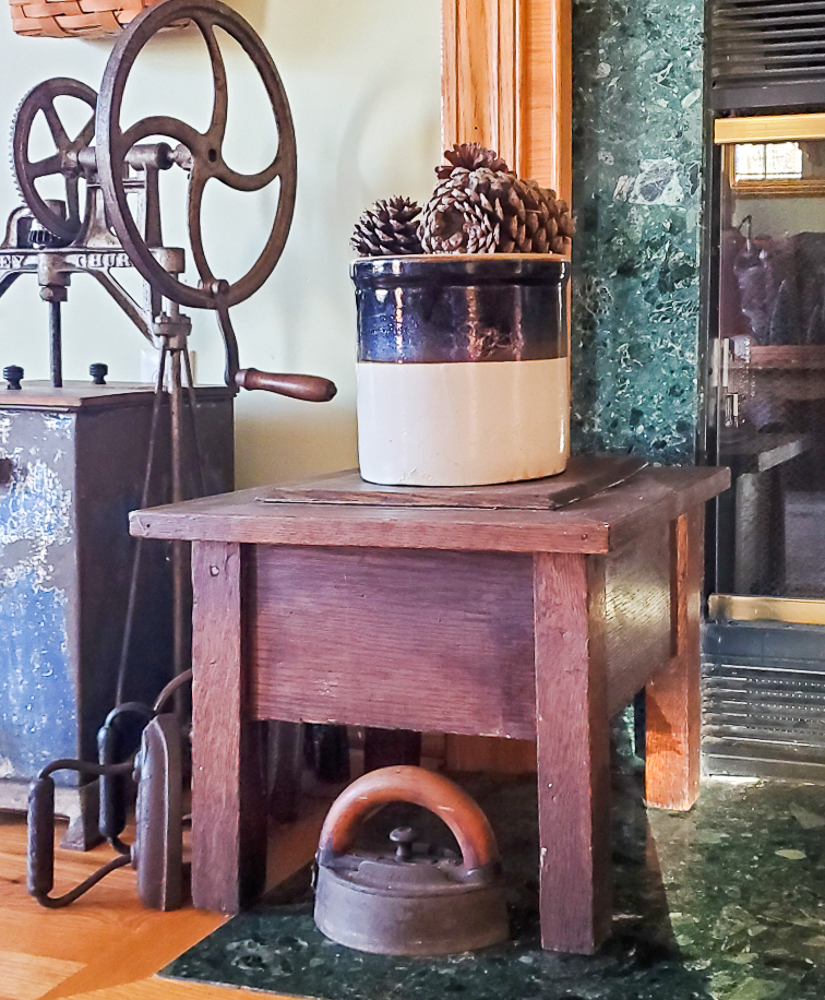 Beth's Home
My cousin Matt and his wife, Beth, live in an 1857 farmhouse on a working farm that has been in our family since 1896.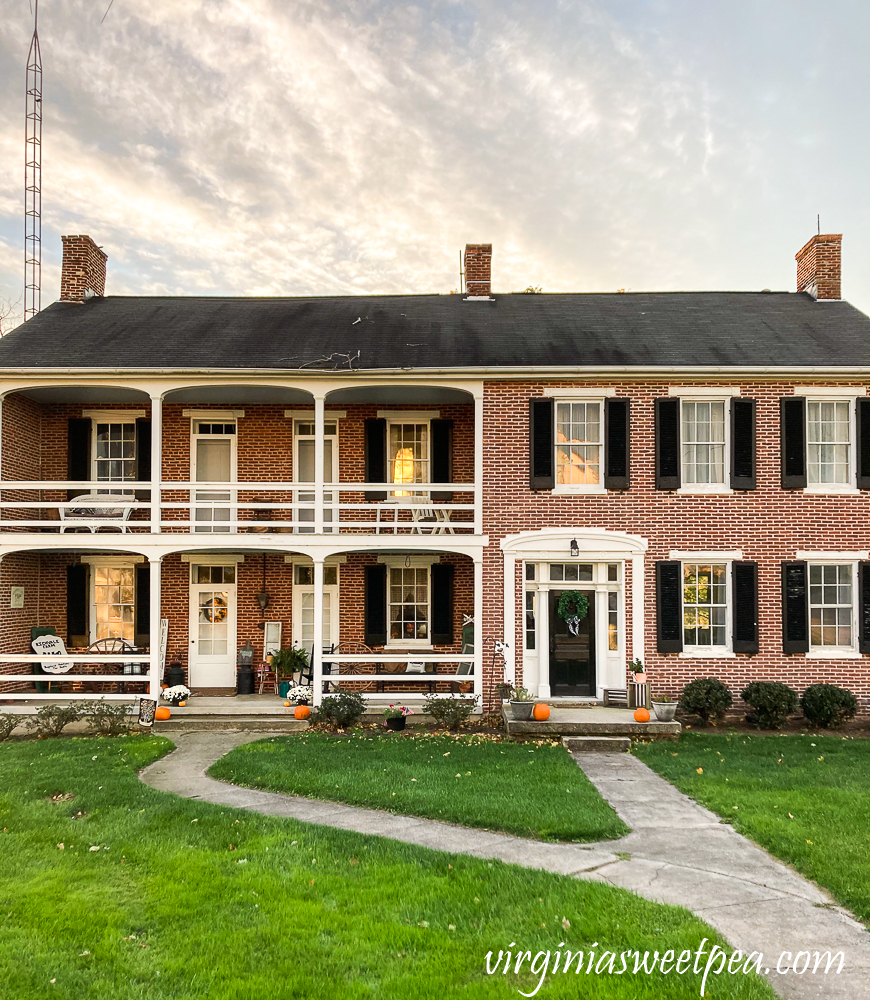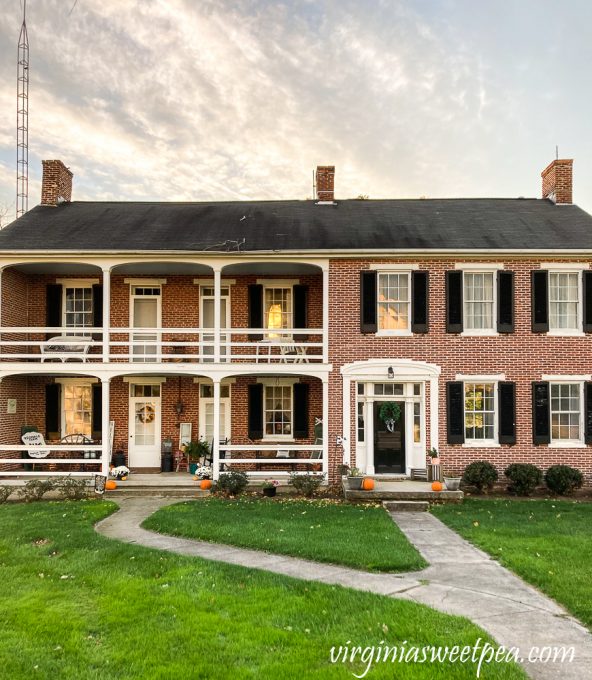 Growing up, the highlight of summer for me and my brother was spending a week on this farm. My cousins spoiled us and we had the best time being there.
When I was growing up, nine people lived in this home and the kitchen had a long table. Beth and Matt have a family of three with another on the way and are using a smaller table with the chairs I remember from my childhood.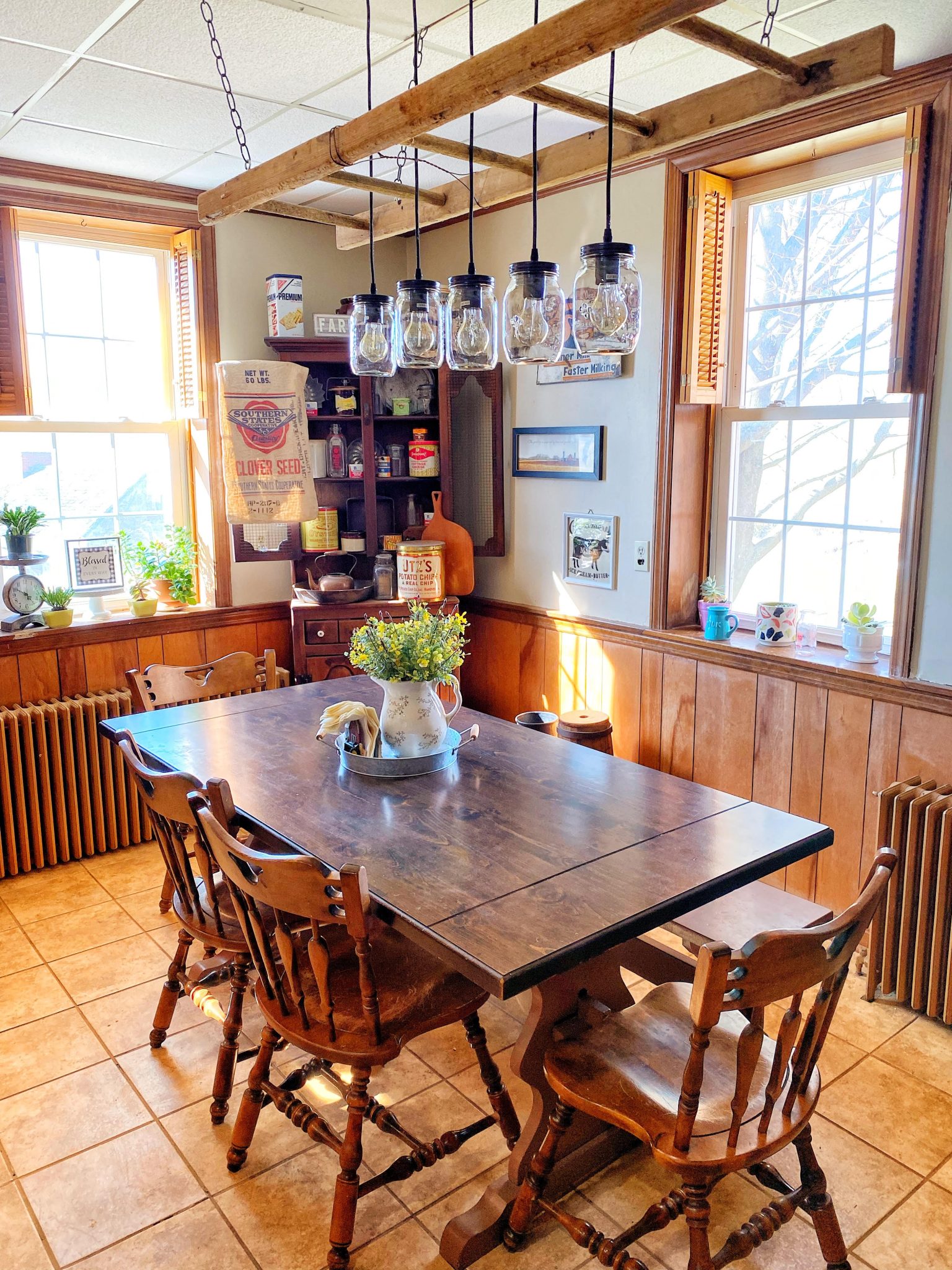 This is the same room in April 1969. My dad and granddad are seated side by side.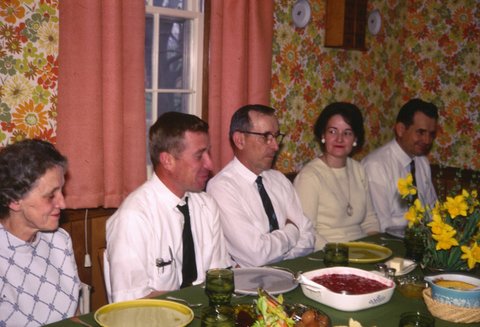 Thank you to Mama, Stacey, and Beth for helping me with this post.
I so much enjoyed sharing antique and vintage chairs with you today. Next on the tour is Christy of Our Southern Home. Christy is a long-time blogging friend and I love her decorating style.
Antique and Vintage Chairs and Footstools
You are invited to the Inlinkz link party!