Historic Homes Tour in Lynchburg, VA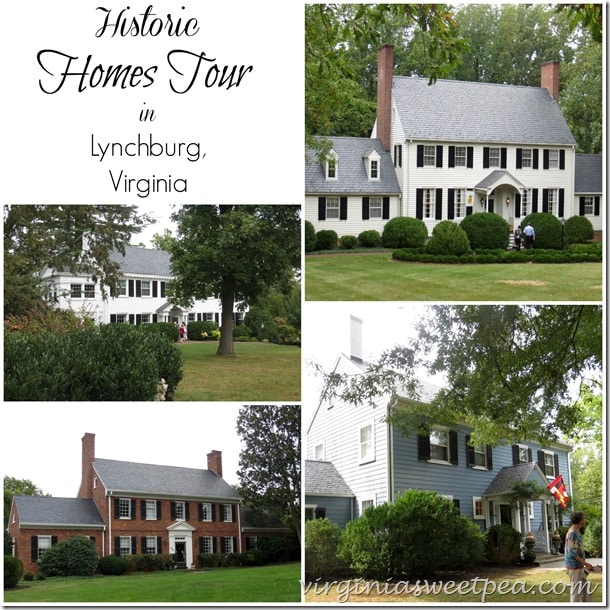 Sunday was the Lynchburg Historical Foundation's annual historic homes tour. I love a home tour and this one is my favorite of the year because it focuses on historic homes in my area. My mom, aunts, and cousin joined me for this year's tour. You'll want to visit my recaps from the 2009, 2010, 2011, and 2012 tours after enjoying this year.
It kills me to tour these beautiful homes and not be able to take pictures but since they are all antique and art filled, I don't blame the home owners for not allowing pictures.
All of these homes are just a short walk from my house and are ones that I've wanted to tour for years.
We started our tour with a 1929 home that has been in the owner's family since 1949. This home was full of art and beautiful antiques. The basement has a pub complete with a brick kitchen.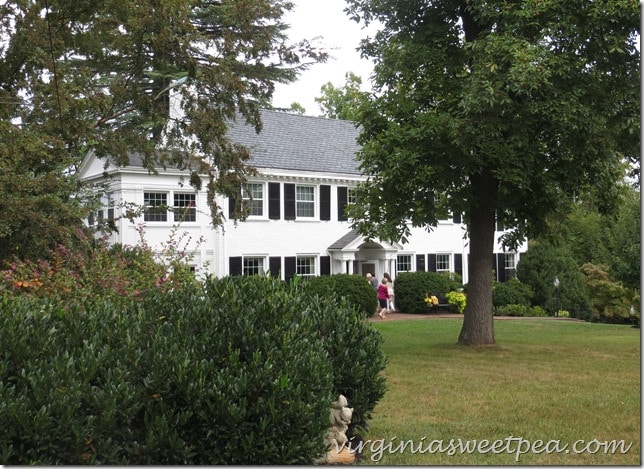 A pool and pool house are to the right of the home. You can tell that this pool has been here for a while by its size; it's much bigger than a modern pool.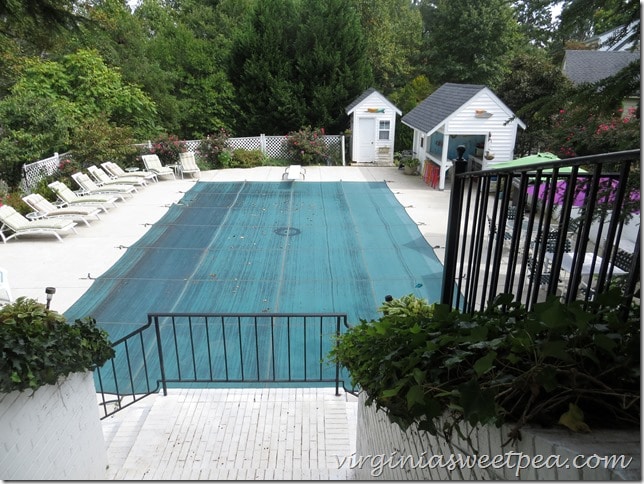 A cottage in the yard is a perfect play house for a young girl. I would have loved this when I was growing up.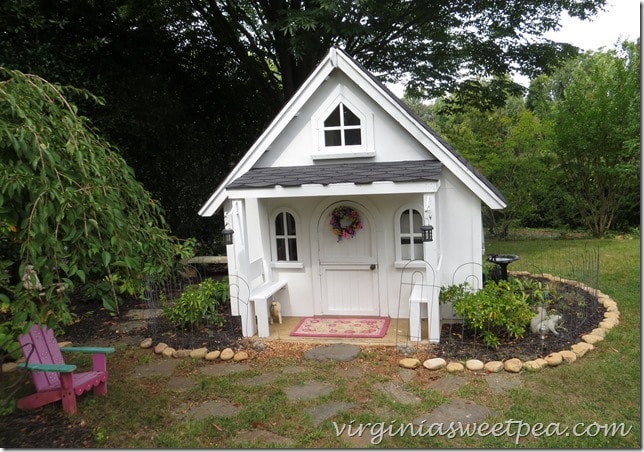 A large tree house is behind the home. You can tell that this grandmother loves to entertain her children!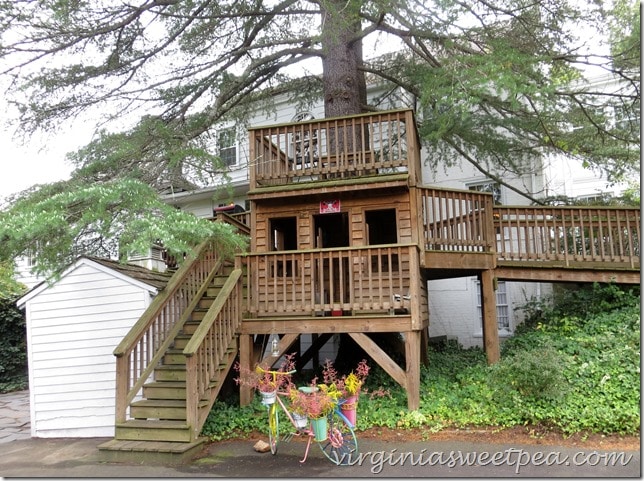 The owner's mother was a cousin of Queena Stovall, a folk artist often known as, "The Grandma Moses of the South." Emma Serena (Queena) didn't start painting until she was 62 and painted what she knew, country life. This home had many, many Queena Stovall paintings. These paintings have been popular for years in my area. The two below are examples of Queena Stovall's work.
The next house we toured is a copy of the St George Tucker house in Williamsburg, VA. It was built in 1947 and has had just two owners. The owners of this house are very nice and often talk to me when I walk by with Sherman. Mrs. Bradley has even shared vegetables with me! This was the number one home on this tour that I wanted to see. Of course I loved the antiques, but my favorite part of the house was in the back where it had a tall rock fireplace with a vaulted ceiling with dark wooden beams. The kitchen was also in this room and if I lived in this home, I'm sure I would spend almost all of my time in this room, especially in the winter.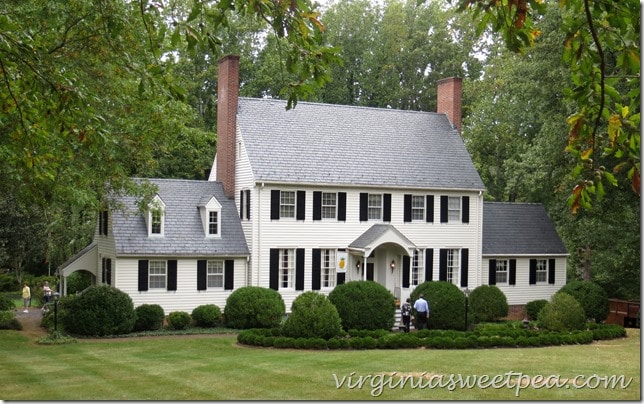 The front porch had a pretty arrangement to welcome those on the tour.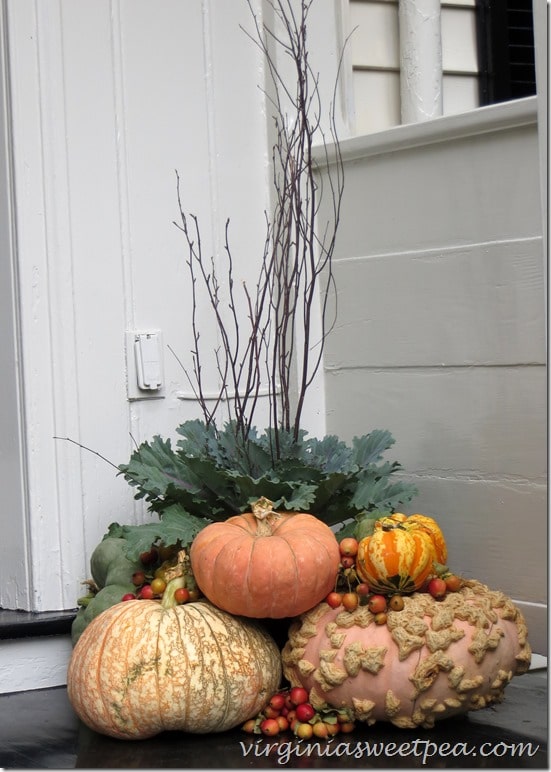 The backyard has a lovely garden that wasn't open for the tour but I see it year round over the deer fence when I walk by with Sherman. There are several rooms in this home that hold Mr. Bradley's war collections. On display were WWII uniforms, Civil War weapons, an Imperial helmet collection and more. It's too bad that Mr. SP didn't go on the tour with me because he could have spent hours in these two rooms.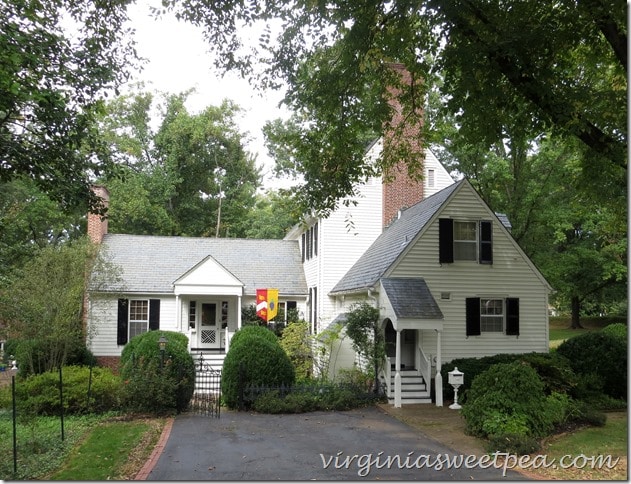 We next went across a side street to a 1939 Colonial owned by the daughter of the previous home. She must have grown up, gotten married, and then been lucky enough to buy a historic home next to her parents.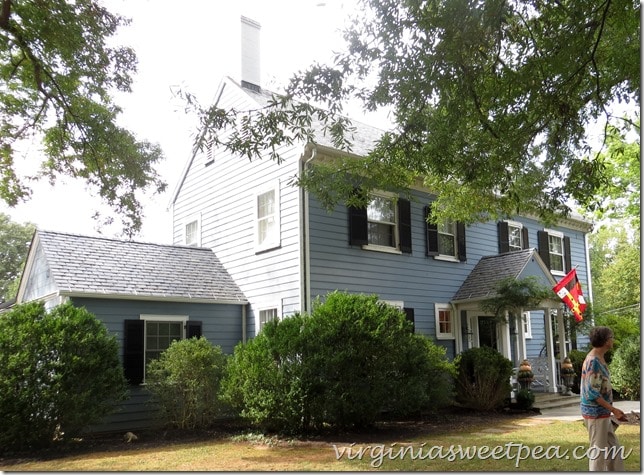 I loved the pumpkin topiaries beside the front door. Does anyone know the significance of the flag? They fly it year round.
This house was pretty inside but also was comfortable for a family. The backyard had nice seating areas for relaxing.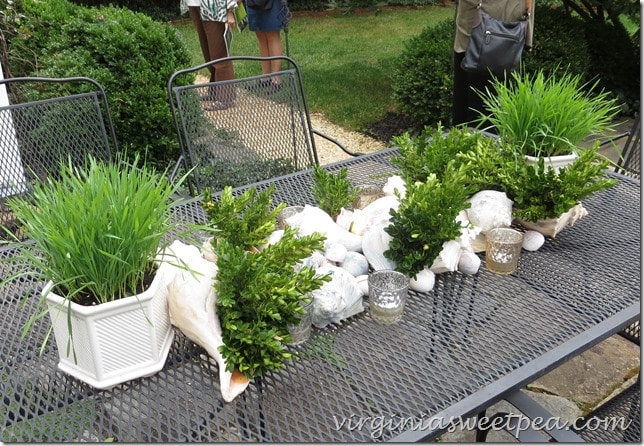 The last home that we toured is a 1940 Georgian. This home is for sale and you can see more here. My favorite part of this home was the cork floor used in the kitchen and butler's pantry. I didn't care for the decor or paint colors used in this home.
A previous owner used to put a giant Christmas tree in the foyer. One of the highlights of my Christmas season during those years was looking at that pretty tree in the doorway when I drove past. I hope the new owner will bring back that tradition.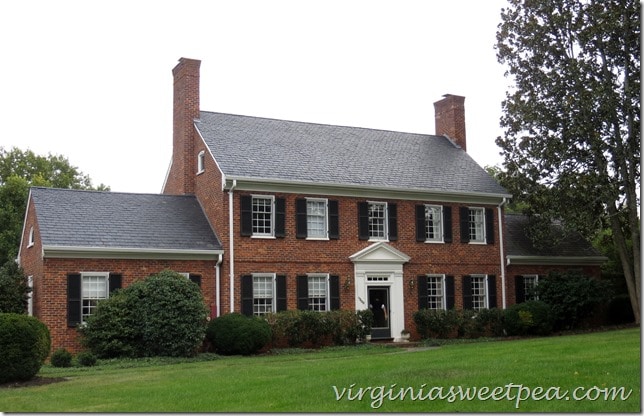 I so much enjoyed spending the day with my family. Mama and two of her three sisters stand between me and my cousin Susan. To the right of Susan is her mom, Judy and then the baby of the sisters, Nellie.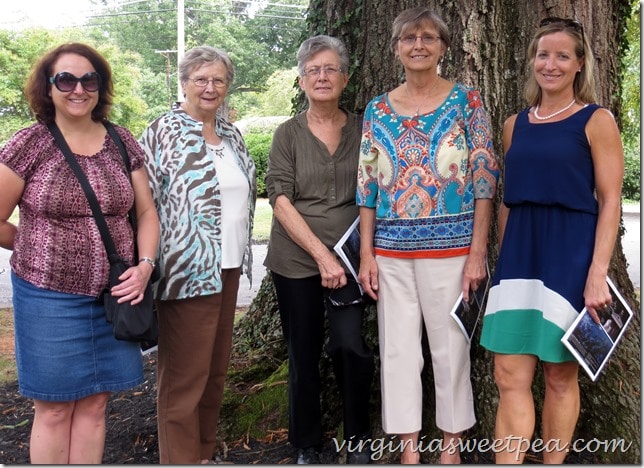 We had lunch at my house before the tour. I think Susan is wondering if Sherman is going to sneak some food when no one is looking.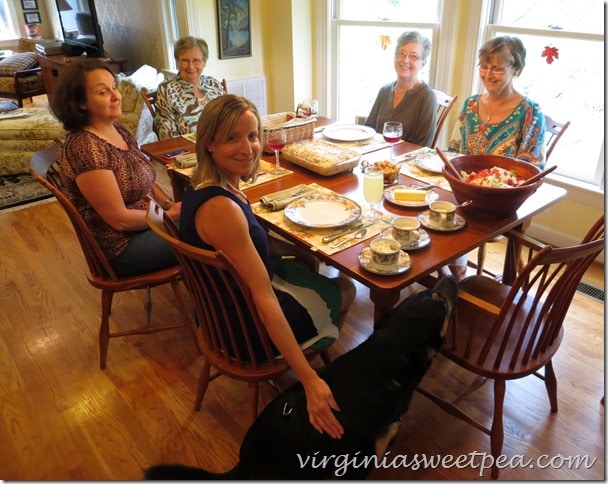 Sherman didn't have to worry about going hungry. He sat beside "grandmother" who shared her lunch with him.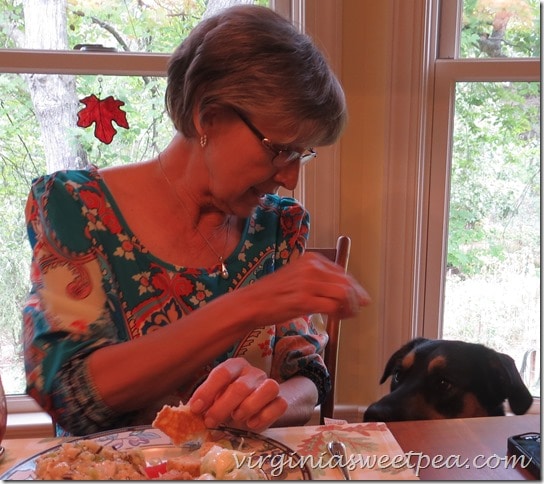 It was a fun day and I wonder which of Lynchburg's historic districts will be featured for next year's tour.
Sharing With: Dwellings-The Heart of the Home, A Stroll Thru Life