Healthy and Light Macaroni and Cheese
We love macaroni and cheese but what we don't love is what it does to our waistline. I've got great news for you, I'm sharing a Healthy and Light Macaroni and Cheese recipe that is lighter in calories than traditional macaroni and cheese but still tastes delicious.
Healthy and Light Macaroni and Cheese
Are you wondering how macaroni and cheese can be made to be both healthy and light? The secret is a surprise ingredient, cauliflower.
Doesn't this look delicious? It is and I've served it to guests who couldn't guess the surprise ingredient and absolutely loved this dish.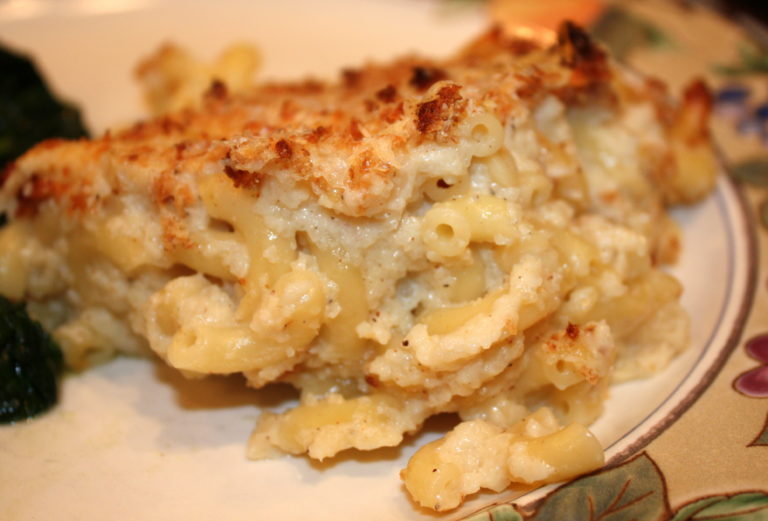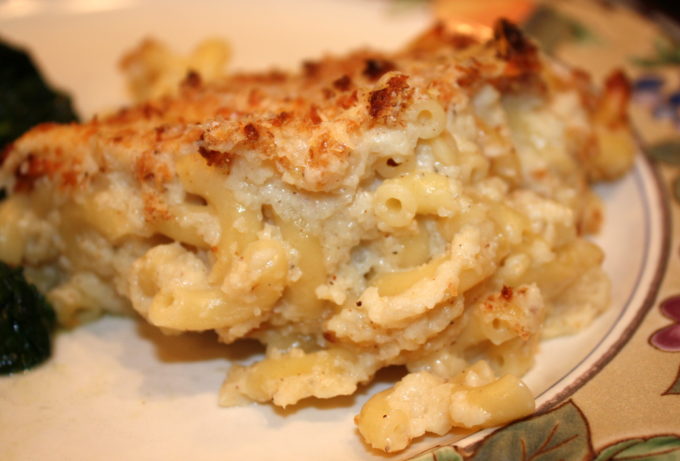 Why Cauliflower?
Cooked cauliflower, pureed into a delicious sauce along with chicken broth, Dijon mustard, and Gouda cheese give this mac and cheese great flavor. Cauliflower makes this dish taste creamy without using any milk or cream to make it.
The inspiration for this recipe came from Runner's World Magazine. Each month a healthy recipe is featured, and I tweaked this one to get a mac and cheese that tastes sinful but isn't.
This recipe is so tasty and I love that I'm getting nutrients from cauliflower while enjoying what tastes like decadent mac and cheese.
We enjoy an occasional meatless meal, and for this one I served Healthy and Light Macaroni and Cheese with sautéed fresh spinach and garlic.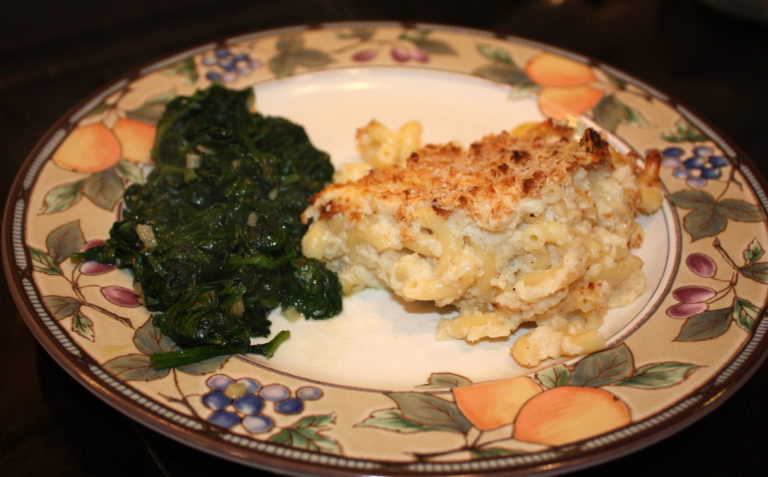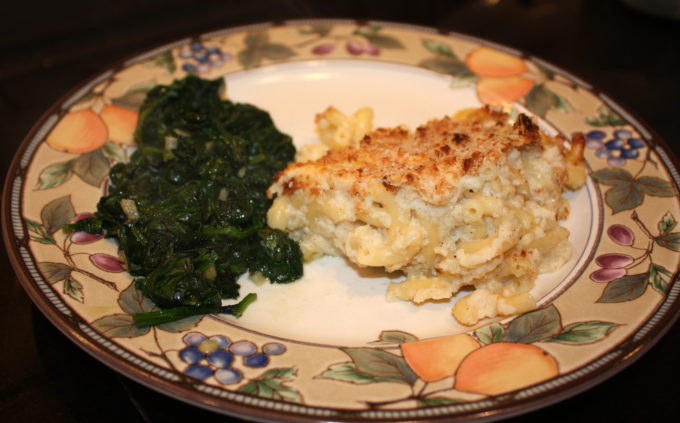 Try Healthy and Light Macaroni and Cheese
This dish is great for a meatless meal along with other veggie sides or served as a traditional side dish.
Yield: 12 servings
Healthy and Light Macaroni and Cheese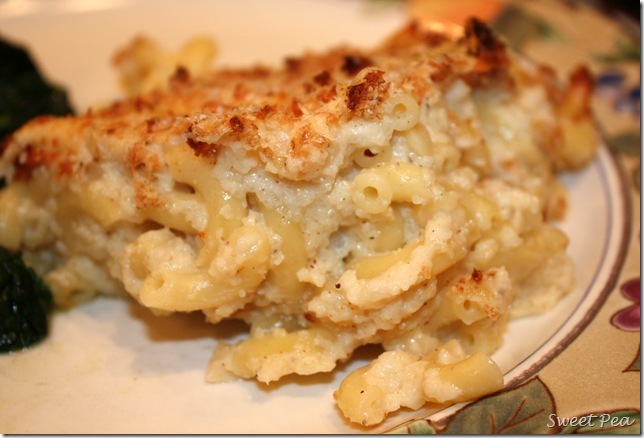 Cauliflower, pureed into a delicious sauce along with chicken broth, Dijon mustard, and Gouda cheese, is the secret ingredient in this healthy version of classic macaroni and cheese.
Ingredients
2 1/2 cups chicken broth
2 bay leaves
1 cauliflower, cored and cut into large pieces
16 oz macaroni
1 1/2 cups gouda cheese
2 T extra virgin olive oil
1 T dijon mustard
1/8 tsp nutmeg
Salt and pepper to taste
1/2 Cup grated parmesan cheese
3/4 cups whole-grain bread crumbs
Instructions
Heat oven to 400 degrees.
Bring a pot of salted water to a boil. Core cauliflower and cut into large chunks. Boil cauliflower for 25 min.
Heat chicken broth and bay leaves over low heat.
When cauliflower is finished, remove from water with a slotted spoon and put cauliflower into a food processor along with chicken broth, EVOO, cheese, mustard, nutmeg, salt and pepper.
Add macaroni to boiling water and cook for 7 minutes. Drain and put into a greased 13x9 casserole dish.
Pour sauce over macaroni and stir to combine. Top with breadcrumbs and grated Parmesan cheese.
Bake for 20 minutes.
Nutrition Information:
Yield:
12
Serving Size:
1
Amount Per Serving:
Calories:

172
Total Fat:

8g
Saturated Fat:

3g
Trans Fat:

0g
Unsaturated Fat:

4g
Cholesterol:

20mg
Sodium:

459mg
Carbohydrates:

17g
Fiber:

3g
Sugar:

2g
Protein:

9g
How to Make Sautéed Spinach
Sautéed spinach is a quick and easy side dish to make. Spinach is chocked full of nutrients and we like to eat it as often as possible.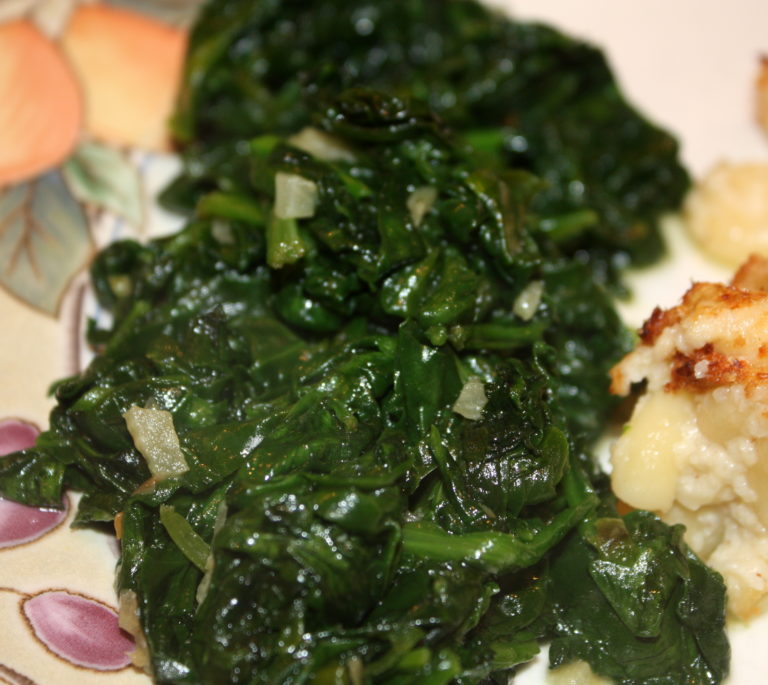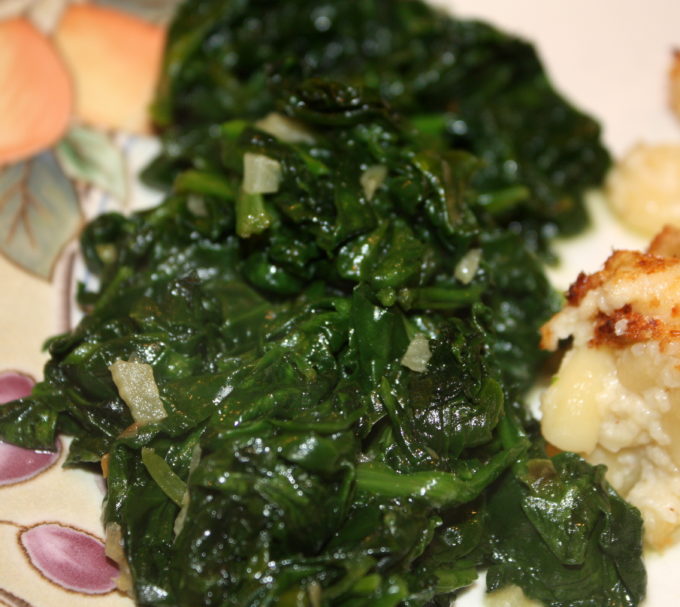 To make the spinach, heat a few tablespoons of EVOO in a stockpot (I used the one that I cooked the macaroni and cauliflower in so that I wouldn't have to wash two pots). Add chopped garlic and sauté for a minute or two. Add sliced, fresh spinach and toss with tongs until it wilts. Season with salt to taste.
Pin It!
I would love for you to pin this recipe for others to discover on Pinterest.