Delicious BLT Salad with a Twist
In the summer we love to grill, especially when we are at the lake. A pasta salad is a frequent accompaniment to whatever we happen to be grilling. For a recent lake weekend, I tried BLT Salad from Melissa's Southern Cookbook but changed the recipe by substituting shredded baby spinach for lettuce.
BLT Salad with a Twist is most delicious and I was sad when the huge container of it was finally empty.
It's tomato season. Have you enjoyed a BLT? We have yet to make BLT sandwiches but every single morsel of this BLT salad was savored.
I tried a different BLT salad recipe earlier this summer and while good, it wasn't nearly as flavorful as this one. This is going to be my go to BLT salad recipe from now on.
Delicious BLT Salad with a Twist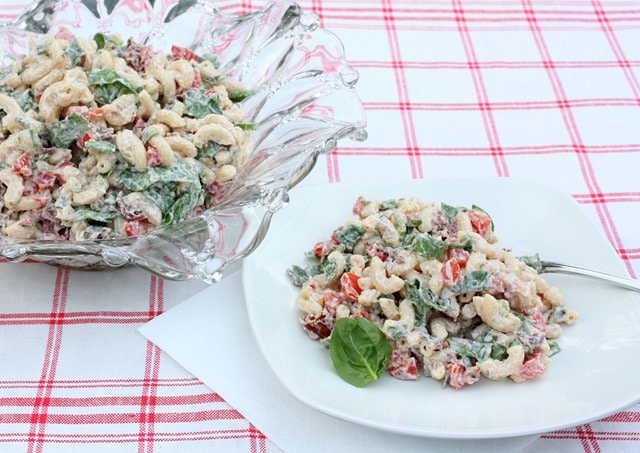 Spinach replaces the lettuce giving this salad a unique taste.
Ingredients
1 (16 oz) box elbow macaroni
1 1/2 cups mayonnaise
3/4 cup sour cream
3 T sugar
2 T cider vinegar
1 1/2 tsp celery salt
1 1/2 tsp onion powder
1/2 tsp smoked paprika
1 tsp dried dill
Pepper to taste
5 green onions, thinly sliced
4 Roma tomatoes, seeded and diced
2 cups thinly sliced baby spinach
1/2 pound bacon, cooked and crumbled
Instructions
Cook the macaroni in salted water until al dente. Drain.
In a mixing bowl, whisk together mayo, sour cream, sugar, vinegar, celery salt, onion powder, smoked paprika, dill, and pepper to taste.
Add the drained macaroni, green onions, and tomatoes. Mix until evenly distributed, then cover and chill.
Just before serving add the spinach and bacon. Add additional mayo if needed.
Store chilled.



If Melissa's Southern Cookbook sounds familiar to you, you may remember that I shared Chocolate Chip Toffee Potato Chip Cookies from it at the beginning of the summer.
I read cookbooks like novels and have poured over this one this summer. Don't be surprised if I share a few more recipes from it.
Does this sound like a recipe that you'd like to try? If it is, be sure to pin it so that you don't forget it.