Plow and Hearth Knockoff Chevron End Table
Where to keep magazines is an ongoing problem in my home. I made a side table with magazine storage that keeps my magazines handy and easy to reach. Problem solved!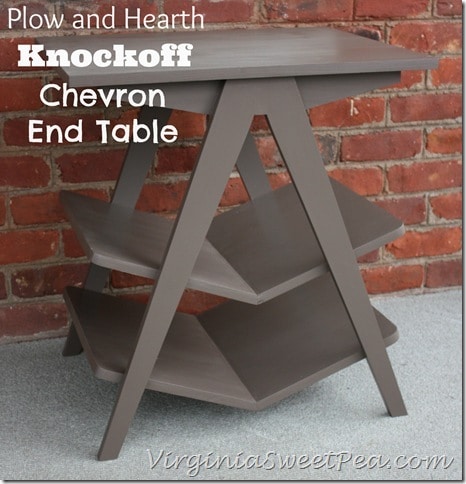 DIY Side Table with Magazine Storage
Mr. SP and I teamed up to make this side table with magazine storage. It required some math to figure out the angles, a benefit to having a husband who is an engineer. Figuring out how to build this was fun for Mr. SP
Inspiration for This Project
Catalogs are a great inspiration for home décor. Who doesn't enjoy browsing for ideas and future projects? The moment I saw Plow and Hearth's Magazine Storage End Table, I knew without a doubt that I wanted to make it.
Isn't this a neat table? The two shelves under the table are perfect for storing magazines or books. It retails for $199.95 and if I ordered it, with tax and shipping, it would cost $230.54.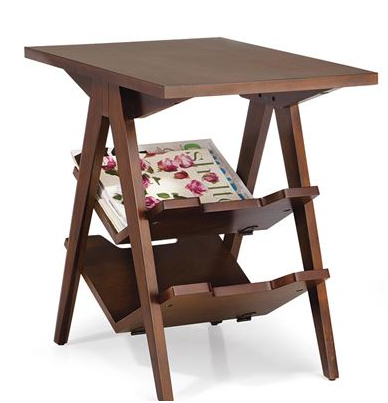 My Version of This Table
I absolutely love my version of this table.
The main difference between my table and the Plow and Hearth version is mine doesn't have cutouts on the sides of each shelf.
My table cost around $30 to make, a $200 savings!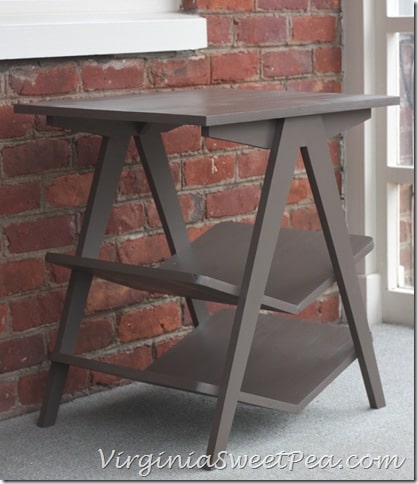 This table will make a great end table.
Instead of having books and magazines piled around my sofa, they can neatly be stored under the table.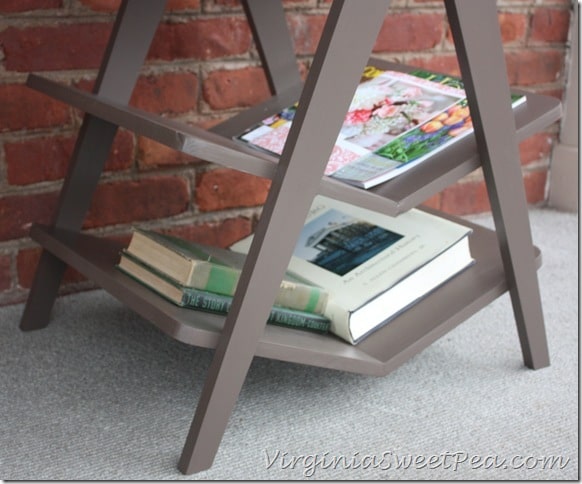 How did I make this table?
I could not have made this table without the help of my husband. He loves a challenge and loves to woodwork, so luckily I didn't have to ask twice for his assistance.
Supplies
20" x 72" x 3/4" Spruce Edge Glued Panel – Purchased at Lowe's
2 – 1″ x 3″ x 6′ boards
Building the Table
We started by figuring out the top and shelf sizes and cutting those pieces using the large wood panel.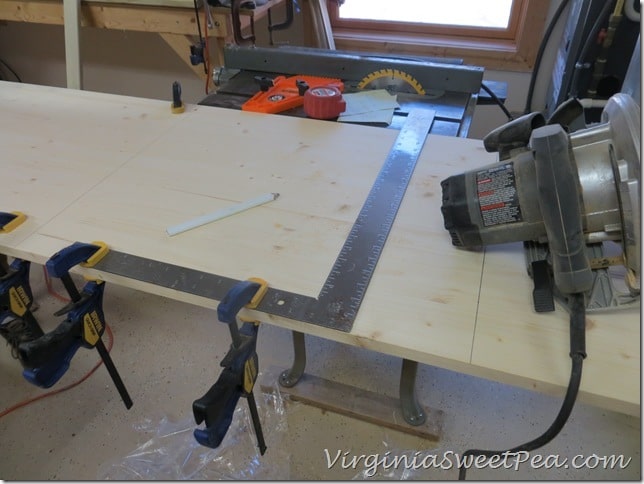 We next made the two shelves for the table.
A 15-degree angle gave us the chevron look for the two bottom shelves. We used duck tape to tape the two boards together before applying glue.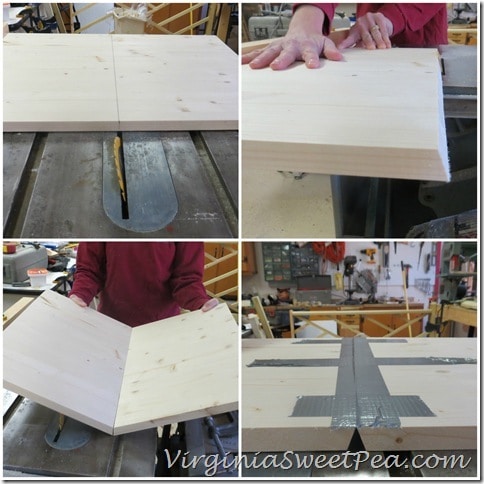 Glue was applied and both shelves were set aside to dry.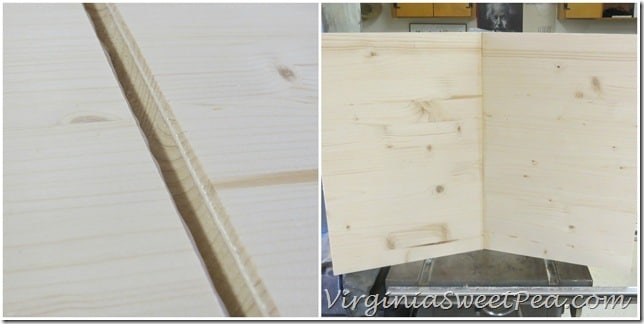 We next designed the legs of the table and used the 1×3's to build them. The math involved made my head spin a bit!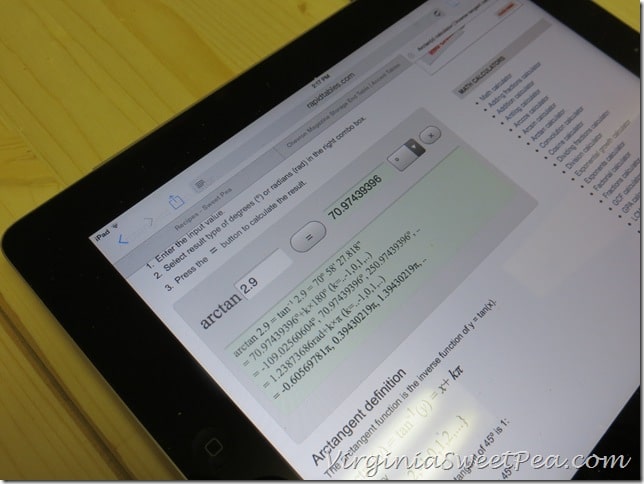 Mr. SP did the thinking and I did the cutting after he marked the boards for me. You can see below that his math was perfect as the pieces fit together like a glove.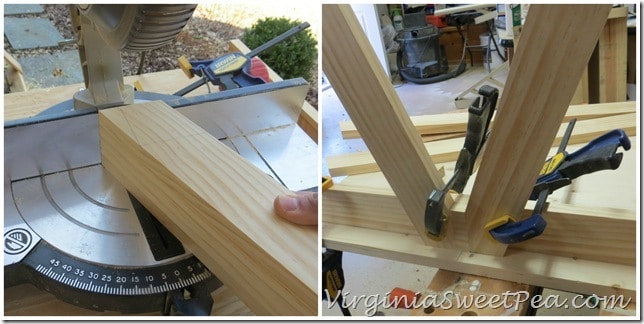 Our next step was to use the table saw to taper the table legs.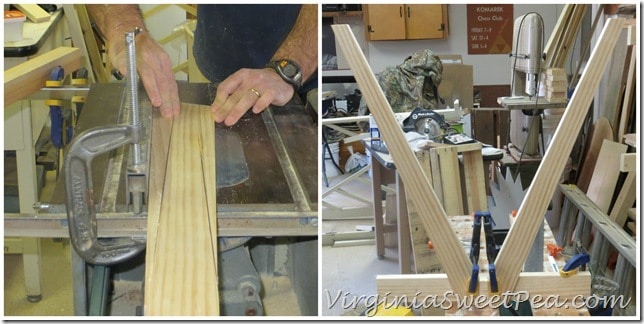 The pieces to which the legs attach were designed and cut out next.
After we were sure that everything was perfect, we glued the pieces together and clamped everything in place. After the glue dried, the legs were sanded.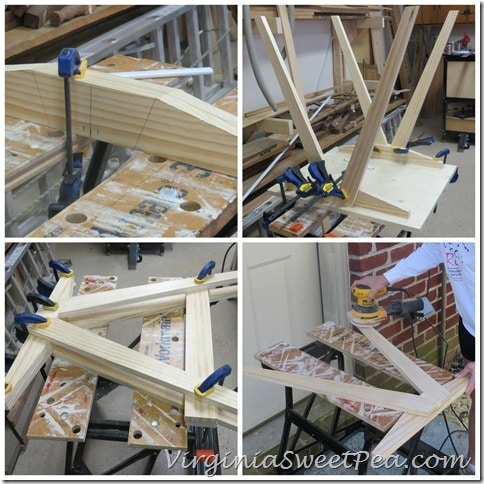 We next attached the two shelves with screws. At this point the legs are not yet connected to the table top.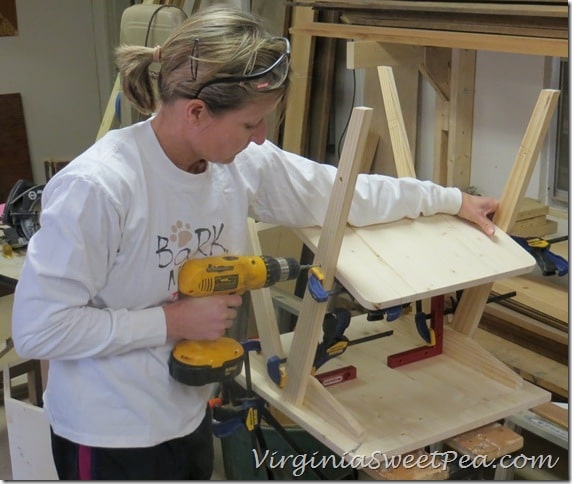 Both shelves are now screwed in place.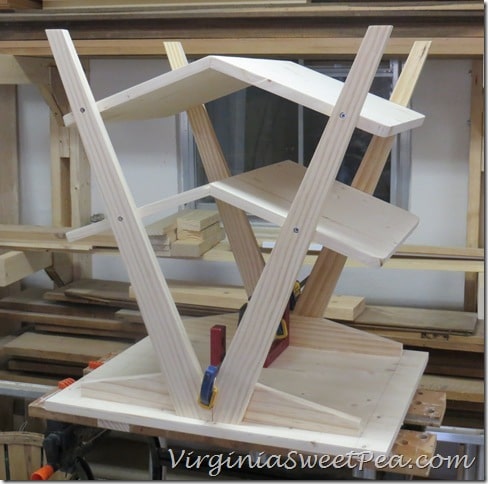 We then glued and screwed the legs to the table top. We chose to add small braces to each leg for added support.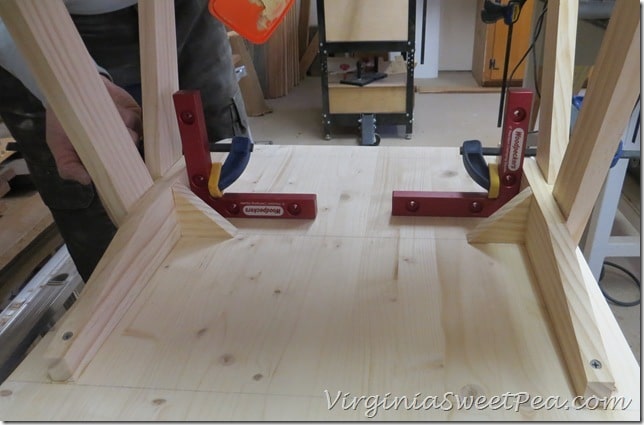 Our next step was to make wood plugs to hide the eight screws on the table legs.
The plugs were inserted into each hole with a bit of glue added. After the glue dried, Mr. SP chiseled off most of the wood and I sanded each leg smooth.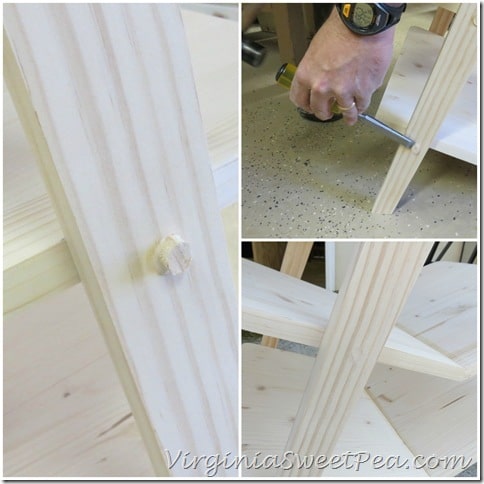 We built our table with stain grade wood, so I could have chosen to stain it, but instead I used paint leftover from my trash to treasure dresser makeover, Valspar Churchill Hotel Brown from Lowes.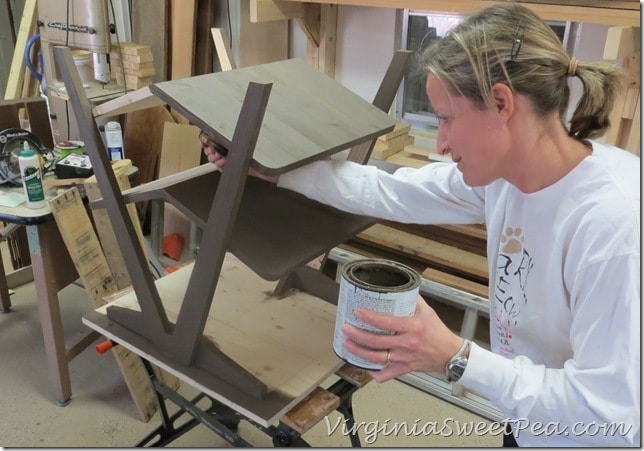 I applied three coats of paint and lightly sanded between coats. This project took three weekend afternoons and was so much fun.
I love to get in the workshop with Mr. SP! He's a great teacher and I enjoy learning how to use his power tools. I'm so pleased with our side table with storage for books and magazines.!