Snookie Snookerwitz – A Yummy Gift Idea! (+ A Giveaway)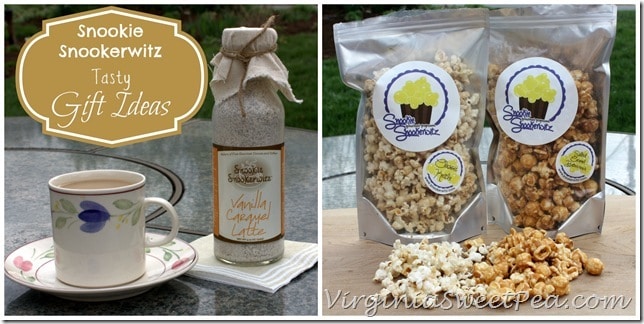 It's my pleasure to share a local Lynchburg product, Snookie Snookerwitz. Snookie Snookerwitz, owned by Juli and Kevin Peak, makes gourmet coffee, cocoa, tea, cider, and flavored popcorn. The products are made from scratch, start to finish by the Peaks.
I first learned about Snookie Snookerwitz at last spring's Vintage Lynchburg Market. I so much enjoyed tasting the coffees and cocoas and came home with three flavors that I really enjoyed. Snookie Snookerwitz was also at the Vintage Lynchburg Holiday Sale in December. We purchased several bags of popcorn at that show. All I can say about the popcorn is YUM! At that same show, my friend Nicole purchased coffees for Christmas neighbor gifts and some cocoa for herself. She also is now a Snookie Snookerwitz lover.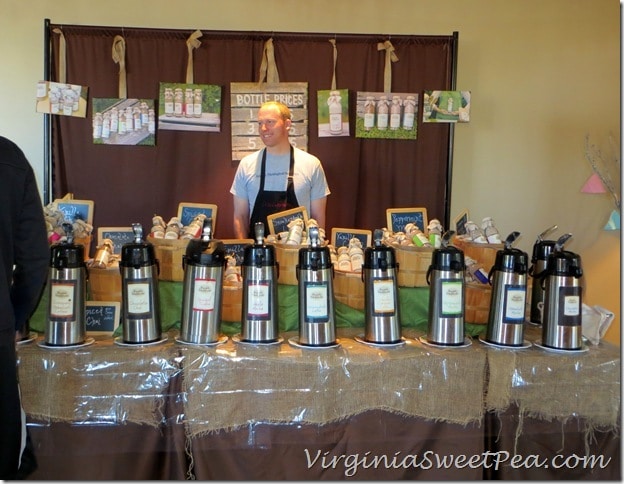 Classic Kettle and Salted Caramel Buttercrunch popcorns are currently in my pantry. Now that the bags are open, this won't last long at my house.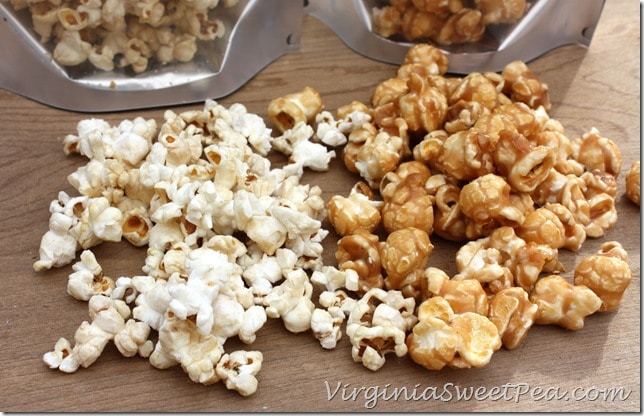 It's not too many weeks until Mother's Day. Have you thought about what you'll get your mom? A gift basket from Snookie Snookerwitz may be something that she'd really like and enjoy.
How about graduation? A gift selection from Snookie Snookerwitz would be a fun gift. If you know a young person heading off to college, coffees and popcorn will make a great study snack.
Shipping for Snookie Snookerwitz products is a flat rate of $5.95 and orders over $100 ship free. That's so reasonable. I can't tell you how many times I've cancelled an order when I see the shipping cost.
Check out what Snookie Snookerwitz has to offer!
Coffees are prepared by adding 1/4 to 1/3 cup of mix to 8 oz. of hot water. Directions on the package also are given for making an iced beverage.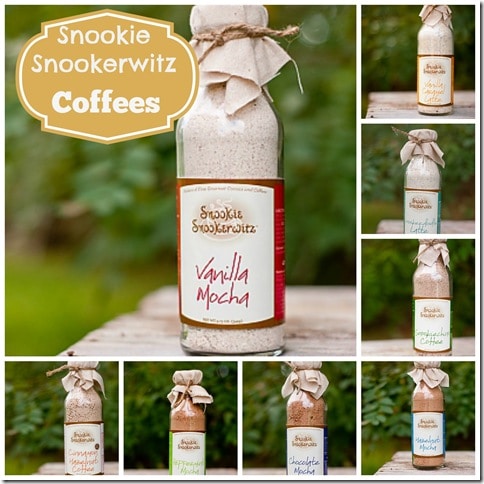 Coffee Flavors
Cinnamon Hazelnut Coffee
Hazelnut Mocha
Peppermint Mocha
Snookerdoodle Latte
Snookie's Mocha
Snookie's Vanilla Mocha
Snookiechino Coffee
Vanilla Caramel Latte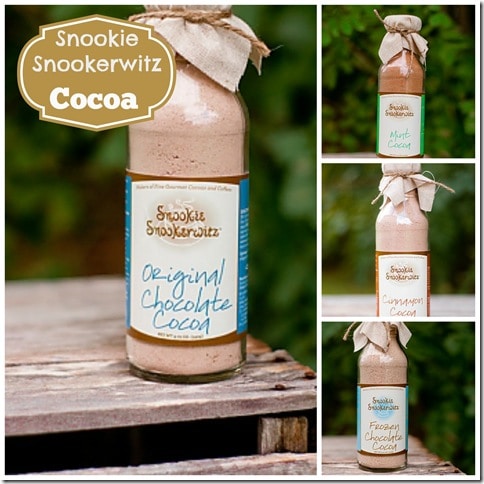 Cocoa Flavors
Original Chocolate Cocoa
Frozen Chocolate Cocoa
Snookie's Cinnamon Cocoa
Snookie's Mint Cocoa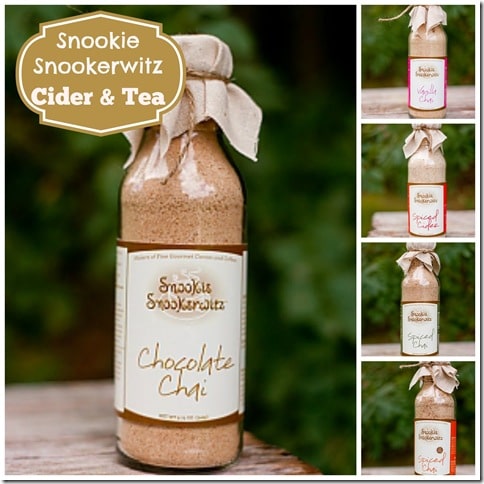 Cider and Tea
Chocolate Chai
No Sugar Added Spiced Chai Tea
Snook's Spiced Cider
Spiced Chai Tea
Vanilla Chai
Every flavor of this popcorn that I've tasted is so good!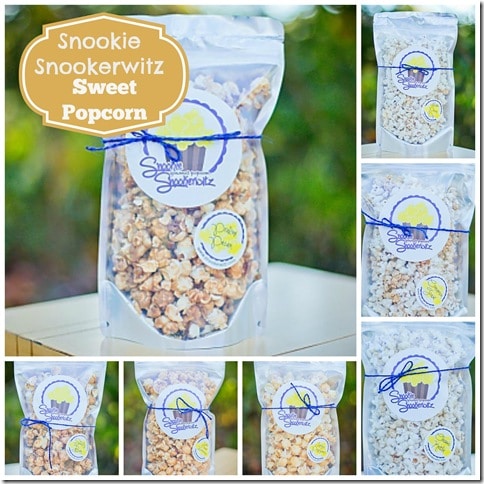 Sweet Popcorn
Butter Pecan Popcorn
Cinnamon Toast Popcorn
Classic Kettlecorn
Lemon Poppyseed Popcorn
Praline Pecan Popcorn
Salted Buttercrunch Popcorn
Sticky Bun Popcorn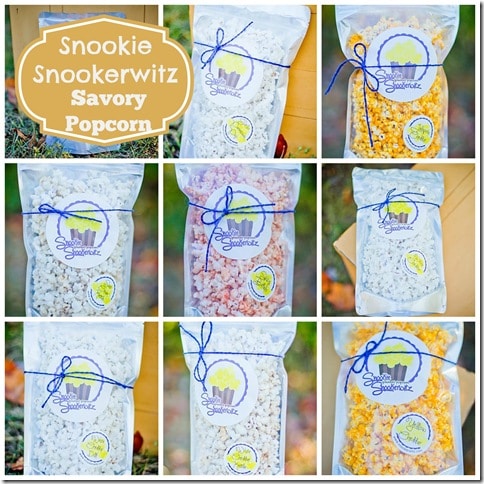 Savory Popcorn
Chili Pepper Popcorn
Garlic Parmesan Popcorn
Jalapeno Cheddar Popcorn
Sour Cream Kettle Corn
Spicy Buffalo Popcorn
White Cheddar Dill Popcorn
White Cheddar Kettle Corn
White Cheddar Popcorn
Yellow Cheddar Popcorn
Is your mouth now watering? It should be! I'm on spring break this week and enjoyed a delicious cup of Vanilla Caramel Latte on the patio this morning. Lucky me!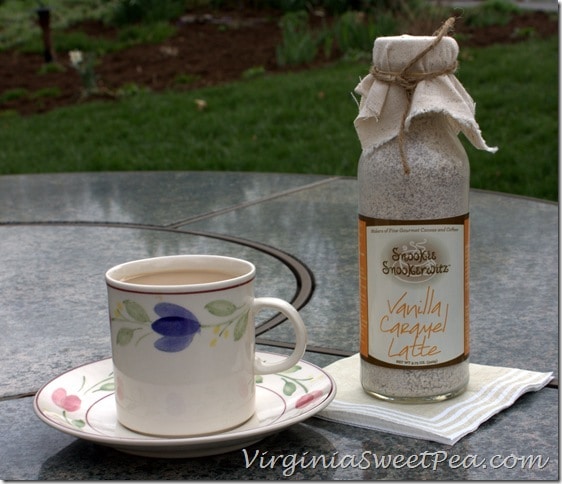 For more information, you can connect with Snookie Snookerwitz on the Web, Facebook, Twitter, or Pinterest.
Wait! There's more! One lucky reader is going to win a great gift from Snookie Snookerwitz! Use the Rafflecopter below to enter. Good Luck!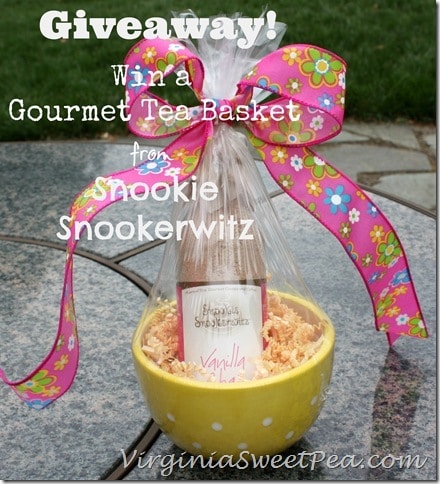 This post is brought to you by Snookie Snookerwitz. All opinions are truthful and my own.
Sharing With:
Fearlessly Creative Mamas,