April Showers $500 Cash Giveaway
Welcome to the $500 April Showers Cash Giveaway!
I have joined forces with an amazing group of bloggers to bring you this great giveaway. One lucky person will win $500 cash.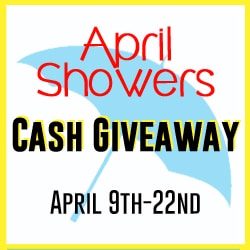 It's spring and time to work in the yard. Wouldn't you like to have $500 to spend on plants and mulch? I know I would!
If you aren't a gardener, perhaps you'd like to spend $500 on spring clothes for you or your family.
If you are into DIY, $500 could pay for or help to pay for a project that you've been thinking about tackling around your house.
Maybe you are a saver and would like to save $500 for a time when you might really need it.
Regardless of what you'd do with $500, someone is going to win and it could be you! The giveaway is on until April 22. Good luck!
Enter to win $500 cash via PayPal.
Complete the tasks below to earn entries into this giveaway.
Refer your friends using your unique link to earn even more chances to win.
Open Worldwide.
Ends at 11:59pm EDT on April 22nd, 2014.
This giveaway was coordinated by Giveaway Promote.