Back in September I shared my Vintage Inspired Fall Décor. Today I'm sharing how I transitioned my fall décor to Halloween.
Don't expect any scary or morbid Halloween from me. I prefer cute and classic Halloween décor and if it is vintage, that's even better.
Family Room
Before:
For an early fall vignette on a pie safe in our family room, I used cotton in a sap bucket. faux apples in a pedestal bowl, a McCoy apple, and Coca-Cola calendar art from 1968.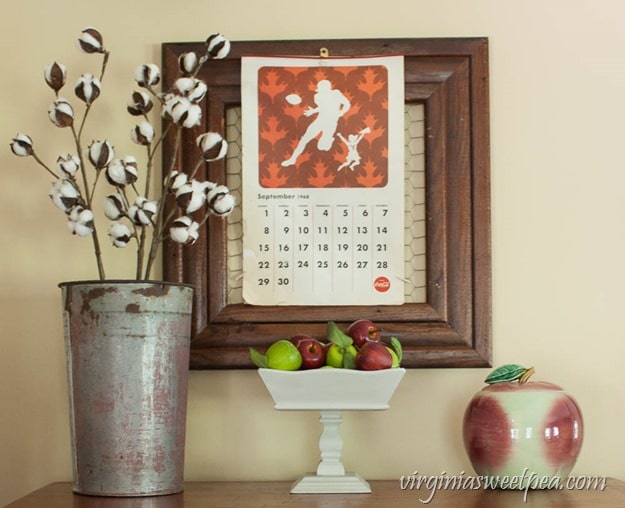 After:
To transition this vignette to Halloween, I started by switching out the sap bucket to a Halloween one that I bought years ago at an antique sale. I added some vintage Halloween toys, old photographs, a cat lamp that I made out of a gourd, and I switched the calendar over to October.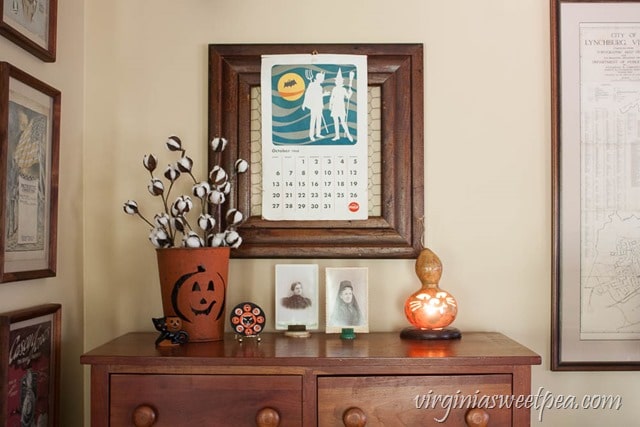 Isn't this October 1968 graphic great?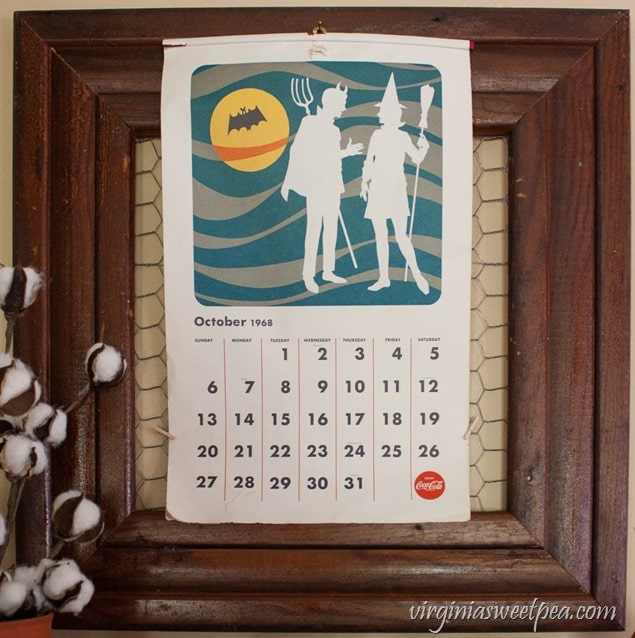 The cat candy holder was my grandmother's and the cat noise maker toy was left behind in our basement by the previous owner of our house.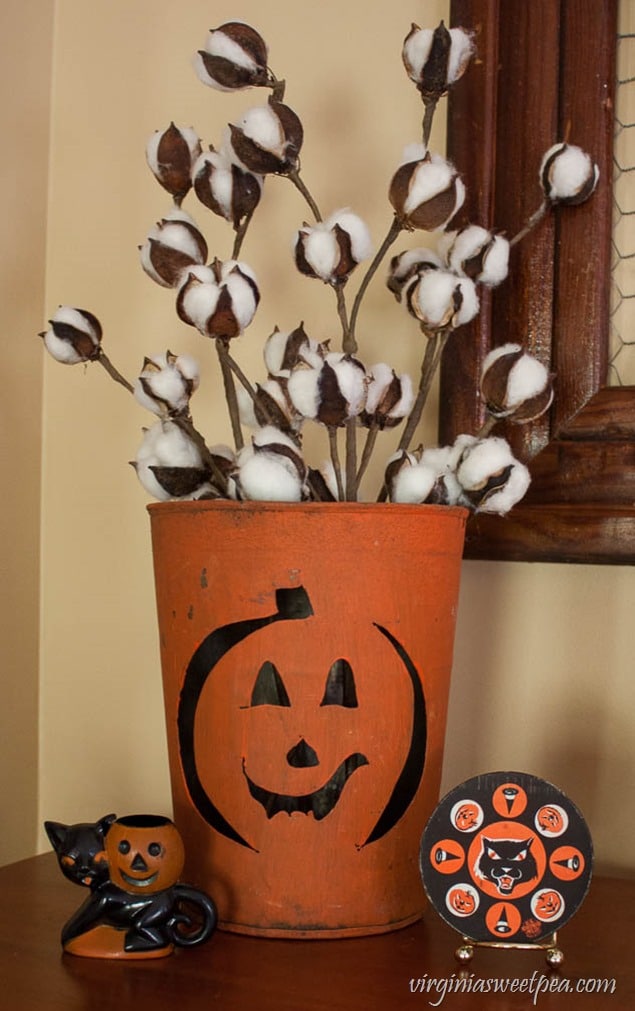 I once asked my mom to look through some old albums for some pictures that I could use in Halloween displays. Mama found these ladies. Who they are, I don't know.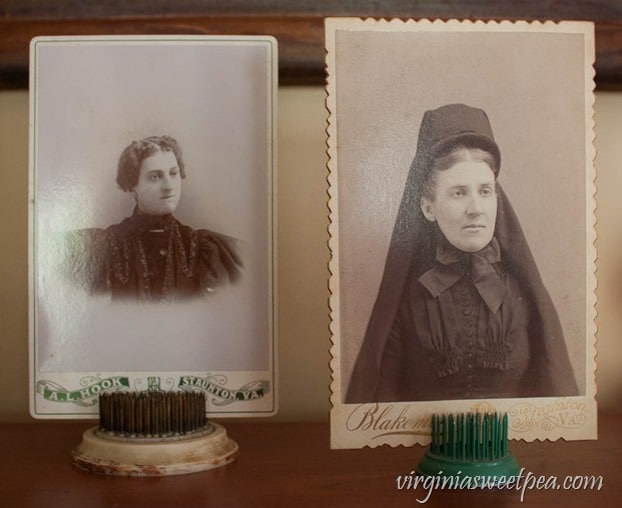 Before:
On one end table, this was the early fall vignette that I created.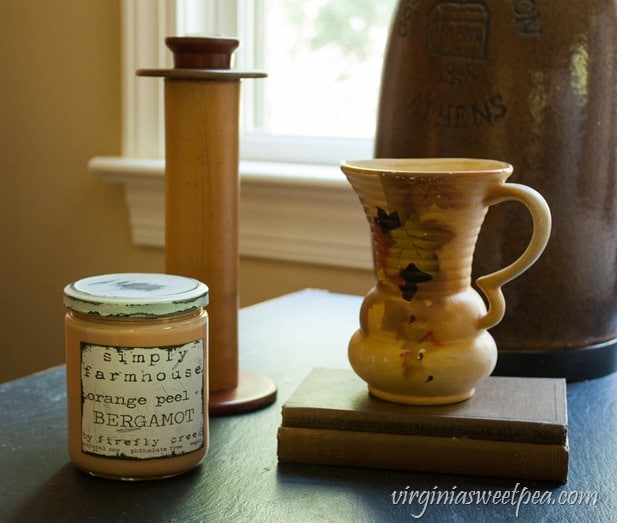 After:
I switched it out to this display for Halloween. I bought the three Halloween ornaments when I was in college, so they are just about old enough to classify as vintage. My grandmother helped me to make a wreath using them and we hung it on my dorm room door. I can't remember not wanting to decorate!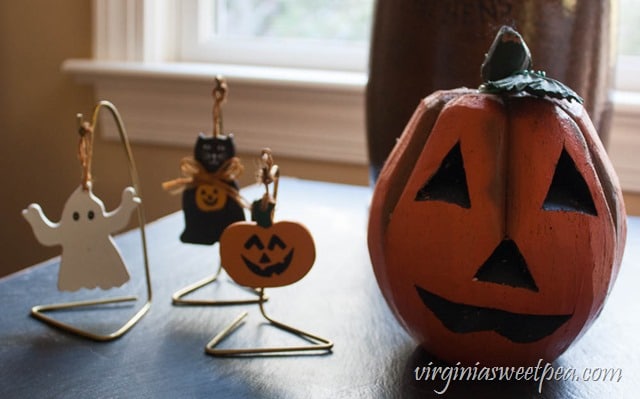 The holders are an easy DIY that Mr. SP helped me with a few years ago.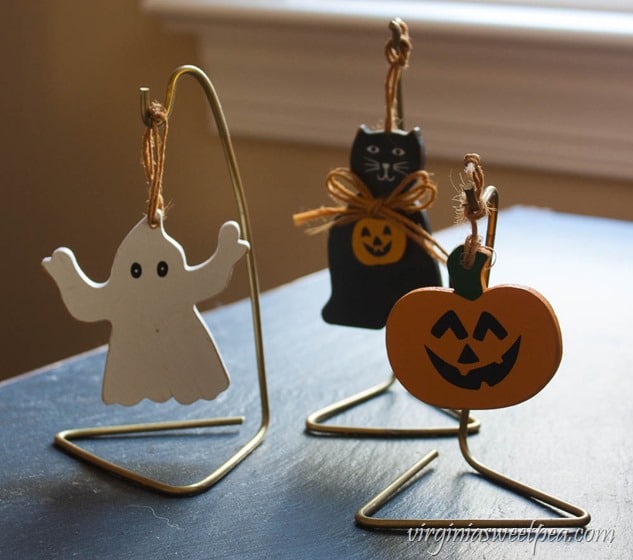 Before:
This was the vignette on the opposite end table. I have since moved it to a small buffet in our dining room.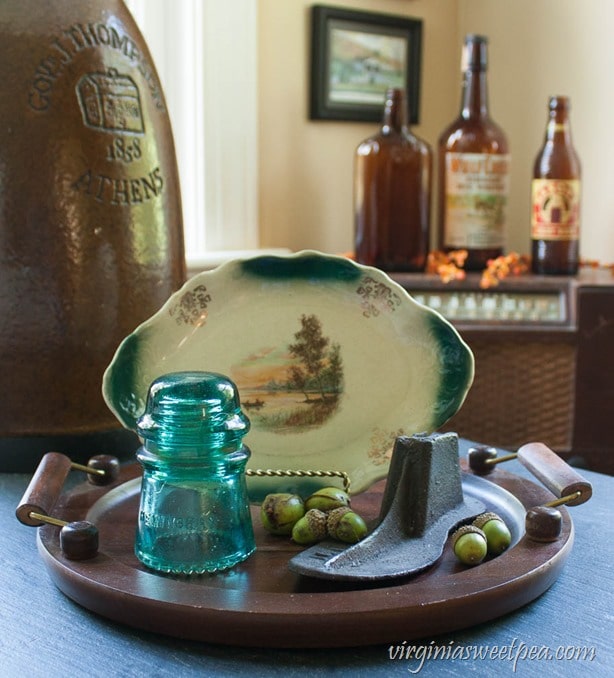 After:
I replaced the fall vignette with some Halloween books from my youth.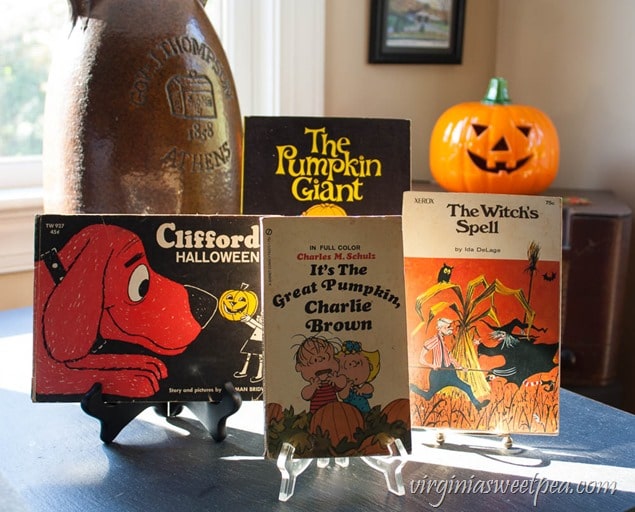 The pumpkin was my grandmother's and she always used it on her kitchen table in October.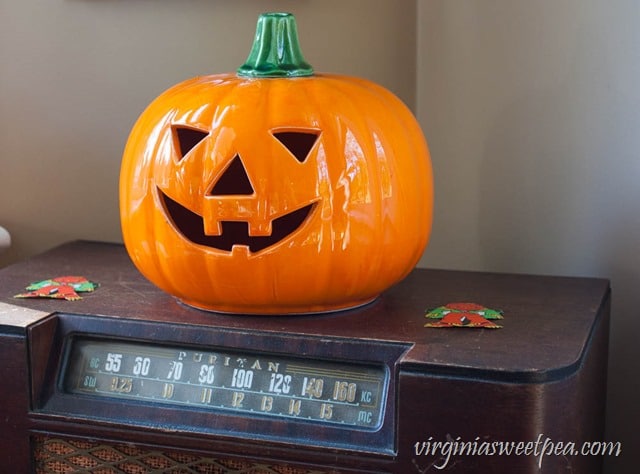 Mama gave me the vintage Halloween stickers on display to the left and right of the pumpkin.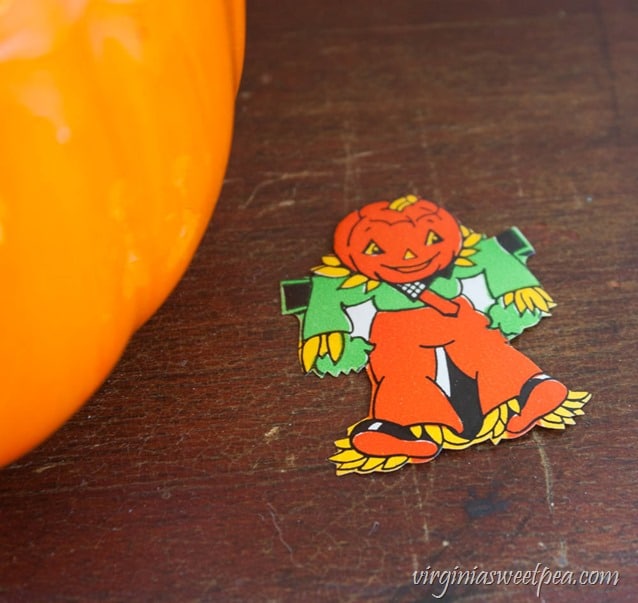 This is a better shot of that corner of the room.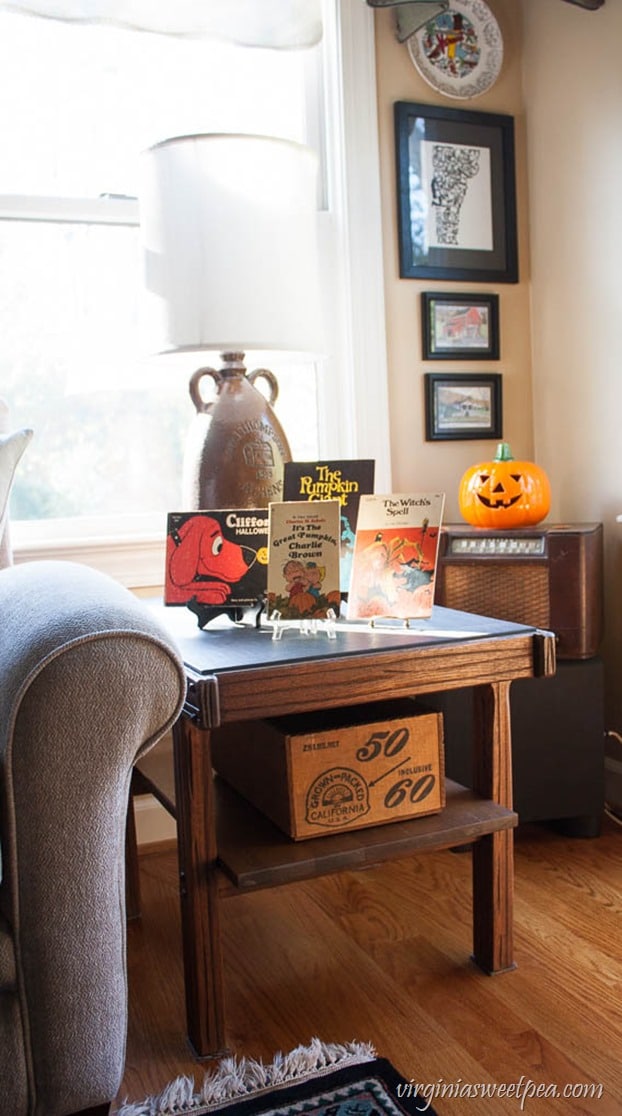 Halloween Books
Clifford's Halloween is from 1966. It first belonged to my cousins in Maryland and then was passed along to me and my brother.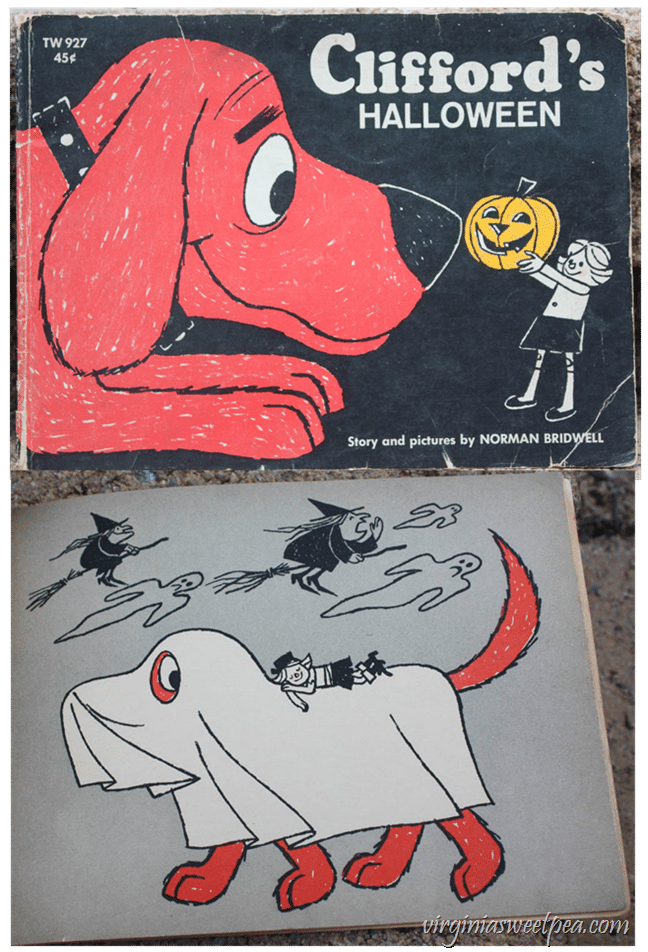 It's The Great Pumpkin, Charlie Brown has a 1967 copyright and likely also first belonged to my Maryland cousins.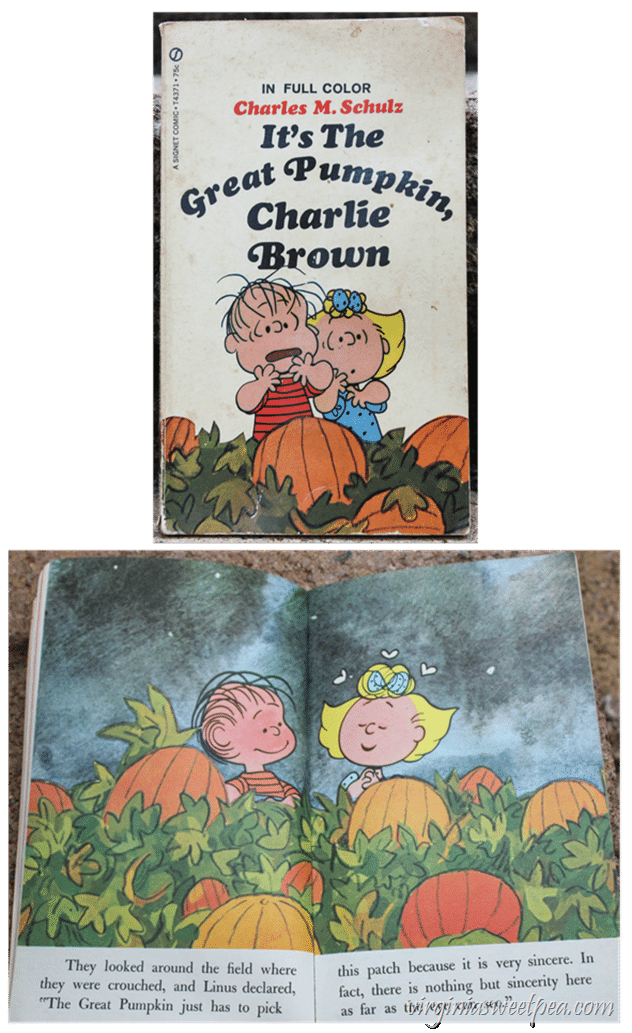 The Witch's Spell is from 1966 and is also a passed along book from Maryland. My Maryland cousins were always very generous in passing things along after they outgrew them.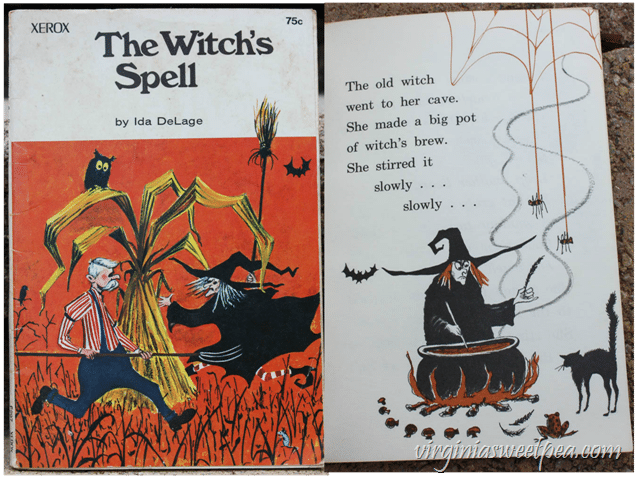 Do you remember the pamphlets that your teacher passed out where you could order books? Mama always let me order three books at a time because if you ordered three, you received a free poster. This 1976 The Pumpkin Giant was from a school order.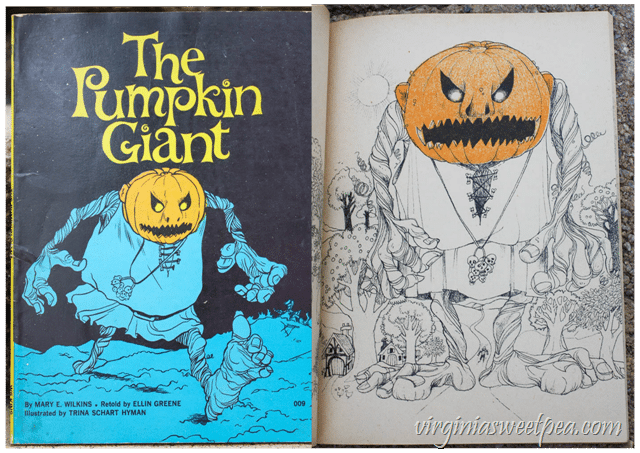 The Porch
Before:
Our porch looked like this all through September.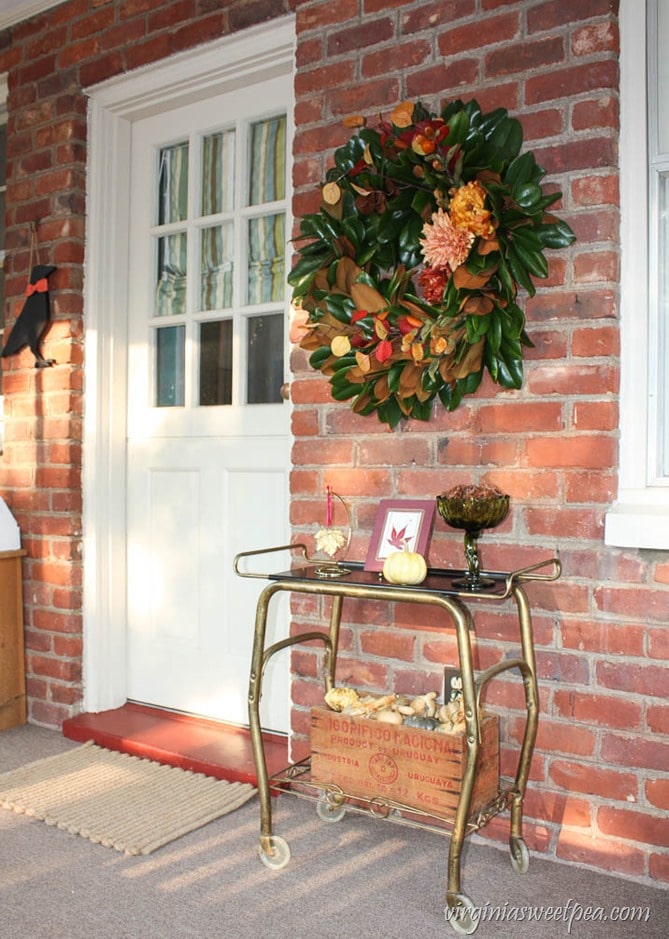 A few of you asked me what my Magnolia wreath looked like after it aged. You can see that the leaves turned a greenish brown.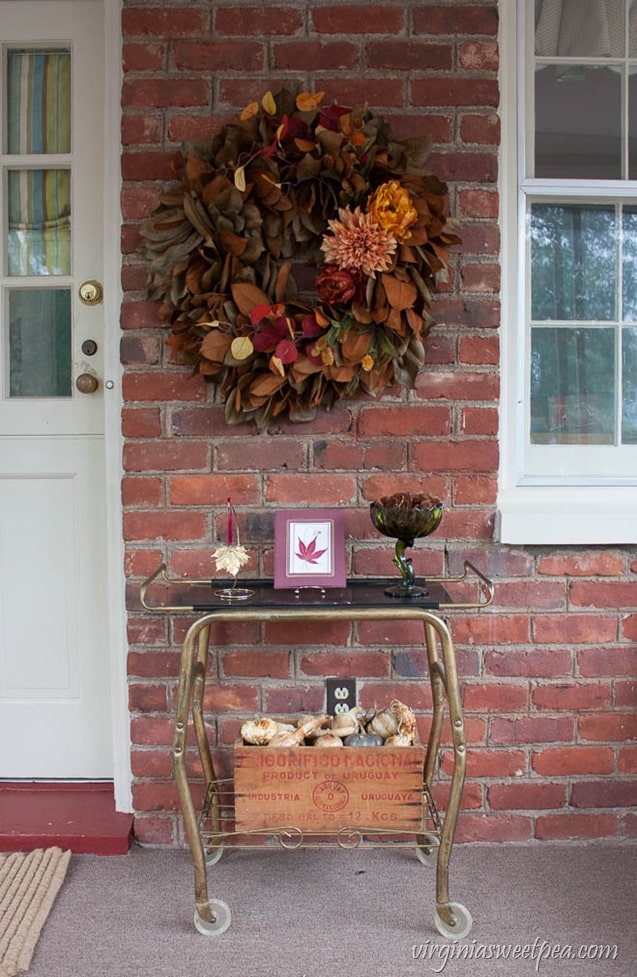 If this had been hanging in my house rather than on our porch, it wouldn't have turned brown so quickly. Our porch has plexiglass panels in the windows and is pretty much an oven all during summer and fall.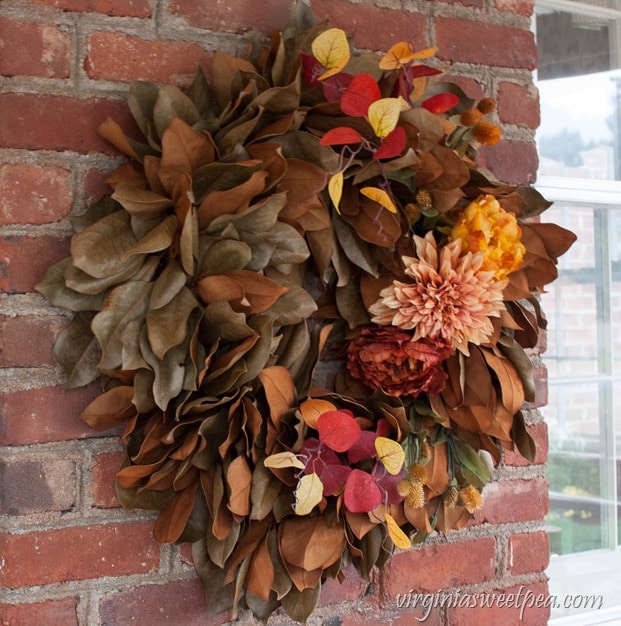 After:
I traded out the fall leaf themed décor for Halloween.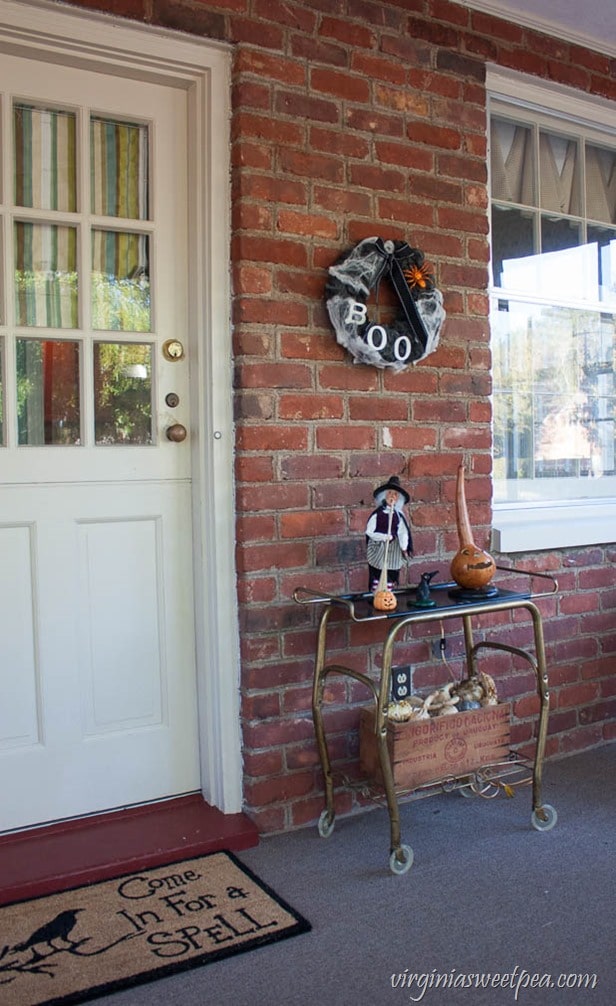 Mama made this fun wreath. The base is plastic grocery bags that she spray painted black.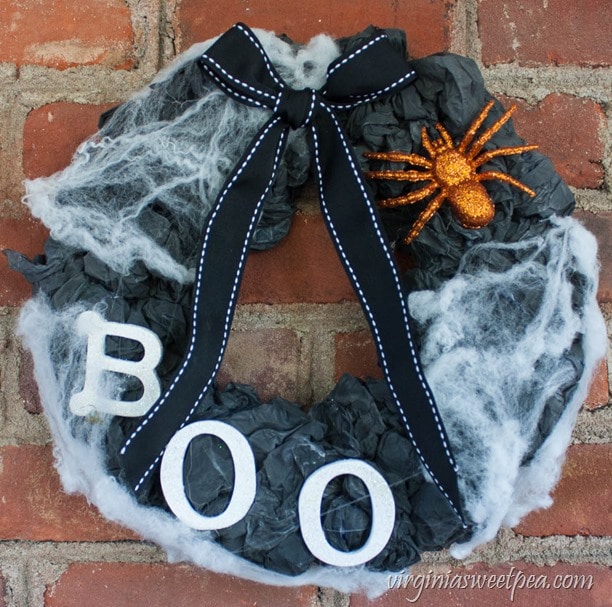 I've enjoyed this Byer's witch and cat since 2001. I bought the tiny pumpkin at a craft show when I was in college. The gourd lamp was made using a gourd that my dad grew and dried.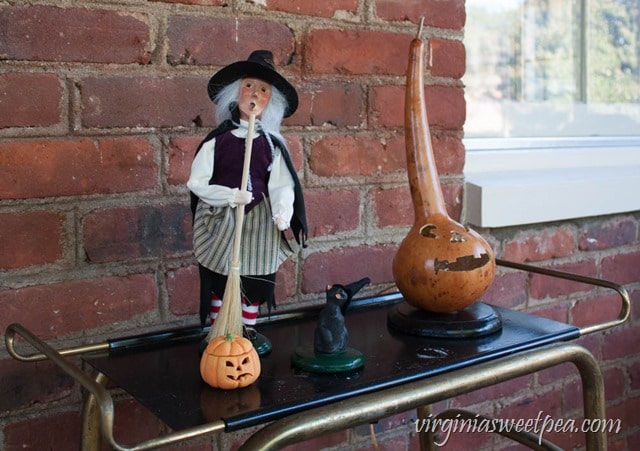 Here you can see it lit. It looks really cute at night. If you scroll back to the top of this post, you can see the cat gourd lamp that I made on the pie safe in our family room.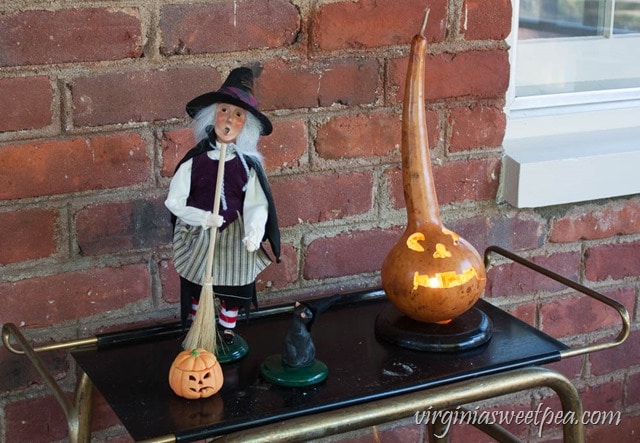 I skipped decorating for Halloween last year because I just didn't have time to do it. This year I have so much enjoyed taking time to decorate and to enjoy my home.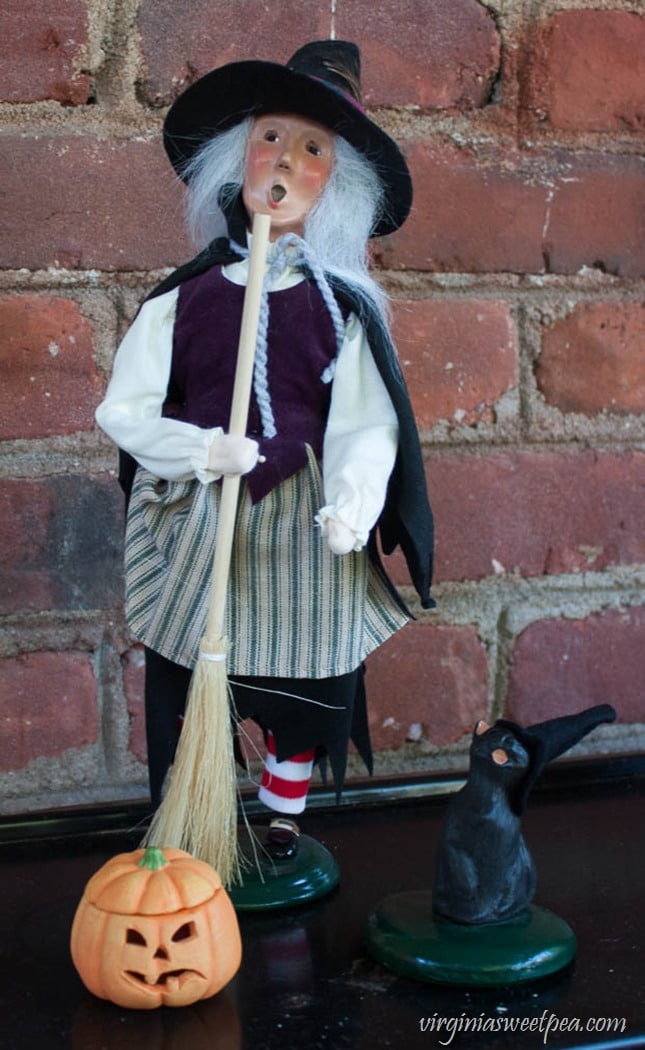 More Vintage Halloween
This vintage Halloween card is on the counter in our kitchen. Mama gave it to me and I don't know it's age but would guess 1950's.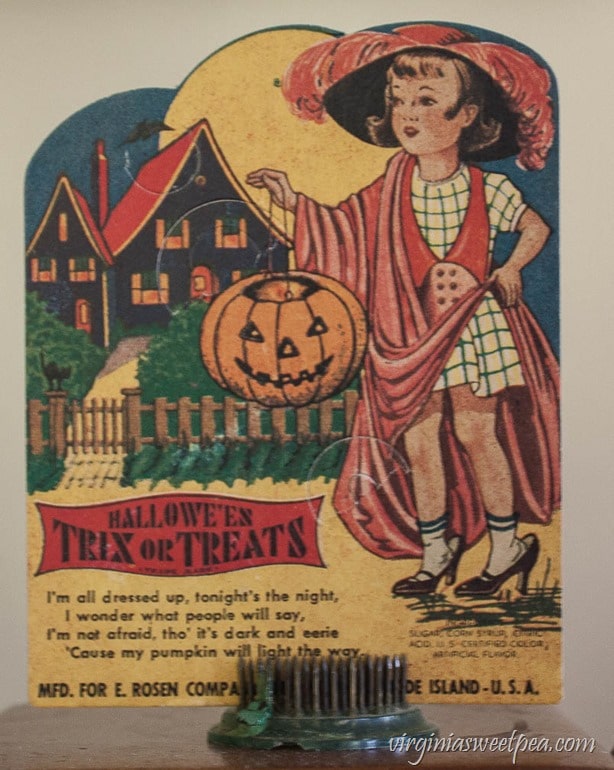 You might also like to see the vintage Halloween costumes that my mom saved from the 1970's.
It's hard to believe that Halloween will be here in just one week. Our neighborhood used to have very few children, but in the past few years homes have sold and families have moved in, so we should have a few trick-or-treaters this year.
After Halloween, I'm looking forward to decorating for Thanksgiving. A lot of people jump straight to Christmas, but I like to enjoy each holiday as they come.
What about you? Do you decorate for Thanksgiving?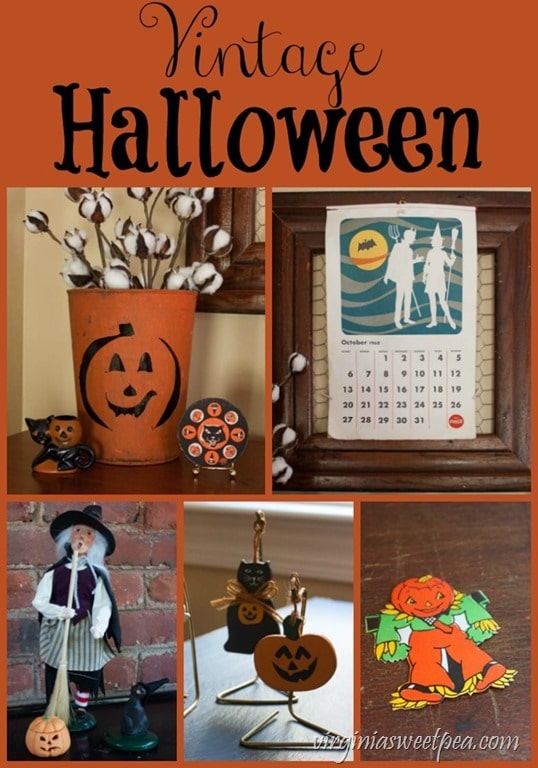 More Halloween Ideas to Enjoy