Vintage Inspired Fall Decor
Fall is finally here and it certainly looking and feeling fall-like in my neck of the woods. I've been adding fall touches slowly but surely to my home and today am sharing the Vintage Inspired Fall Décor in my family room.
I'm sharing my fall décor along with a group of bloggers as part of a fall tour. If you arrived here via A Home to Grow Old In, welcome! You'll find links to the other fall tour participants at the end of this post. I love getting great décor inspiration from visiting other blogs and I'm sure you will as well.
I usually share décor in my formal living room, but I've been working on painting that room for the past few weeks, and that space is out of commission for now. You can see how I decorated it for fall last year here.
Fall in the Family Room
Our family room is in an addition at the back of our home. It has four large windows and looks over our back yard. We love to relax in this space.
When I think about fall décor, my first thought is gourds. I decorated this space a few weeks ago and gourds weren't yet available, so I challenged myself to decorate this space using only things that I had.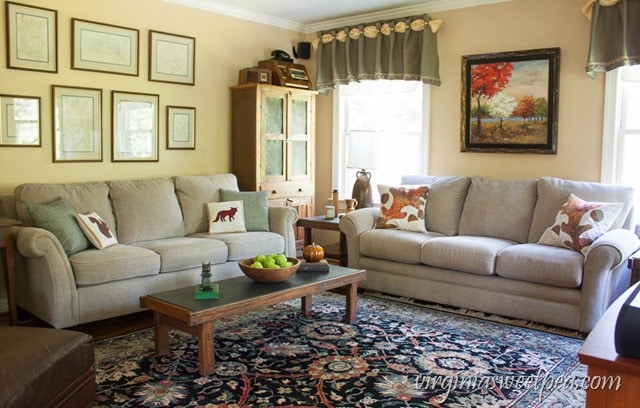 Links in this post may be affiliate.
When we relax in the evening, our dog sits in the leather chair, my husband on the sofa with the squirrel and fox pillows, and I'm on the sofa with the leaf pillows.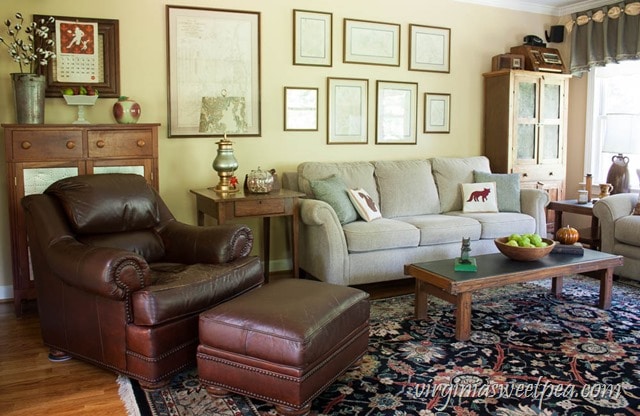 The maps above the sofa are from an 1880's book, Official Records of the Civil War. The large map to the left of the Civil War maps is a 1927 map of Lynchburg. The pie safe in the corner was made from cherry wood harvested on the farm in Maryland where my grandfather was raised. The farm is still in the family and still in operation. WWI era sheet music that belonged to my grandmother's cousin hangs above the leather chair.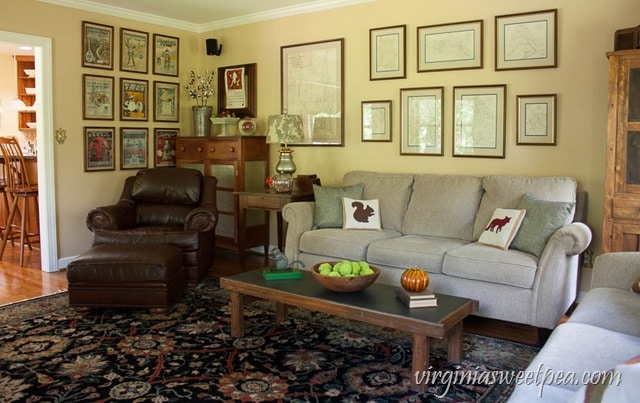 The pie safe top is a great place for a seasonal display. Isn't the graphic for September 1968 great? When October rolls around, I'll switch the page to enjoy the next graphic. This calendar was found in a dumpster!
The frame that the calendar is on was made using molding from the school house that my grandfather attended as a boy. I usually display vintage post cards on this piece using tiny clothes pin, clipping them to the chicken wire.
Cotton stems in a vintage sap bucket along with faux apples in a updated thrift shop found pedestal bowl and a McCoy apple complete this vignette.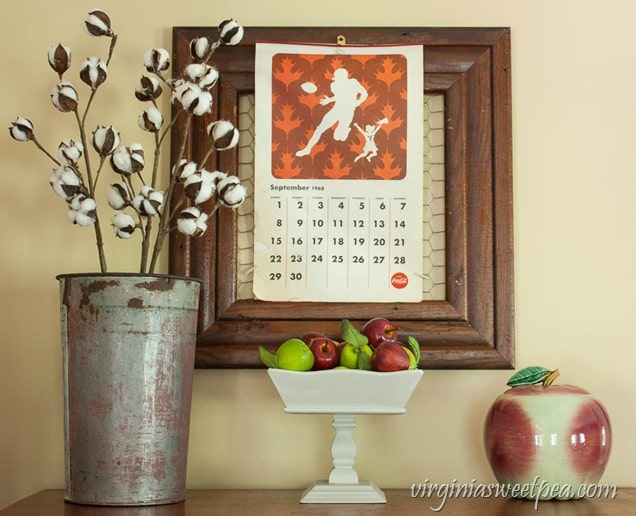 The walnut table beside my husband's sofa was inherited from my grandmother. The pipe holder was my grandfather's and it holds one of his pipes. My aunt and uncle kindly passed it along to me when they recently came to visit. The leaf is from Vermont, our favorite state after Virginia. Sherman's evening treats are handy in a glass pumpkin that I got years ago from Walmart. This jar is great for holding candy or cookies, it's still available if you want one for your home.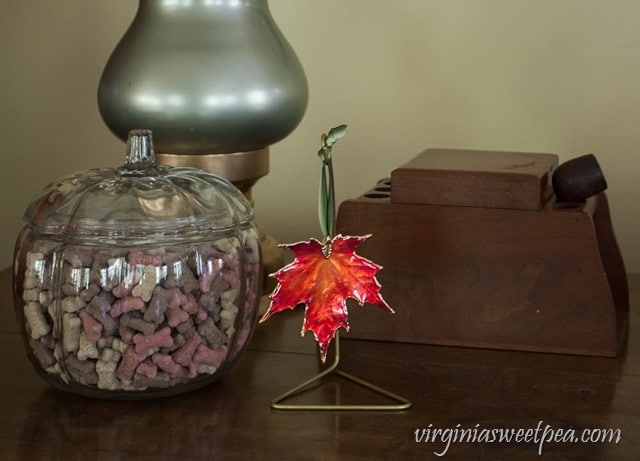 The coffee table, end tables, and jug lamps are from 1968, purchased by my parents when they first were married. The antique pie safe in the corner was a Christmas surprise gift over 20 years ago from my parents. The radios and telephone on top of the pie safe belonged to my grandparents. The large radio still works!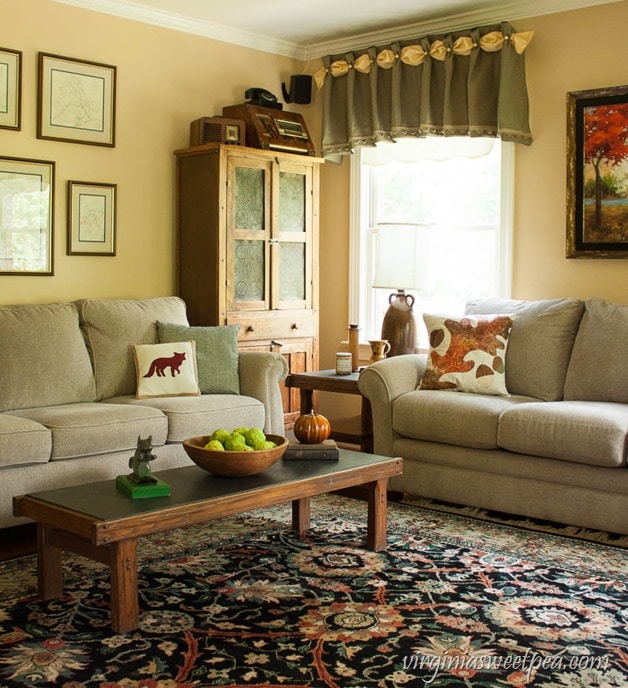 Every fall I enjoy gathering Osage Oranges to use in my fall décor. The wooden bowl that they are in was inherited from my grandmother.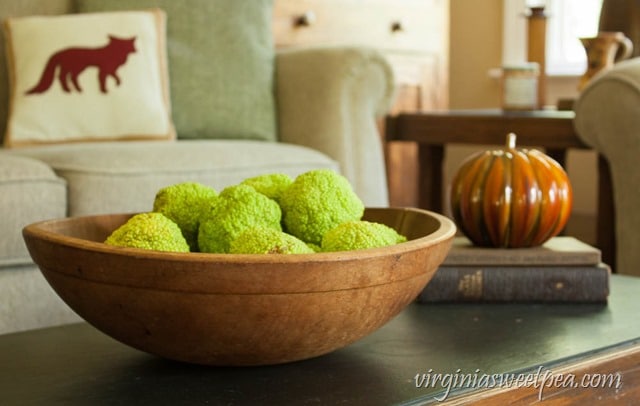 The Bergen's Botanies Key and Flora book is from 1908 and the 1927 The Classroom Teacher book belonged to my grandfather.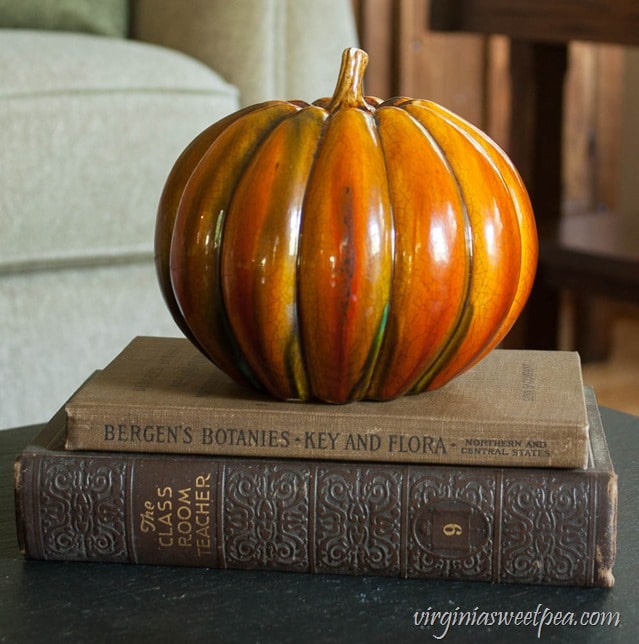 The squirrel nutcracker belonged to my dad. My grandmother was raised by her aunt who ran a store in Vinton, VA. When my dad was a young boy, someone in Vinton gave him this nutcracker. I've always loved it and when my grandmother passed it along to me, I was delighted.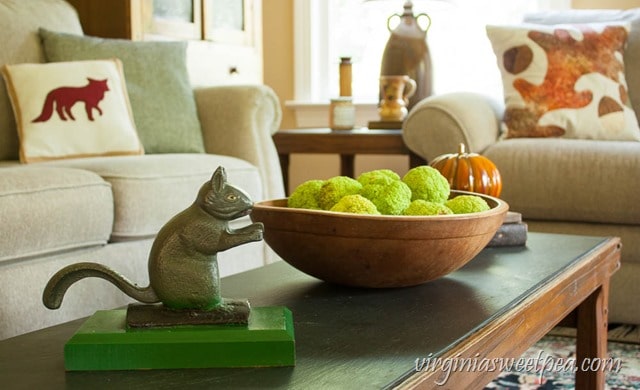 When bagged nuts become available at the grocery store, I'll put a bowl of nuts beside him. To crack a nut, you lift the squirrel's tail.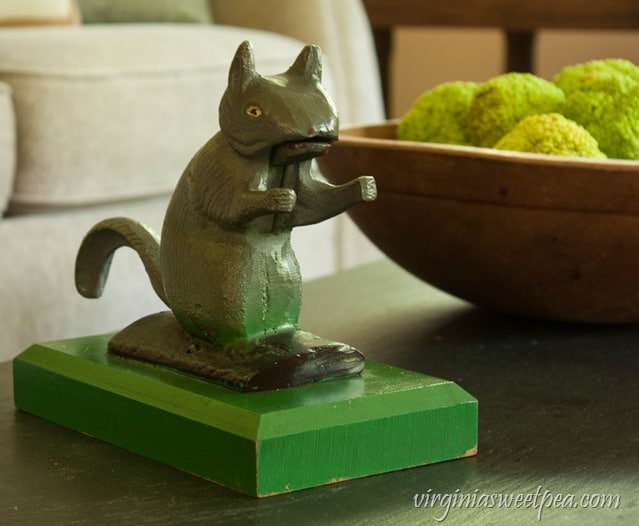 End tables and coffee tables are fun to decorate seasonally. My mom gave me the old spool, the pitcher belonged to my grandmother, and the candle was a gift from a sweet friend. The Edgar Allen Poe book is from 1917 and the Elementary Spanish Reader from 1897. The Poe book was my grandfather's and the Spanish Reader belonged to my grandmother's cousin.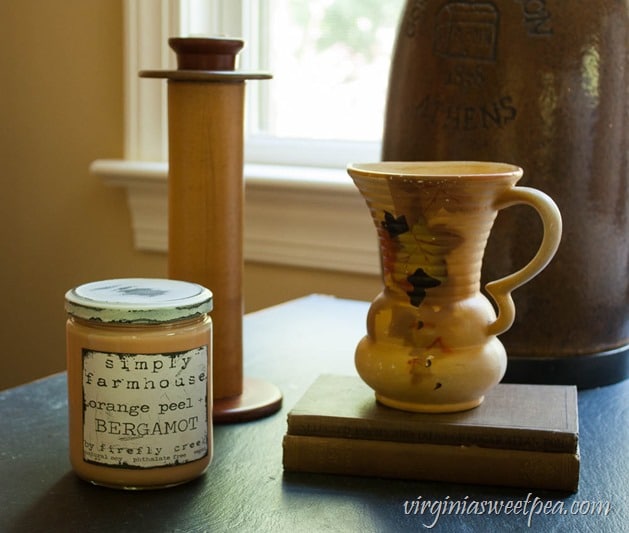 The fall art above the sofa was a yard sale find. Last year I had it hanging over my mantel for fall.
I've seen so many pretty fall pillows for sale in recent months and wanted to splurge on a few for this room but resisted the urge to buy and used these that I made a few years ago. The fox and squirrel pillows on the other sofa are also DIY projects from a past fall.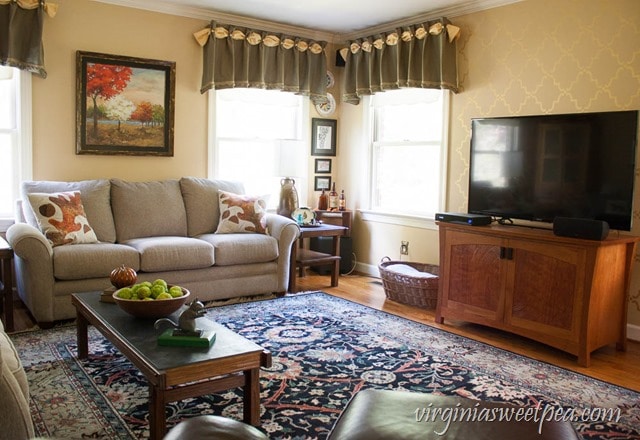 I shopped my basement storage area to create these vignettes. The shoe form and insulator were passed along to me from my mom. The tray was my grandmother's and the plate was an antique shop find.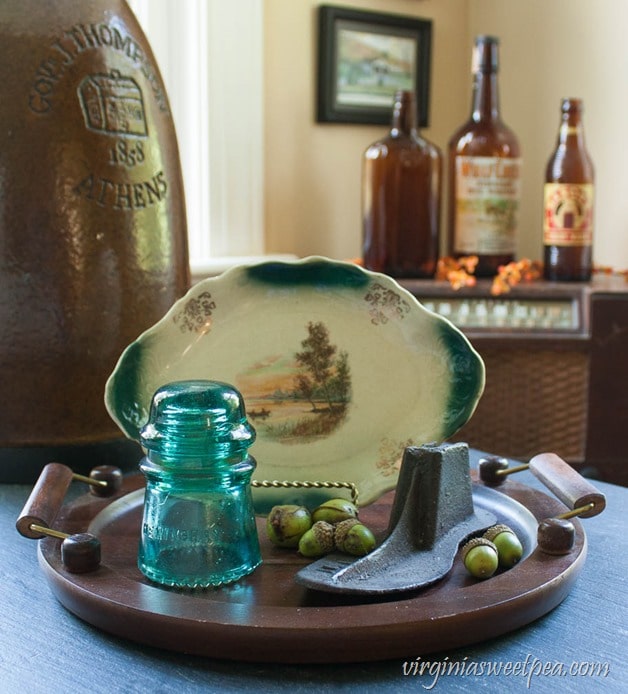 Circling around the room you see the Vintage Virginia Tech Memorabilia display that I shared a few weeks ago.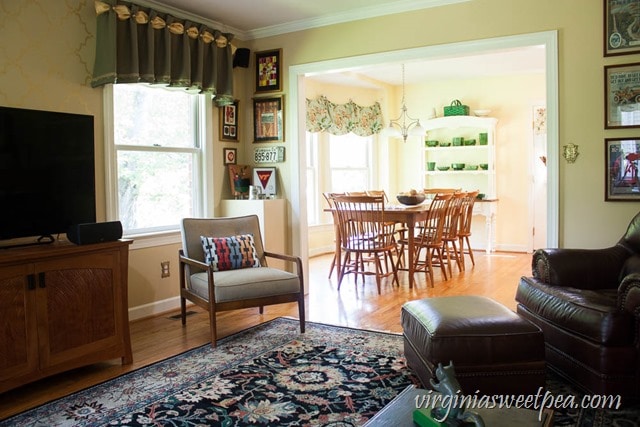 We really enjoy our family room. It's a cozy spot to relax each evening and when it rains, since it has a shed roof, the sound is spectacular. In winter one of my pleasures is to watch the snow fall though the windows.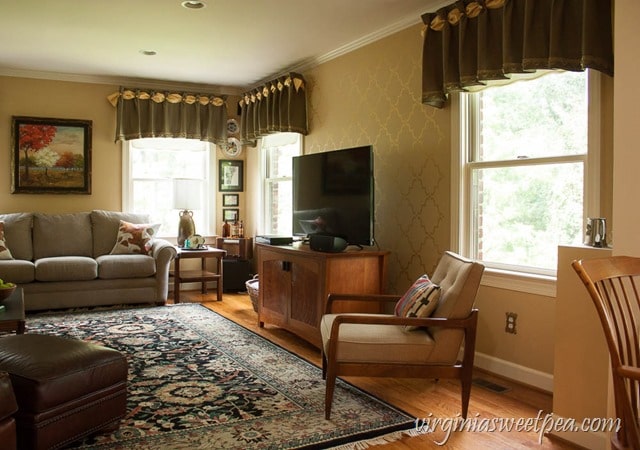 An eating area connects our kitchen to the family room.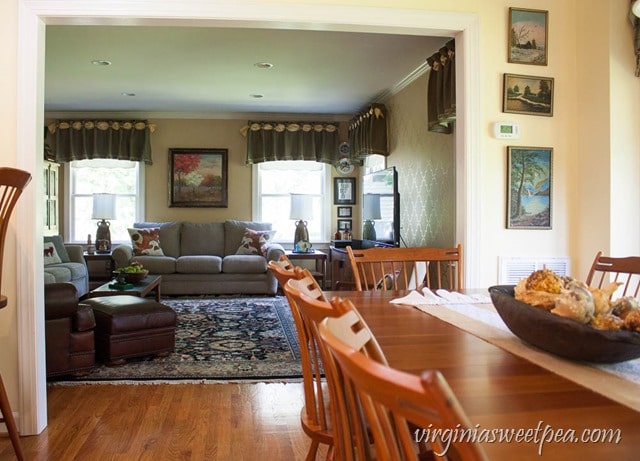 Gourds that I dry and save fill a dough bowl from Emory Valley Mercantile. This shop owned by my friend, Angie, of Postcards from the Ridge and I love every single item that she carries. I also have Farmhouse Style Caddies from this shop that I adore.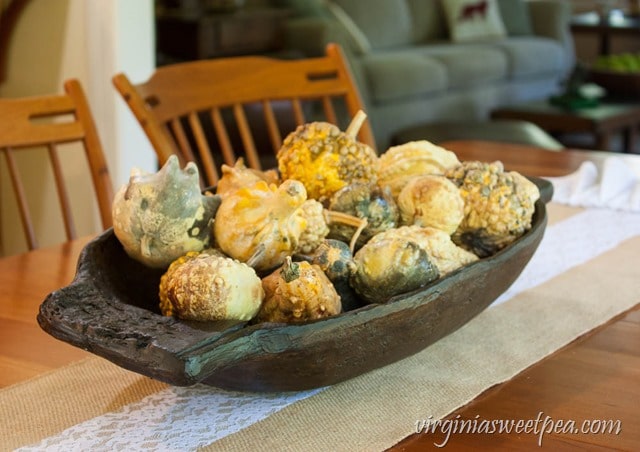 I hope you enjoyed the tour of our fall family room. If you care to pin this post, I would really appreciate it!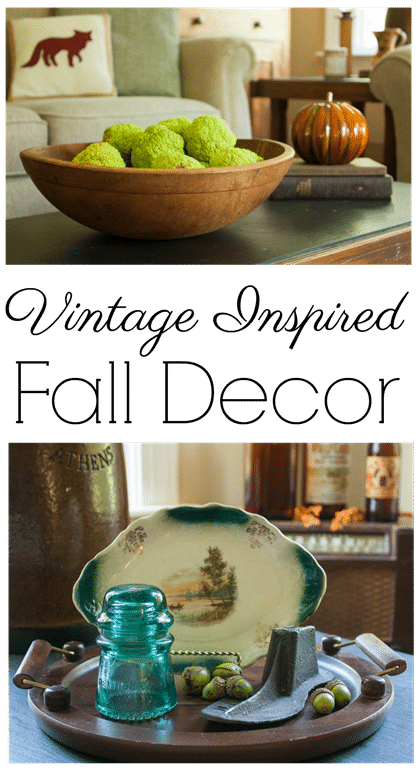 More Fall Inspiration
This fall season I've also shared my Magnolia Wreath Styled for Fall and my fall decorated porch. We spend a lot of time on this porch and I love having it decorated for the fall season.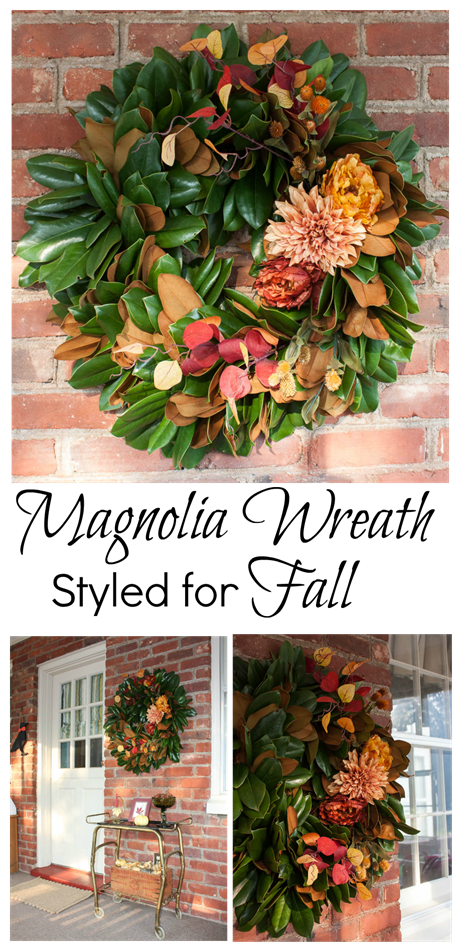 Get inspired to do some fall crafting with ideas for Fall Crafting with Leaves.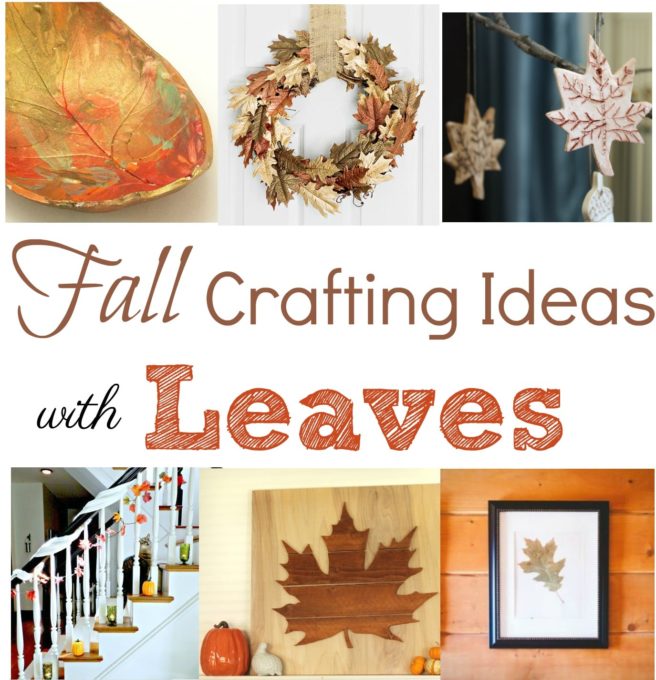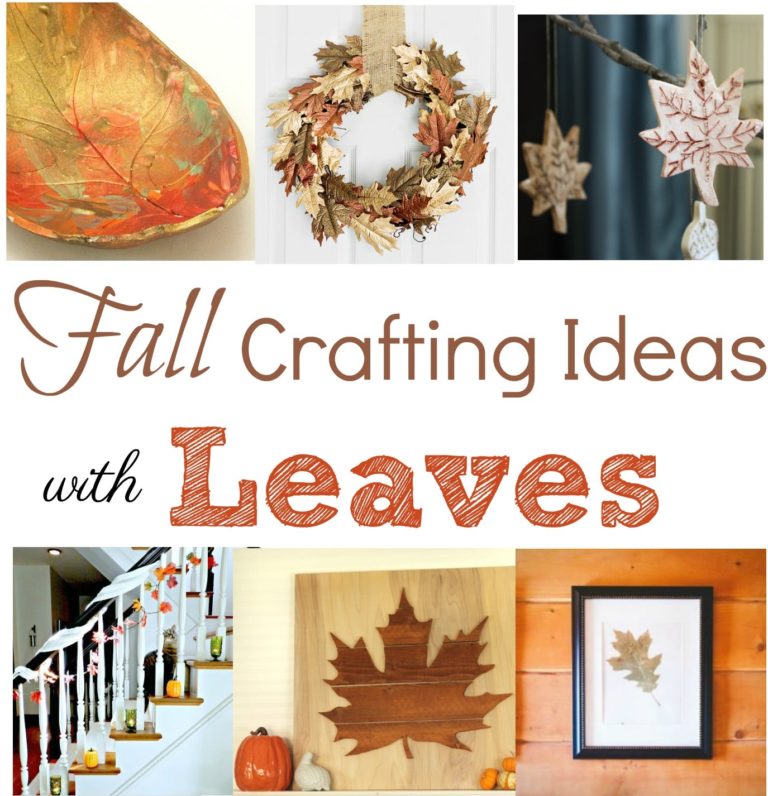 If you are in the mood to do some fall baking, check out my Pumpkin Honey Beer Bread.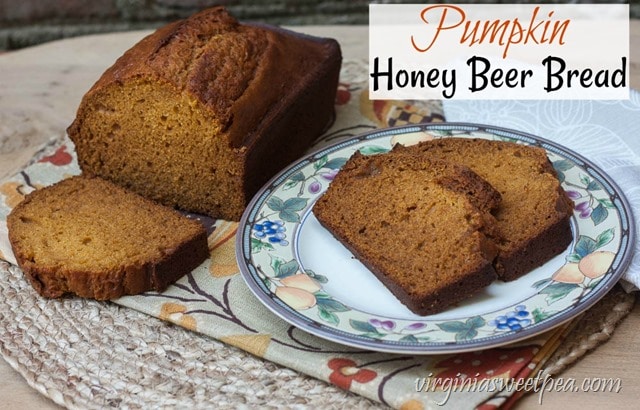 Fall Decor Blogger Home Tours
Now it's time to get inspired for fall décor by some blogging friends. Next on the tour is Lincluden Cottage Life. Click on the links below to visit the homes decked out with fall décor.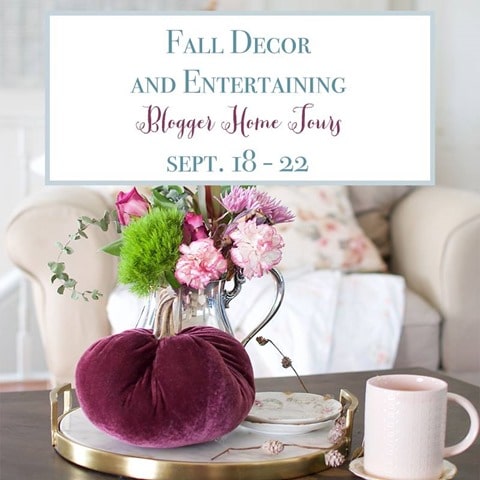 Monday
Tuesday
Wednesday
Thursday
Friday