We Gather Together Thanksgiving Tablescape
Thanksgiving is a favorite holiday because it's all about spending time with family. Gathering around the table to enjoy each other's company with food prepared with love is the joy of Thanksgiving Day.
I'm sharing my Thanksgiving table decor along with a talented group of friends for a "Gather 'Round the Table" Thanksgiving Blog Hop. I am so excited to get ideas for decorating for Thanksgiving and I know that you will enjoy the ideas shared as well. Many thanks to Amber of Follow the Yellow Brick Home for organizing this inspiring Thanksgiving tour. If you arrived here from Carol's blog, Art and Sand, welcome!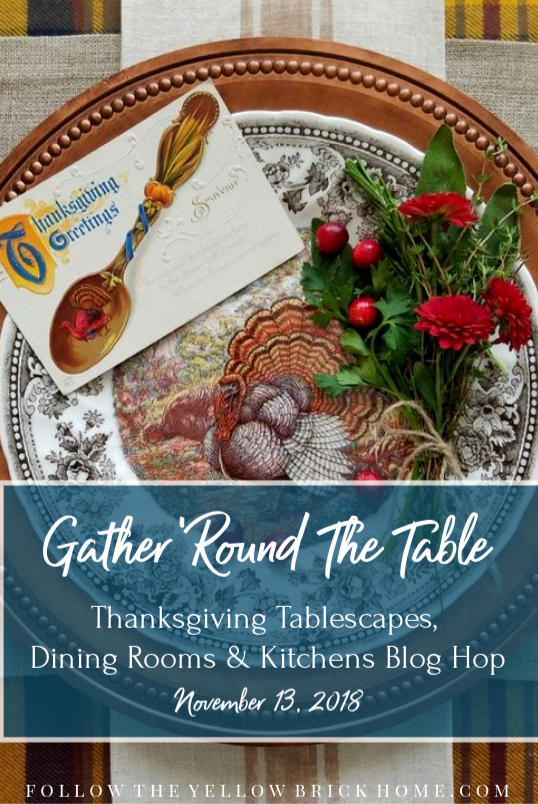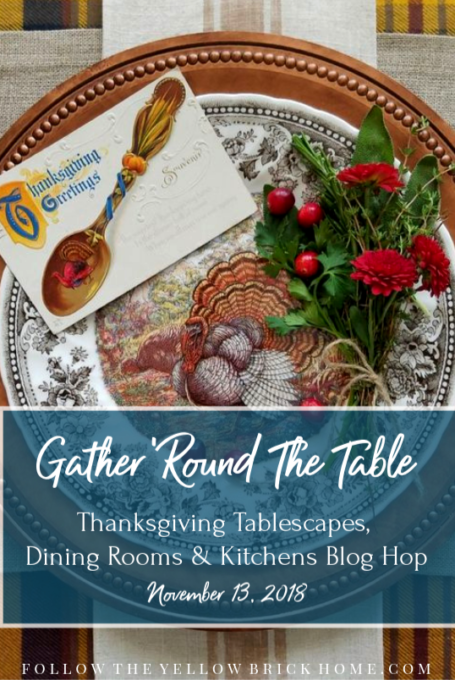 "We Gather Together" Thanksgiving Table
I'm naming my Thanksgiving table after my favorite Thanksgiving hymn, "We Gather Together". Gathering together to celebrate and give thanks for our blessings is what Thanksgiving Day is all about.
Thanksgiving Table Centerpiece
Setting a table for a holiday begins with the table centerpiece. I purchased this vintage pilgrim candle holder at a local vintage shop where I used to have a booth. I saw it on one visit, couldn't stop thinking about it, and bought it on my next visit.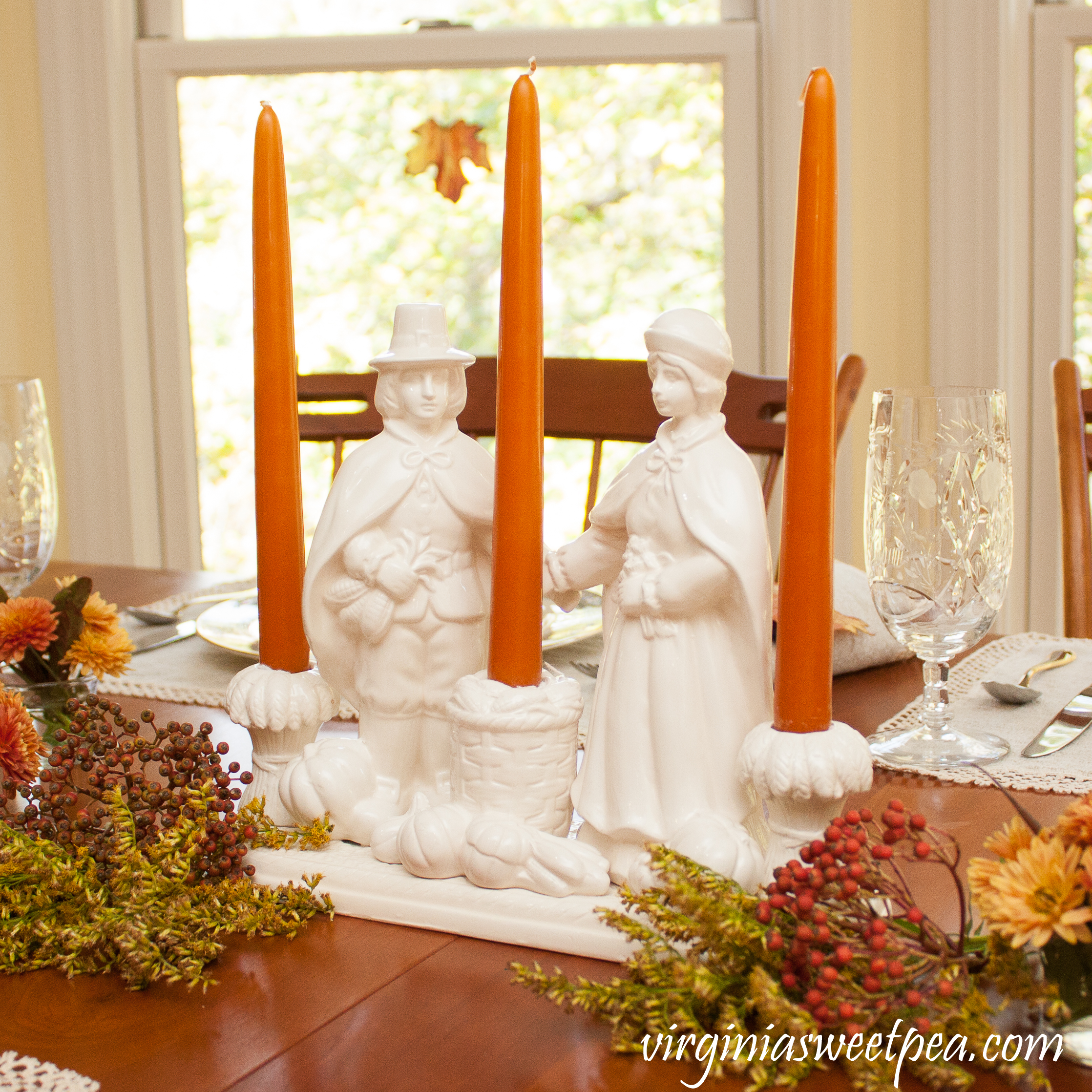 This year I used orange candles that contrast nicely with the cream colored pilgrims. The orange coordinates with the flowers that I used and also with my china.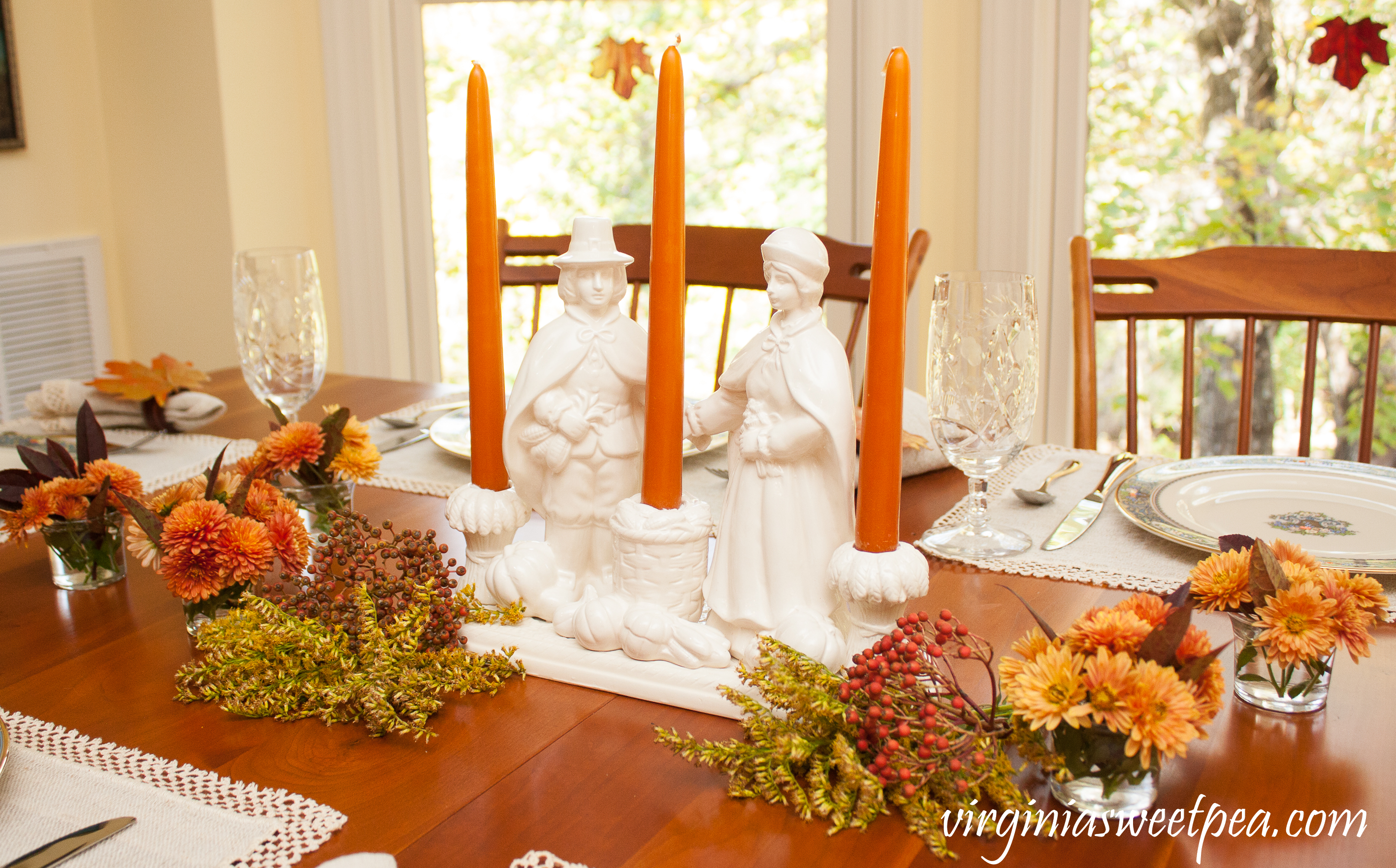 Growing up we usually went to my grandmother's house for Thanksgiving. Granny was a talented floral designer and created the most beautiful centerpieces with a cornucopia filled with fruit and surrounded by fall flowers and pilgrims. My mother now hosts Thanksgiving and she also creates a pretty centerpiece each year.
The flowers, greenery, and berries that I used are from my yard or from the yards of my neighbors. When Thanksgiving finally arrives, I'm hoping that my mums will still be alive and not killed by a heavy frost.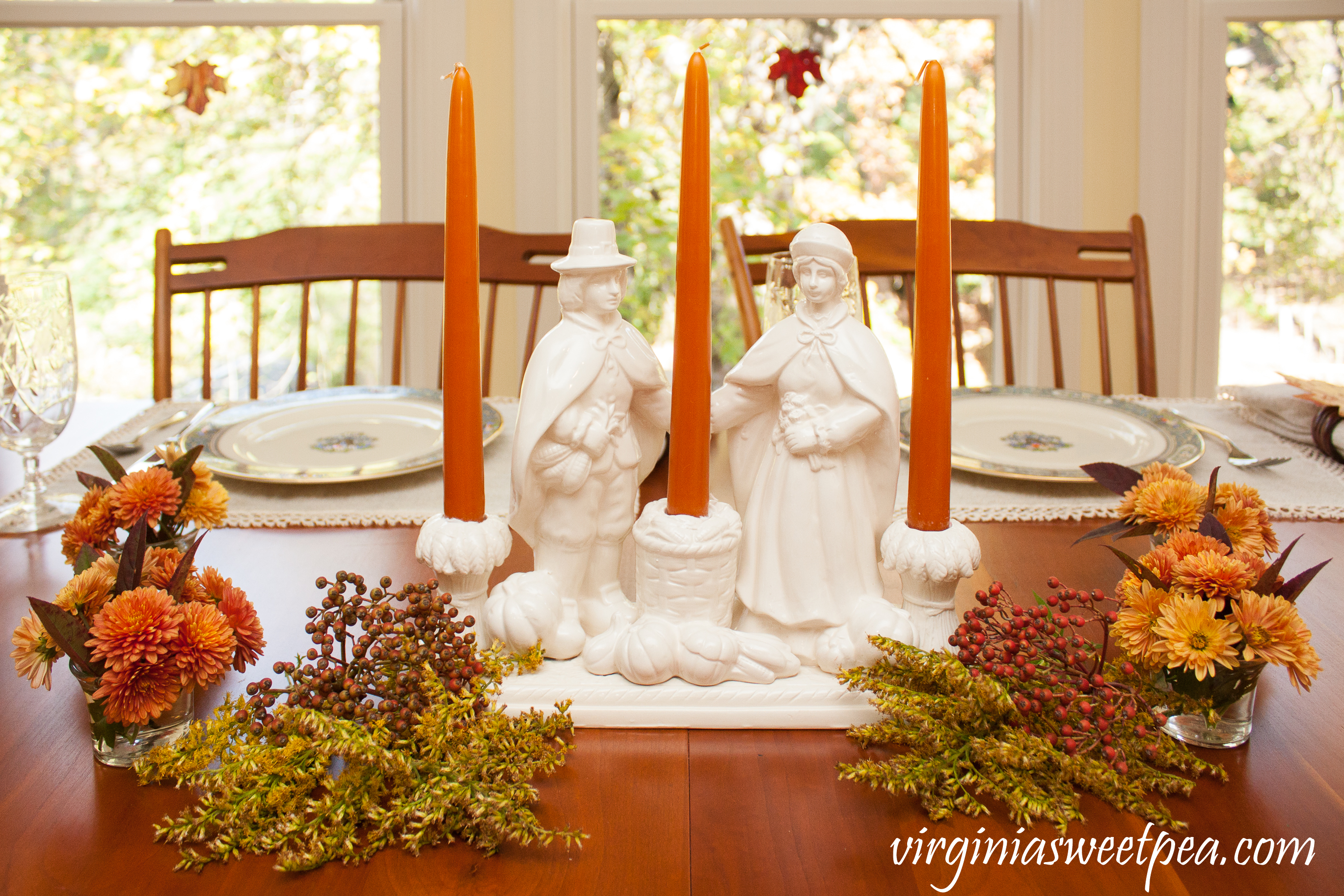 Setting the Table
For my Thanksgiving table I used my wedding china, Lenox Autumn, that I picked out in the 1980's when I was still in high school. Every shopping trip to the mall with my mom included a visit to the china department of then Leggett. Mama and I would admire the china and I picked out this pattern years and years before I met my husband.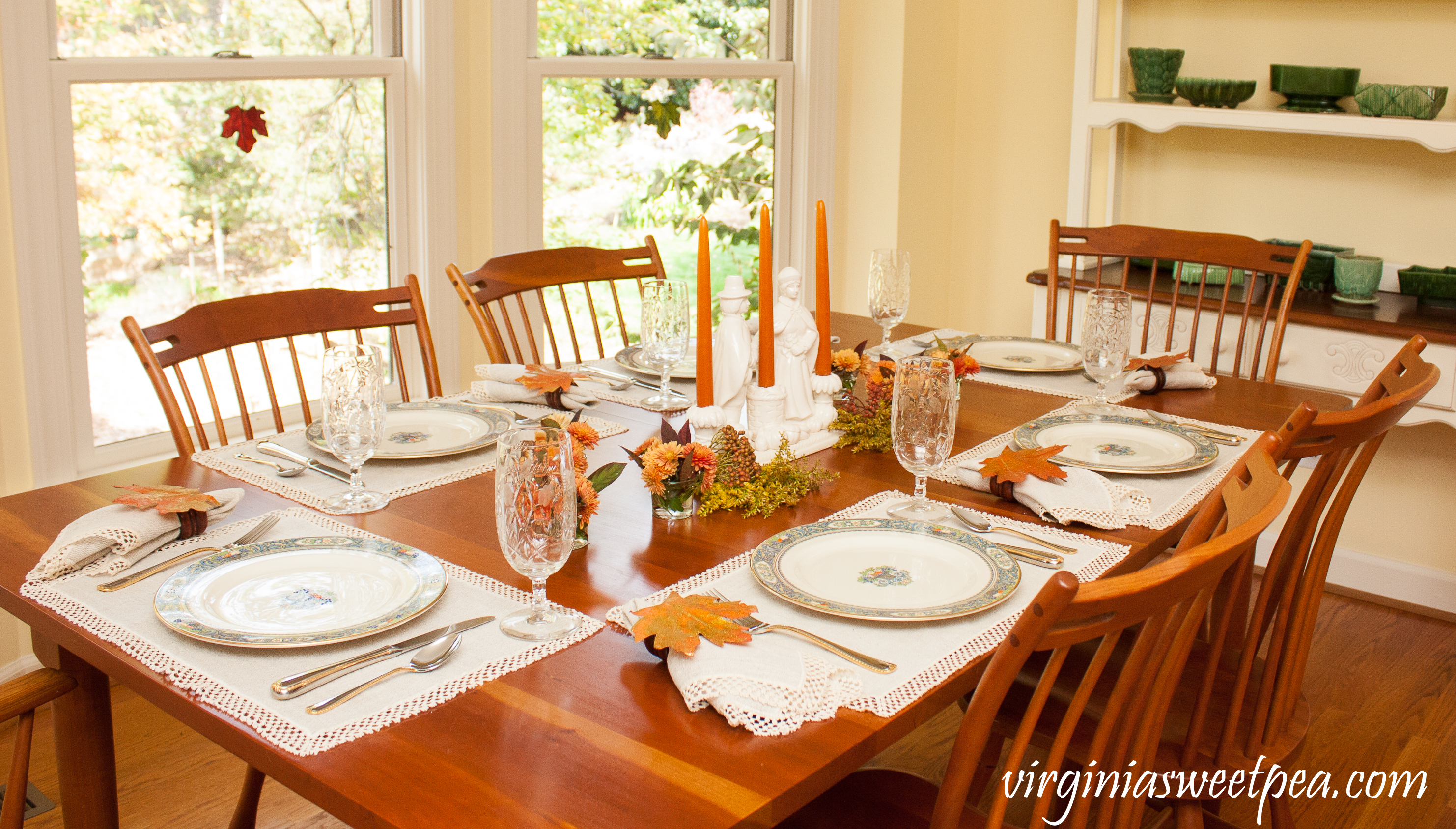 The table is also set with my wedding silverware, Gorham Golden Ribbon Edge. My crystal belonged to my great-great aunt, then my grandmother. It's pattern is one that I've never seen when I browse in antique shops.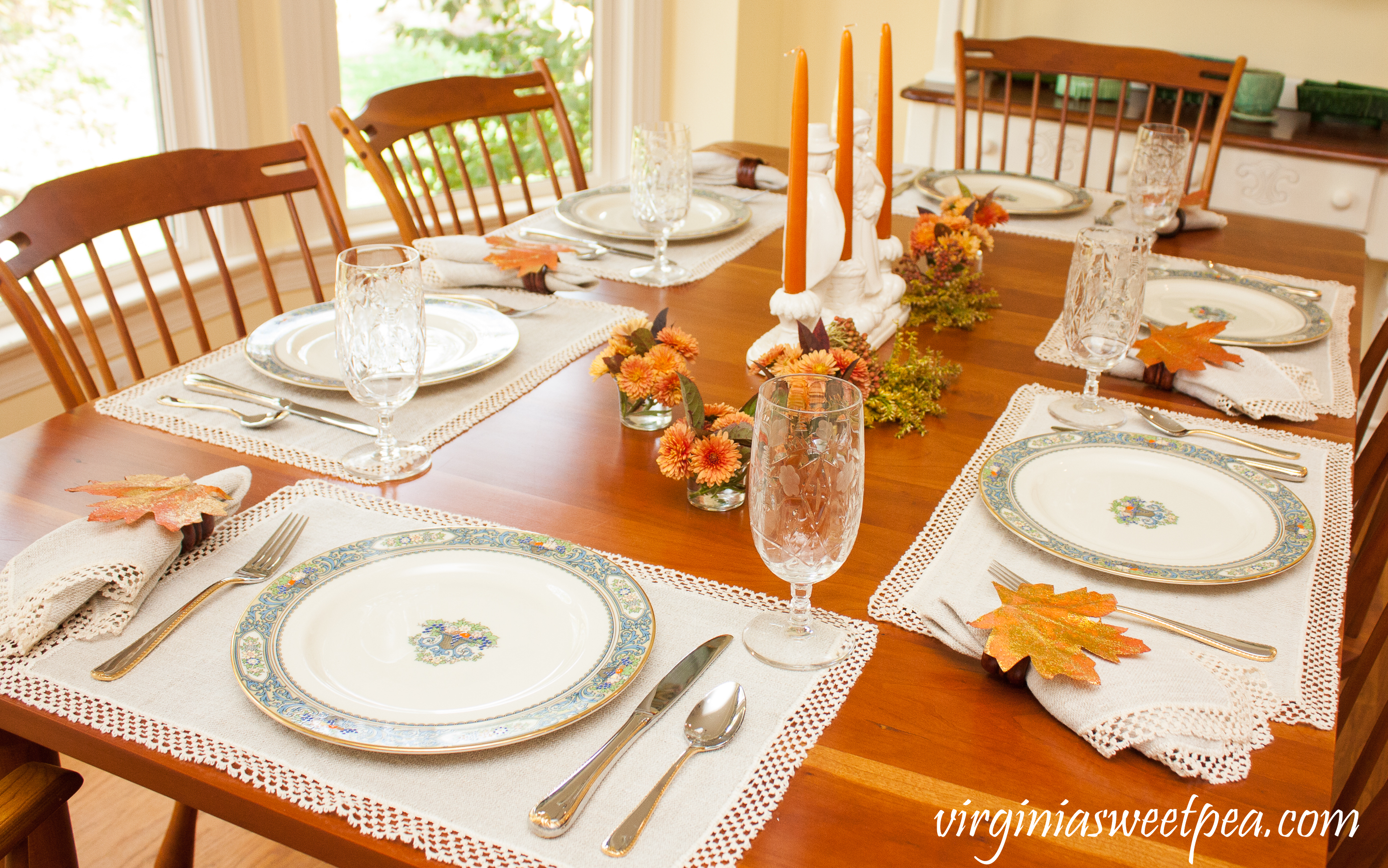 My placemats and napkins also belonged to my grandmother.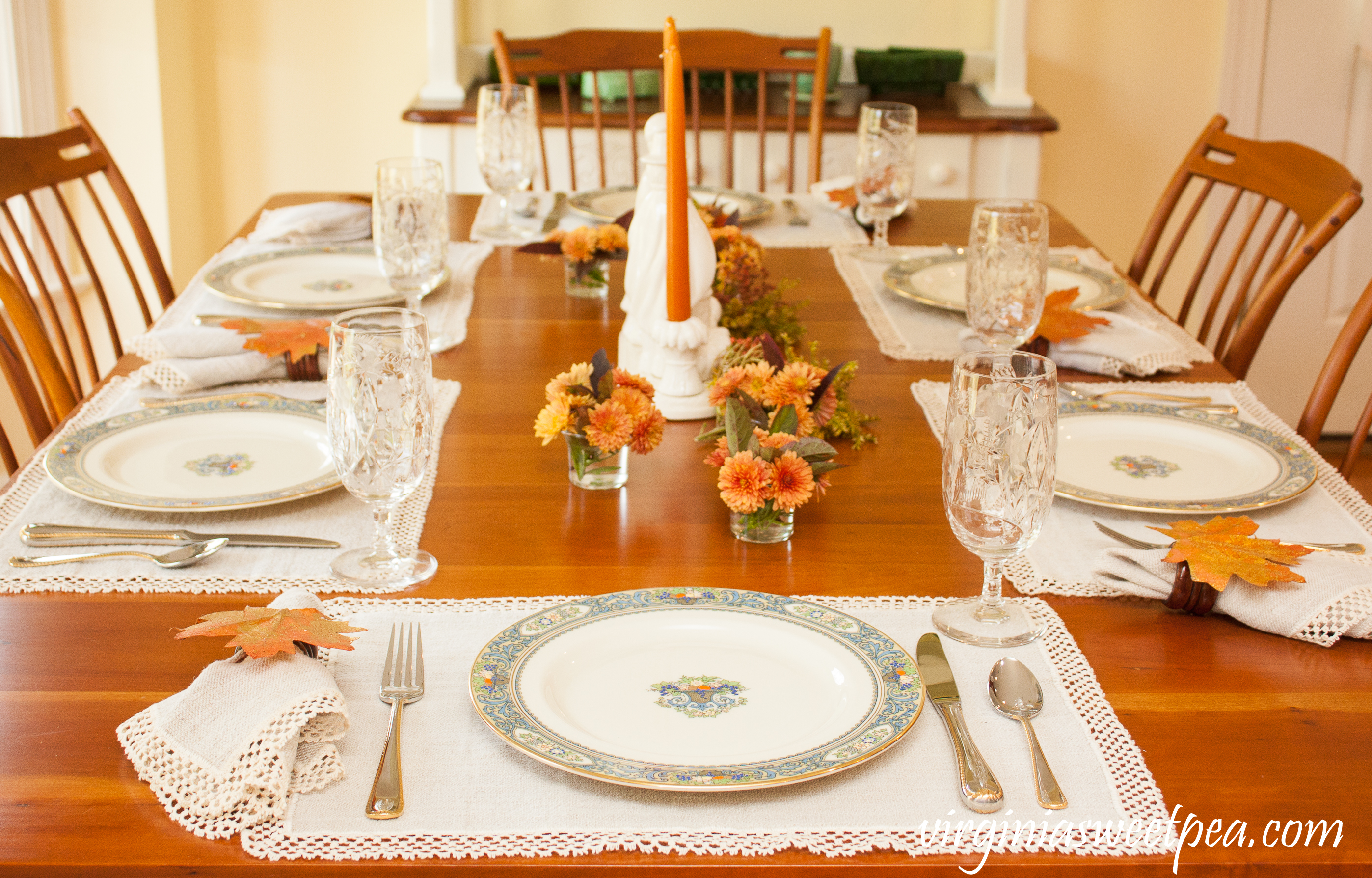 Wired and preserved leaves brushed with gold add a fall touch to wooden napkin rings.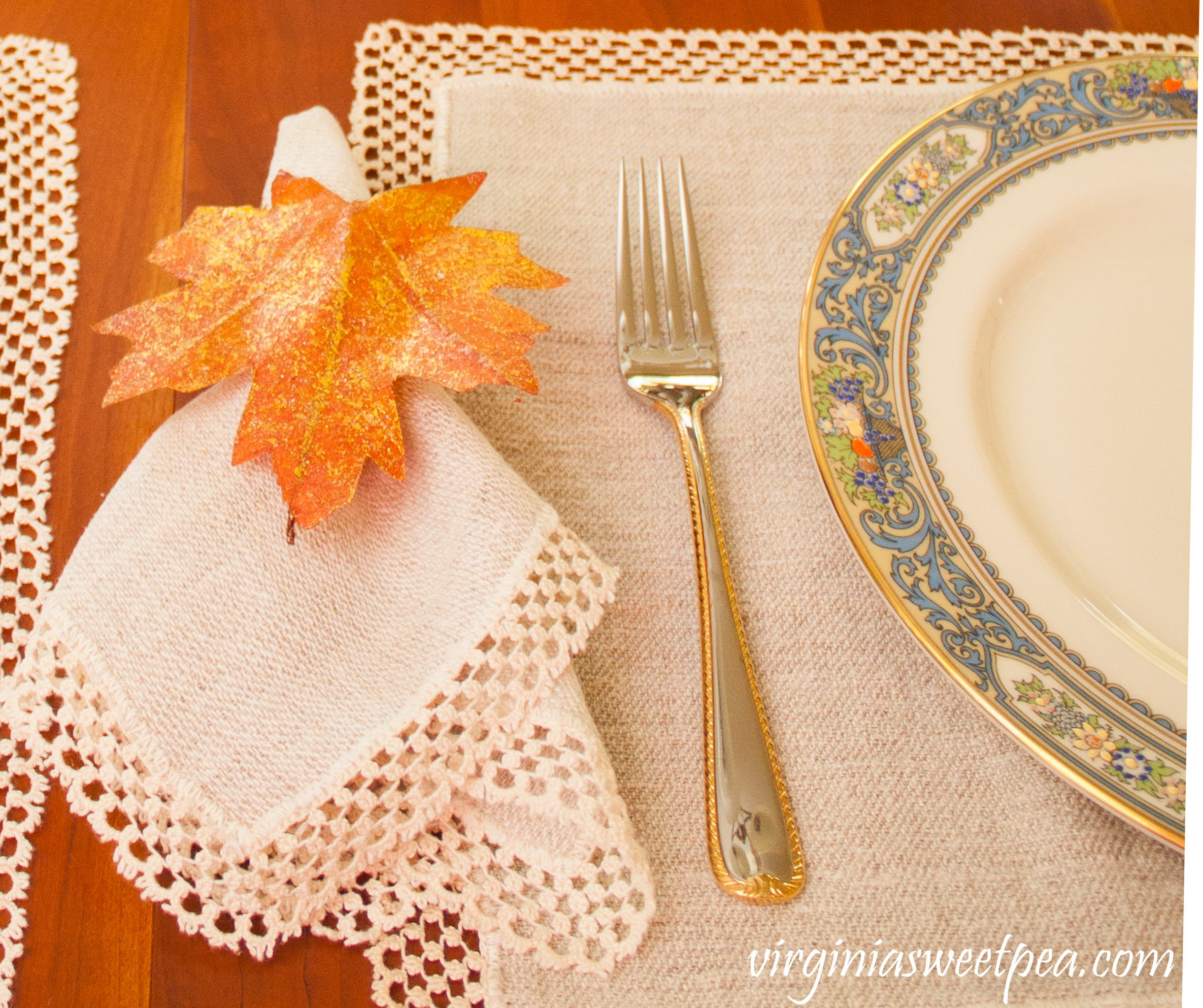 I set this table in our breakfast room which adjoins our family room. You can see the family room fall decor here. A few days after I took these pictures, I had a group of friends over for a chili night. I switched the placemats to "everyday" mats printed with leaves and used my more casual dishes, Mikasa Autumn Harvest.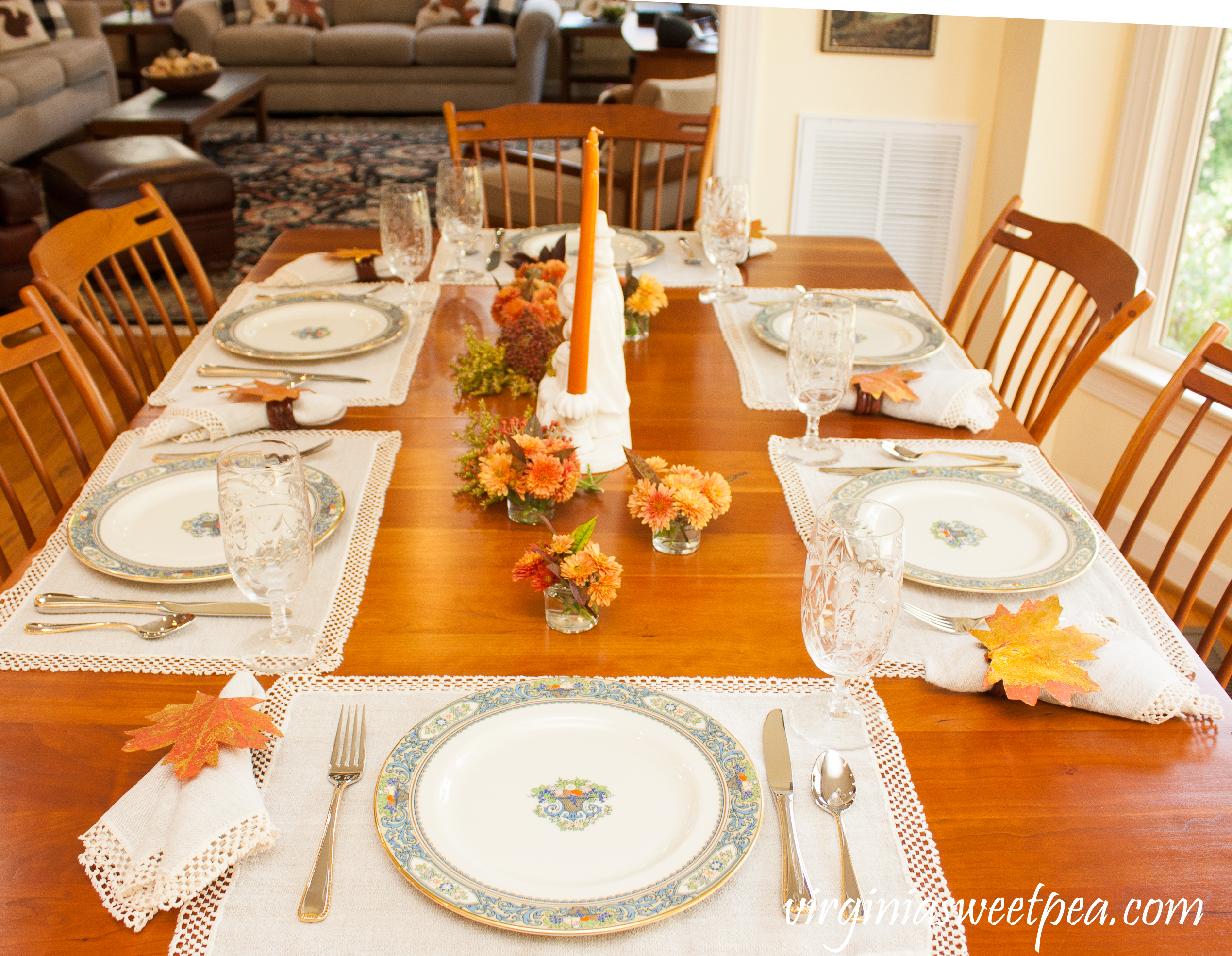 Easy Floral Arrangements for the Table
We have yet to have a killing frost here in Virginia and my potted mums are still in full bloom. I made small arrangements in votives with mums combined with Henry's Garnet Virginia Sweetspire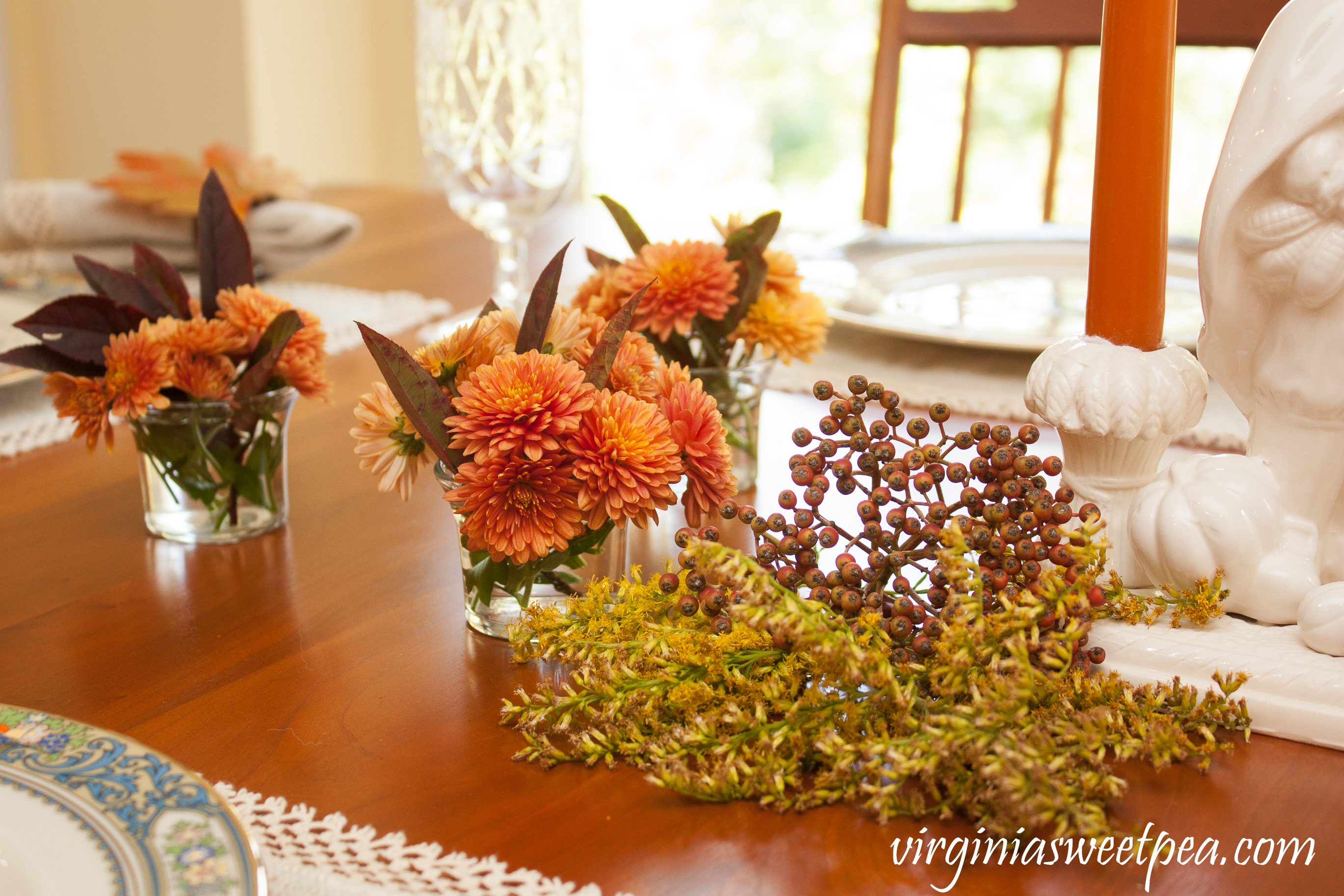 Beside the pilgrims I used Goldenrod from my neighbor's yard and berries from a mystery plant. If you know what plant produces these berries, please educate me!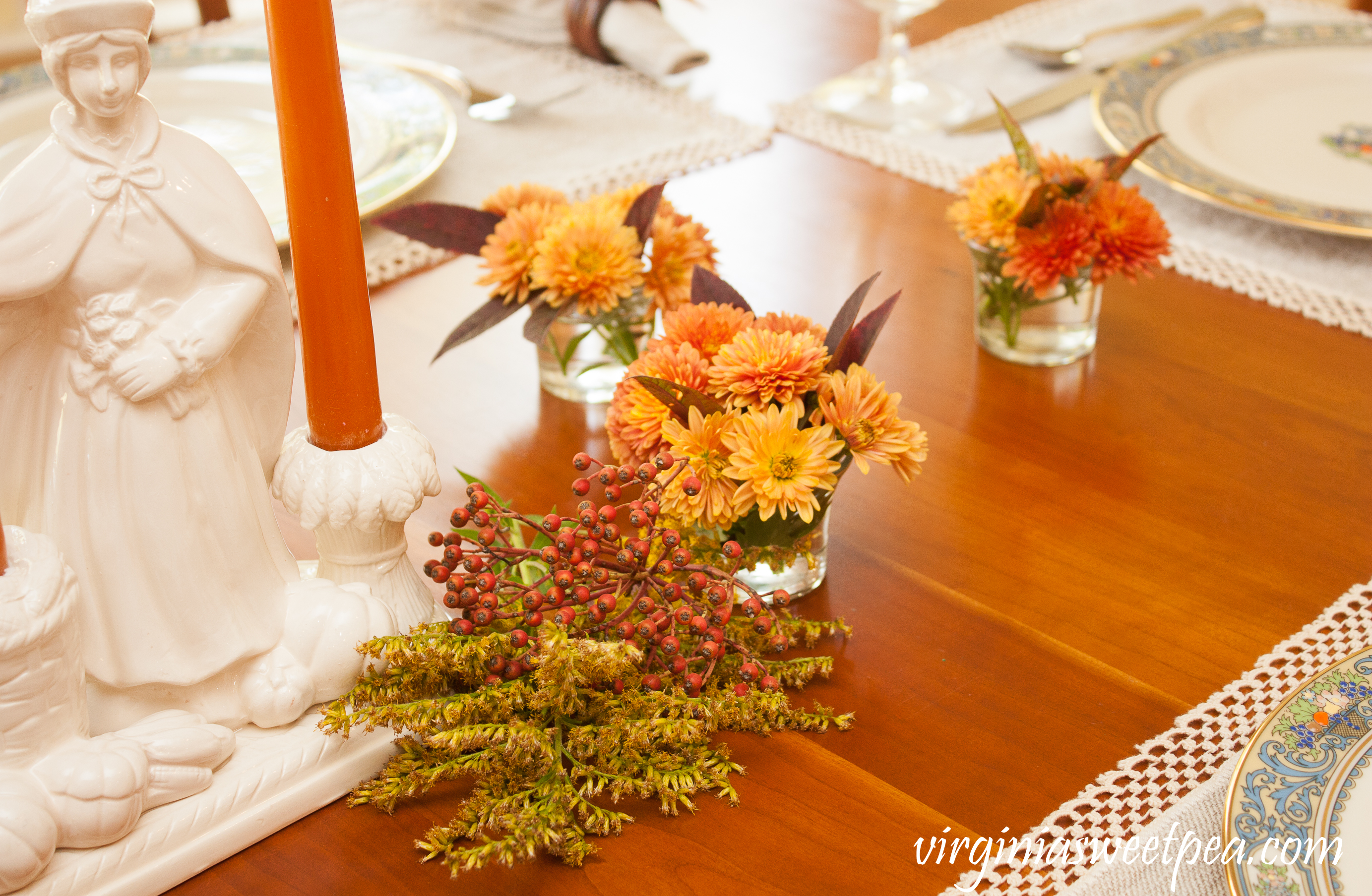 The blooms are all from the same plant. In some areas the blooms were a light rust color and in other area a dark yellow.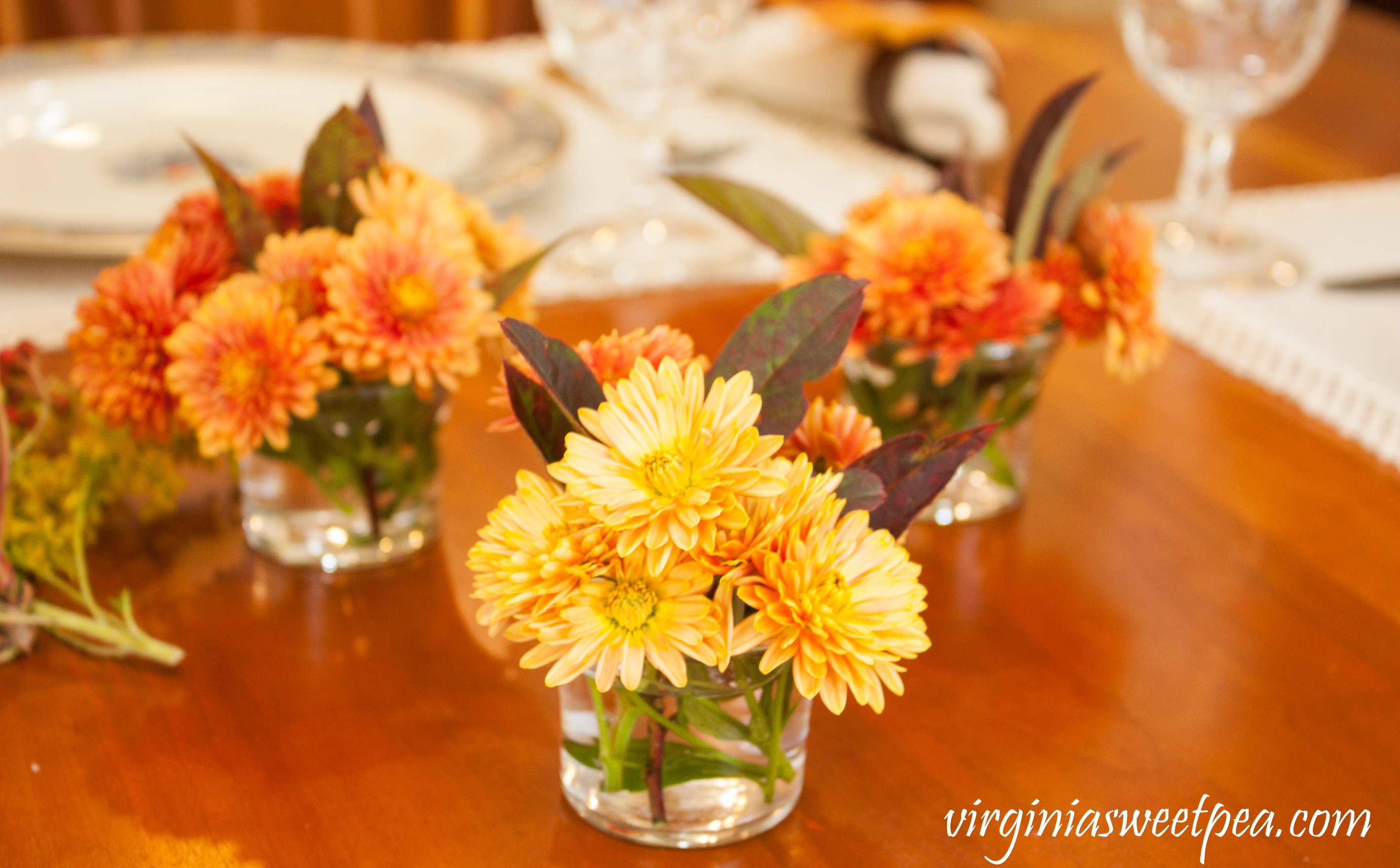 Don't think that you have to buy flowers for your table. A quick scan of your yard or the yards of your neighbors just might yield what you need to decorate your Thanksgiving table.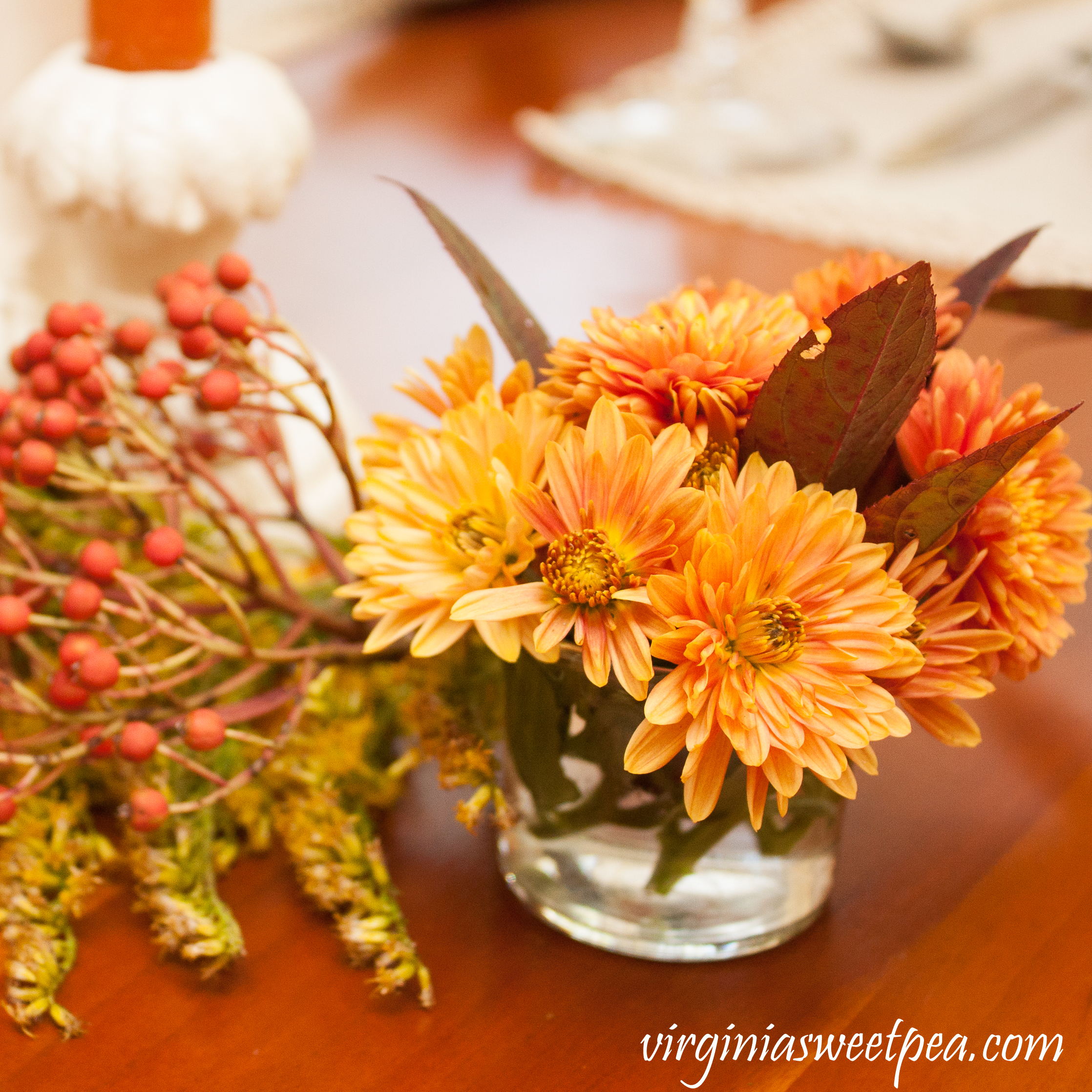 Share the Inspiration
I would love it if you would pin this post for others to enjoy.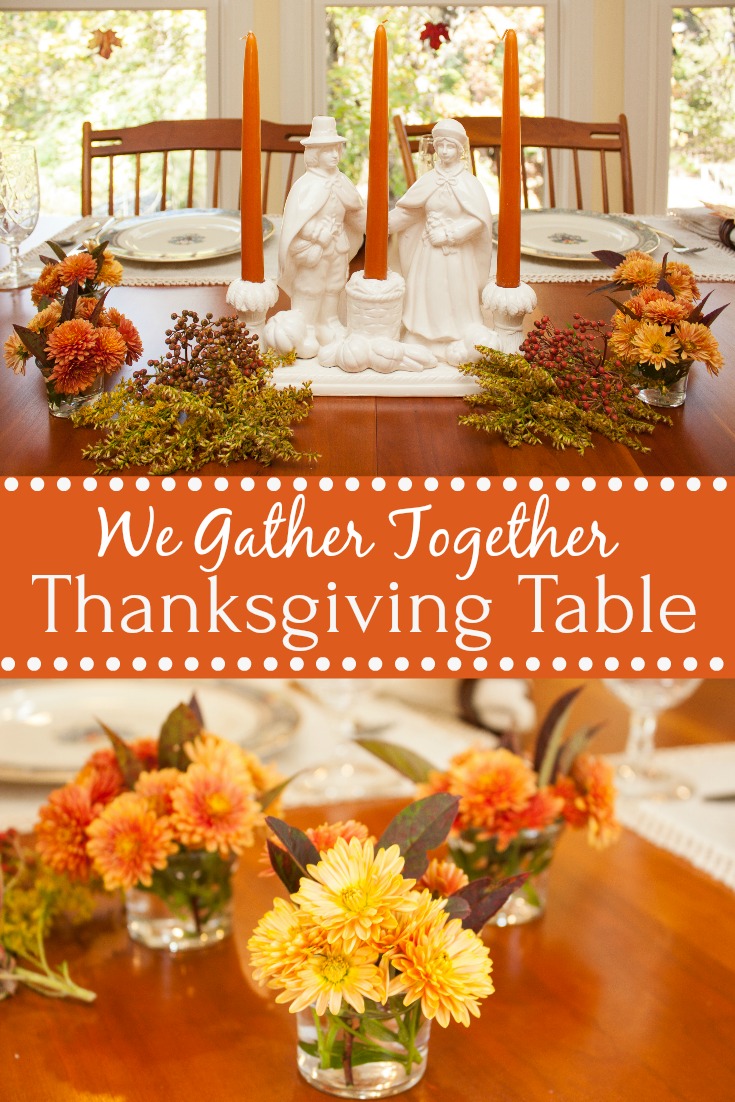 Enjoy more Thanksgiving Decorating Inspiration
Next on the tour is Debbee's Buzz.
Visit my friends below for more Thanksgiving decoration inspiration!