Vintage Fall Decor in the Family Room – Embracing the Imperfect
I've had my family room decorated for fall for quite a while but I haven't taken time to take any pictures. I like to take pictures of my decor to refer back to in future years when I can't figure out exactly how I want to decorate for the season.
My family room isn't a picture perfect room, but I've added touches of fall that we enjoy, and I'm going to share it even though it's neither perfectly decorated nor perfectly photographed. In fact, after I took pictures I realized that there's something imperfect in each one, so I'm embracing the imperfect and sharing it as is.
Fall in the Family Room
Our family room is filled with vintage pieces and most of them belonged to family members. I love vintage and so much enjoy using the things that I've inherited or collected in my decor.
End Table Fall Vignettes
Our living room has two sofas, one for me and one for my husband. There's also a leather chair that our dog lounges on in the evenings when we are relaxing after dinner. This fall vignette is on the end table to the right of "my" sofa. Both the lamp and end table were purchased by my mom and dad when they were married in 1968. I love that they've been used continuously either in Mama's home or mine for 50 years.
The small platter with a fall scene was an antique shop find years ago. The green bowl filled with corks was a thrift shop find. The candle holder is from Ikea and I painted it white and used an antiquing wax on it to give it an update. The pumpkin topped tin was my grandmother's.
Do you see the Vermont postcards behind the pumpkin? I'm hoping to soon share a recap of our recent Vermont leaf peeping trip. The leaves were at their peak when we were there and we so much enjoyed our trip.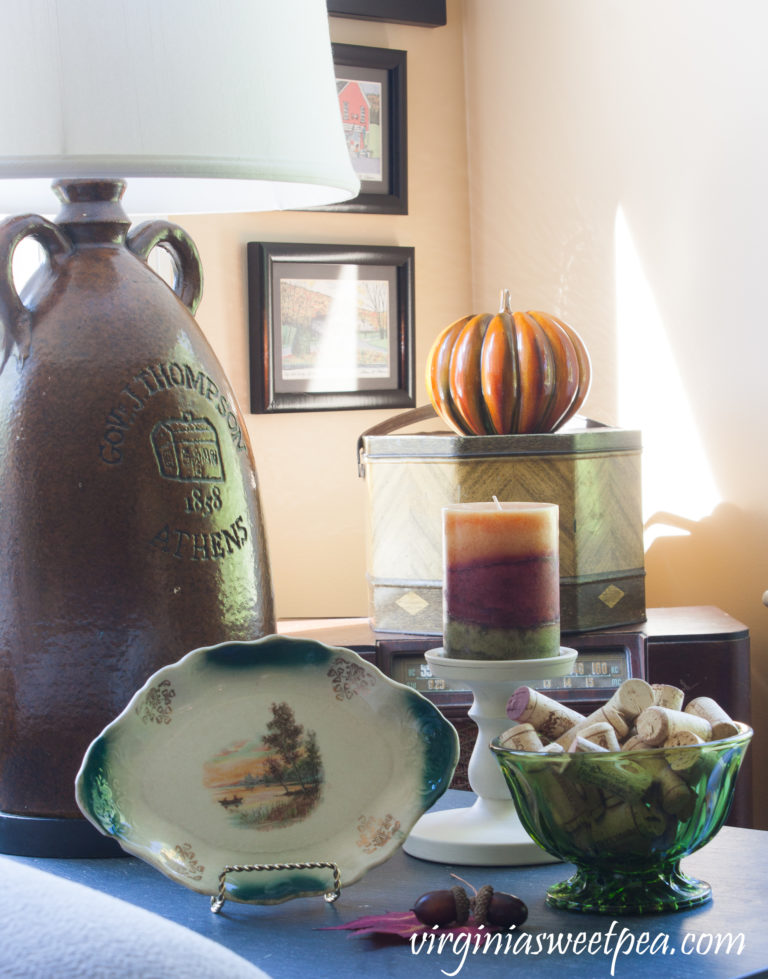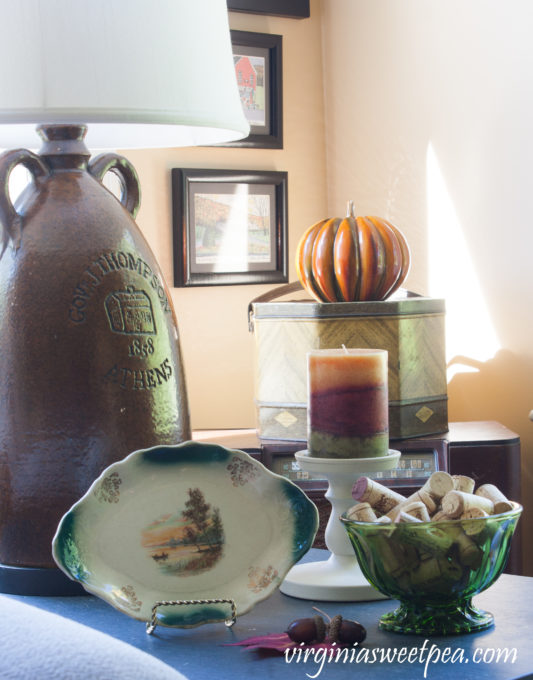 Embracing the Imperfect : No matter how I moved it, I couldn't get the fall platter positioned so that the graphic was straight.
I picked up this red maple leaf when we were in Vermont and pressed and dried it in between pages of a library book that I brought with me. I hope that it will keep its color.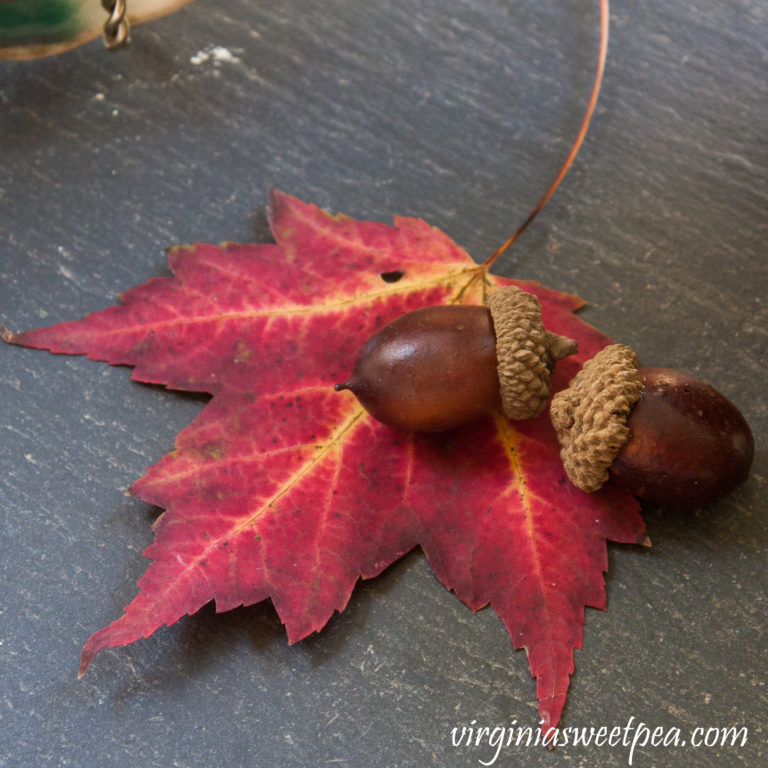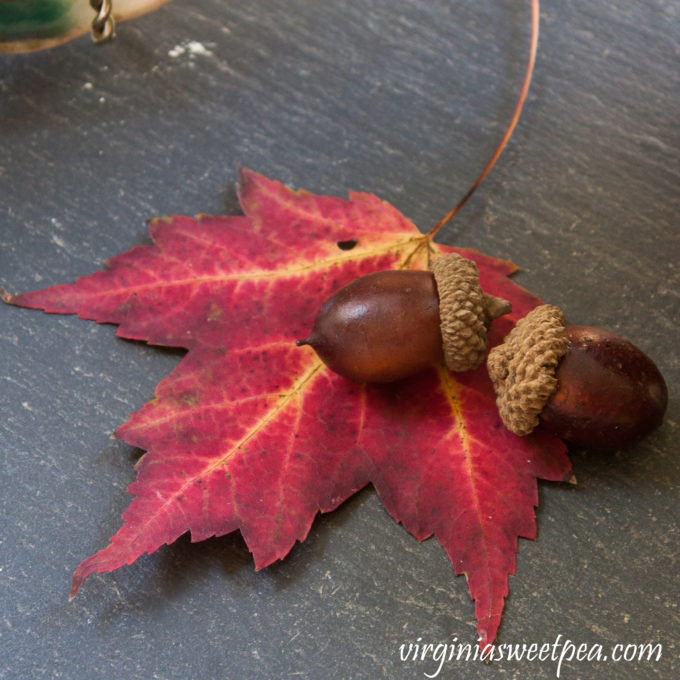 The end table to the left of "my" sofa hold another fall vignette. My grandmother pressed the leaf and made a card with it when she lived in a retirement home. The gold Maple leaf is from Vermont and was a gift from my husband. I found the green vase at Goodwill and filled it with Sweet Gum seed pods.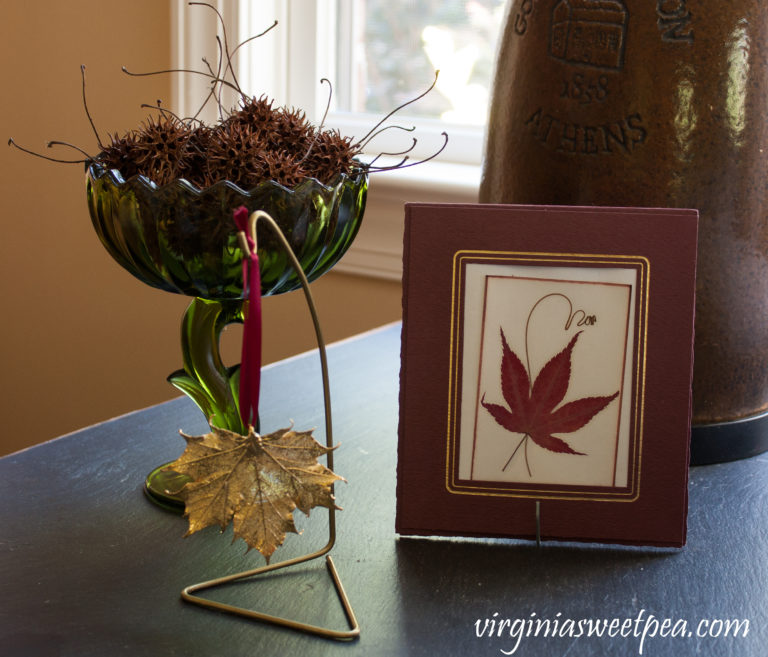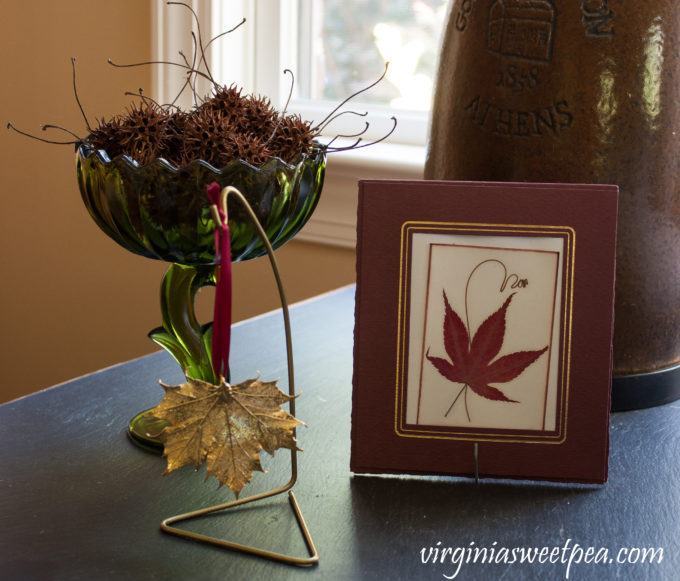 Embracing the Imperfect: I didn't realize that the card had slipped in the holder and was crooked.
Here you can see the coffee table that matches the end tables. I spend many hours sitting under this coffee table playing cards, doing puzzles, coloring, and eating when I was growing up. A wooden bowl that belonged to my grandmother filled with dried gourds is this table's fall decor.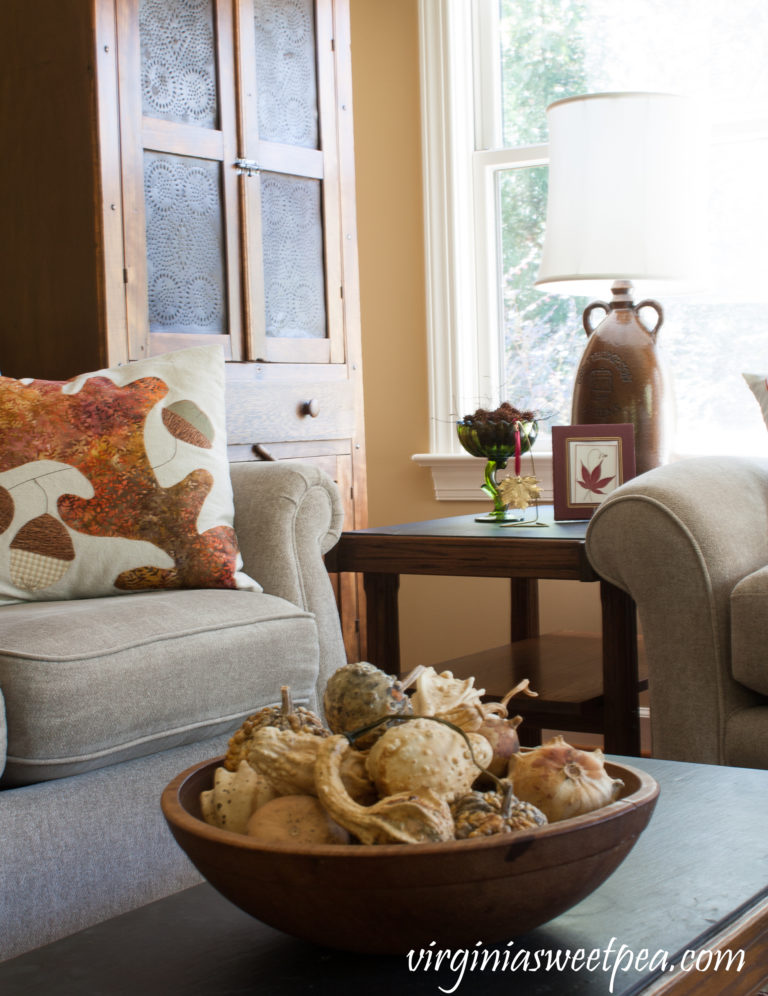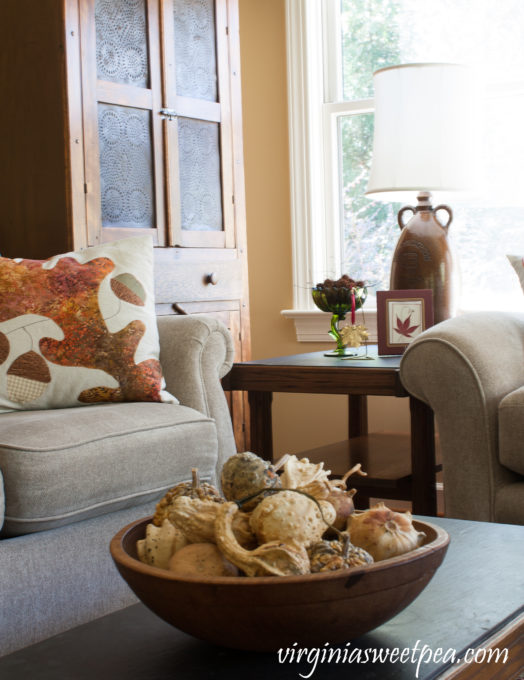 More Family Room Fall Decor
This is the chair that Sherman has claimed as his own. If my husband sits in it, Sherman gives him the stink eye until my husband moves. The pillow is from Emory Valley Mercantile and the plaid blanket scarf is an Amazon find.
The table to the left of my husband's sofa holds a few fall items that you may recognize from my Vintage Lake House – Thrift the Look Challenge.
The framed sheet music is WWI vintage and belonged to a relative. My grandfather had the cherry pie safe made using wood that he harvested on the family farm.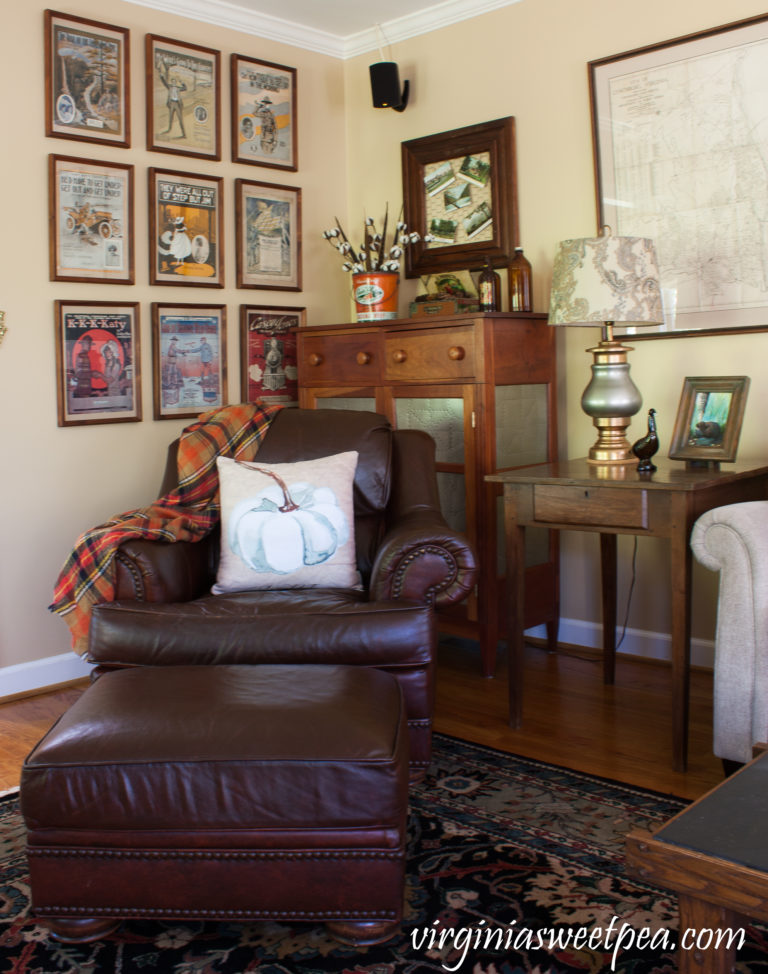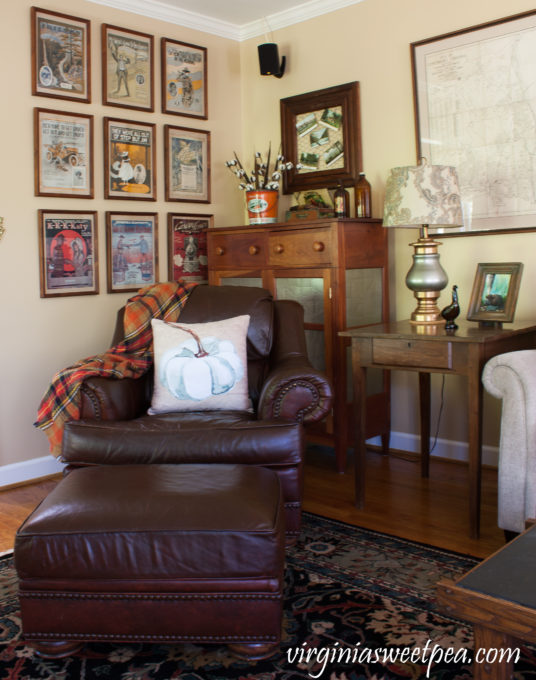 Embracing the Imperfect: I took one picture at this angle thinking that surely it would be good. It's not that great and note that the cigar box lid is partly closed.
I love the storage that this pie safe offers. I keep my cookbooks in it as well as my Christmas china. Over the pie safe hangs a frame made with wood from the schoolhouse that my grandfather attended as a child. Read more about the schoolhouse and see close-up pictures of the vintage Lynchburg postcards hanging on the chicken wire here.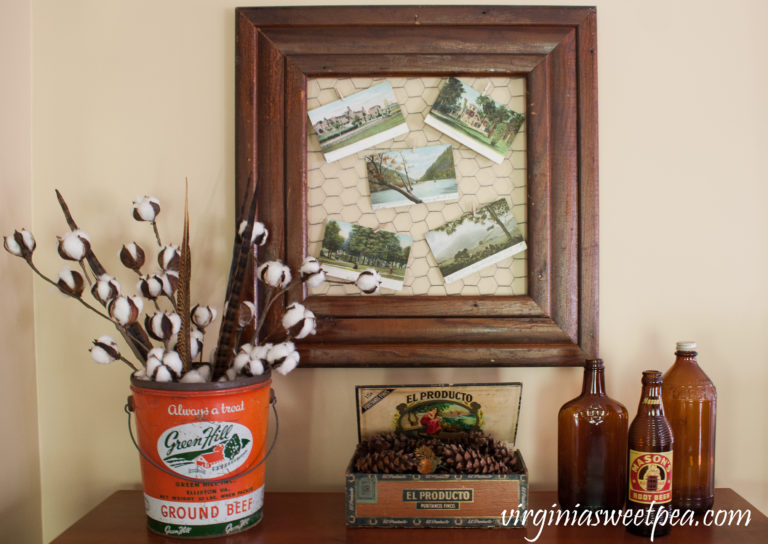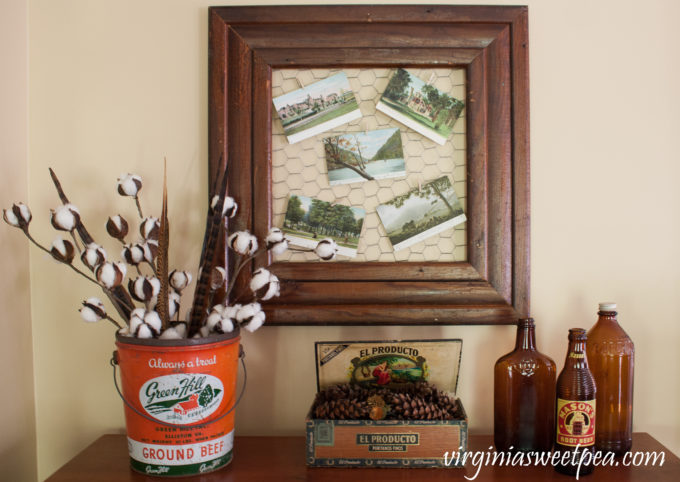 Embracing the Imperfect: The cigar box lid is still partially closed.
Can you picture ground beef being purchased in a bucket? Apparently it used to come this way. I filled the bucket with cotton stems and pheasant feathers.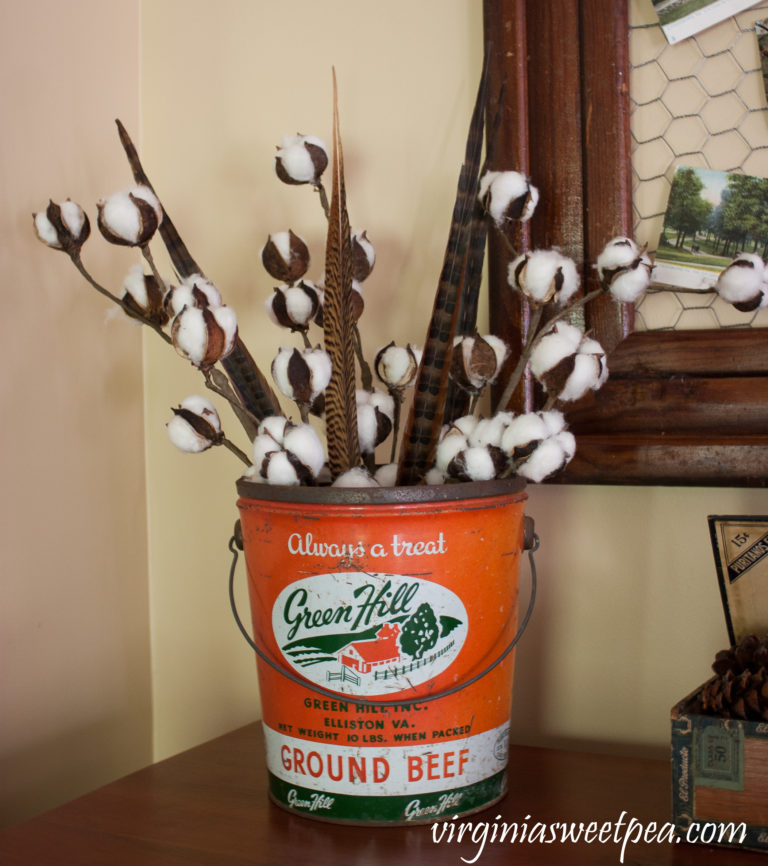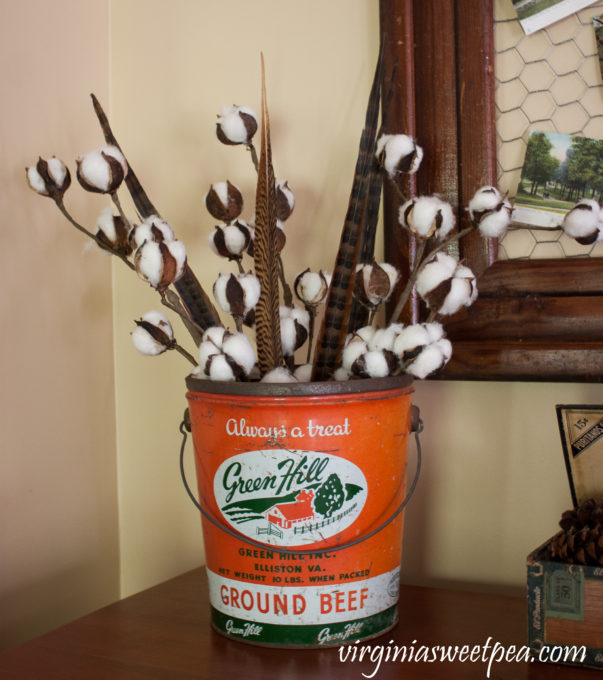 My mom gave me this cigar box. I'm not sure who it belonged to but it appears to be quite old.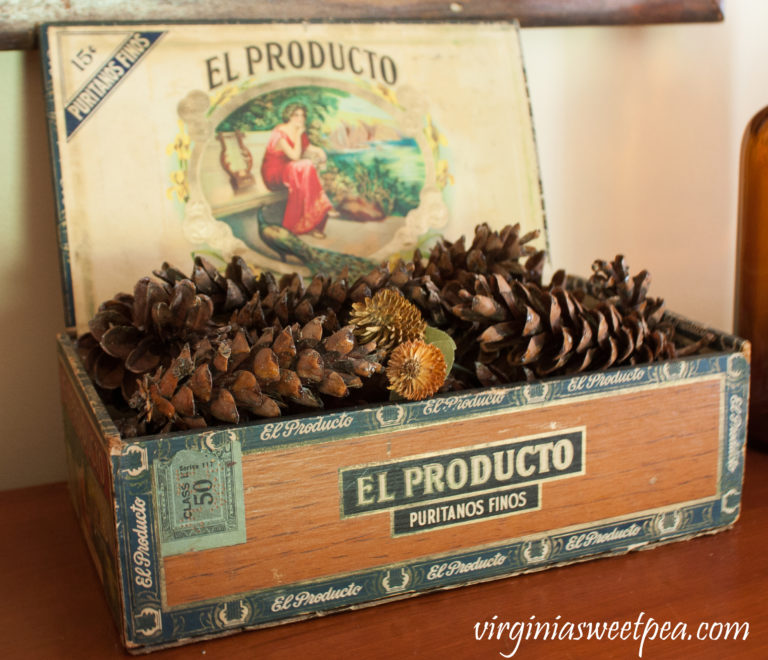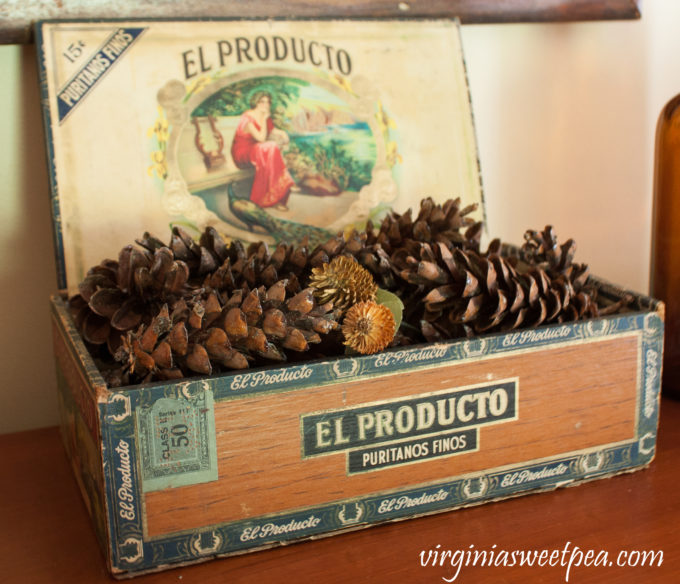 Fall Cloche
This cloche is in my dining room and it looks much better in person than it does in my picture. The wheelbarrow is Byer's Choice and I purchased it long ago in a gift shop in Vermont. (This one is similar.) The leaves in Vermont this year didn't look like this postcard but they were very pretty.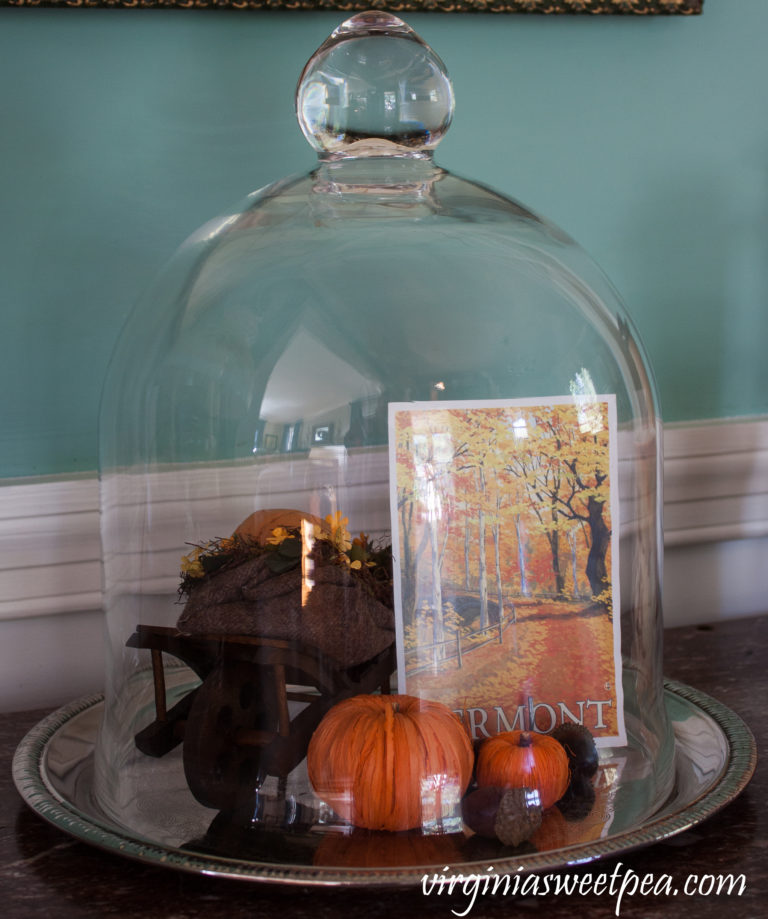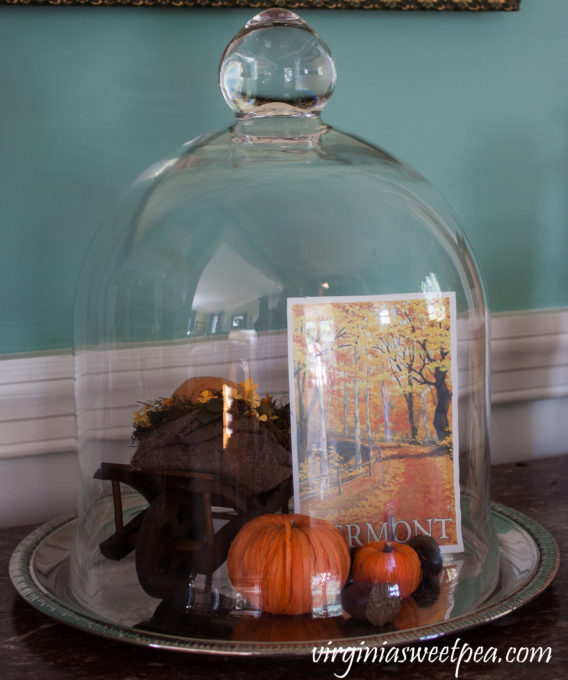 Embracing the Imperfect: I don't have the photography skills to photograph a glass cloche. Photographing glass must be an art.
Embracing the Imperfect
It's sometimes hard to get caught in the comparison game when we scroll through blogs, Instagram or Facebook. My decor isn't perfect and it's definitely filled with imperfections, but it makes me happy and that's what is important at the end of the day.
I hope you've enjoyed seeing some of my vintage things and that maybe I've given you an idea or two for your fall decor.
I would love it if you would pin an image or two from this post for others to discover.