Fall in Vermont – A Leaf Peeping Trip
We enjoyed a wonderful leaf peeping vacation in Vermont at the beginning of October and I thought I'd share the details of our trip.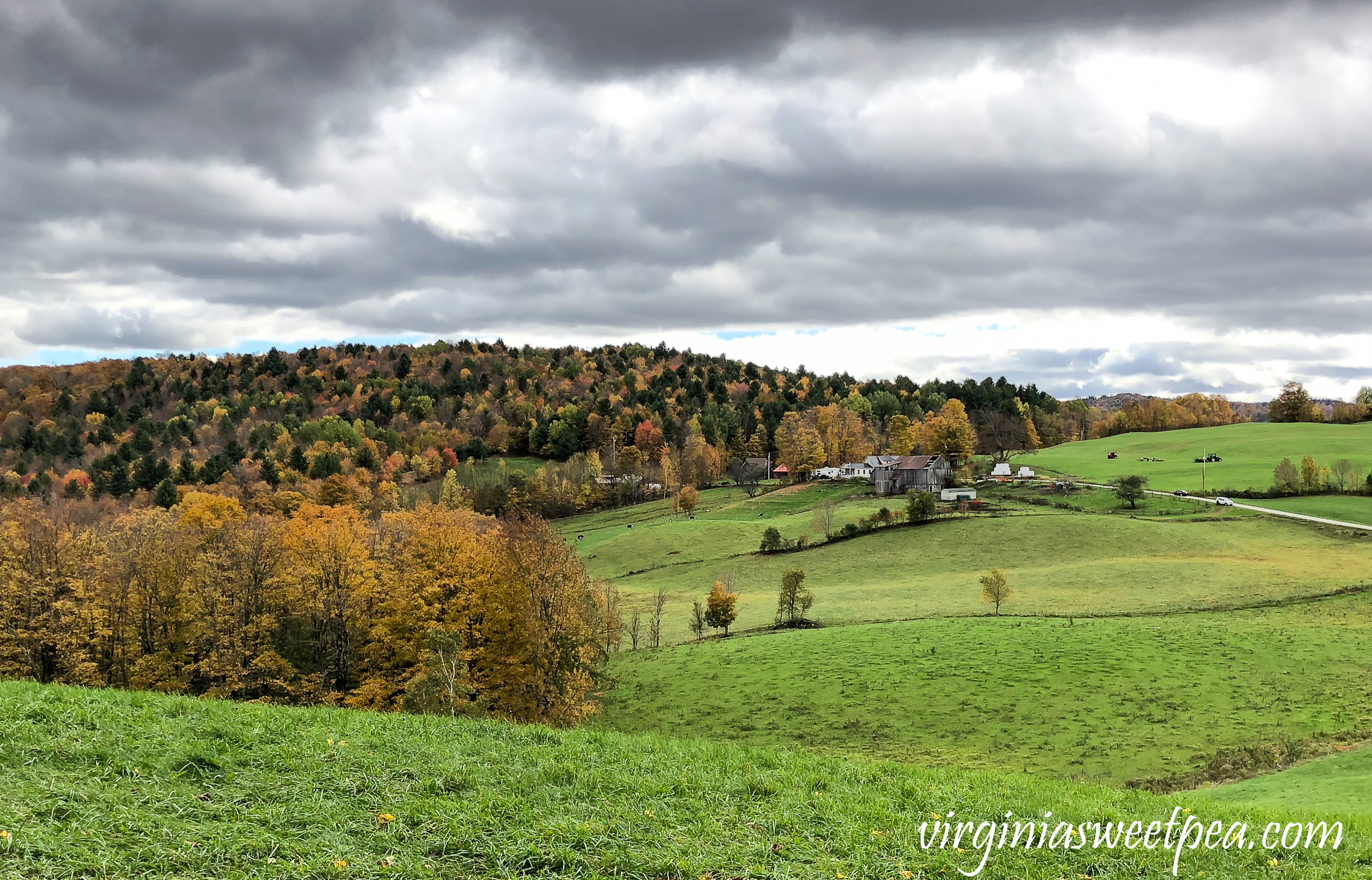 Many people dream of visiting New England in fall and I can tell you that it is a trip worth taking. The fall foliage is so pretty and you can't beat the charm of a New England town. We've been vacationing in Vermont since our honeymoon and have been there in every season except spring. We've now taken two fall trips to Vermont and both were fantastic. If you've dreamed of a fall leaf peeping trip, I highly recommend Vermont.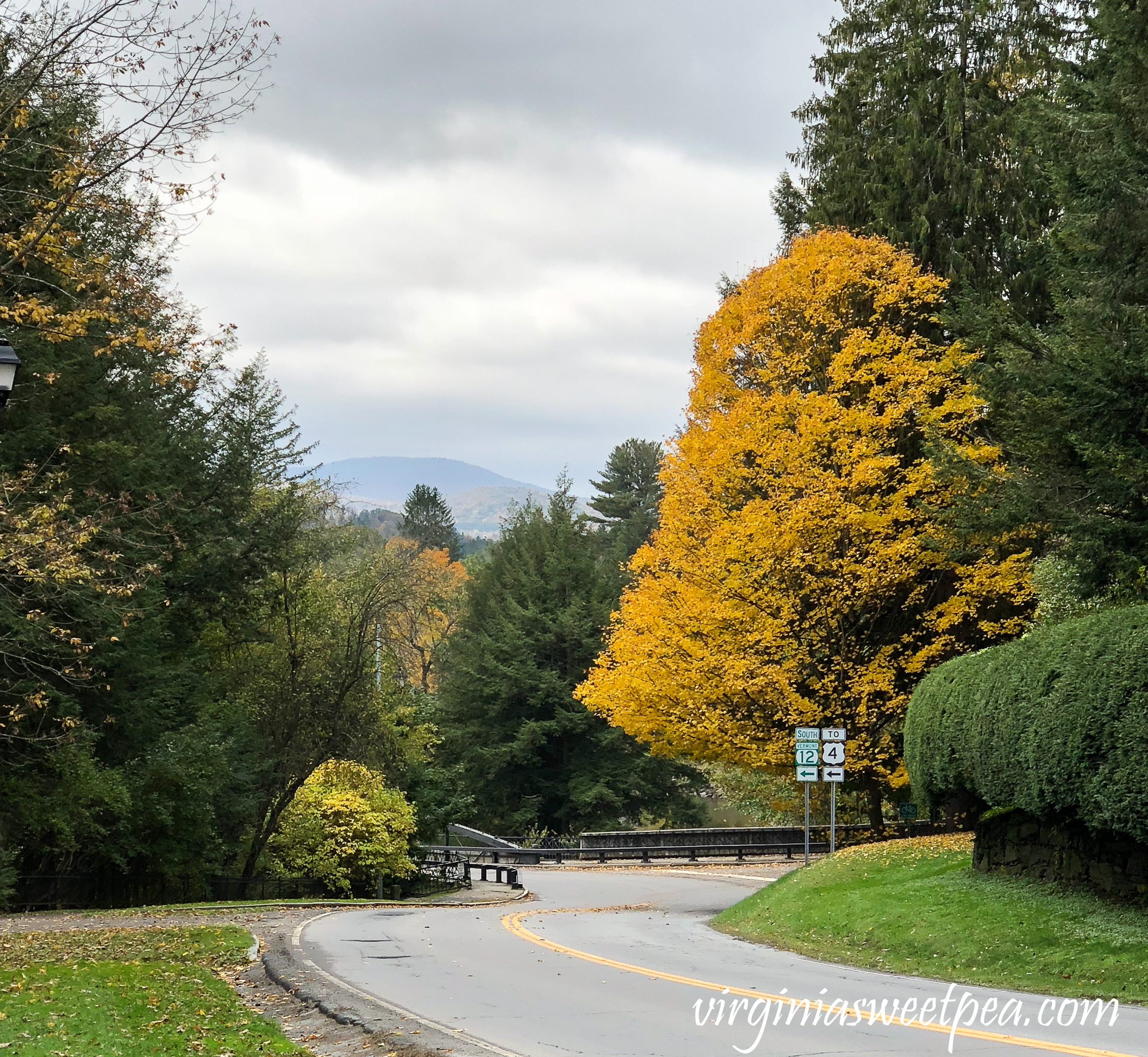 Leaf Peeping in Vermont
Our leaf peeping Vermont trip started over Columbus Day weekend which is traditionally the peak of foliage in Vermont. We had mostly cloudy days and a few rainy days which made the leaves less brilliant to view but they were still beautiful. On the few sunny days that we had, they were spectacular!
Where We Stayed
Our favorite spot in Vermont is the town of Woodstock. Last year on our fall trip we stayed in Woodstock for a few days and then moved on to Burlington. Since we love Woodstock so much, this year we spent all of our vacation in Woodstock at the elegant The Woodstock Inn.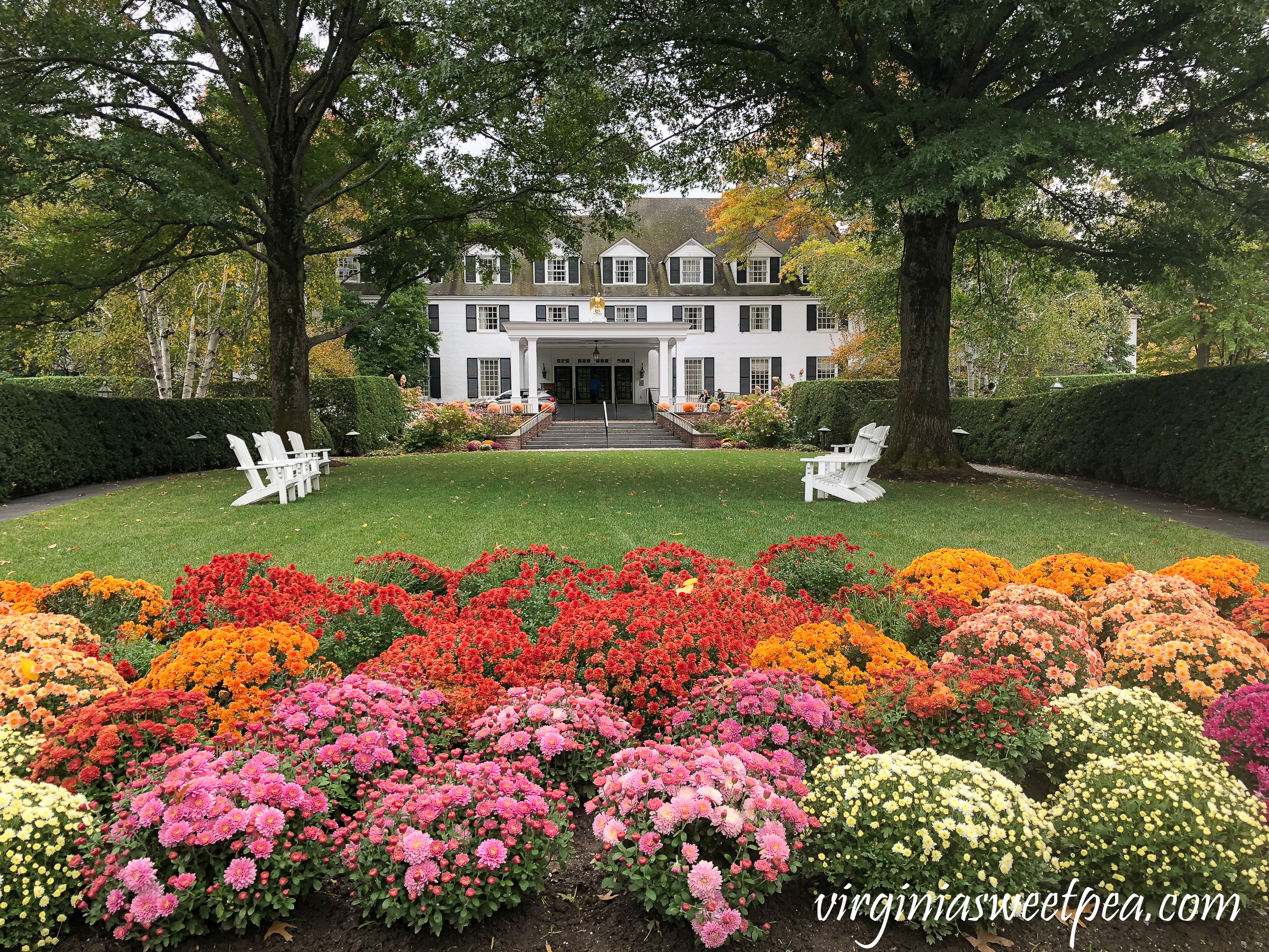 We've enjoyed stays at the The Woodstock Inn for many years and it's always a pleasure to stay there. We travel with our dog and The Woodstock Inn has a section of rooms that are dog friendly. Sherman is welcome anywhere in the inn other than the restaurants. I think that he enjoys staying there as much as we do!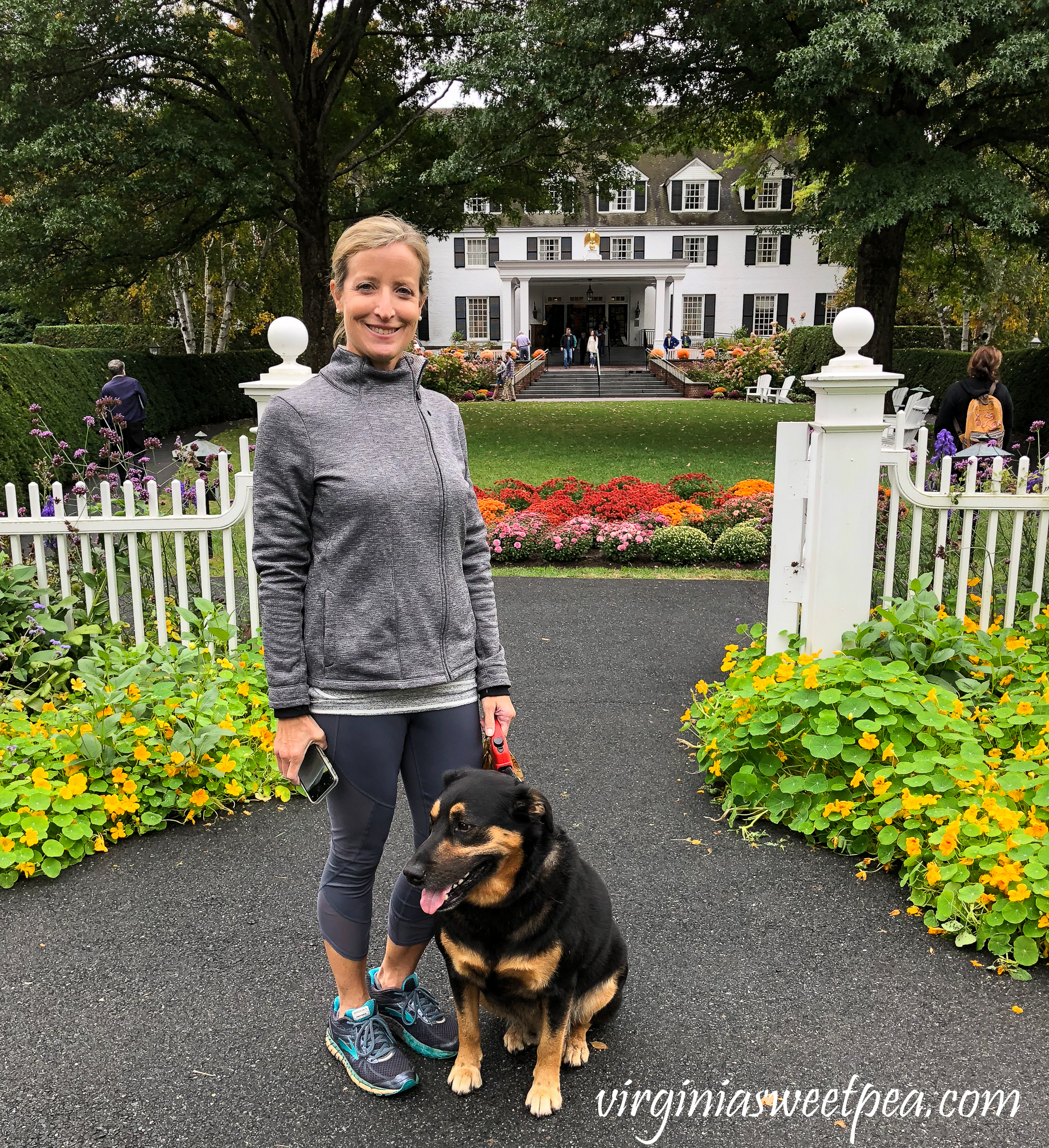 Enjoying The Woodstock Inn
Not only are the rooms at The Woodstock Inn wonderful to enjoy, so are the public areas. Our favorite part of the inn is the huge fireplace in the lobby surrounded by comfortable chairs. We enjoyed coffee here every morning and sat by the fire each night.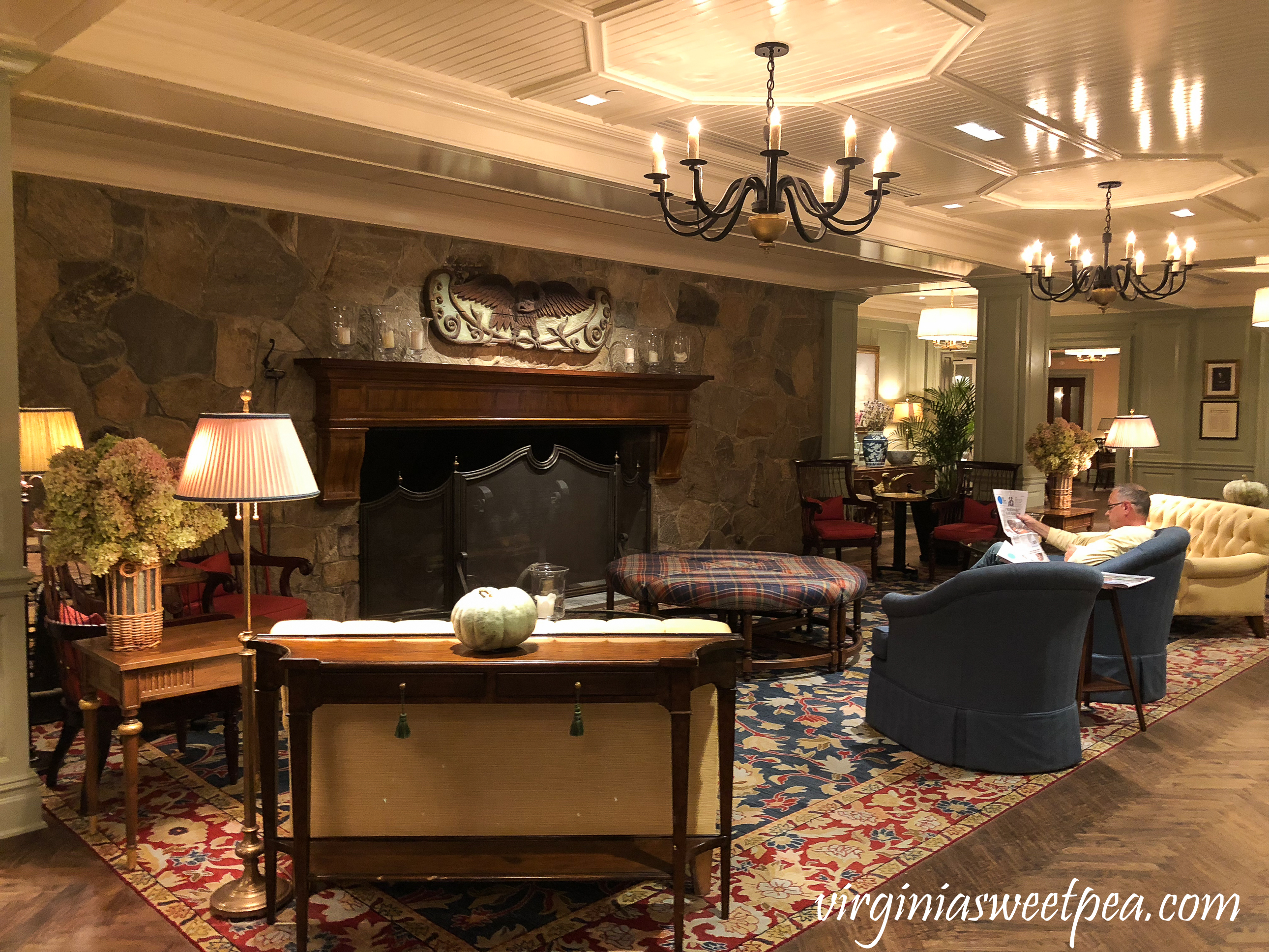 Having Sherman travel with us is definitely a conversation starter. If you are sitting alone, people rarely talk to you. If you sit with a dog, almost everyone will stop to chat. You can see that Sherman enjoyed his Woodstock Inn stay.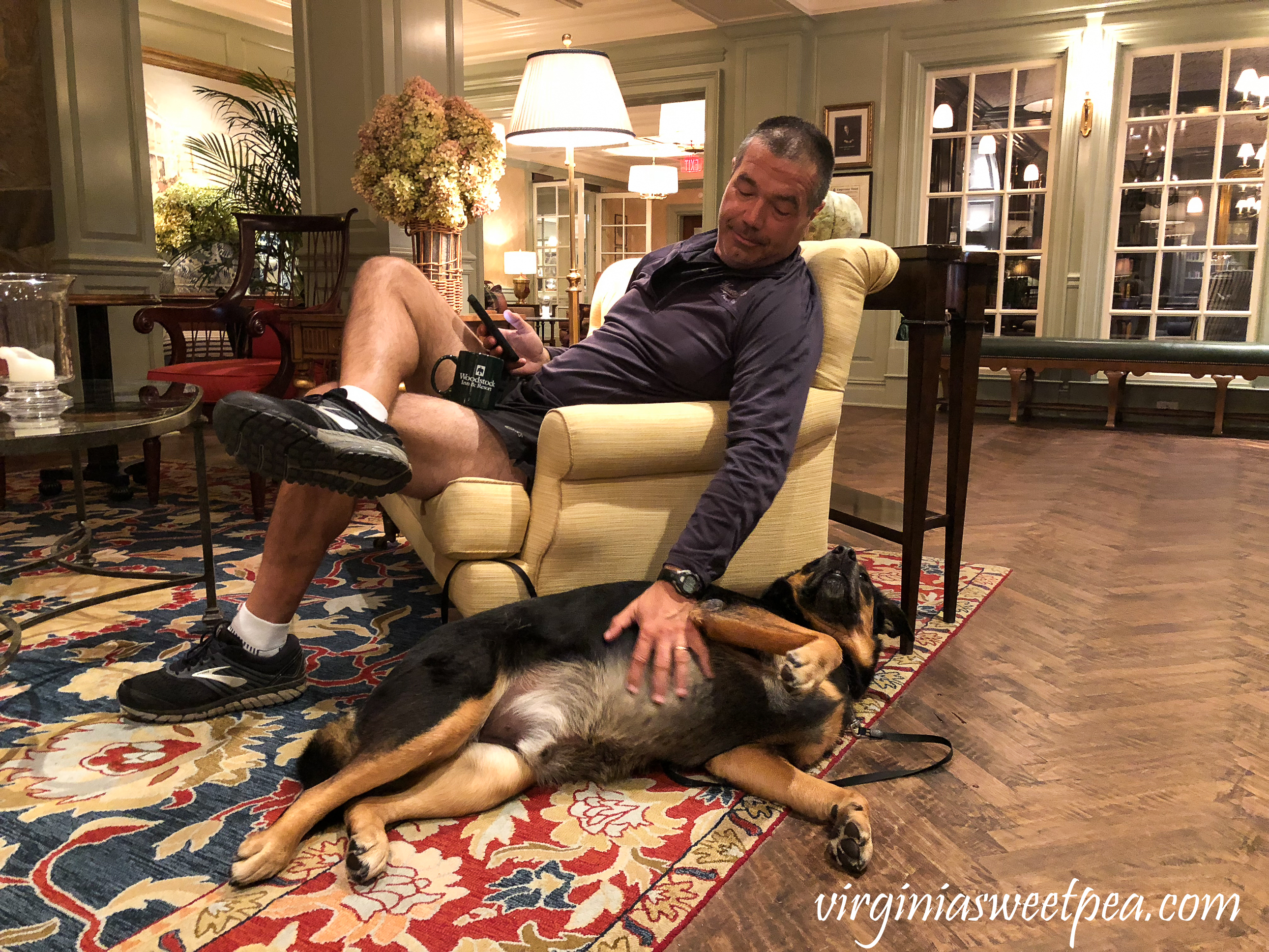 If you travel to Woodstock and are not staying at The Woodstock Inn, you can still come in to enjoy the beautiful lobby and enjoy a meal at one of the restaurants. I took these pictures early in the morning before the lobby became filled with hotel guests and visitors to the inn.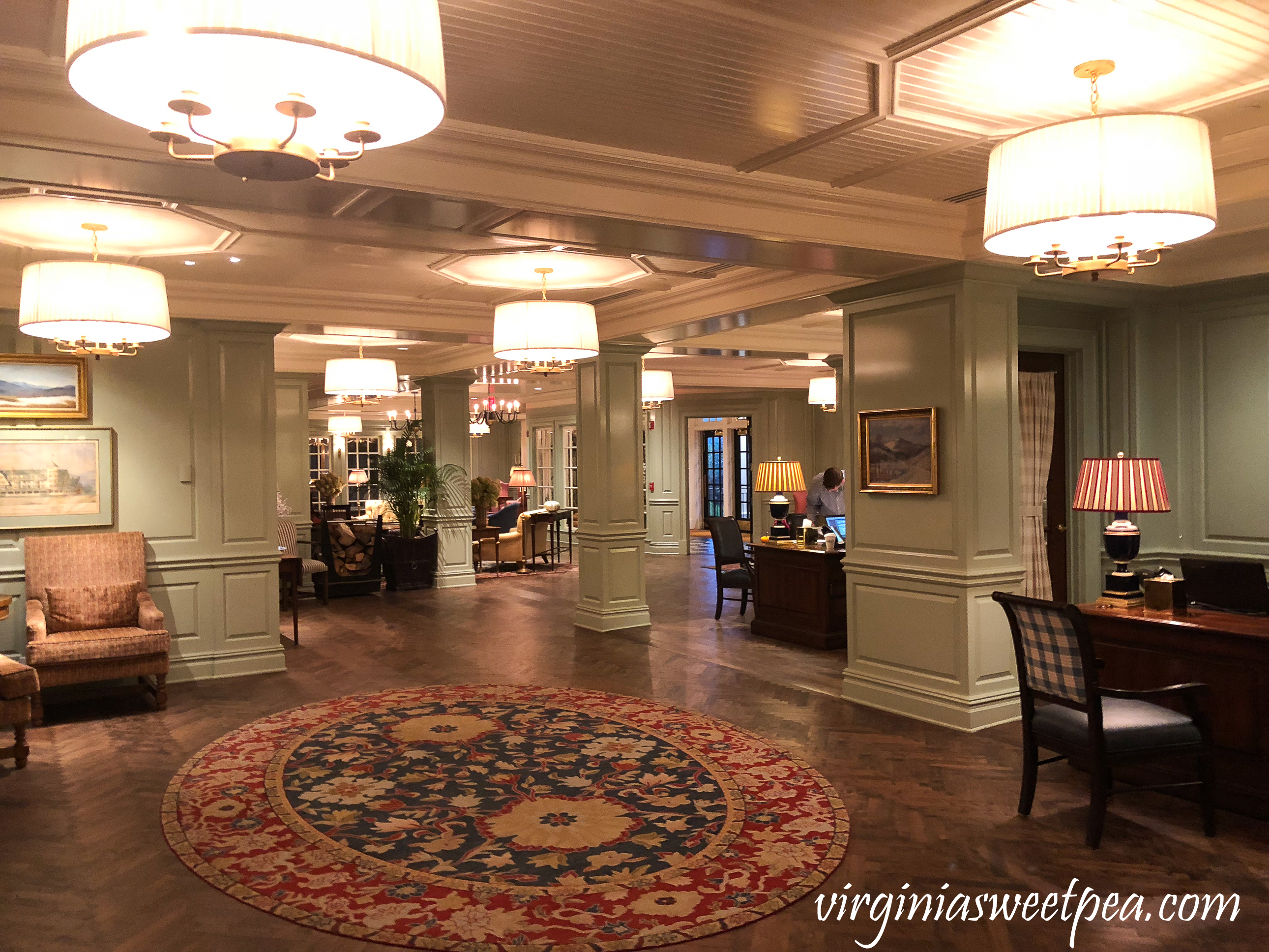 Here is another seating area in the lobby.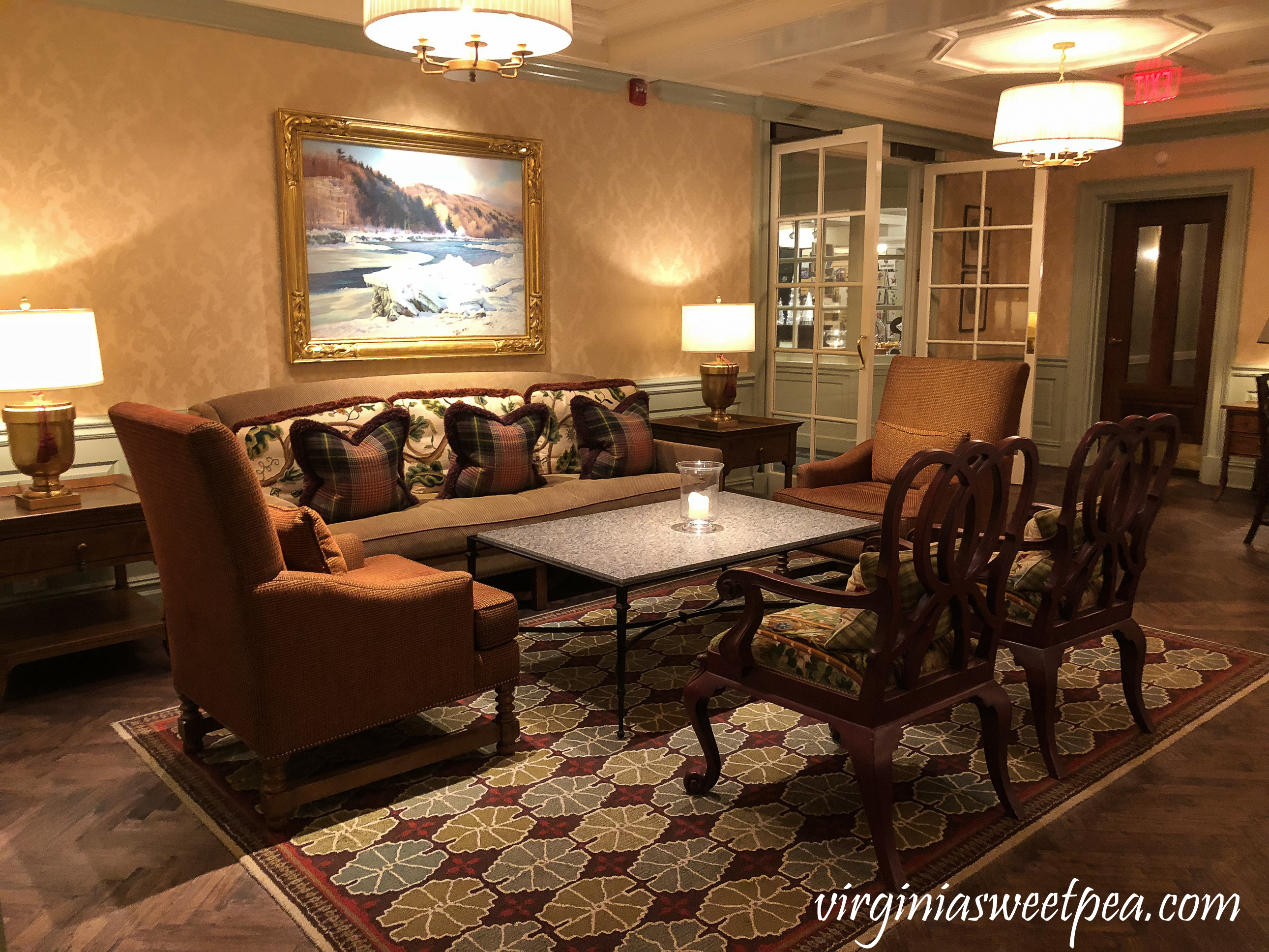 In the evenings we enjoyed spending time in the library either before or after dinner.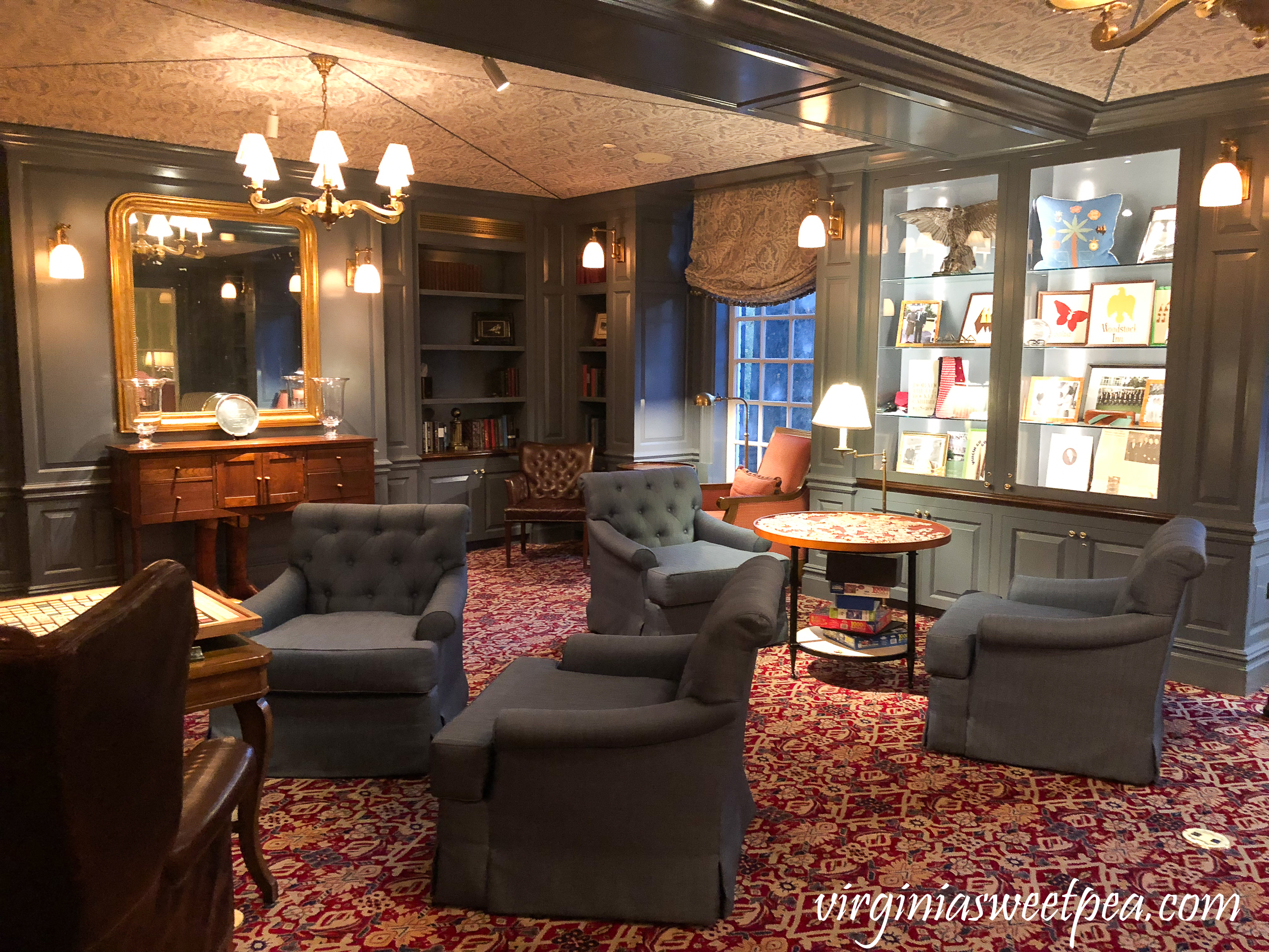 Fall decor was everywhere in Vermont. This display was in the hotel's entry. You can see the fireplace that we love through the window.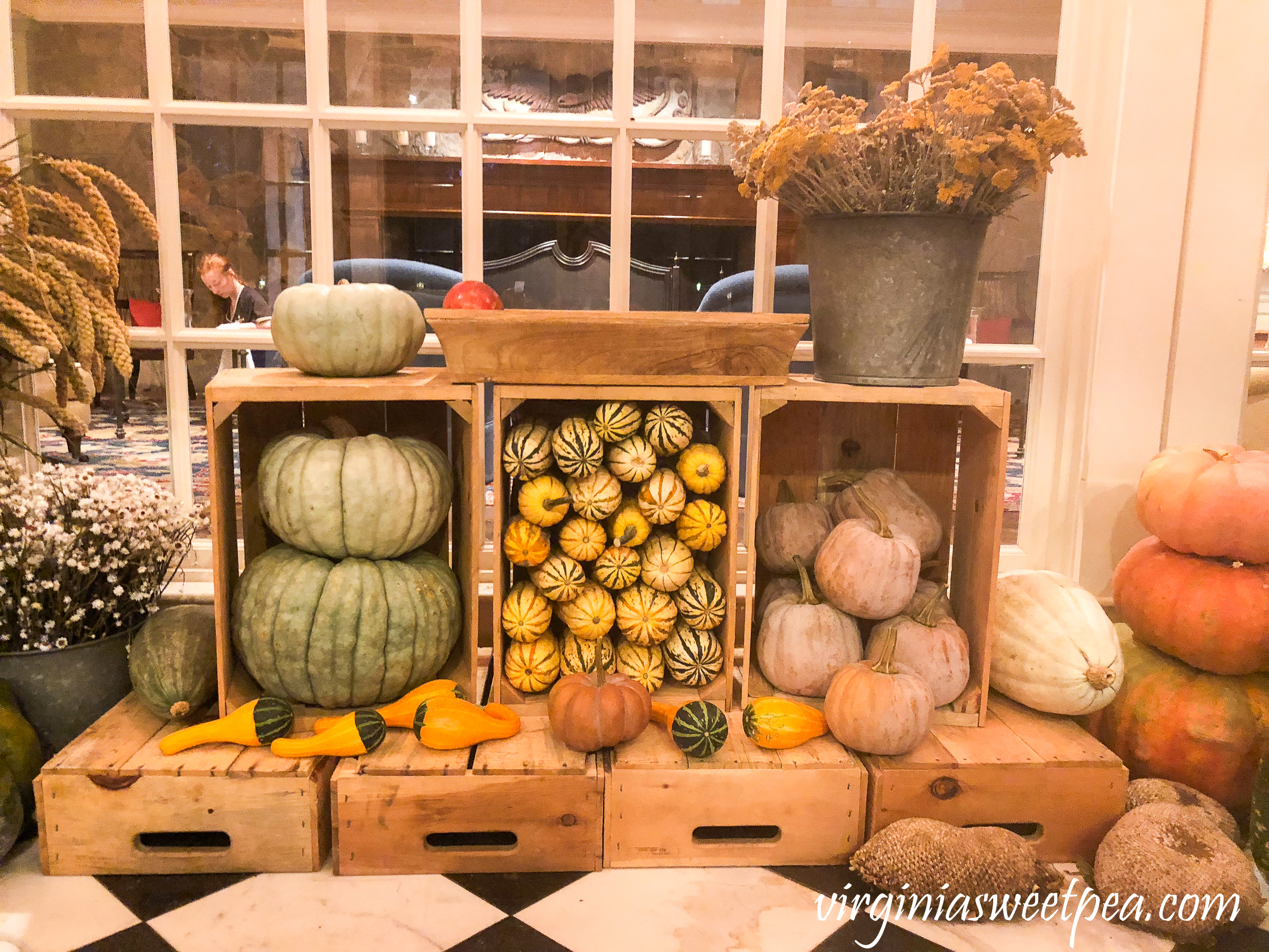 Walls in front of the inn were lined with pumpkins.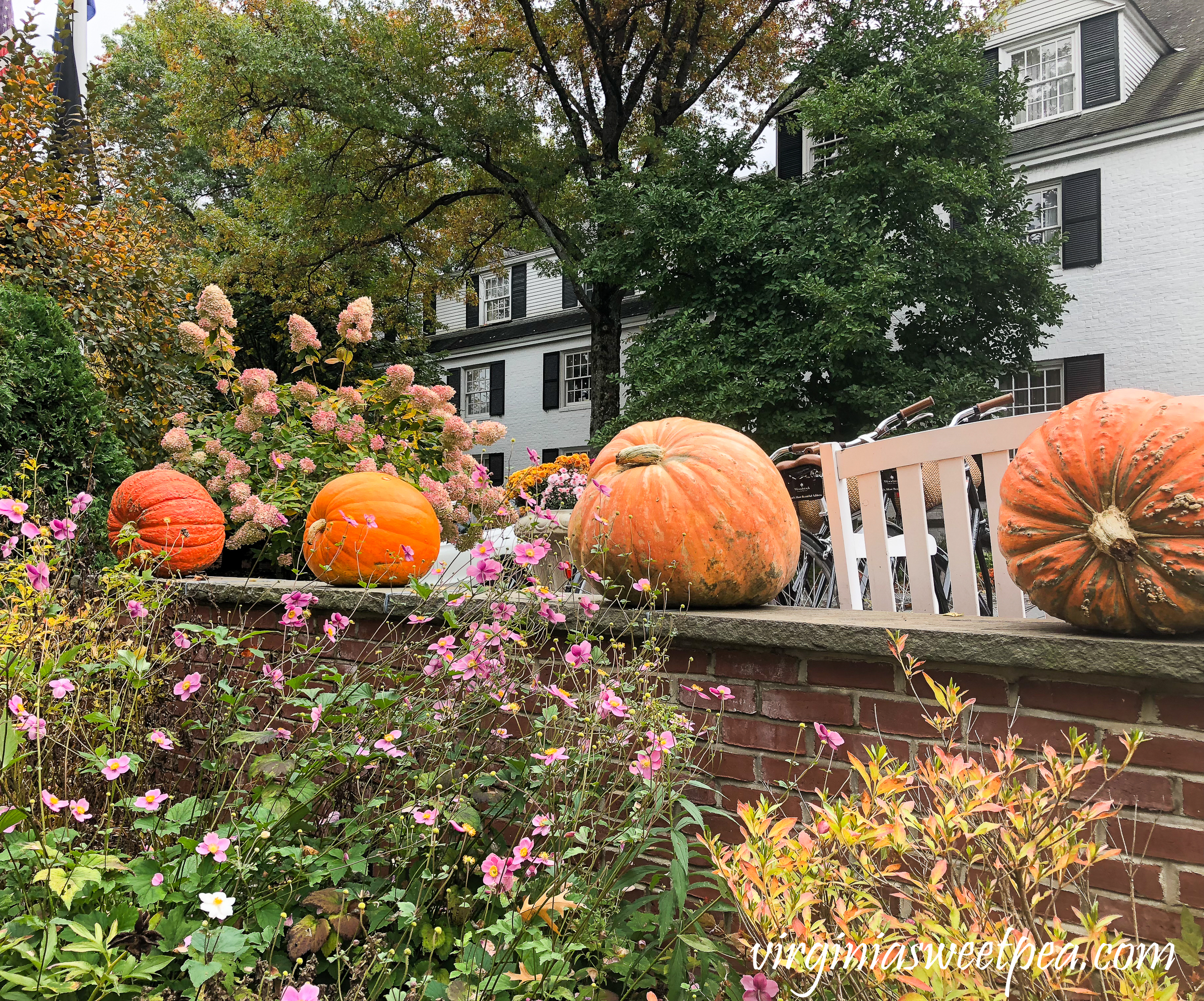 You can't see them in the picture, but beside the pumpkins are parked bikes that inn guests can use to tour the town. I think that is a fun service to offer.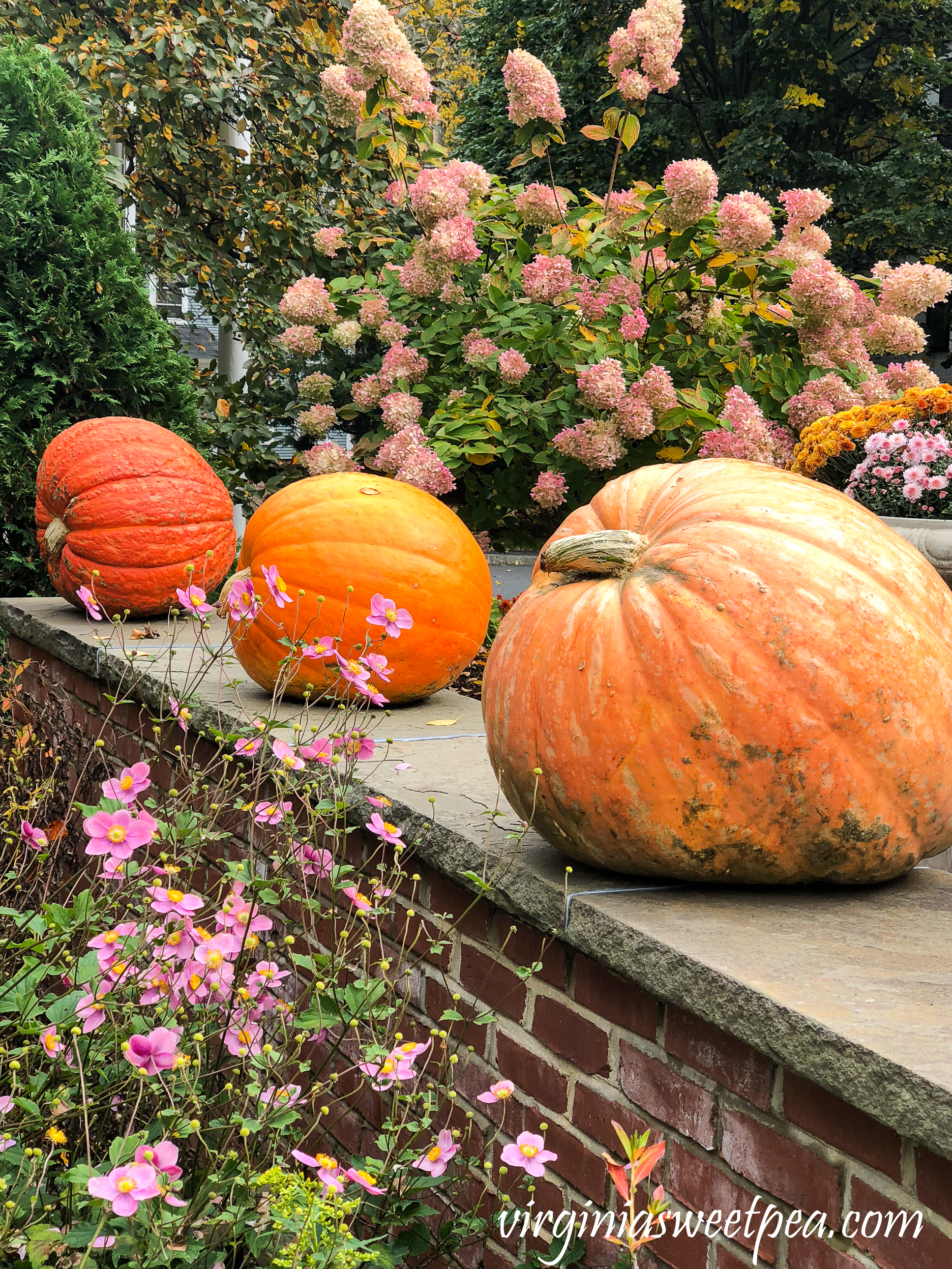 Hiking in Woodstock
Since we had Sherman with us on our trip, we spent every morning hiking in Woodstock. Most days we hiked on Mount Tom which is filled with old carriage roads and hiking trails that are beautiful to enjoy.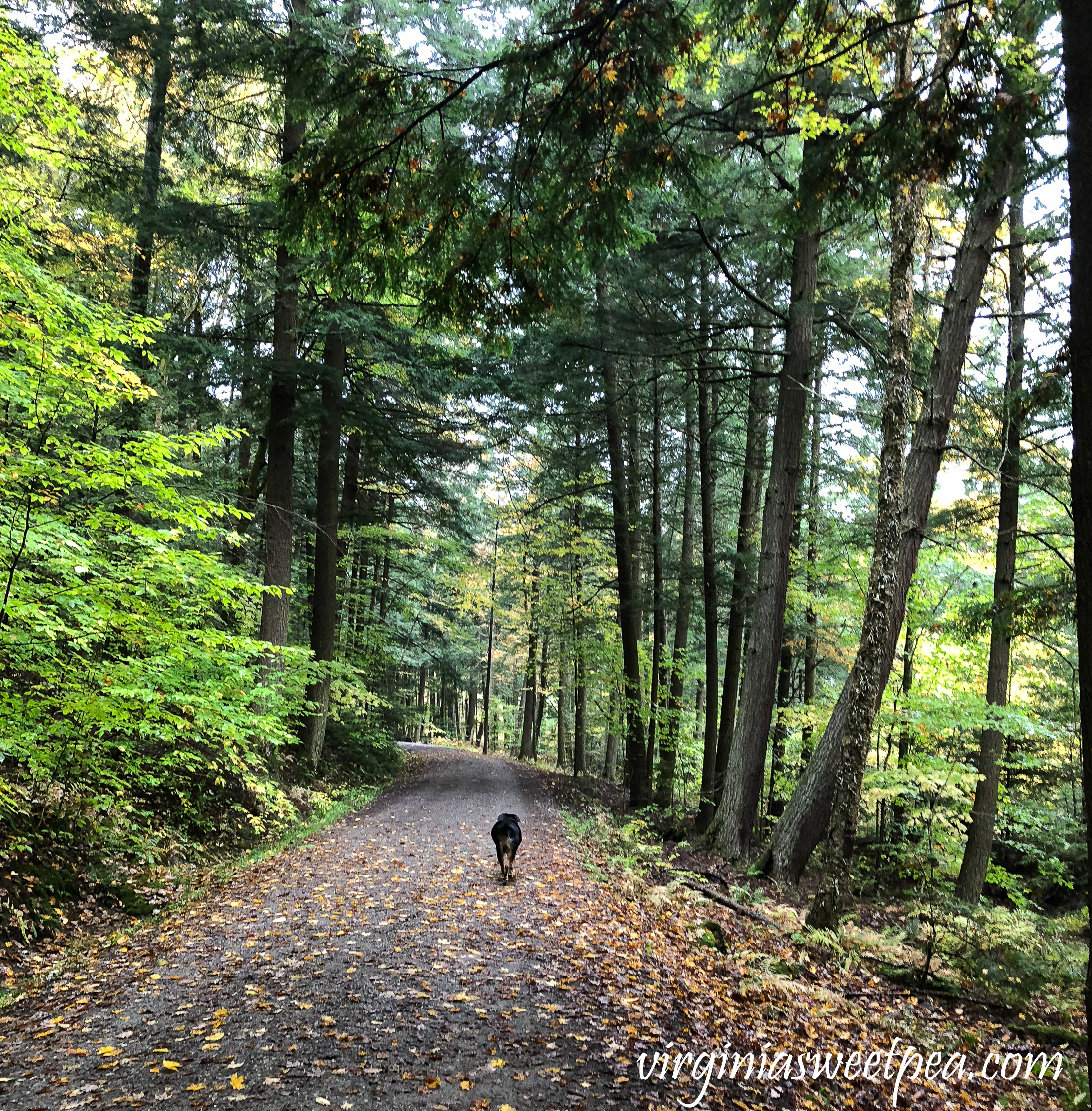 Sherman got his picture taken countless times on those trails!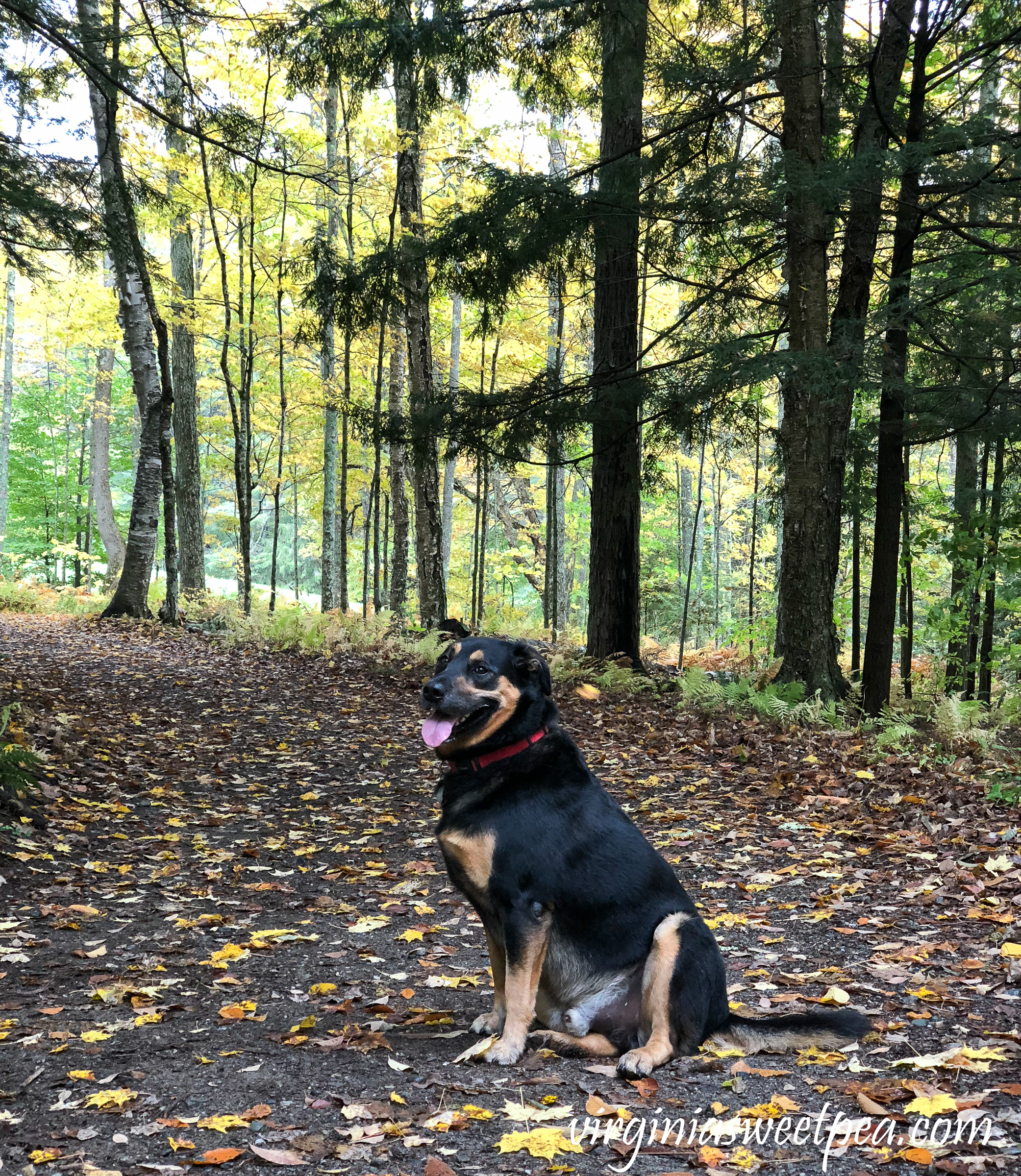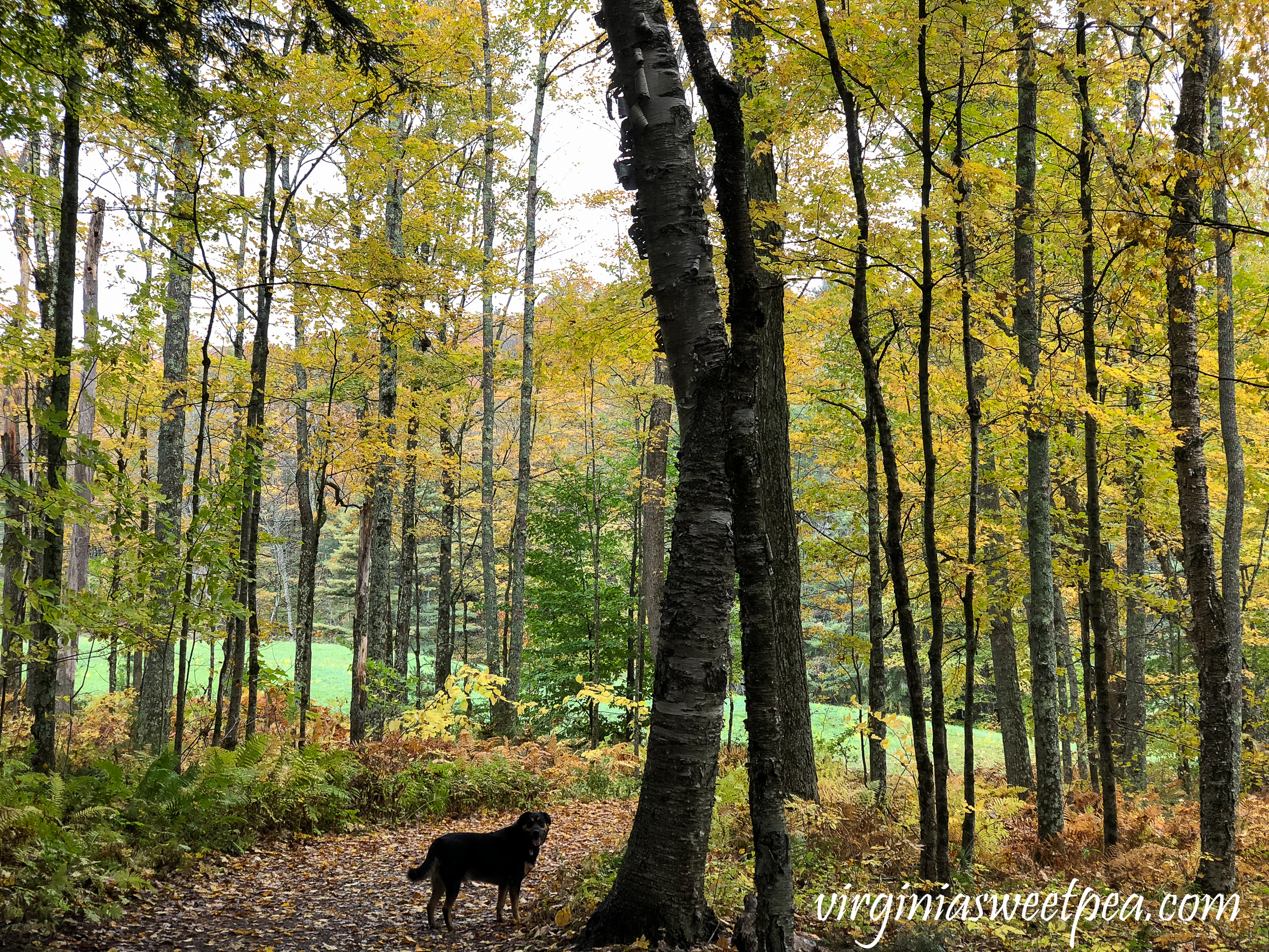 We especially enjoyed hiking around this pond that is on Mount Tom.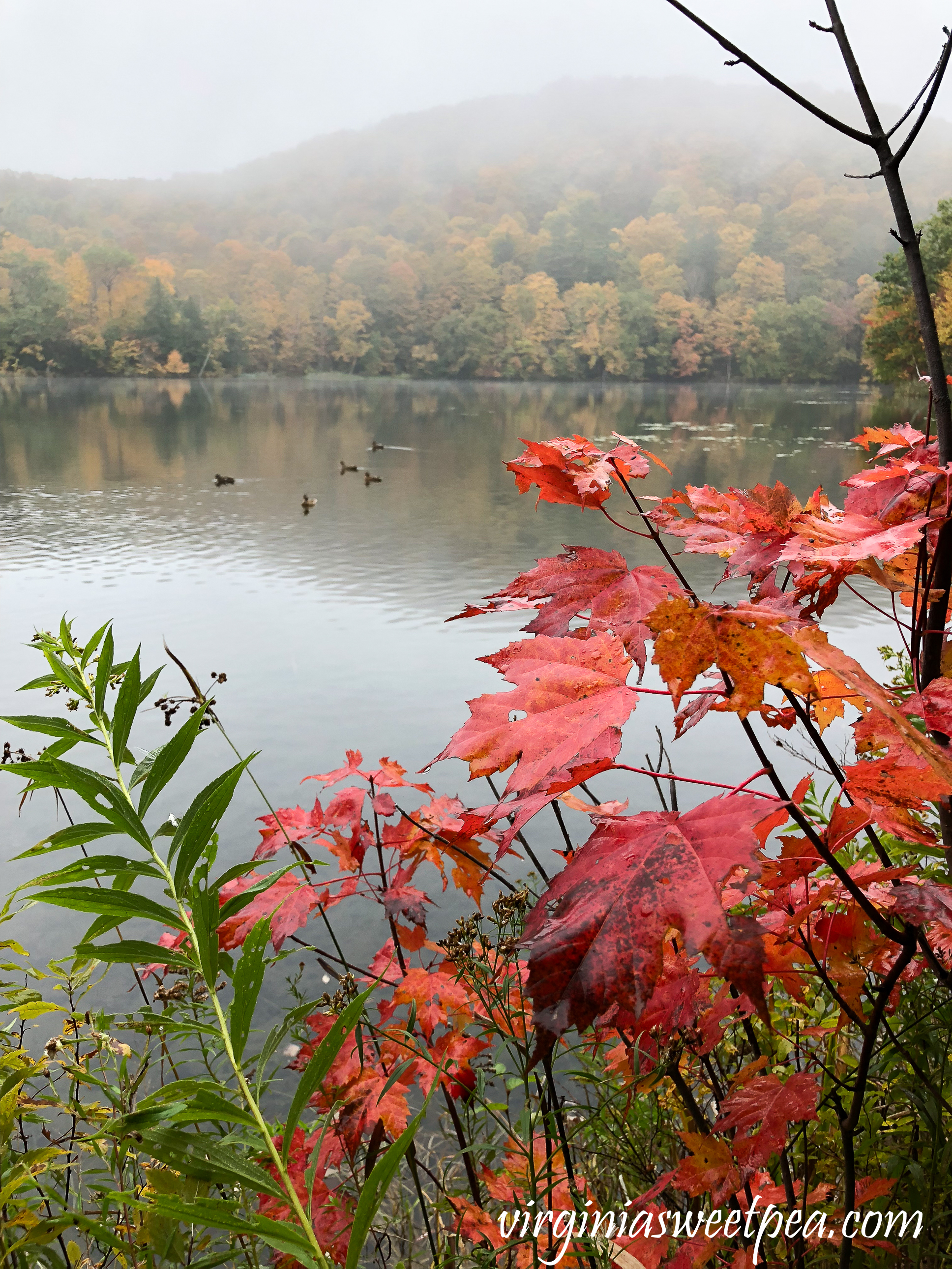 Sherman enjoyed taking a swim in the pond.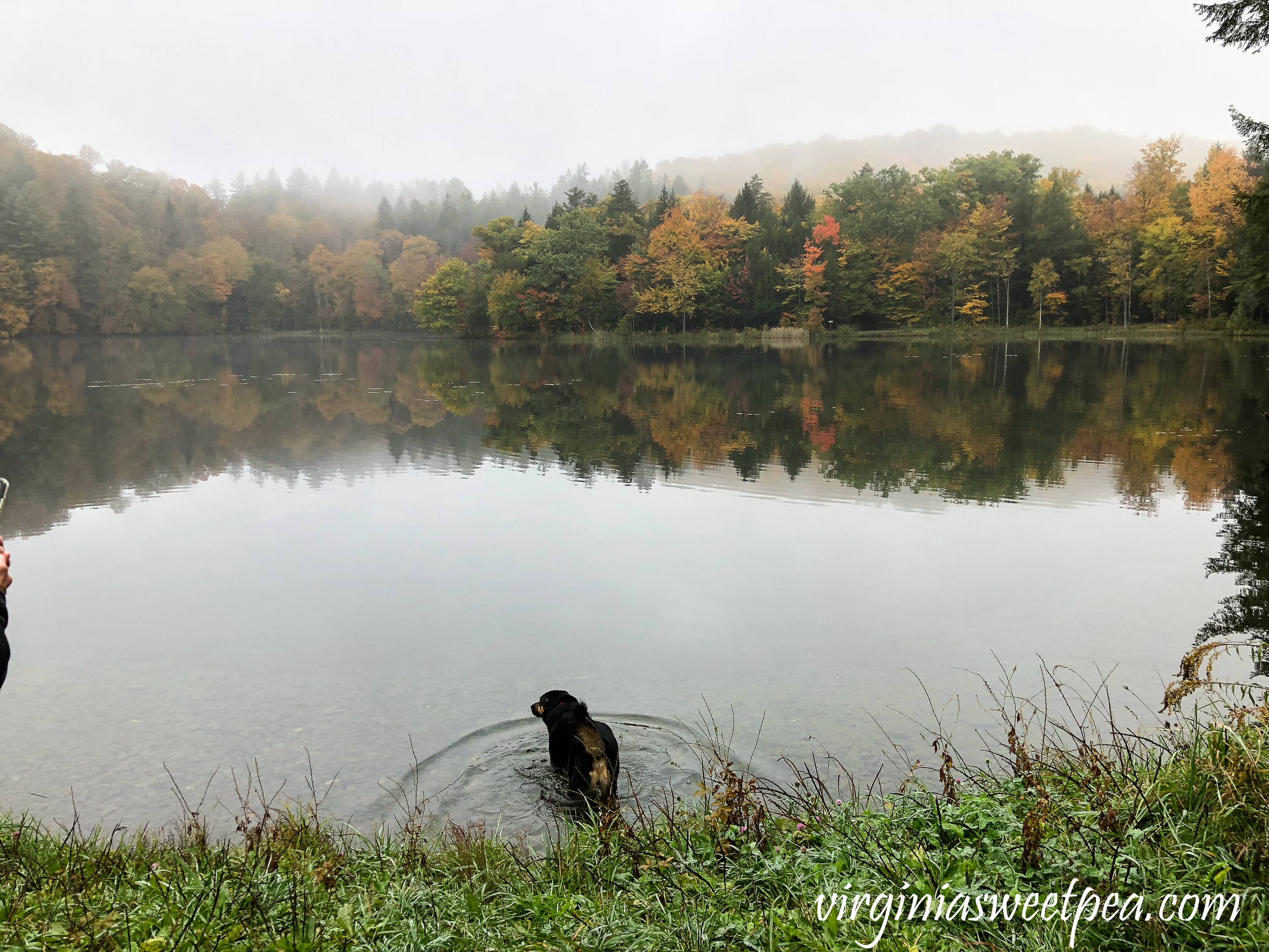 Most days that we hiked around the pond it was either cloudy or raining.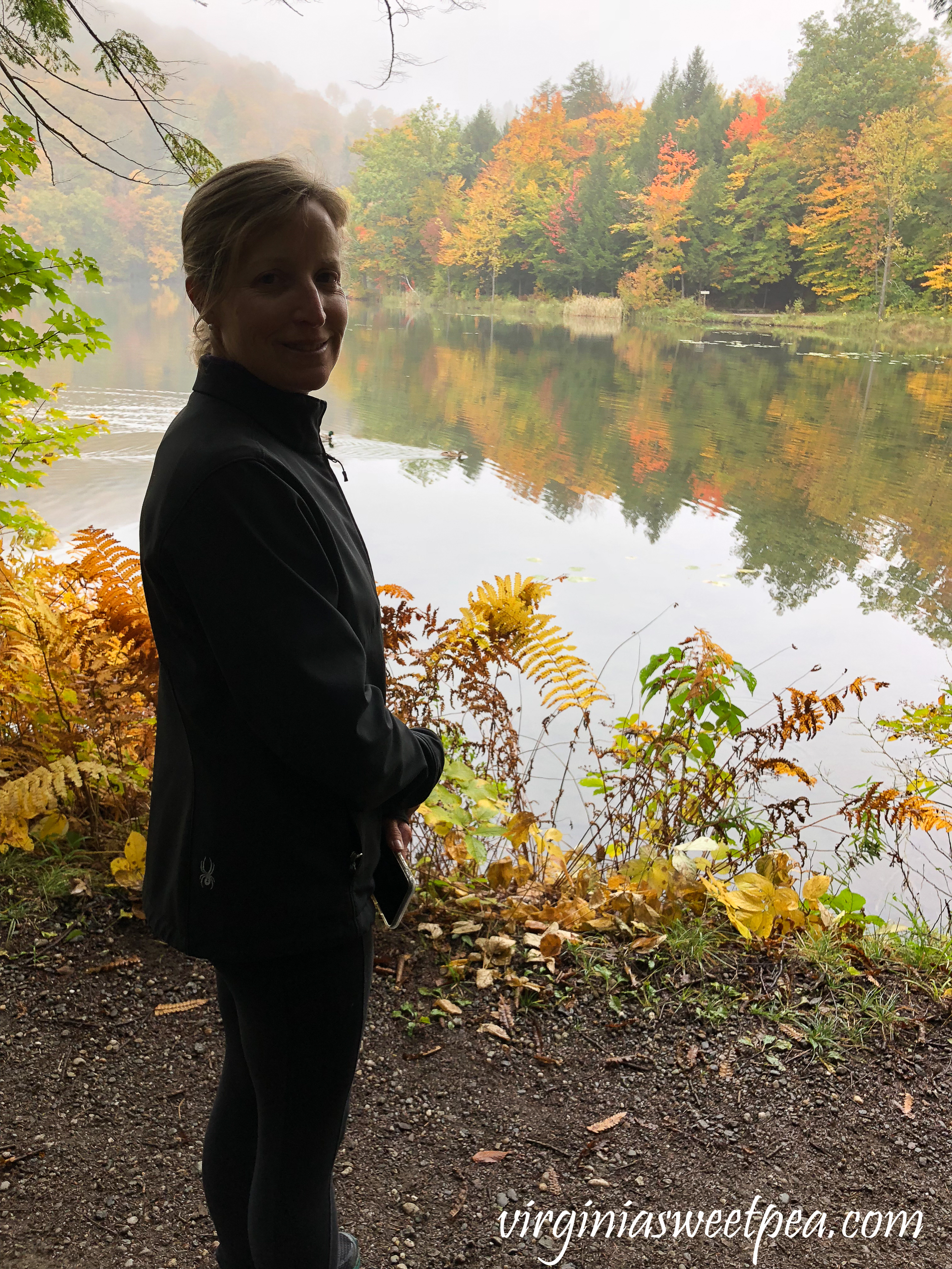 If I lived in Woodstock, I would hike on these trails every chance I could get.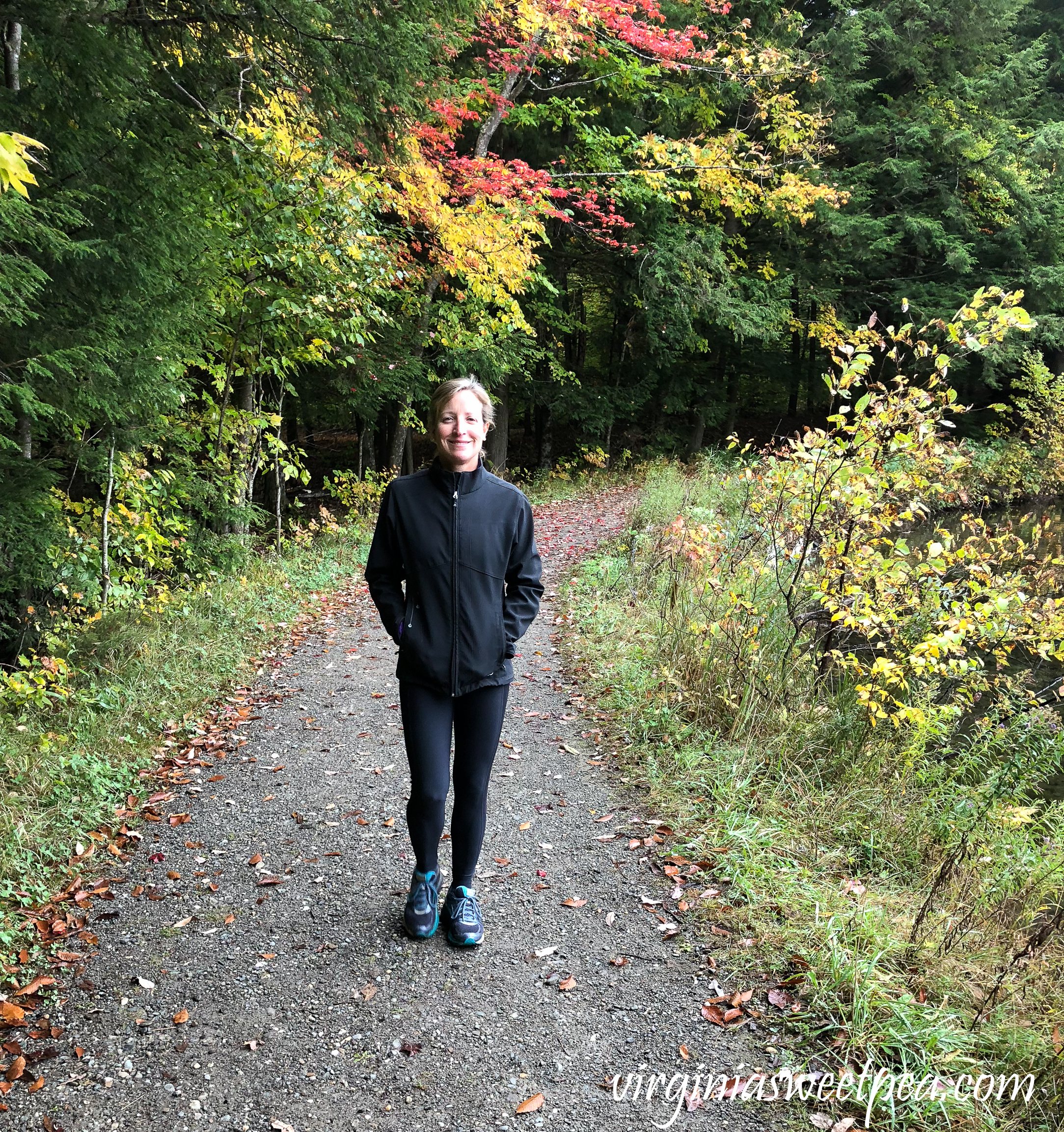 The leaves were so pretty and the camera just doesn't capture how glorious they were in person.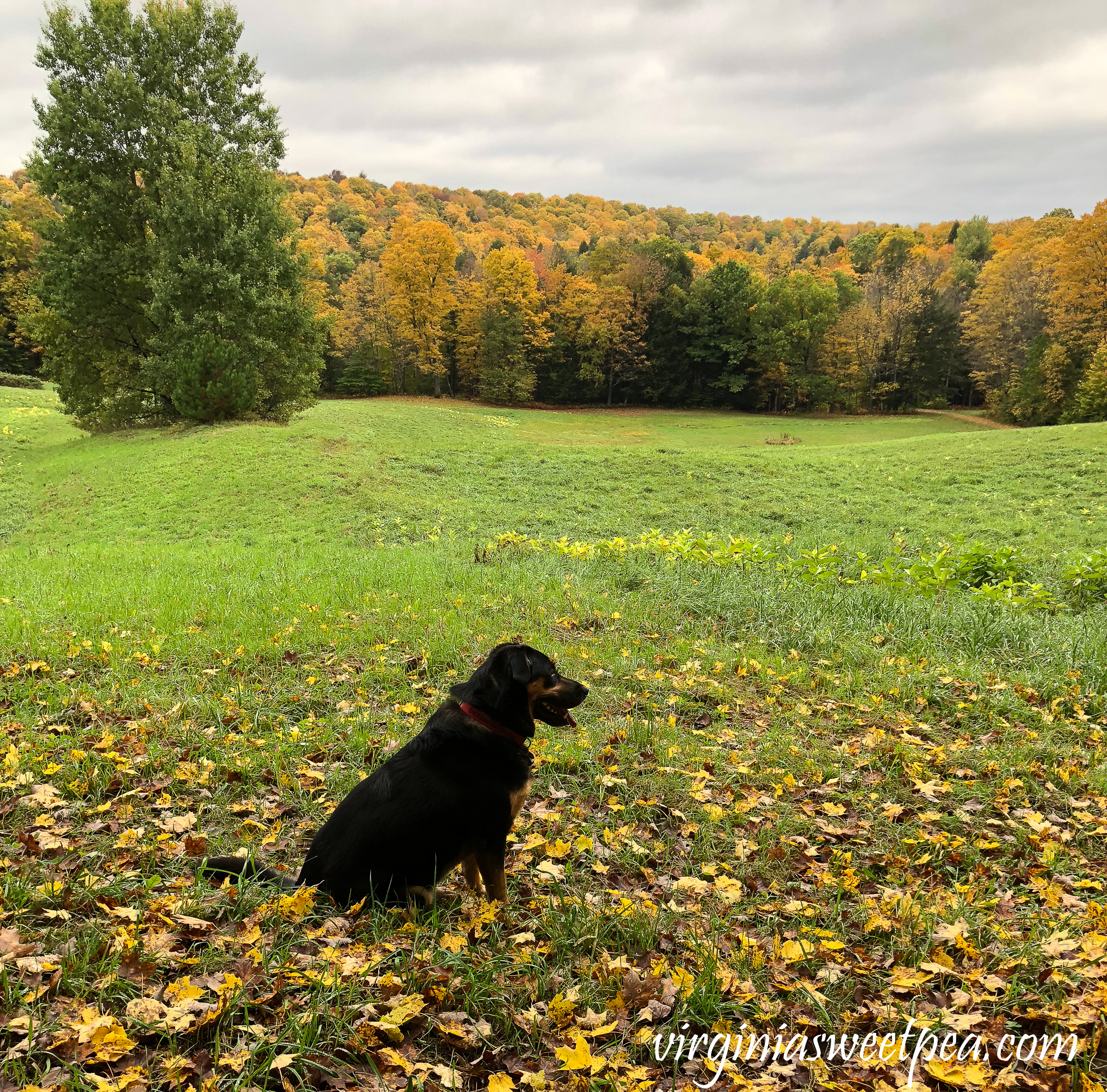 Sherman enjoyed hiking Mount Tom as much as we did.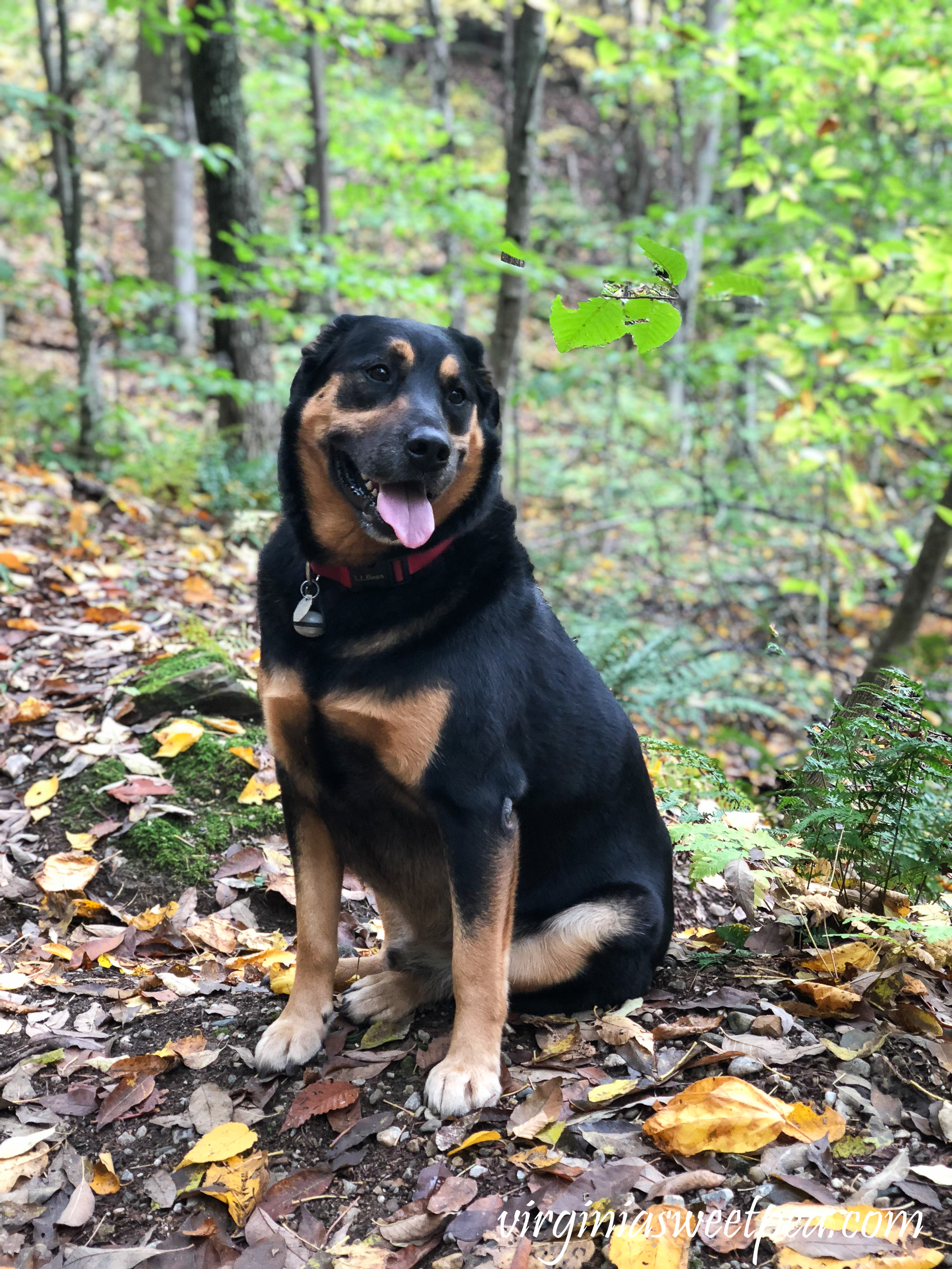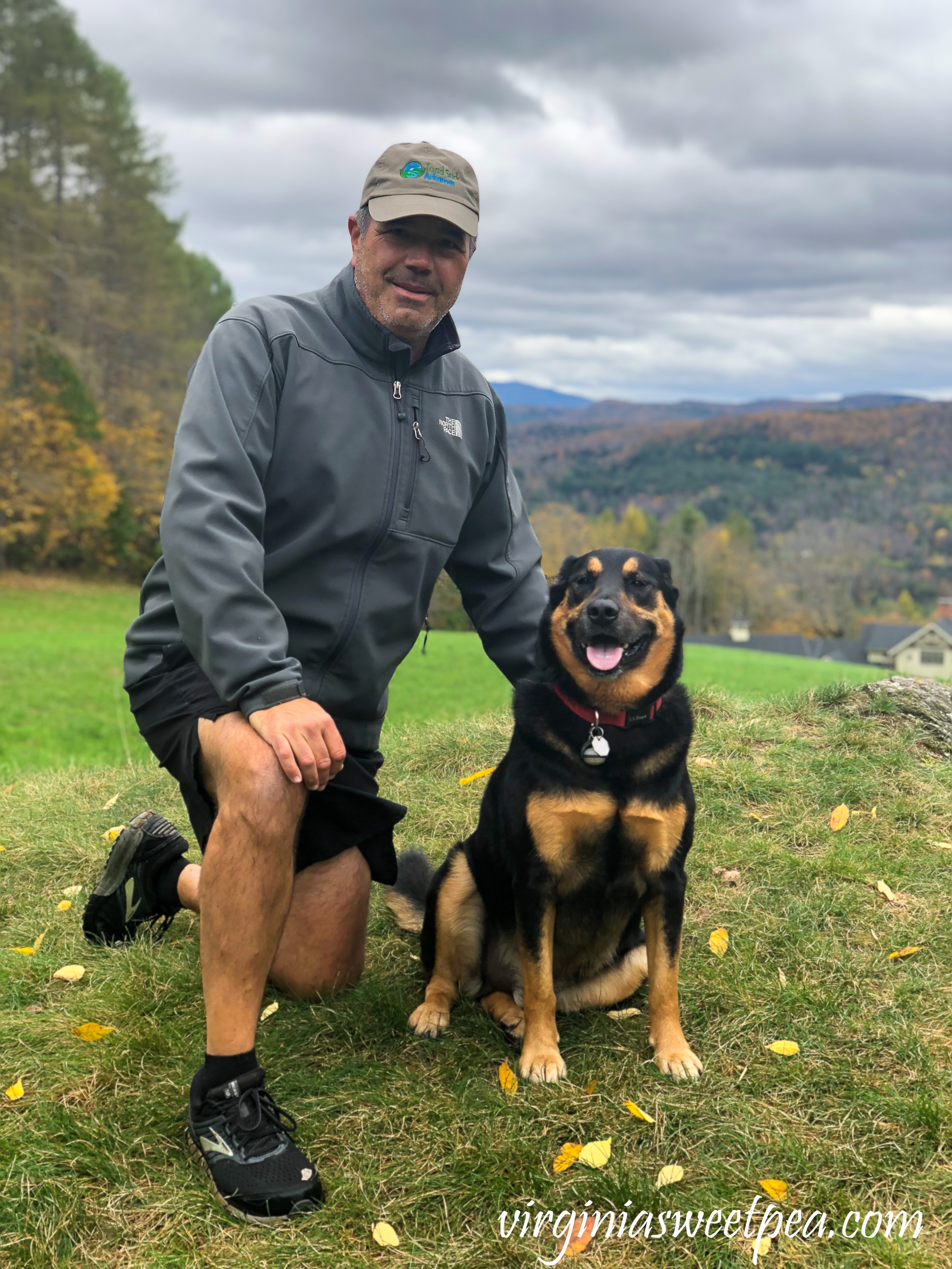 We also enjoyed hiking Mount Peg which is behind The Woodstock Inn. Some of the trails on that mountain are for hiking and many are cross country ski trails in the winter. This is the view from the top of Mount Peg.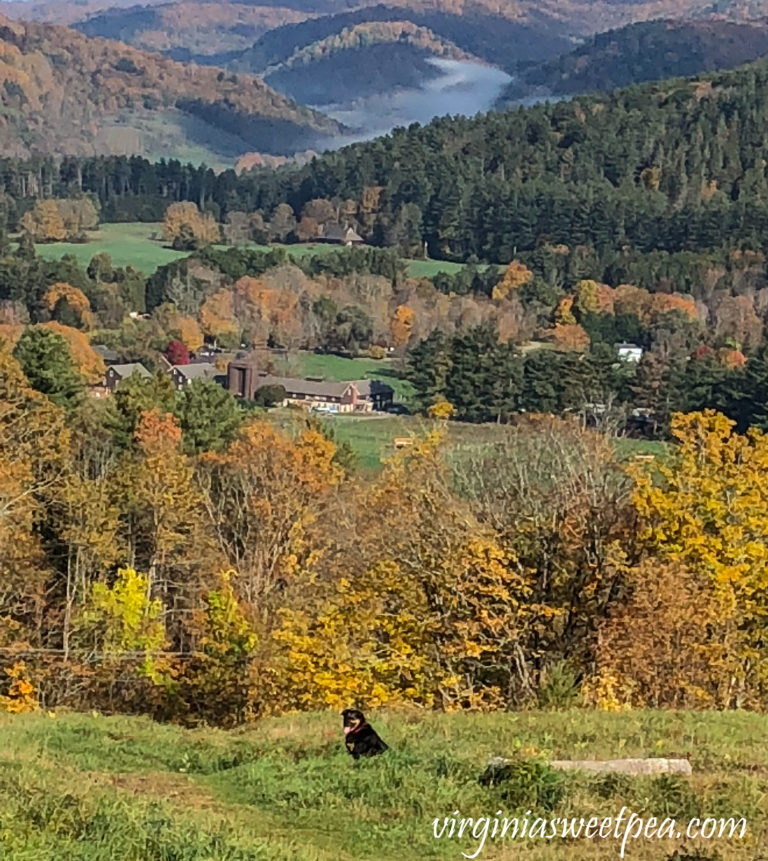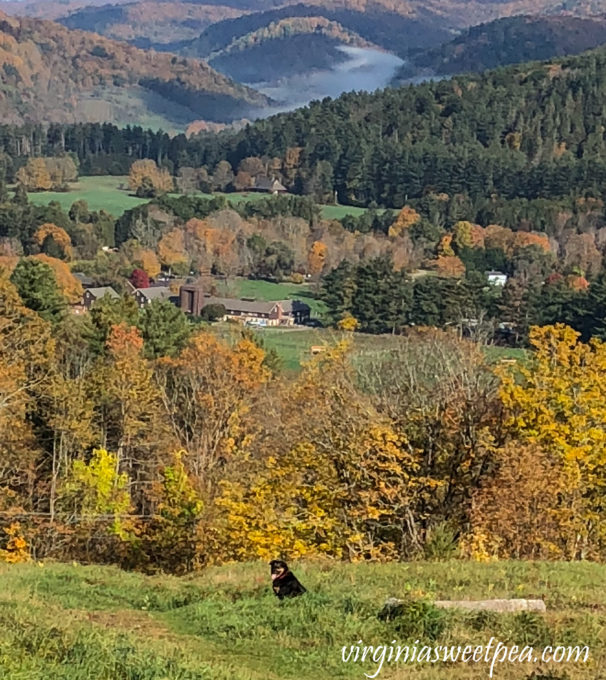 Luckily a mountain biker came along while we were enjoying the view and offered to take our picture.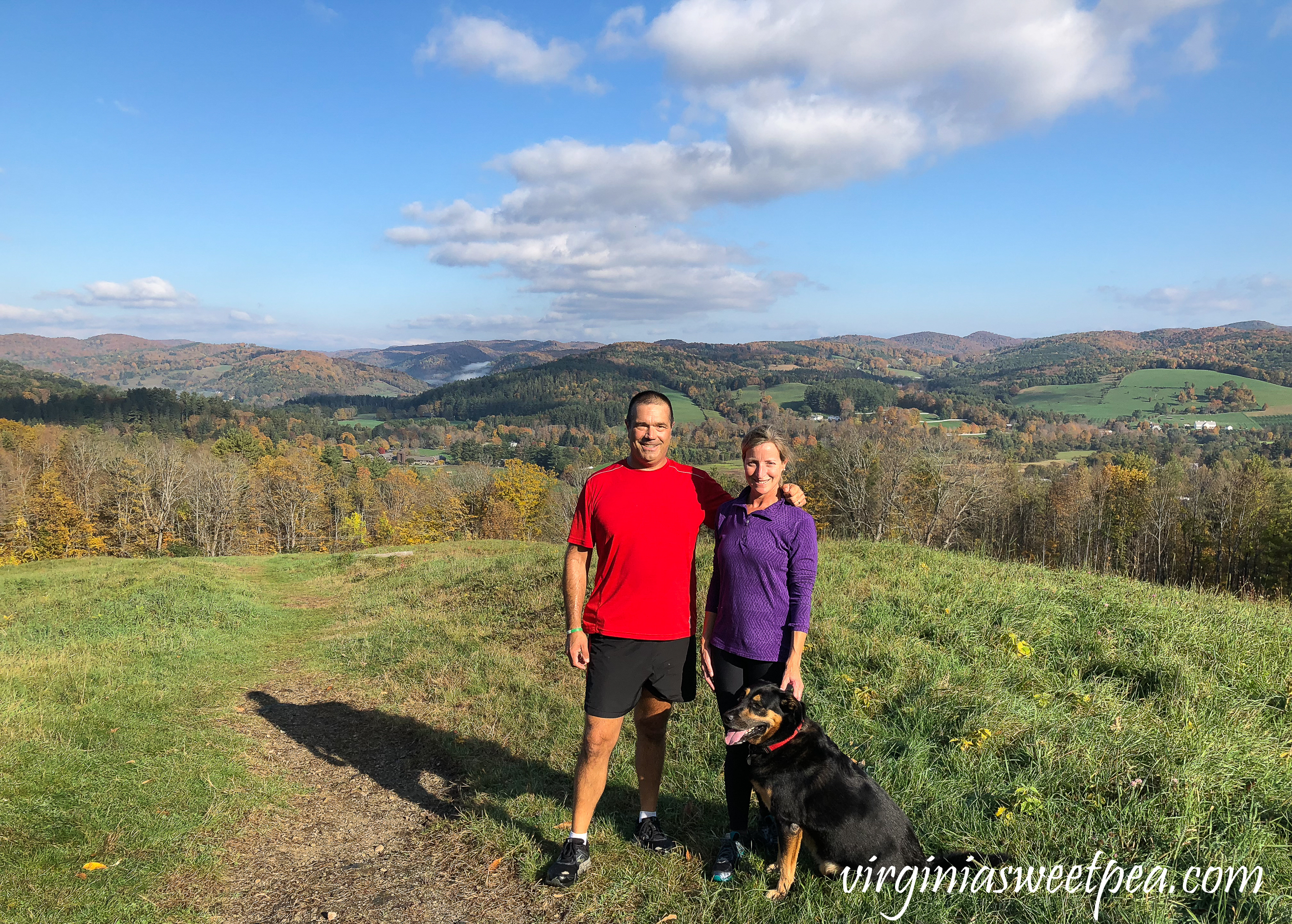 We only hiked to the top of Mount Tom once and I wish we'd done it a second time, it was such a pretty view at the top.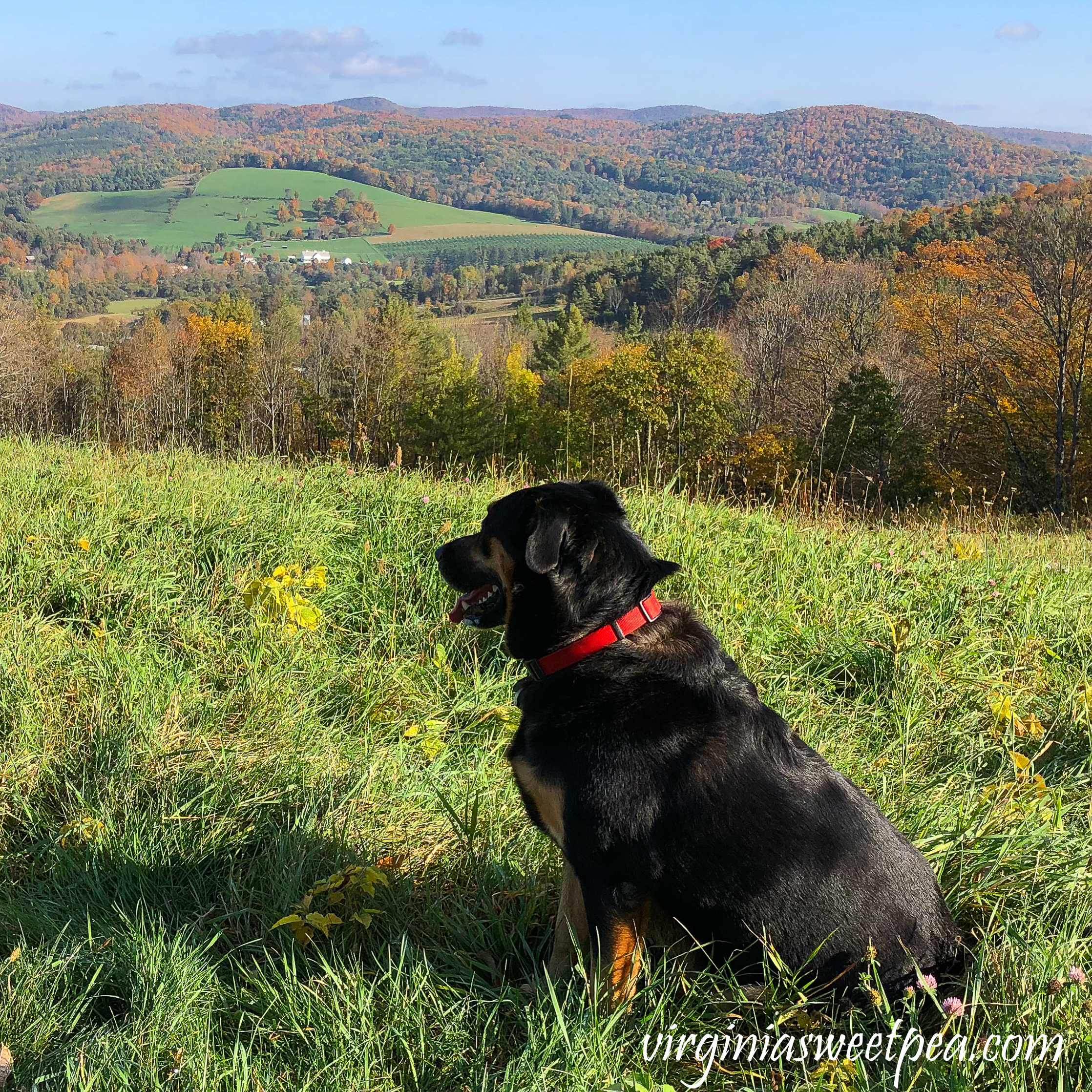 I have more to share but will do so in a second post since this one is getting a bit long. I hope you enjoyed seeing Vermont in fall through my pictures.
More Vermont Trips
2013 Christmas in Vermont – Part One
2013 Christmas in Vermont – Part Two
2008 Vermont Vacation – Part One
2008 Vermont Vacation – Part Two
If you have a travel board on Pinterest, I would love it if you would pin this post for others to discover.