111 Year Old Souvenirs from the 1907 Jamestown Exposition
The Jamestown Exposition was held at Sewell's Point in Norfolk, VA to commemorate the 300th anniversary of the founding of Jamestown. The celebration was held from April 26 to December 1, 1907. At some point relatives on my mother's side of the family visited the Jamestown Exposition and my mom inherited their souvenirs.
Mama displays these souvenirs on rack that came from a store that my great-great aunt and uncle operated in Vinton, VA. This display is in her upstairs hallway in her 1913 home.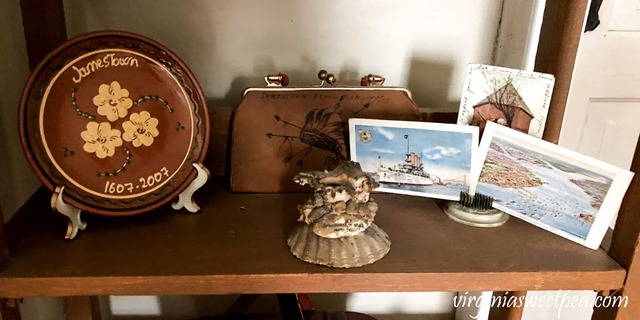 Jamestown Exposition Facts
The original Jamestown site was not used for the Jamestown Exposition because at the time it was isolated and abandoned and had no facilities to handle large crowds. Also, no rail lines ran there.
Sewell's Point in Norfolk, VA was selected as the site of the 1907 Jamestown Exposition. Since this was an undeveloped area, roads, streetcar lines, and train access had to be constructed so that tourists would be able to access the celebration. On shore, piers and hotels had to be built.
Opening Day was April 26, 1907. Theodore Roosevelt presided over the Naval Review held that day.
21 houses, each built by a different state, were part of the Jamestown Exposition. Many of these houses are still standing on their original site, others have been moved.
The Jamestown Exposition site became the Norfolk Naval Base, the world's largest naval station.
Jamestown Exposition Souvenirs
History Behind the Souvenirs
My mom's 1913 Walnut Avenue home was built by James and Sally Scanlon, Mama's great-uncle and aunt. Jim and Sally had two children, Creed and Maggie. My grandmother ended up with a lot of things that belonged to Creed and Maggie and these Jamestown Exposition souvenirs were among those things.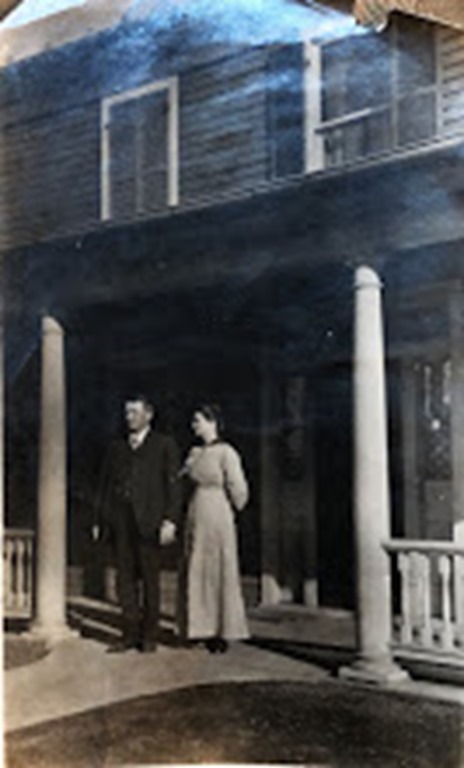 Leather Purse
I don't know when, how, or even if Maggie Scanlon visited the Jamestown Exposition, but this purse definitely belonged to her. Either she purchased it while visiting the Jamestown Exposition or someone purchased it for her.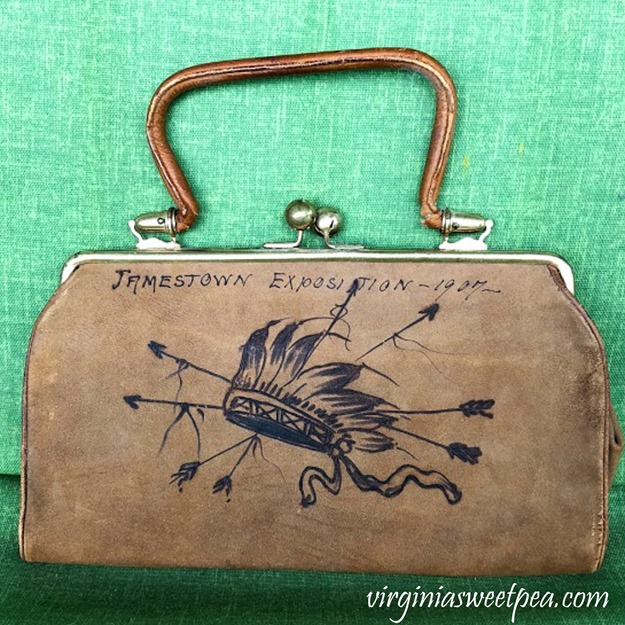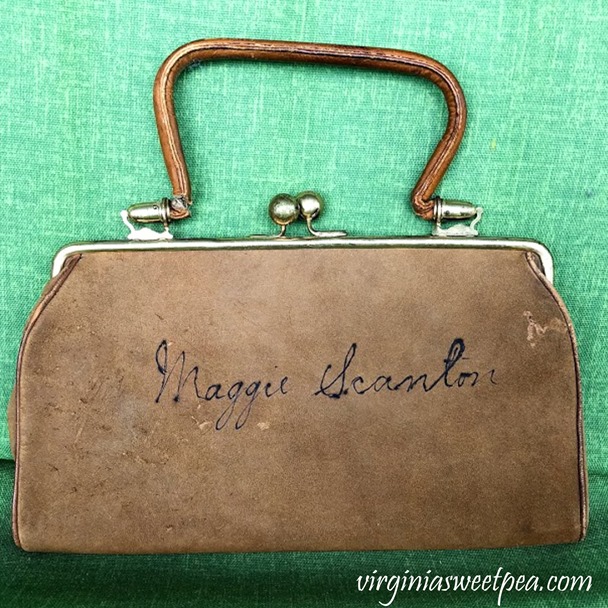 Shell Souvenir
I am not sure what this shell souvenir was intended to be. It has a holder of some sort at the top. Was it for a candle? Rings? Who knows!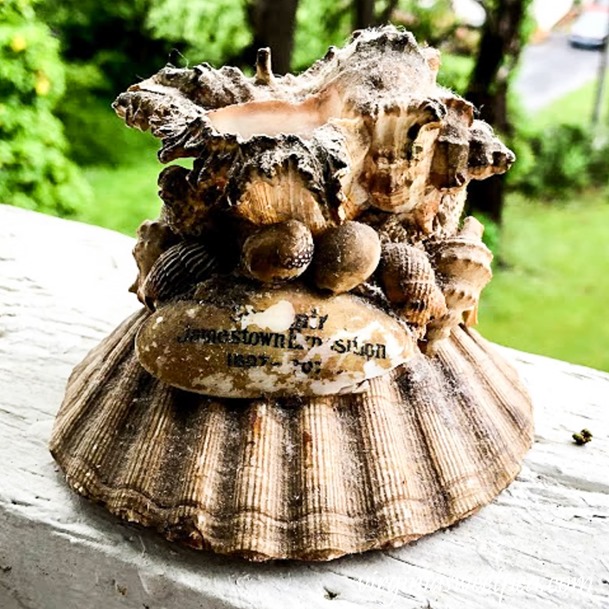 Postcards
I am not sure which postcard back goes with which postcard front, so I'll share the front side of the Jamestown Exposition postcards first and then the backs second. I took these pictures while visiting my mom and should have taken better notes.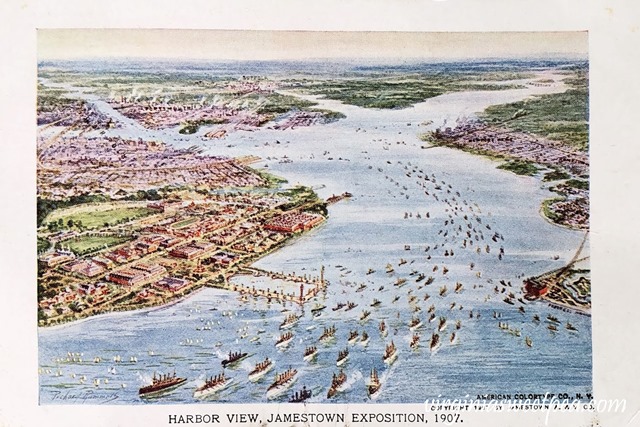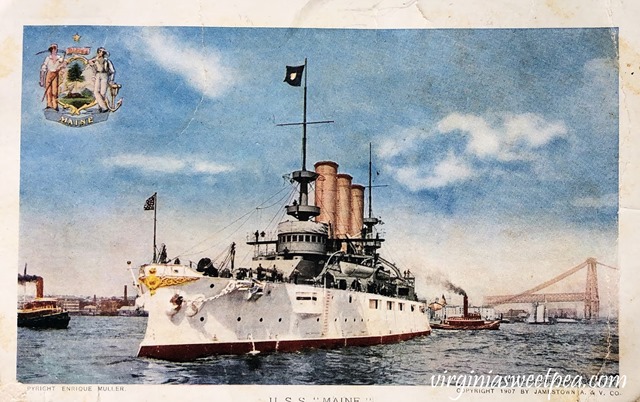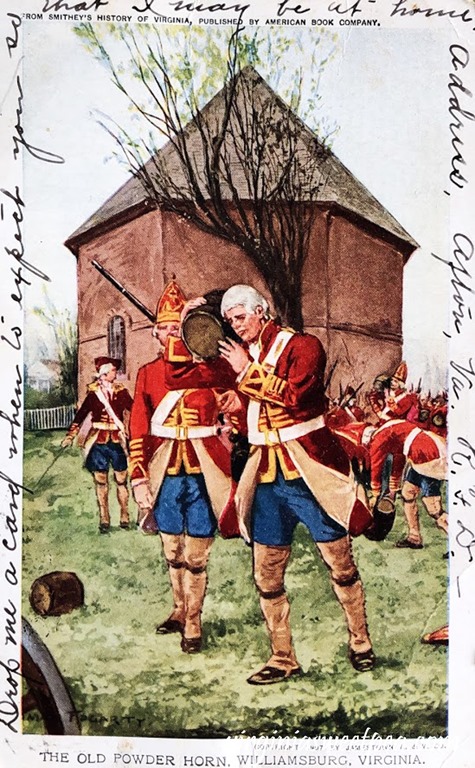 Nellie Thompson was my great-great grandmother and was Sally Scanlon's sister. Nellie Thompson was not yet married when this postcard was sent to her in 1908. Nellie must have wanted to keep the postcard but didn't want anyone to read the message since it was erased out.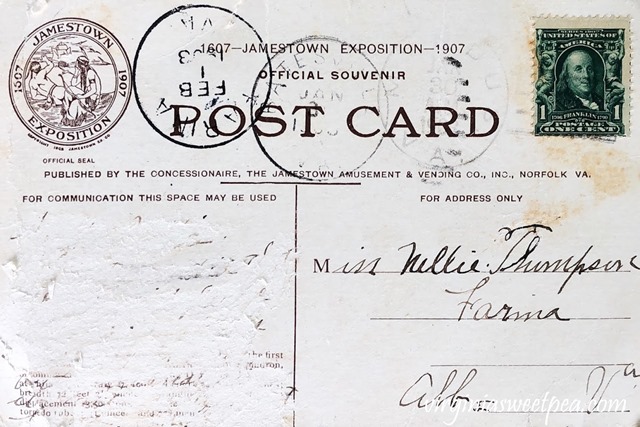 Nellie received this postcard from Mrs. Pugh. Farina was located on the road where I grew up, between Greenfield and Batesville, VA. It is no longer a used location.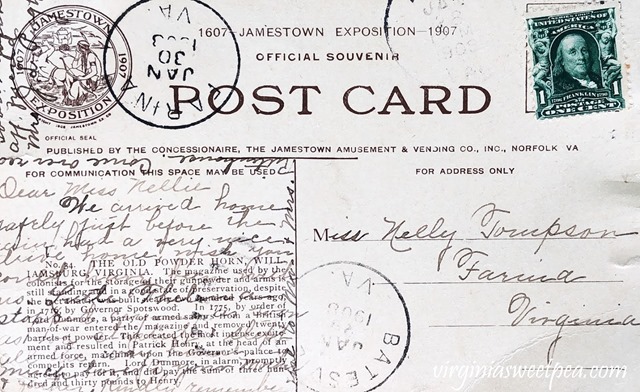 Nellie died of Typhoid Fever when my grandmother was just five years old. Typhoid Fever also took Granny's younger brother, Nelson. Granny was sent to live with Lillian, another sister of Nellie. Granny's other two sisters went to live with another sister, Emma. Sally Scanlon also died from Typhoid Fever around the same time.
One of these postcards was a souvenir that was never used.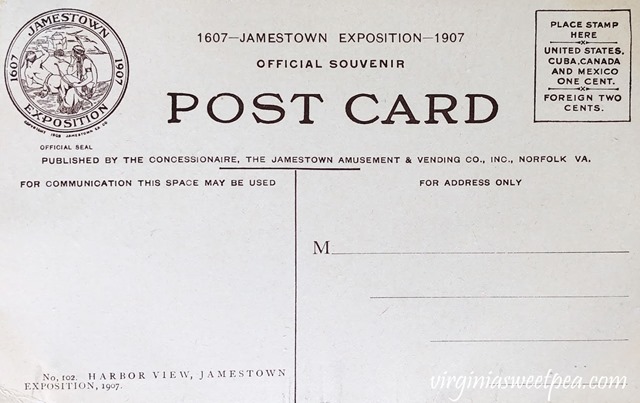 1607 – 2007 Jamestown Commemorative Plate
In 2007 I visited Jamestown with some friends and purchased this commemorative plate so that Mama could display it with her other Jamestown souvenirs.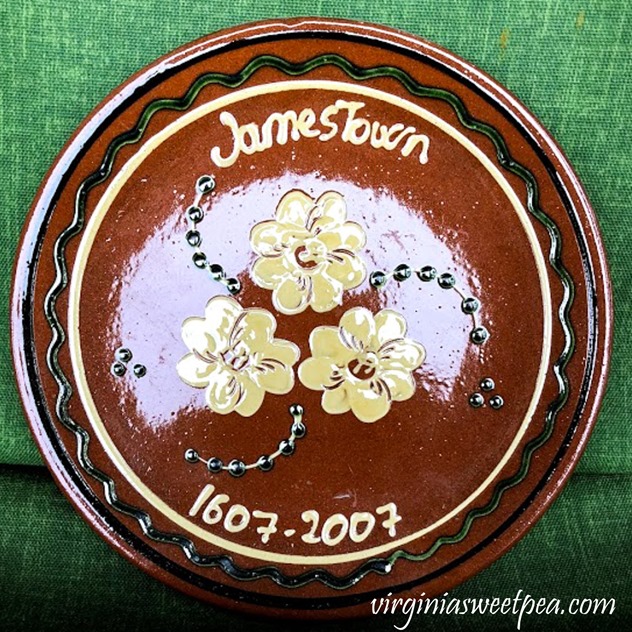 My mom's house is loaded with family treasures that I hope to share with you. Isn't it amazing that these Jamestown Exposition souvenirs have survived for 111 years?
Pin It!