Decorating Ideas Using Vintage Crates and Baskets
Crates and baskets are a decor item that I love not only for their looks but also for their usefulness. Today I'm sharing Decorating Ideas Using Vintage Crates and Baskets.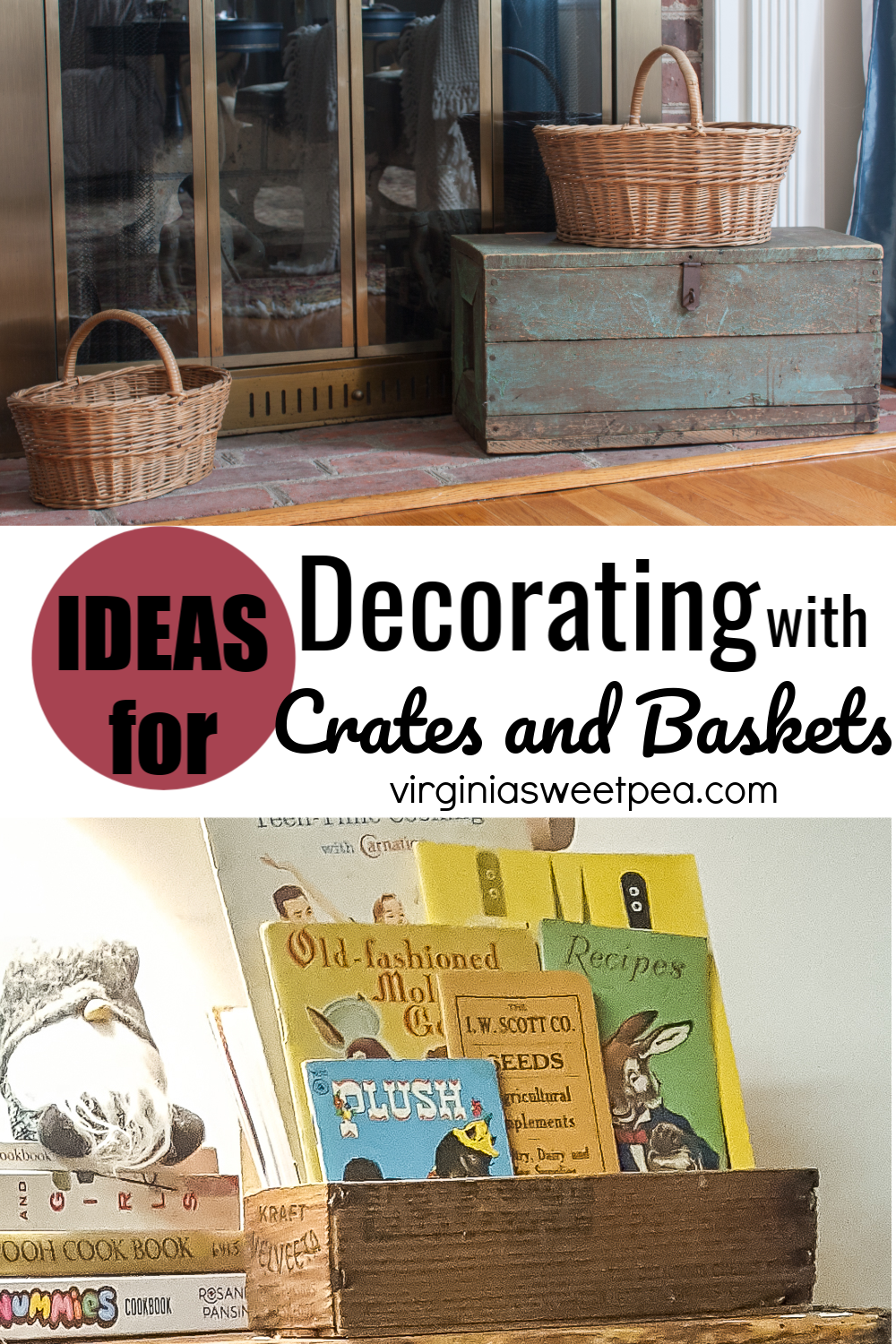 A Lifestyle of Love
I am happy to be joining a group of blogging friends who share my love of vintage and antiques for a themed series where we share ideas for decorating with vintage.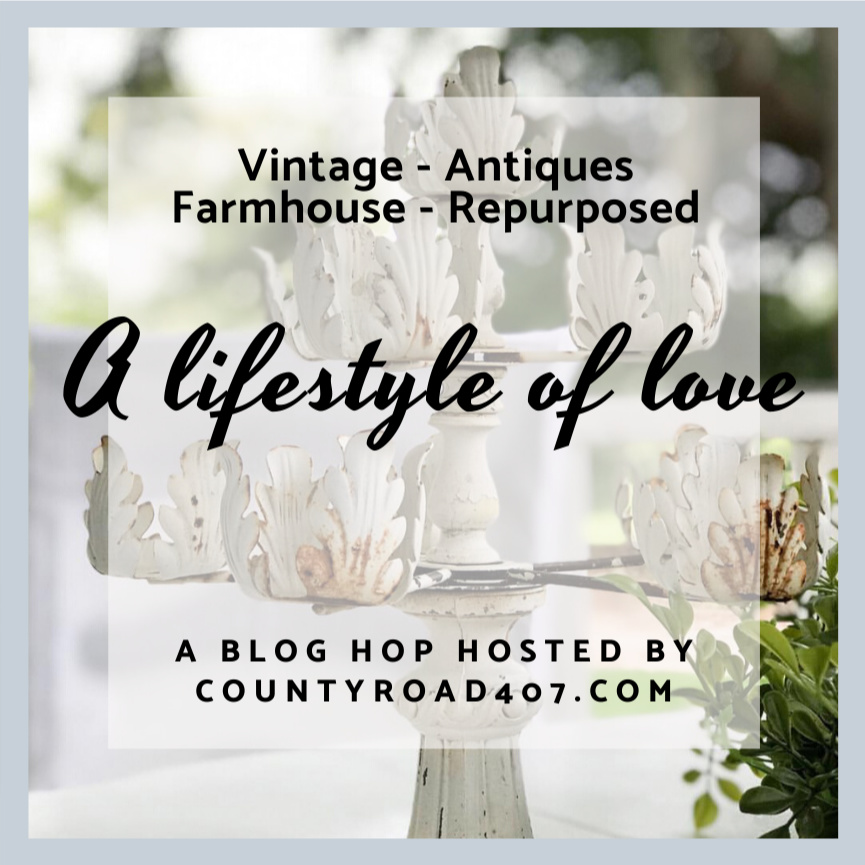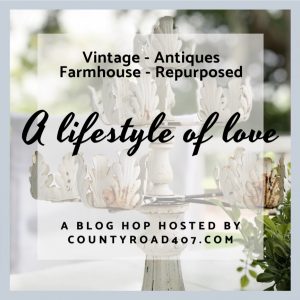 This is an every other month series hosted by my blogging friend, Cindy of County Road 407.
In May we shared ideas for decorating with vintage books.
Today we are sharing decorating ideas using vintage crates and baskets. You will get loads of ideas for how you can use crates and baskets in your decor.
If you are coming from Decor to Adore, welcome!
Decorating Ideas Using Vintage Crates & Baskets
We'll start with basket ideas and then move on to ideas using vintage crates.
Use Baskets on a Fireplace Hearth
I use vintage baskets mostly for decorating but also for organizing.
When I put together a spring mantel, I used two vintage baskets on the fireplace hearth.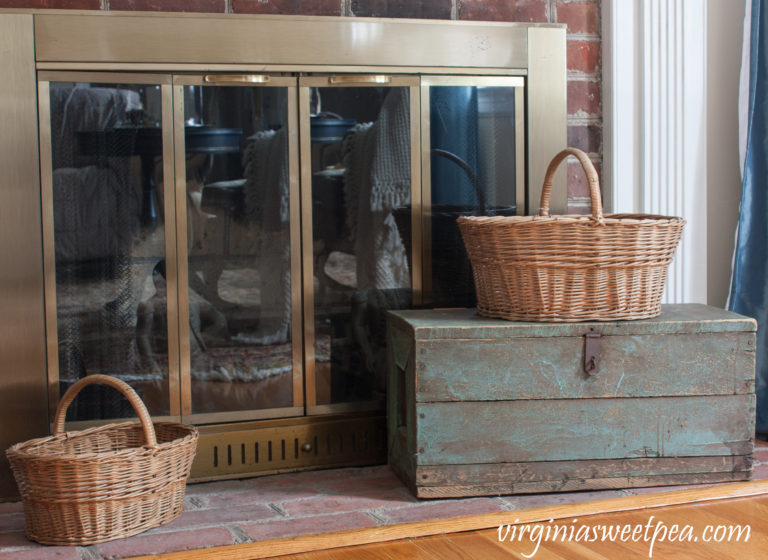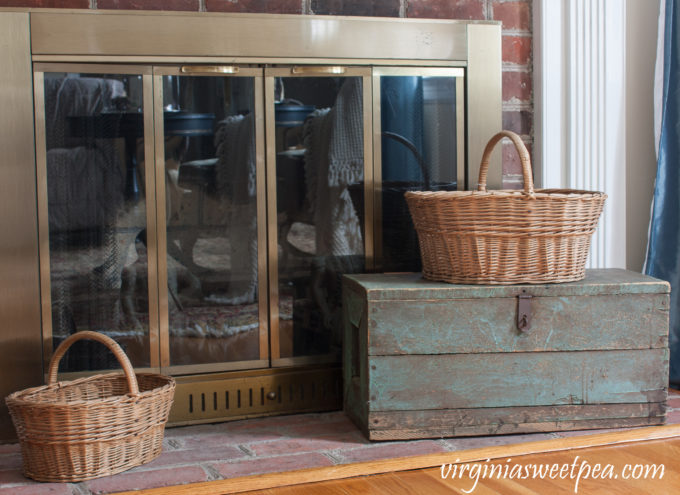 The basket on the left was my dad's childhood Easter basket and then my Easter basket. The one on the right is identical but a slightly larger size.
These baskets were purchased by my grandmother in the 1940s in Middletown, MD.
The maker of these baskets was Charles M. Phleeger (1896-1972). One of my Middletown cousins remembers going to this man's house as a child to buy a broom.
His obituary calls him a local basket maker, but according to the 1930 census he was a salesman for a bakery, and the 1940 census a carpenter. Perhaps basket making and broom making were side jobs in his younger years and then full-time after he retired.
I'll show you another basket made by Charles M. Phleeger in a bit.
Another fireplace hearth with a basket is at our lake house.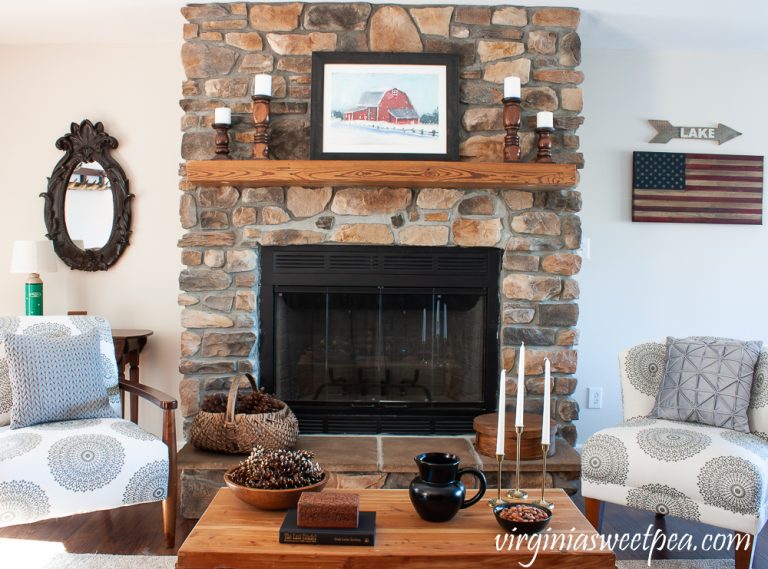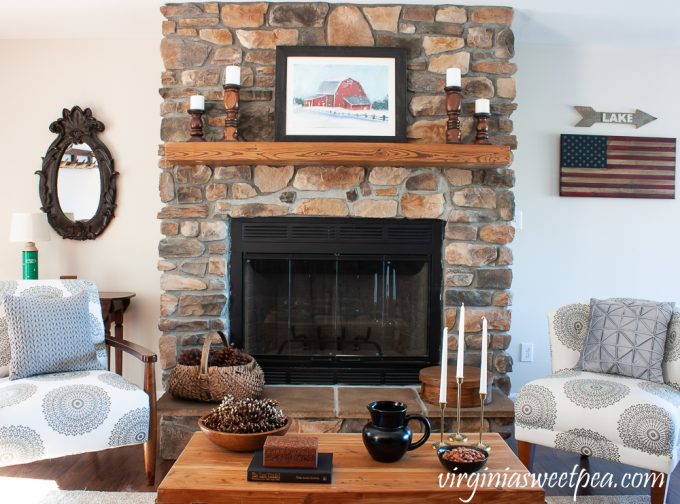 This basket belonged to my grandmother and most likely first belonged to one of Granny's aunts.
I leave this basket on the hearth filled with pine cones year-round. This picture is from a Thrift the Look – Winter Cabin Coffee Table from last winter.
Use a Basket to Hold Throws
In our family room, I use another basket made by Charles M. Phleeger to hold throws.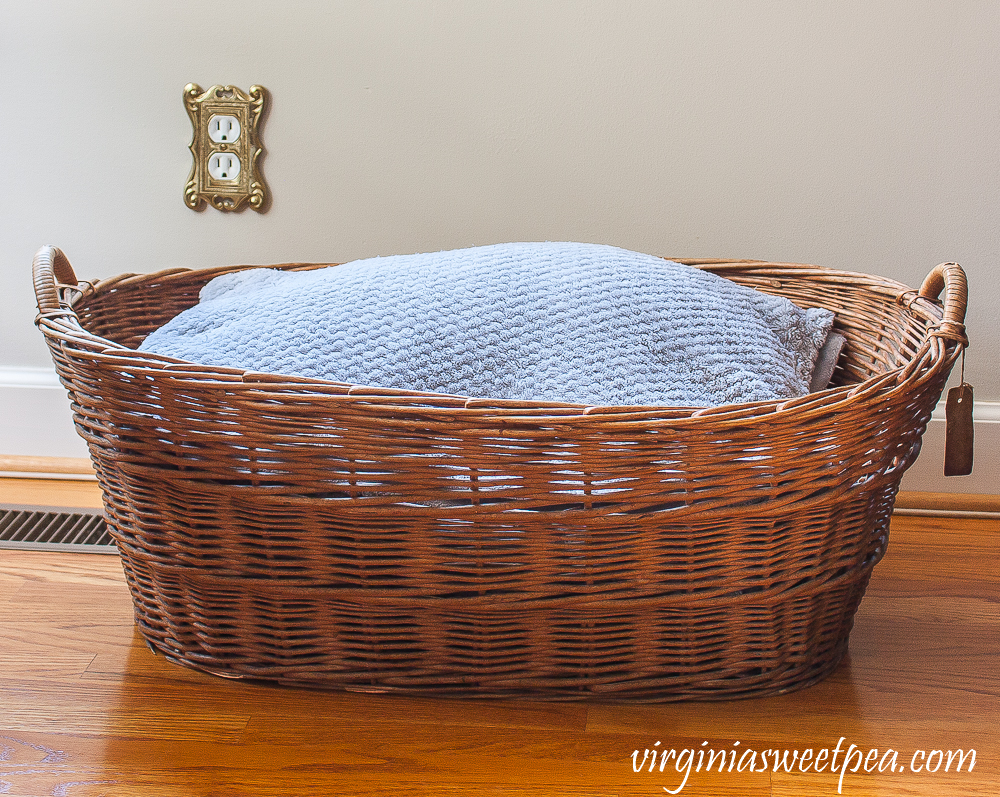 My outlet cover is a Virginia Metalcrafters piece.
Virginia Metalcrafters is no longer in business and their work is getting harder and harder to find.
I found an outlet cover like mine on eBay and its "Buy it Now" price is $49.99. Yikes! I wish I had bought more of these covers long ago when Virginia Metalcrafters was still in operation and the outlet cover price was affordable.
Use Baskets for Kitchen Counter Organization
At the lake, I use Longaberger baskets gifted to me for my 1994 wedding on my kitchen counter.
My cake basket holds paper plates and the button basket holds chip clips.
An old stirrup makes a great napkin holder. I didn't come up with this idea, my mom and aunt both used stirrups to hold napkins in the 1970s.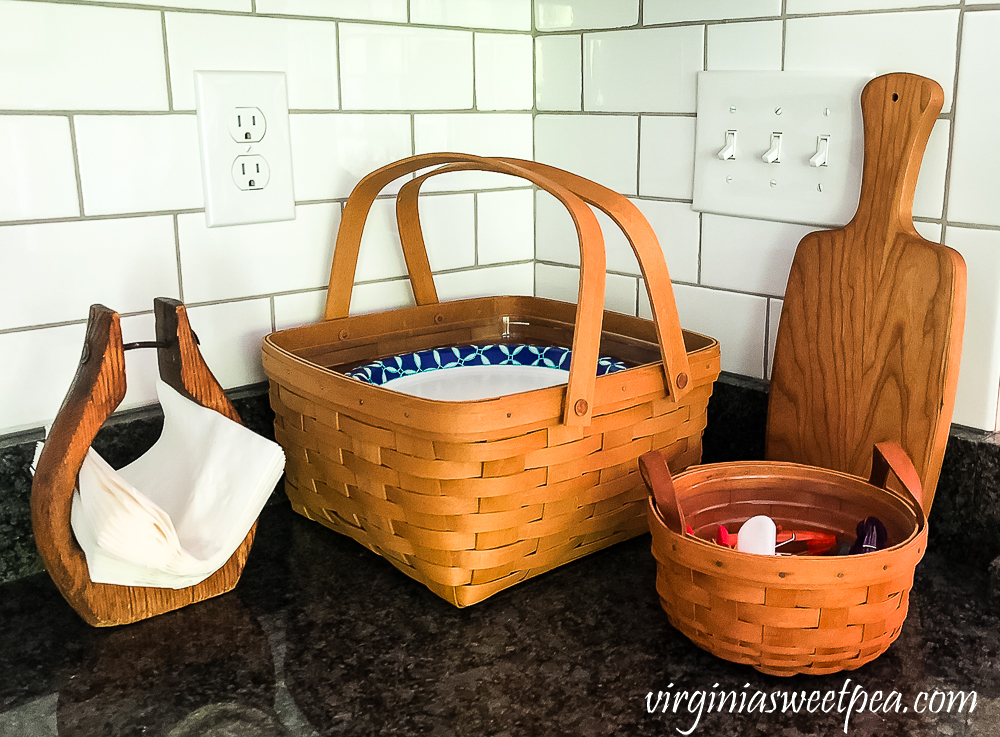 Another Longaberger basket is used for whatever I need to corral. My cousin gave me some napkins to use for 4th of July, so when this picture was taken, the napkins were placed there to be used for the holiday.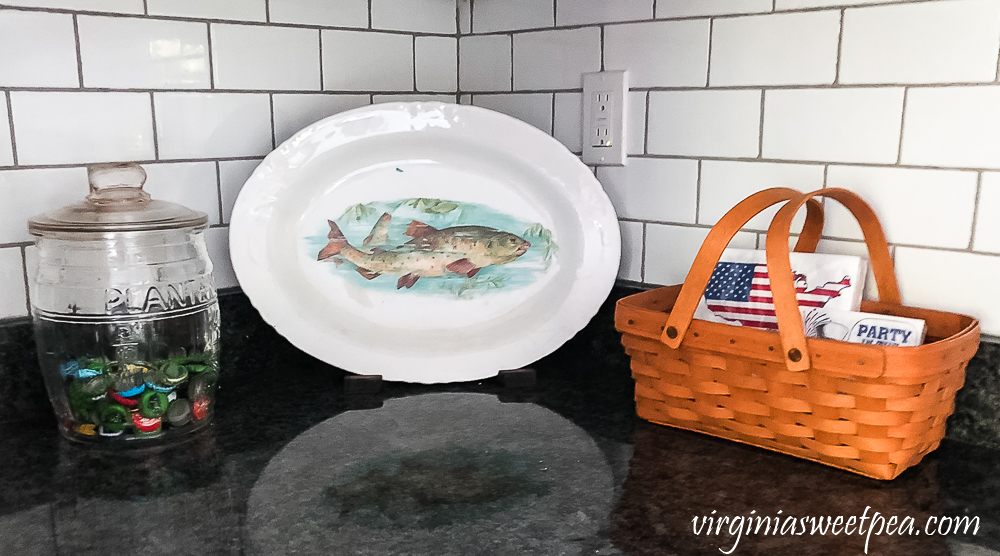 Use Baskets to Hold Dog Toys
Sherman is the king of our house and he has numerous dog toys. One item that I use to contain them is a basket made using vintage tennis rackets.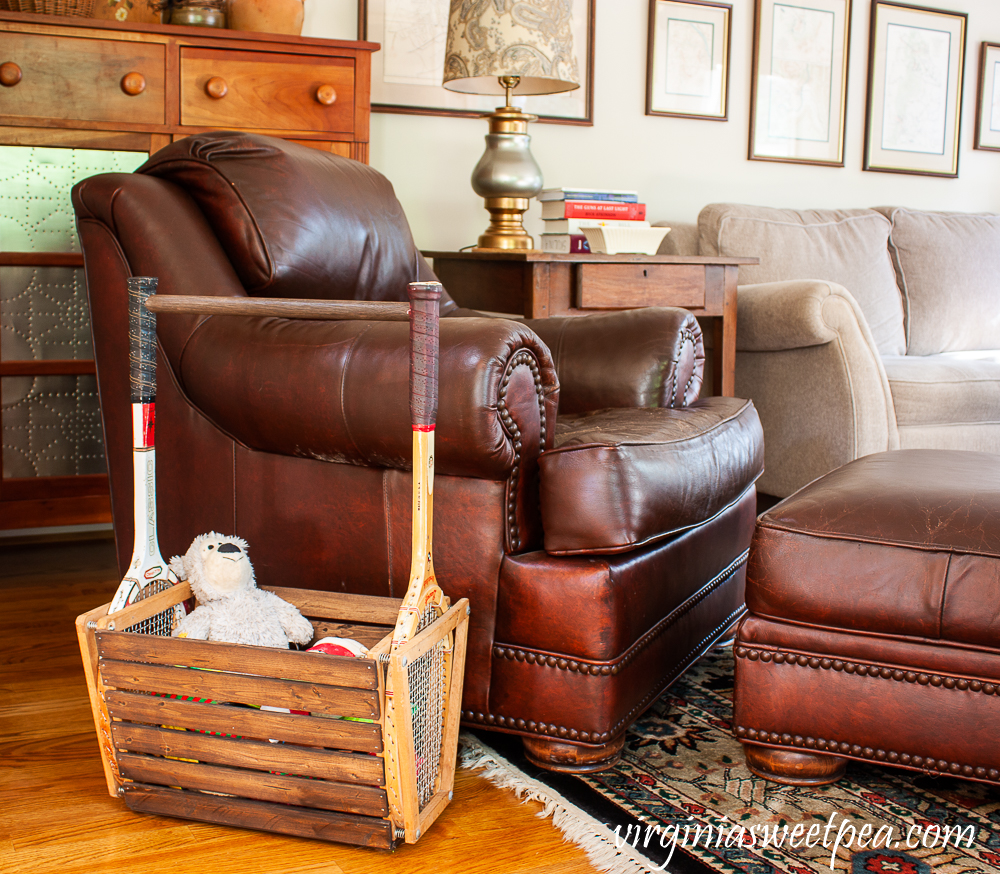 Side Note: This leather chair and ottoman used to be the orangish leather color popular in the early 2000s. Check out how I easily changed the color of the leather.
Baskets in a Sewing Room
I come from a family who loves antiques and vintage. I asked my cousin Stacey to take pictures of her vintage baskets and crates to use for this post.
Stacey is a master seamstress and uses baskets in her sewing room.
An interesting fact about Stacey's sewing is that she sews using a foot treadle sewing machine. She made her own wedding dress back in 1991 using her foot treadle machine and still sews using it to this day.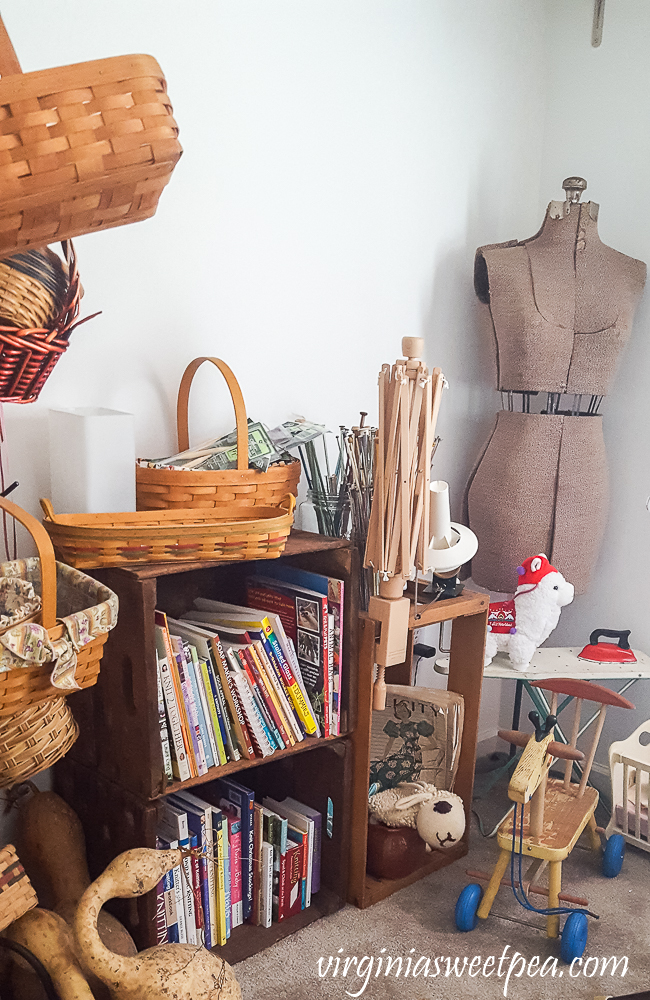 The dress form was our grandmother's. My mom inherited it and then passed it along to Stacey.
Displaying Antique Baskets
My maternal grandmother lost her mother and father when she was only five years old. She went to live with her Aunt Lillian who my mother and her sisters call Grandma Lillian.
This sewing machine and the basket on top of it belonged to Grandma Lillian.
Grandma Lillian was born in 1872, so Mama estimates that her basket and sewing machine are approximately 125 years old.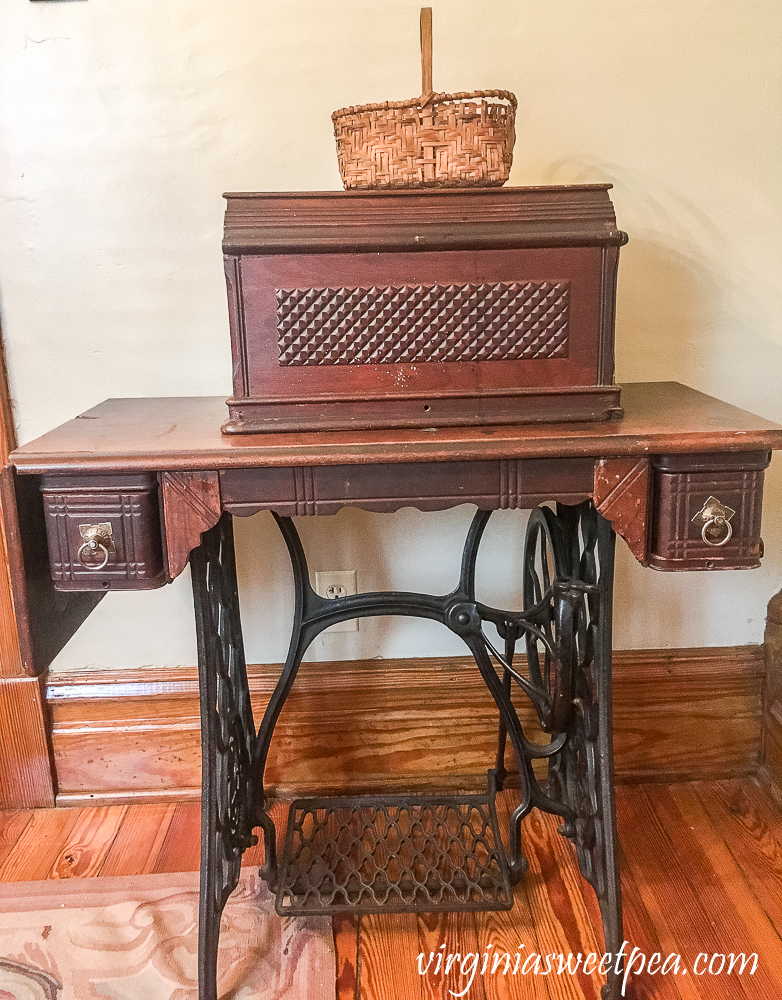 Mama reports that Grandma Lillian always used this basket as her sewing basket and it was filled with thread, needles, and other sewing supplies.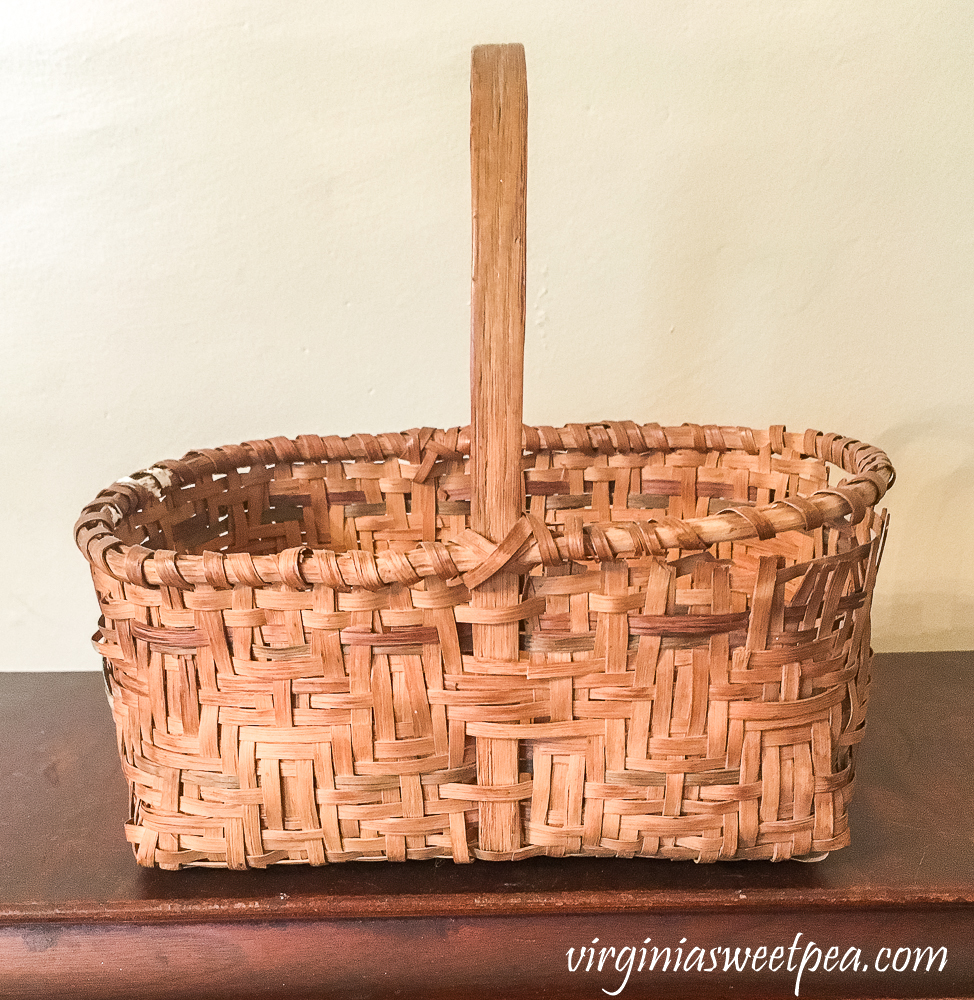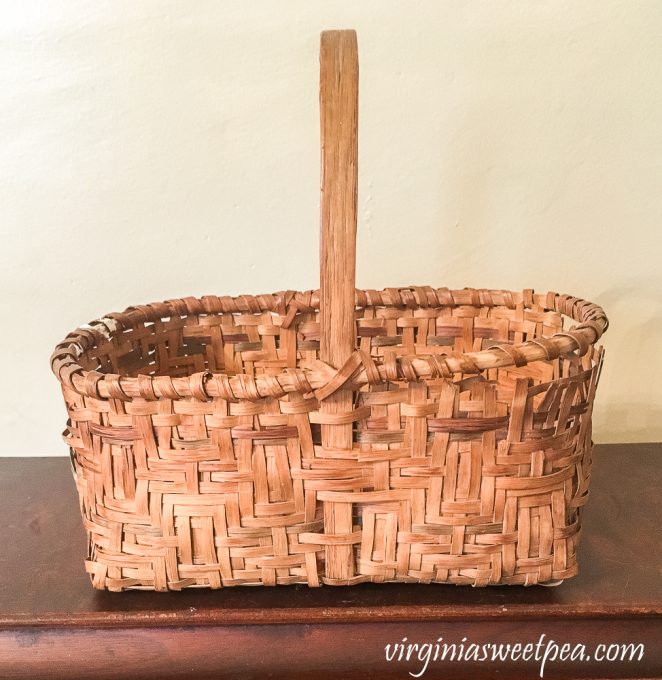 Note the interesting weave pattern of this basket.
Inside the sewing cabinet is a most interesting box that holds sewing machine attachments. My mother says that this box has been in this cabinet for as long as she can remember.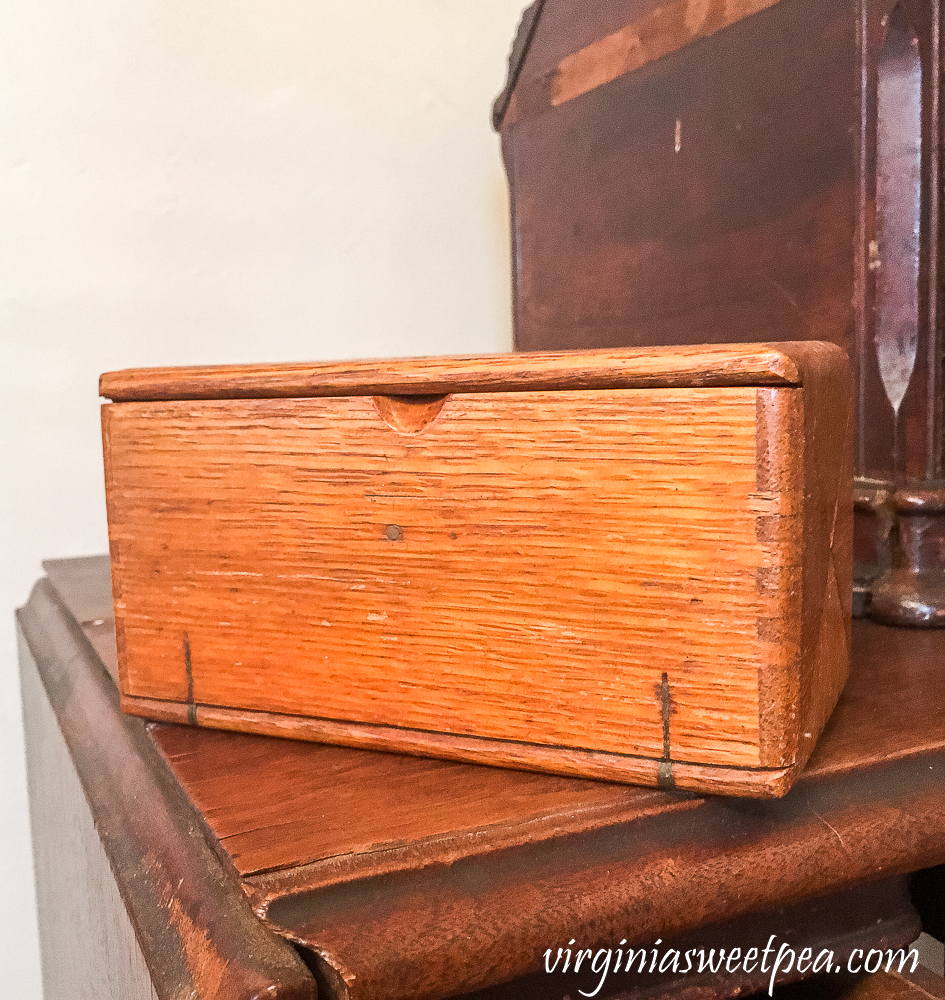 Let me show you why it is so interesting.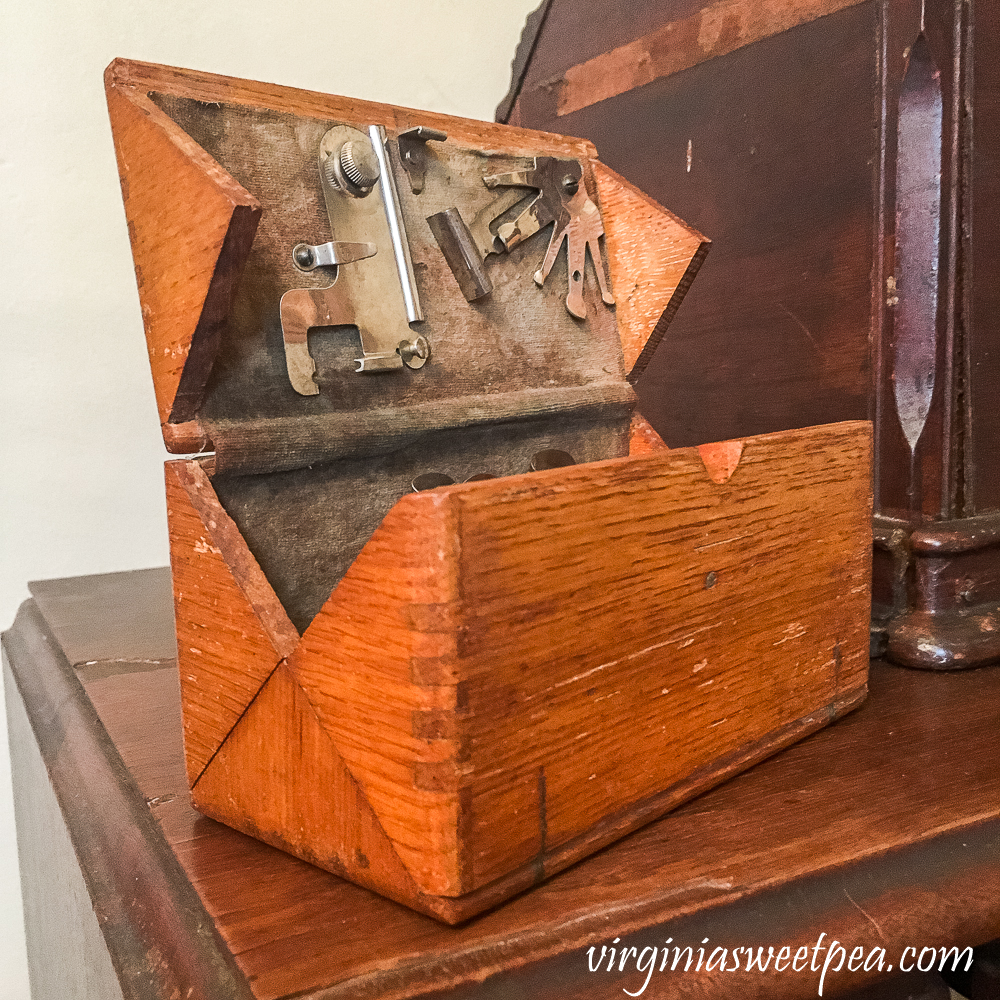 It continues to open until it is flat!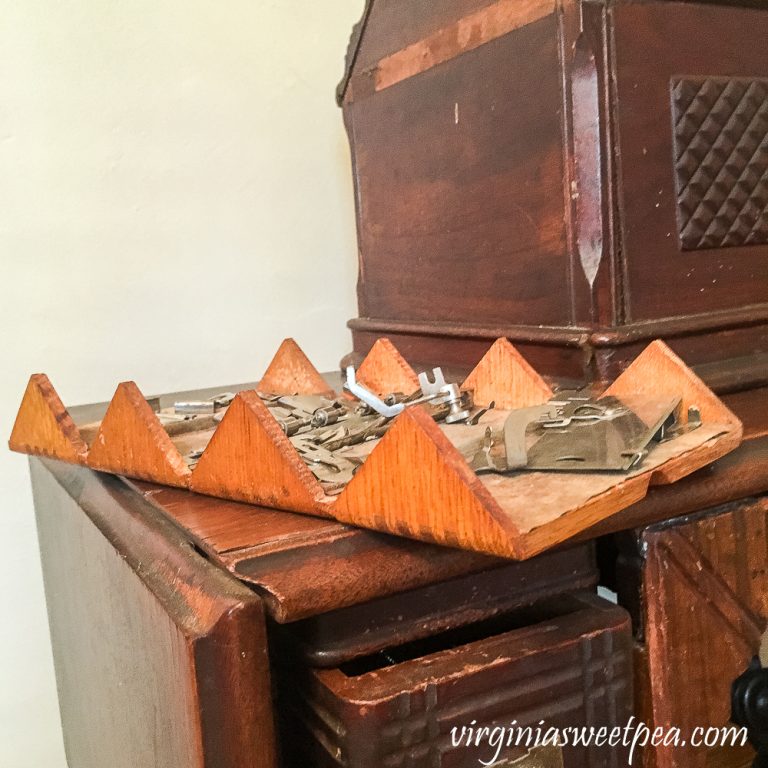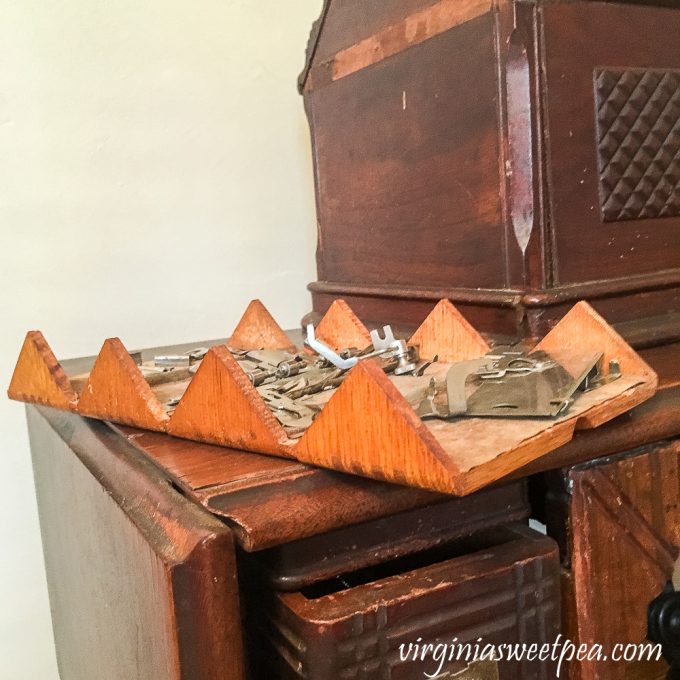 Isn't this a unique design?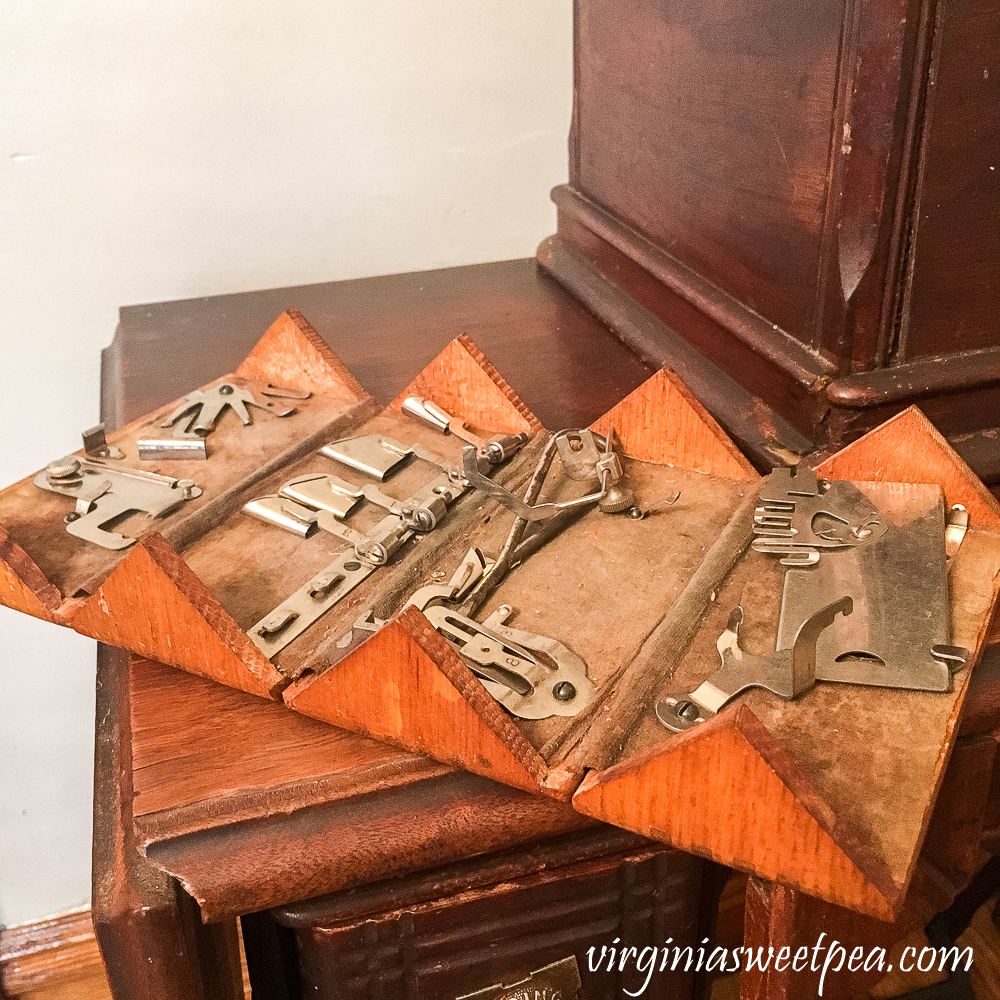 I used writing this post as a good excuse to nose around my aunt's house looking for vintage baskets and crates.
This beautiful basket came from my grandmother's house but my Aunt Judy can't remember any details about it.
She remembers my grandmother telling her that it has some value but can't remember any other details.
Side Note: Isn't Judy's lamp beautiful? The artwork behind the lamp is by P. Buckley Moss who used to reside in Waynesboro where Judy and my mom live.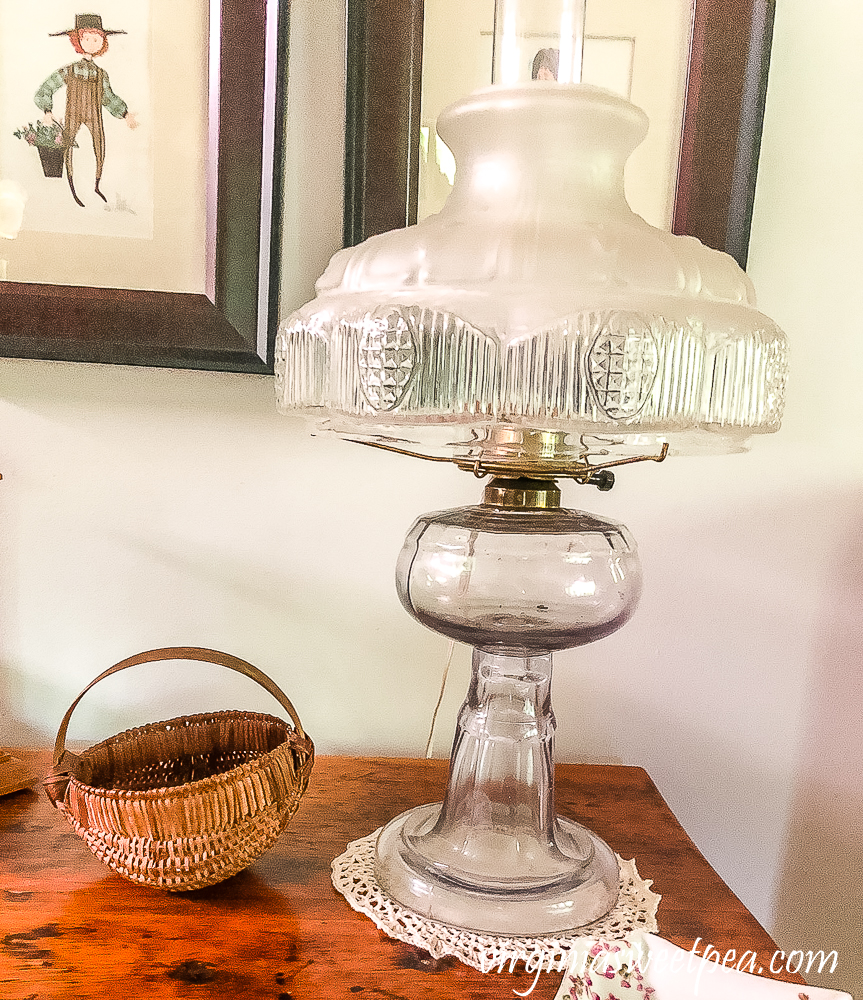 Judy displays this vintage basket that belonged to her mother-in-law on her fireplace hearth.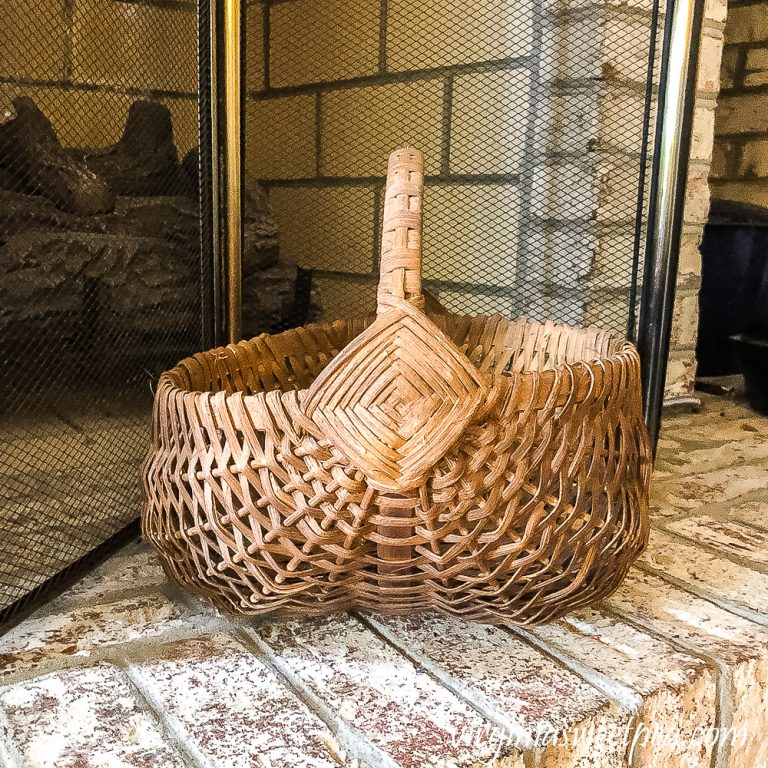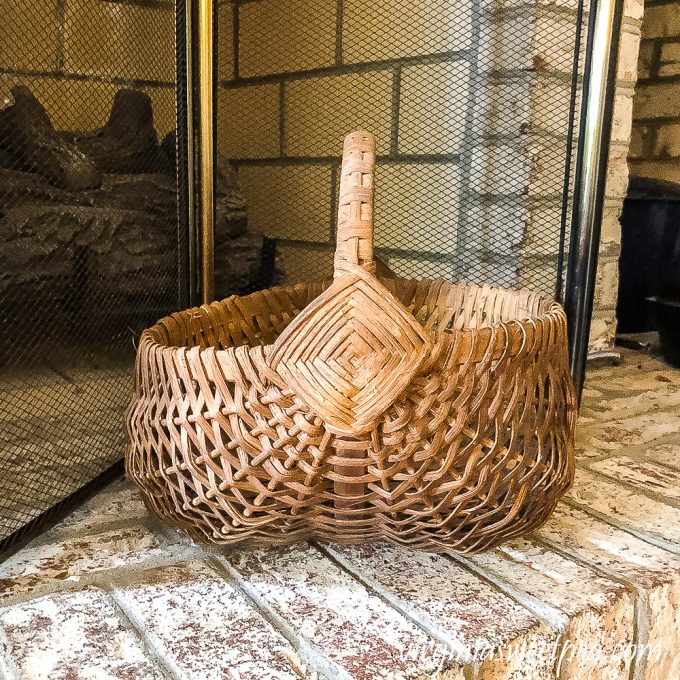 Just like my mom's home, Judy's home is filled with inherited from family antiques. I love going there and looking around.
Also displayed on Judy's hearth is some antique cast iron cookware.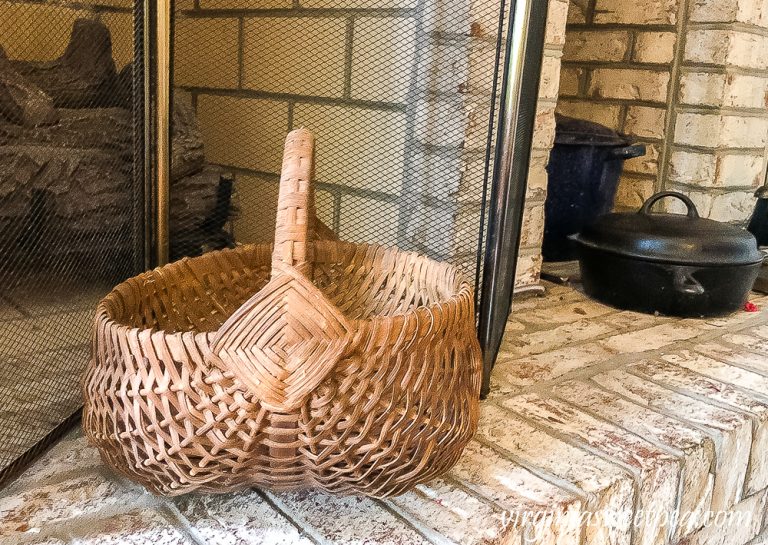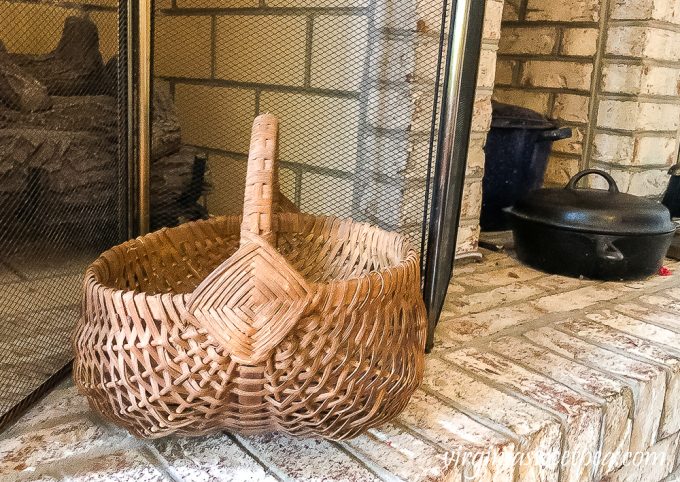 I can't share vintage baskets without sharing this one that belonged to my paternal grandmother.
My grandmother's 1922 basket was one of the gifts she received from her only childhood birthday party held in Norfolk, VA. My aunt has a photograph from the party hanging in her living room.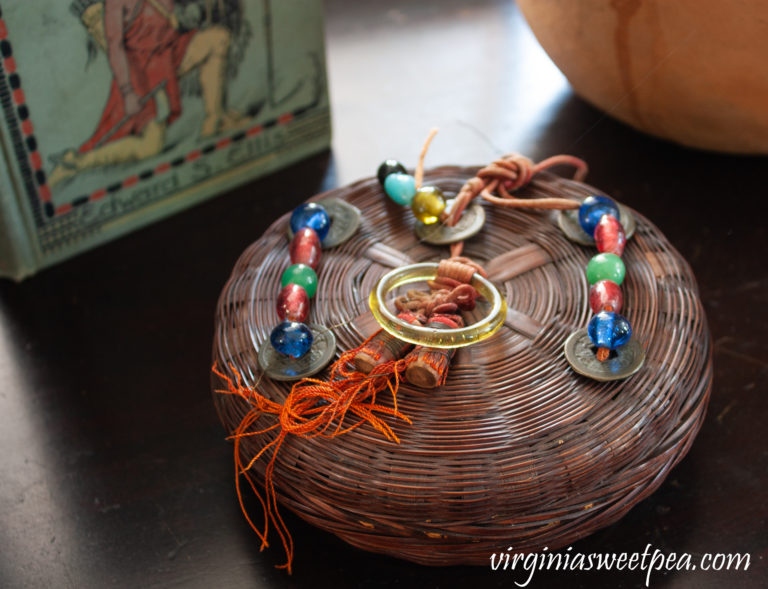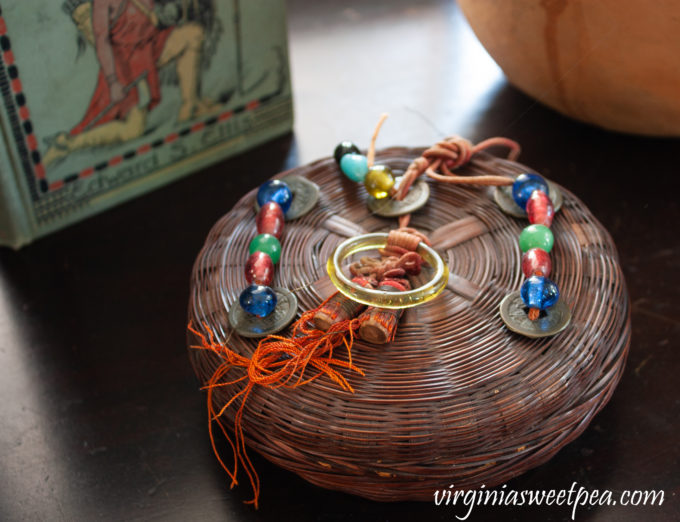 Last summer I used this basket as part of my summer decor.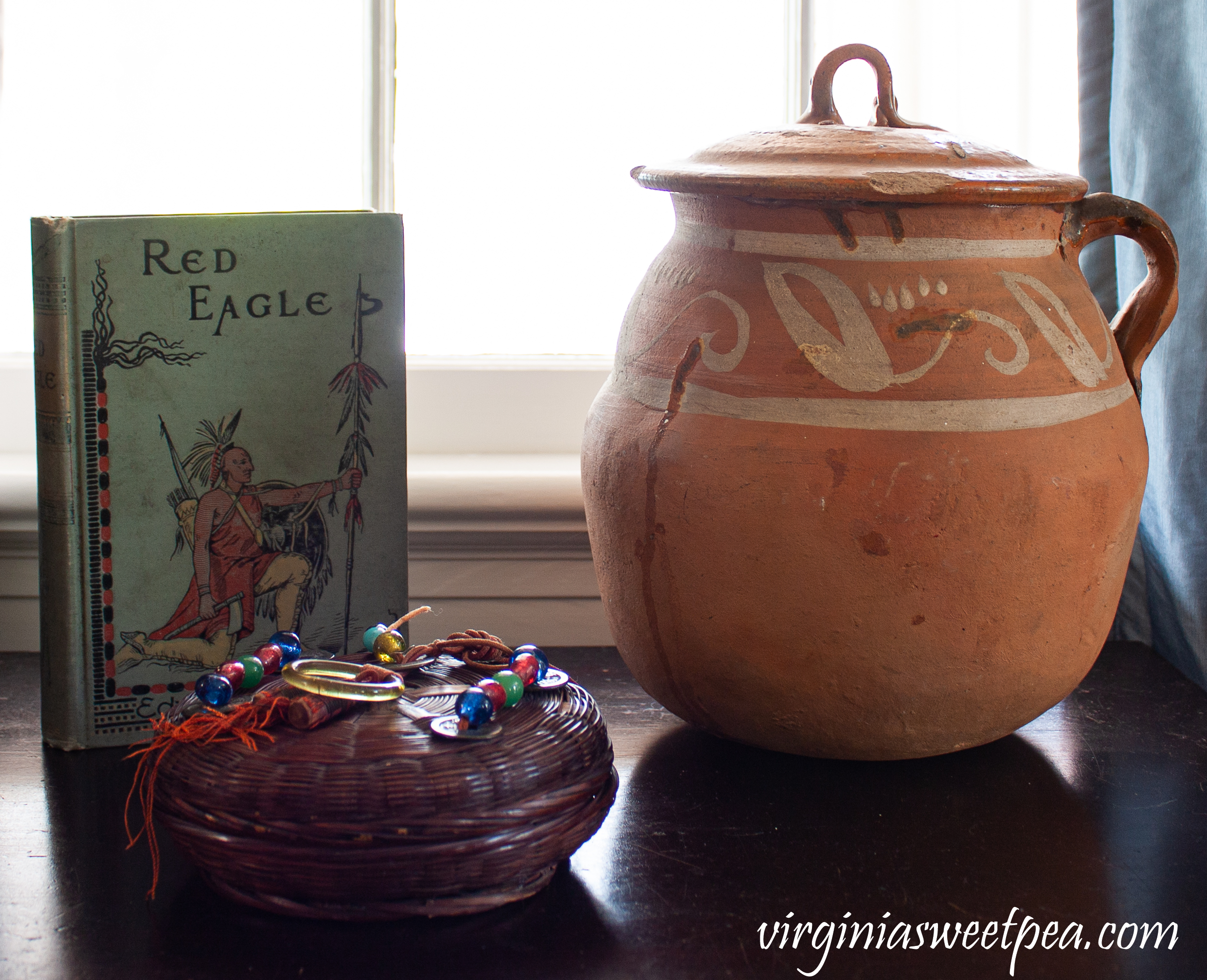 My great-great uncle fought in the Spanish American War and this Mexican pottery jug was a souvenir that he brought back to my great-great aunt after he attended a war reunion. The Red Eagle novel with the awesome Indian cover is from 1901.
Ideas for Using Vintage Crates
Now let's move on to ideas for using vintage crates.
Use Vintage Crates to Organize Mail
Our mail is delivered through a slot in front door. To keep our mail organized, I use a two crate system.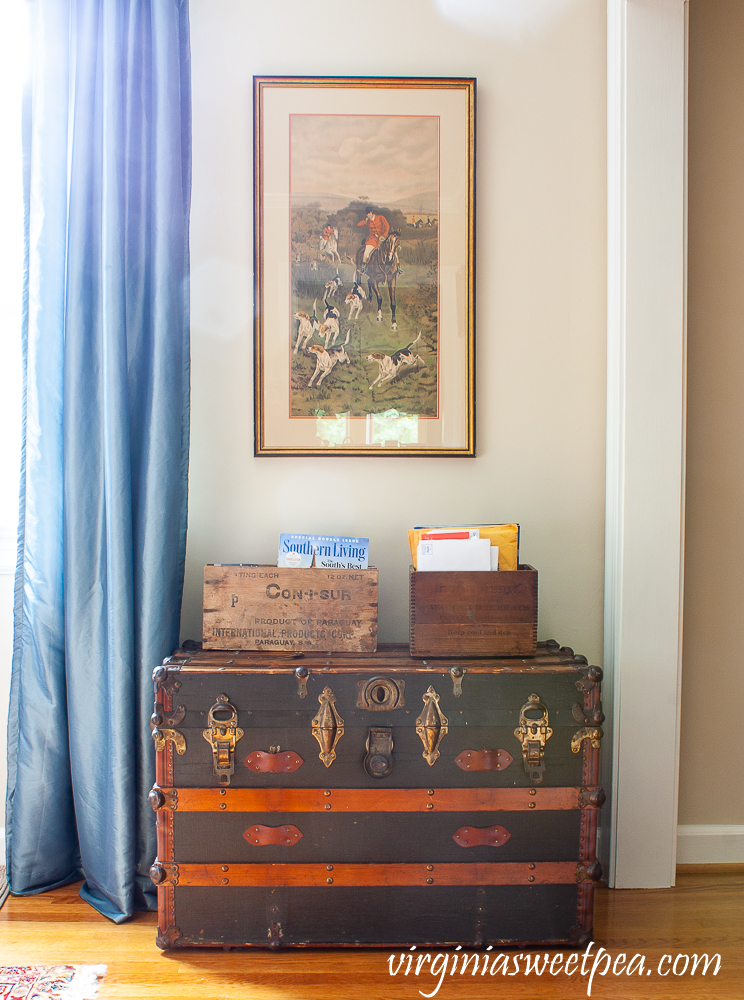 After I pick up the mail from the floor, my mail goes into the crate on the left and my husband's mail into the crate on the right.
I have used this system for years and it helps to keep this area by our front door tidy.
My crate came from a vintage shop where I used to have a booth.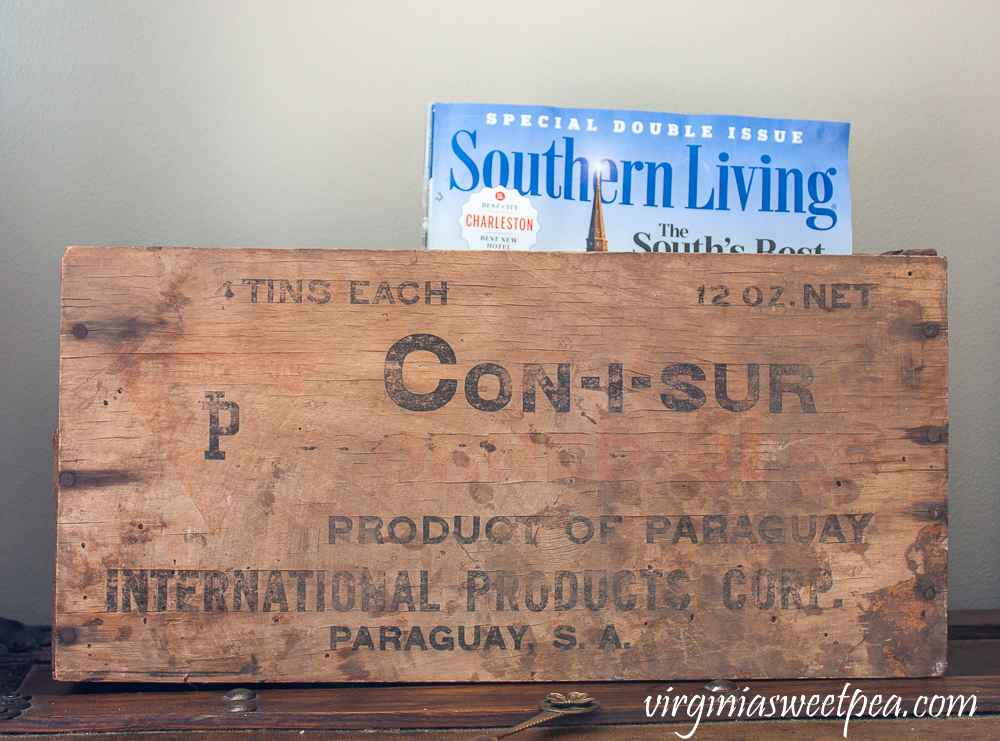 My mom gave me the crate that I use for my husband's mail.
The text on his box says, "Gold Medal Awarded Walter Baker & Co. Paris Exposition 1900 Keep cool and dry."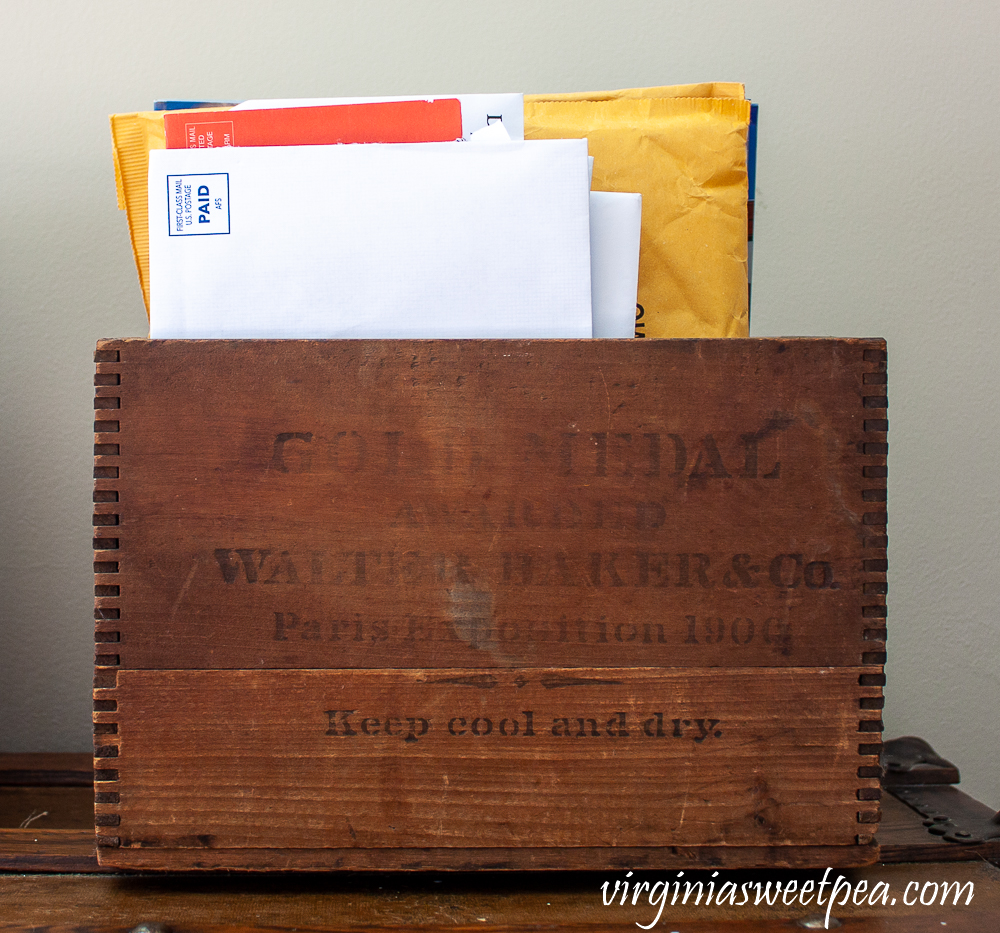 The text on the side of this box says that it holds 12 pounds of chocolate in one pound packages. It also says W. Baker & Co. Dorchester, Mass.
I found a box like mine for sale on Ebay.
Use a Crate to Organize Dog Toys
I know I already showed you how I keep Sherman's toys in a basket, but one basket isn't enough for our spoiled pooch.
More of his toys are in a crate that is so old that the writing is no longer legible.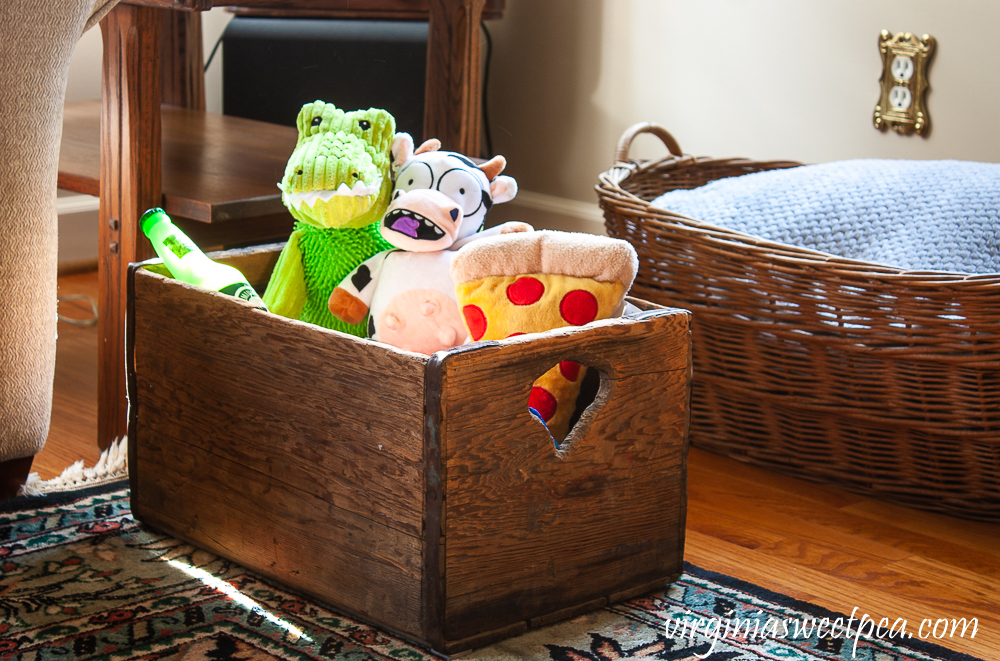 Sherman loves to grab a toy from his crate. He also likes to remove the squeaker and the stuffing.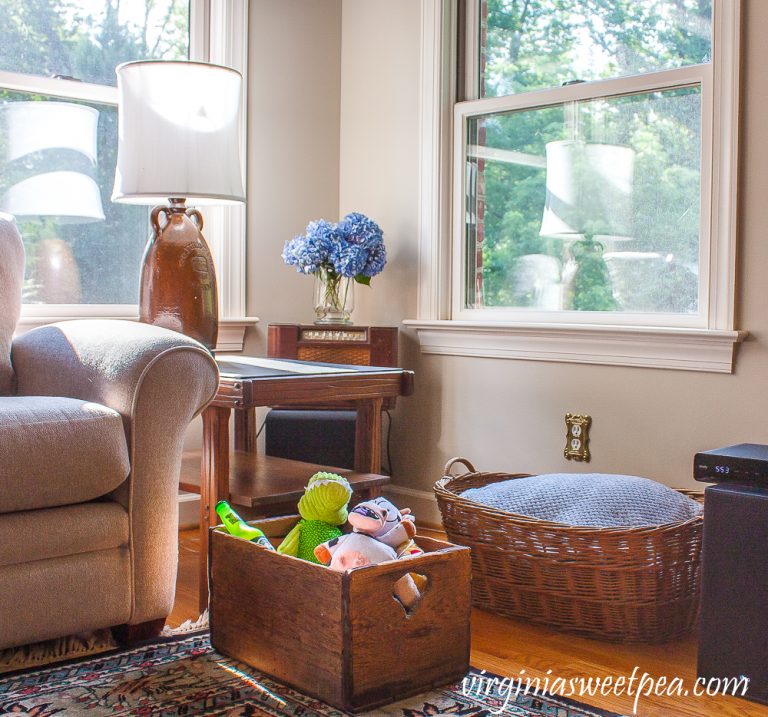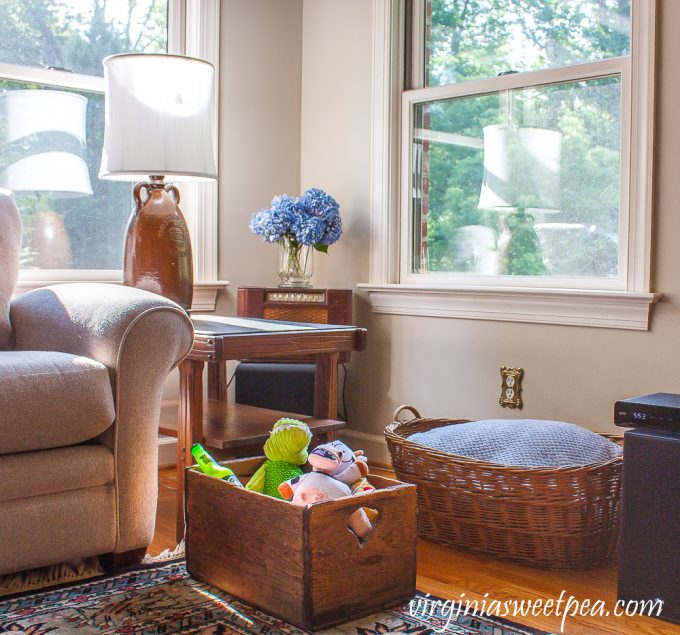 Use a Crate to Store Books
Stacey uses crates turned on their side and stacked to both store and display her cookbooks.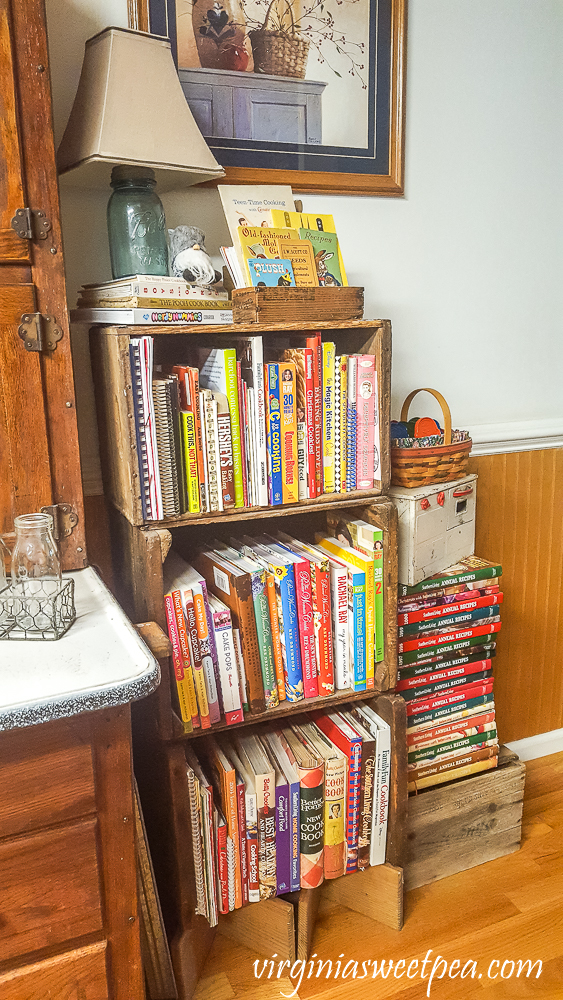 An old Velveeta Cheese crate holds vintage recipe booklets.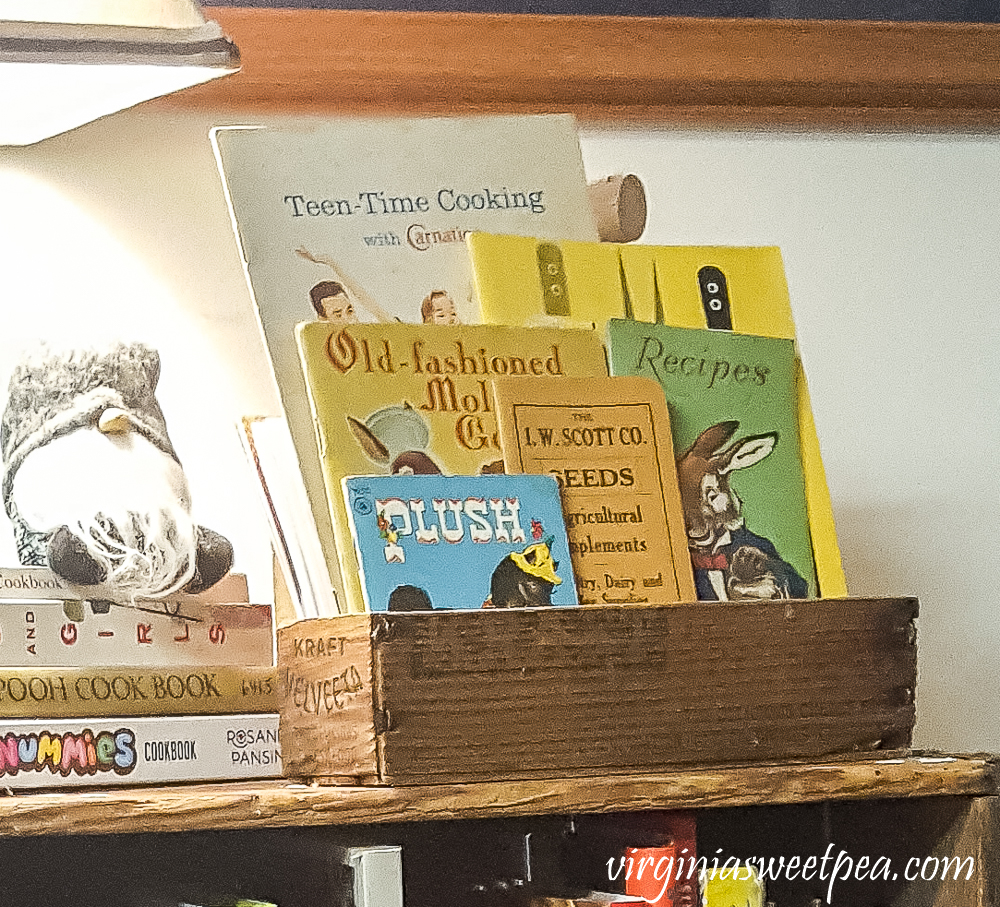 Vintage Charlie Brown cookie cutters are displayed in a basket on top of a darling play stove.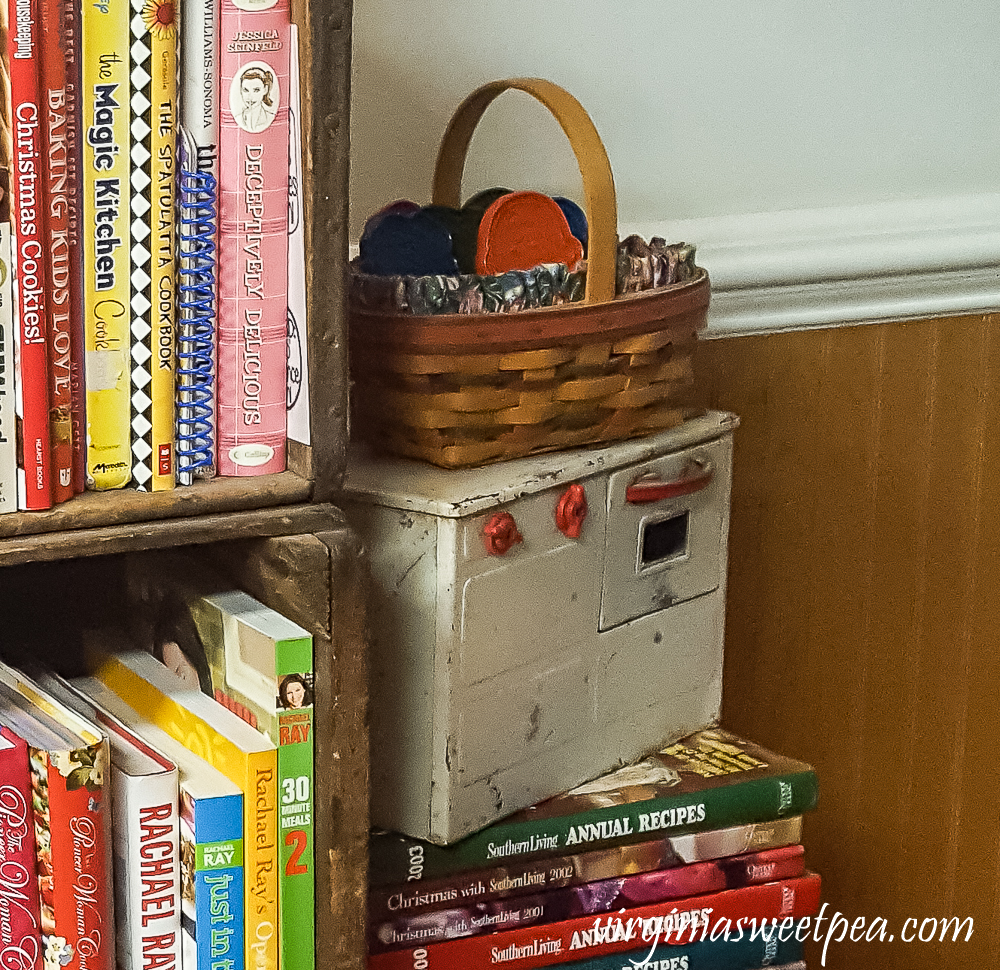 Judy also uses crates to store books. This crate came from my grandmother's house.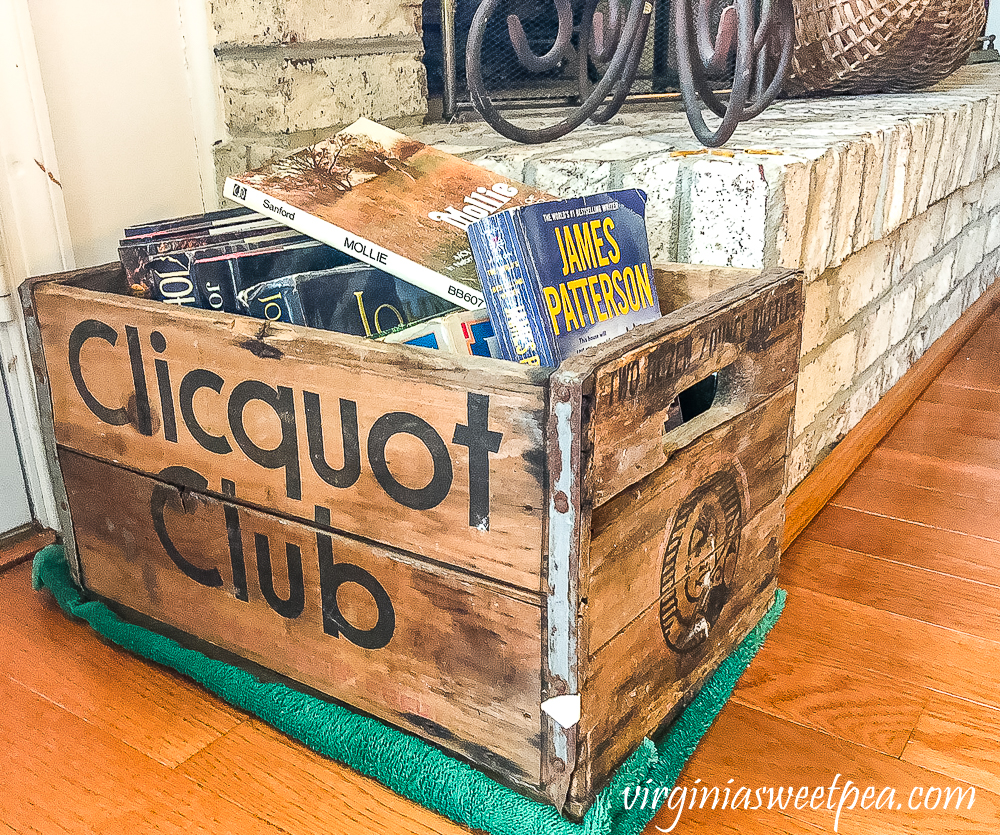 A similar crate is for sale on eBay and also on Etsy.
Use a Crate to Store Candles
Mama keeps this antique gunpowder crate on her kitchen cabinet and uses it to store candles.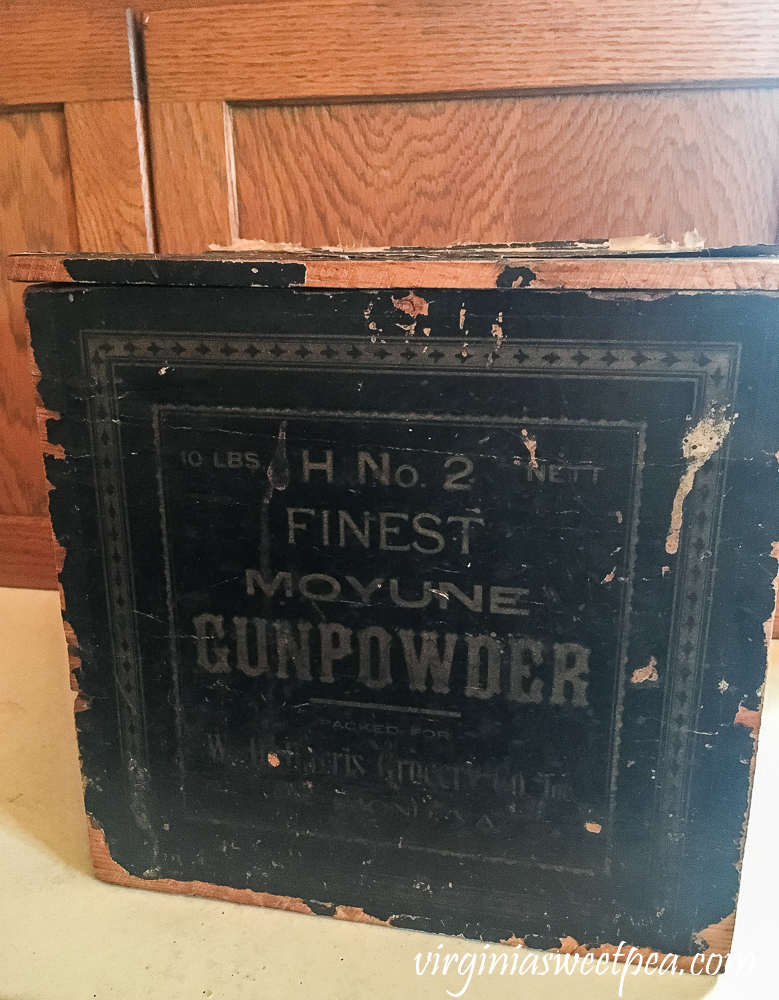 The gunpowder box originally belonged my mom's uncle.
I could go on and on showing you antique and vintage crates as my mom, me, and other family members use them all over our homes.
Vintage Cigar Box
When I was in either kindergarten or 1st grade, I remember that every child was instructed to bring in a cigar box to use store their supplies.
Almost everyone had a King Edward cigar box like this one in their desk. Can you imagine if a teacher asked a kid to bring in a cigar box these day?
Mama sent pictures of this Old Homestead cigar box for me to share with you.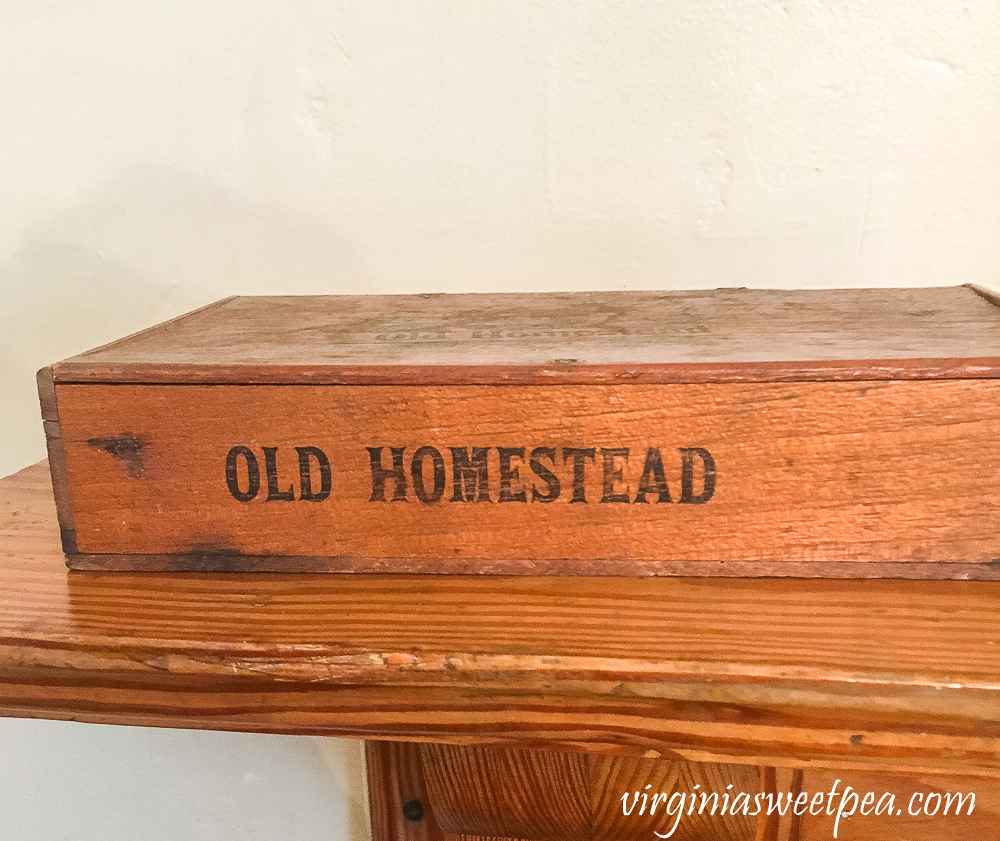 This cigar box belonged to my grandmother's cousin.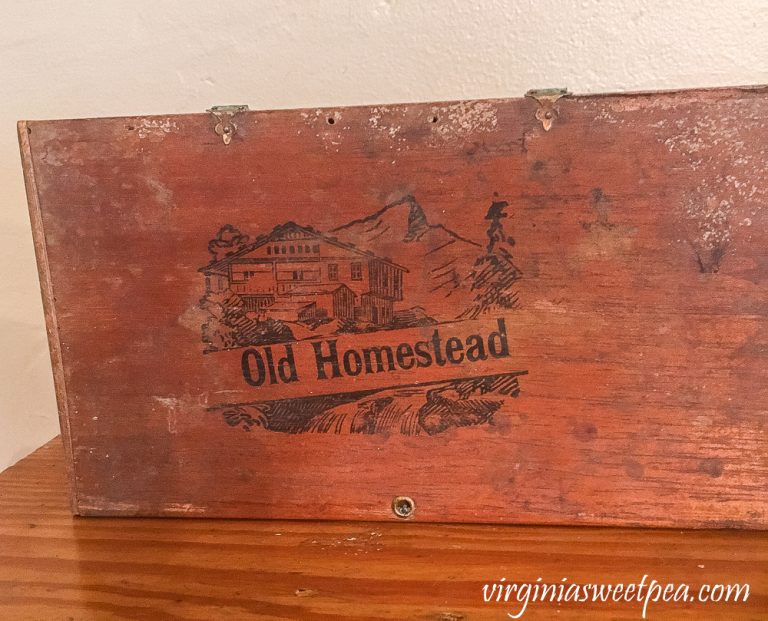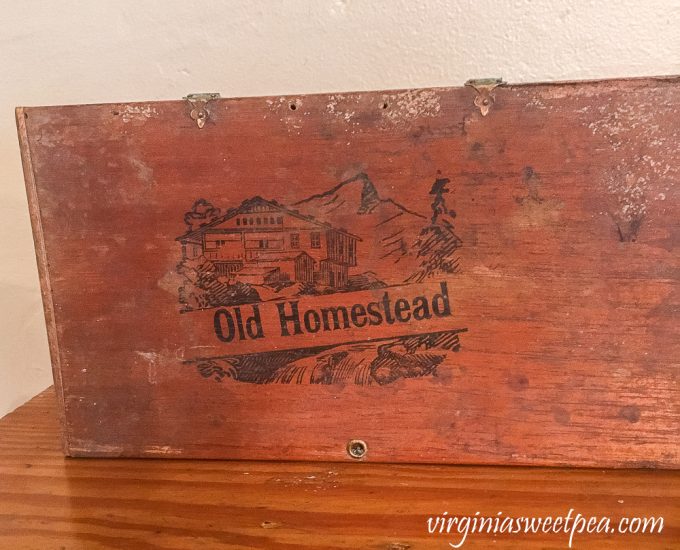 Boxes like this are handy for storing all kinds of things. Mama likes to do crossword puzzles and a box like this one is handy for storing her pens and pencils beside her recliner.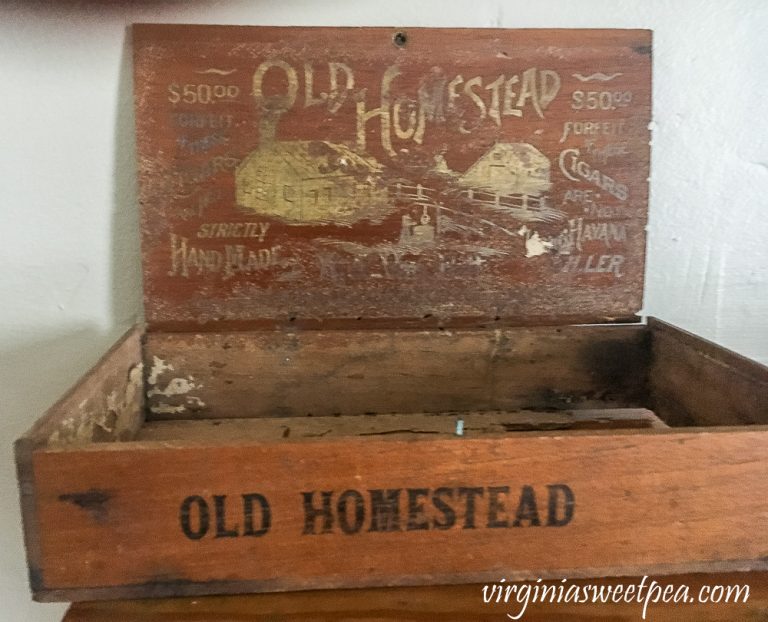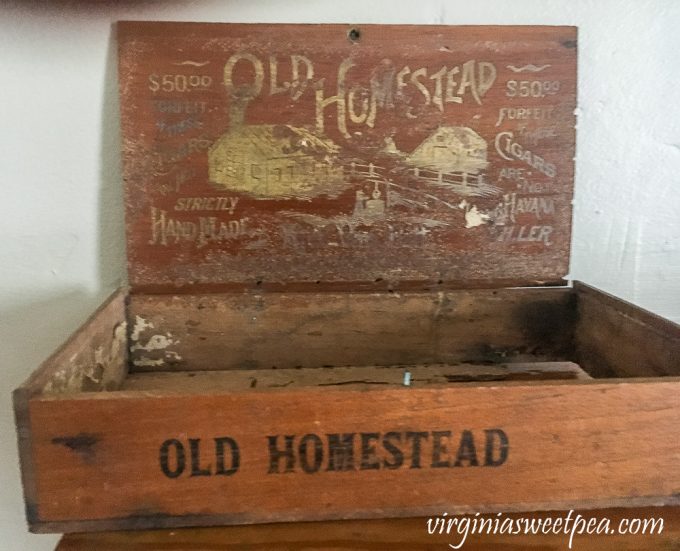 I love sharing antiques and vintage with you and today it was a treat to also share things that belong to my mom, aunt, and cousin.
Many thanks to Cindy for hosting this fun blog hop.
If you are hopping in order, next up is Coco from The Crowned Goat.
More Ideas for Using Vintage Baskets and Crates
Click on the links below to see the ideas that my friends are sharing..