Decorating for Summer with Vintage Beach Decor
It's not officially summer but once the calendar rolls over to June, it's summer to me. In celebration of summer, I decorated my living room with a beach theme. You know I love vintage, so my beach decor incorporates vintage along with items from the beach or those that make me think of the beach.
Decorating my Living Room with a Vintage Beach Theme
I so much enjoy decorating my living room for each season. Summertime makes me think about going to the beach, so I gathered up my beach decor and gave this room a coastal look for summer. Come take a tour with me!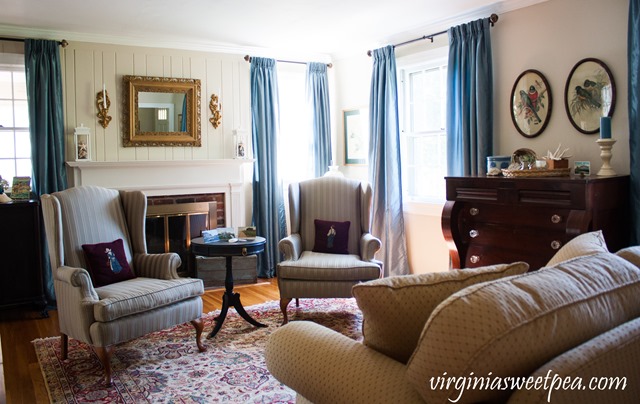 This room gets great light nearly all day and was our primary hang-out space before we added a family room to our home. Now our dog is the main family member to use this space. His spot is either on the sofa or on the floor in front of the chest.
The chest was my grandmother's and is one of my favorite pieces that I inherited from her.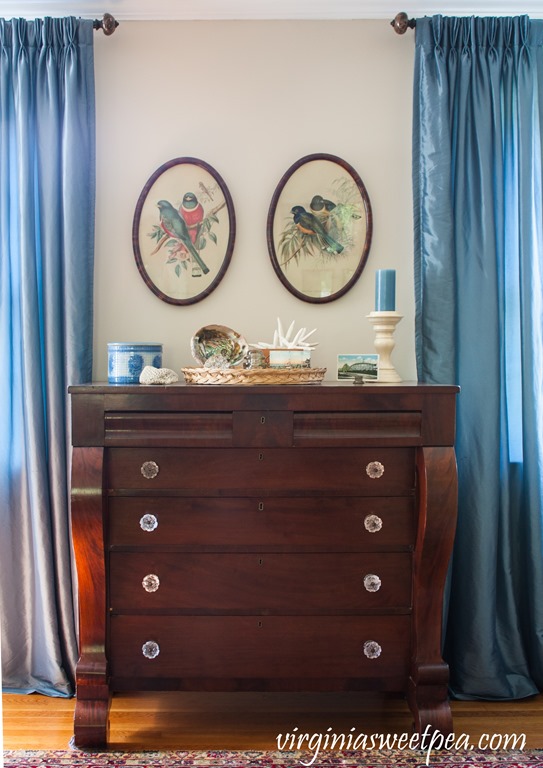 A wicker tray corrals a few beachy items. The Abalone shell was my grandmother's and was used for garden club flower arrangements. Mama gave me the glass insulator. It's not dated, but is marked "Made in the USA" and "Armstrong's". The postcard is postmarked December 10, 1909 and was sent from my great-great aunt from Norfolk, VA to her sister in Vinton, VA. Aunt Fannie was a hat maker and was writing her sister to let her know that she had sent her a hat COD.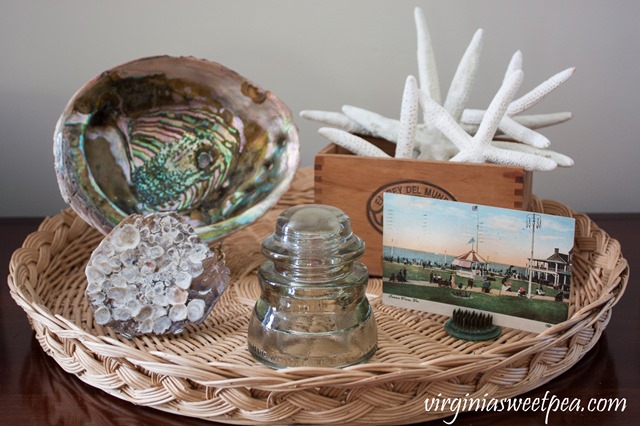 The scene on the postcard is of Ocean View, VA located in Norfolk.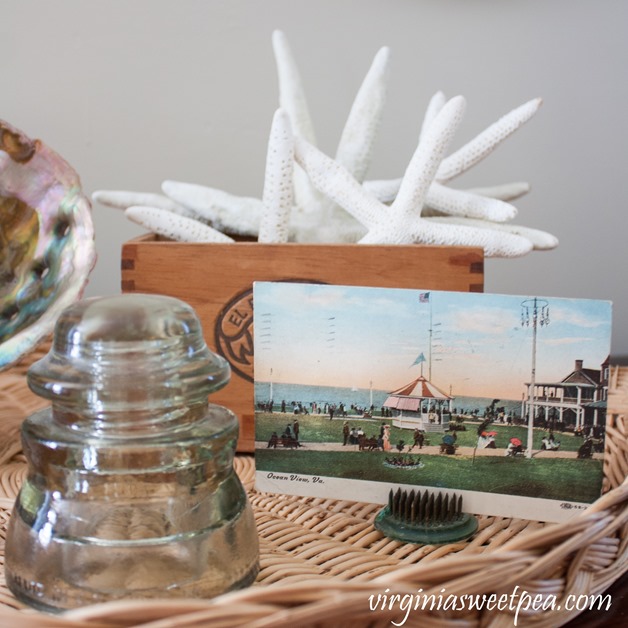 To the left of the wicker tray is another piece that was my grandmother's, a blue and white pottery piece. This piece has no marks and I know nothing about it other than that my grandmother always had it on display in her kitchen. The coral in front of the pottery piece also came from my grandmother's house and I was told that it was found in West Virginia. If that story is correct, it is fossilized coral.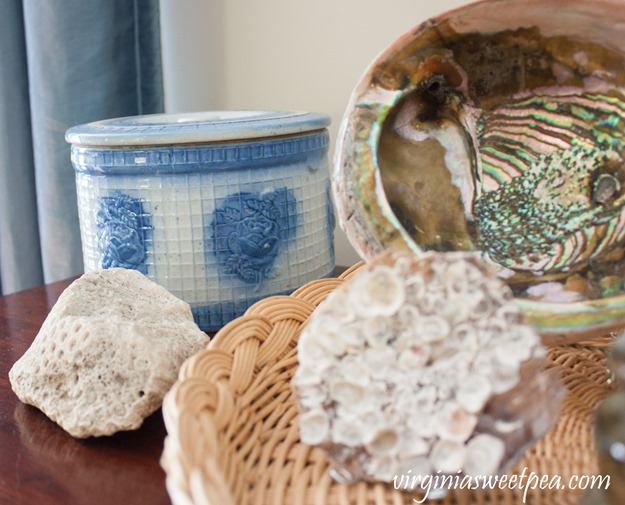 The wooden box on the wicker tray was a trash pile find. For summer I filled it with starfish.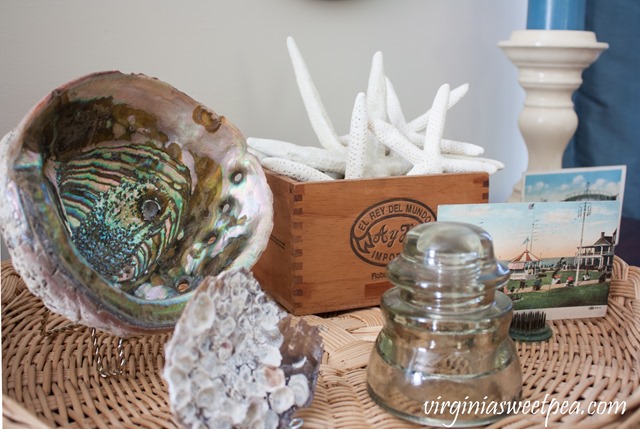 Near the candle is another postcard from Ocean View, this one says "Leap the Dips" which I suppose it talking about the roller coaster. This card was sent August 11, 1916 from Norfolk to Miss Fannie Hudson from her sister Blanche. My former teacher assistant gave this postcard to me. Blanche and Fannie were her relatives.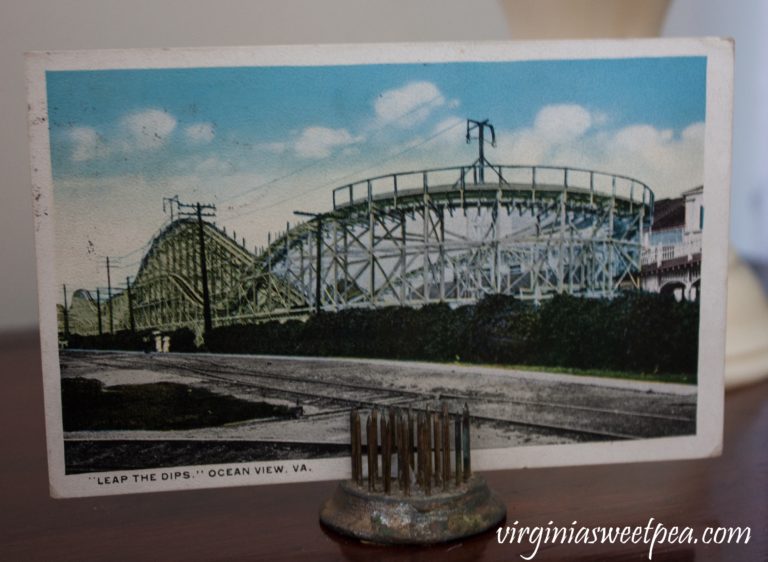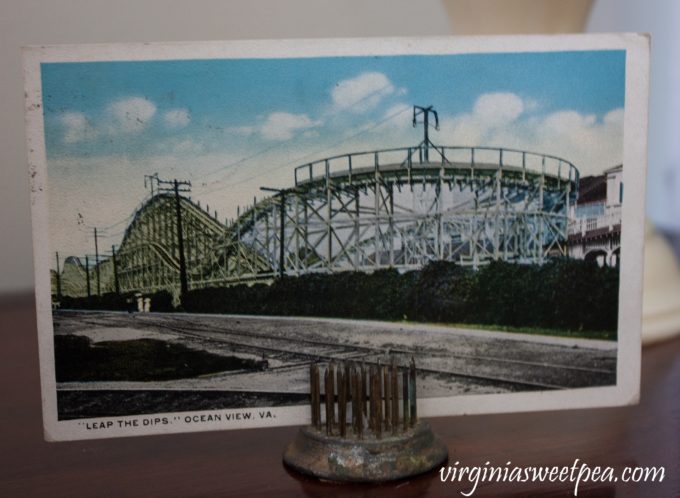 Now we'll move on to another coastal vignette, this time on the small table between the wing chairs. Speaking of wing chairs, the pillows on the wing chairs were my grandmother's handiwork. She loved to needlepoint and made these at some point. I thought about buying some coastal themed pillows to use on these chairs this summer but instead just used what I already owned.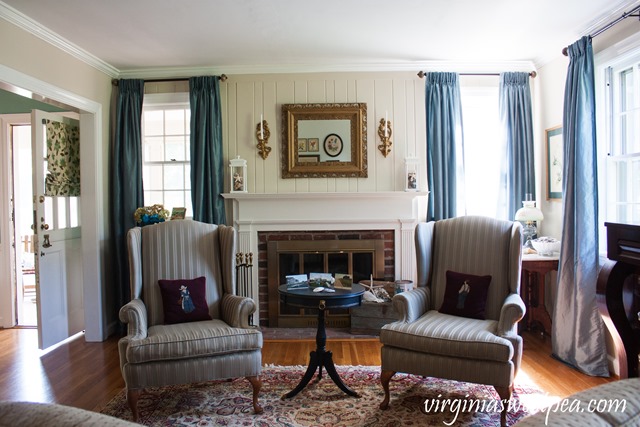 The postcard on the left is marked, "The Arlington Cottage, Virginia Beach, Virginia" and is postmarked August 18, 1907. It was sent from Lucy to Mr. Robt. L. Funk in Vinton, VA. Lucy was my great-grandmother, perhaps she sent this card.
The middle card is another marked, "Ocean View, VA". It is postmarked December 3, 1909. The message is more hat talk between my great-great aunts.
The card on the right is marked "Princess Anne Hotel, Virginia Beach, Virginia" and is postmarked August 22, 1907. It was sent to Lizzie Hughes in Montgomery County, Virginia. I don't know who Lizzie Hughes is but postcards addressed to Lizzie are amongst those that my grandmother had that belonged to her aunts so I suppose she was a friend.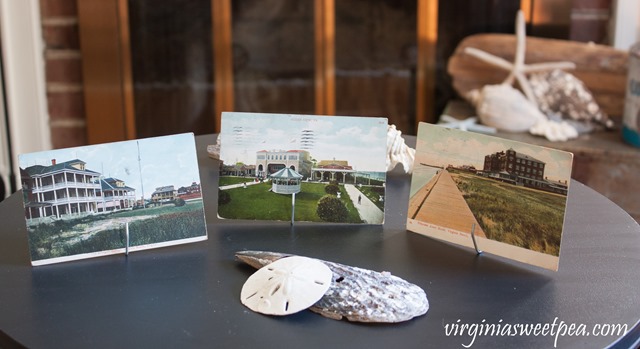 I usually display my vintage postcards using small floral frogs but recently discovered that I could bend drapery hooks to use as mini easels for display. I like displaying postcards on this table because I can enjoy both the back and front sides of the cards.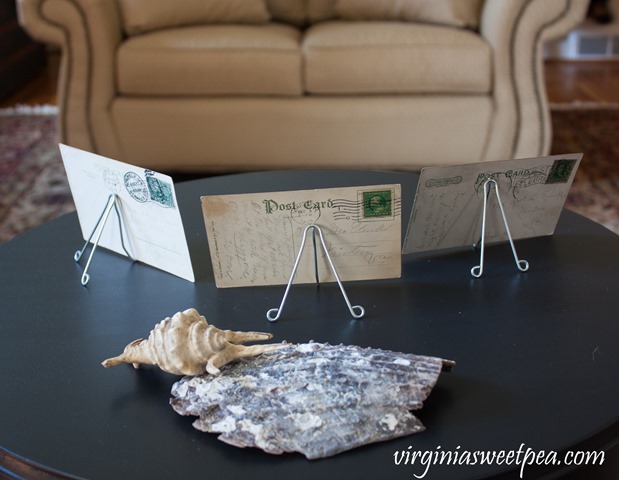 The mantel always is the hardest part of this room to decorate. I kept is simple with DIY lanterns that I made last fall that hold Mason jars filled with shells.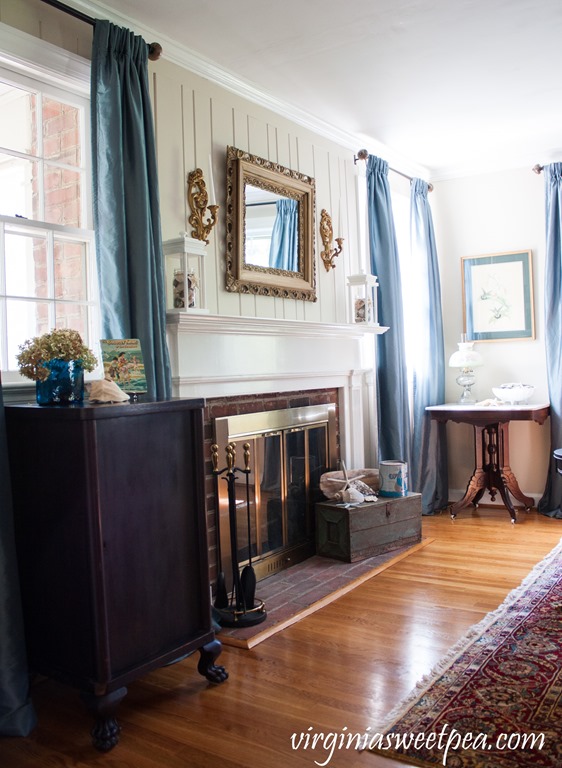 Here is a better view of the lanterns on my mantel. I took this picture outside one evening when the light was just right. You can see exactly how I made these lanterns here.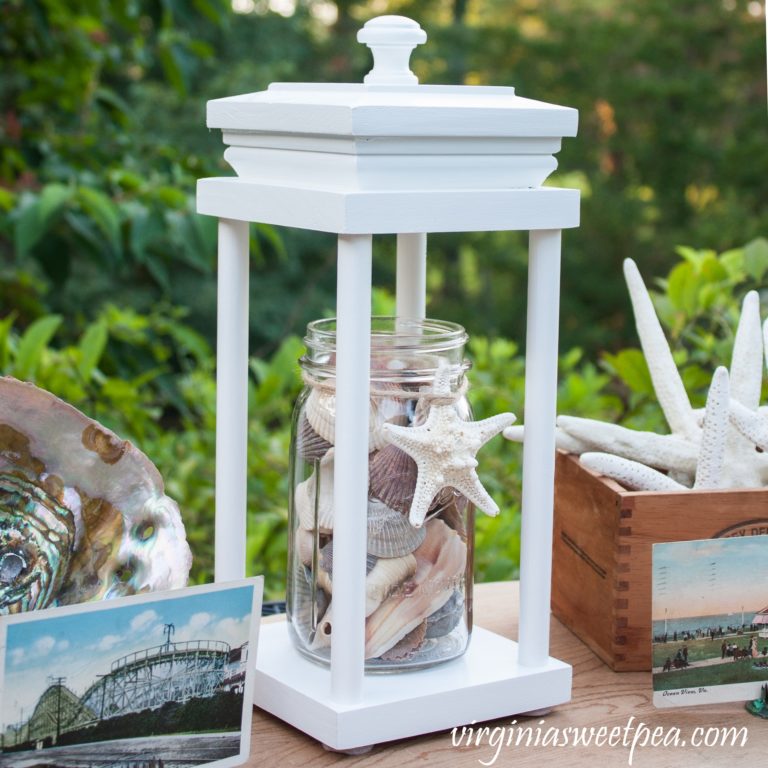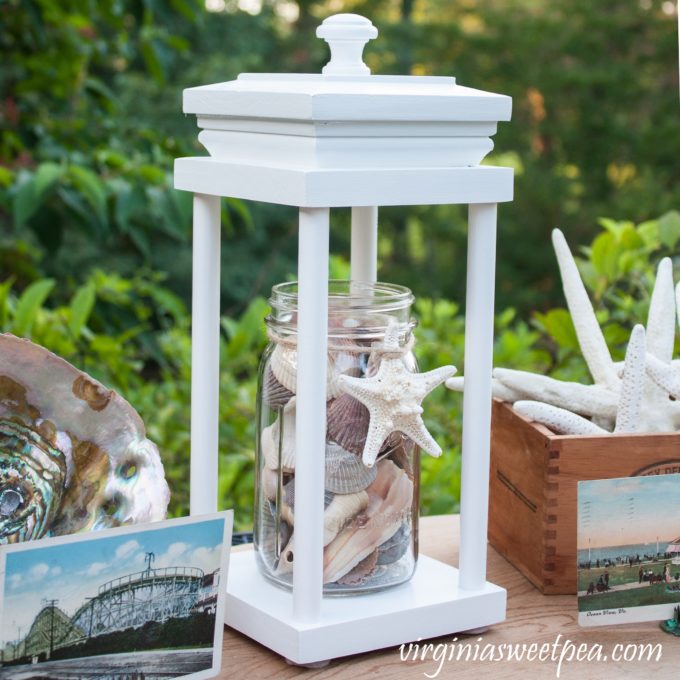 The music stand to the left of the fireplace holds another beachy vignette. The blue vase is Blenko and belonged to my grandmother's neighbor. Blenko is located in Milton, WV, not far from where my grandmother lived in Giles County, VA. My grandmother and her neighbor had several Blenko pieces, probably from visiting the factory.
The Bobbsey Twins book has a 1954 copywrite.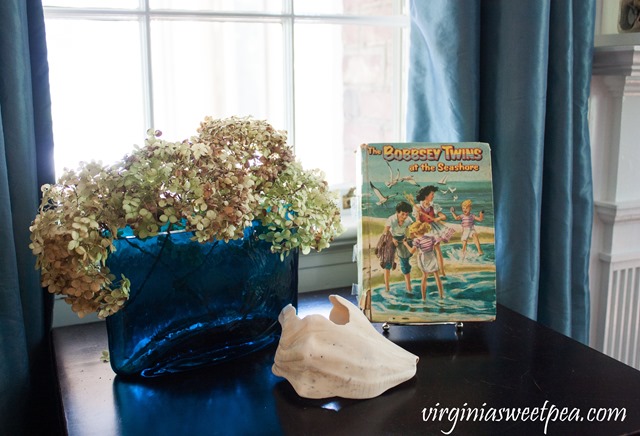 The wooden toolbox on the fireplace hearth holds an old oar, an oyster can, and assorted shells and starfish. The oyster can and oar both belong to my mom and she used them to decorate a beach house that she has since sold.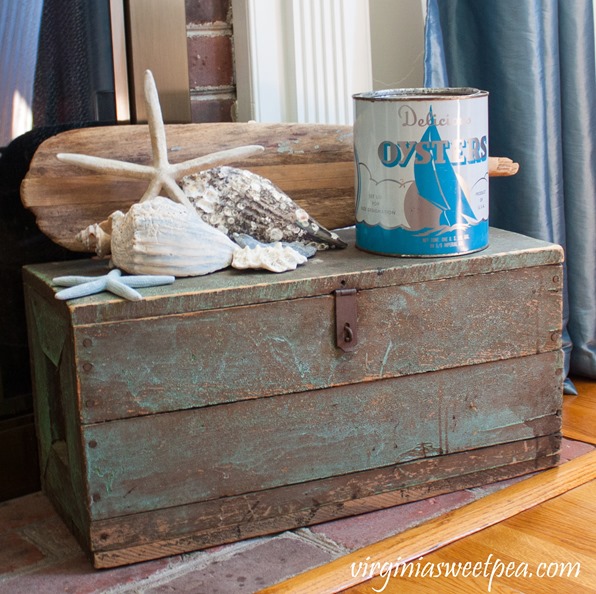 Mama comes from a family who kept everything, so I'll have to ask her the story behind the broken oar. It had to have belonged to some relative!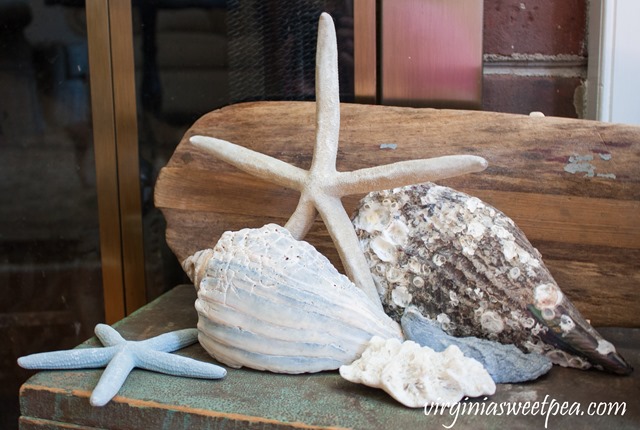 The marble topped table to the right of the fireplace is also decorated with beachy goodness.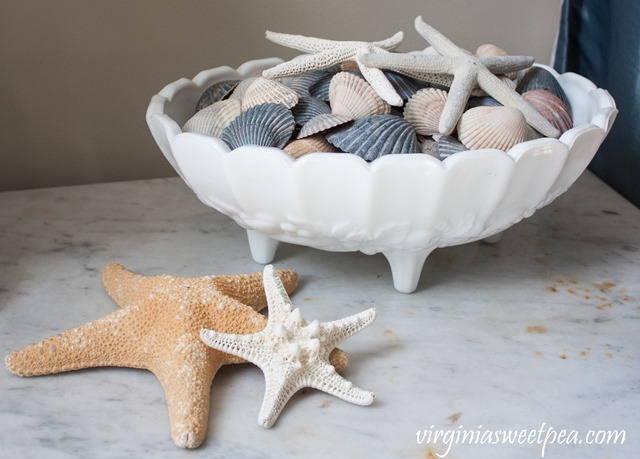 This is the other side of the living room. Hanging over my dad's 1960's Montgomery Ward Stereo are framed sheet music from the early 1900's. The sheet music belonged to Maggie Scanlon, one of my other grandmother's cousins. My mother lives in the house that Maggie's dad, Jim Scanlon, built for his family in 1913. Chances are that Maggie played her piano using this sheet music in the home where my mother now lives.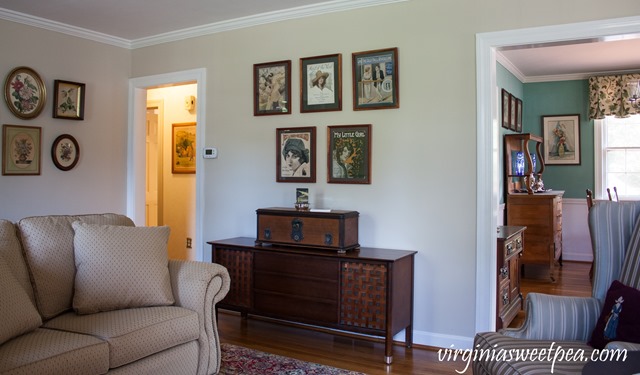 The lidded box on top of my dad's stereo was made by family member out of an old radio. On it I have another postcard and a North Carolina Beach nature guide.
The postcard was sent from Atlantic City, NJ to my great-great aunt August 8, 1907. Willye's then boyfriend George was letting her know that he would leave tomorrow evening and would see her Saturday night or Sunday. George worked for Norfolk and Southern Railroad and perhaps was in NJ on business.
The silver bowl has my dad's name on one side and was given to my grandparents by the senior class of William Byrd High School in 1941. My grandfather was then the principal of William Byrd and the class secretly invited my grandmother and dad who was an infant to be at the ceremony when it was presented to my grandfather.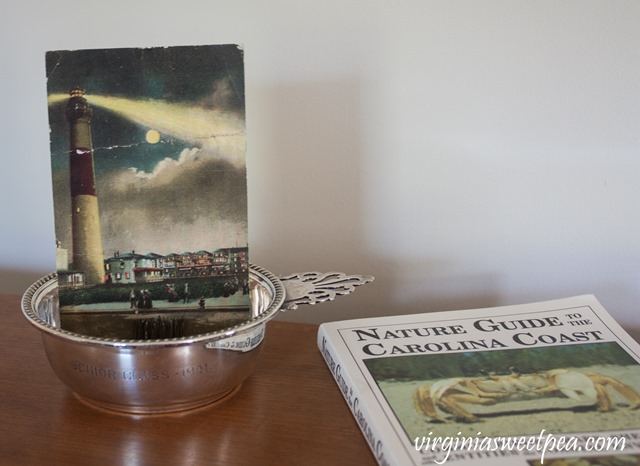 I hope you enjoyed my beach themed living room decor and that you enjoyed seeing my beach themed vintage things.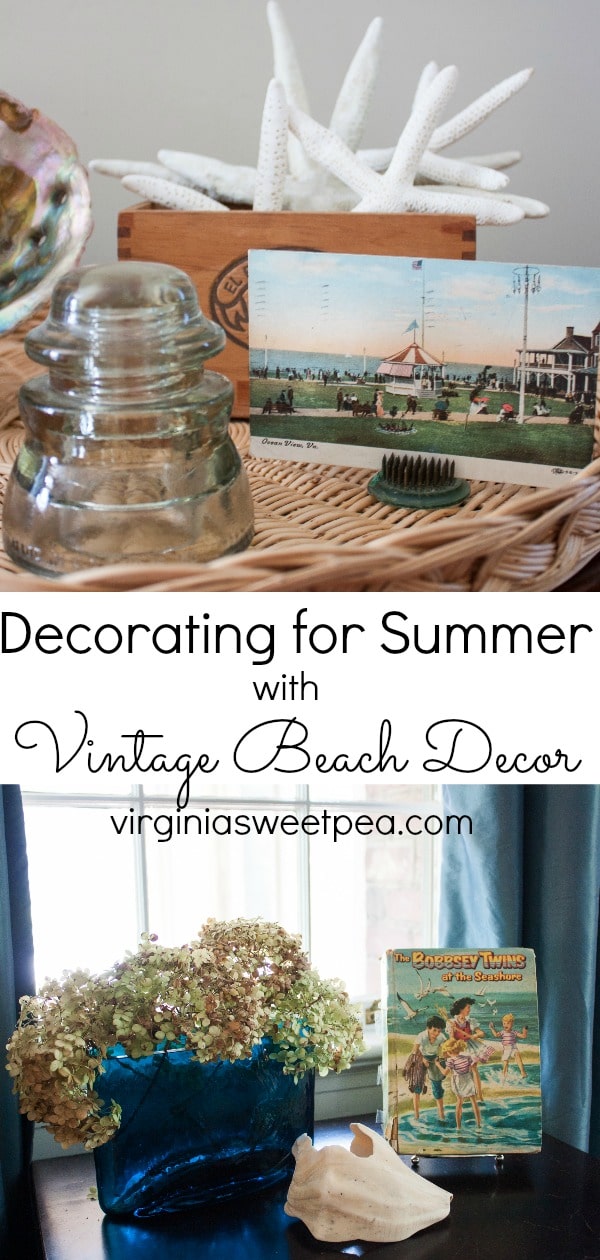 I'm sharing my love of vintage along with fellow vintage loving friends from the Creative Vintage Darlings group on Facebook. If you love vintage, we would love to have you join our group. Just click over and request to join.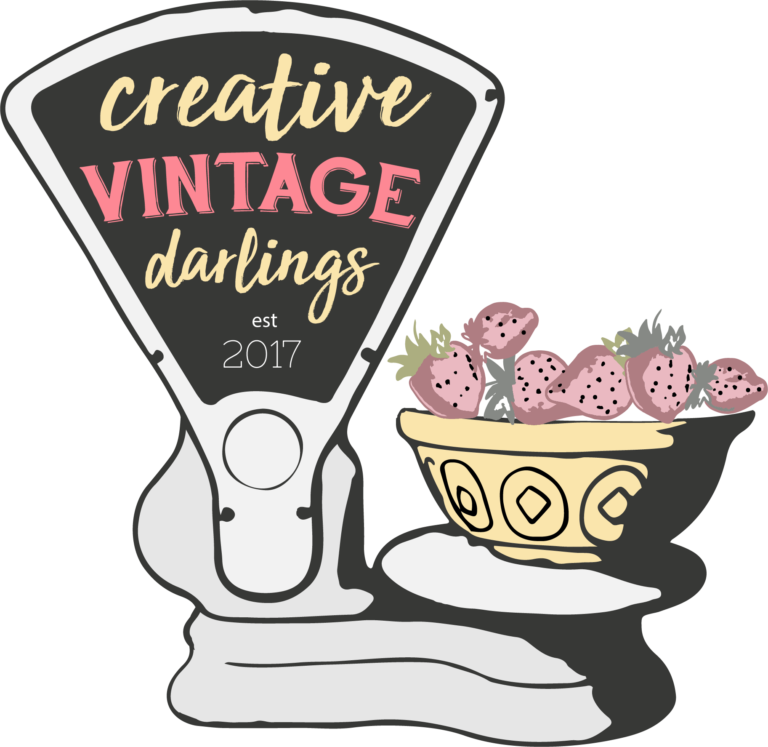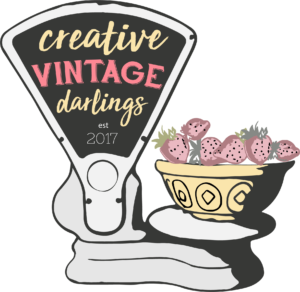 Now I invite you to visit my vintage loving friends. Click on the links below to visit each post.


Lora B. Create and Ponder // ArtisBeauty.net // Sweet Pea