#ad Positive Reinforcement Dog Training with Nudges
I am a member of the Collective Bias® Social Fabric® Community. This shop has been compensated as part of a social shopper amplification for Collective Bias and its advertiser.
Sherman, our rescue dog, has brought untold joy into our lives. I never imagined that I would enjoy cuddling with a dog first thing in the morning or late at night, nor did I imagine that I would want to race home from work to see a dog. This former dog hater has been totally transformed into a dog lover by living with sweet Sherman. As sweet as Sherman is, a lot of his sweetness has to do with good training. We have found in training Sherman that positive reinforcement dog training works best. Sherman will work hard to earn a tasty treat.
Sherman's best buddy is our neighbor's poodle, Cajun, who also is trained with positive reinforcement. Cajun has completed many levels of obedience training and he enjoys taking classes in rally and agility. Cajun is a therapy dog who visits a local hospital every Friday to bring cheer to patients. Sherman visits Cajun almost daily for a play session which often means a couple of stops in play for a treat. On a recent evening, Sherman and Cajun enjoyed Nudges as their treat. Sherman loves Nudges and it was Cajun's first time tasting this treat.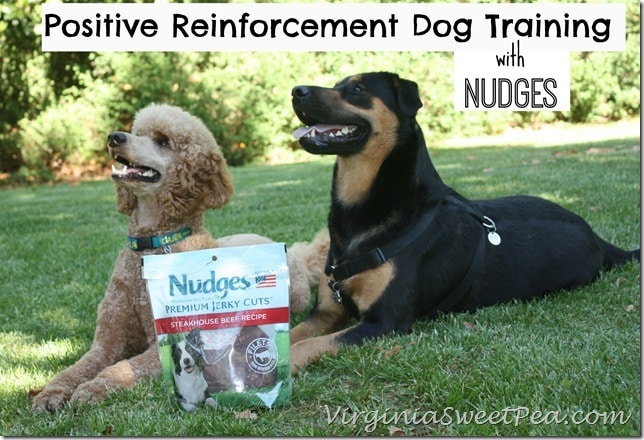 Have you heard of Nudges? I purchase mine at Walmart on the pet care isle.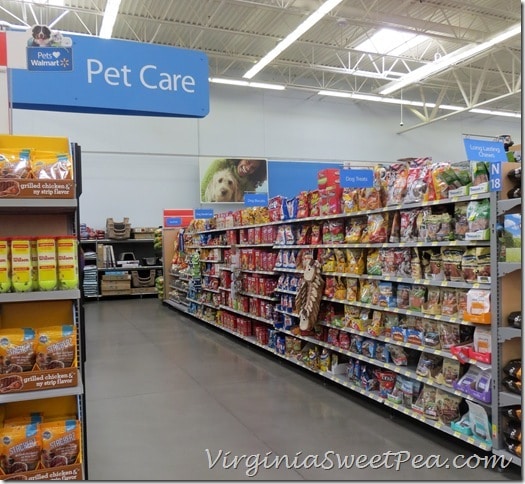 This treat is made in the USA, is free of fillers, and is made with real American raised meats. Nudges are available in Health and Wellness Chicken, Beef, Bacon, and Duck. (My local Walmart doesn't carry the bacon variety.)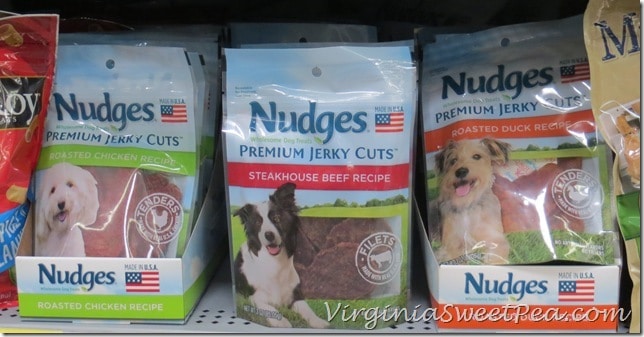 Nudges are soft and truly smell good. In fact, I could easily be convinced that a piece of Nudges was human beef jerky and not a dog treat. For training, Nudges are great because they are easily torn into small pieces for treats. When training Sherman, I put plenty of treats into a treat holder that attaches to my pants. I can easily reach a treat when it's time to reward Sherman for doing what I asked.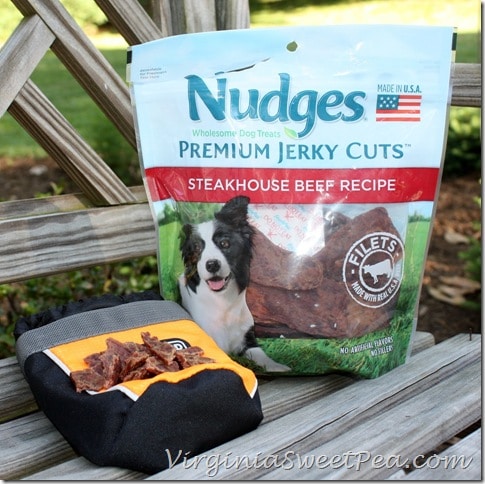 After Sherman sits on command, he is rewarded with a piece of Nudges.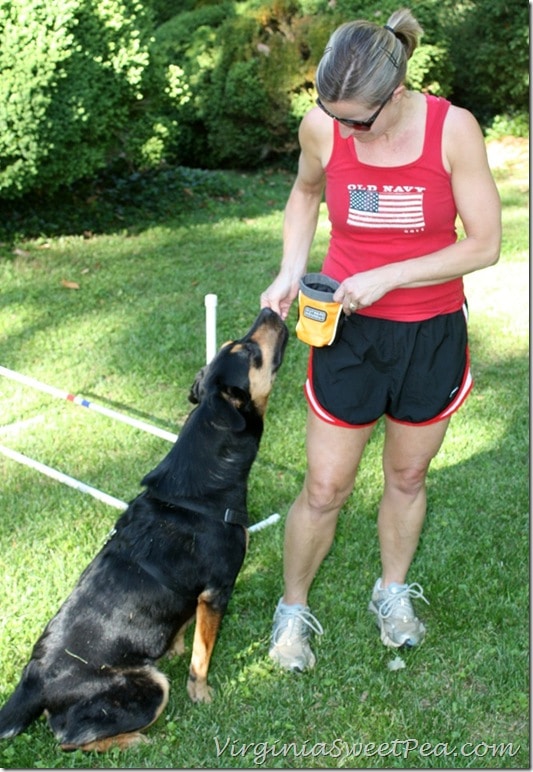 Sherman starts agility training class on June 10. Cajun has taken agility classes for a year and has a practice jump in his yard. In preparation for class, I've been training Sherman to jump over the bar. You can see that it doesn't take much convincing for Cajun to jump. He knows I have a piece of Nudges in my hand, so he's looking at me instead of where he going!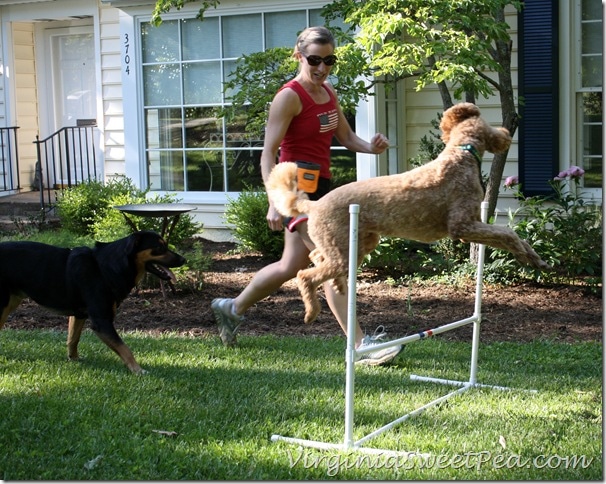 After a few tries where he knocked down the bar instead of jumping over it, Sherman finally jumped!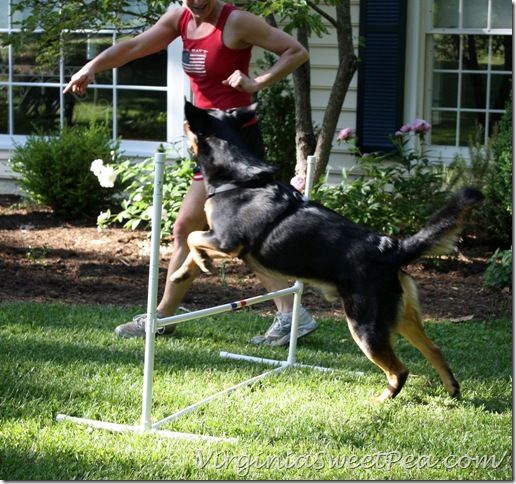 He was rewarded with praise and of course a piece of Nudges.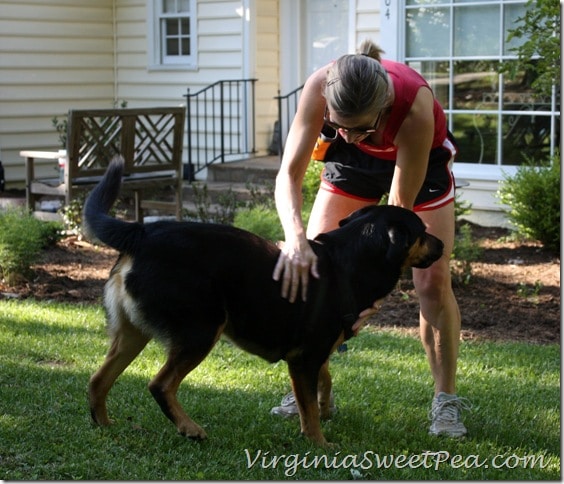 After the jumping session, both dogs were rewarded for sitting on command with Nudges. Then it was off for running, chasing, and wrestling on the lawn.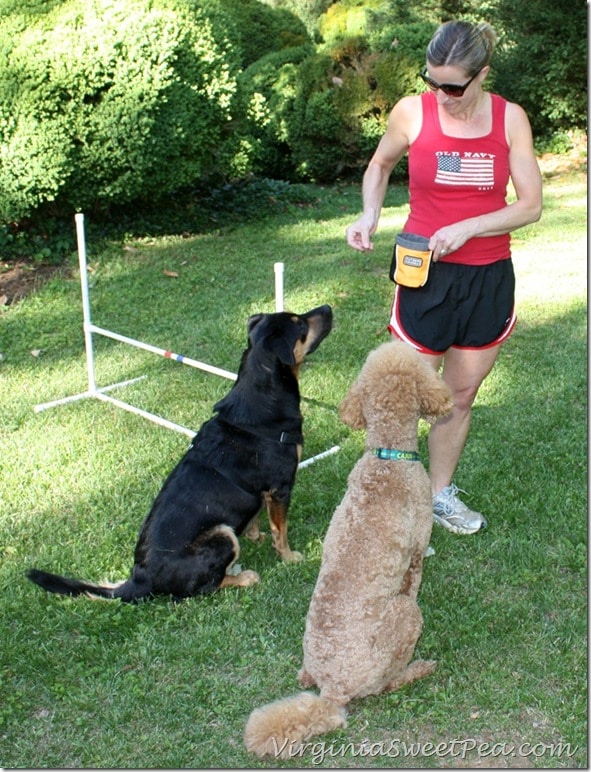 Mr. SP delights in giving Sherman and the other dogs in our neighborhood treats. I'm not sure who is more excited about opening the bag of Nudges, Sherman or Mr. SP. #NudgesMoments like this one melt my heart. I love our little dog!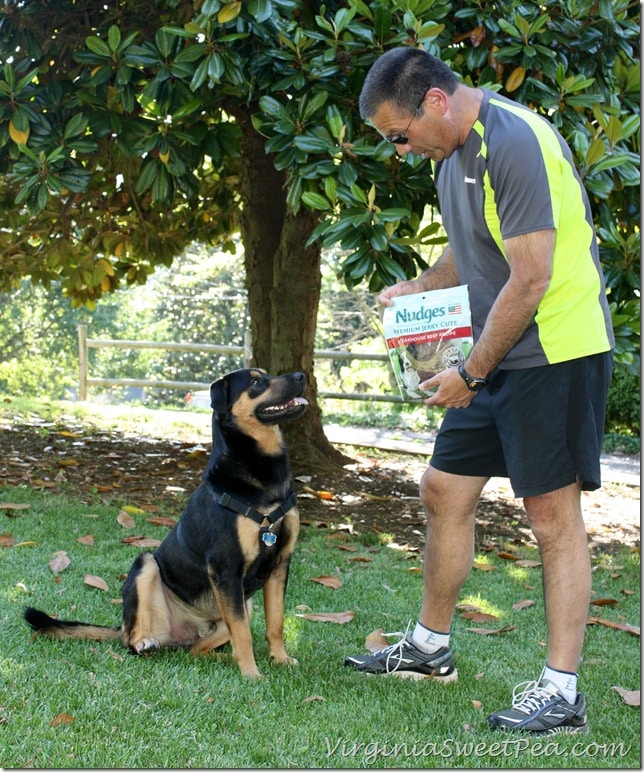 Before you shop for Nudges, take a moment to print a coupon for $1 off a bag. #CollectiveBias
I'm really proud of Sherman's training and hope that one day he'll be a therapy dog just like Cajun. Sherman is so calm and loving and I know he would be medicine that a doctor can't prescribe for many patients in the hospital. We'll keep working with Sherman and one day he'll meet my goal!
Sharing With:
Serenity Now, Imparting Grace, Little Miss Celebration