Safe Dog Fun for Summer and Made in the USA Dog Treats #NudgesMoments
I am a member of the Collective Bias® Social Fabric® Community. This shop has been compensated as part of a social shopper insights study for Collective Bias and their client.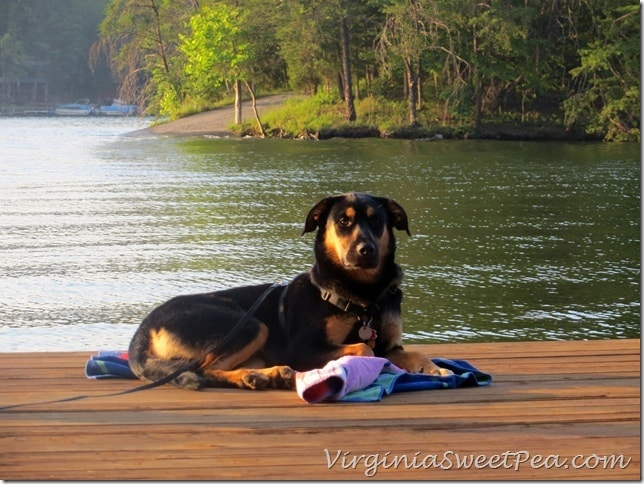 Any dog owner will tell you how quickly a puppy becomes a treasured family member. Our fur baby Sherman has lived with us for almost four months and we can't imagine life without him. Sherman travels with us for day trips to the lake and just returned from a week at the beach. We have fun with Sherman and work hard to train him to be a good doggie citizen and also to keep Sherman safe.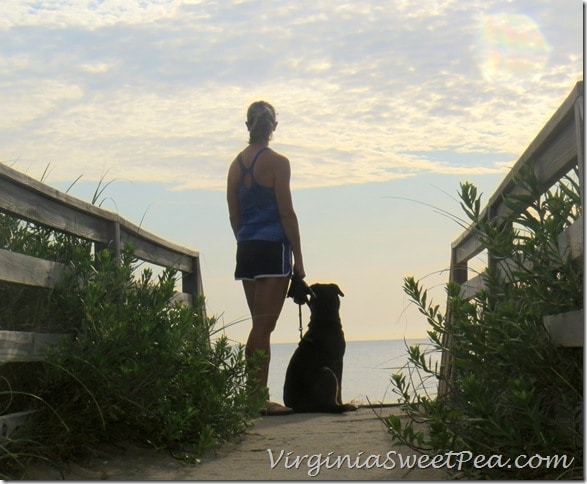 We find that Sherman works hard for food rewards. It is important to us that Sherman's treats taste good and also are nutritious. We are label readers and try to buy made in the USA products when we can. Nudges dog treats are a recent discovery that fit our requirements. Nudges are made in the USA, tear easily into small pieces, contain no artificial flavors or fillers and are made from real chicken. To tell you the truth, when I opened my first Nudges package, they smelled so good that I tasted it myself. It tasted almost as good as jerky made for people.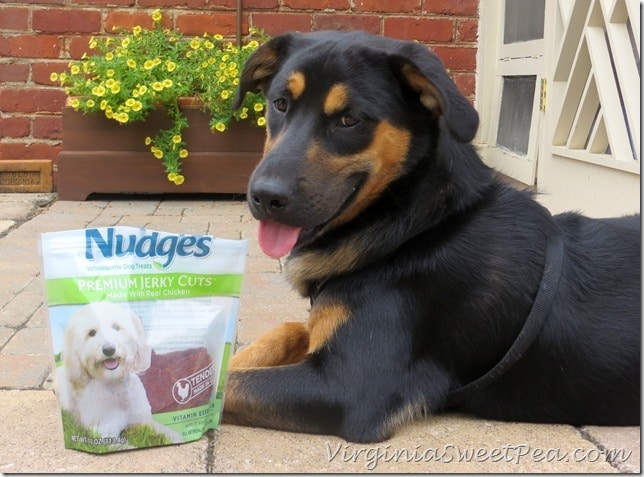 Sherman does some tricks for a Nudge reward!

Nudges come in a resealable bag which is handy for keeping these healthy dog treats fresh for your pet.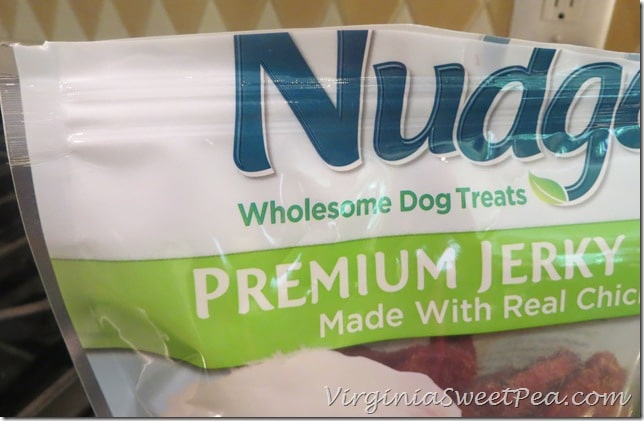 Tips to Keep Your Dog Safe During Summer Fun
The summer season is an active one and dog lovers like to include their pets in the fun. When we were at the beach, we took Sherman for an early morning and a late evening walk every day. We were careful to let him get his exercise during the cooler parts of the day. We didn't want him to get overheated and we also didn't want him to burn his feet on hot pavement or sand.
Make sure to have water available for your dog. We have a travel dog bowl that we keep in the car and take on long walks. Sherman appreciates this because he drinks a lot!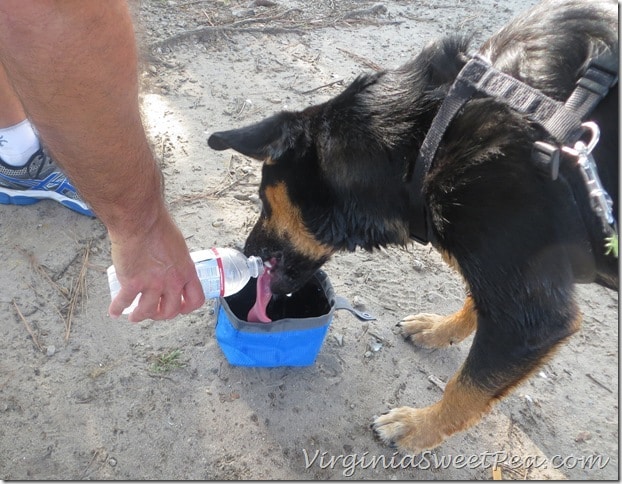 Our Sherman has no problem drinking from a sprinkler or a foot shower. He amused plenty of beach goers when they saw him splashing in the water and trying to bite it.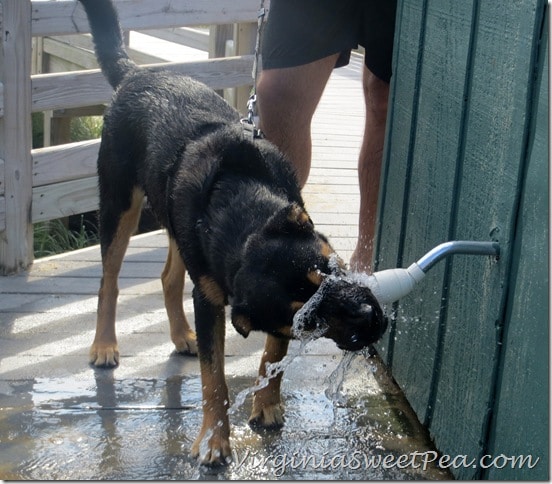 When enjoying a summer picnic, be sure to keep certain foods like onions, grapes, raisins, chocolate, and bones out of a dog's reach. Sherman loves bones and we have to watch him carefully because he frequently finds one on a walk. Sherman really would like to gnaw on the chicken bone on my husband's plate but we both know that bones can splinter when a dog chews them and the splinters can harm the digestive track.
Sherman loves to swim and we are careful to supervise him in case he gets in trouble.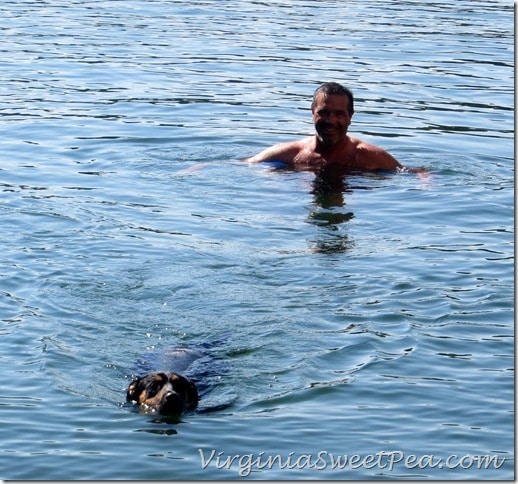 A life jacket is a great way to keep your dog safe if they can't swim or if you plan to take them boating.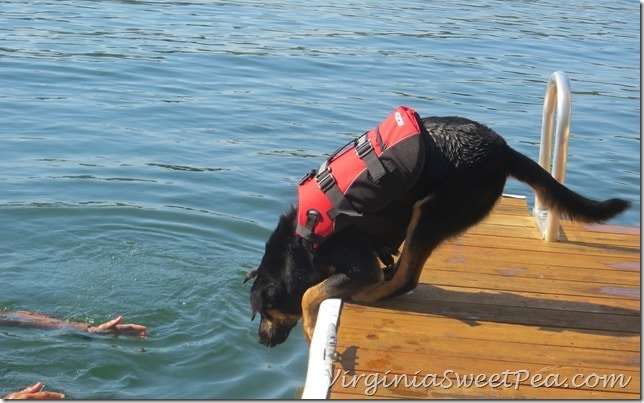 On the 4th of July we plan to spend the day on the lake. Our Sherman is learning to love a boat ride. When we are going slow in a cove, he likes to sit up front with me. If we are going fast or if the ride is bumpy, he stays safely on the floor.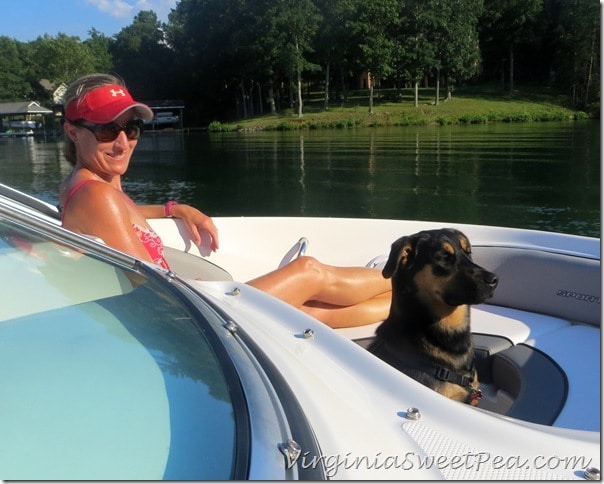 Fireworks are scheduled for Fourth of July evening. Did you know that July 4 is the largest day for dogs to run away due to being scared and overwhelmed? Keep your dog safely inside and away from fireworks.
For more tips to keep your pet safe, check out the Live SoFab Summer Digital Magazine.

Check out Nudges Facebook page to read about an exciting contest that you can enter by sharing a picture of your dog in a special "Nudges Moment." There are weekly prizes and a grand prize of a Samsung Galaxy S4 with a $2,500 gift card toward phone service.
Be sure to visit Nudges Dog Treats for more information about Nudges and to print a valuable coupon.
If you are a Twitter user, you can follow Nudges Dog Treats and even join in a Twitter Party on July 3rd from 1-2 pm (EST) regarding pet safety during summer. By participating in the Twitter Party, you could win one of five ($100) Visa gift cards.
Check out my Google + Album to read more about Nudges.
I was compensated for this post but want you to know that Nudges are a product that I feel 100% good about feeding my precious Sherman. Nudges are a healthy dog treat that he truly loves. What's not to love about a dog treat made in the USA that tastes like chicken jerky? Sherman gives Nudges a doggie high-five for being a delicious treat!
Sharing With:
Project Inspire{d} at Setting for Four, Tutorials and Tips Link Party at Home Stories A2Z, The Scoop at Confessions of a Plate Addict, The Inspiration Exchange at Yellow Bliss Road, Inspire Me Tuesday at A Stroll Thru Life, Tutorials and Tidbits at Stone Gable, Transformation Thursday at The Shabby Creek Cottage, The Creative Connection at Chase the Stars, Weekend Bloggy Reading at Serenity Now