I am just like my grandmother, I love cookbooks. Granny used to sit in the evening and read cookbooks just like she was reading a novel. I do the same thing and love marking recipes that I'd like to try.
I recently had the opportunity to review a newly released cookbook, Amish Community Cookbook: simply Delicious Recipes from Amish and Mennonite Homes.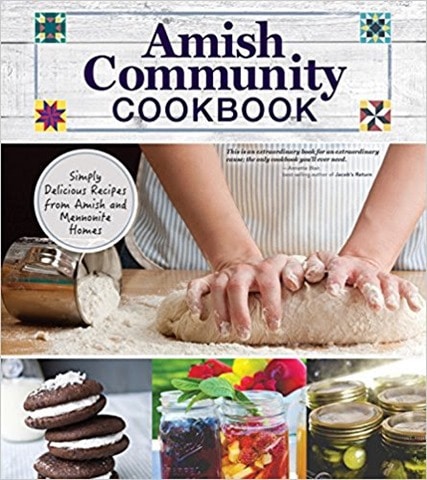 Affiliate links are included in this post.
I grew up just east of the Shenandoah Valley where there are quite a few Mennonite farms.
Both my mom and my grandmother had copies of the Mennonite Community Cookbook and I can remember my mom in particular using this cookbook quite often.
Since I knew for a fact that my mom and grandmother both enjoyed recipes from their Mennonite cookbooks, I was pretty sure that I would really enjoy the Amish Community Cookbook and I was correct.
I inherited Granny's copy of the Mennonite Community Cookbook. Granny's marked pages to identify recipes she wanted to try or ones that she wanted to remember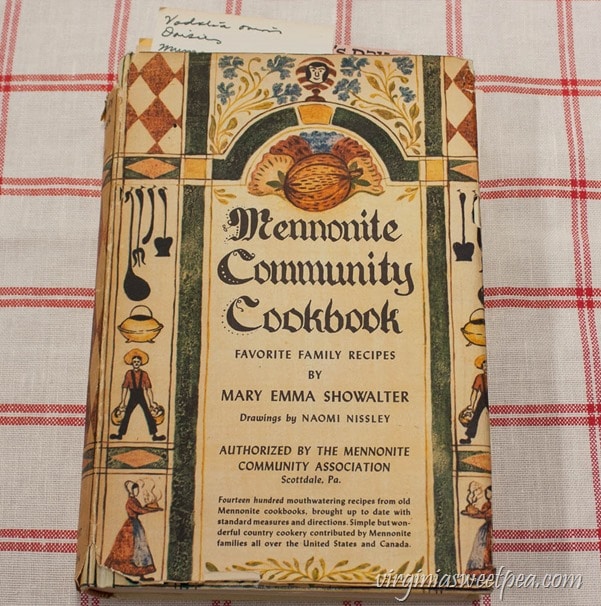 Peach Marlow was either a recipe she tried or wanted to try. I love seeing her handwriting.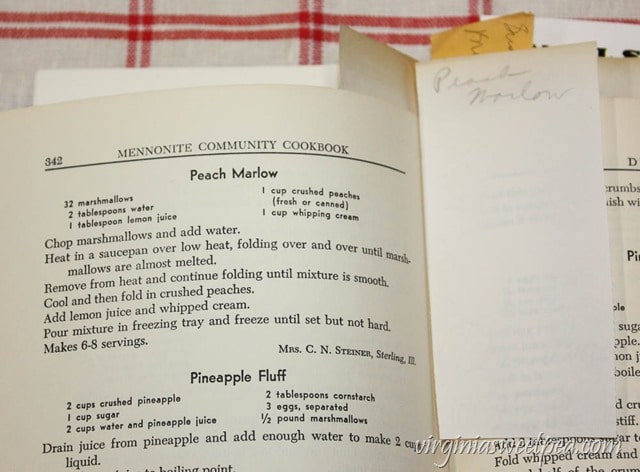 Let's talk about the Amish Community Cookbook.
Amish Community Cookbook includes these sections:
Drinks and Appetizers
Soups, Salads, and Dressings
Casseroles and Main Dishes
Side Dishes and Vegetables
Breads and Breakfast Foods
Canning Recipes
Jams and Jellies
Desserts and Sweets
The cookbook is full of pictures like this one, that remind me so much of the Shenandoah Valley of Virginia.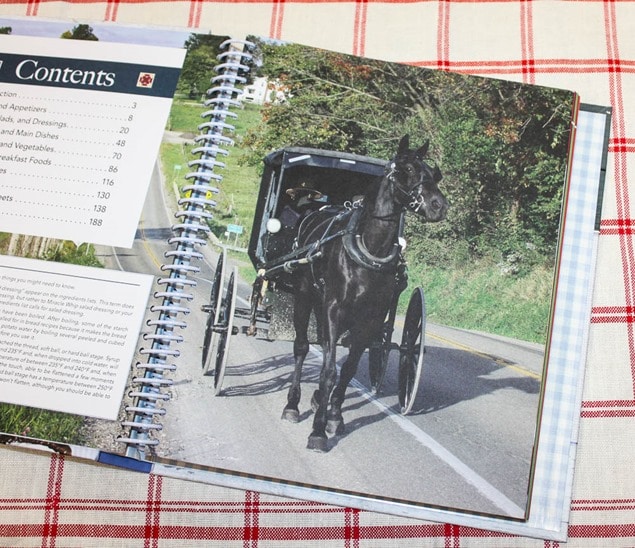 Back when Mr. SP and I did a lot of bicycle riding, we spent a lot of time cycling roads in Rockingham and Augusta Counties where we saw farm scenes much like this one.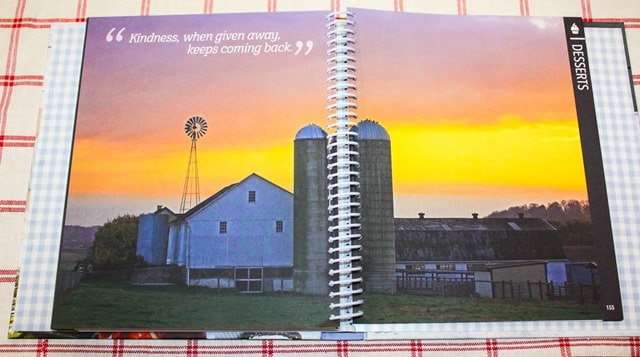 I have enjoyed the pretty pictures in this book as much as I've enjoyed looking through the recipes.
Not only are recipes included in this book, there are helpful hints as well.
Recipes I've Tried from the Book
I have tried three recipes from this book: Poor Man's Steak, Ham and Noodle Bake, and Peanut Butter Chocolate Chip Cookies.
Poor Man's Steak
I first tried Poor Man's Steak, a combination of ground beef and cracker crumbs topped with a can of cream of mushroom soup.
The quote beside this recipe in the book says this:
This recipe is always a surprise for guests. It tastes like a delicious cut of beef rather than just ground beef.
I didn't find the quote to be true but we enjoyed the meal.
Ham and Noodle Bake
I used some leftover ham from Easter to make Ham Noodle Bake. I'm sure to make this recipe time and again. We really enjoyed it.
This picture was sent to me by the publisher of the book but it doesn't perfectly match the recipe as this picture shows peas in the Ham Noodle Bake and the recipe doesn't call for them.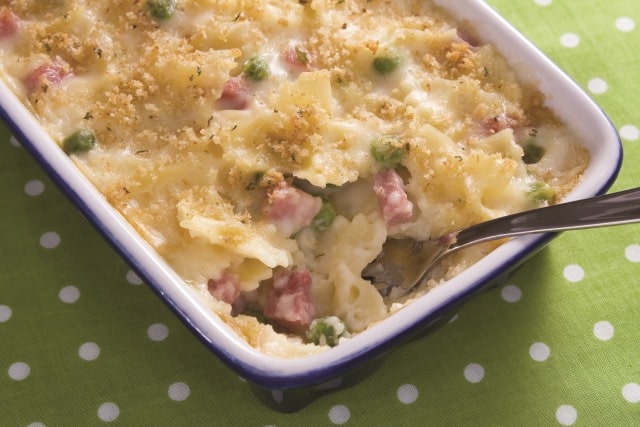 Peanut Butter Chocolate Chip Cookies
I made these cookies last Friday to take to the lake for Mother's Day.
These are the last three cookies leftover from the weekend. Mr. SP and his dad made short work of this large batch of cookies. I'd say that's a good recommendation for this recipe!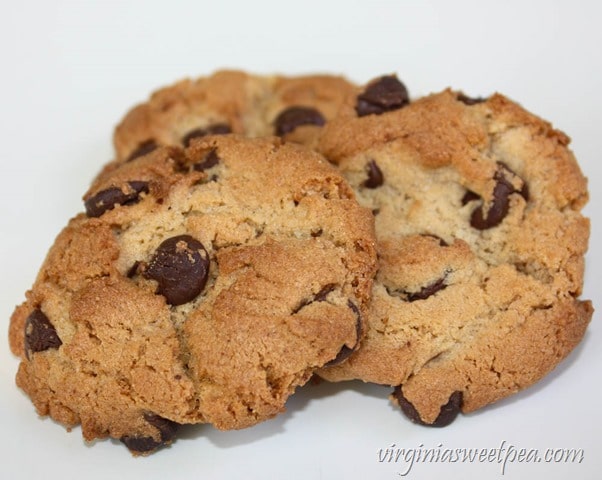 This cookie was easy to make and definitely was enjoyed.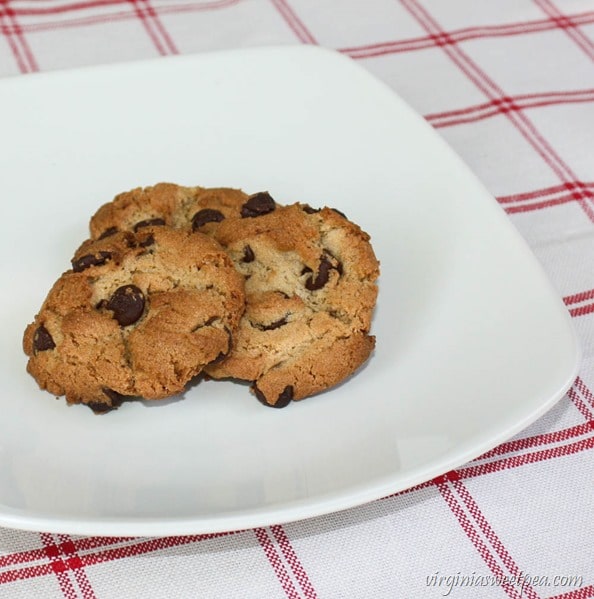 If you are in the market for a new cookbook, you will enjoy the Amish Community Cookbook. I like that it's filled with recipes that not only are easy to make, but also don't take a lot of ingredients or a long time to make.
I'm sure to make many more recipes from this cookbook.