Spring and Easter Home Tour
Let's welcome spring with a spring home tour. Not only am I sharing my spring decor, I'm sharing my Easter decorations as well.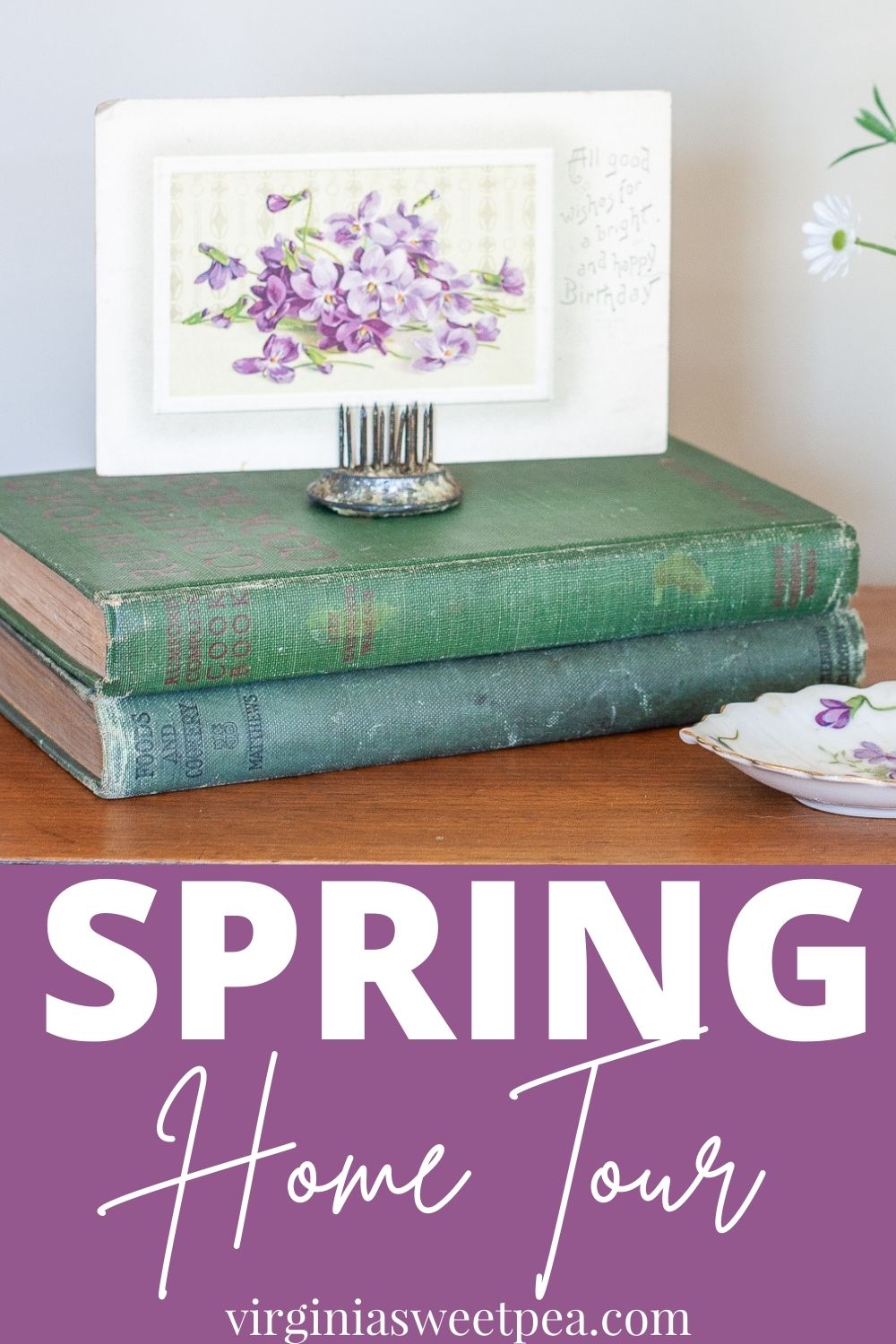 I'm sharing my spring and Easter decorations along with 29 blogging friends for a Bloggers Best Spring Home Tour hosted by Kelly of The Tattered Pew and Mansa of This is Simplicite.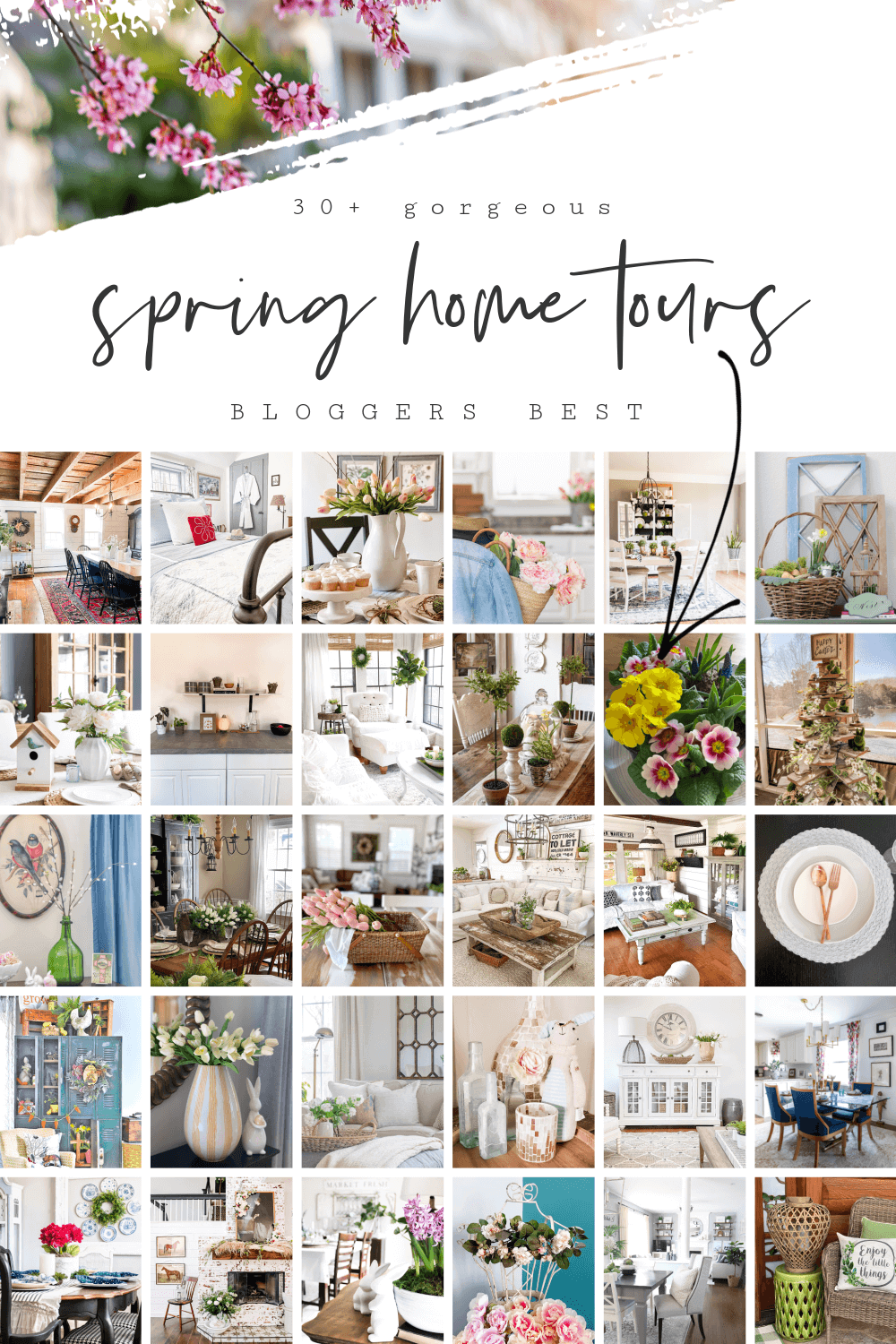 If you arrived here from Cottage on Bunker Hill, welcome! Jennifer lives in coastal New Hampshire and is very happy to welcome spring to her New England Home.
You'll find links to all of the homes who are sharing their spring decor this week at the end of this post.
Spring and Easter Home Tour
If you are new here, I live in the foothills of the Blue Ridge Mountains in a 1957 Cape Cod. Two joys in my life are decorating my home and tending to my yard, garden, and flower beds. If you drive by my home in warm weather, you are likely to see me outdoors!
I love decorating seasonally and for almost every holiday. After a long winter, it's a pleasure to decorate for spring and Easter.
Spring in the Living Room
We'll start this spring home tour in our formal living room. Our sweet Sherman spends most of his day in this room.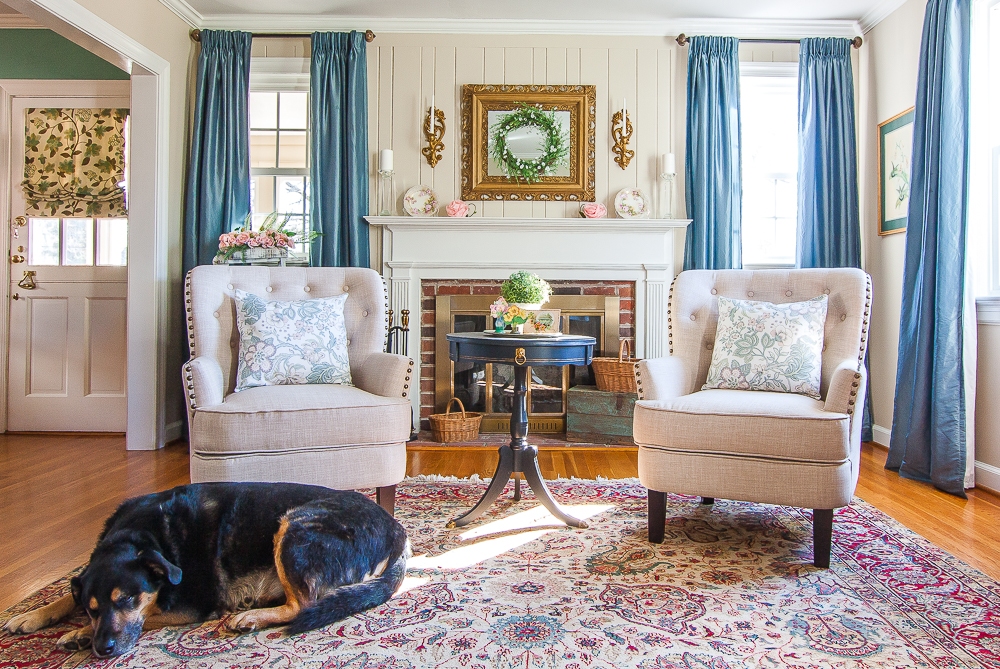 The first area that I decorated for spring in this room was the mantel. Read all about the history behind each decor item that I used in this post.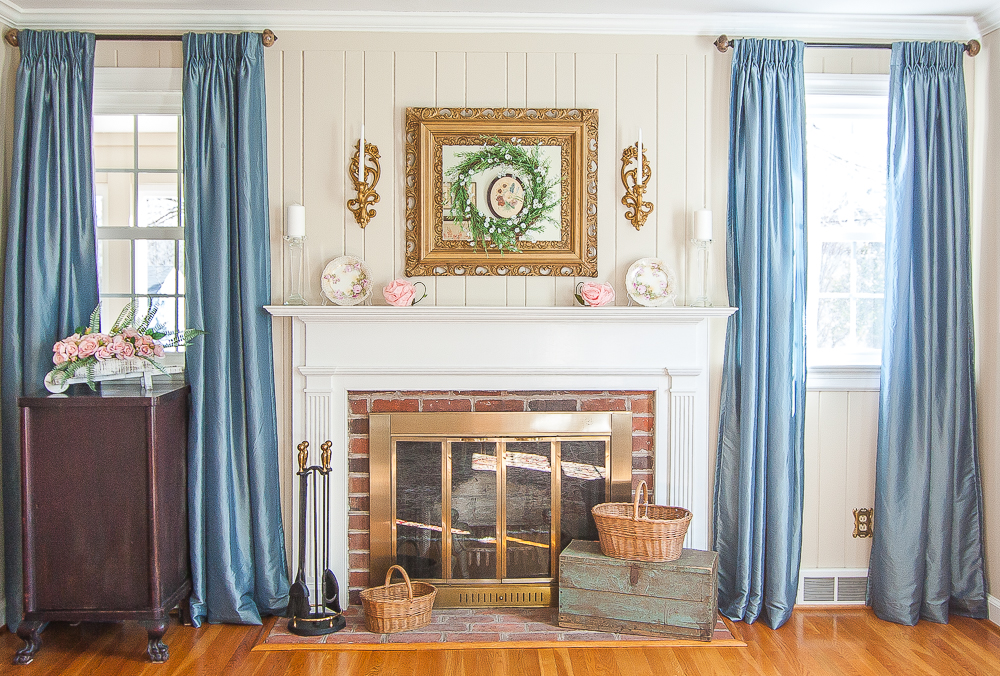 My great-great-aunt's music cabinet to the left of the fireplace was decorated with pink and white to coordinate with the mantel.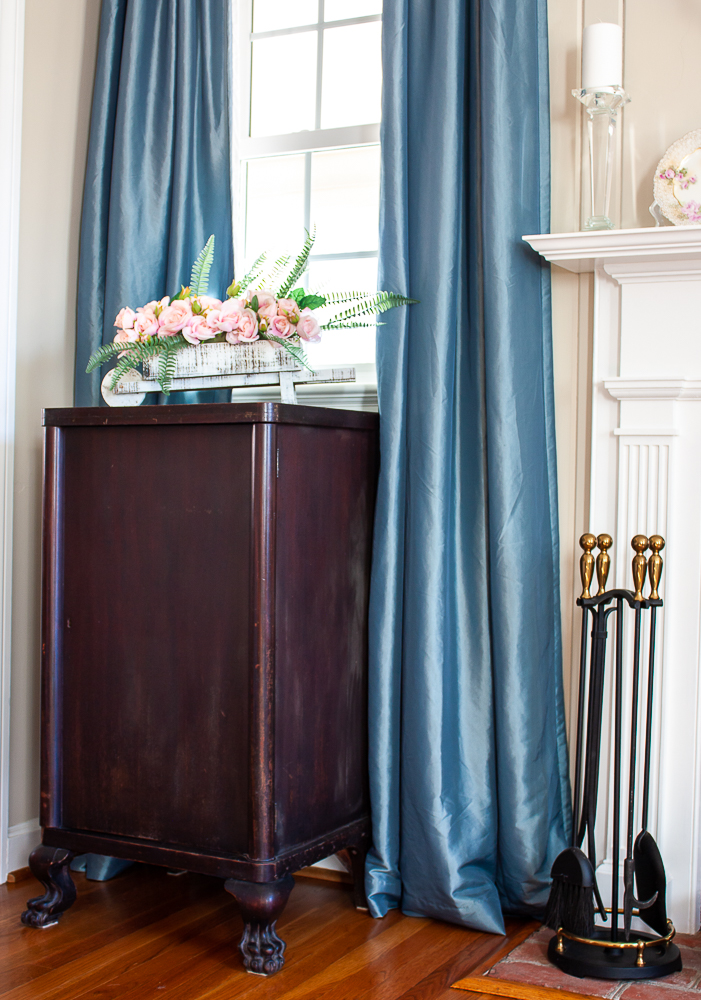 Last spring I used this wheelbarrow filled with roses on a spring wreath. I removed the wheelbarrow from the wreath and love how it looks on the music cabinet. Some of my great-great-aunt's music is still in the cabinet!
The table in front of the fireplace was next to be decorated for spring. The postcard's postmark isn't legible but based on the stamp on the card, I believe it to date to the early 1900s.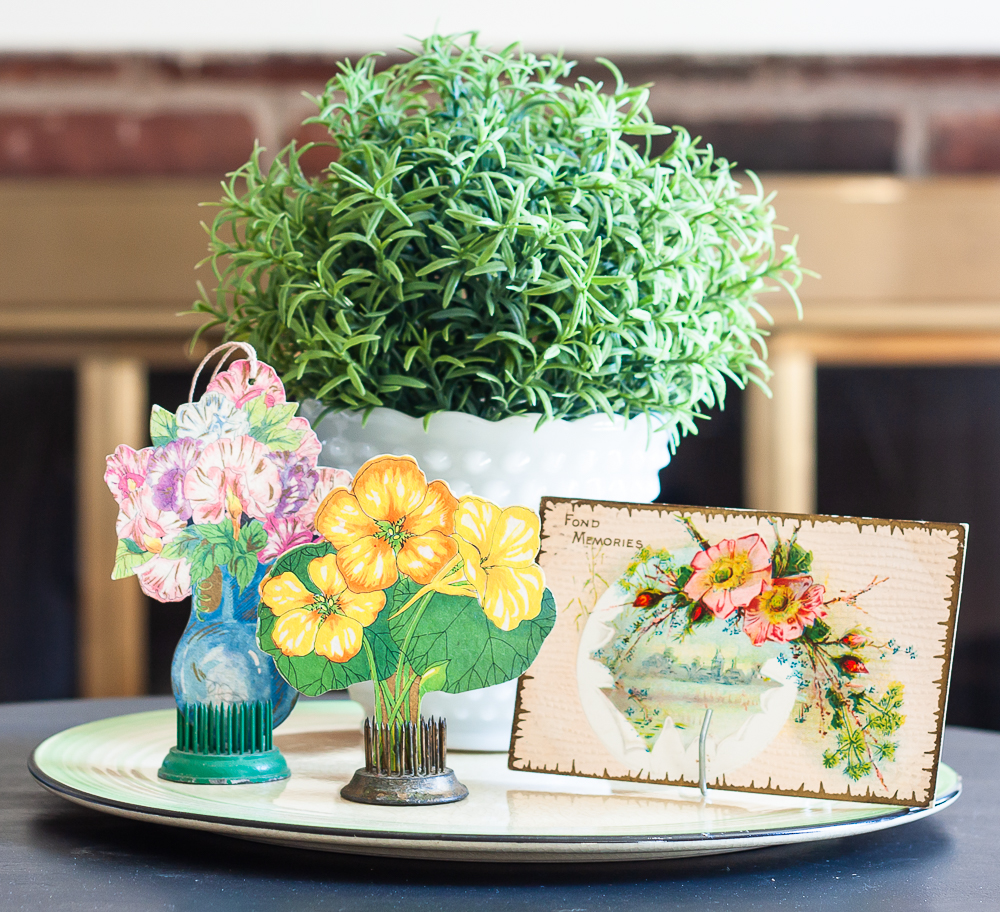 The floral cards are bridge tallies that belonged to my great-great-aunt. Don't miss seeing more of her bridge tally cards. The graphics are great!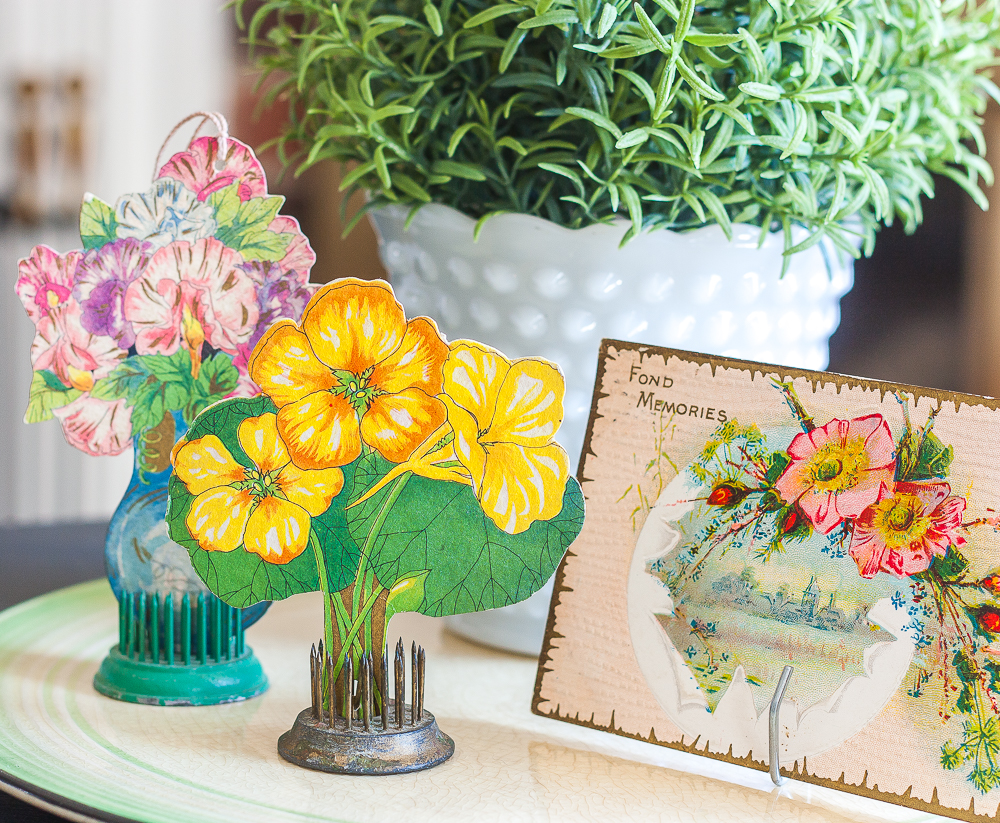 The next spot to get decorated in this room was my grandmother's chest.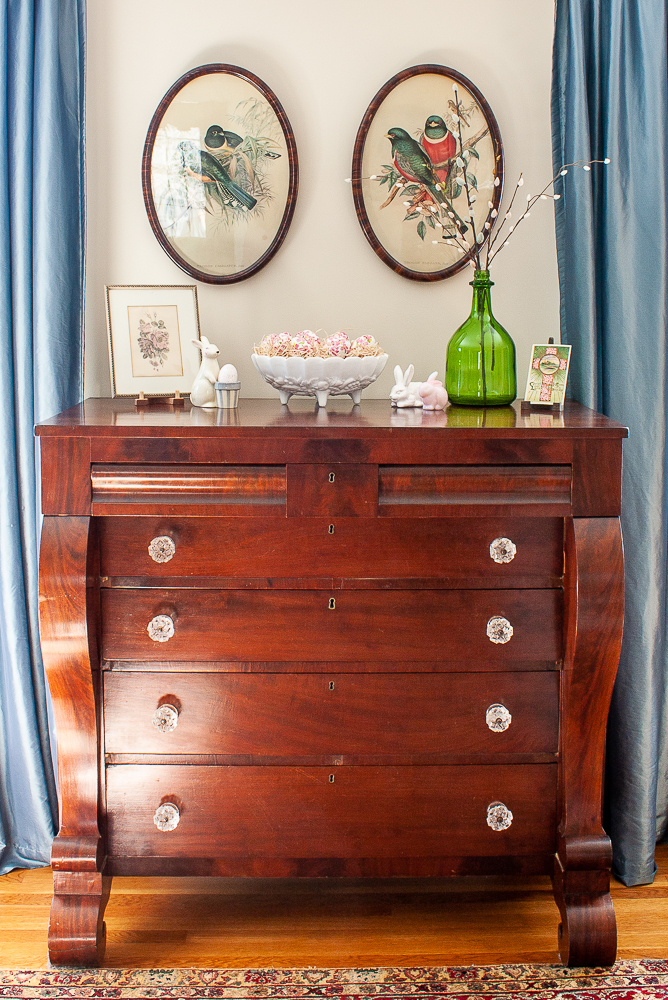 To decorate this area, I mixed Easter in with spring.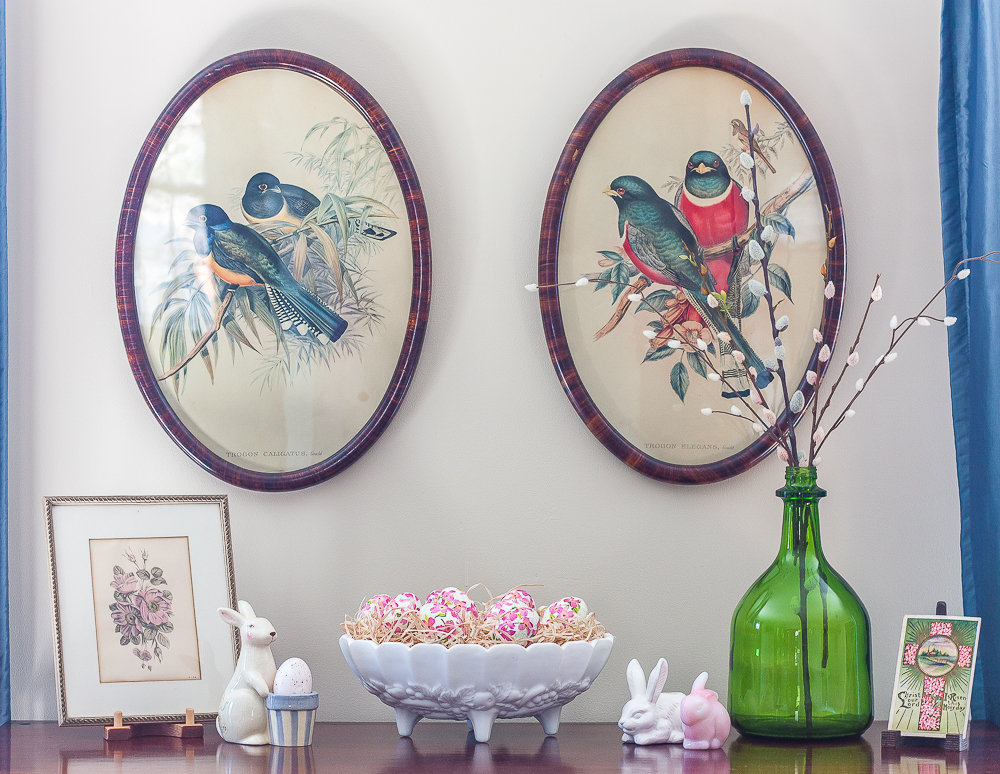 I filled a milk glass fruit bowl with eggs that I decoupaged with napkins.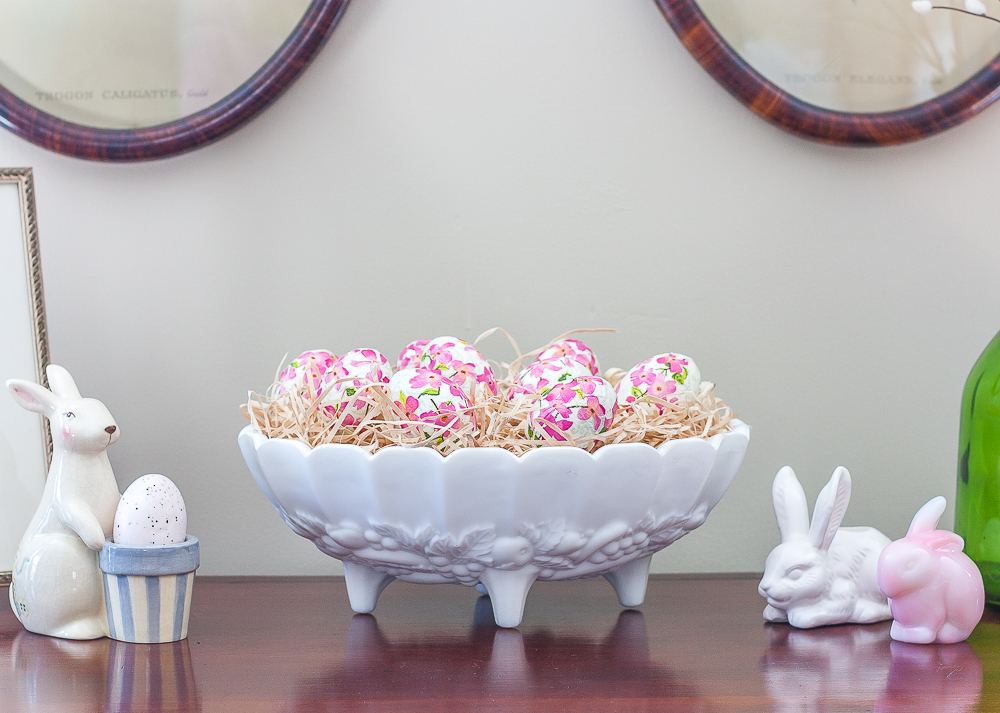 These eggs are extra special because my grandmother blew them out and never used them. My aunt passed them along to me and I used them for this decoupage project.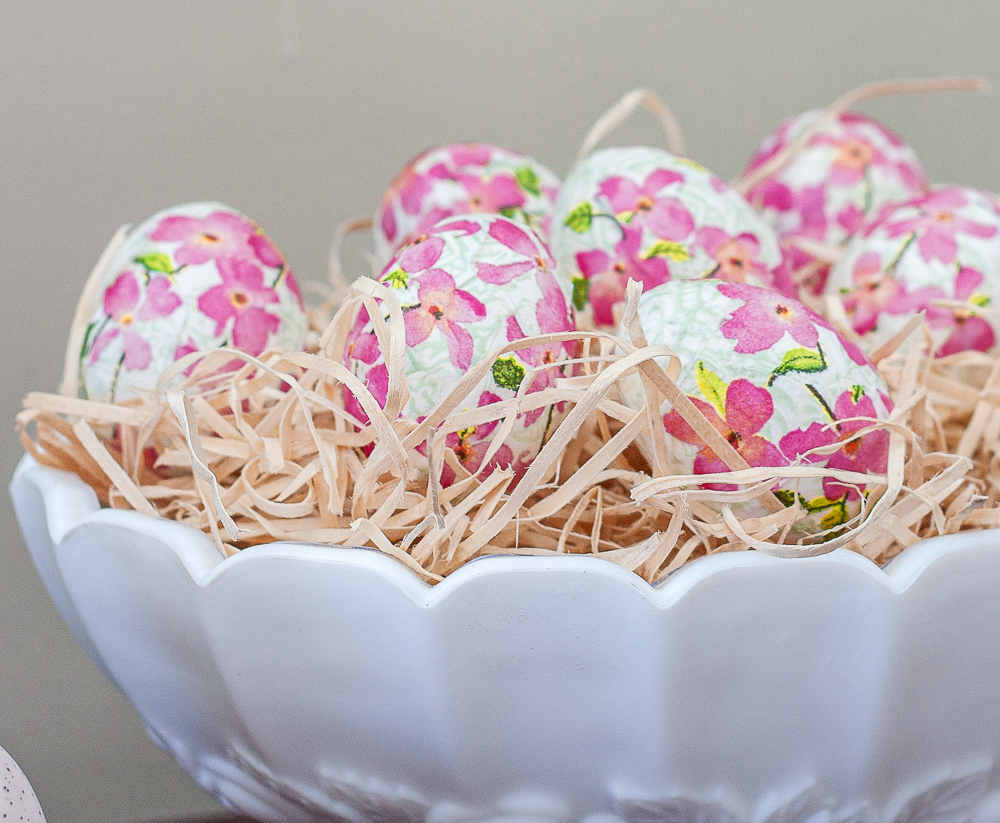 To the left of the floral eggs, I used a vintage framed print and a rabbit that holds an egg. My mom gave me the rabbit and the print was a dumpster find.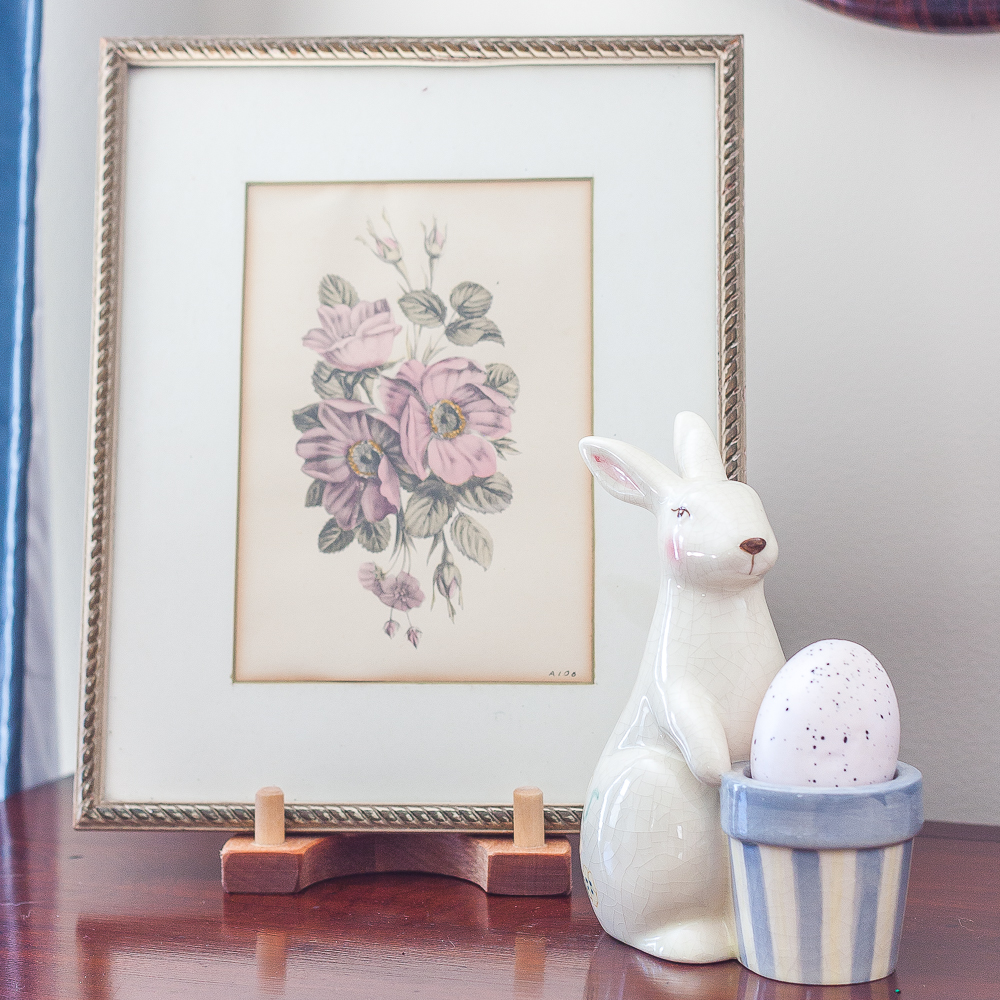 I used the green jug filled with Pussy Willow for my St. Patrick's Day decorations and left it in place for spring.
The white rabbit is from Avon and is actually a candle holder. The pink rabbit is Fenton and belonged to my friend's grandmother. This rabbit is similar.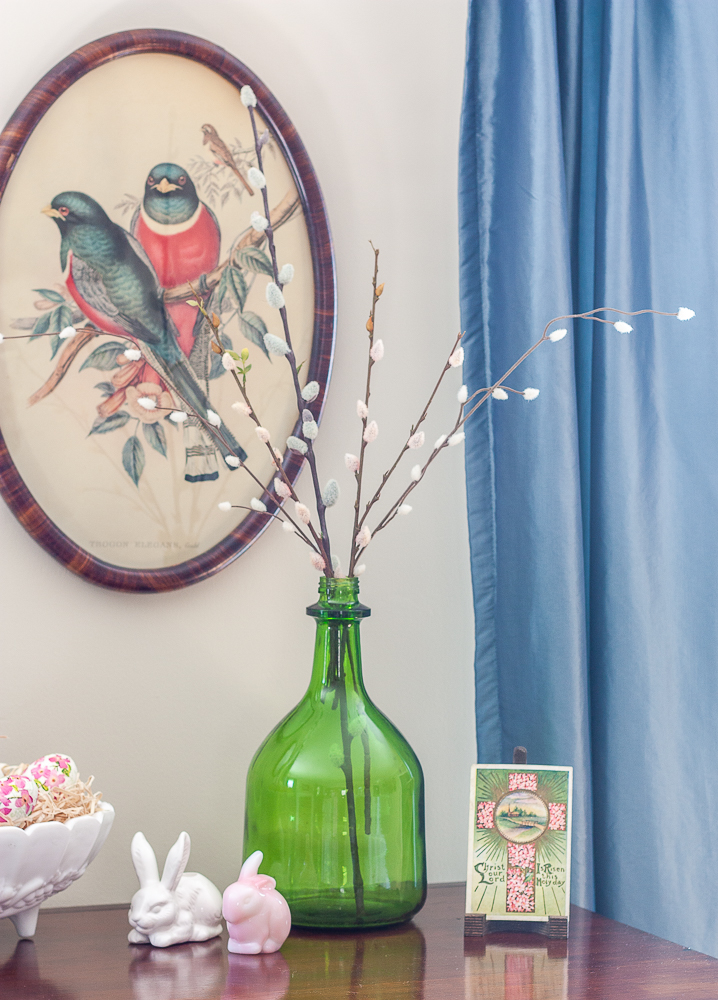 I love displaying antique postcards seasonally. This is a favorite of my antique Easter postcards as I love the graphics and it references my favorite Easter hymn.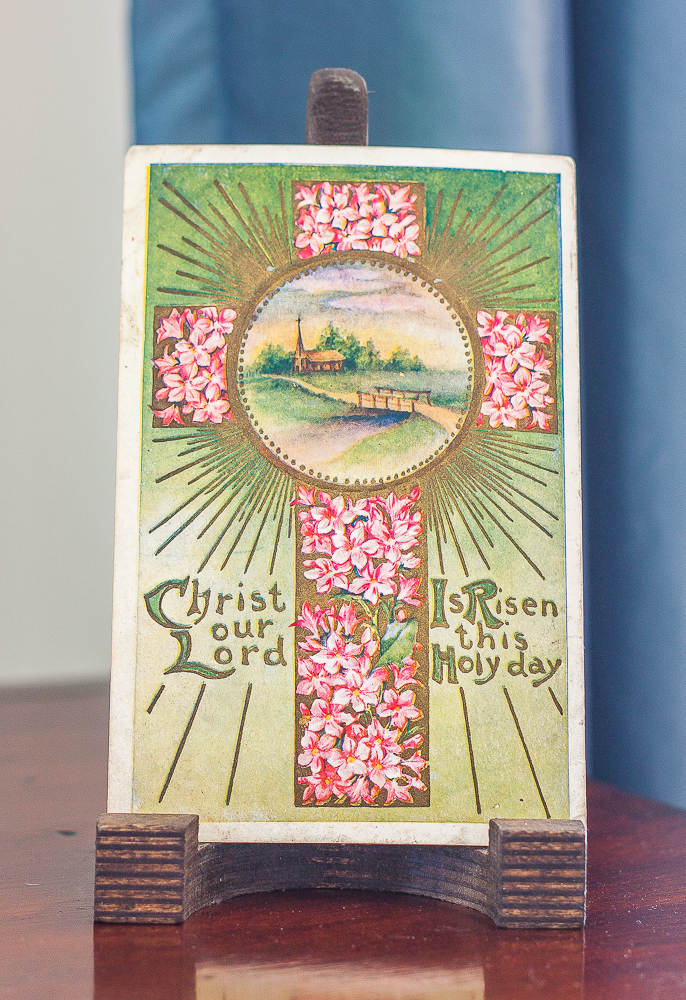 The box of postcards that I inherited were collected by my great-great-aunts and my grandmother. The box contains a lot of postcards from Lizzy Hughes and neither my aunt nor I have any idea who she is. The rest of the cards in the box are address to either my great-great-aunts or my grandmother.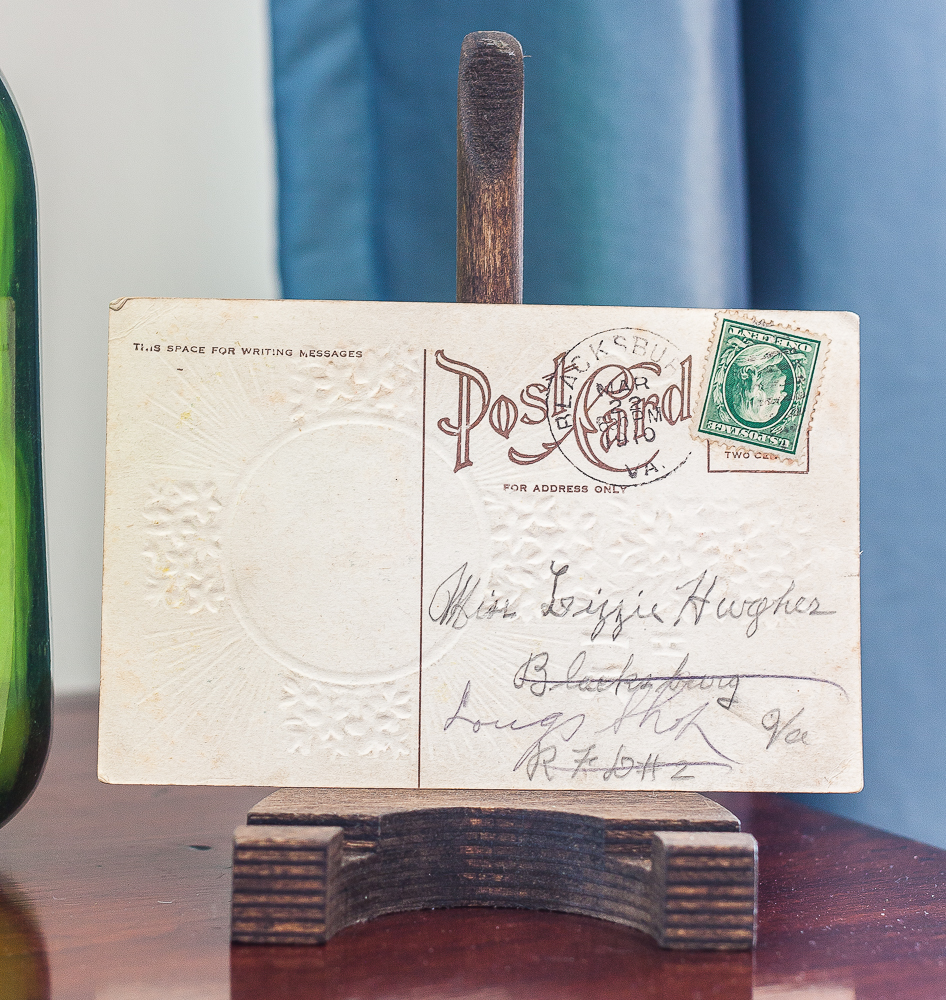 On the other side of the room I created a spring vignette on top of an antique ratio that one of my great-great-uncles converted into a storage box.
You can see the entire wall including framed WWI era sheet music played by my grandmother's cousin who grew up in the house where my mom lives (links to Mama's restoration of this 1912 home in this post); the radio converted to a box; and my dad's 1960s stereo cabinet in this post.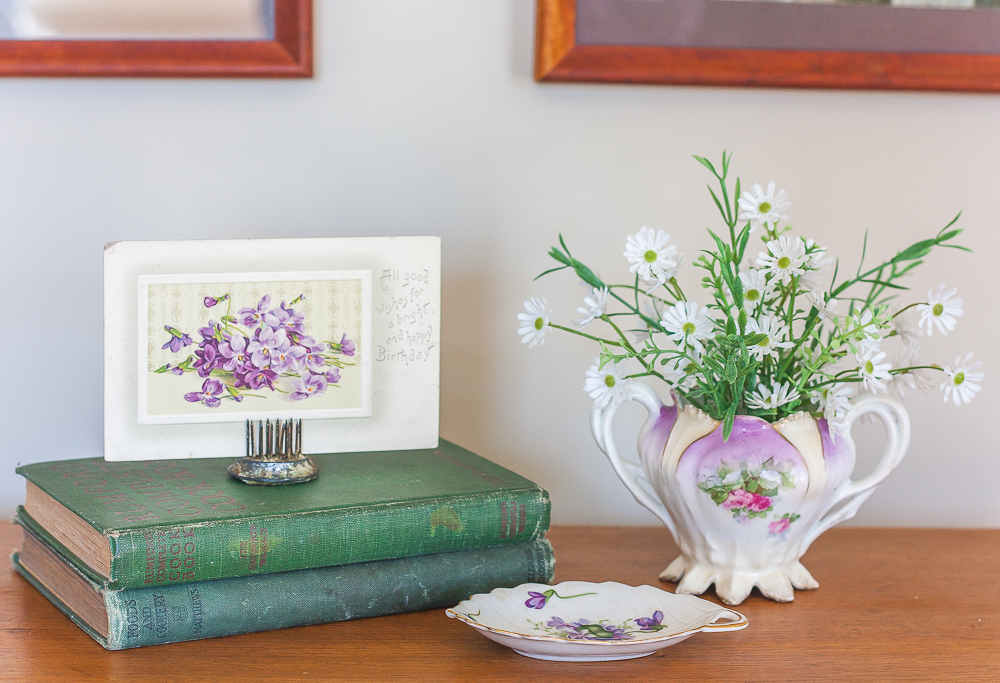 I picked this postcard to display because the colors and violets on the card coordinate with the sugar bowl and leaf dish. There is a handwritten message on the back but I can't read the handwriting.
Under the postcard is my grandmother's 1935 Rumford Complete Cookbook and a 1921 Foods and Cookery and Care of the House textbook.
It is possible that the cookbook was either a wedding shower gift or a wedding gift. See the wedding shower gifts that I inherited from my grandmother in this post.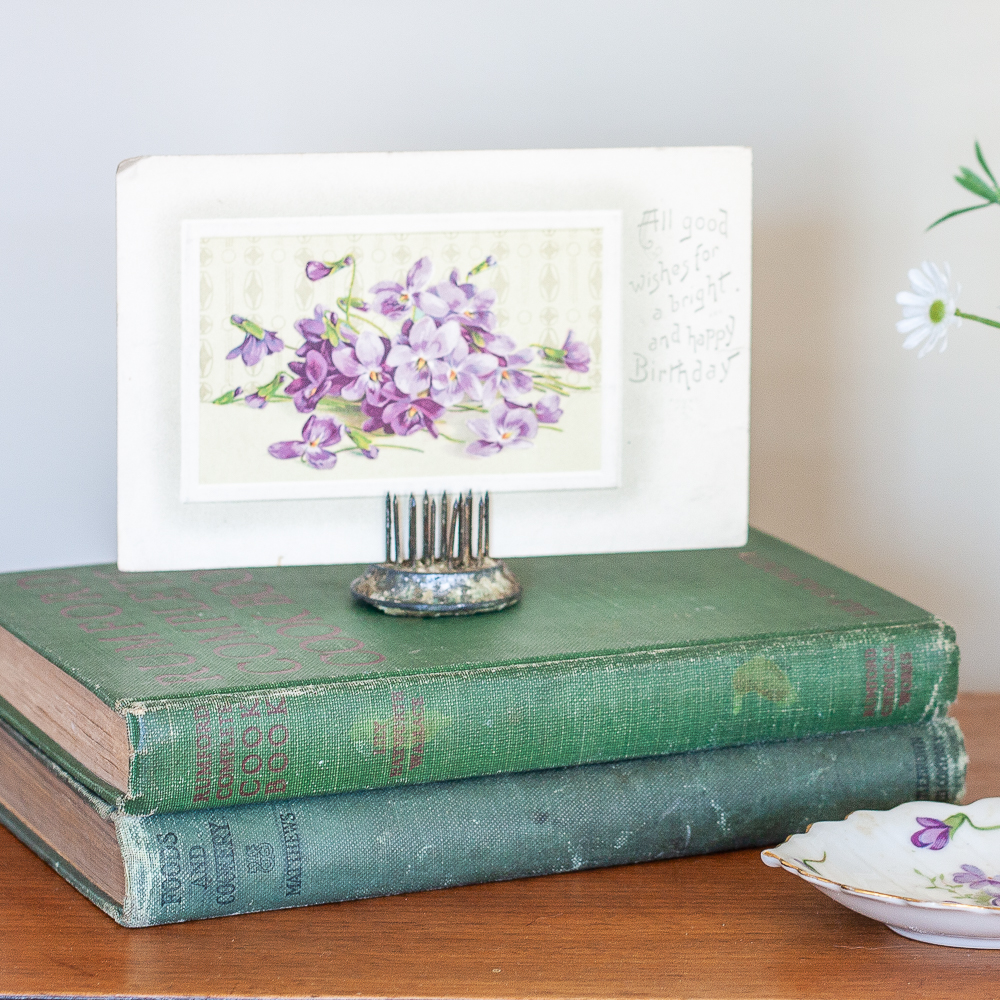 I love to shop my house to find things to share on my blog that my long time readers have never seen. This sugar bowl and this leaf dish are being shared for the first time.
I distinctly remember seeing this sugar bowl in my grandmother's basement and her telling me that it has no lid but she saved it to use for a flower arrangement. I used leftover Daisy pieces from my spring wreath to create a simple flower arrangement.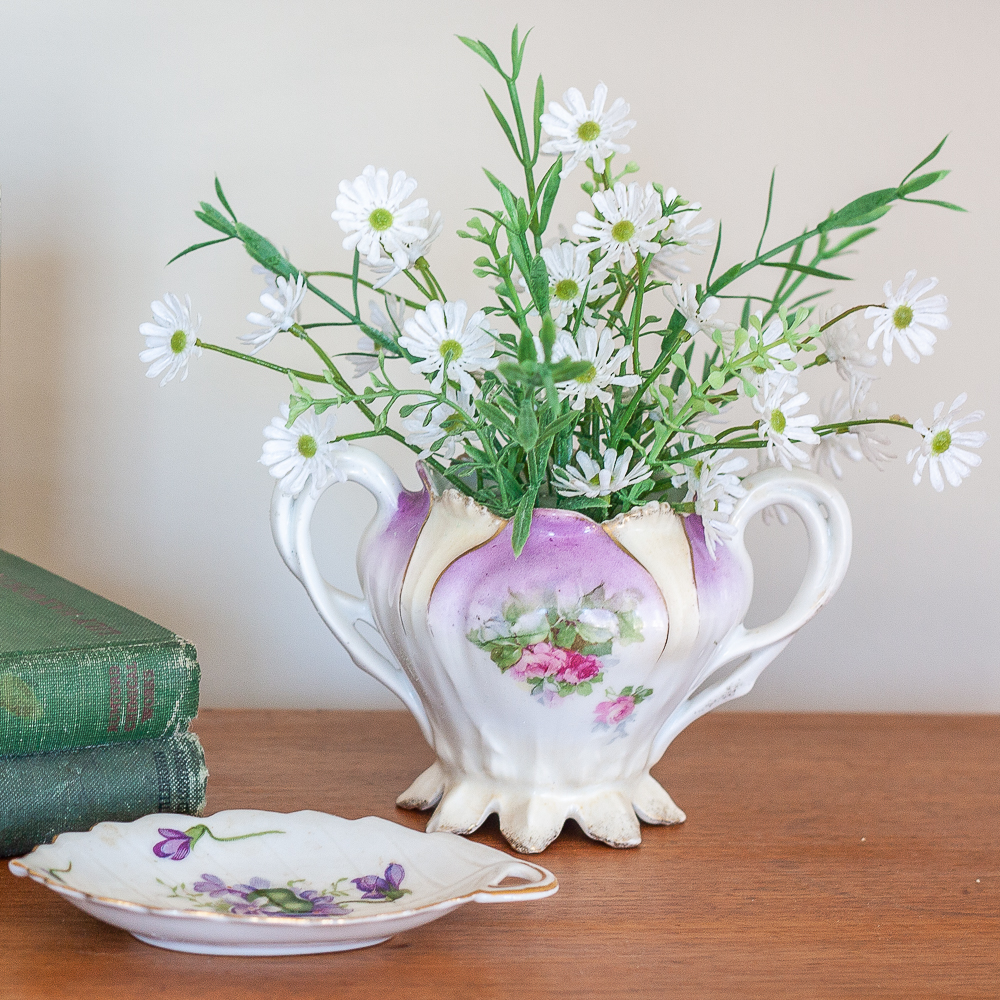 This violet leaf dish also came from my grandmother's house. I wish I knew the story behind it.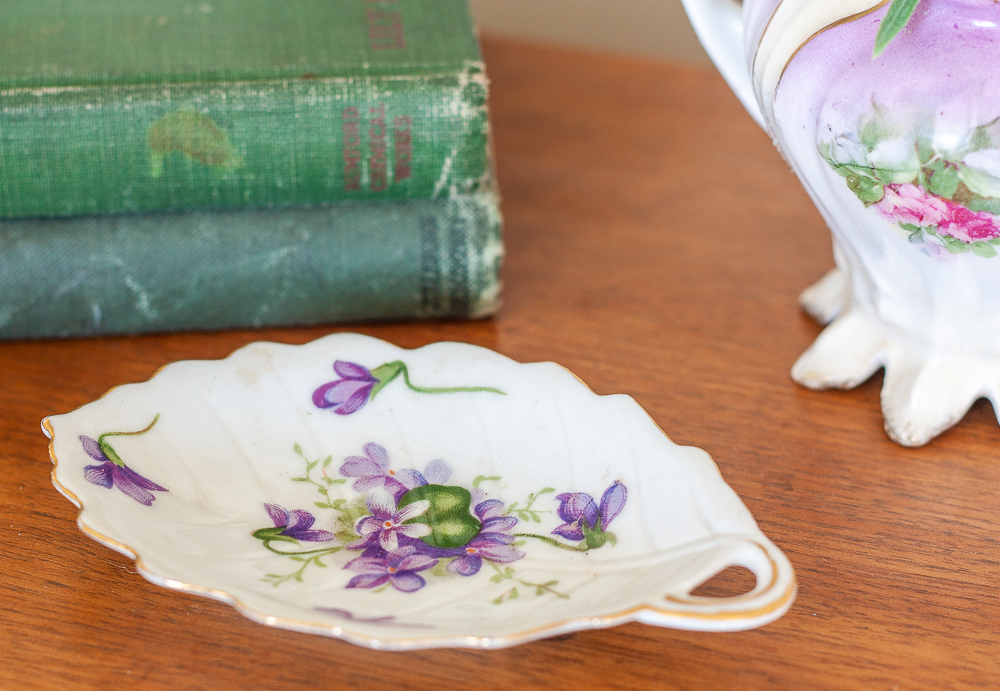 The brand is Rossetti and the pattern is Spring Violets. This pattern was is a Made in Occupied Japan piece produced between 1945-1953.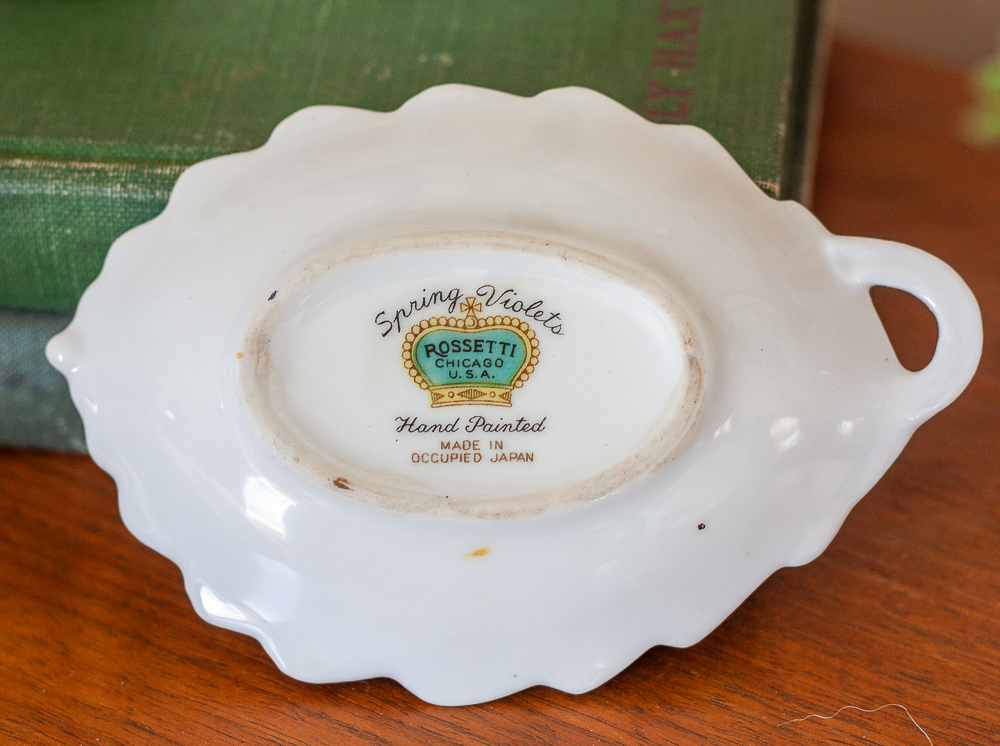 Easter in the Dining Room
Our formal living room connects with our dining room. I couldn't help but add some Easter decor to this room.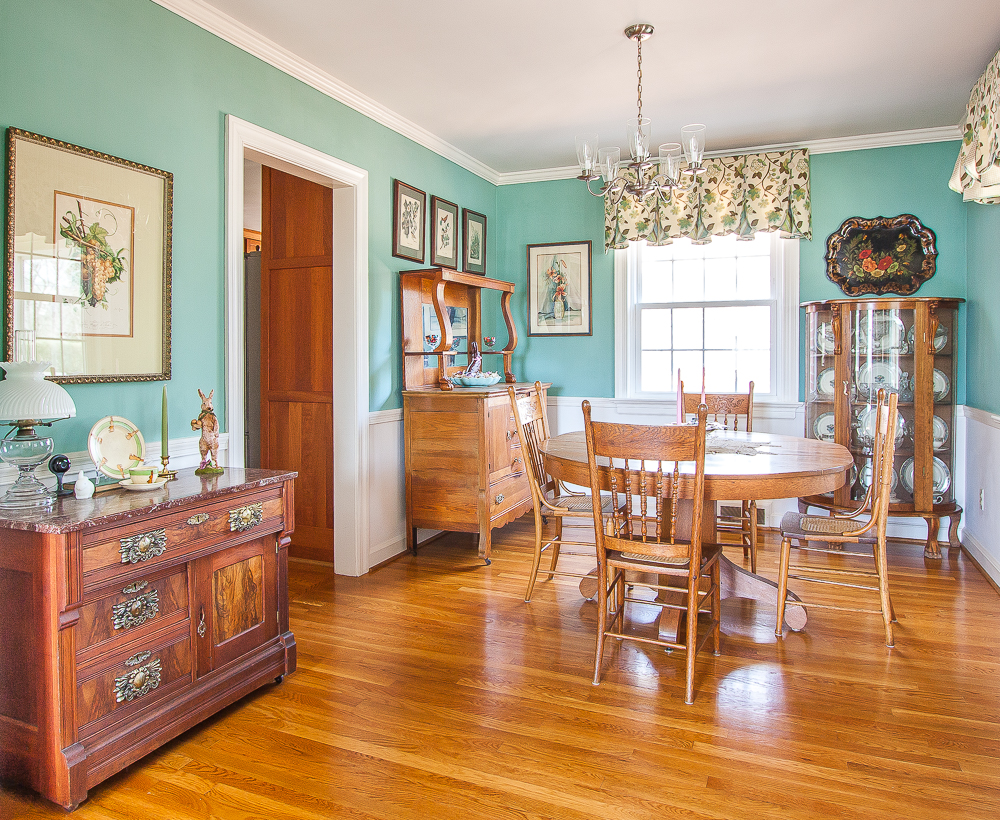 On the antique buffet, I created a centerpiece using a dish that belonged to my friend's mom, a faux chocolate rabbit, and glittered eggs.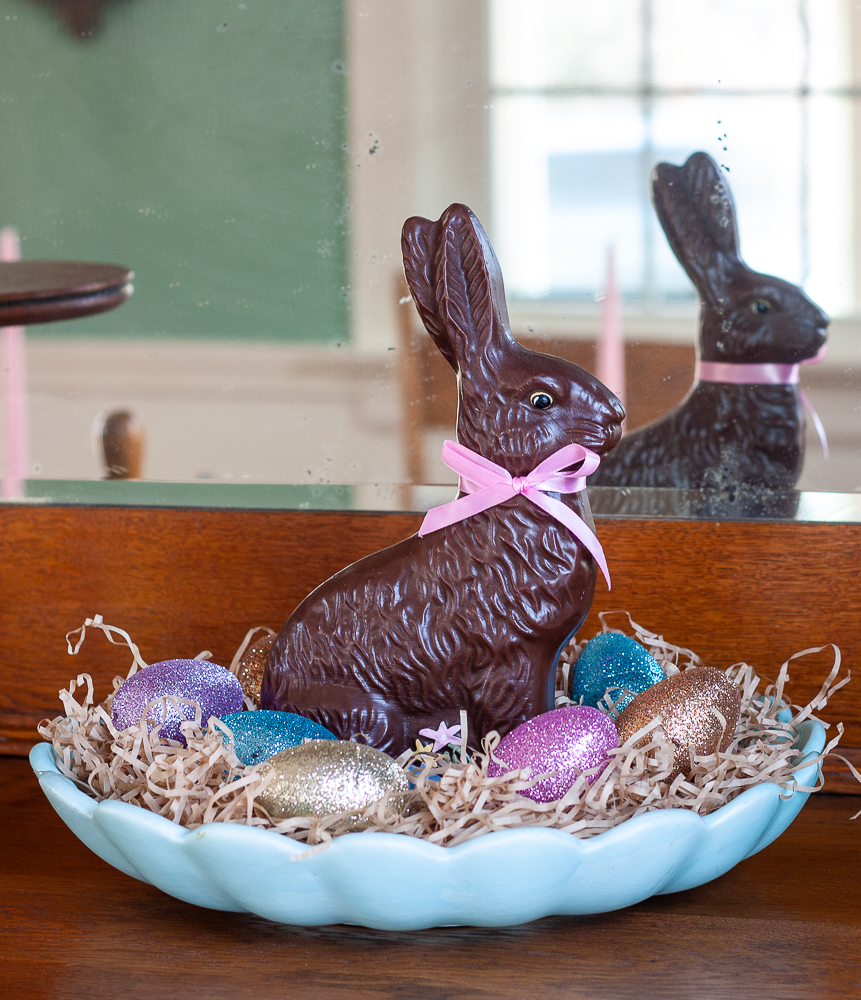 This spot is always decorated seasonally. This chest as well as the art were in my grandmother's dining room and now are in mine.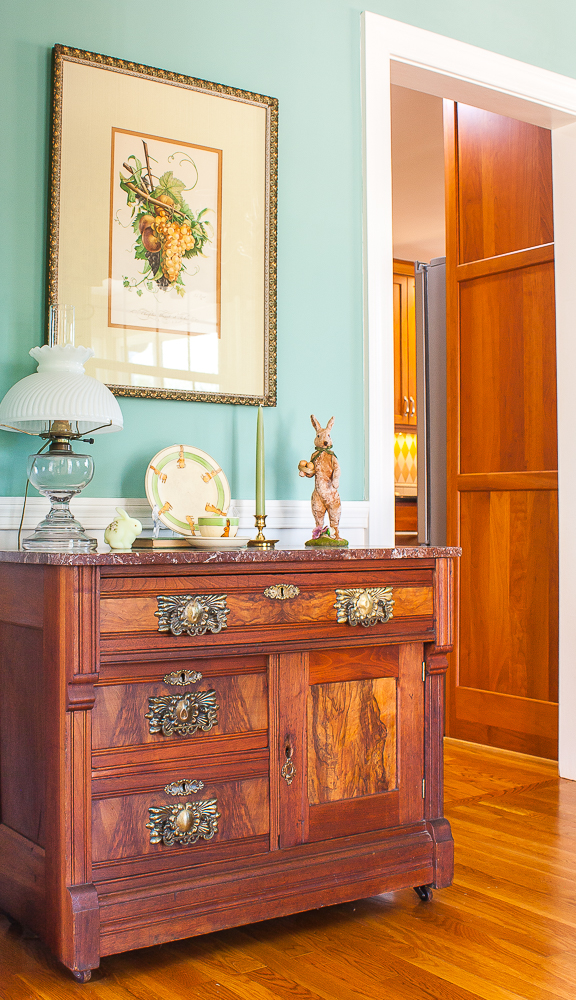 Roseville pottery rabbit plate along with the cup and saucer were my grandmother's.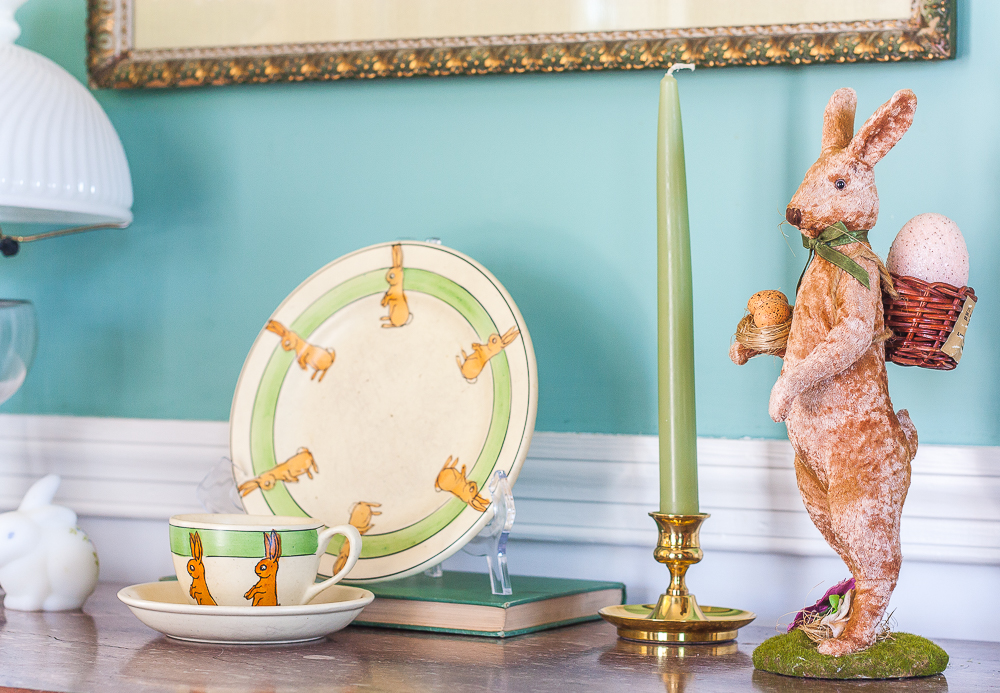 I love this set and display it every Easter.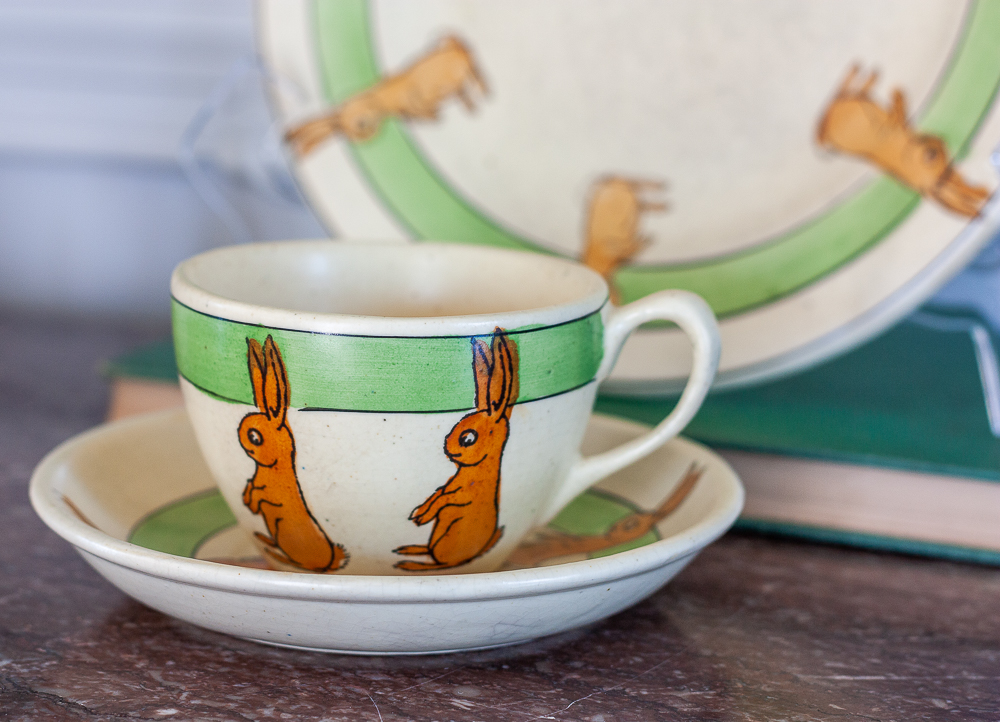 My grandmother was raised by her aunt. She visited the Heathertons in Norfolk and this couple wanted to adopt Granny but Aunt Fannie wouldn't let them.
My grandmother labeled a lot of her things which I love because it tells me the history of the piece.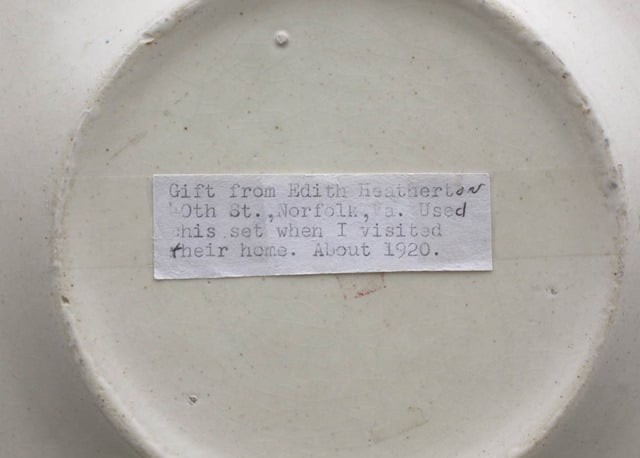 The Heathertons had this picture taken of Granny on one of her visits to Norfolk, VA.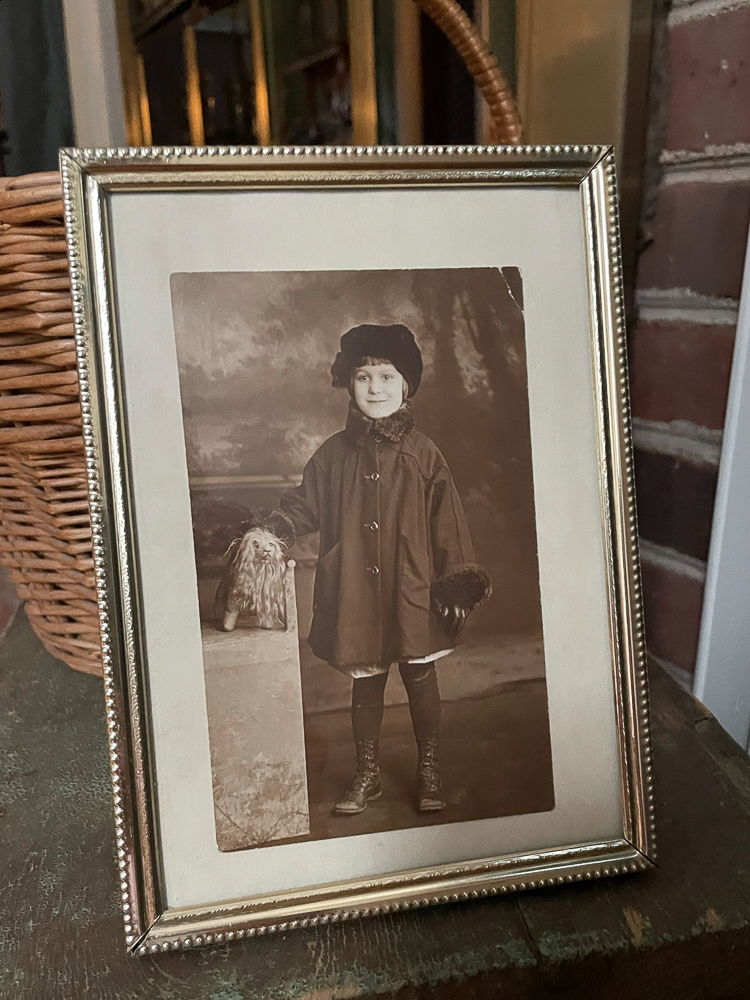 I purchased this adorable rabbit long ago in a local shop. I've used him all over my house including in this Easter table centerpiece.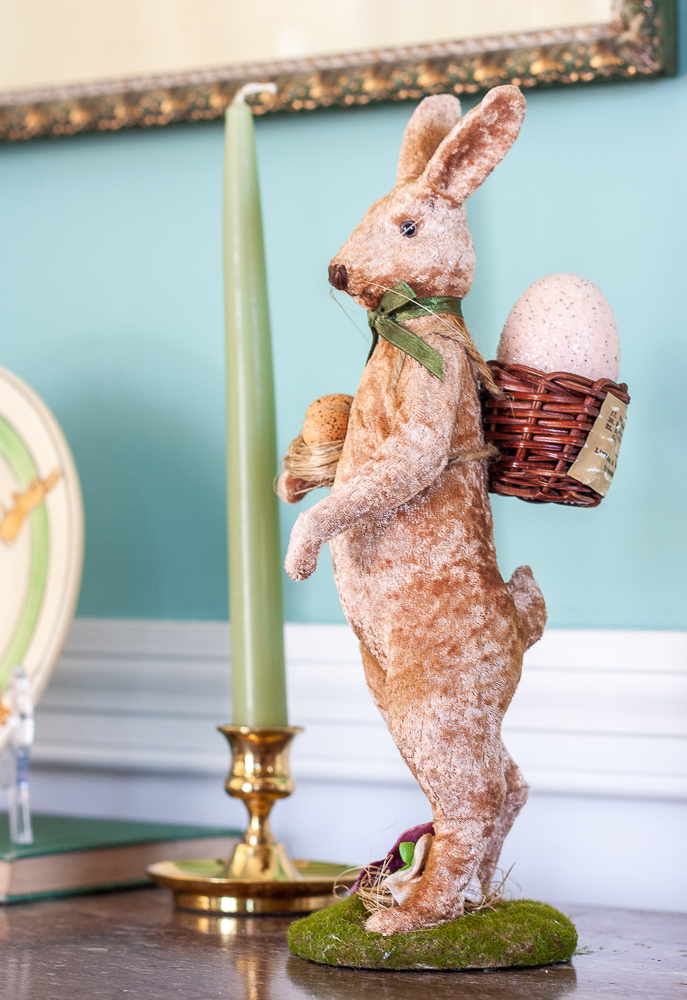 Another Fenton rabbit that belonged to my friend's grandmother is displayed to the left of the dishes.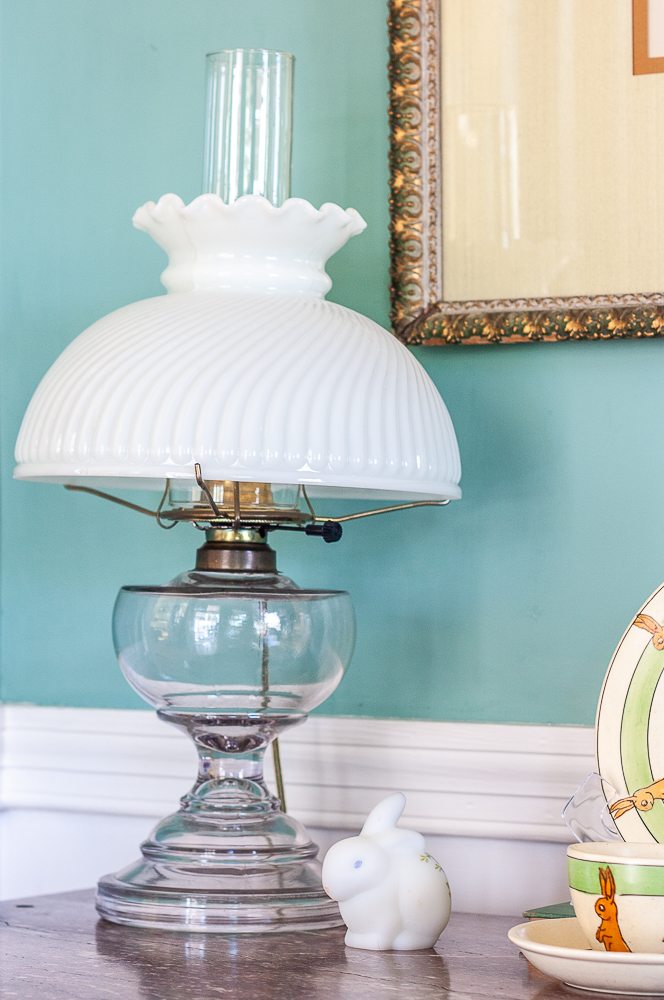 Fenton rabbits are hand painted and each one is unique.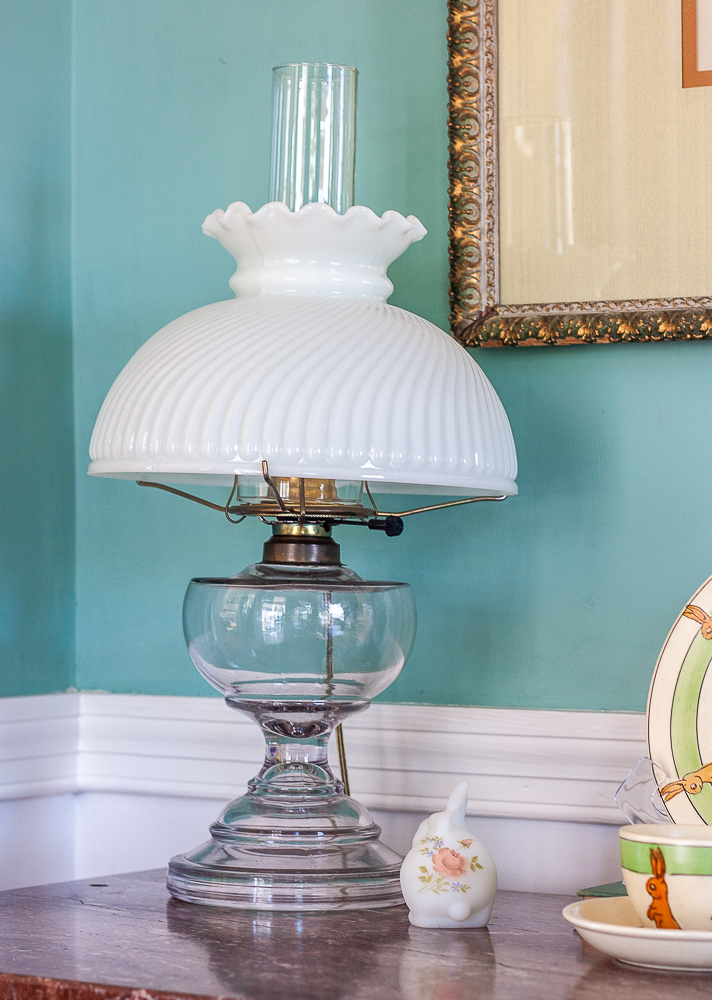 Each rabbit is signed by who painted it.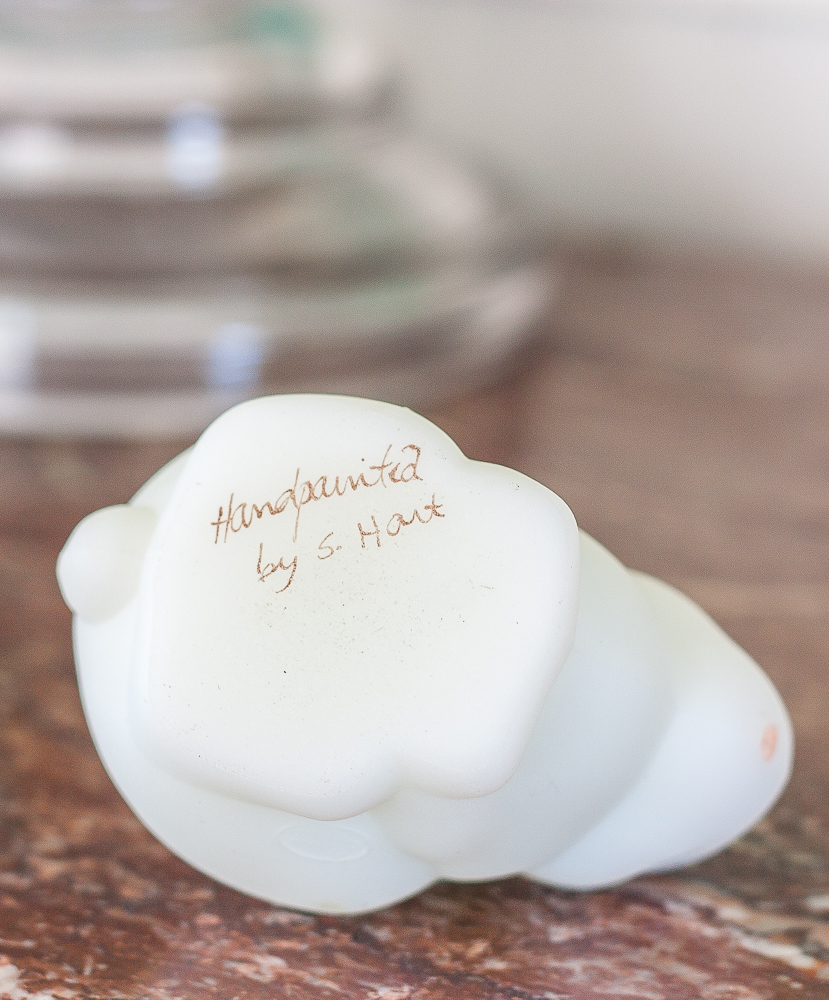 If you scroll back to the picture of this chest with the art over it, you'll notice this light green rabbit in that picture.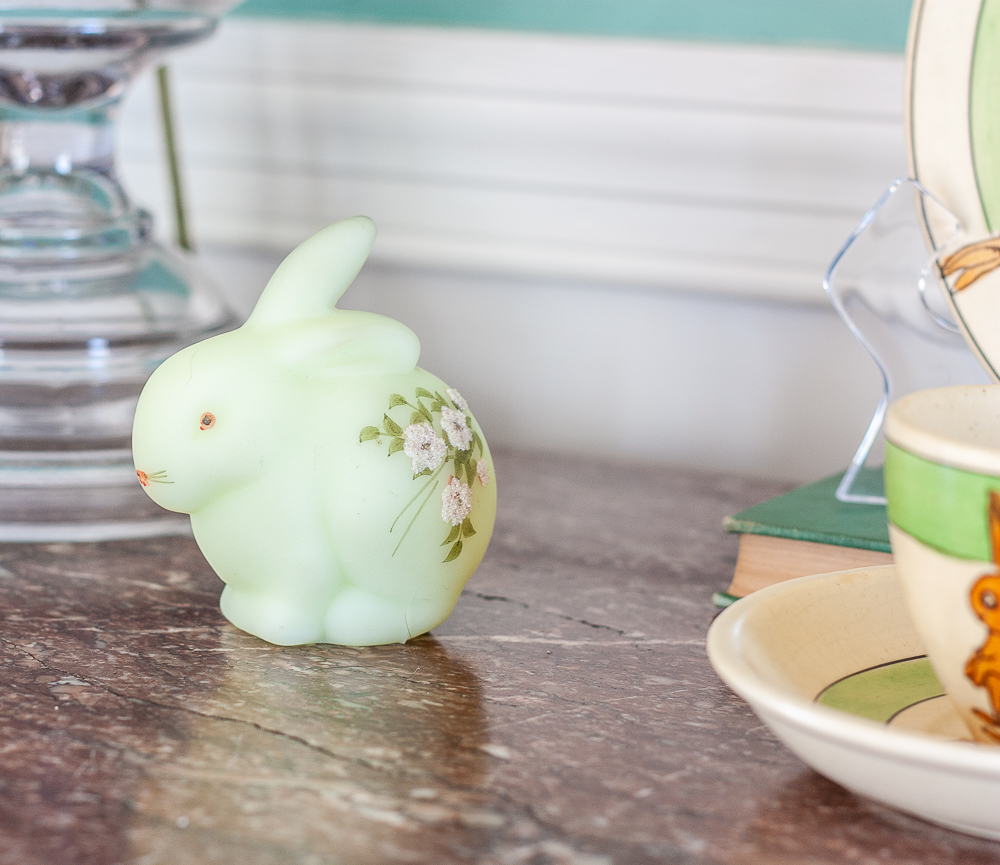 Like the white rabbit, it is signed by who painted it.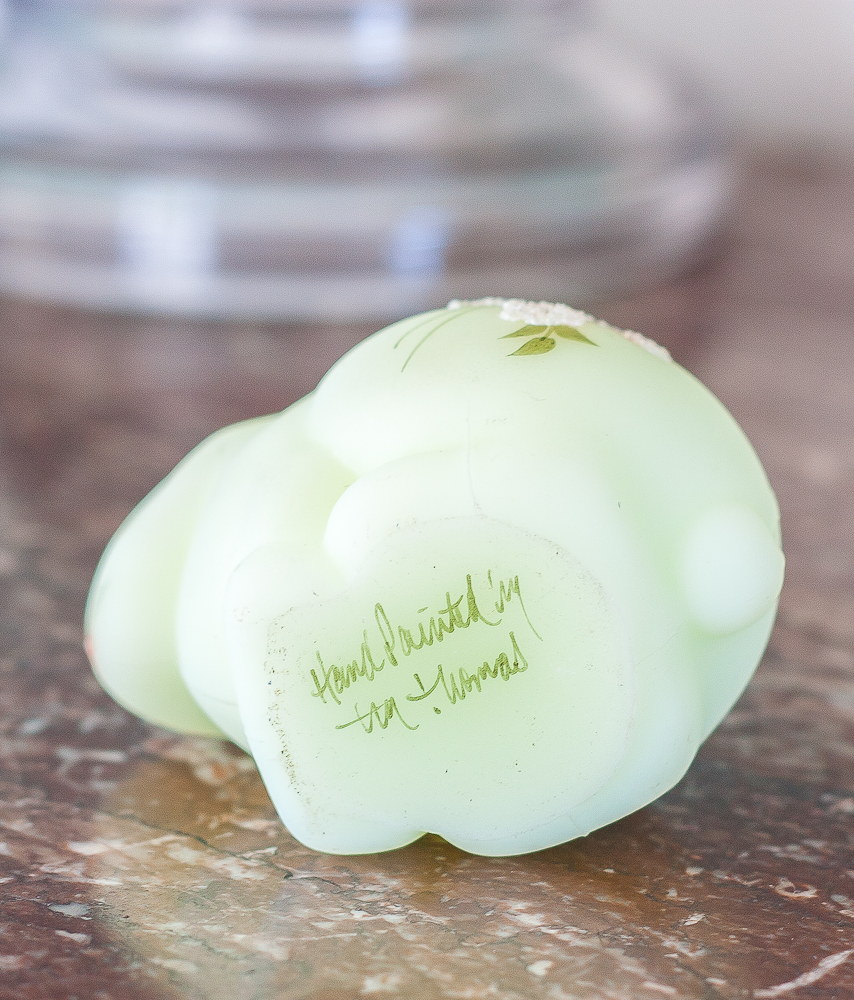 Easter in the Sunroom
A few years ago we had our screened porch converted to a sunroom. I love decorating this area seasonally.
The basket holds eggs that I decorated to look like carrots.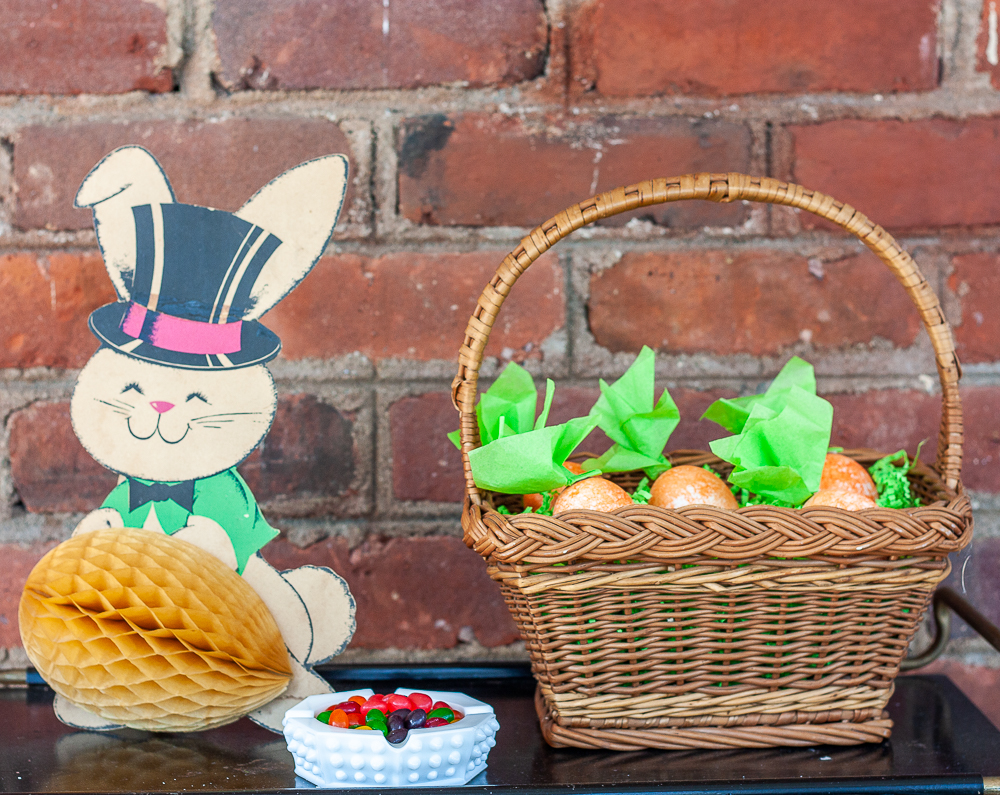 The rabbit is from 1960 and was sent to me from Liberty of B4 and Afters. Liberty sent me another 1960 honeycomb rabbit centerpiece that you can see here.
A hobnob milk glass ashtray that I purchased at a yard sale is filled with jellybeans.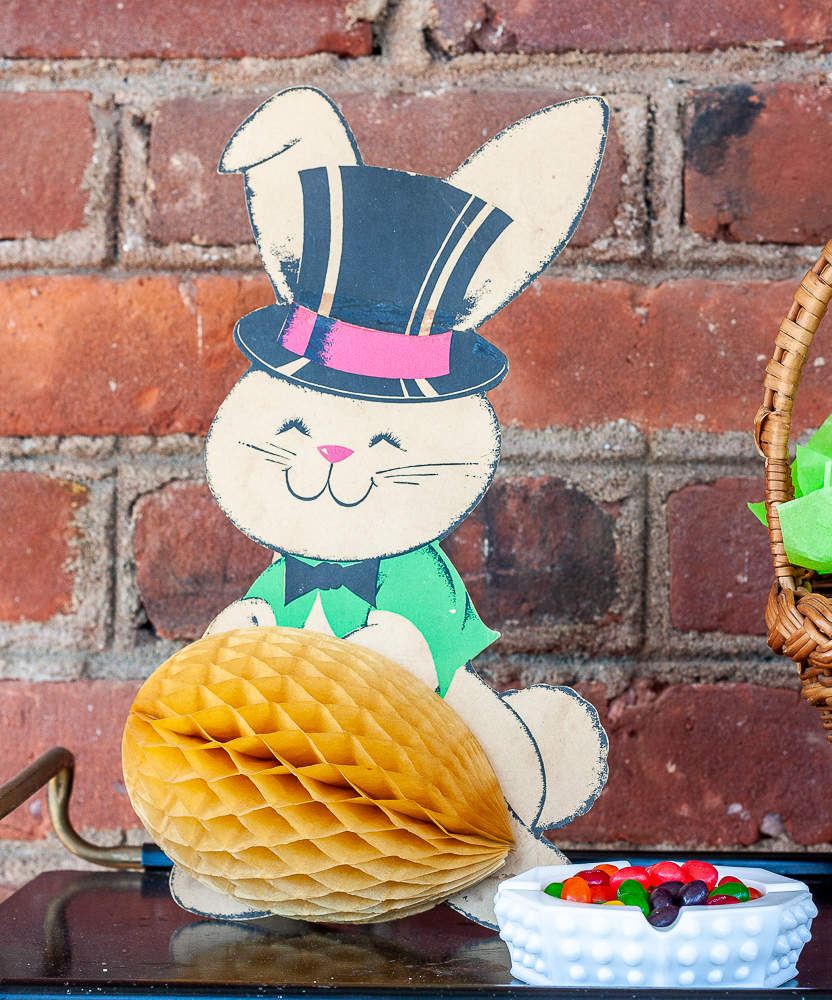 In the 1980s, my grandfather made this chick basket. I filled it with striped Easter eggs that I made a few years ago.
My grandmother gave me the green chick egg holder.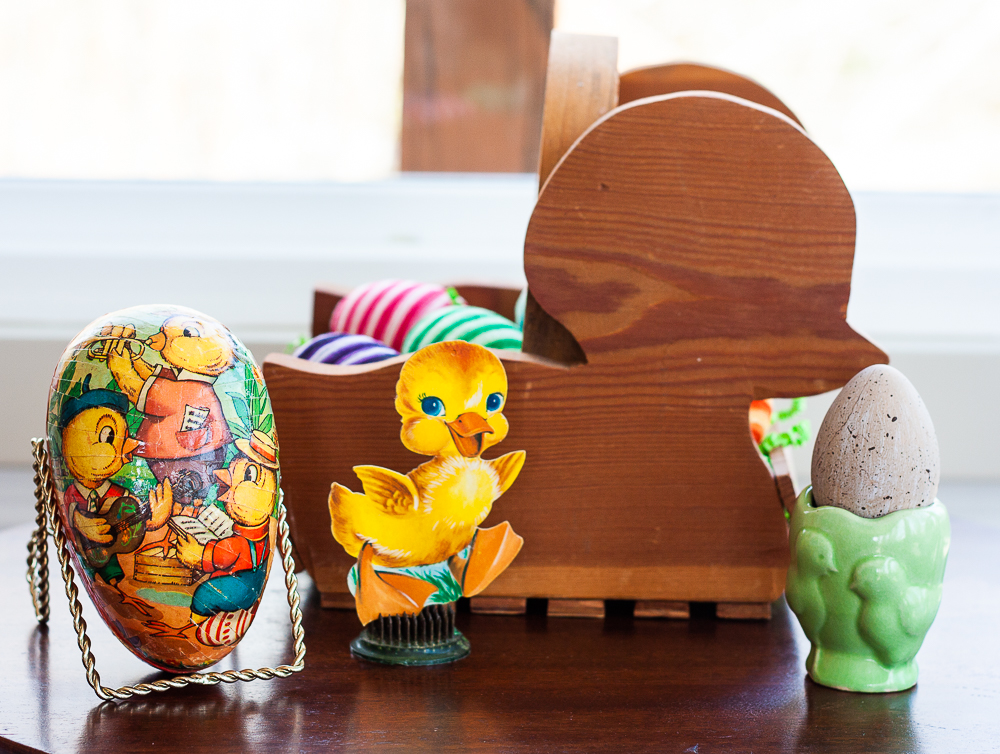 My brother and I both had a paper mache egg that we put into our Easter baskets each year. The Easter bunny always filled them with yummy candy. I think that my great-aunt may have purchased these for us in Germany.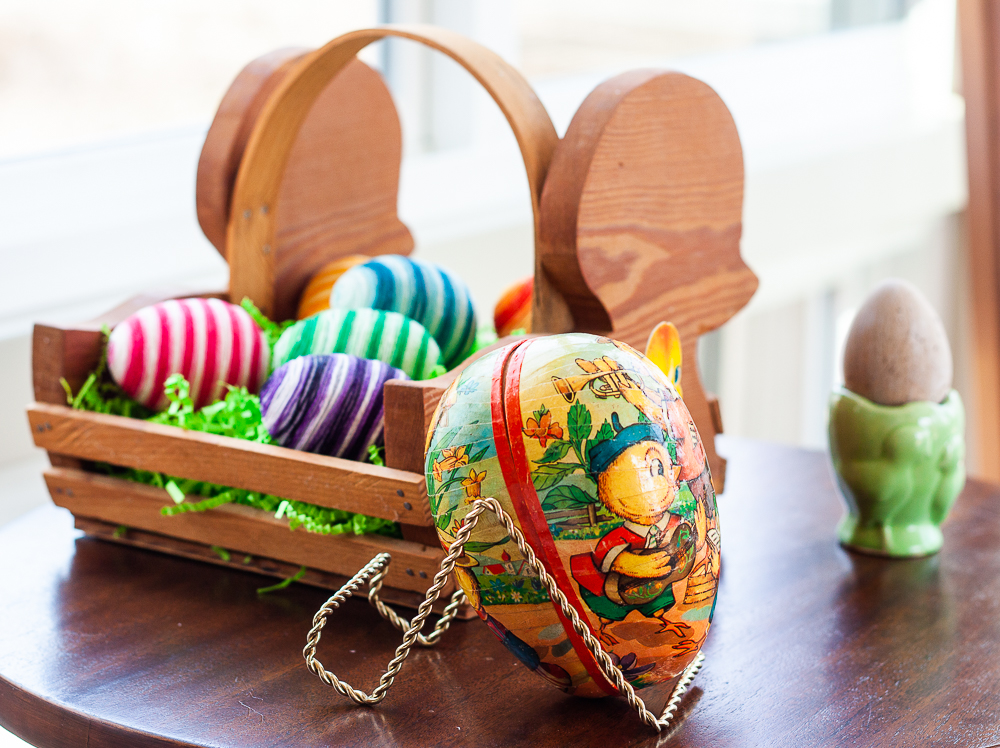 My mother gave me the paper chick that she inherited from a family member.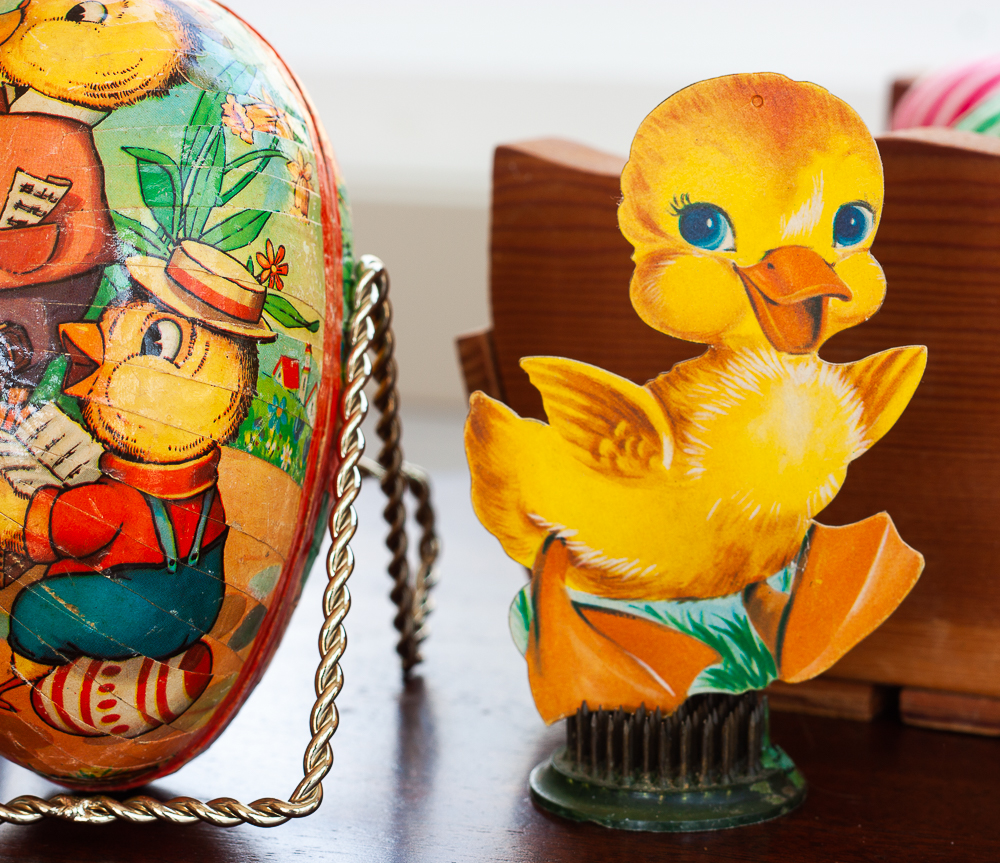 The last Easter decoration in the sunroom includes an antique Easter Greetings egg (similar), a peat pot Easter treat basket, and an Easter bridge tally card that belonged to my great-great-aunt.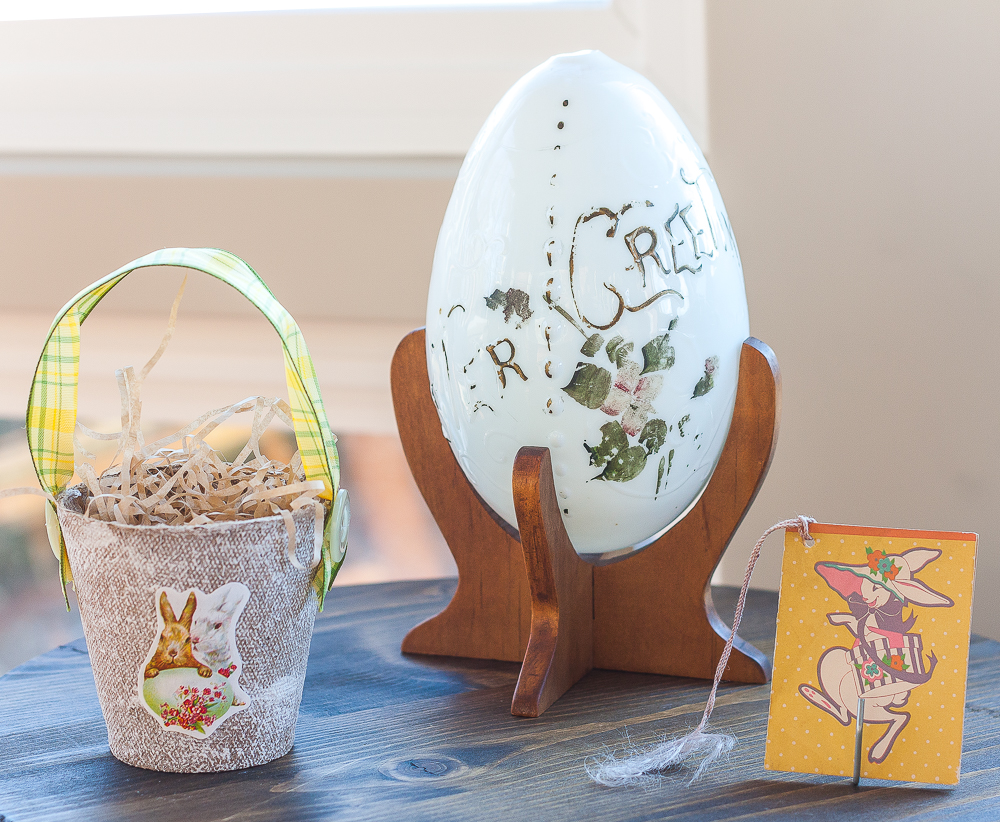 If you want to see more of my Easter and spring decorations, don't miss seeing how I decorated our family room.
I so much enjoyed sharing my spring and Easter decorations with you. Next on the tour is Kelly from The Tattered Pew. I love Kelly's decorating style and am looking forward to seeing how she decorated her Colorado home for spring.
Bloggers Best Spring Home Tour
This week I'm joining some of my lovely blogging friends for the Bloggers Best Spring Home Tours! All week long we are welcoming you into our homes decorated for spring . You can visit each tour by clicking on the links below the images!
Monday's Tours

Tuesday's Tours

Wednesday's Tours

Thursday's Tours

Friday's Tours