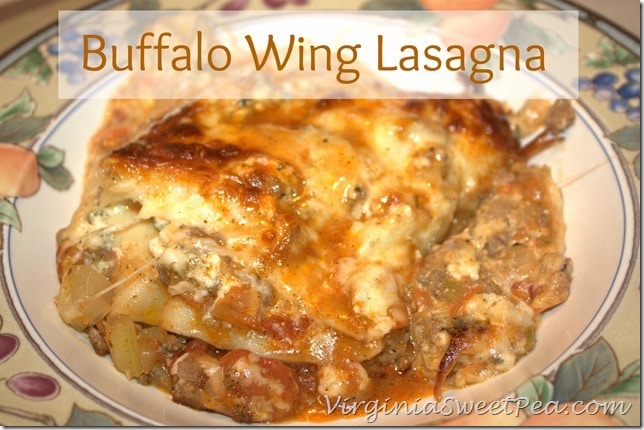 I'm always on the lookout for a new recipe to try. A friend at school had a copy of Taste of Home magazine and recommended that I try Buffalo Chicken Lasagna. It looked delicious, but I changed the recipe a bit to suit my personal taste.
The original recipe calls for ground chicken and since I have a freezer full of local beef, I decided to try the recipe with beef instead of using ground chicken. I also increased the amount of carrot and celery included in the original recipe. We really enjoyed my version and I'll bet that the original version is good, too.
Note the chunks of celery and slivers of carrots mixed in with the ground beef.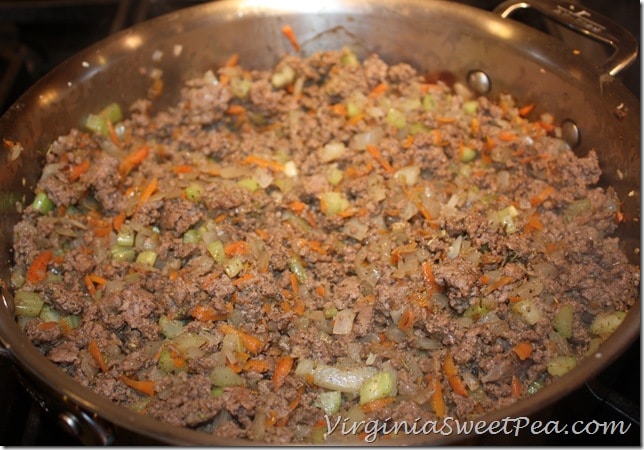 My version of the recipe goes together very quickly. The TOH version requires cooking the sauce for one hour prior to assembling the lasagna. I did not find this to be necessary. I also saved time in my version by using no cook noodles.
The lasagna has three layers of sauce, noodles, a ricotta mixture, cheddar cheese, blue cheese, and mozzarella cheese.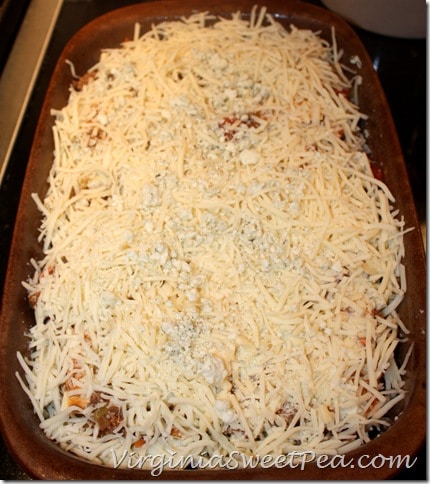 After baking 20 minutes covered, it bakes 25 minutes uncovered and then sits for 10 minutes. When it came out of the oven I could hardly wait to try it.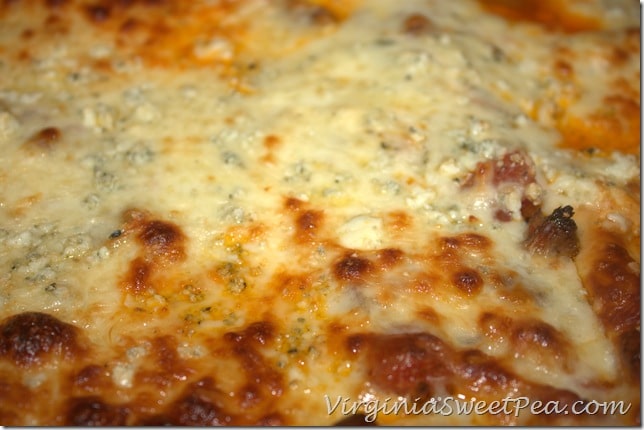 Yield: 12
Buffalo Wing Lasagna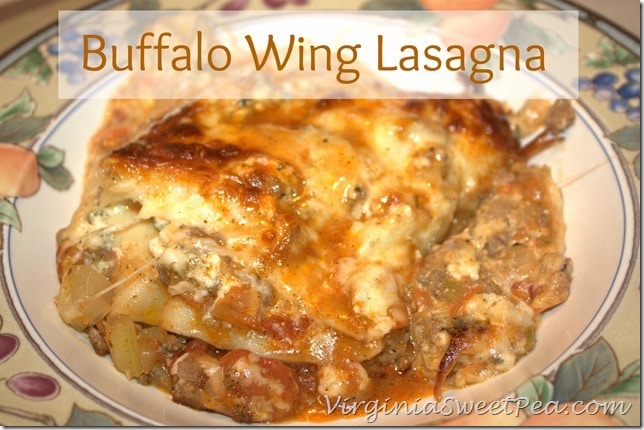 Ingredients
1 lb ground beef
1 onion, chopped
3 celery ribs, finely chopped
2 large carrots, grated
3 garlic cloves, minced
1 (14.5 oz) can diced tomatoes
1 (12 oz) bottle buffalo wing sauce
1/2 cup water
1 1/2 tsp Italian seasoning
1/2 tsp salt
1/4 tsp pepper
9 no-cook lasagna noodles
1 carton (15 oz) ricotta cheese
1 3/4 cups crumbled blue cheese
2 T parsley
1 egg
3 cups shredded mozarella
2 cups shredded white cheddar
Instructions
Cook ground beef, onion, carrot, and garlic until meat in no longer pink and veggies are tender. Stir in tomatoes, wing sauce, water, Italian seasoning, salt, and pepper. Bring to a boil and then turn off the heat.
In a bowl, mix ricotta, 3/4 cup blue cheese, parsley, and egg.
Spread 1 1/2 cups sauce into a greased 13 x 9" baking dish. Lyer with three noodles, 1 1/2 cups sauce, 2/3 cup ricotta mixture, 1 cup mozarrella cheese, 2/3 cup cheddar cheese and 1/3 cup blue cheese. Repeat layers twice.
Bake, covered at 350 degrees for 20 minutes. Uncover; bake 20 - 25 minutes longer or until bubbly and cheese is melted. Let stand for 10 minutes before serving.



If you are looking for a hearty and different recipe, give this lasagna a try. It won't be the last time that I make it!