This post and photos may contain Amazon or other affiliate links. As an Amazon Associate I earn from qualifying purchases. If you purchase something through any link, I may receive a small commission at no extra charge to you. All opinions are my own.
30 Minute Skillet Lasagna is a quick and easy meal that tastes delicious and can be made in one skillet.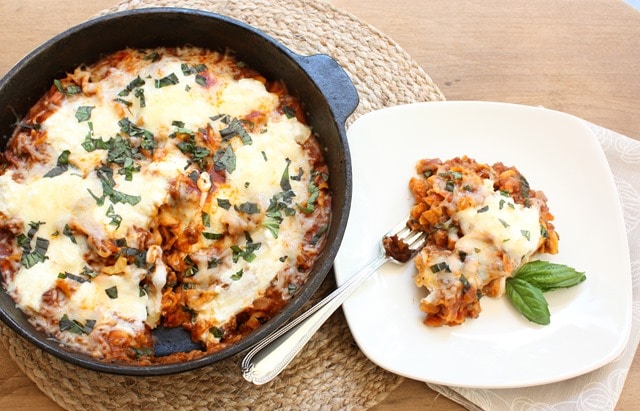 Who struggles with the age old question, "What's for dinner"? I know I do! After a long day of work, the last thing that I want to do is spend an hour in the kitchen preparing a meal. I've been looking for recipes that I can prepare quickly, yet are still delicious, and my latest kitchen experiment, 30 Minute Skillet Lasagna, fits both criteria.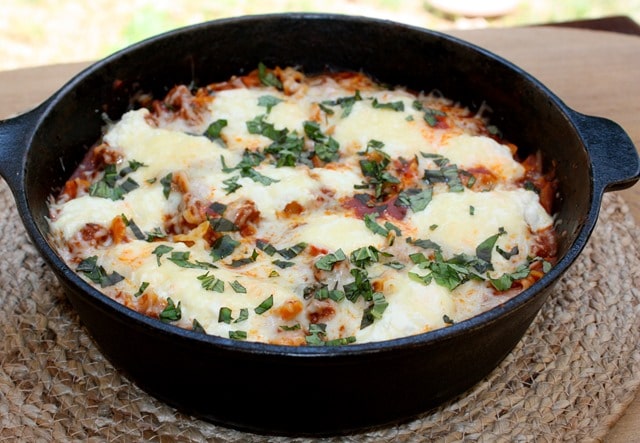 My mom was a teacher and she managed to prepare a home cooked meal every single night. I truly don't know how she did it. When she made pasta sauce, it was made using her home-canned tomatoes and onion and green peppers from her garden.
On a weekend, I may make pasta the way my mom did, but on a busy week night, instead of making my sauce from scratch, I rely on help from the grocery store. I recently tried RAGU Homestyle Thick and Hearty Mushroom Sauce when making 30 Minute Skillet Lasagna and really liked it.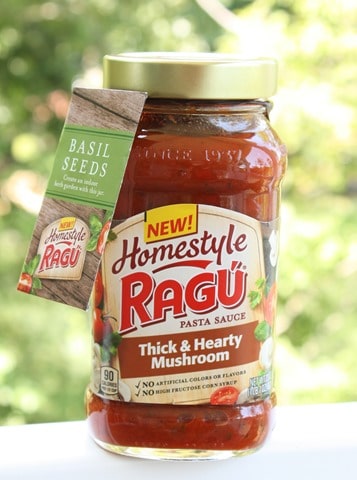 Isn't it neat that a package of basil seeds was included with the bottle of sauce? The sauce is thick, and has a great taste. Ragu has four other Homestyle sauces. You can see them all here.
My 30 minute Skillet Lasagna starts with a base of ground beef, onion, and garlic. After the ground beef mixture has cooked, pasta sauce, egg noodles, and water are added to the pan. After 10 minutes, the pasta has cooked and is topped with Ricotta and cheese. The pan is covered, and after 5 minutes, the cheese is melted and this dish is ready to be enjoyed.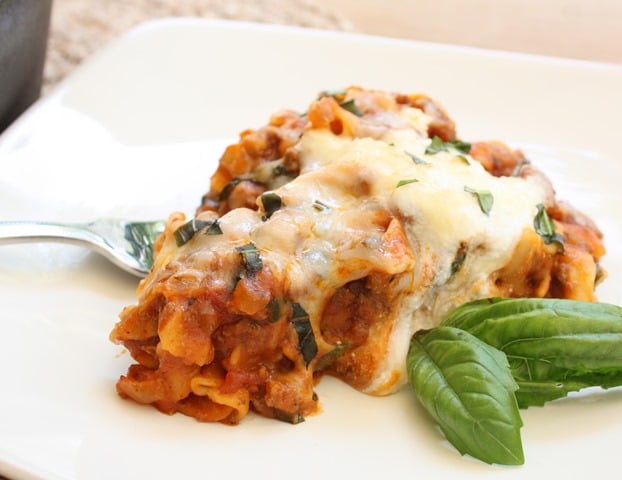 Yield: 6 servings
30 Minute Skillet Lasagna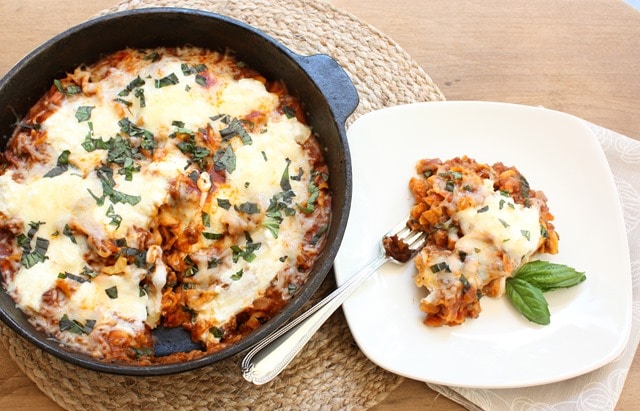 This easy to make meal is ready in just 30 minutes!
Ingredients
1 pound of ground beef
1 onion, chopped
2 garlic cloves, chopped
1 (26 oz) jar Ragu Homestyle Thick and Hearty Sauce
1/2 cup low-fat ricotta cheese
1/2 (12 oz) package egg noodles
1 cup shredded Italian cheese
Salt and pepper to taste
Fresh basil (optional)
Instructions
In a skillet, saute ground beef, onion, and garlic until the ground beef is no longer pink and the onion and garlic are soft. Season to taste with salt and pepper. (Drain if needed.)
Stir in pasta sauce, egg noodles, and 1 1/2 cups water. Bring to a boil; reduce heat to medium low, and simmer, stirring occasionally, 8 to 10 minutes or until pasta is just tender an liquid is almost absorbed. Season again with salt and pepper to taste.
Stir together ricotta and 1/2 cup shredded cheese. Drop by heaping teaspoonfuls over pasta. Sprinkle with remaining 1/2 cup cheese.
Cook, covered, over low heat 5 minutes or until thoroughly heated and cheese has melted. Remove from heat, and let stand 5 minutes. Sprinkle with basil, if desired.



I'm delighted with this recipe and am sure to make it many times this fall and winter.