Baked Shells With Broccoli and Ham (Surprise Healthy Sauce!)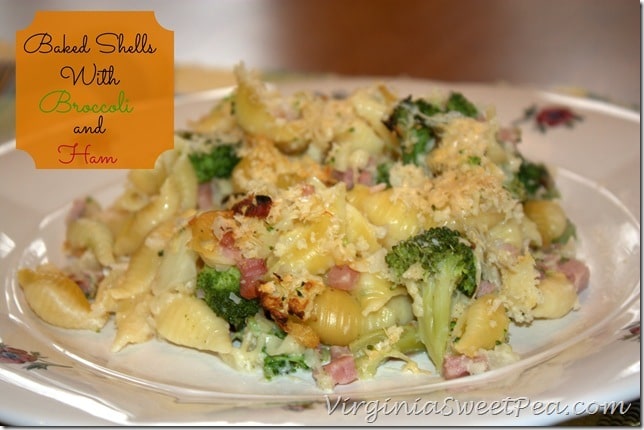 One of the pleasures of receiving many magazines is finding new recipes to try. I recently was paging through an old Martha Stewart and a recipe from the "Fit to Eat" column caught my eye. Baked Shells and Broccoli with Ham and Cheesy-Creamy Cauliflower Sauce sounded too good not to try. As I often do, I changed the recipe ingredients and directions just a bit.
This recipe comes together fairly quickly and I found that prepping all of the ingredients before I started cooking was one key to the recipe's success. A head of cauliflower must be finely chopped along with two shallots and several cloves of garlic; broccoli must be cut into florets; and 2 cups of Parmesan must be grated.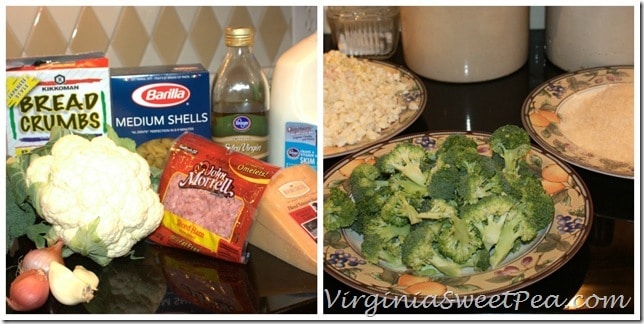 The cauliflower, shallots, and garlic are sautéed in 1 tsp. of EVOO along with 1/4 tsp. of salt until very tender. 4 tsp. of flour are stirred in and then 4 cups of skim milk is slowly added. After the sauce thickens, 1 cup of Parmesan is added to the sauce. At this point I did not think the sauce had enough salt, so I added more to taste.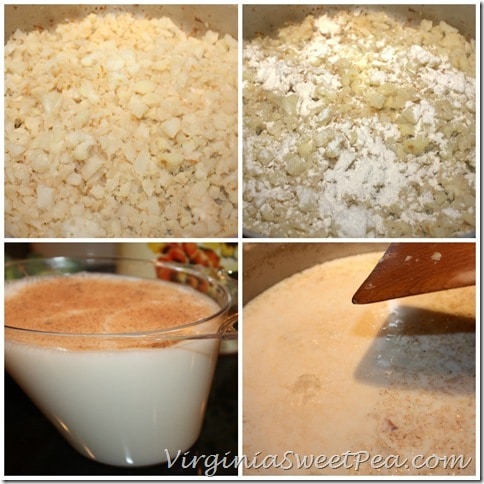 While the preparing the cauliflower sauce, bring a pot of water to a boil and cook the pasta for 5 minutes. After 5 minutes, add the broccoli to the pasta water and cook 2 more minutes. Drain, put the mixture back in the pot and stir in the ham. After the ham is mixed in, stir in the cauliflower sauce and pour into a casserole dish.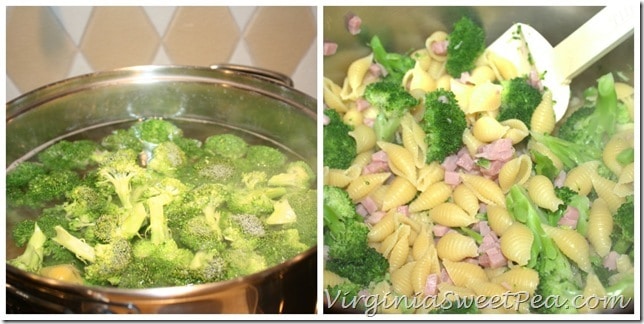 Top the casserole with the remaining cup of Parmesan and 1/2 cup Panko. Bake uncovered for 30 minutes.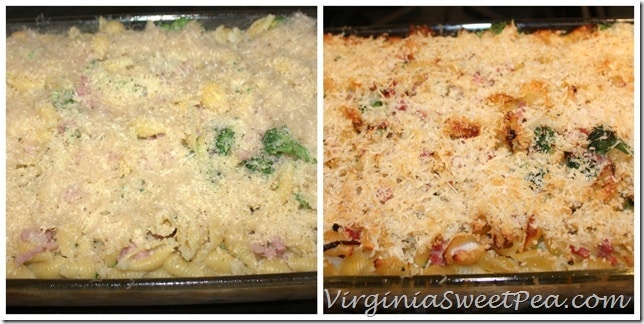 The cauliflower cream sauce tastes indulgent but isn't since it's made with skim milk and a small amount of cheese. The salty ham pairs nicely with the pasta and broccoli.
This is going to be a dinner that we enjoy several nights this week.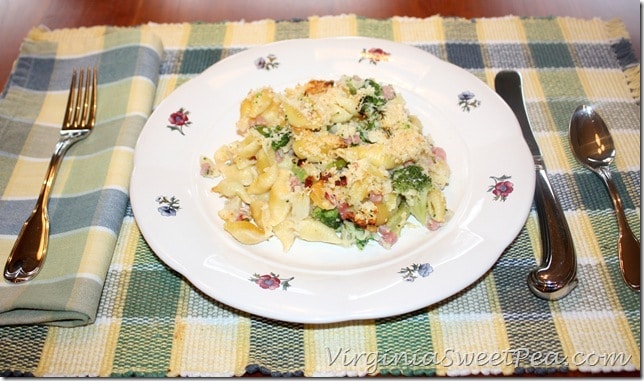 Baked Shells With Broccoli and Ham (Surprise Healthy Sauce!)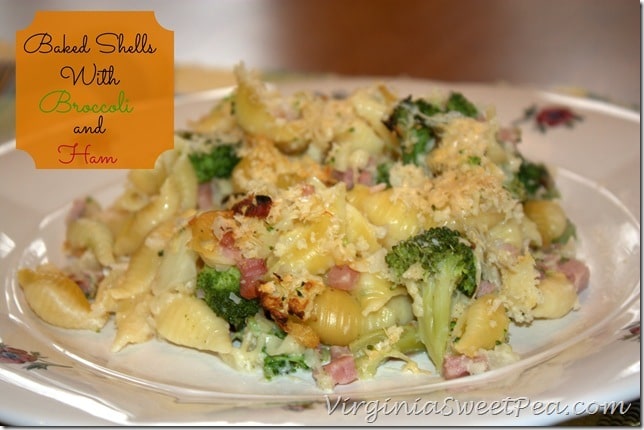 A creamy cauliflower sauce is the surprise ingredient in this yummy baked pasta.
Ingredients
1 tsp EVOO
1 head cauliflower, cored and chopped
6 garlic cloves, chopped
2 shallots, chopped
Salt and Pepper to taste
4 tsp flour
4 cups skim milk
1/4 tsp ground nutmeg
2 cups finely grated parmesan
1 bunch broccoli (3 clumps), trimmed and cut into florets
1/2 cup Panko
Instructions
Heat oil over medium heat. Add cauliflower, shallots, garlic, and 1/2 tsp. salt; cook until softened but not brown, stirring frequently. Sprinkle with flour; stir to coat well.
Gradually stir in milk and nutmeg; bring to a boil. Reduce heat; gently simmer until sauce thickens. Add 1 cup of Parmesan.
Preheat oven to 400 degrees. Meanwhile, bring a pot of water to a boil. Cook pasta 5 minutes, add broccoli and cook two minutes more. Drain and return to pot.
Mix ham with pasta and broccoli and stir in cauliflower sauce. Transfer to a 13 x 9 inch baking dish. Top with remaining 1 cup parmesan and panko.
Bake 30 minutes.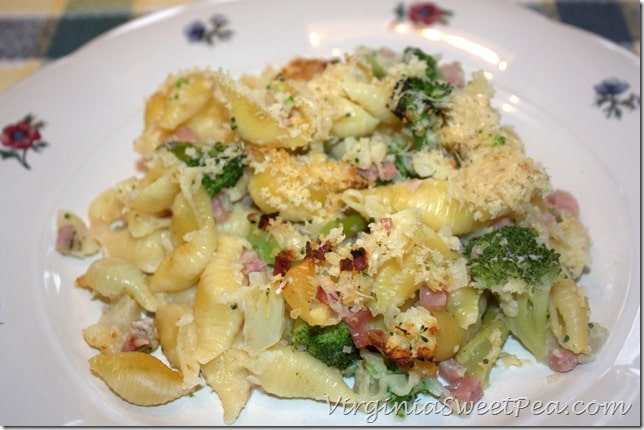 Have you tried any new recipes recently?
Sharing With:
Serenity Now