Classroom Organization :: DIY Pallet Caddy with Office Max Supplies
This shop is part of a social shopper marketing insight campaign with Pollinate Media Group® and Office Depot, but all my opinions are my own. #pmedia #inspirestudents https://my-disclosur.es/OBsstV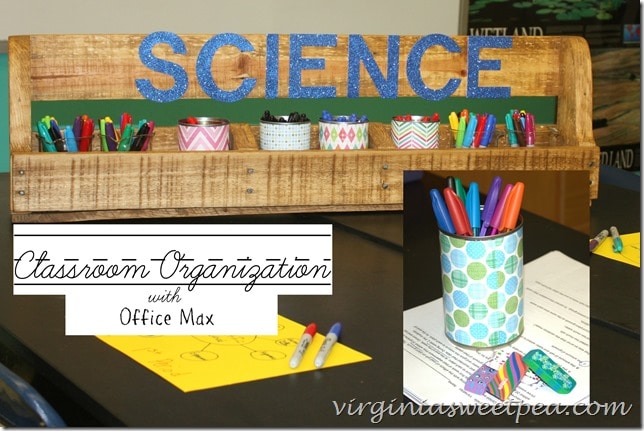 Now that we are well into September, students are back to school and adapting to the new school year. This is the fourth week for my students and it's hard to believe that this Friday I will send home the first interim report for the year. Switching grades and classrooms provided me with a great opportunity to really get organized at school. My cabinets are labeled, neat and contain no unnecessary materials. My latest organization project is a DIY pallet caddy too hold Sharpies that I purchased from Office Max.
We use Sharpies frequently in my classroom. Lab activities, like our most recent one where we are growing plants, require plastic cups to be labeled. This teacher likes to use Sharpies because they will write on anything! After our plants grow, we will graph the data on giant graph paper also purchased at Office Max. The students will color code their graphs with the many Sharpie colors that I have available for them to use. Since we use Sharpies nearly everyday, I thought it would be handy to keep them all in one place in a caddy that can be easily carried from place to place in my room.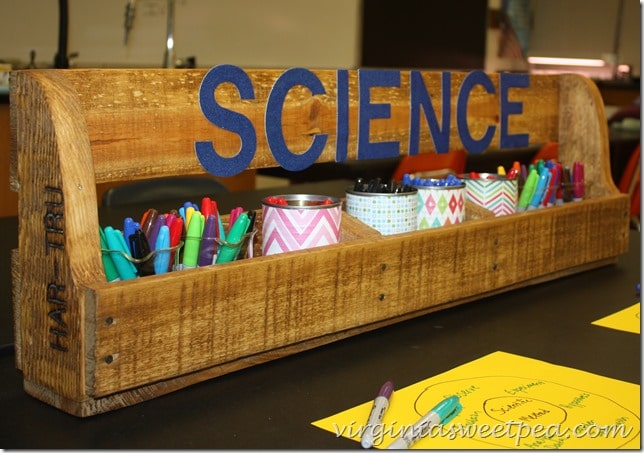 My DIY pallet caddy is made from a pallet picked up at our tennis club, hence the "Har-Tru" printed on the side. For all of the non-tennis players, Har-Tru is the surface used on clay tennis courts. We cut a two board section from the pallet to make the caddy. The center vertical boards were then removed and the end was rounded to be decorative. The pallet caddy was then sanded and stained. Click here for step-by step instructions.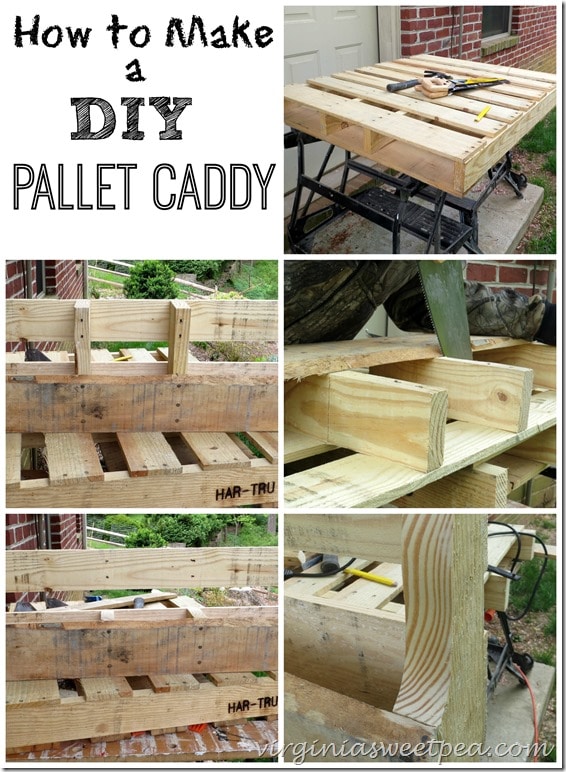 I found that a recycled soup can works perfectly as Sharpie container. To make the soup cans decorative, I traced the label onto scrapbook paper, cut it out, and applied it to the can with Mod Podge. After the Mod Podge dried, I covered the paper with another coat to seal it. My students can easily remove a can of Sharpies from the caddy and carry it to any location in the classroom where they are needed.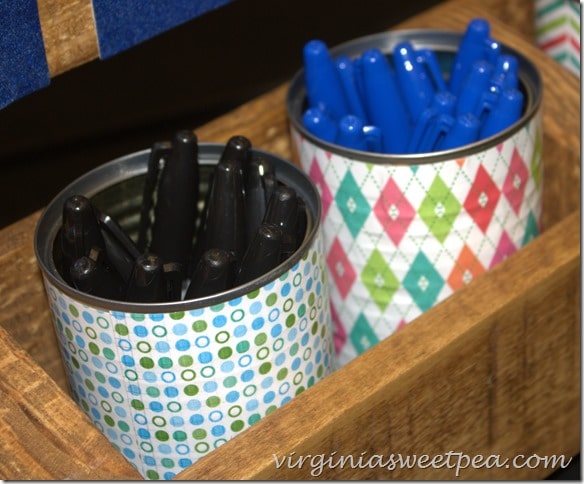 The colored Sharpies are in glass beakers until I empty a few more cans at home to cover.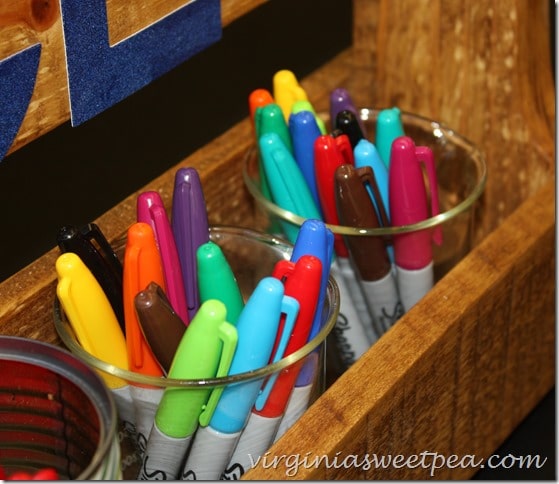 Sharpies aren't the only thing that I've purchased on my school supply shopping trips to Office Max. I also needed colorful pens for paper grading and some large erasers. I chose PaperMate pens and erasers because I liked the color selection for the pens and designs on the erasers. If I have to grade papers, I may as well use a colorful pen to do so! Students are constantly asking to borrow an eraser. These colorful PaperMate erasers with their fun patterns will be easy to keep up with as mine, especially if I use a Sharpie to write my name on them.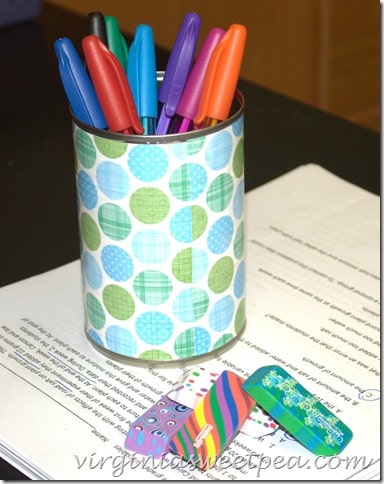 I love having these supplies all in one spot in this easy to transport DIY pallet caddy. Don't you love the SCIENCE in sparkly scrapbook letters that I added to jazz it up?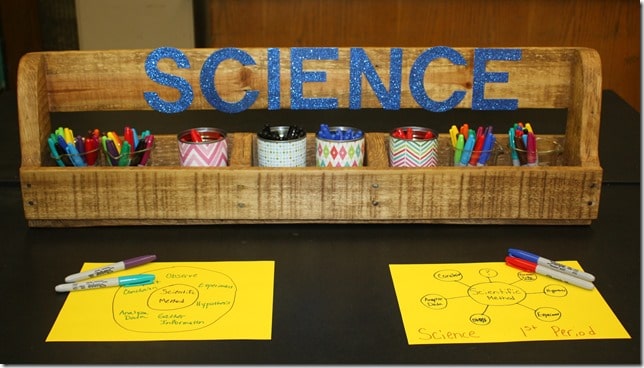 I don't know about you, but it seems like I'm constantly needing supplies for either school or our home office. I'm glad that my Office Max is beside the gym so that it's a convenient stop for me. When you next head to Office Max, be sure to take advantage of the "Save $5 Off your purchase of $20 or more on Select Newell Rubbermaid Brands (PaperMate, Expo Neon Window Markers, Sharpie, Uni-Ball, & Mr. Sketch)" offer. (While supplies last.)