Cucumber Mint Couscous :: A Tasty Side Dish!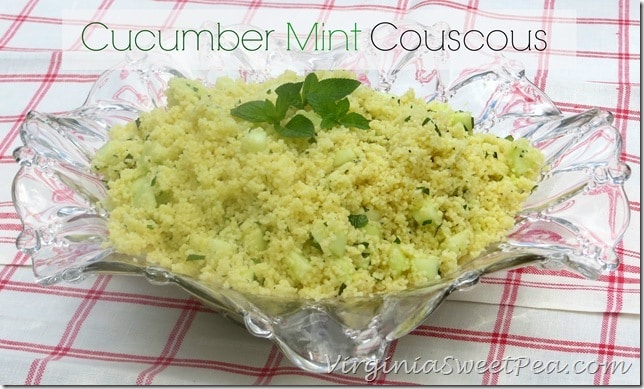 We are in the thick of summer, the perfect time for picnics and cookouts. Are you looking for a different side dish to serve your family or to share with friends? Cucumber Mint Couscous is good and different with a the tang of a lemon dressing combined with the sweet of chopped mint. I made this dish to share with friends at a picnic this weekend and it was well received.
Cucumber Mint Couscous
A printable recipe is below!
Salad Preparation
The recipe calls for two cups of uncooked plain couscous. My local grocery store only carries couscous is prepackaged boxes. I discovered that each box contains 1 1/2 cups, so I'm glad that I bought two of them.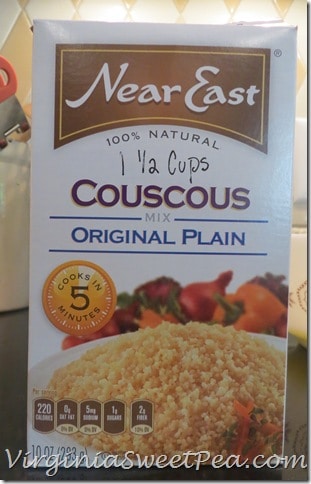 The couscous is combined with 1 tsp salt and mixed with 2 1/4 cups of boiling water. After stirring it together, cover it for 5 to 8 minutes or until the water has been absorbed.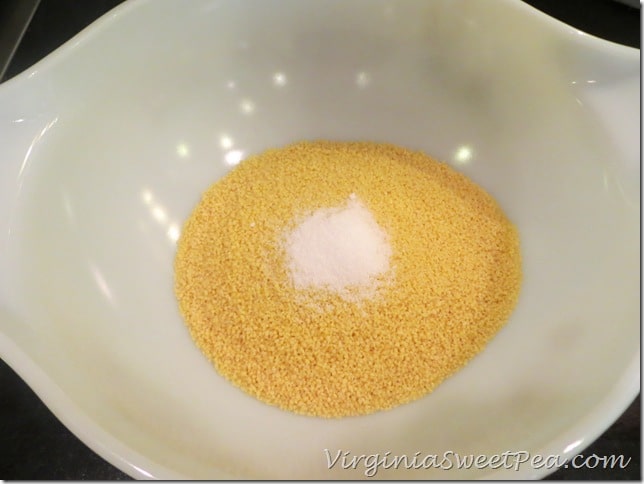 Fluff the couscous with a fork. Let it cool for 10 minutes.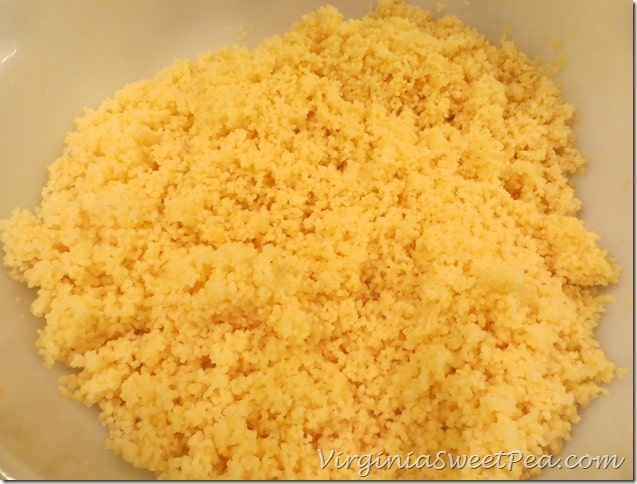 Seed and chop two cucumbers to yield two cups. Chop 1/2 cup of fresh mint.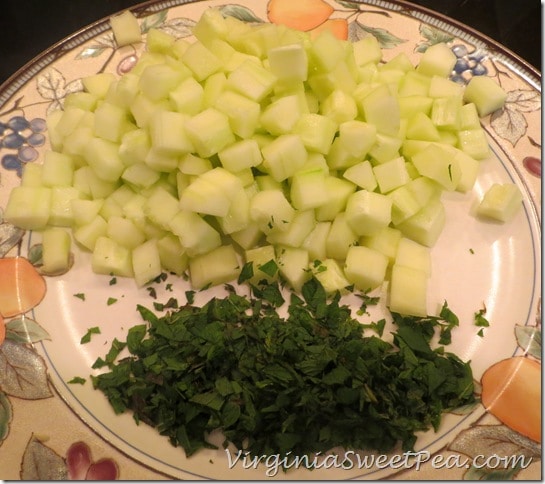 Add the cucumber, mint, and 1/2 tsp. salt to the couscous.
Dressing Preparation
For the dressing, combine 1 tsp lemon zest, 2 T. fresh lemon juice, 1/2 tsp. sugar and 1/4 tsp pepper in a small bowl. Whisk in 1/3 cup EVOO.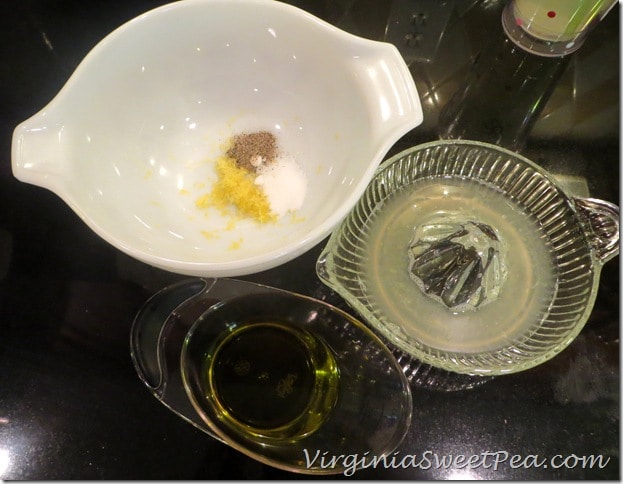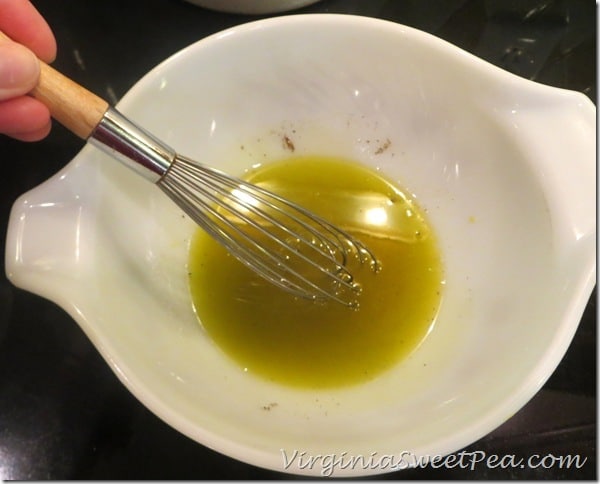 Pour over couscous mixture and toss gently to combine. This dish can be served chilled or at room temperature.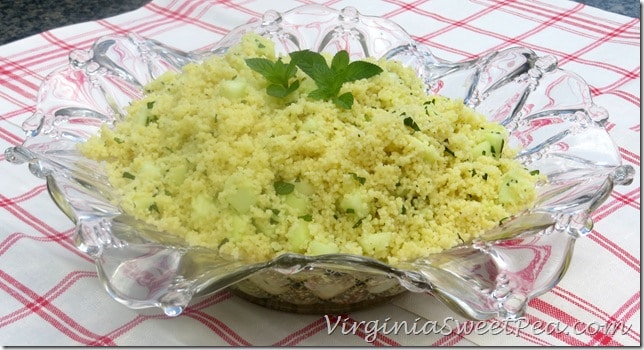 A garnish of mint is a pretty added touch.


Yield: 6-8
Cucumber Mint Couscous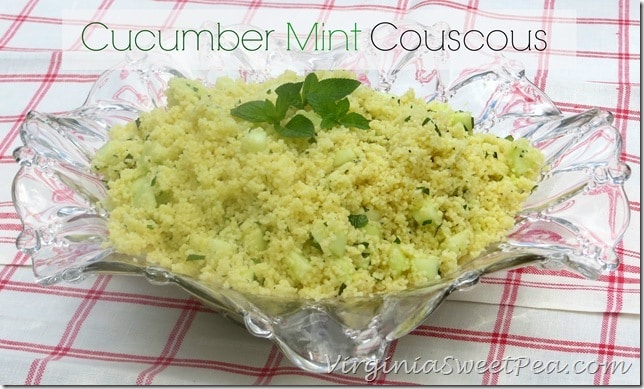 Ingredients
2 cups uncooked plain couscous
1 1/2 tsp salt, divided
2 1/4 cups boiling water
2 cups chopped seedless cucumber
1/2 cup chopped fresh mint
1 tsp lemon zest
2 T lemon juice
1/2 tsp sugar
1/4 tsp ground black pepper
1/3 cup olive oil
Garnish: fresh mint sprig
Instructions
In a large bowl, combine couscous and 1 tsp salt. Pour boiling water over couscous. Cover, and let stand until liquid is absorbed, about 5 to 8 minutes. Fluff couscous with a fork. Let cool for 10 minutes.
Add remaining 1/2 tsp salt, cucumber, and mint.
In a small bowl combine lemon zest, lemon juice, sugar, and pepper; whisk in olive oil. Pour over couscous mixture; toss gently to combine.
Spoon into a serving bowl. Serve at room temperature or chilled. Garnish with fresh mint, if desired.