Easy and Delicious Semi-Homemade Pizza
This shop has been compensated by Collective Bias, Inc. and its advertiser. All opinions are mine alone. #EffortlessMeals #CollectiveBias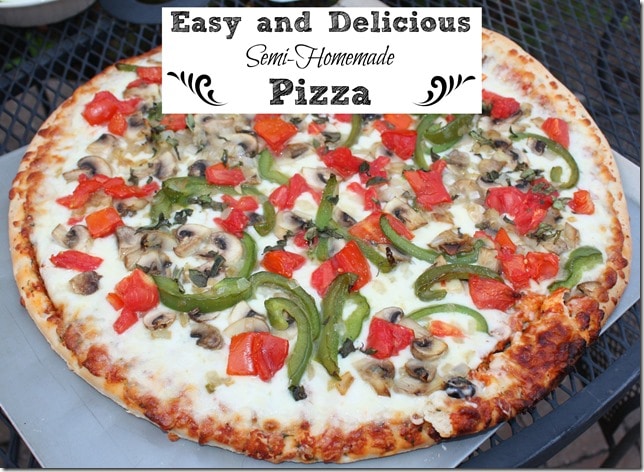 One thing that I look forward to each night is a nice meal with my husband. Since we both work full-time and enjoy after work activities, it isn't always easy to prepare a made-from-scratch meal each night. August and September are a particularly busy time of year for me since it's back-to-school season. I'm lucky that Walmart is practically next door to my school and when I don't have a meal planned, I know that I can stop into the deli to find something easy and delicious to make for dinner.
This past Friday was a particularly busy day: I ran before school; taught all day; tended to my booth at Blue Sky Cottage; mowed the grass; and still had time to prepare a delicious dinner that was ready in exactly 45 minutes. How did I do it? Let me show you.
After "fluffing" my booth at Blue Sky Cottage, I made a quick stop at Walmart where I headed to the deli to buy a Marketside pizza for dinner. Since my father-in-law was coming to dinner and I like to "cook once and eat twice", I purchased two pizzas: a cheese one to embellish and a supreme that is delicious as is. Look for the effortless meal signs near the pizza, deli sandwiches, and rotisserie chicken for quick meal ideas.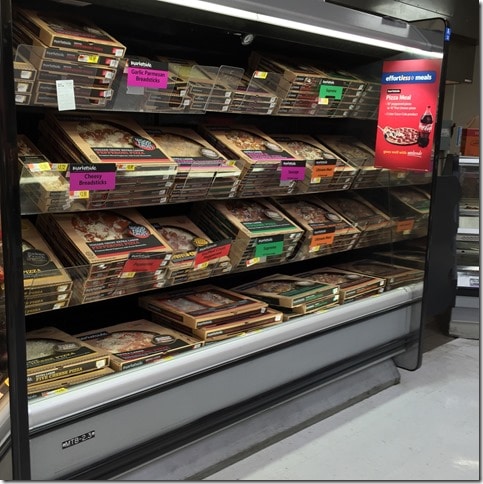 My cart contains a Marketside supreme pizza that is hidden, a five cheese pizza with toppings to turn it into a vegetarian delight, a cucumber for a side dish, and a Diet Coke to drink.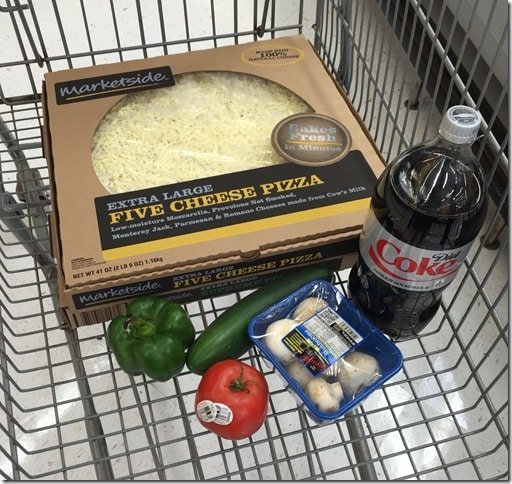 After shopping, I raced home and had time to get our back and side yard cut before it was time to cook dinner. I set my kitchen timer to see how long it would take to prepare and bake the pizzas and to make a quick cucumber side. It was exactly 45 minutes. Not bad for a semi-homemade meal!
How to Prepare a Pizza Dinner in 45 Minutes
1. Heat 2 T EVOO in a sauté pan. Chop one onion and add to the pan. Slice one green pepper and add to the sautéing onions. Clean one package of fresh mushrooms with a damp paper towel, then slice and add to the pan. Sprinkle with 1/2 tsp salt. Stir frequently as the veggies cook.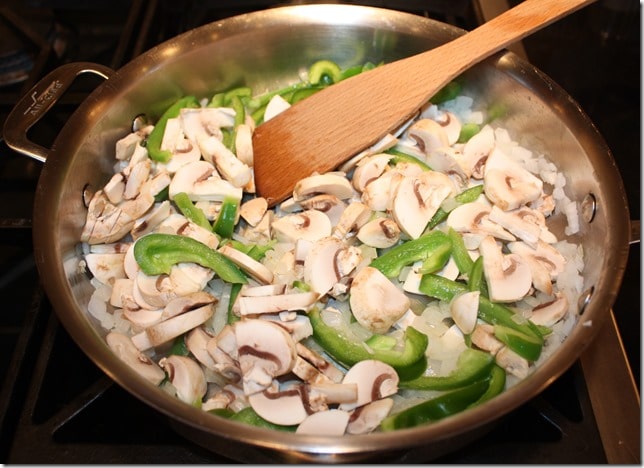 2. Core and seed one tomato. Chop and spread the tomato pieces onto a paper towel. Sprinkle with 1/2 tsp salt.
3. Peel and slice a cucumber, put slices into a bowl in layers, sprinkling each layer with salt. When the last layer has been added, sprinkle seasoned rice vinegar over the cucumber slices. Refrigerate until meal time.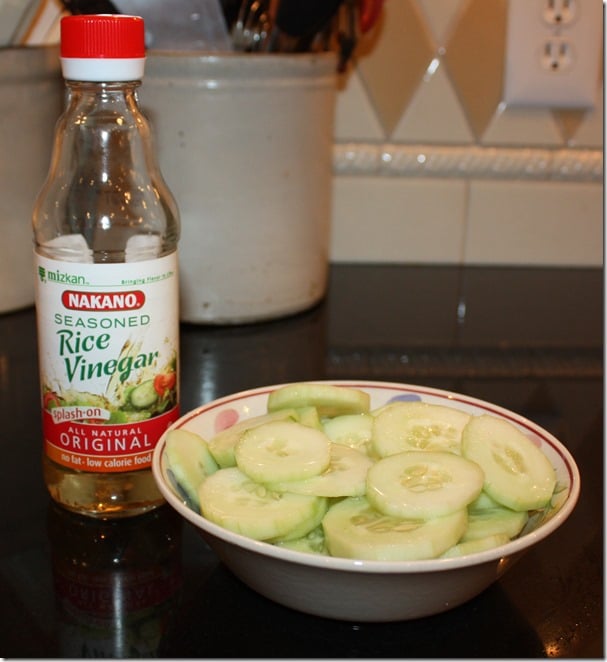 4. After preparing the tomato and the cucumbers, the veggies should be soft and ready to use as a topping for the cheese pizza.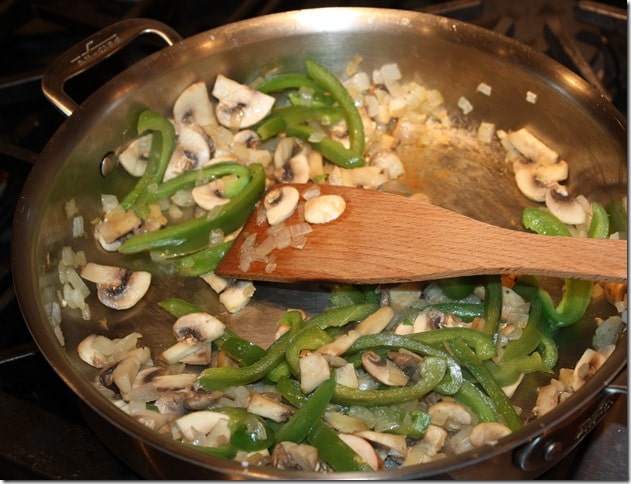 I like to buy Marketside pizzas in extra large so that there's plenty to eat and also so that we will have leftovers. These big boys barely fit on my largest two cookie sheets!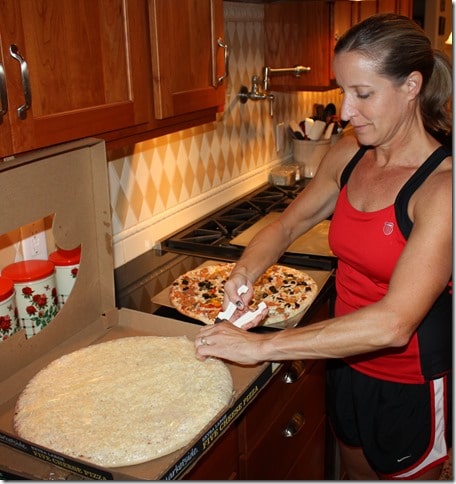 Spread the sautéed onion, green pepper and mushrooms evenly over the five cheese pizza.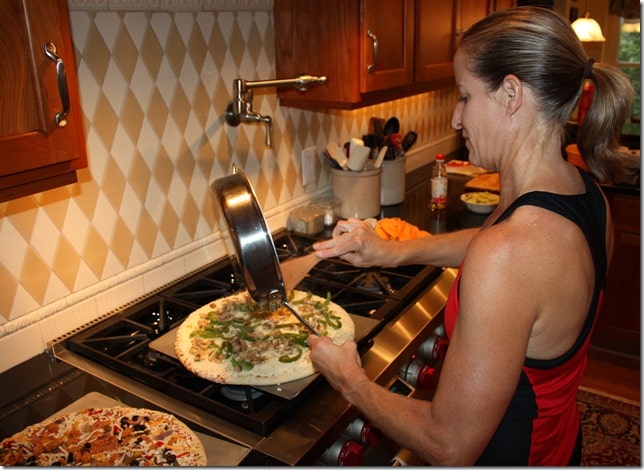 Then add the chopped tomatoes. If you have fresh basil, chop a few leaves and add that as well.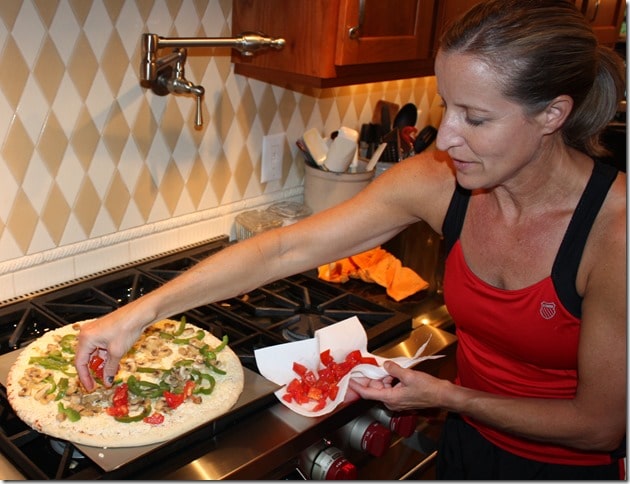 To make the pizza extra tasty, sprinkle garlic salt over the whole thing before baking.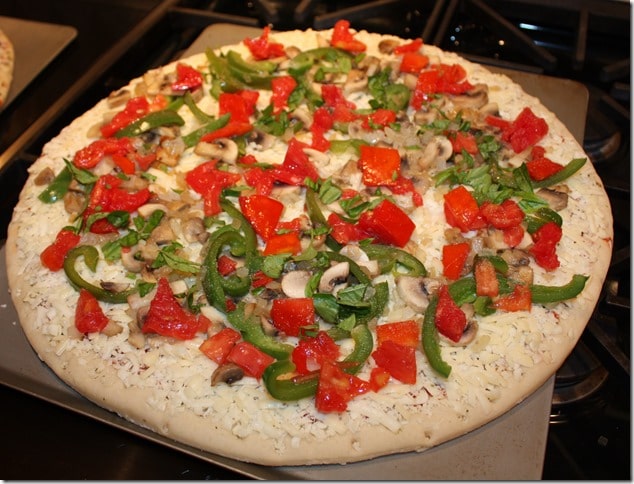 5. This is what my semi-homemade pizza looked like after baking. It looks like it came from a pizzeria, doesn't it?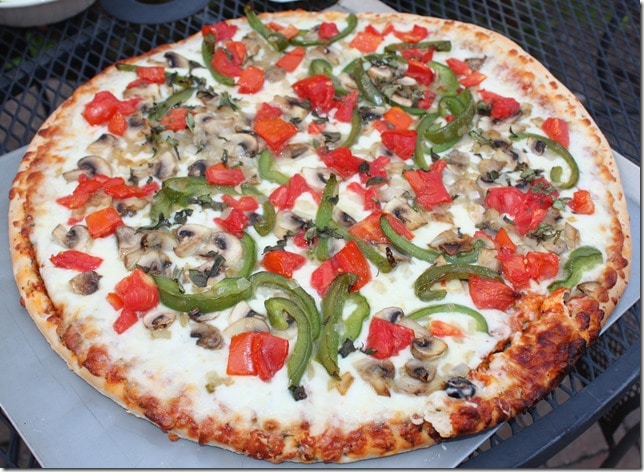 While I prepared dinner, Mr. SP, my father-in-law, and Sherman relaxed on our patio.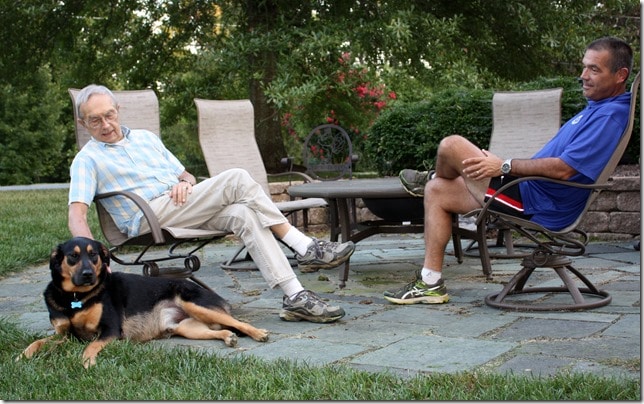 Since it was a nice evening, we decided to eat outside.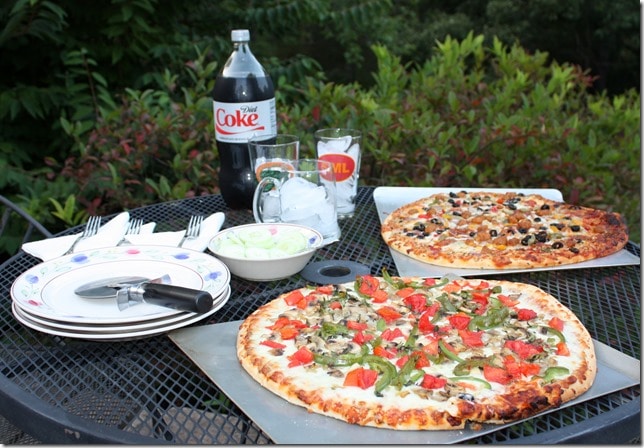 I poured our drinks and then it was time to eat.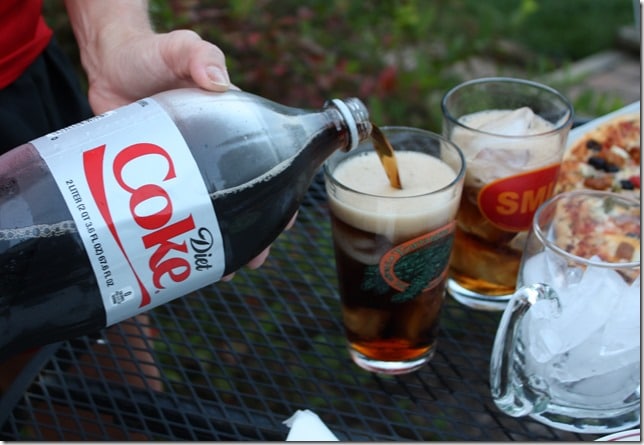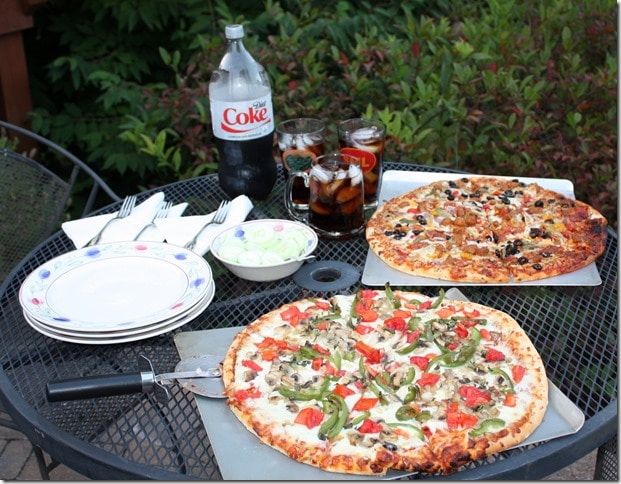 My father-in-law lives just around the corner from us and we like to have him join us for dinner on the weekend.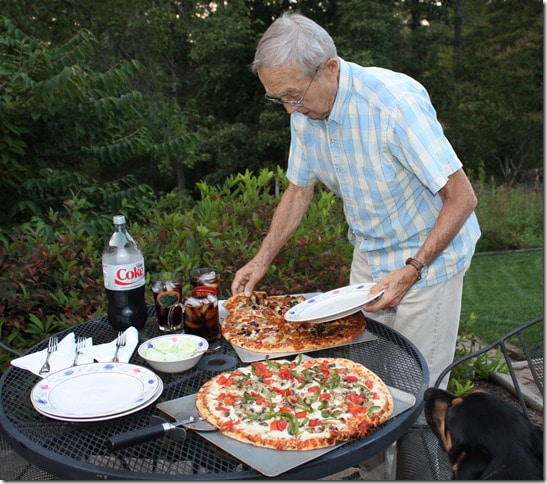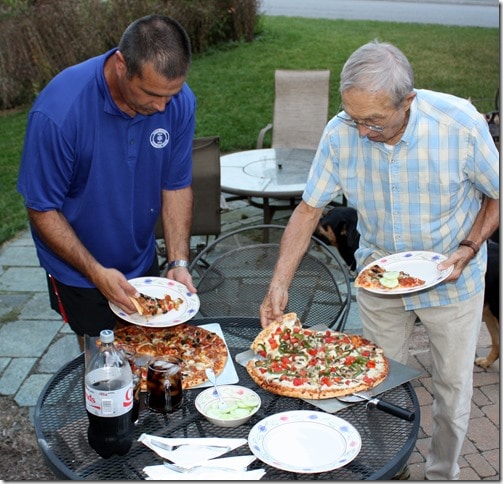 As I enjoyed my meal, I couldn't help but think that this was a great way to begin my weekend.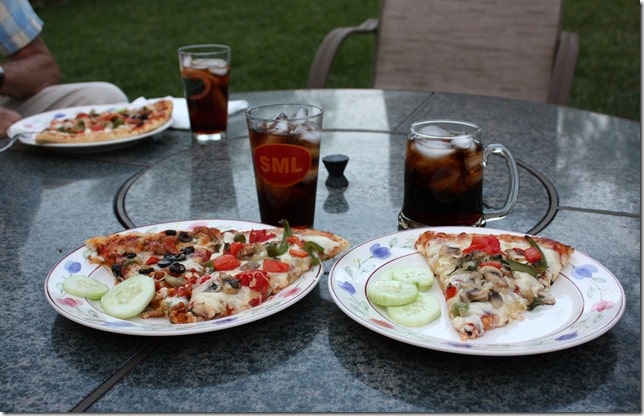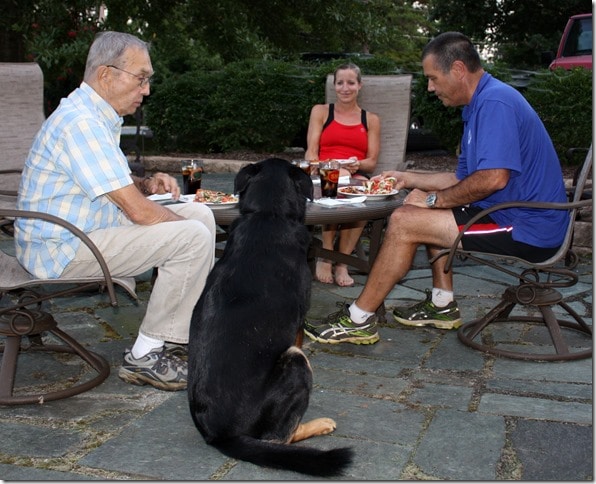 Sherman has high hopes that someone will share their pizza with him.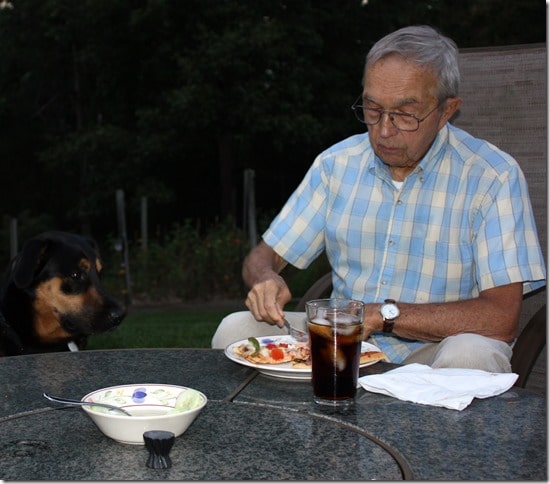 Soon after we finished eating it was dark so we headed inside for the evening. Now that I'm back at school, I miss spending my days with Sherman. I try to give him some extra loving on the weekend to make up for leaving him alone all day during the week.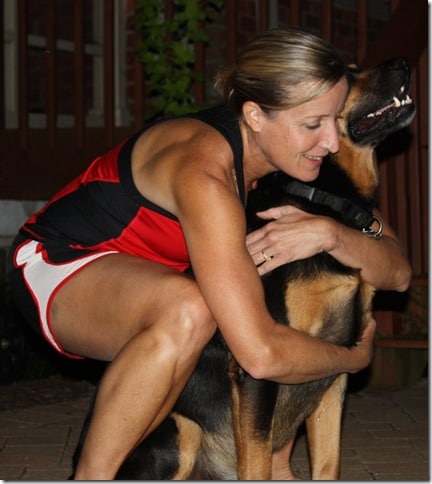 The next day Mr. SP, my father-in-law, and I headed to Roanoke to do some antiquing. My father-in-law told me more than once that he liked both types of pizza. Lucky for us all that I made a lot because we had the leftovers Saturday night! 🙂
I've been a fan of Marketside Pizzas for quite a while. They really are tasty and are quite economical. The five cheese pizza sells for $6.98 and the supreme is $8.98. Even with purchasing items to turn the cheese pizza into a vegetarian delight, these pizzas are much cheaper than pizza from a chain.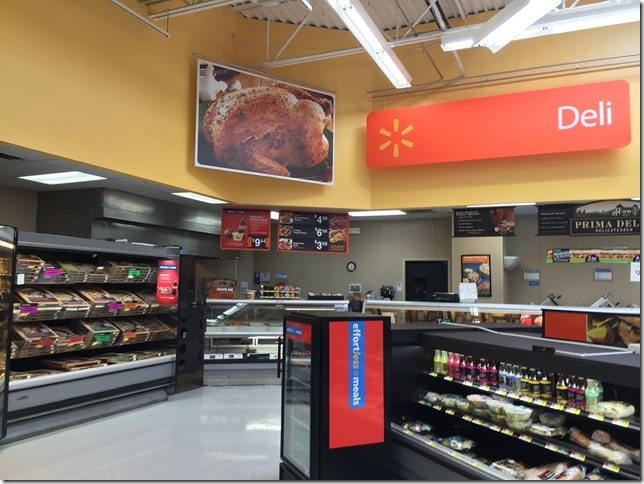 My next plan for jazzing up a five cheese pizza is to create a BBQ chicken pizza. I'll use a Marketside rotisserie chicken and BBQ sauce for this pizza experiment.
Have you ever tried Walmart's deli sandwiches? We get them on our way to the lake from time to time.
Click the link for delicious and effortless meal ideas. (The Chicken Enchiladas look great to me!)
I'd love for you to pin my Easy and Delicious Semi-Homemade Pizza recipe to one of your favorite Pinterest boards for others to discover.