Using Two of My Trash Picking Finds
It's no secret that I can't resist looking through a dumpster or a pile of trash. You never know what you might find! Even while at the beach I found a dumpster primed for trash picking. The house was a year-round rental, the tenants had left, and the owner was cleaning out what they'd left behind. I scored a Christmas rug, two lamps, two Christmas trees, a purse, and lots of Tupperware.
A few months ago, I spotted three framed pictures neatly sitting beside a trash can waiting for trash pick-up on an early morning run. I was able to rescue them on my way to school. I knew that I could either use the frames or at a last result, could donate them so that someone else could use them.
The three prints all look similar to this one. Pretty isn't it?? (I hope you know I'm being facetious.)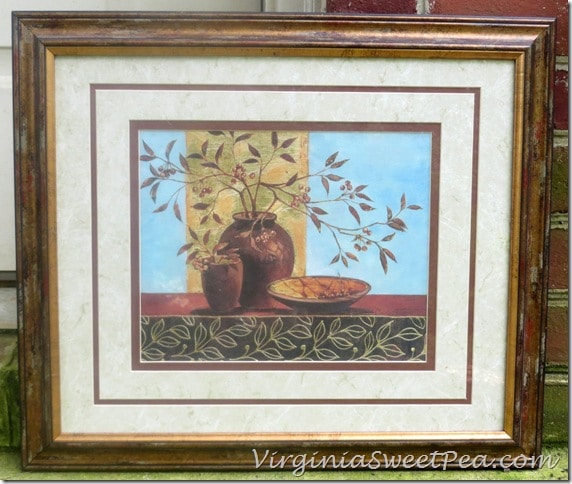 I've painted one of the three frames Annie Sloan Duck Egg Blue and it looks so pretty. I'm still looking for the perfect print to go in that frame.
The other day I found a Woodpecker print in a trash pile outside a home near my house. Even though it has a bit of water damage, I couldn't resist bringing it home. I also found bunches of old letters, a boy scout manual from the 60's, an old baseball bat, an Elf on the Shelf, and an old hymnal from a local church.
The tree in the Woodpecker print coordinates with the frame color, so even though this wasn't the perfect sized frame, I decided to make the print fit the frame by cutting off the ends.
I was able to reuse the outside mat on the original print by simply painting it black.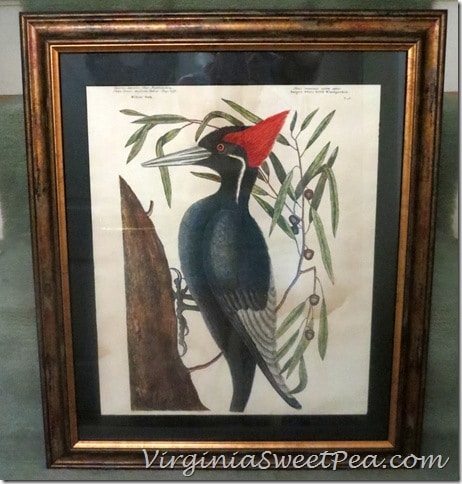 I like vintage and don't mind the water stain on the print.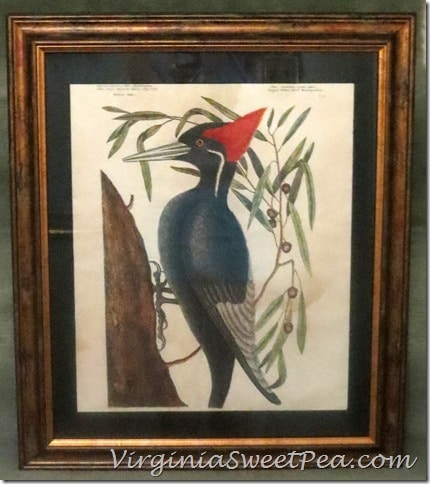 I'm planning to sell this at the Vintage Lynchburg Sale in December. If it doesn't sell, I'll probably keep it for myself. (Or I might decide to keep it for myself anyway!)
Since I had the paint on hand, this project was 100% free. You've got to love that!