DIY Industrial Table (Vanity Bench Makeover)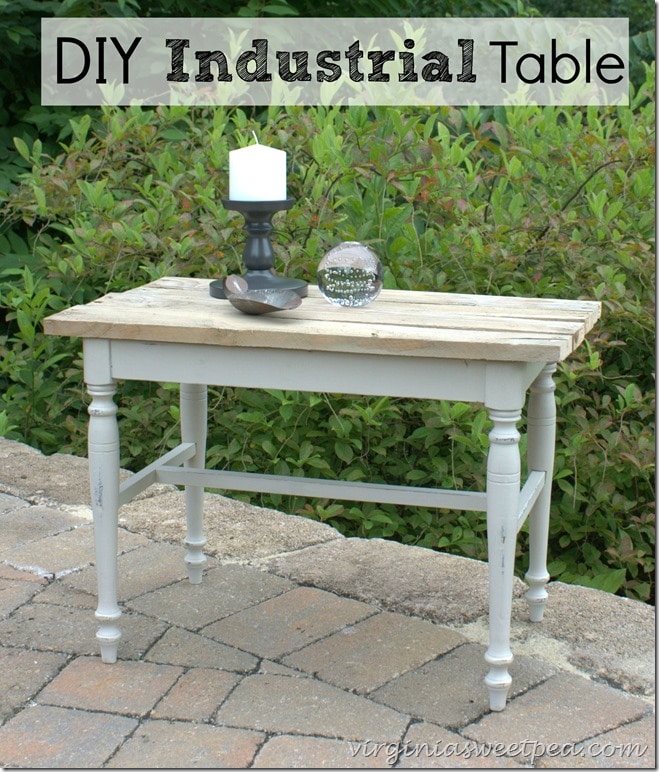 It's Themed Furniture Makeover Day. Each month a group of blogging friends challenge each other to make over a piece of furniture with a theme. This month's theme is industrial.
This theme had me stumped until I spotted a project from Unique Junktique; she transformed a piano bench into a a patriotic table. After seeing this project, I remembered a vanity bench stuffed into a corner of my basement and decided that it would be a perfect candidate for an industrial makeover.
After I removed the seat, Mr. SP did some woodworking surgery to stabilize this piece. It was a bit wobbly and previous surgery had been completed with a hot glue gun.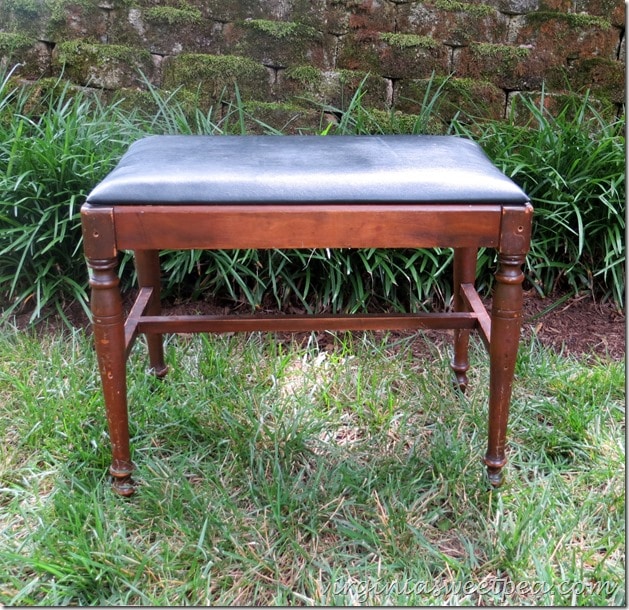 Since this challenge's theme is industrial, I wanted to turn the bench into a table by making a new top from weathered pallet wood.
I got lucky because the day after I decided to make a pallet top for the vanity bench, my neighbor put a pile of pallets on the curb for the trash. Score!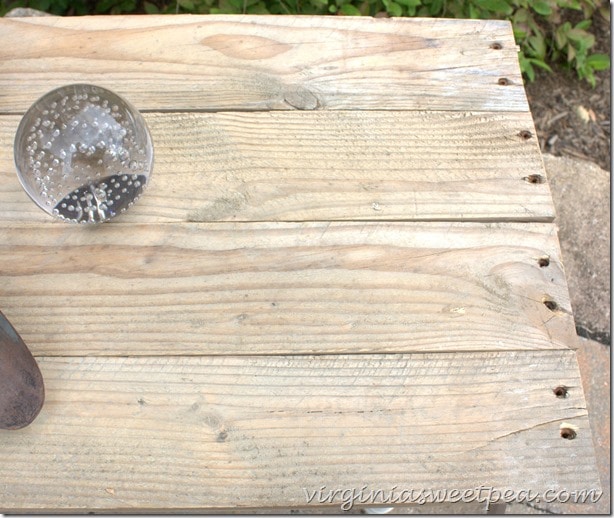 We used a Kreg Jig to attach the boards to the side of the table and the middle boards were screwed into the table's braces on the underside.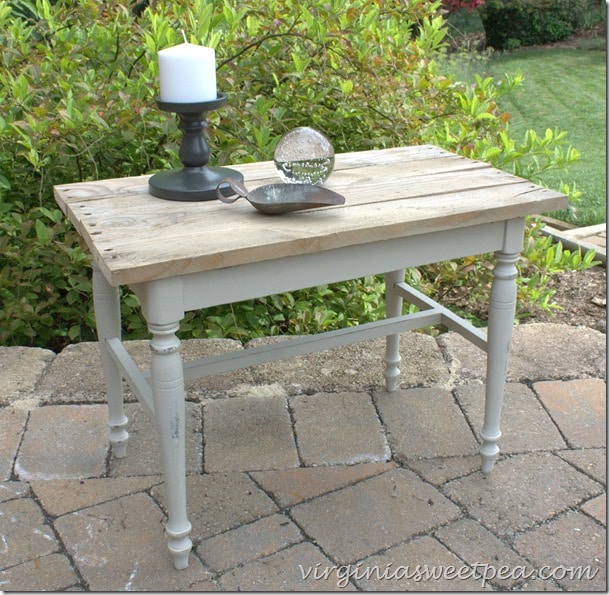 After filling in the holes and sanding the vanity bench base, I painted it with Maison Blache paint in Mushroom. This was my first time using this brand of paint and I really like it. I did some light distressing and then sealed the paint with Americana Decor Cream Wax. The pallet wood was weathered and I like that look, so I left it as is.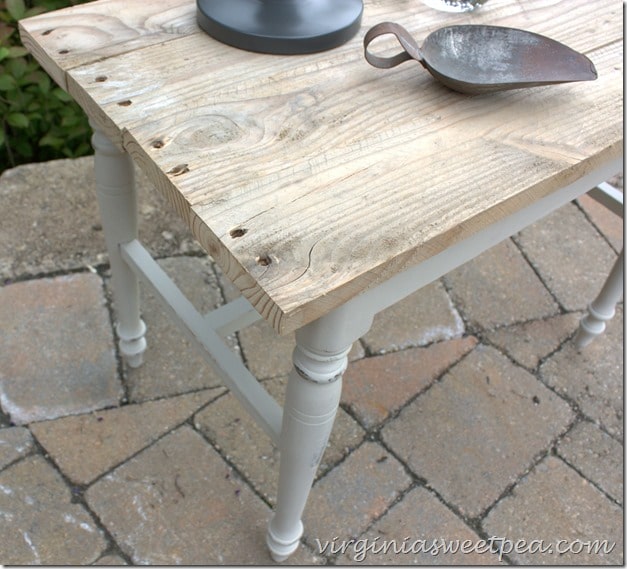 You know that most of my accessories have a story, so let me tell you about these.
The scoop came from my grandfather's corn house. The two side rooms of the corn house were filled with dried corn used to feed the cows and chickens during the winter. Grandddaddy had a grinder hooked to a large wooden box between the two rooms filled with corn. As each cob of corn was fed into the hand-cranked grinder, the kernels would fall into the box. He used this scoop to scoop out what he needed when it was feeding time. The glass orb was my other grandmother's and the candle holder is brand spanking new from IKEA.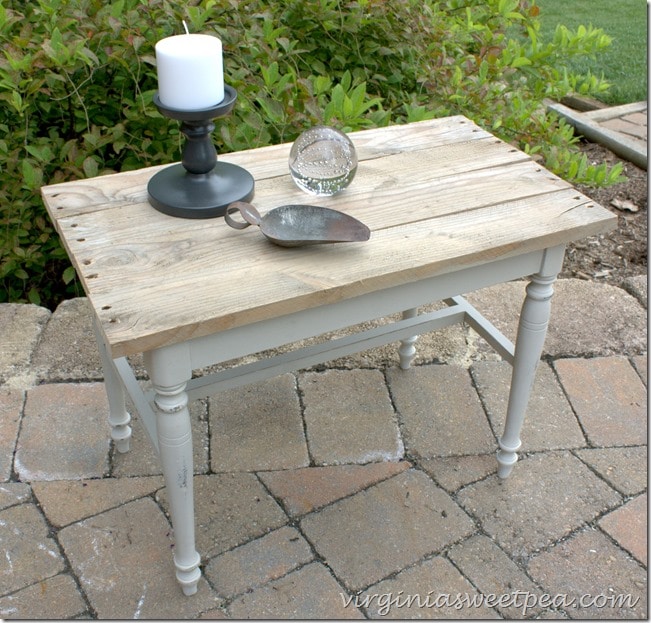 This vanity bench transformed into an industrial table is the perfect size for a cocktail table.
I can't wait to show this to the friend who gave me the bench. It was fun to transform something that had sat hidden in a corner for over a year to something that is now unique and useful.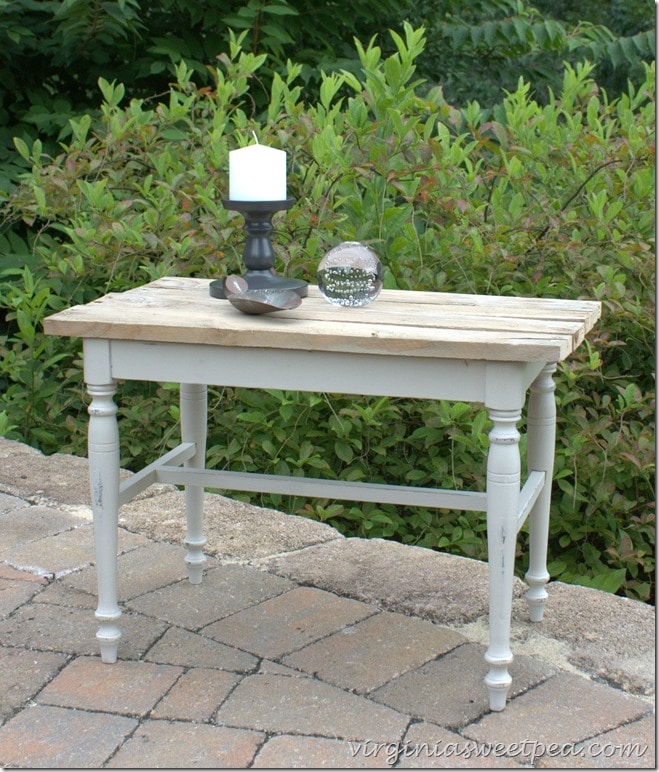 If you like this project, please pin it to your favorite Pinterest board so that others can discover it. If you are a Pinterest fan like me, you can find me here.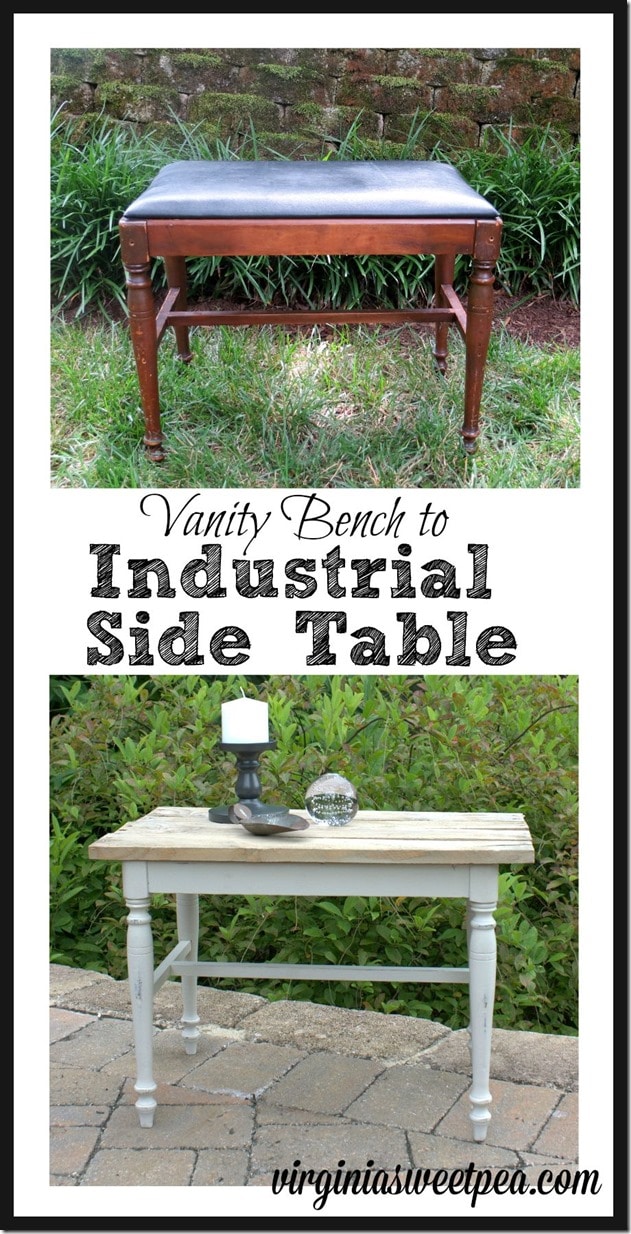 You can find all of my projects from Themed Furniture Makeover day here.
These are my 2015 projects:
Chairs – Rocking Chair Makeover
Distressed – Table Makeover with Typography
Pottery Barn Knockoff – Media Console Makeover
Small Tables – End Table Makeover
Rustic – Cobbler's Bench Makeover
Some of the links in this post are affiliate which means that if you make a purchase, I make a small commission.
Now for the fun part! Check out my friend's projects for this month's industrial theme.


Sharing With:
Dwellings-The Heart of Your Home, Refresh Restyle, Between Naps on the Porch, Concord Cottage,Stone Gable, Sand and Sisal, Yesterday on Tuesday, A Stroll Thru Life, Savvy Southern Style, Bless'er House, Common Ground, Houseologie, Imparting Grace, Patina Paradise