DIY Industrial Pipe Bookshelf
It's time for another round of projects from the Power Tool Challenge Team. Each month we challenge each other to complete a themed project. This month's theme is Unconventional. For my unconventional project, I used pipes to make a DIY Industrial Pipe Bookshelf.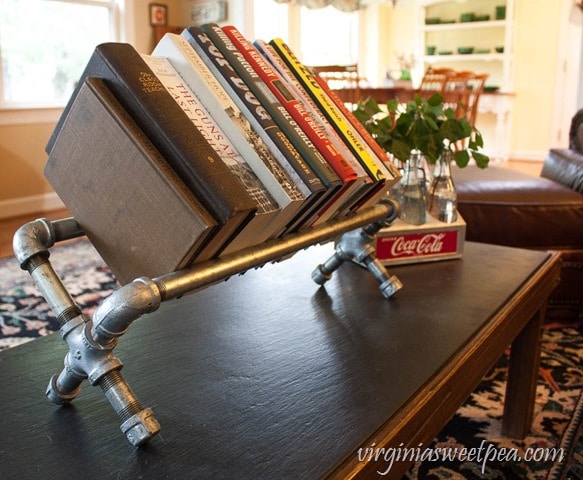 This is such a fun theme and I can't wait to see what the other Power Tool Challenge ladies use for their unconventional projects. You'll find links to all of the projects at the bottom of this post.
DIY Industrial Pipe Bookshelf
My husband and I love to read and there's never a shortage of books in our home. Books tend to pile up beside our sofas, on the end tables, and especially on the coffee table.
Our new bookshelf keeps books that we are reading close by yet somewhat organized.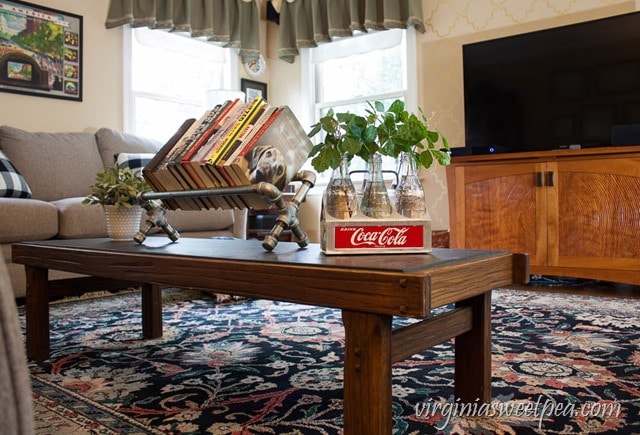 If there is a student in your life, a bookshelf like this would be great on a desk to keep textbooks organized yet accessible.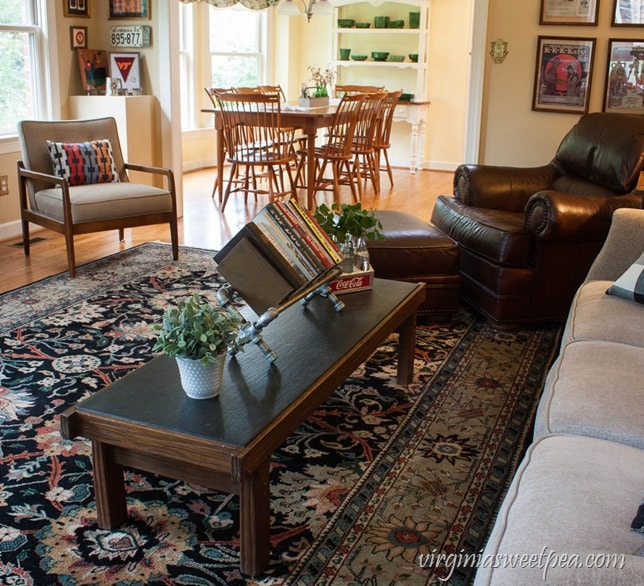 How to Make a DIY Industrial Pipe Bookshelf
Supplies Needed
All supplies except the 1/2" Galvanized Iron Cross were purchased at Home Depot. I ordered the two crosses from Amazon as Home Depot did not carry them.
A – 1/2" x 18" Galvanized Steel Cut Pipe (Two)
B 1/2" x 3 1/2" Galvanized Steel Pipe Nipple (Two)
C – 1/2" Galvanized 90 Degree Elbow (Four)
D – 1/2" Galvanized Iron Cross (Two)
E – 1/2" x 1 1/2" Galvanized Steel Pipe Nipple (Two)
F – 1/2" x 2 1/2" Galvanized Steel Pipe Nipple (Four)
G – 1/2" Galvanized Cap (Four)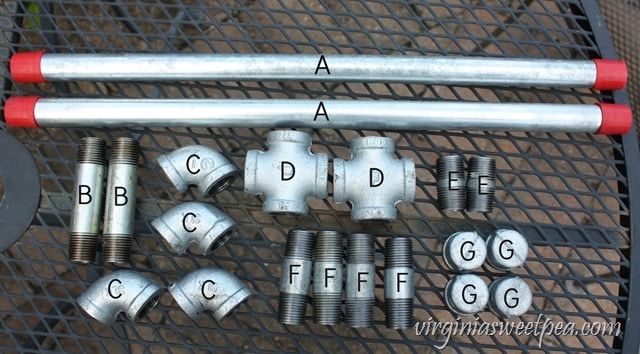 Procedure
Screw the pipes together following the diagram below.
Start with the cross (D) and next screw into place parts B, E, and F.
Then screw on the end caps (G).
Next screw on the elbow joints (C).
After completing the two sides, join them with the 18" steel pipes (A).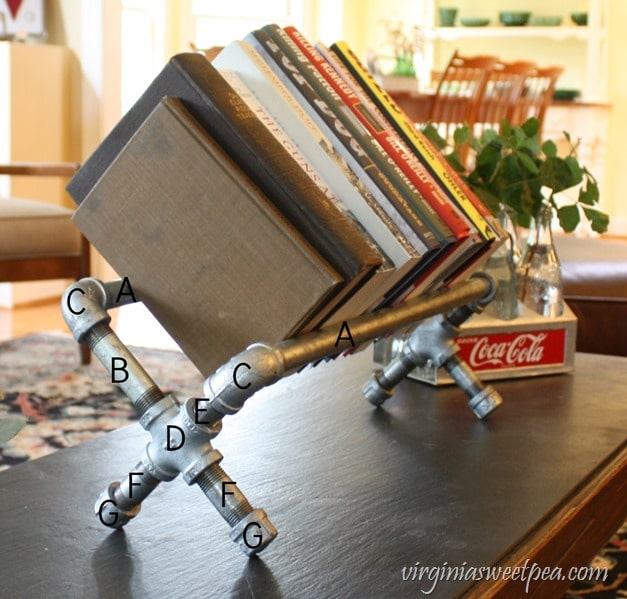 It took me about 5 minutes to assemble my new bookshelf.
Who doesn't love a quick and easy project?
Cost
Pipes aren't cheap and the supplies to make this cost just under $60.
Expensive, but this baby is pretty much indestructible and I love how it looks on our coffee table.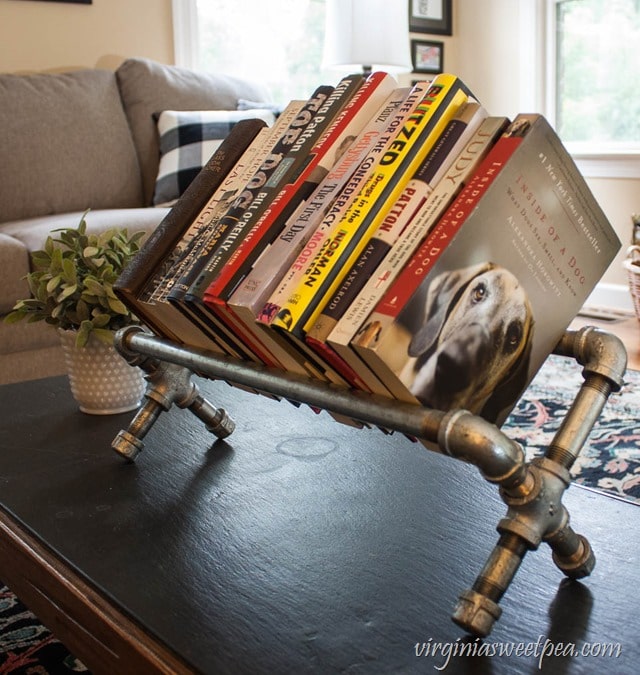 Did you look at the book titles?
There's a mix of history, war, and dog titles on the shelves.
The two old books on the end are just for show as the back covers of the other books weren't attractive.
The end book on the left hand side is a 1908 copy of Bergen's Botany Key.
The one next to it is a 1927 copy of The Classroom Teacher, Volume 9. It belonged to my grandfather and is about biology.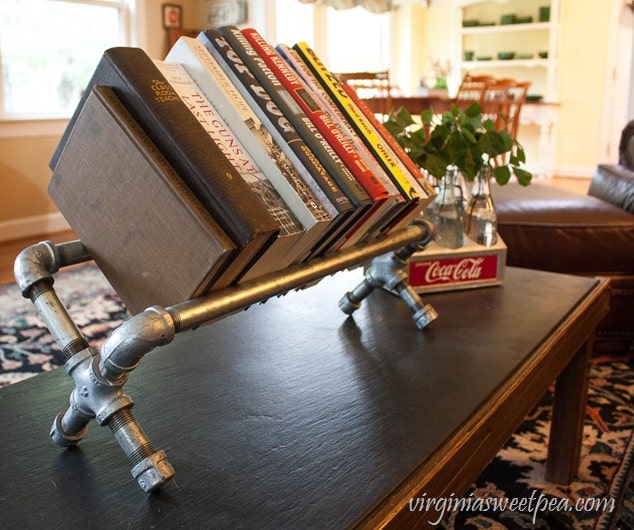 Do you like my Coca Cola caddy? My grandmother used it to transport extra flowers for her flower arrangements for church or Garden Club. All of the bottles in the caddy are vintage.
And speaking of vintage, my coffee table is a 1960's piece that my parents purchased when they were first married. I also have the matching end tables.
The poster hanging over my sofa is part of a 1943 set that I scored from a dumpster. I used five more from the set at our lake house. I found this set for sale on Etsy.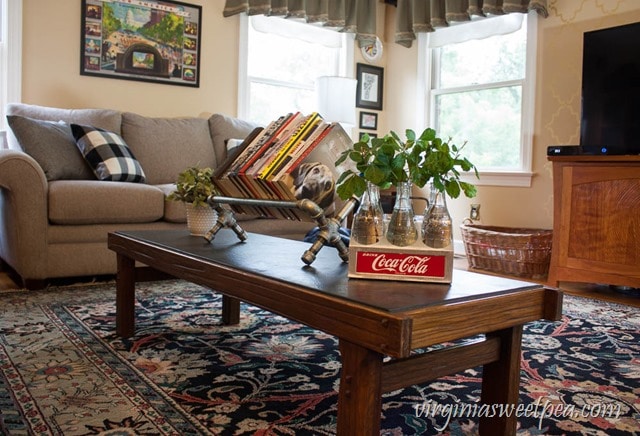 If you like this post, please pin it to Pinterest for others to discover.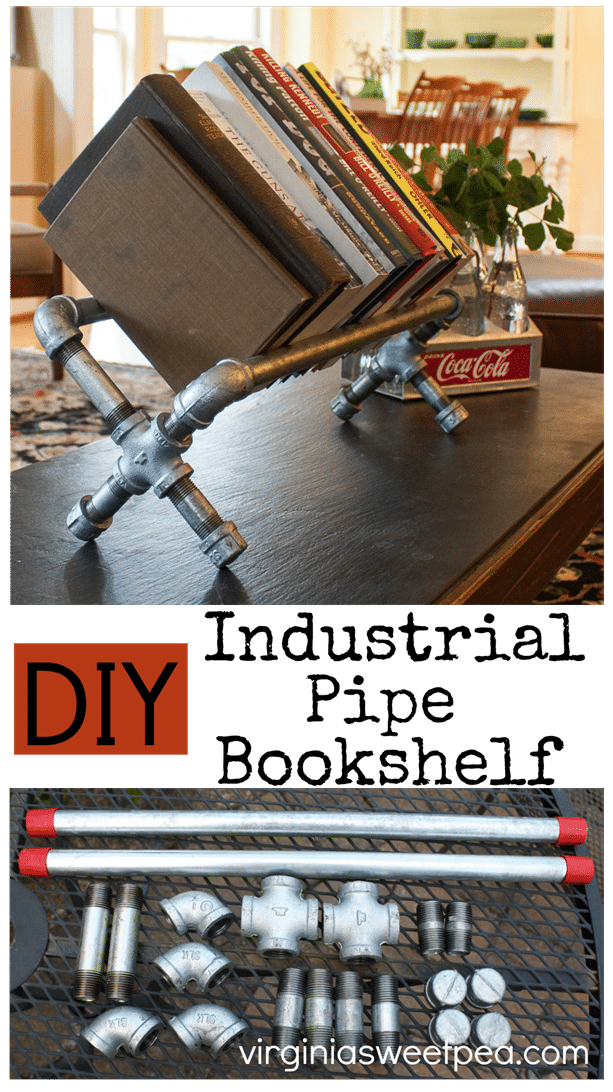 More Unconventional Projects
Click on the links below to visit the unconventional projects that my Power Tool Challenge Team friends made this month.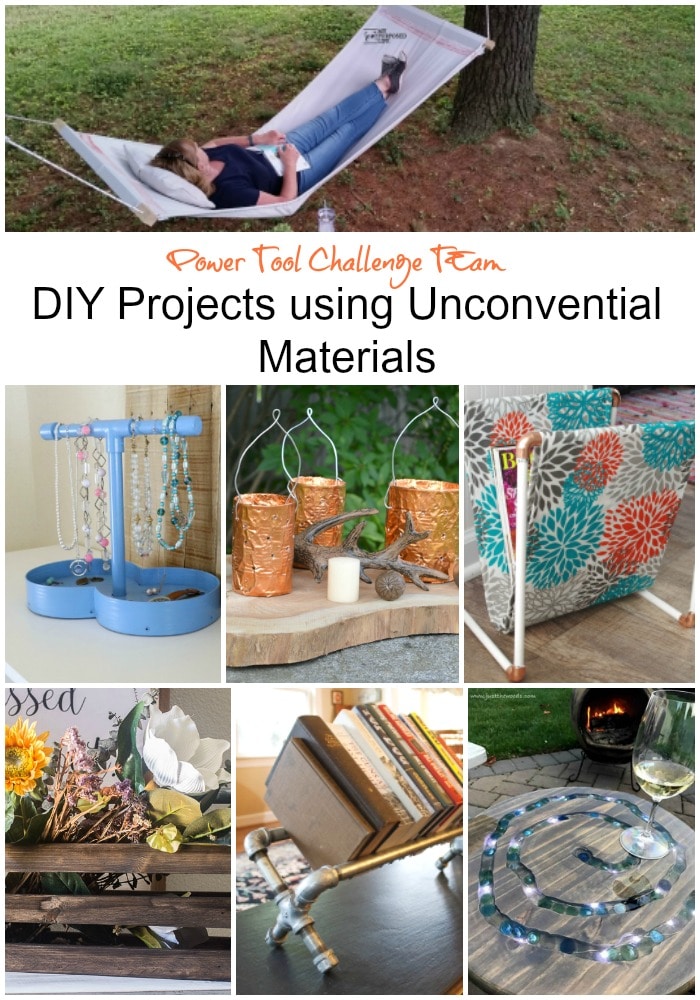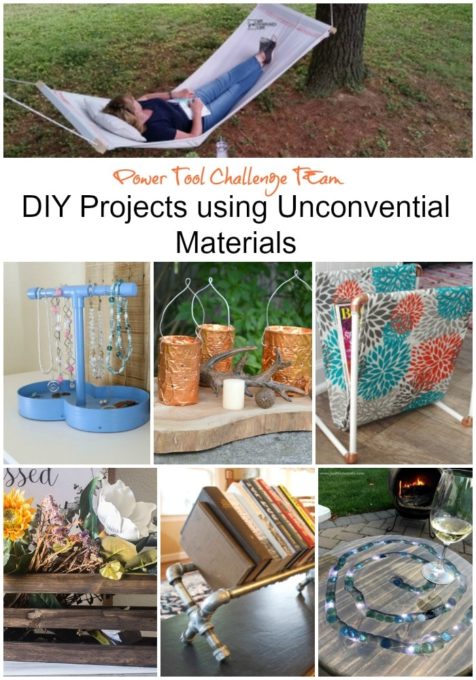 My Repurposed Life How To Make A Drop Cloth Hammock
My Love 2 Create How to Make A Jewelry Holder
H2OBungalow DIY Copper Tin Can Candle Holders
Create and Babble Copper and Wood Magazine Holder
Domestically Speaking DIY Wood Tool Box
Just The Woods DIY LED Wood Mosaic Table
If you like this pipe project, then you may also enjoy the DIY Industrial Paper Towel Holder that we made for the lake.