DIY Industrial Paper Towel Holder
A paper towel holder was needed for our lake house and being the DIY type, I decided to make my own. My DIY Industrial Paper Towel Holder is perfect for our lake house kitchen counter.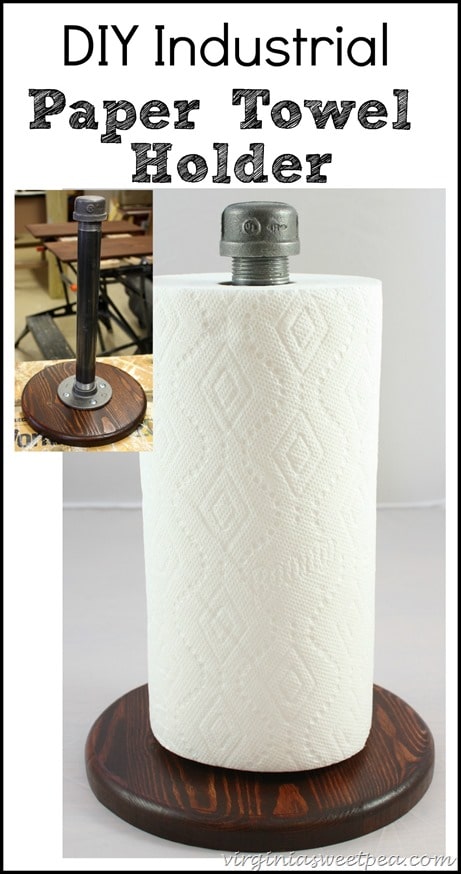 Our paper towel holder will fit in perfectly with the industrial vibe in our lake house.. You can see in the picture below that our paper towels currently are sitting on the counter.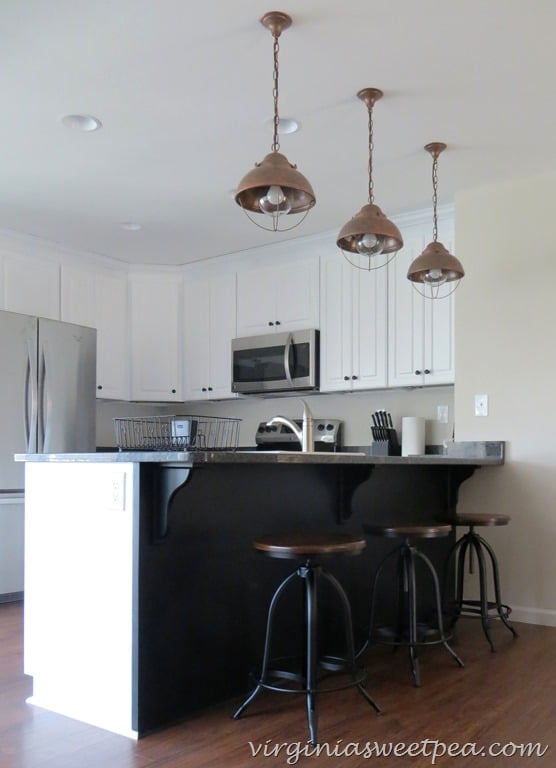 How to Make an Industrial Paper Towel Holder
Supplies:
1" x 12" Black Steel Pipe Nipple
Degreaser
4 – 3/4" Sheet Metal Screws
Drill
Palm Sander
Stain – I used General Finishes
Water Based Wood Stain in Brown Mahogany
Topcoat – I used General Finishes High Performance Water Based Satin
Pre-cut Wood Circle
or Board to Make Your Own
If Making Your Own Circle: Circle Cutting Jig, Router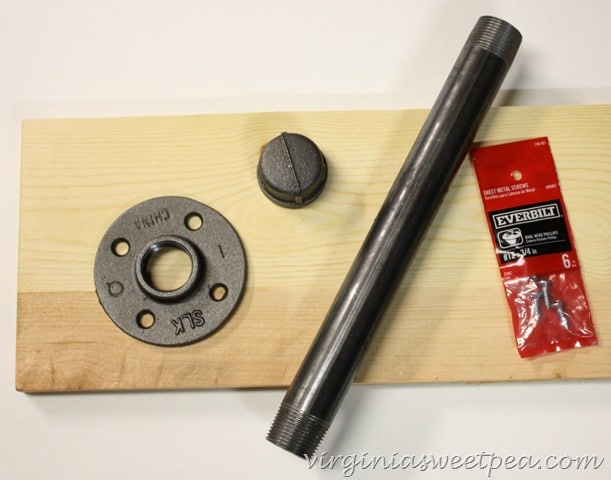 Procedure
1. Make a 9" wood circle using a router and circle cutting jig. (Skip this step if you purchase a pre-cut wood circle.)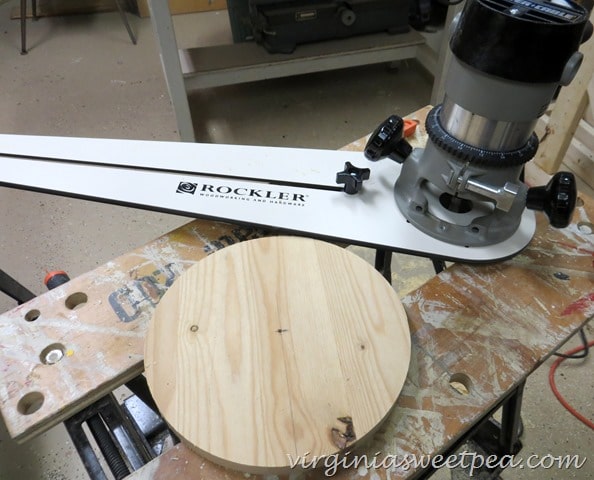 This jig is awesome! My first project using it was a DIY Wood Clock that I shared last fall.
2. Use a roundover bit to route the edge of the board. (Skip this step if you use a pre-cut circle of wood.)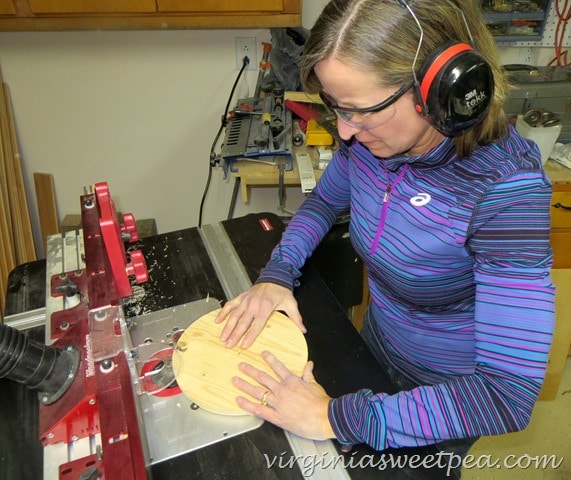 3. Sand both sides and the edges of the circle until it is smooth.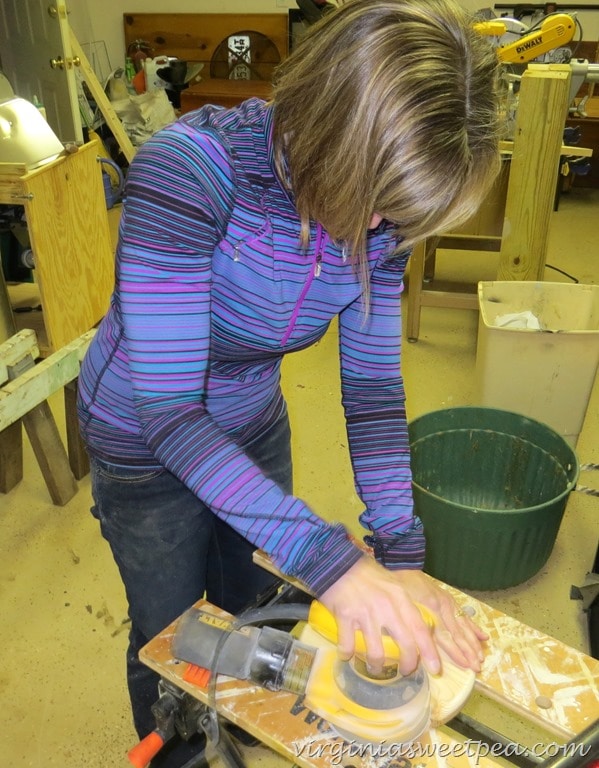 4. Drill pilot holes for the screws.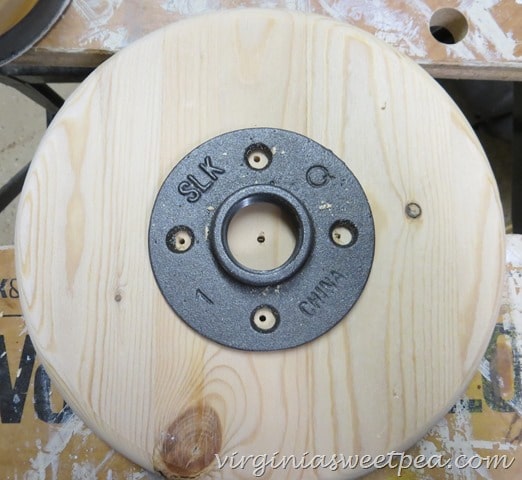 5. Stain the wood round and apply a top coat.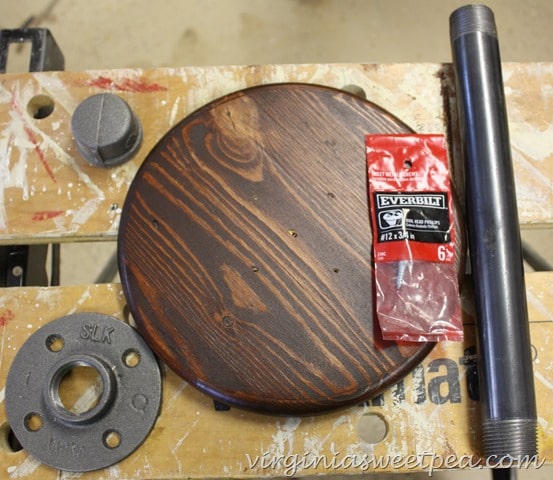 6. Screw the floor flange to the wood round.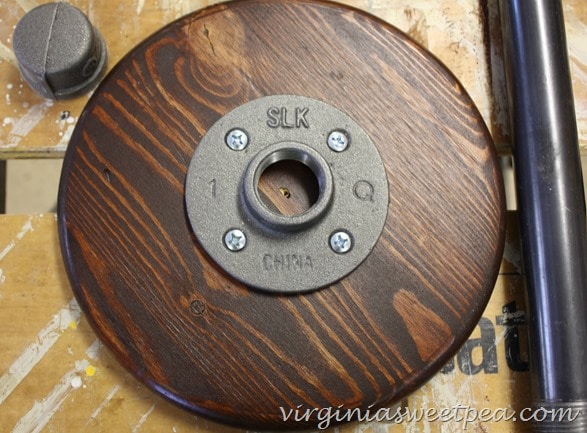 7. The black steel pipe is going to be greasy and dirty. Mine was so bad that I had to wash my hands at Home Depot and then carry it through the store holding it with a paper towel. Mr. SP had this degreaser on hand that worked perfectly for cleaning it.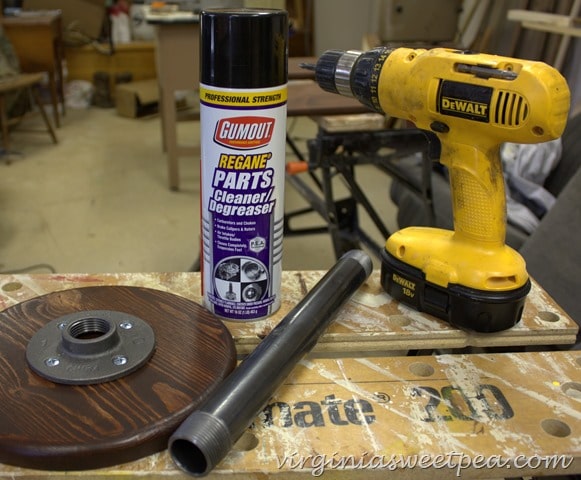 8. Screw the pipe into the floor flange and then screw the end cap on top.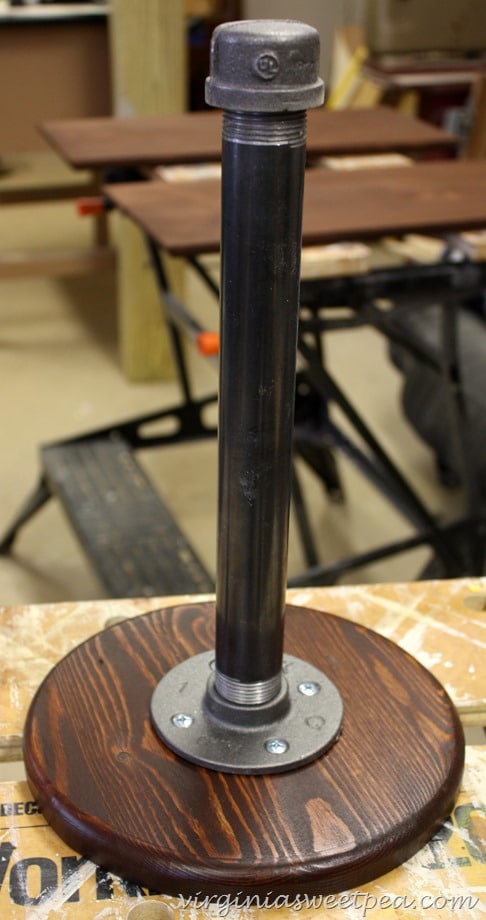 I can't wait to take this to the lake! Here it is in my kitchen at home without paper towels.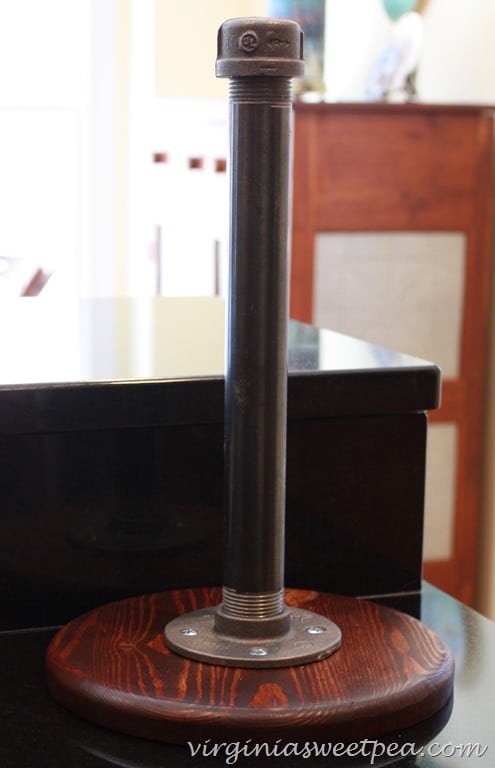 And now with paper towels.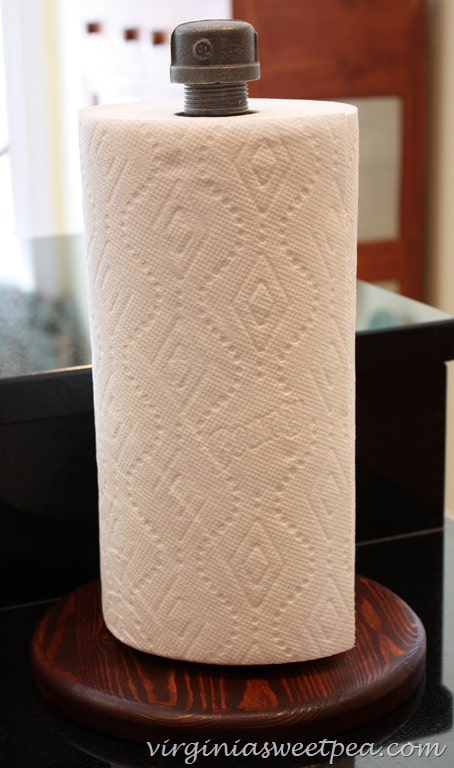 Here it is from a distance, ready to be used.
Fun fact: I don't know the two dogs in the photo on the counter. I bought the frame at an estate sale and couldn't resist displaying it. They make me smile!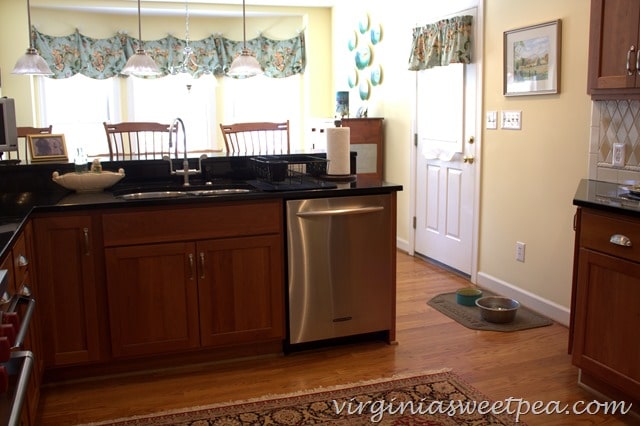 My mom and some of my aunts started using crocks for their paper towels when I was a teenager. The tradition has been passed on to me and a few of my cousins.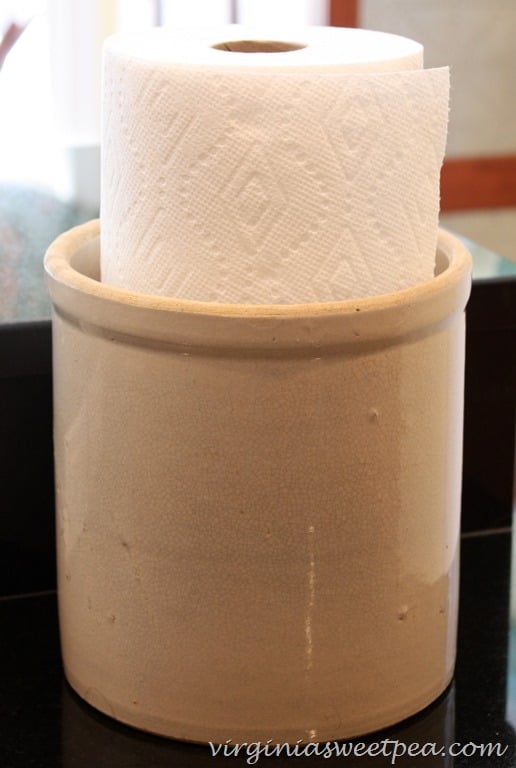 Now that I know how easy it is to make a DIY Industrial Paper Towel Holder, I may make another for home and take this crock to the lake to use for cooking utensils beside my stove.
If you like this project and care to pin it to Pinterest, I sure would appreciate it.


For more power tool home improvement project ideas, click on the links below to see each project.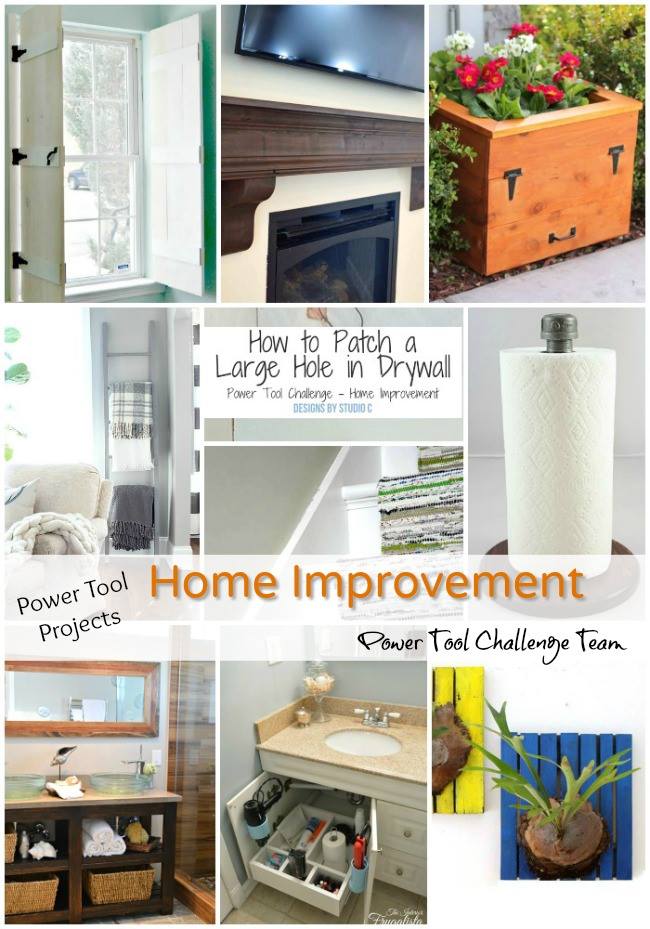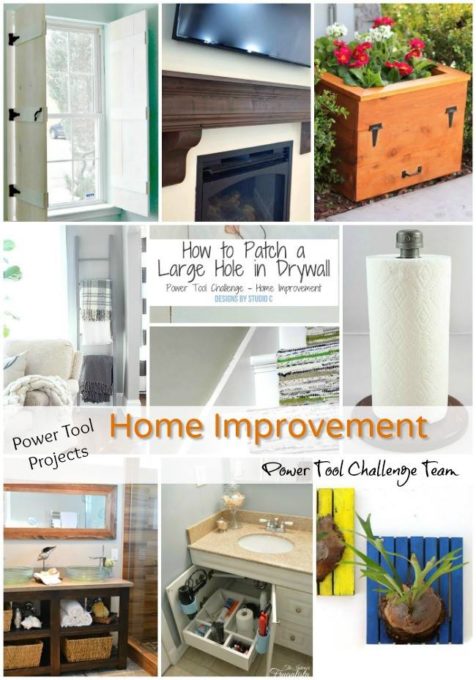 DIY Shutters Create And Babble
DIY Fireplace Mantel Shelf Her Tool Belt
Industrial Paper Towel Holder by Virginia Seweet Pea
Blanket Ladder by Refresh Restyle
Cedar Hose Planter by Kim Six Fix
DIY Vanity Sliding Drawer by Interior Frugalista
How To Patch A Hole In Drywall by Designs By Studio C
Wall Mount Staghorn Fern by A Piece Of Rainbow
DIY Painted Stairs Makeover by Thrift Diving
DIY Modern Rustic Mirror by H2OBungalow