It's Themed Furniture Makeover Day! This month our theme is red, white, or blue. Isn't that perfect since it's almost Memorial Day weekend? I purchased a drop leaf table at an estate sale a few months ago and gave it a makeover in white.
This table was owned by our former neighbor, a Hellcat pilot in WWII. He has since died, but we still have one more WWII veteran on our street who was in the 38th infantry division and fought in the Philippines. He still drives and does well for his age. He loves Sherman and if he's on his porch, Sherman always goes to visit him.
This table started out in good condition other than a few scratches here and there. Is it just me or does the original drawer pull look like a bat?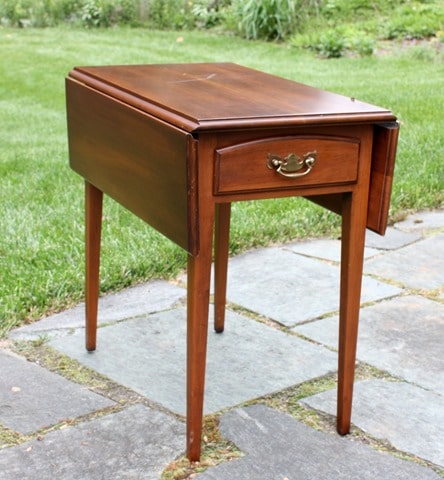 After lightly sanding the piece, I painted it with several coats of Simply White plaster paint followed by paste wax, both from The Plaster Paint Company.
Here she is with her updated look!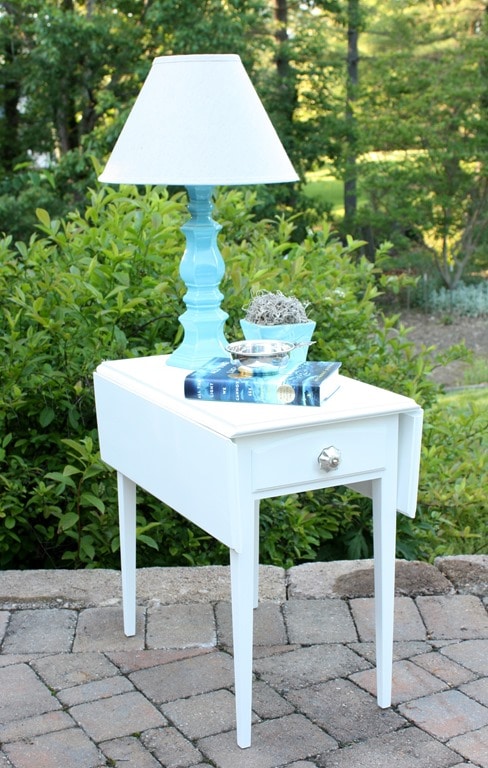 My friend, Suzanne, who just started her history and food blog, Appetite 4 History, loaned me one of her vintage turquoise lamps for my pictures. She has a pair of these that she keeps in her guest room. Isn't this a pretty lamp? The book is also hers. 🙂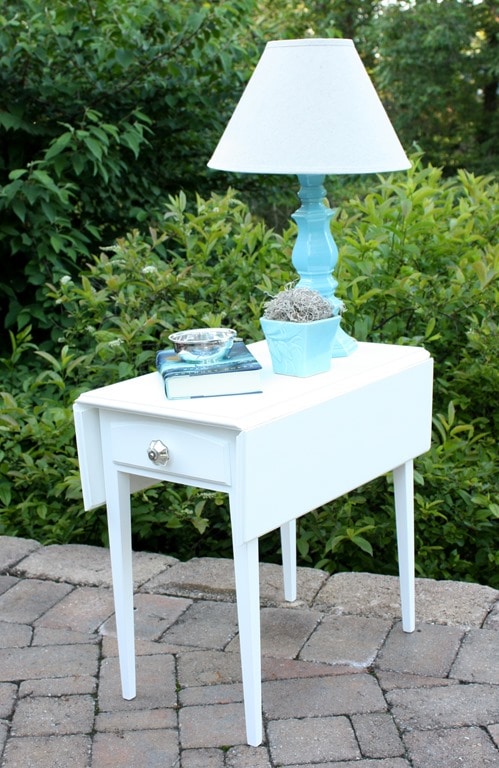 Opening the leaves of the table greatly expands the surface of the top. I like that one or both sides can be opened when more room is needed.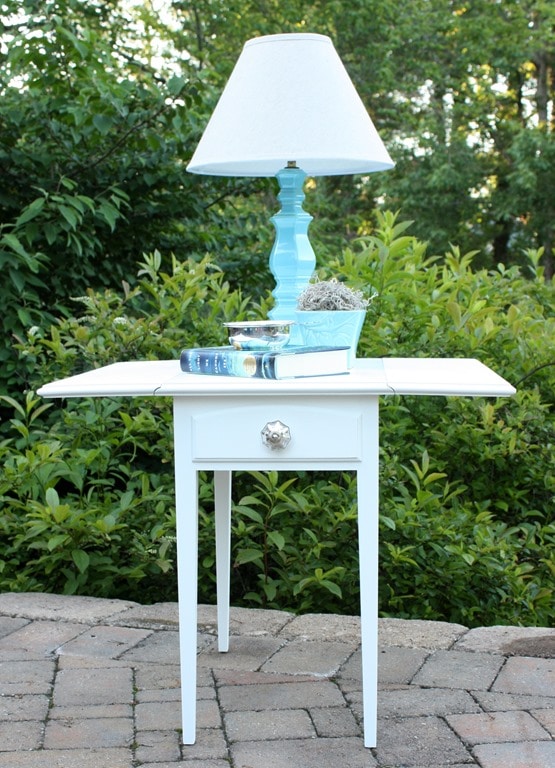 The mercury glass knob is from World Market. We don't have World Market in my town, so Suzanne kindly shopped for a knob for this piece when she recently took a day trip to Charlottesville.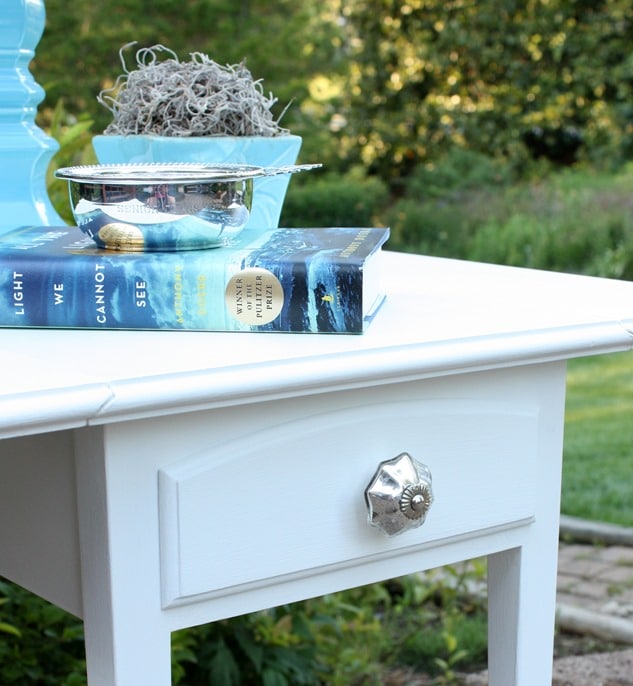 Suzanne highly recommends All the Light We Cannot See and I hope to borrow it from her this summer.
The silver bowl was my dad's and was given to my grandfather by the senior glass of William Byrd High School in Vinton when my dad was almost a year old. It was a surprise for my grandfather when he received the gift that the seniors had invited my grandmother and my dad to be there.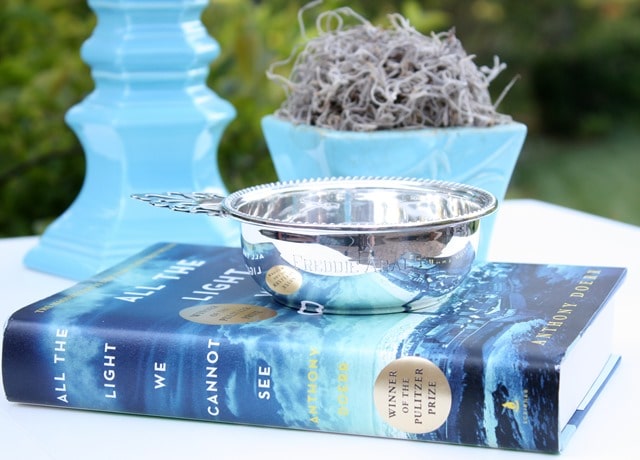 The other side of the bowl says, "Senior Class 1941".
The spanish moss ball in the vintage planter is an easy DIY. My mom passed this planter on to me a long time ago when I started a collection.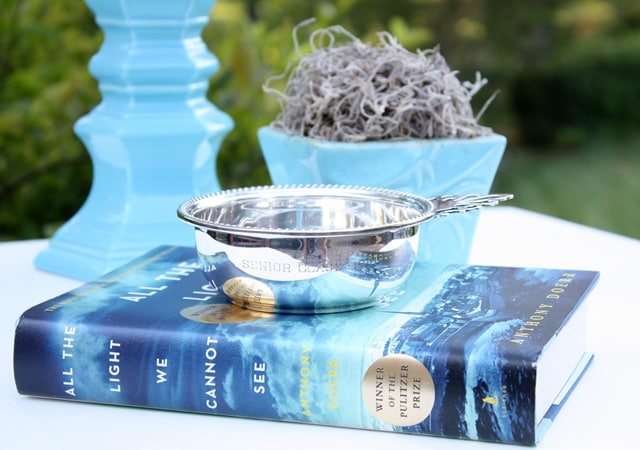 I'm really please with this table's updated look. If you like this post, please pin it for others to discover.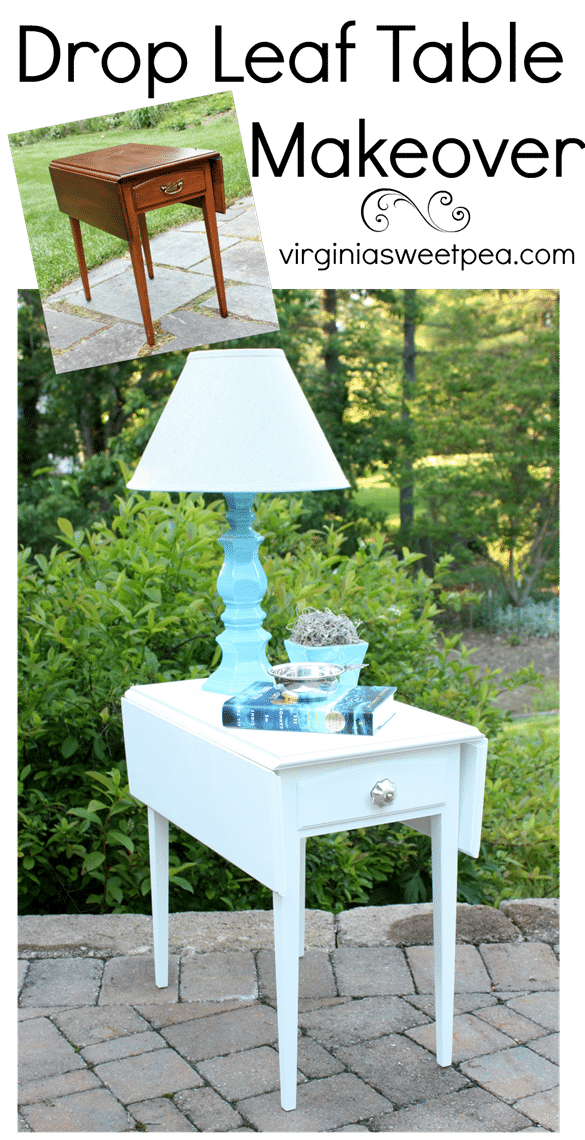 Now you can enjoy what my friends are sharing for this red, white, or blue challenge. Click on the links below to visit each project.