Celebrating Fall Home Tour
Welcome to the celebrating fall home tour! 14 bloggers are sharing how they have decorated their homes for fall.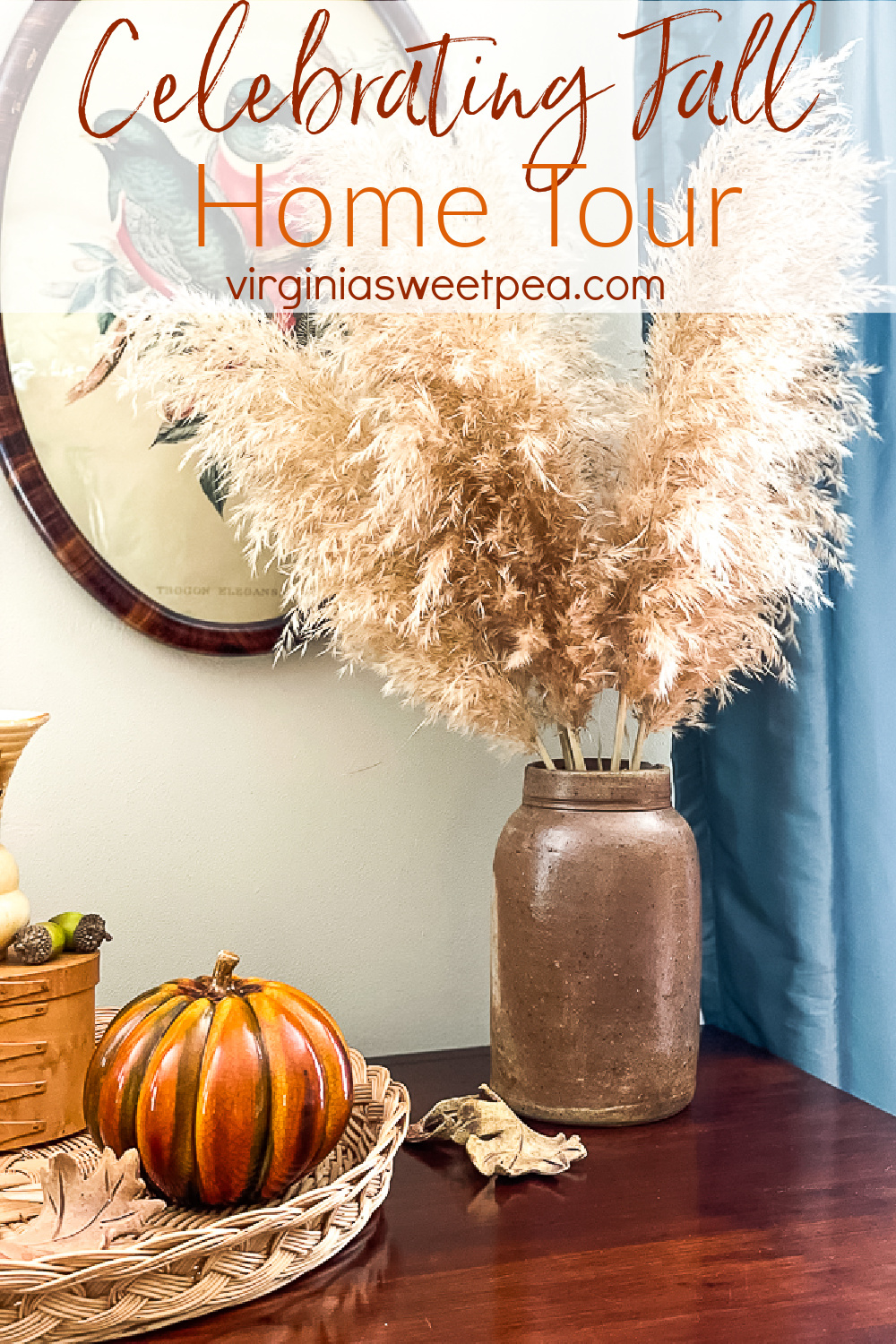 Thank you to Leen of Sand Dollar Lane for hosting this fall home tour. If you arrived here from Songbird, welcome!
Celebrating Fall Home Tour
I'm still in full-on summer mode but my home is ready for fall. I like decorating early because it gives me more time to enjoy it.
I recently shared my fall mantel, the fall decor in my family room and breakfast room, and the fall decor in my lake house master bedroom.
For this fall home tour, I'm sharing our living room and dining room.
Fall in the Living Room
Our living room is the first room you see when entering our home and it is my favorite room to decorate seasonally.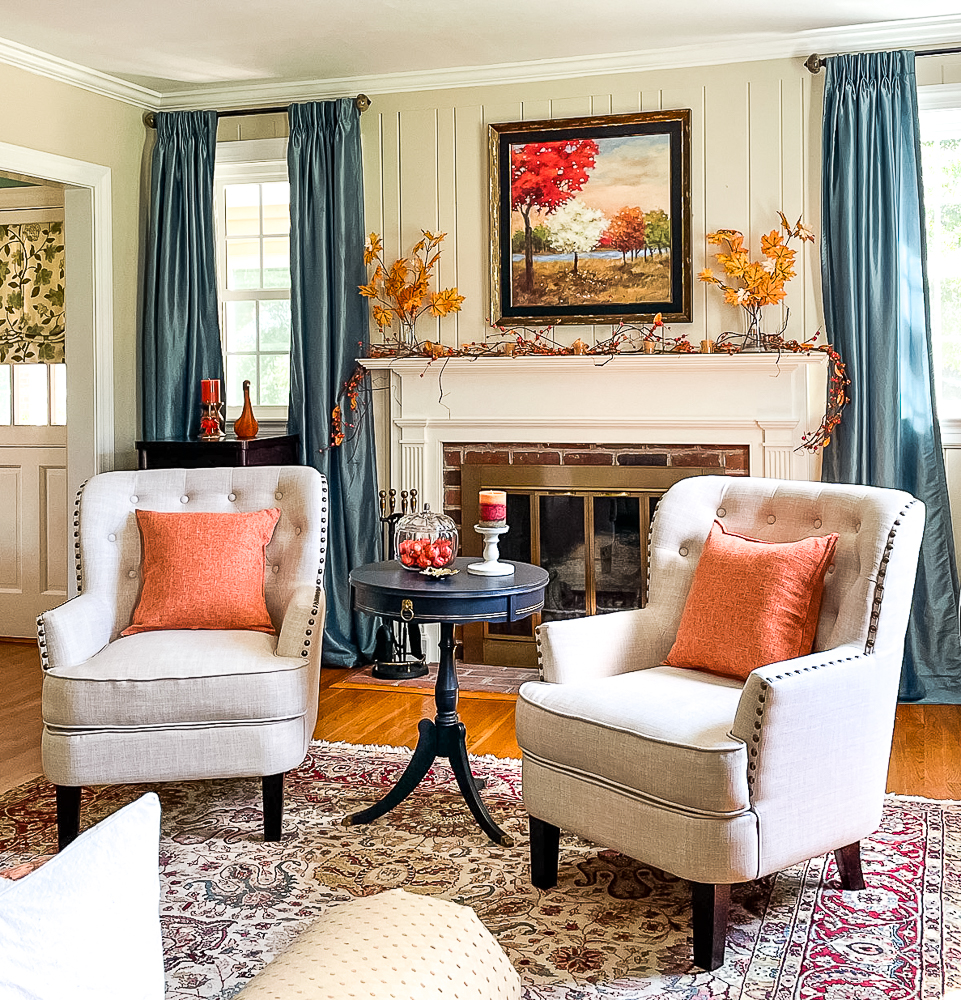 Click over to this post to see more of my fall mantel.
I like decorating with bold fall colors, neutral is not in my decorating vocabulary.
Decorating the table in front of the fireplace is a glass pumpkin with faux pumpkin filler, a fall candle, and a VA Metalcrafters Maple leaf. I scored the leaf this summer at Reclaimed in Moneta.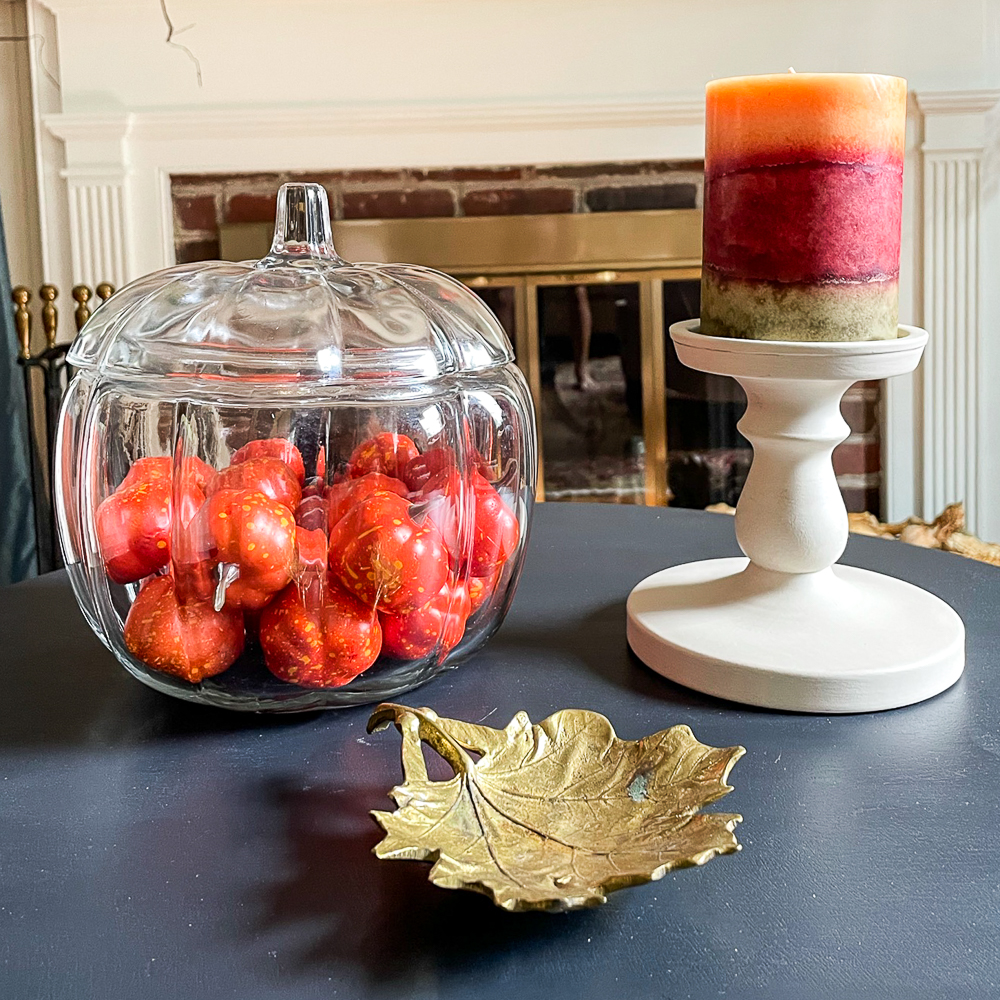 The music stand to the left of the fireplace is decorated with a candle, a goose shaped like a gourd, and a Maple leaf ornament.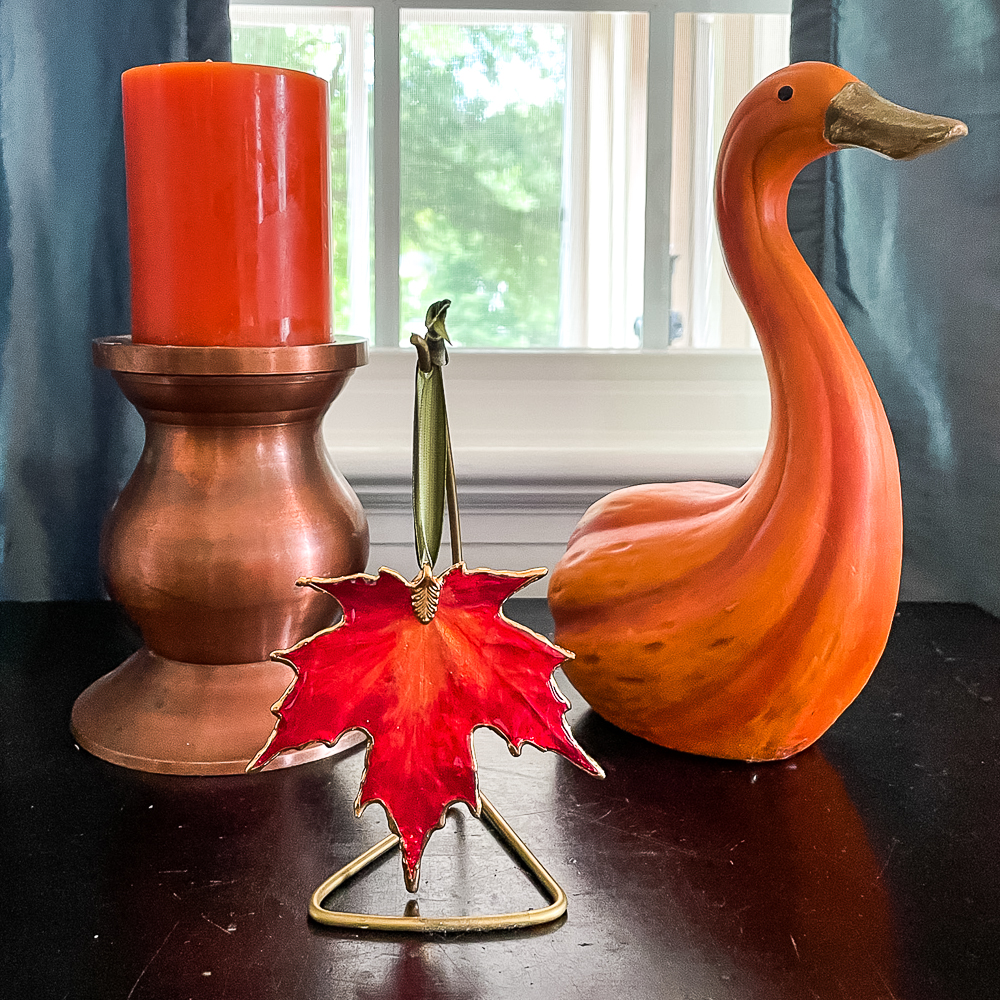 I love sitting in this room and visiting with friends when they stop by.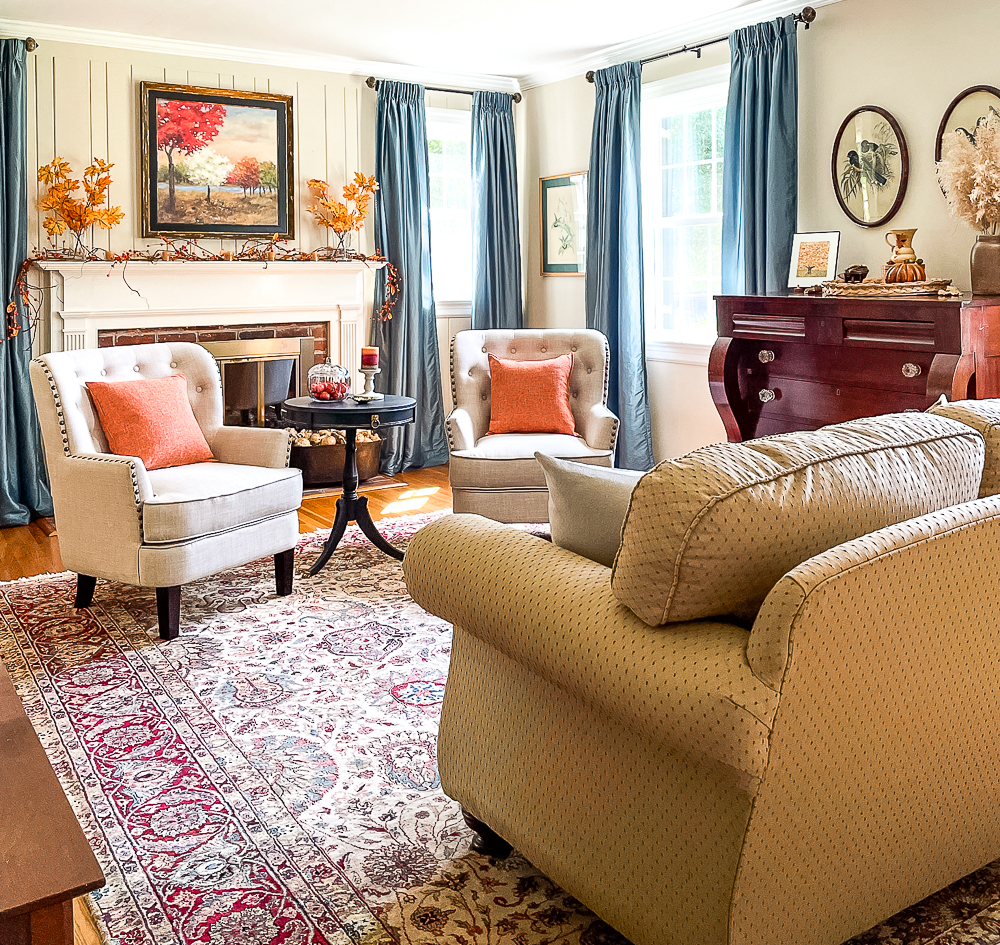 The family member who spends the most time in this room is Sherman.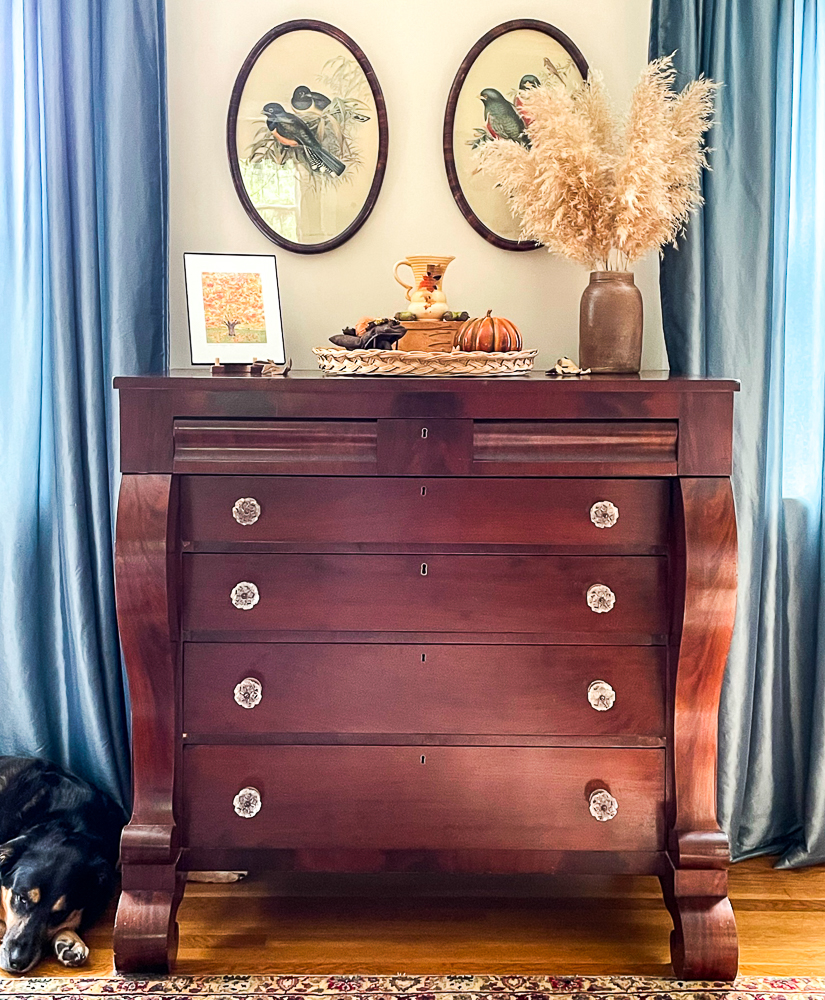 My grandmother's chest of drawers is decked out for fall.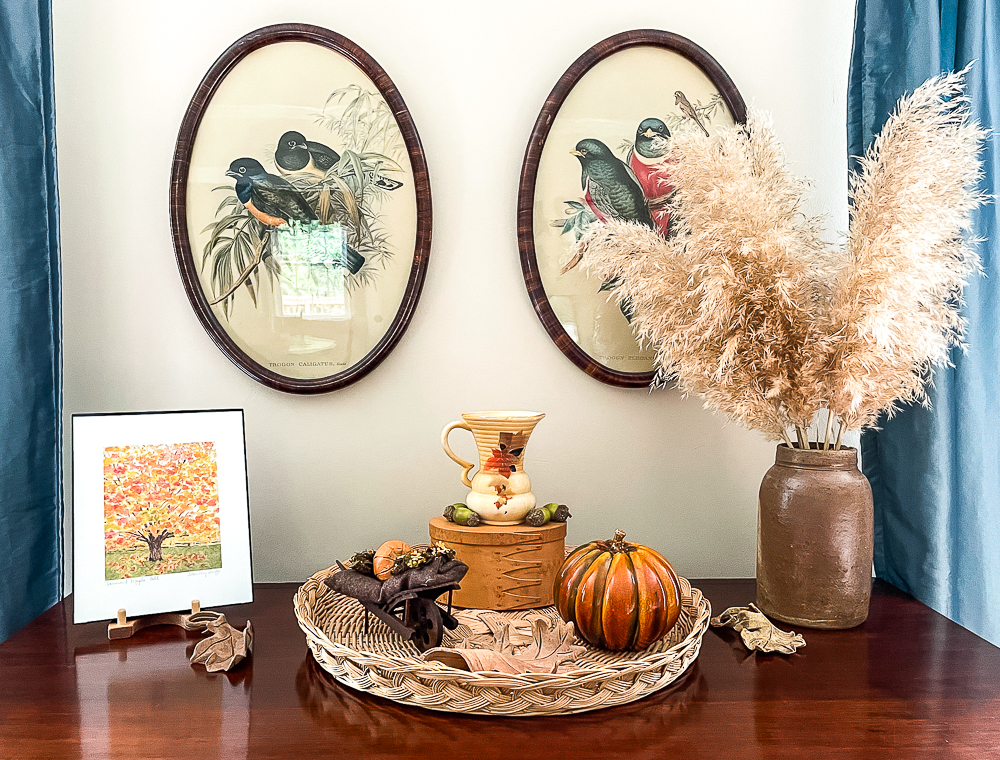 I purchased this print last fall in Vermont. The leaf is handmade by a NC potter.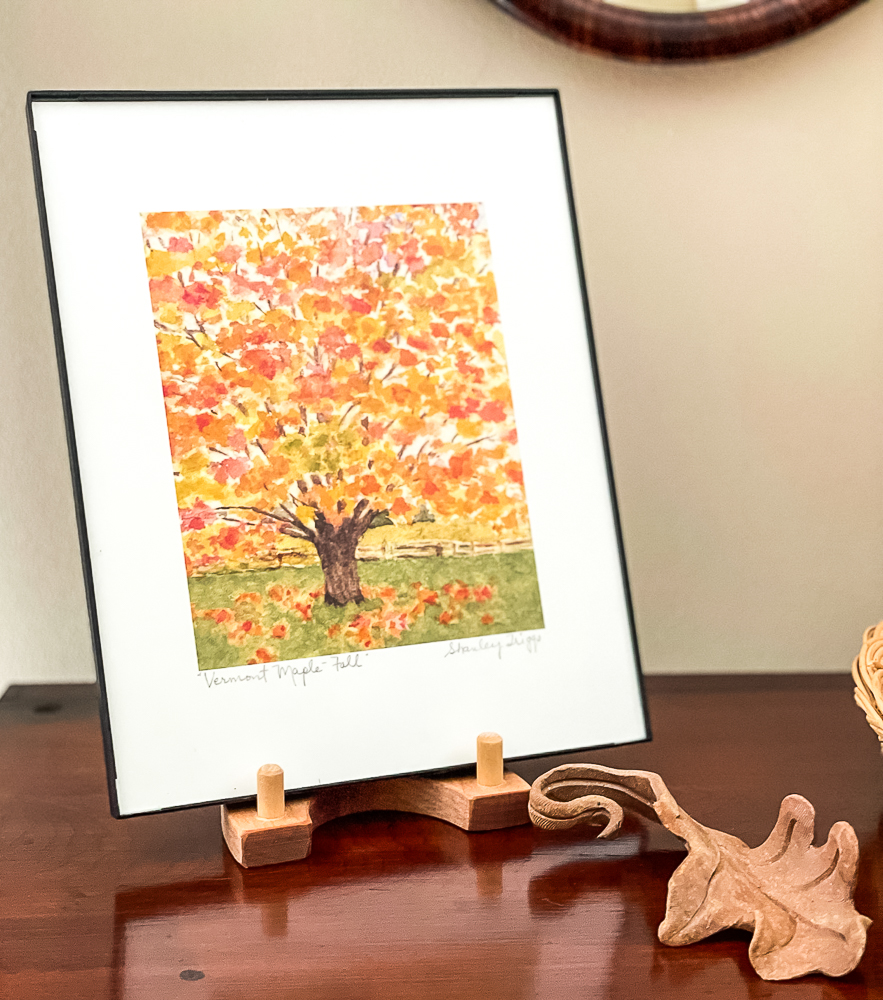 The pitcher was inherited from my grandmother and the handmade wood box was a gift from Mr. SP very early in our marriage.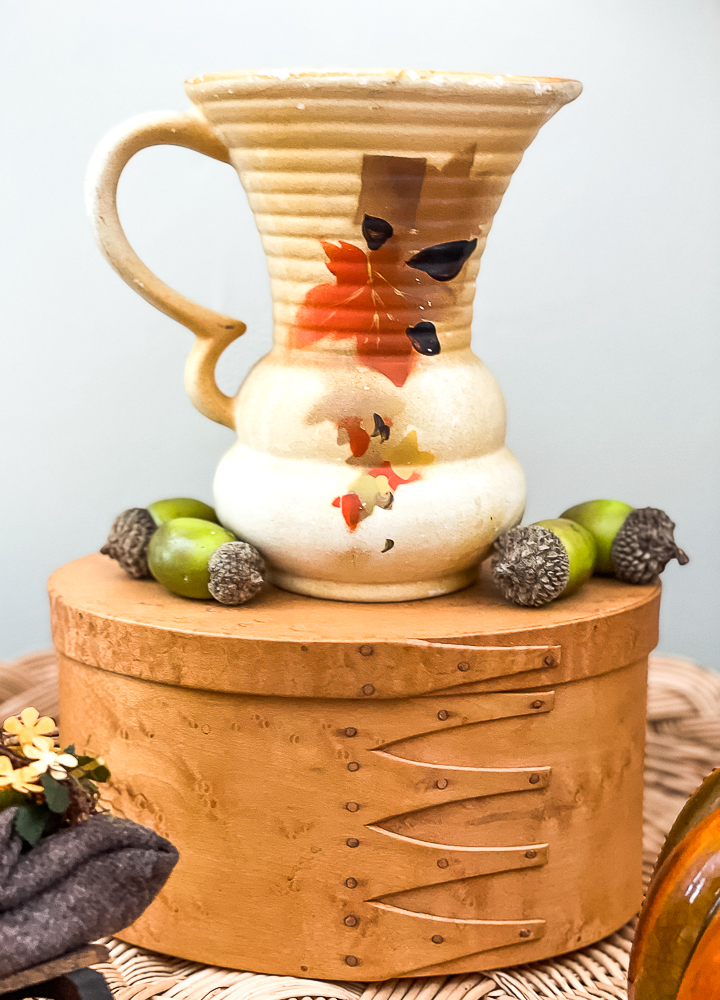 The Byers Choice wheelbarrow was purchased in Vermont many years ago.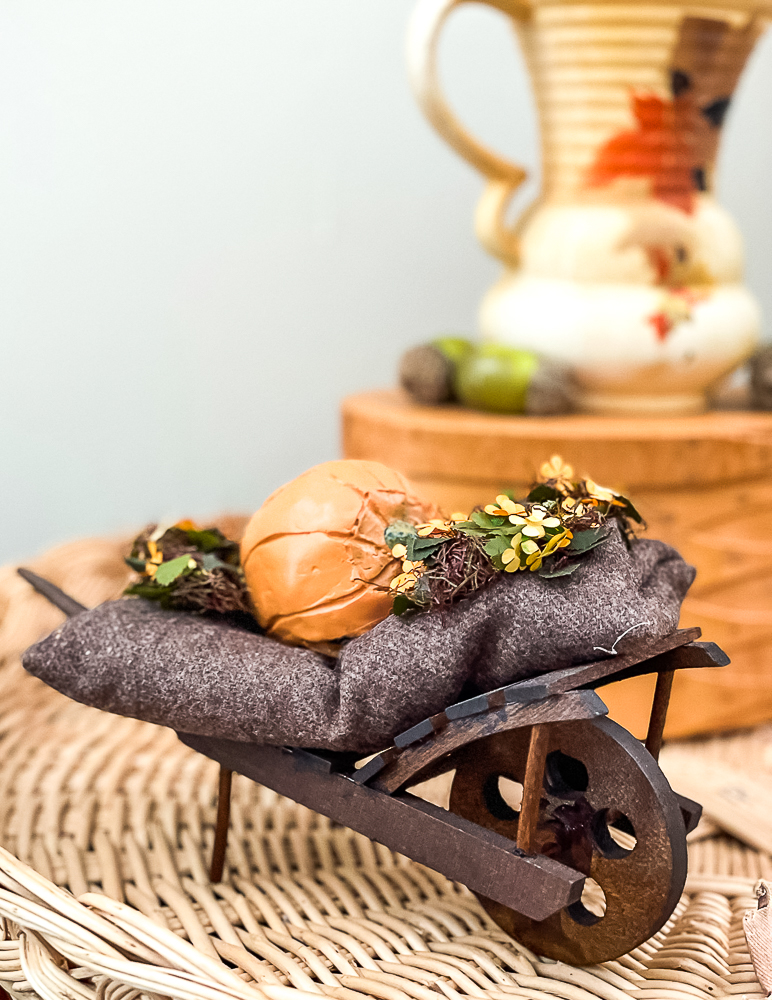 A pumpkin and another pottery leaf complete the vignette.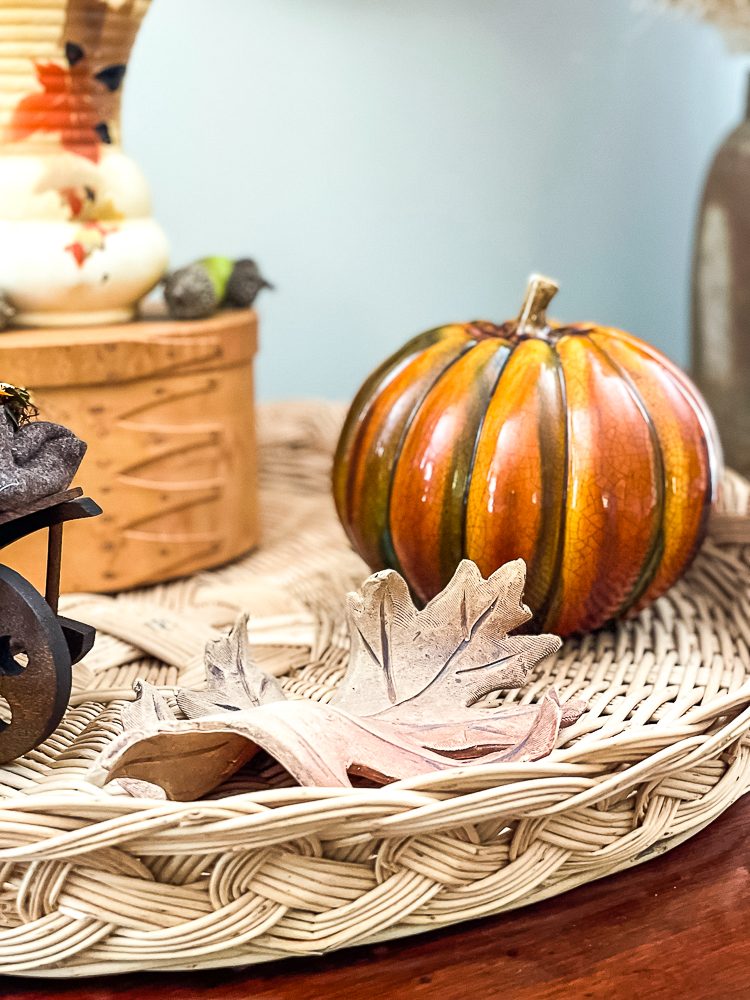 Pampass Grass in my grandmother's crock and another pottery leaf decorate the right side of the display.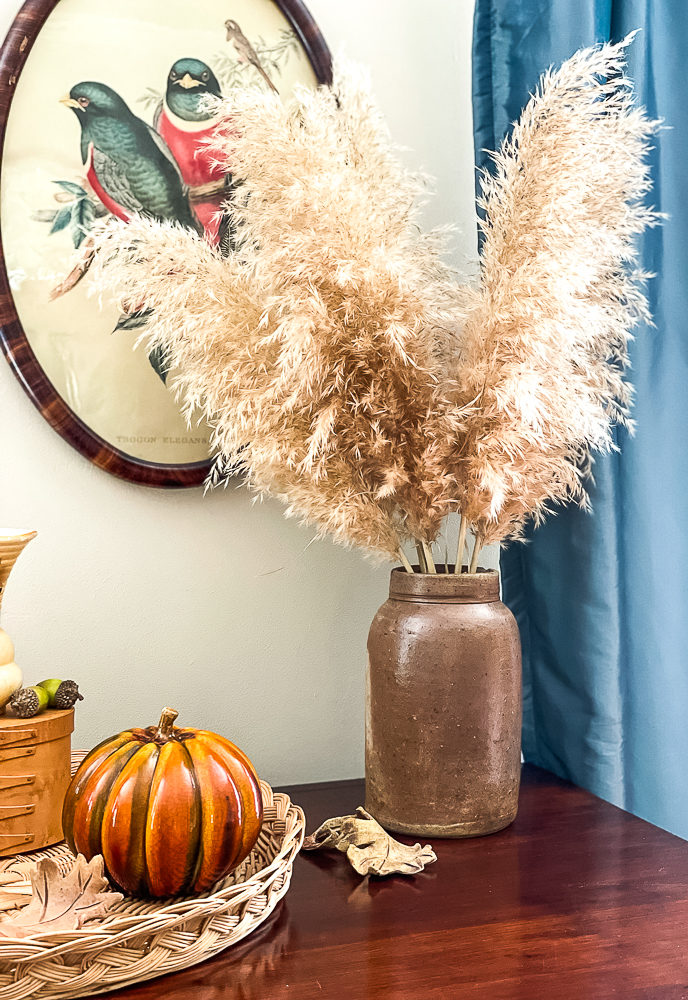 Fall in the Dining Room
I love decorating our dining room seasonally.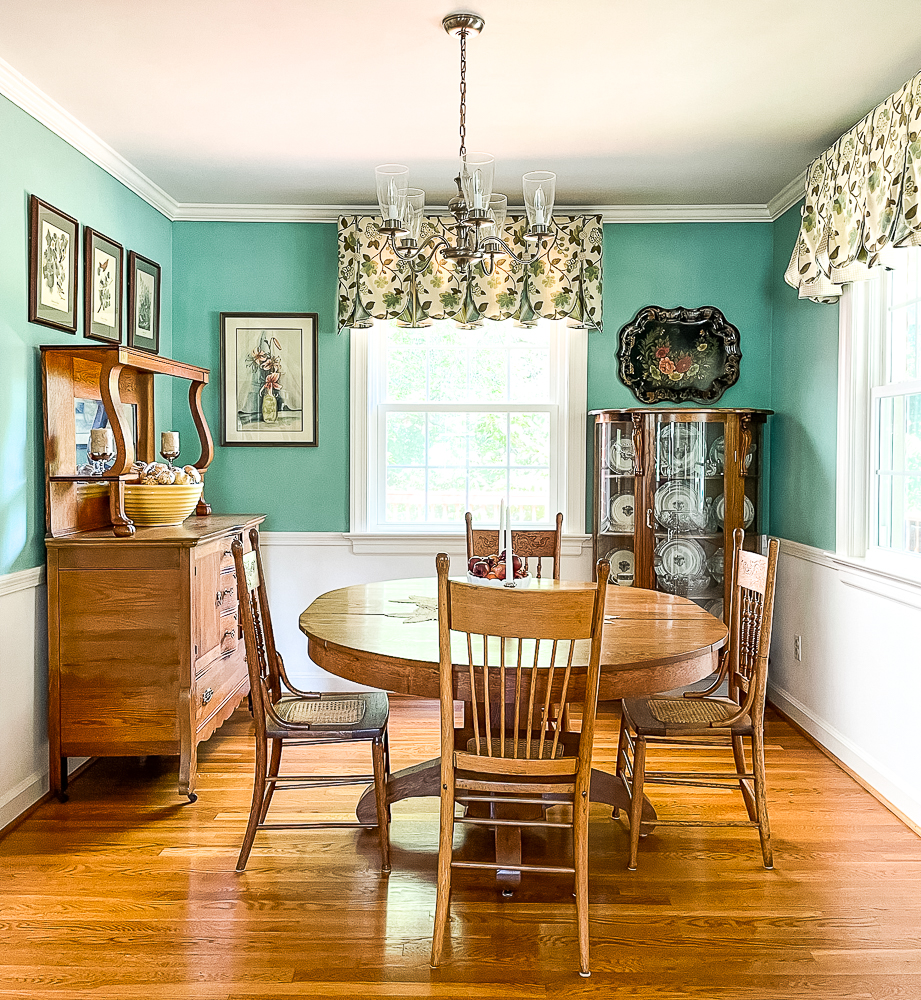 The buffet is decorated with dried gourds in my grandmother's bowl and beeswax fall candles purchased years ago at Beeswax Candle Company in Lynchburg many years ago.
My grandfather lived in a boarding house when he first was hired by Giles County to be the superintendent. The boarding house owner served dessert in the compotes.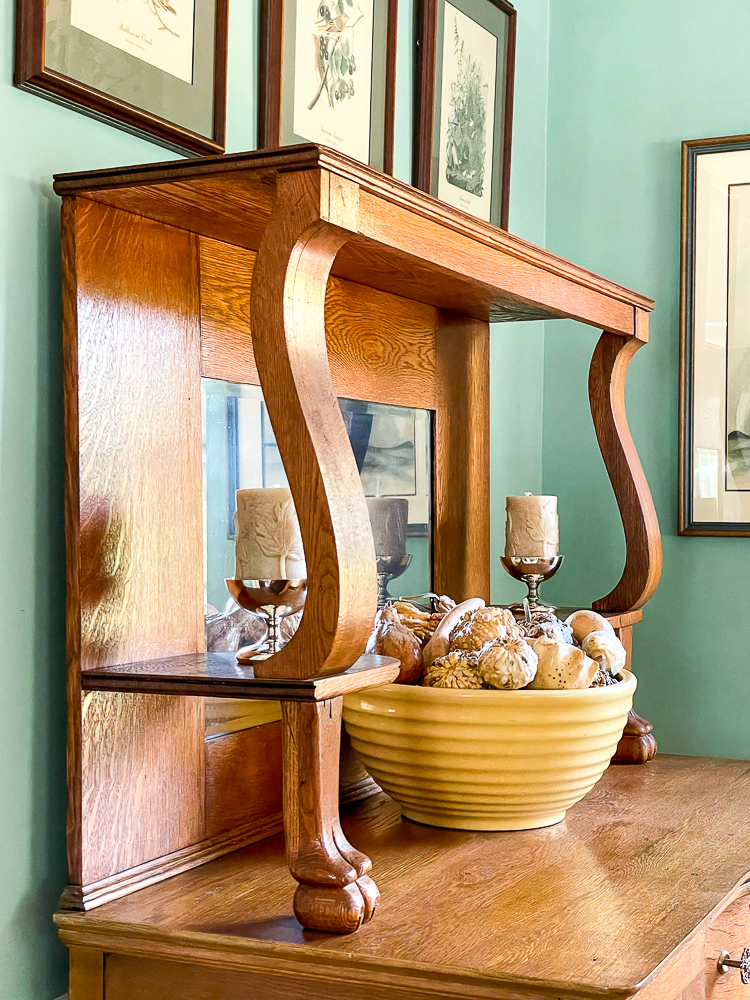 My grandmother's washstand is another spot that I love to decorate for the season. This piece was in her dining room as was the art above it.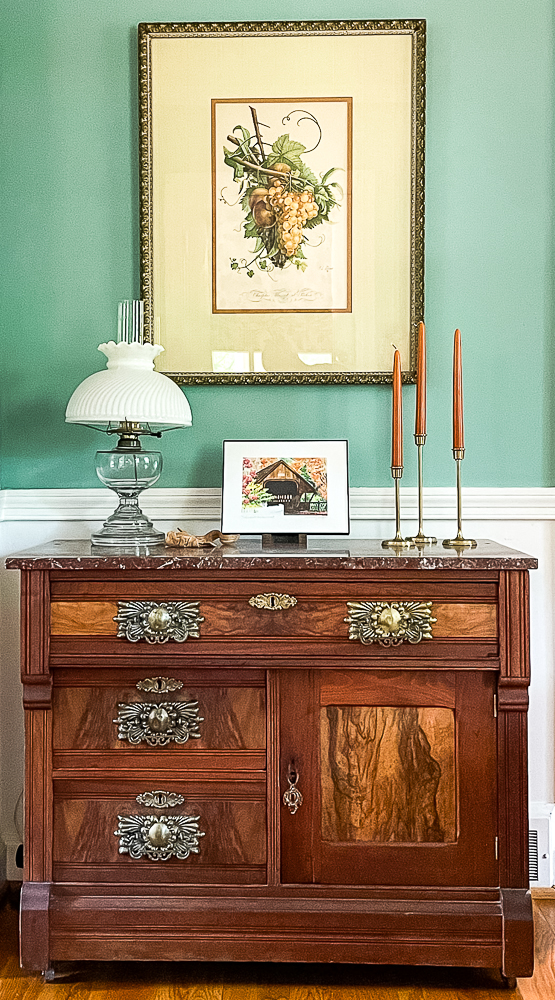 The watercolor is of Middle Covered Bridge located across from the fabulous Woodstock Inn. A trio of candles and a pottery leaf complete the vignette.
My friend, Leecy, commissioned a painting of Middle Bridge for me because it's such a special place for me and Mr. SP. You can see it in this post.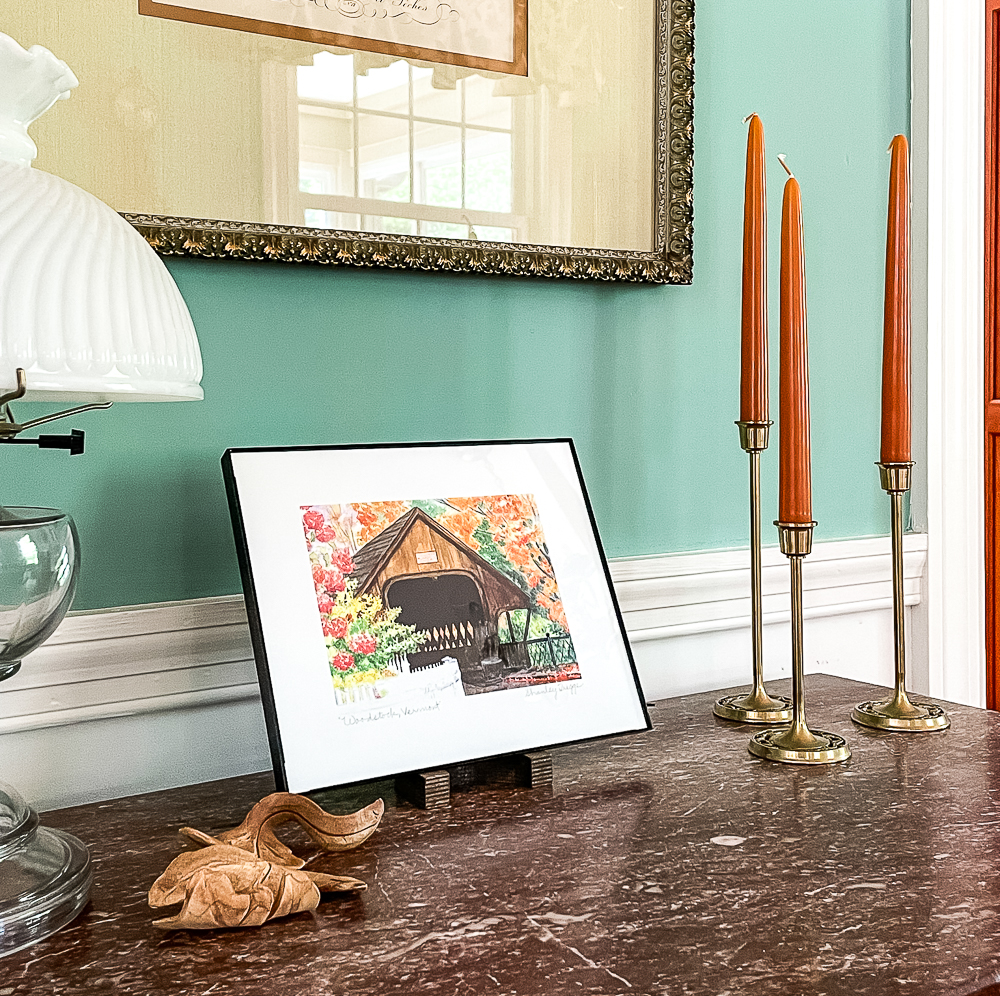 Mr. SP and I have traveled to Vermont for several fall leaf-peeping trips. There's nothing like being in Vermont in the fall to enjoy the outstanding fall foliage.
Next on the fall home tour is Leen from Sand Dollar Lane.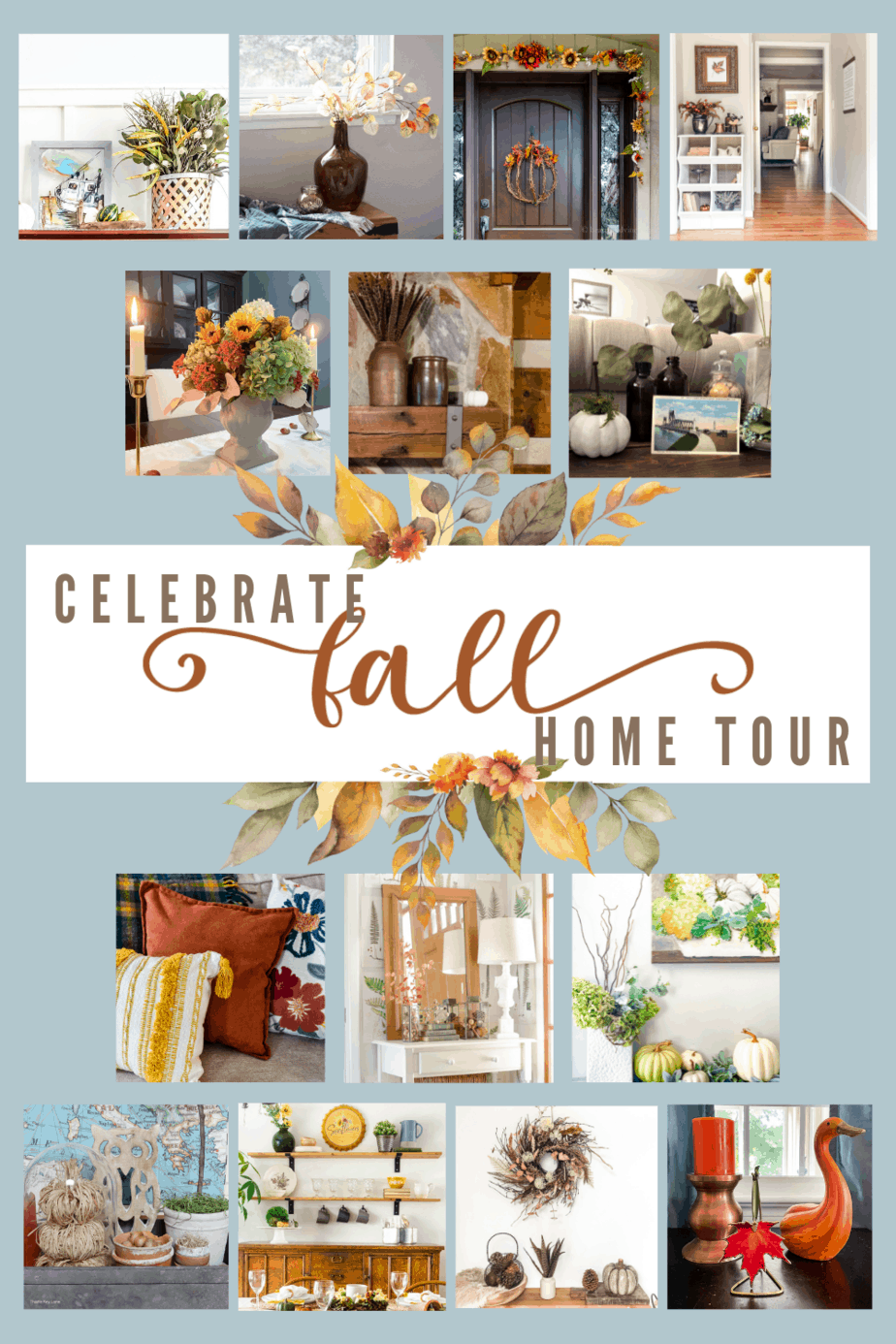 Sand Dollar Lane // My Wee Abode // Hearth and Vine // Noting Grace
My Family Thyme // The Roots of Home // What Meegan Makes
Zucchini Sisters // Postcards from the Ridge // 2 Bees in a Pod // Thistle Key Lane