Brilliant Colors of Fall Home Tour
I usually share my decor room by room but today I'm doing something different, I'm sharing a fall home tour with all of my fall decor in one post.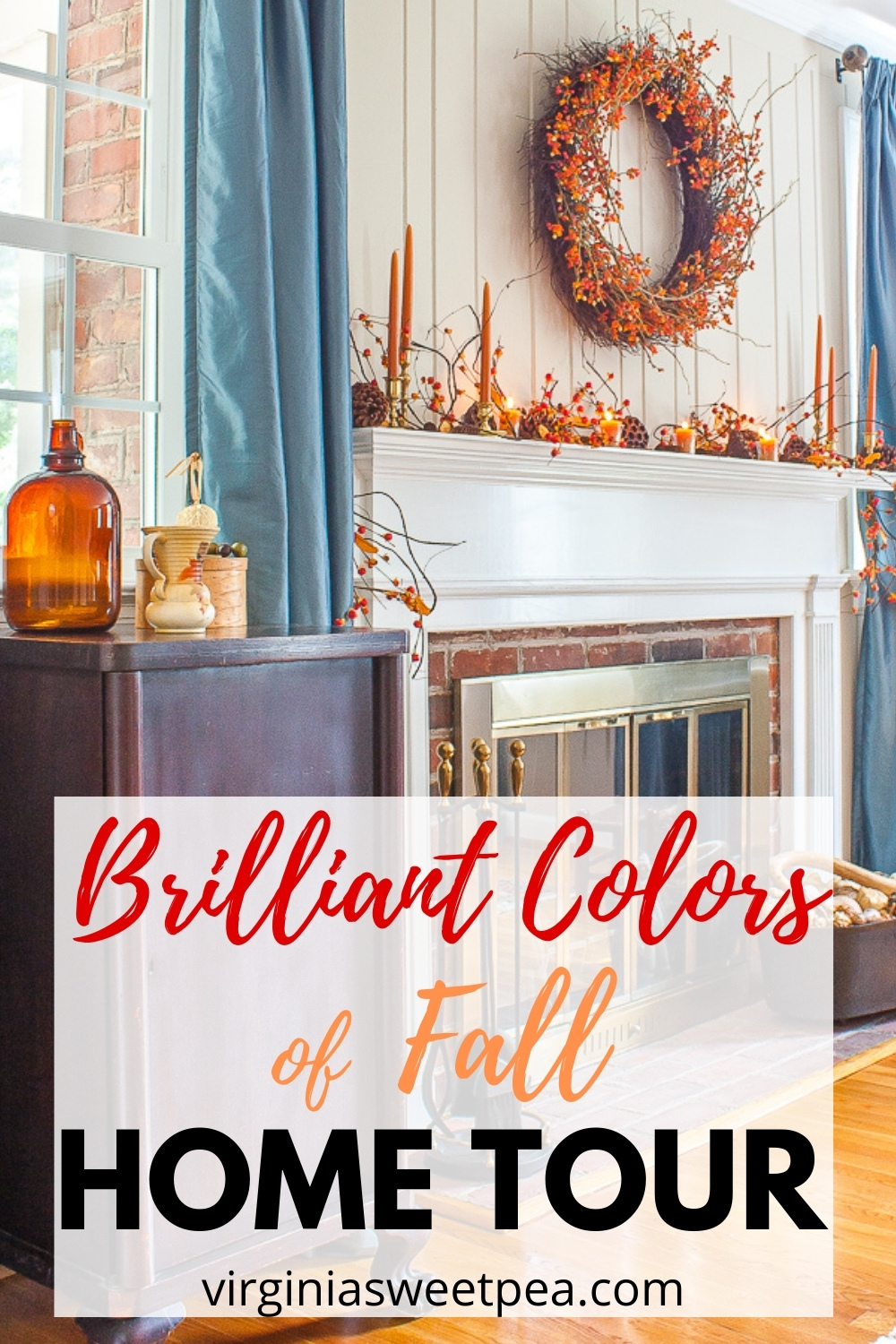 My fall home tour is a part of the Brilliant Colors of Fall Home Tour hosted by Kelly of The Tattered Pew and Mansa of Simplicite.
Each day this week, six bloggers are sharing their homes decorated for fall. Enjoy the six shared today and then come back each day this week to enjoy the other tours.
You'll find links to all of the participating bloggers at the end of this post.
If you arrived here from Dabbling and Decorating, welcome! Ann is a talented decorator and shares my love of vintage. Ann shares decor from her Vermont home and also her coastal Maine home that she inherited from her parents.
Brilliant Colors of Fall Home Tour
Welcome to our 1957 Cape Cod in the foothills of the Blue Ridge Mountains of Virginia.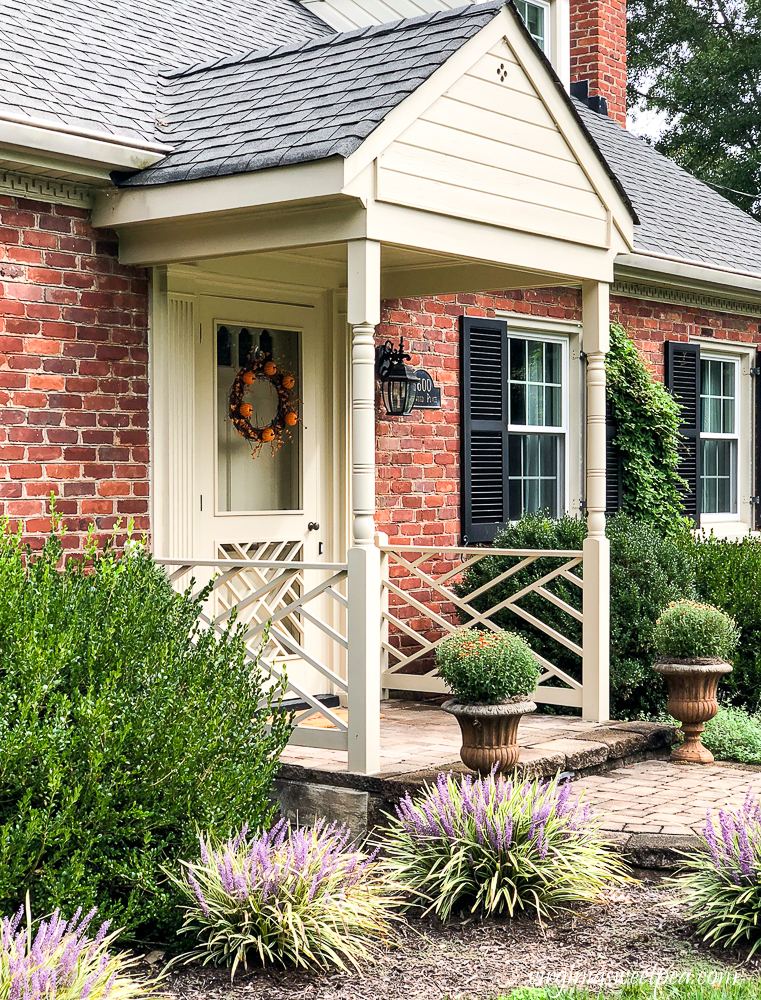 I'm so happy that you are here and I'm excited to share my fall home tour with you.
We'll tour room by room starting with the formal living room just inside the front door.
Fall Decor in the Formal Living Room
Our formal living room faces south and gets wonderful light. When Mr. SP was house hunting long before he met me, the light in this room drew him in. The elderly lady who was selling our home told the realtor that she wanted "That nice young man" to have her home and the sold sign was in the yard before anyone else had a chance to tour it. He met me two years later and the rest is history.
Sherman, our furbaby, is the primary family member who enjoys this room these days. If you drop by, you'll find him on the sofa or parked in front of an AC vent taking a nice nap.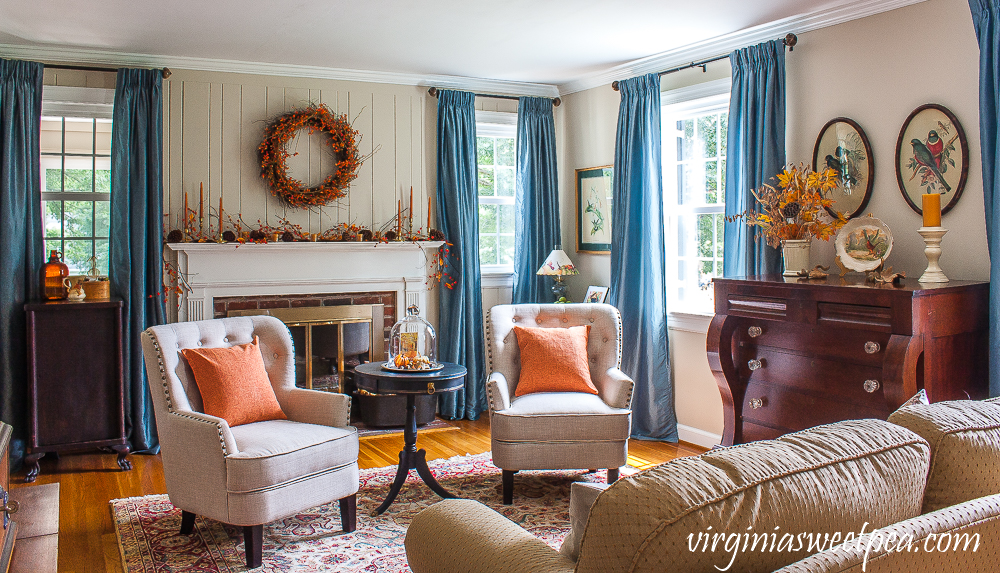 For me, fall decorating always starts with the mantel. See all of my fall mantel details in this post.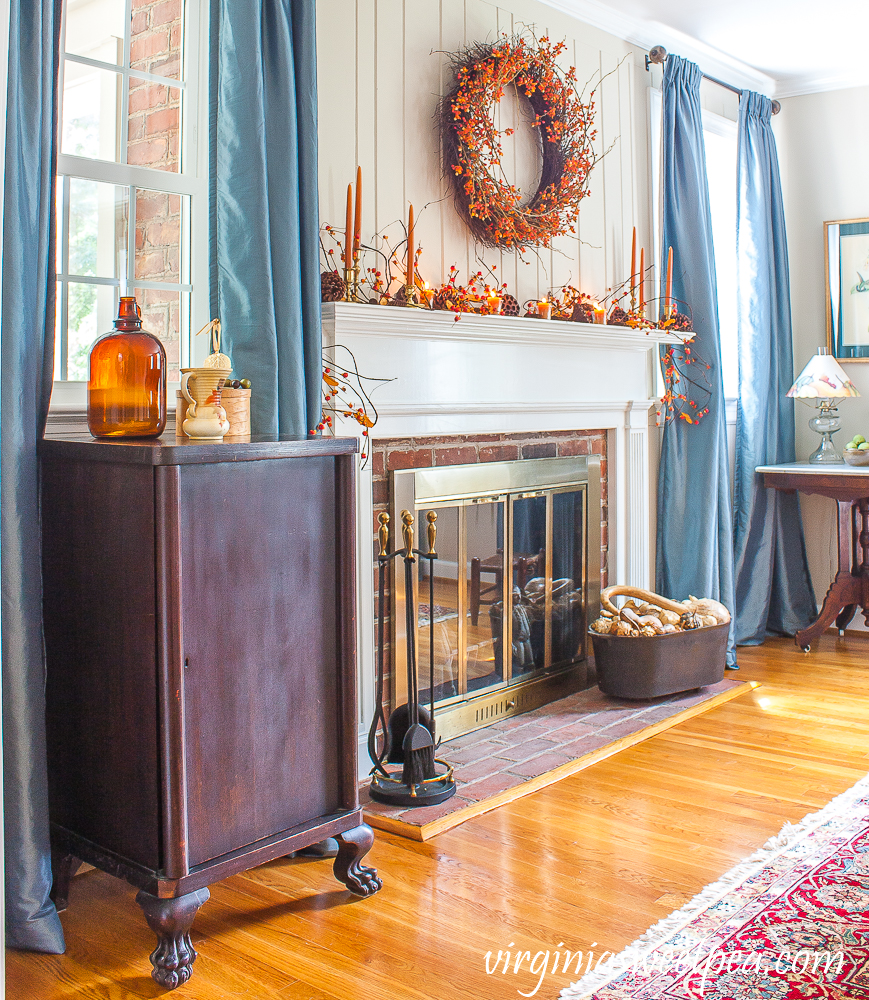 My great-great-aunt's music cabinet is a favorite spot to decorate with a seasonal vignette.
A vintage amber jug looks so pretty as the light shines through it. My mom gave me this jug long ago. See this post for a plethora of ideas for decorating with vintage jugs and bottles.
The pitcher was inherited from my grandmother and the handmade wood box was a gift from Mr. SP very early in our marriage.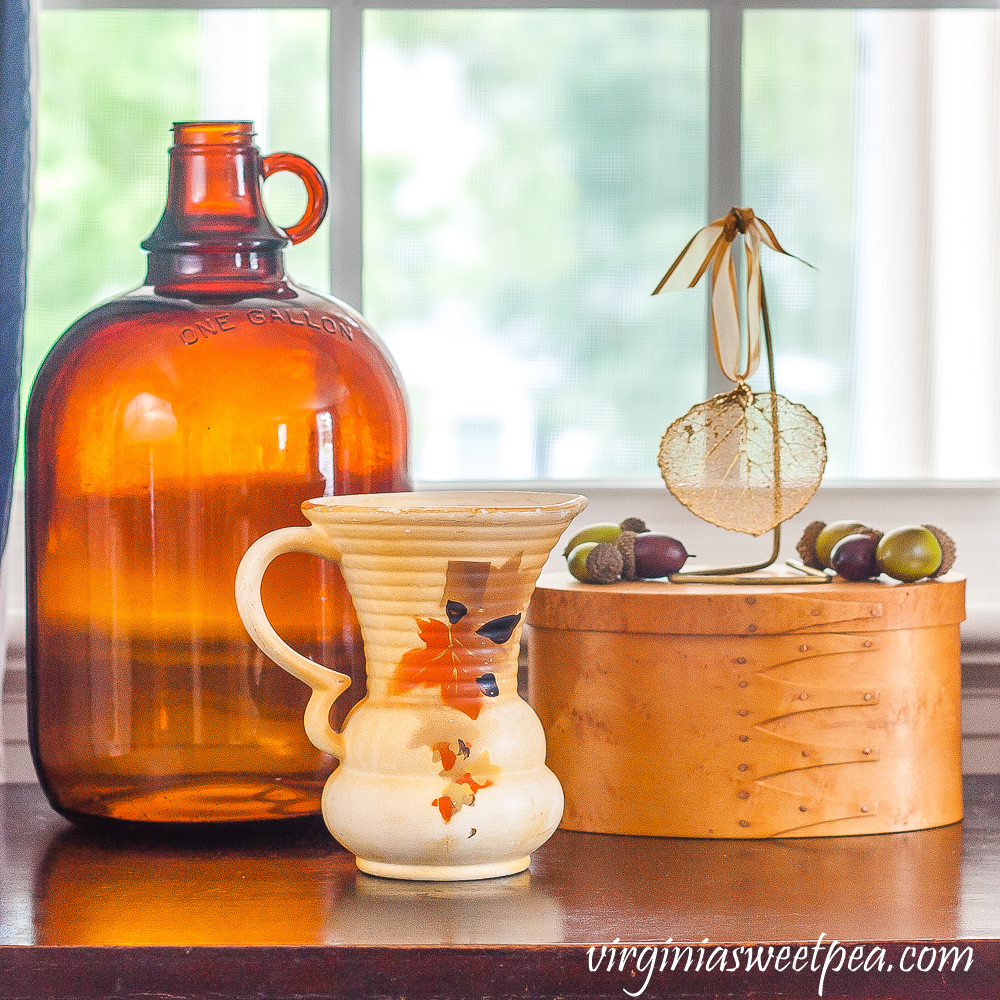 On top of the wooden box is a leaf ornament purchased on a Vermont trip surrounded by acorns.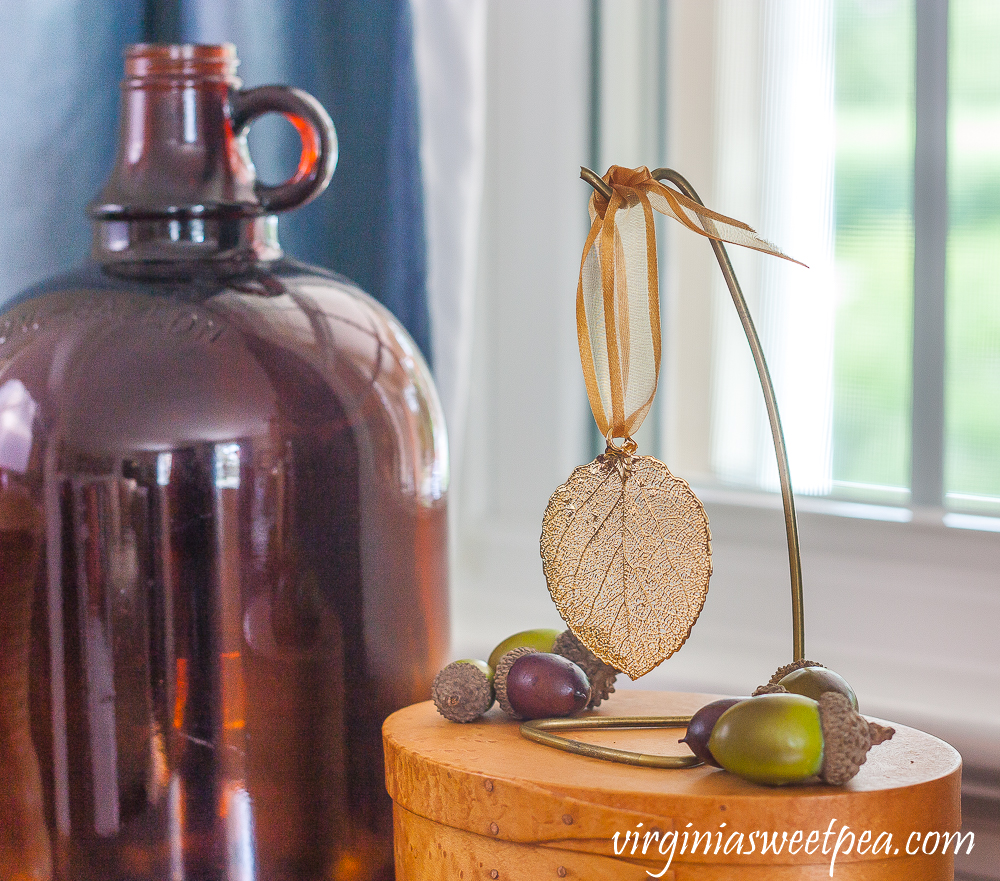 Mr. SP and I have traveled to Vermont for several fall leaf-peeping trips. There's nothing like being in Vermont in the fall to enjoy the outstanding fall foliage.
I love this leaf ornament because I can enjoy it all fall and then enjoy it through Christmas on our tree.
My grandmother's marble top table on the right of the fireplace holds another fall vignette.
Mama created an electric lamp using an antique oil lamp and passed it along to me. Mama and I purchased the shade in the 1990s when this type of lamp shade was popular.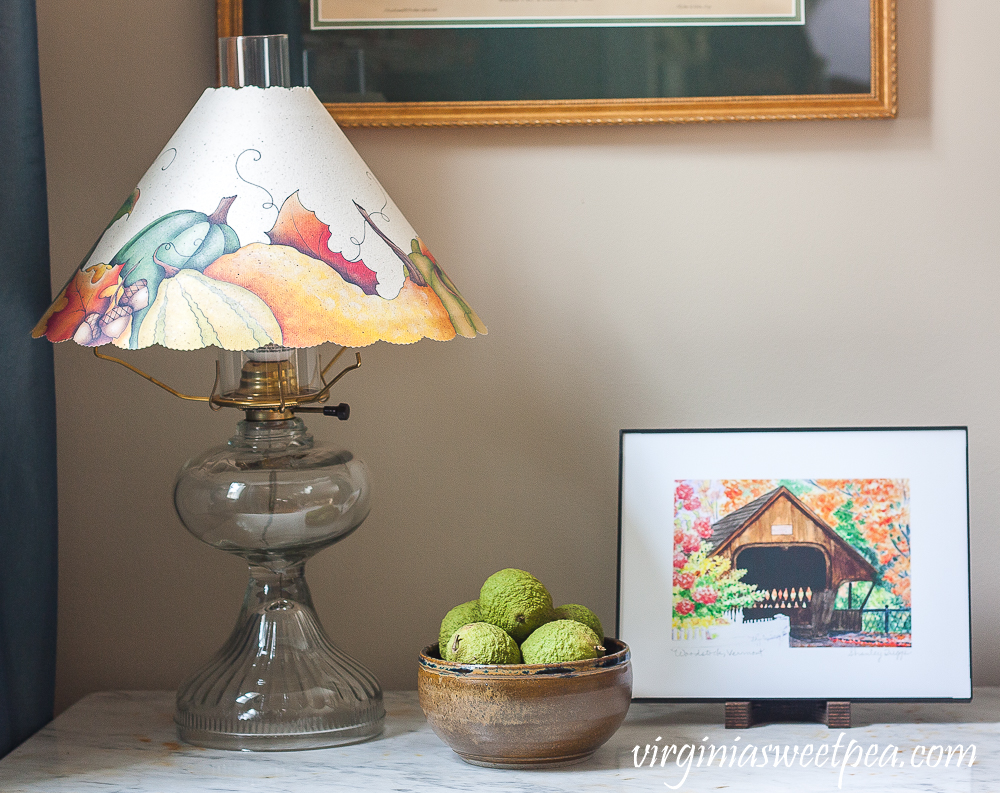 The watercolor was a surprise gift from Mr. SP after last year's fall Vermont trip. It shows the Middle Covered Bridge located across from the fabulous Woodstock Inn.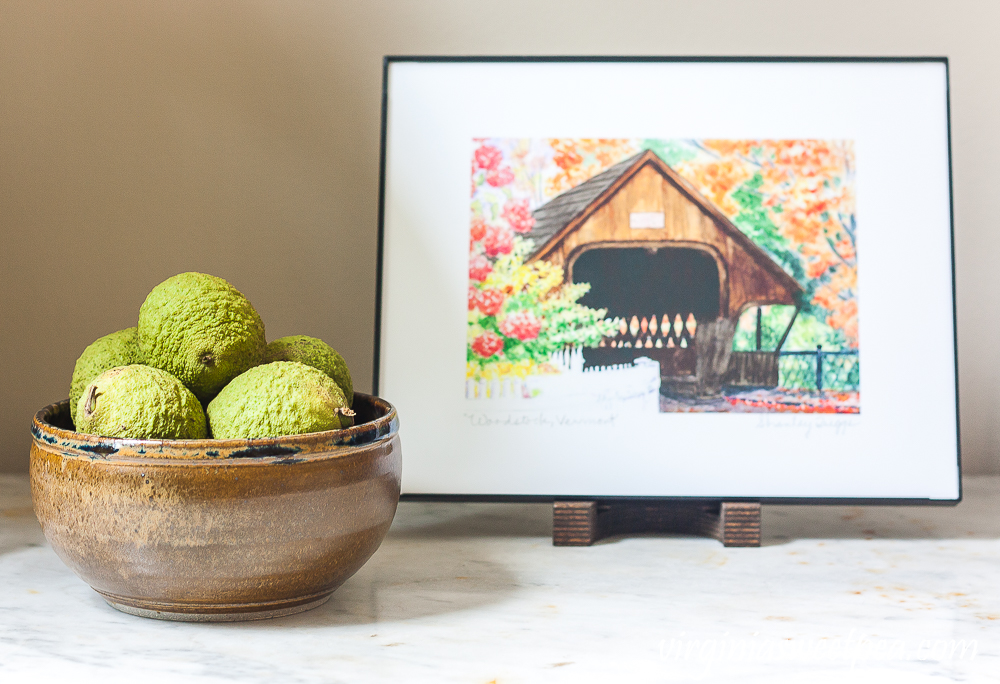 My good friend, Suzanne, and her twin sister go to a pottery festival every spring in North Carolina. This pottery bowl was a gift from one of Suzanne's pottery festival trips.
I filled it with Black Walnuts from my neighbor's tree.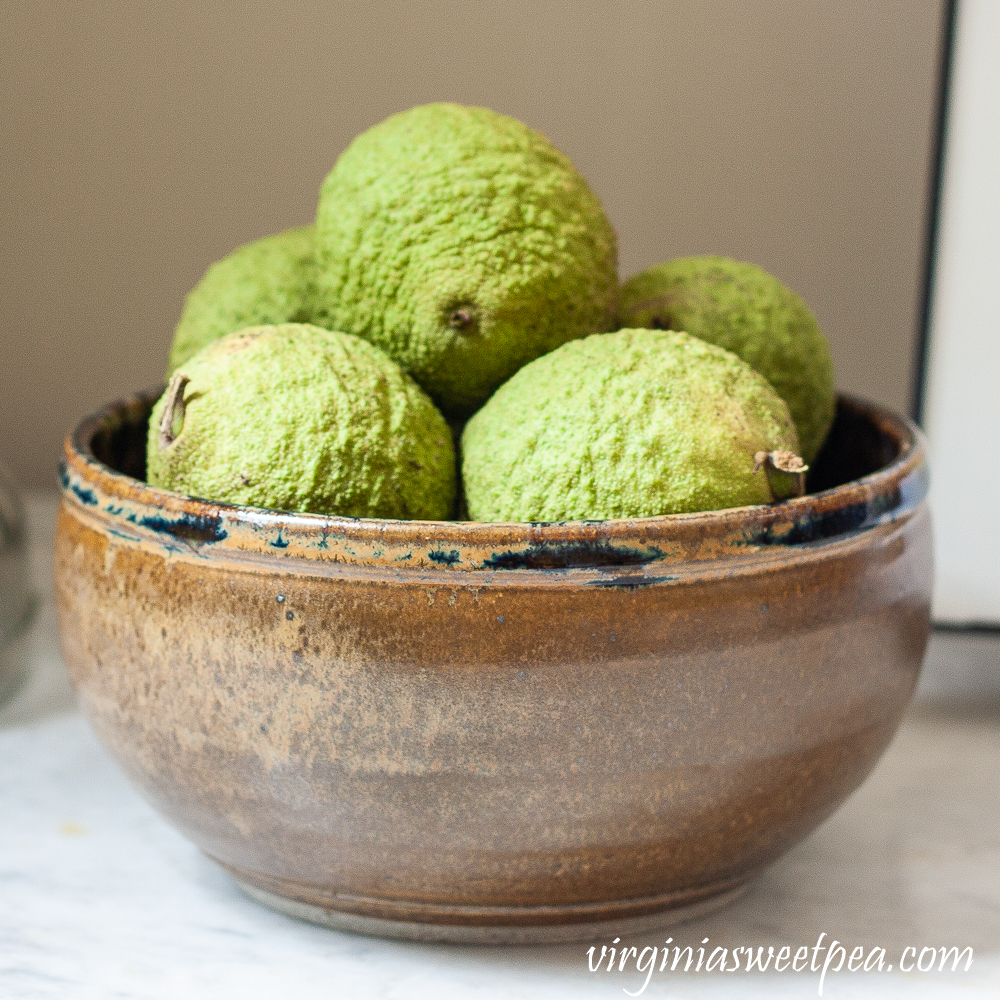 The small table in front of our fireplace is another spot that I enjoy decorating seasonally. This year it holds a decorated for fall cloche. Click here to see the cloche details.
The last thing to see in our formal living room is how I decorated my grandmother's chest.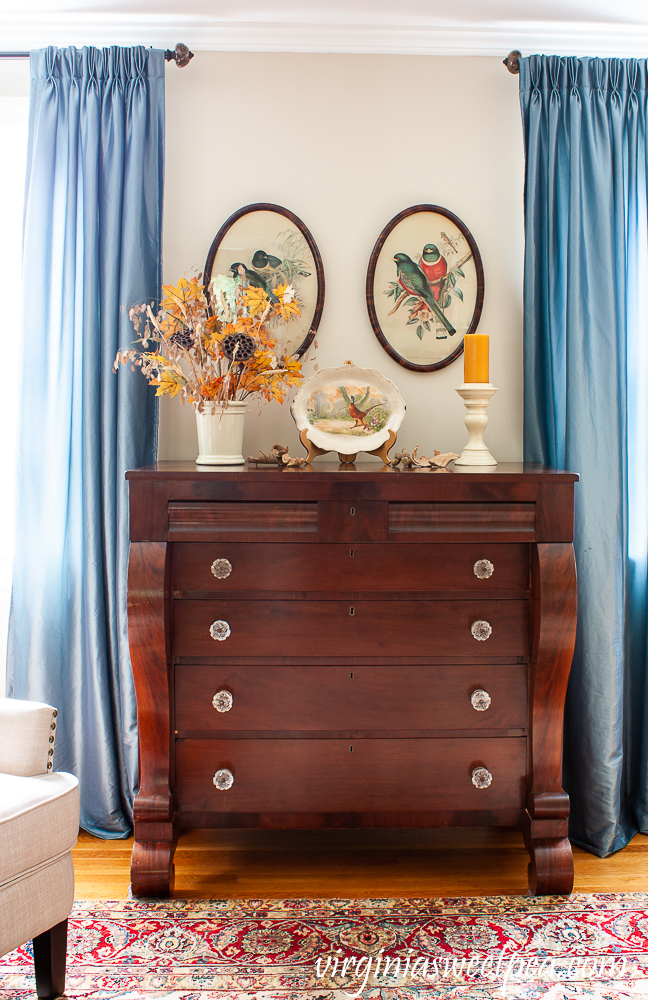 I started decorating the chest with a vintage pheasant platter scored at a flea market.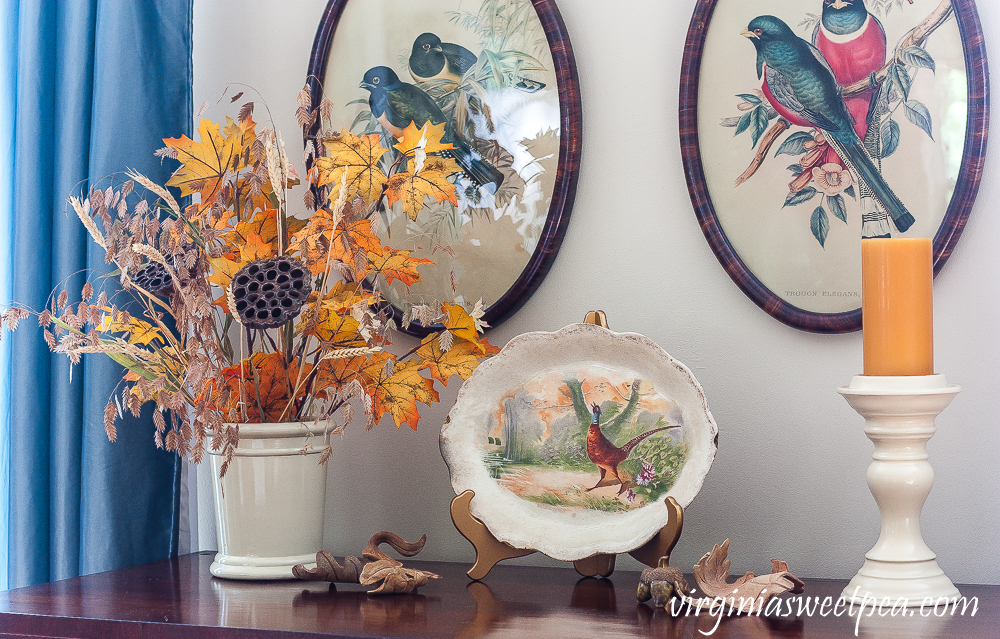 I then made a fall arrangement using leaves, river oats, wheat stems, and lotus pods.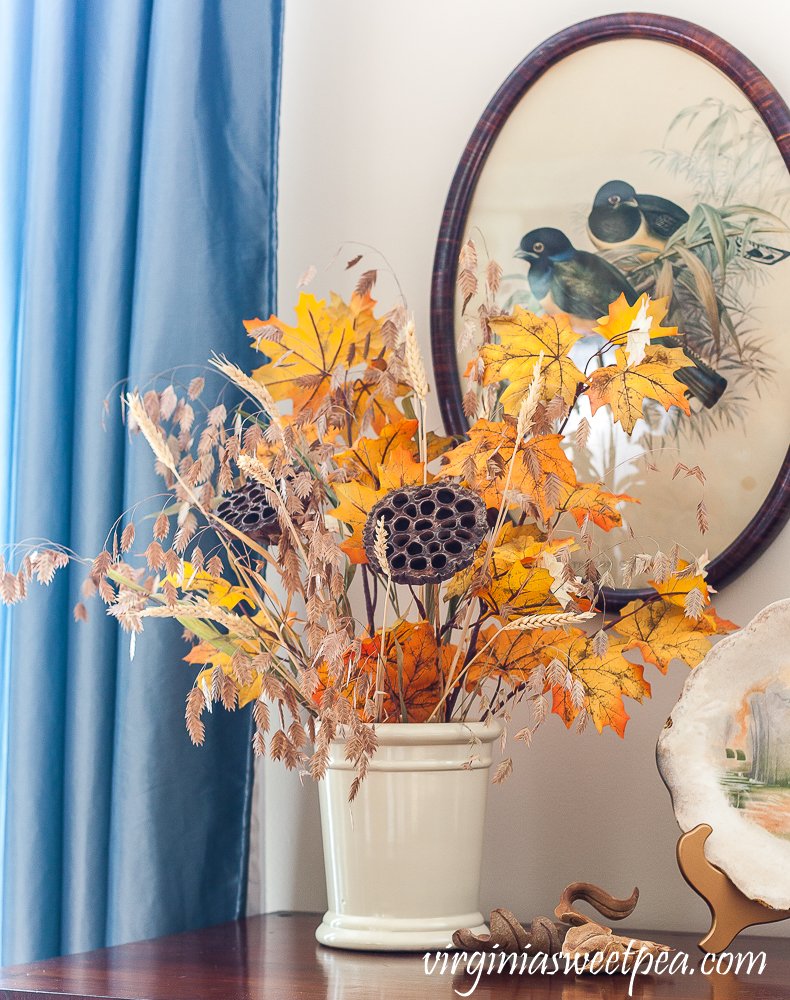 Between the arrangement and the platter are two pottery leaves made in North Carolina.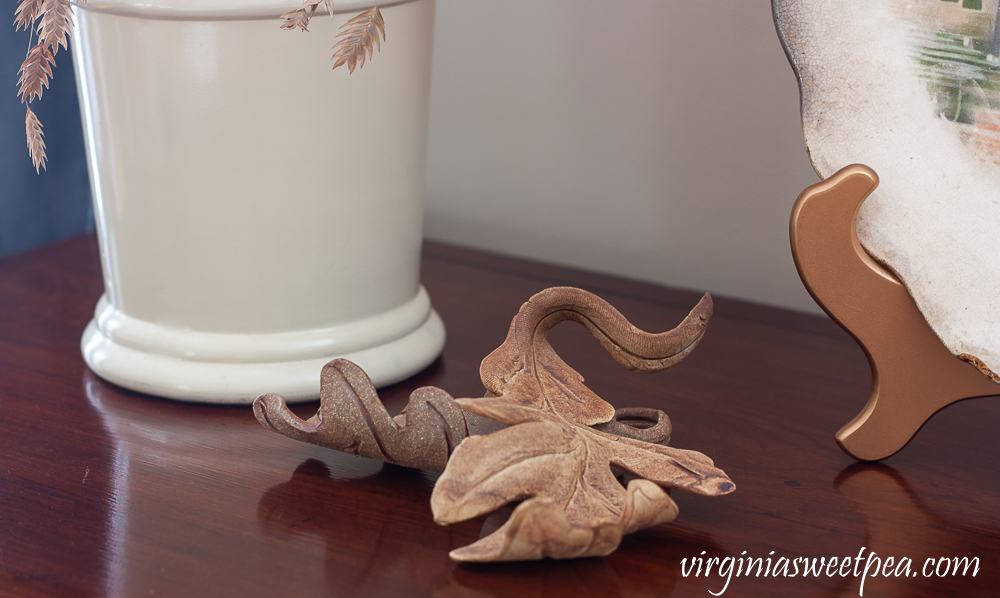 To the right of the platter I used a candle holder that my dad purchased for my mom long ago.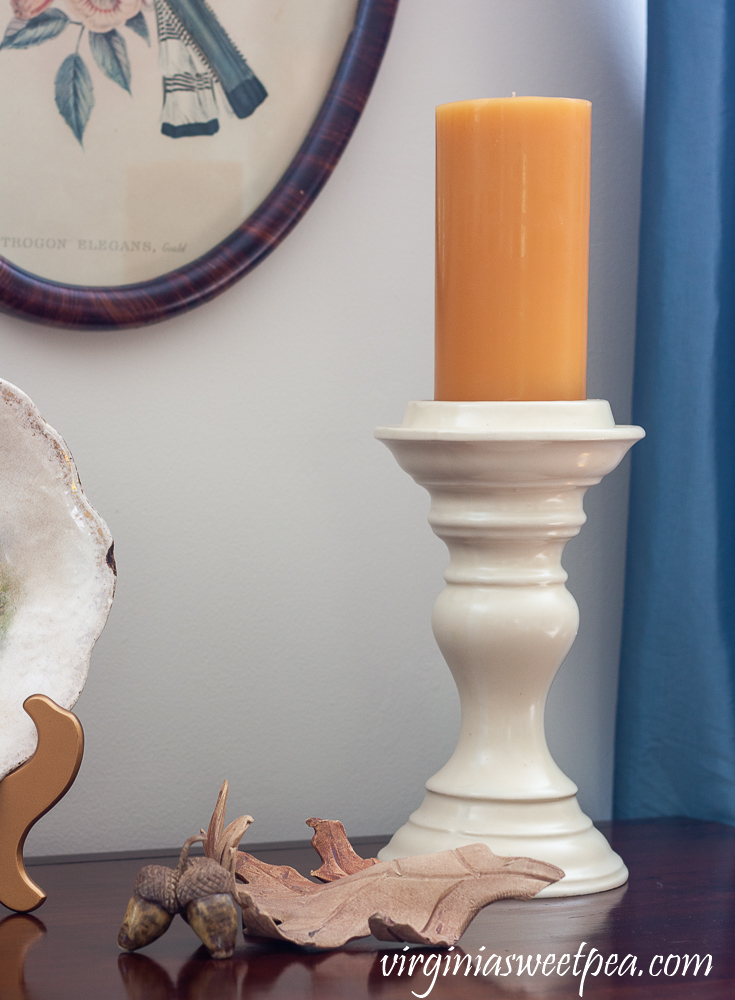 Another pottery leaf along with pottery acorns decorate the right side of the platter.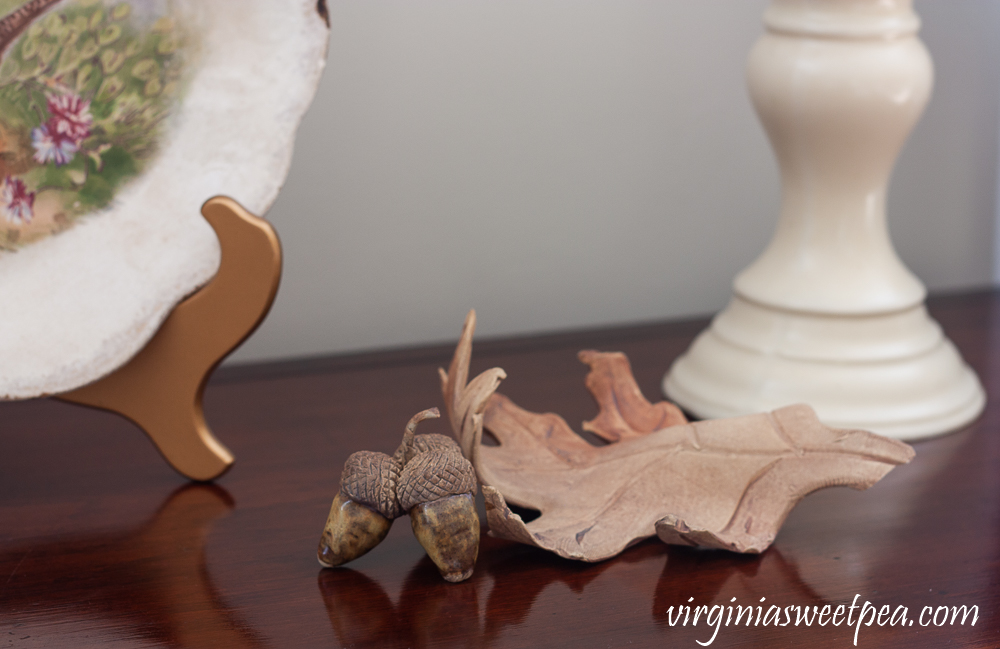 Fall Decor in the Dining Room
The fall home tour continues into the dining room which is adjacent to our formal living room.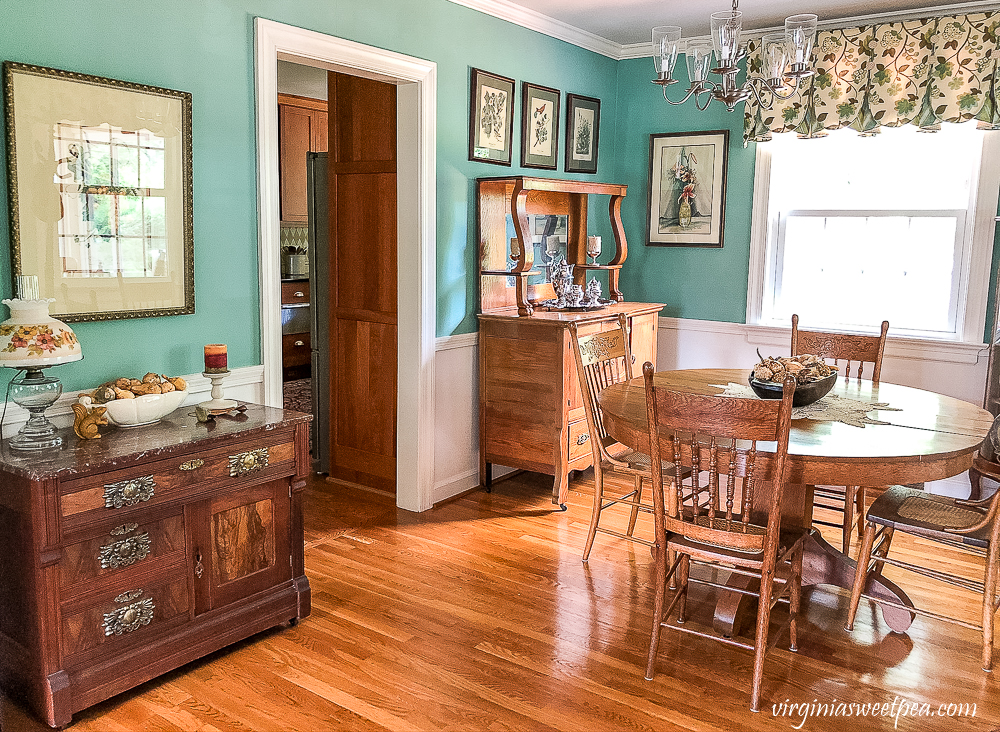 My grandmother's chest is a favorite place to decorate each season. The art hanging over the chest was also my grandmother's and was displayed in her dining room.
On the chest you can see another oil lamp that my mom gave me. Both of us love lamps like these and prefer them to a modern lamp.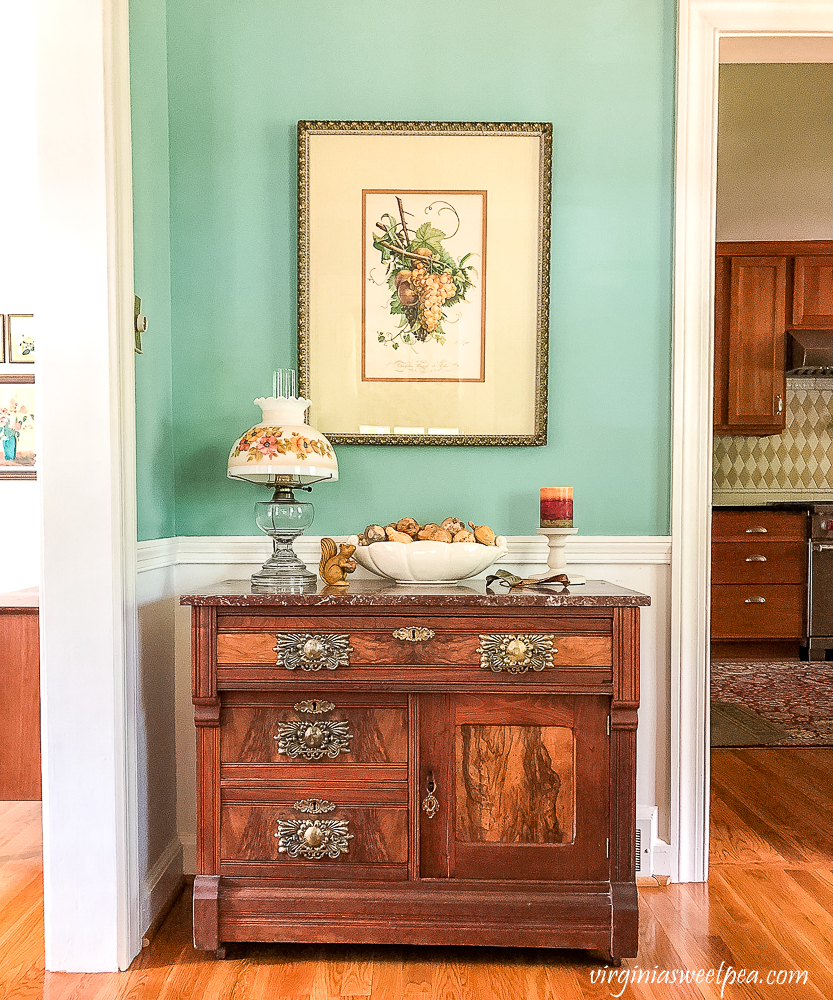 This squirrel makes an appearance every fall in my home. He's been enjoyed for 20+ years.
Behind the squirrel is a vintage planter filled with dried gourds.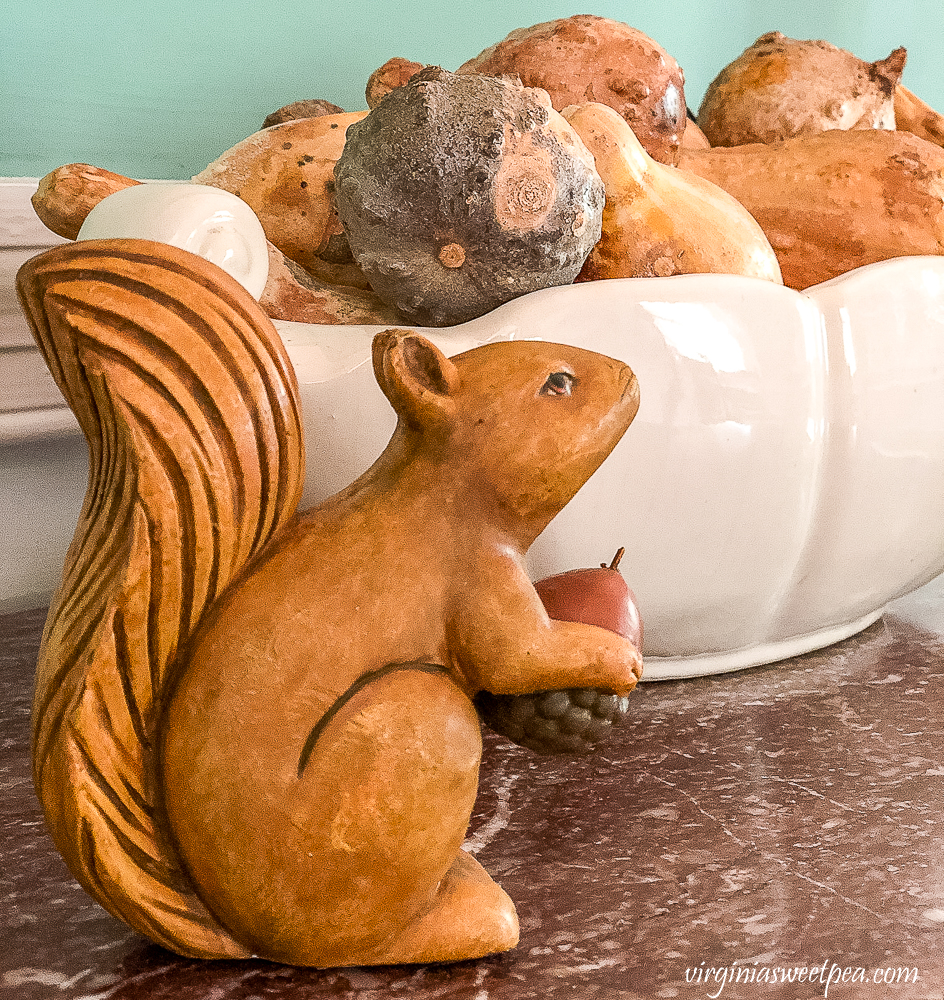 The candle holder is an inexpensive one from Ikea that I painted.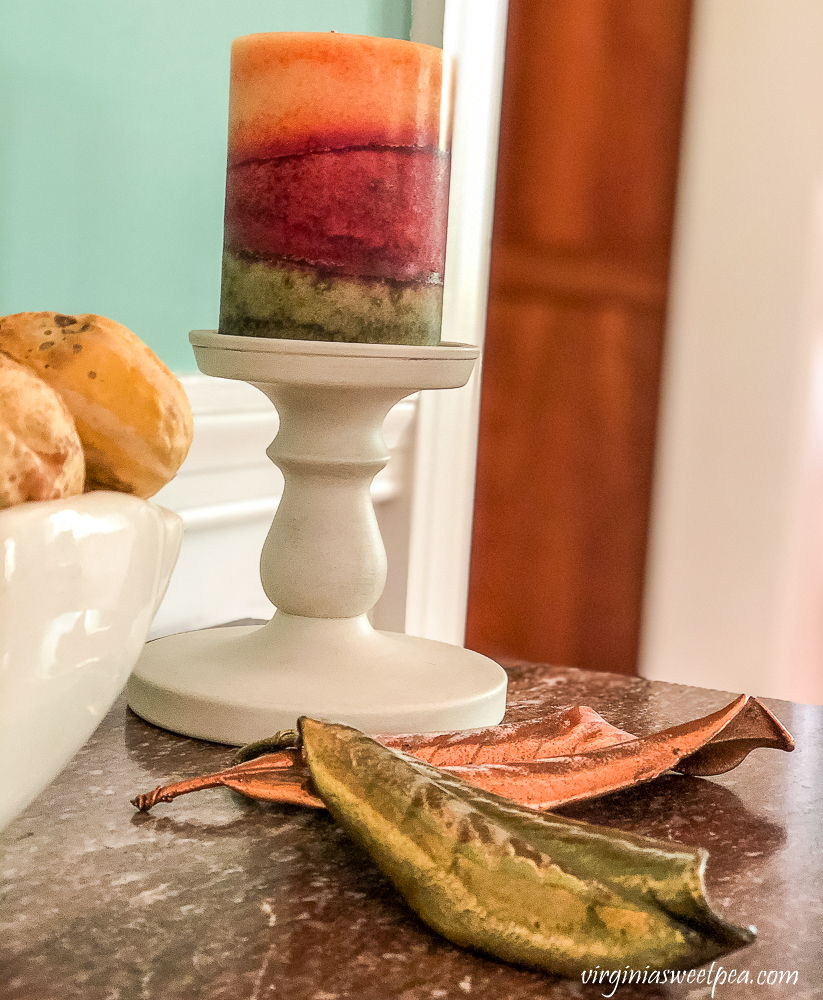 The Magnolia leaves were given to me by my aunt. They most likely came from Lightfoot in Williamsburg, VA.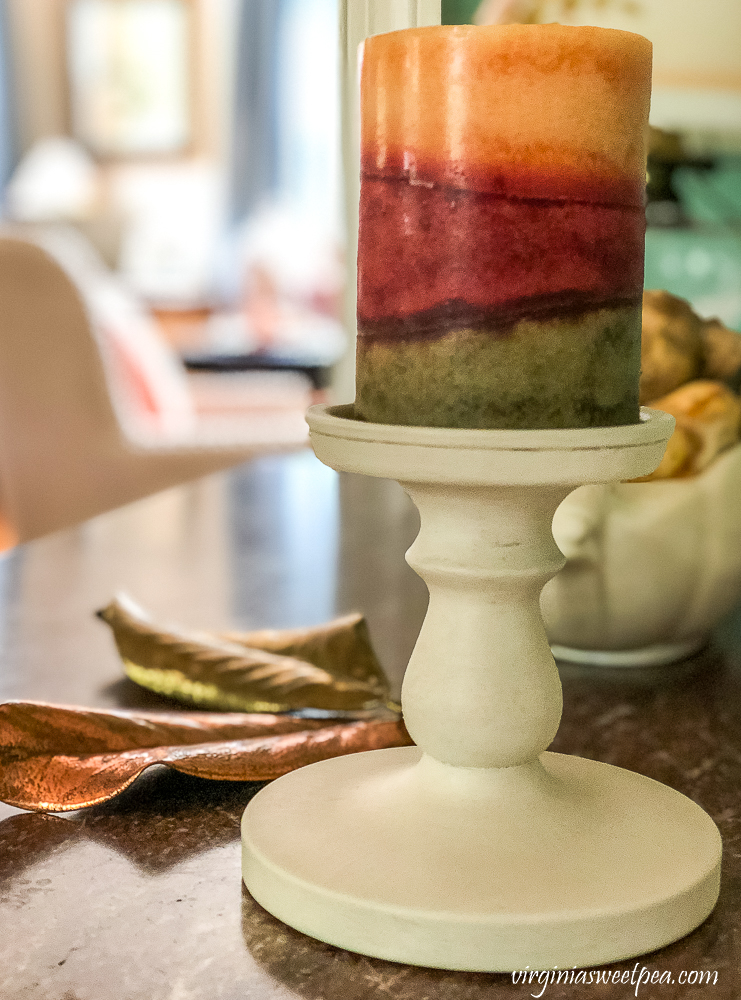 Our dining room table holds a dough bowl filled with more dried gourds. I save my gourds each season, dry them, then use them year after year for decorating.
Fall Decor in the Sunroom
In 2019, we converted our screened porch to a sunroom, one of the best home improvement projects that we've done to our home.
We use this sunroom as our main entrance and it's also a pleasant spot to sit and relax.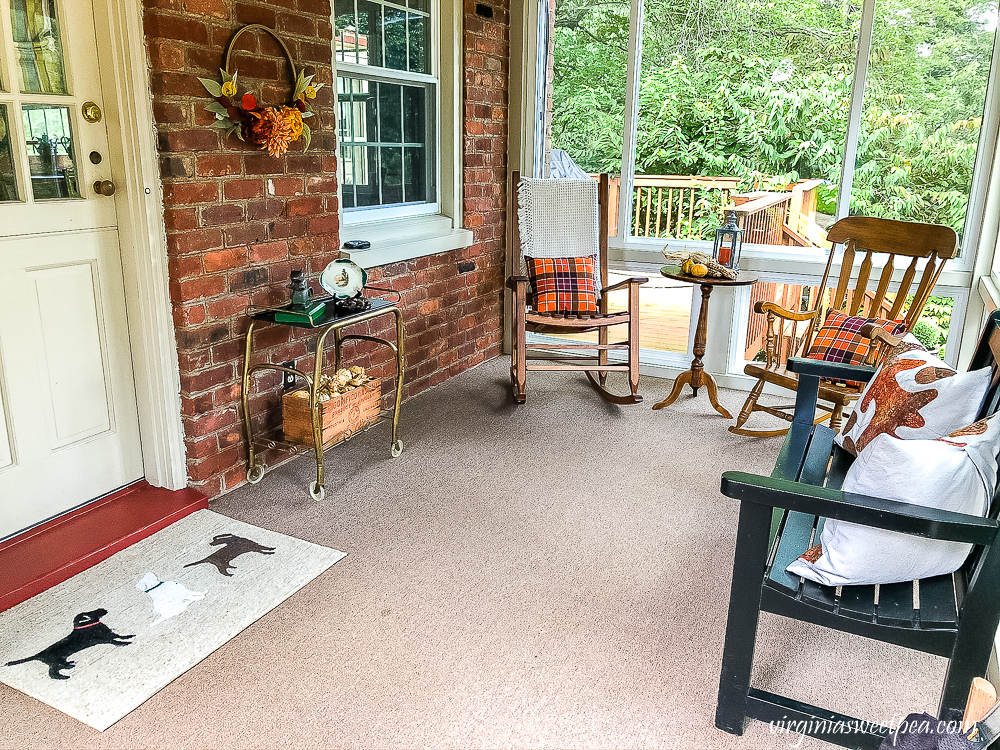 The vintage tv stand beside the door is another favorite spot for seasonal decor. I also love hanging a seasonal wreath on this wall.
I made this fall hoop wreath a few weeks ago.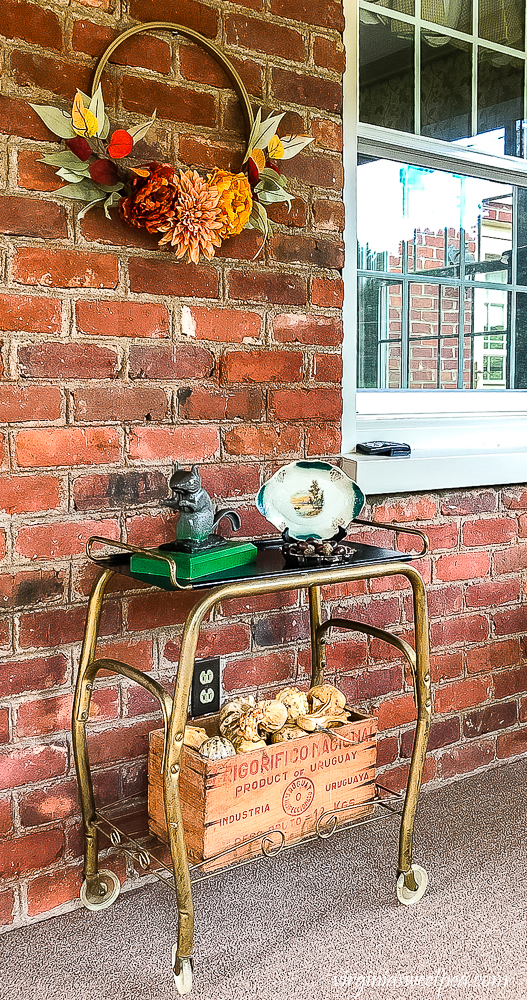 The squirrel nutcracker was my dad's and is always a part of my fall decor. It was given to my dad in the 1940s by a neighbor and when given to him was not new. I've never seen another like it.
The mini platter was an antique shop find as was the silver bowl. The silver bowl is monogrammed with OCC and was an Oakwood Country Club award for either golf or tennis.
This historic club is exactly a mile from our home and Sherman takes great pleasure in hunting for deer, mice, and more on the grounds of the old golf course which is now sadly being developed.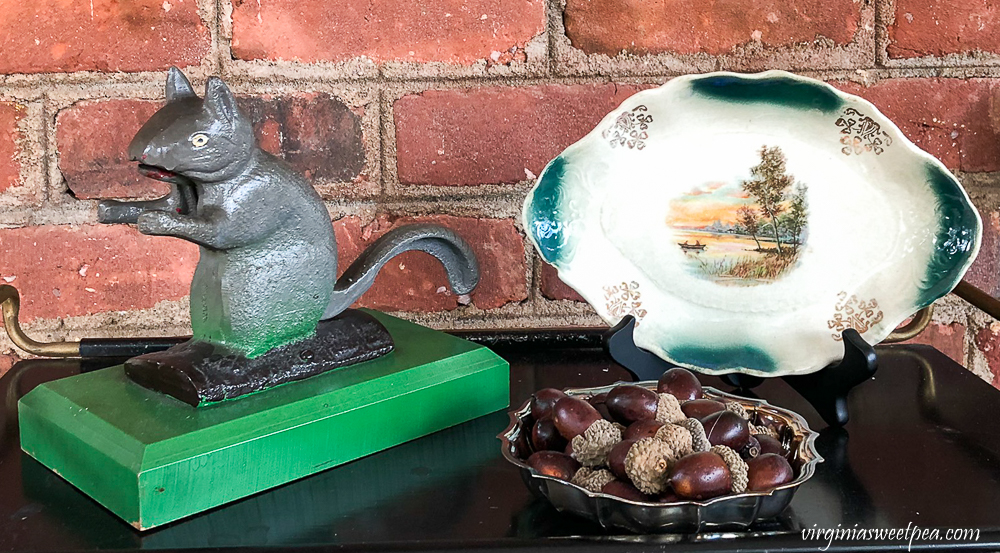 The table between the rockers is another spot that I decorate seasonally. A lantern with nice smelling candle, Indian corn, and dried gourds decorate it.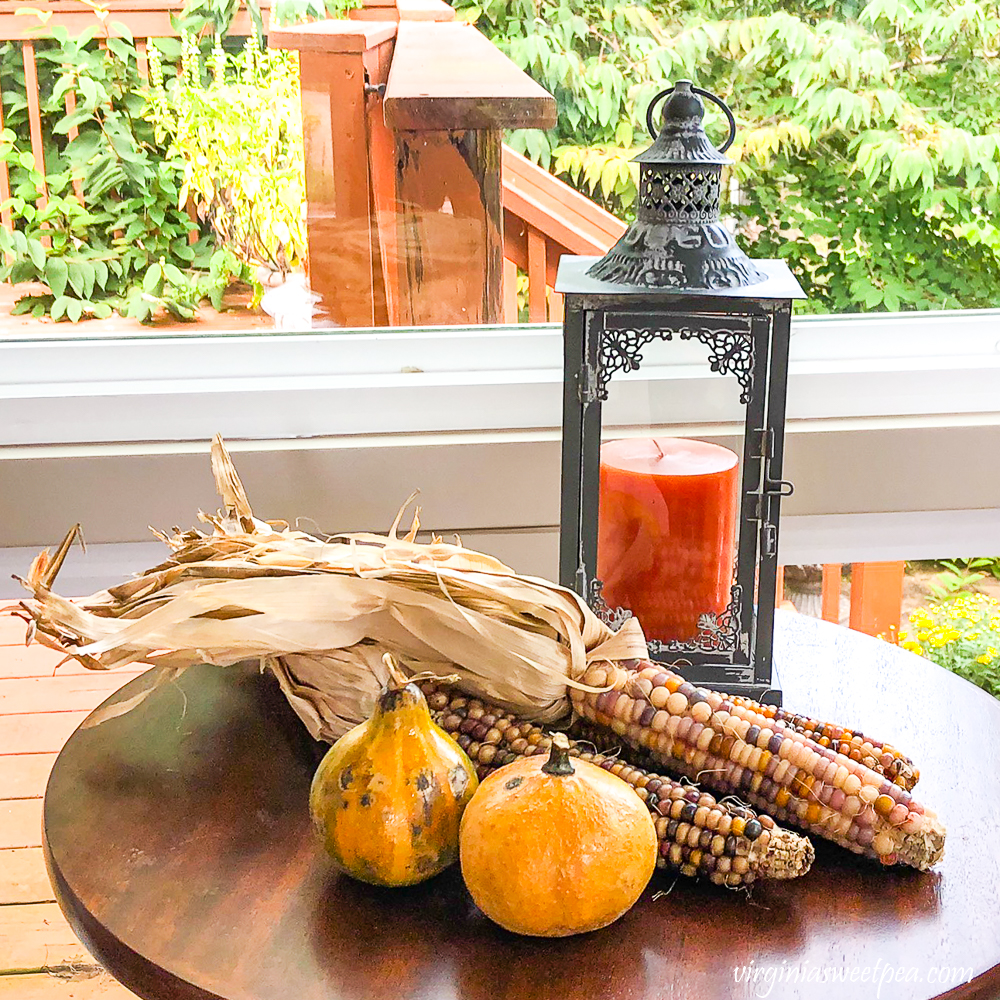 We'll now head back into the house to see our family room and breakfast room. A trip through our kitchen is necessary to get to those rooms but there is no fall decor in that room, so we'll skip a tour of it.
Fall Decor in the Family Room
Our family room is where we spend our evenings, relaxing on our sofas and watching shows on TV. Our latest show that we just finished was Yellowstone, which we both loved.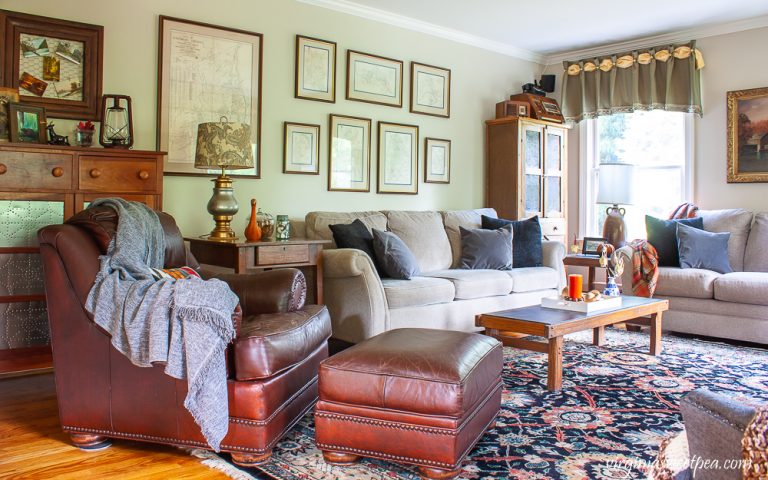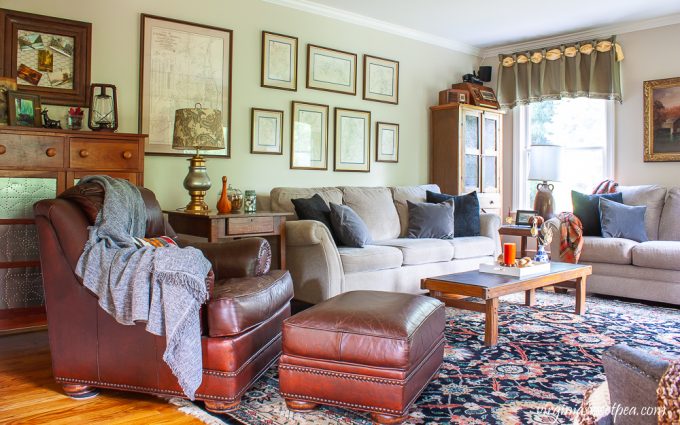 The coffee table and end tables are from 1968, purchased when my mom and dad got married. I've worked many a puzzle, played a lot of cards, and eaten many a meal at that coffee table over the years.
My mom still has the sofa, recliner, and side chair that match this set.
You can read about the tray on the coffee table and how I decorated it for fall in this post.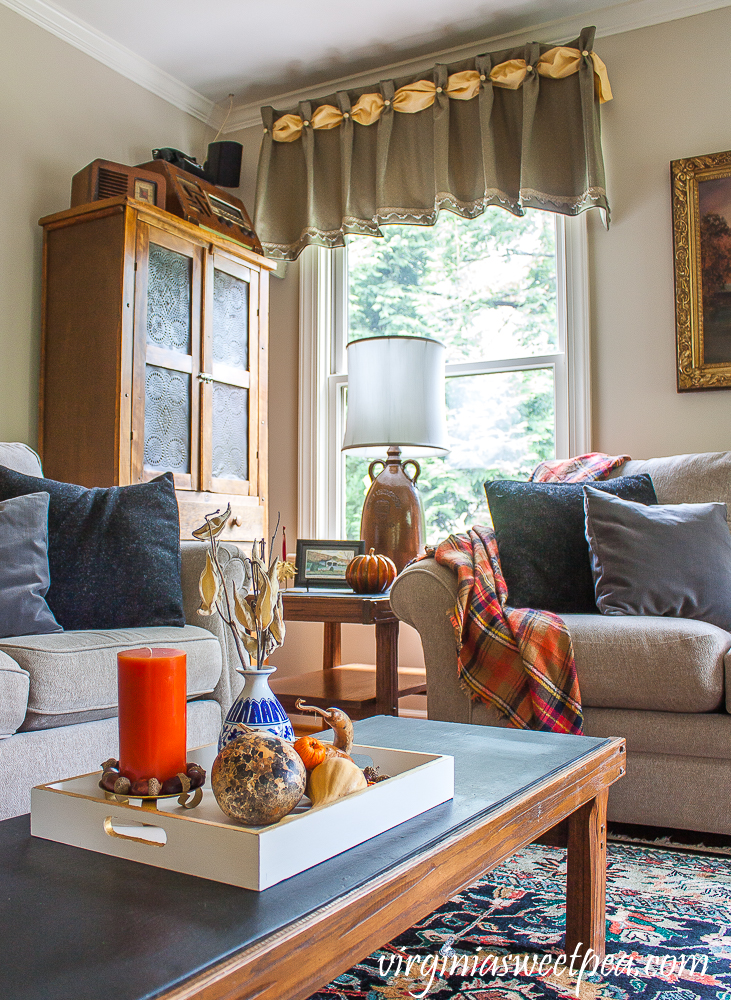 The sofa with the plaid blanket scarf is where I spend my evenings.
The framed postcard is another Vermont covered bridge, this one the Pulp Mill Covered Bridge in Middlebury.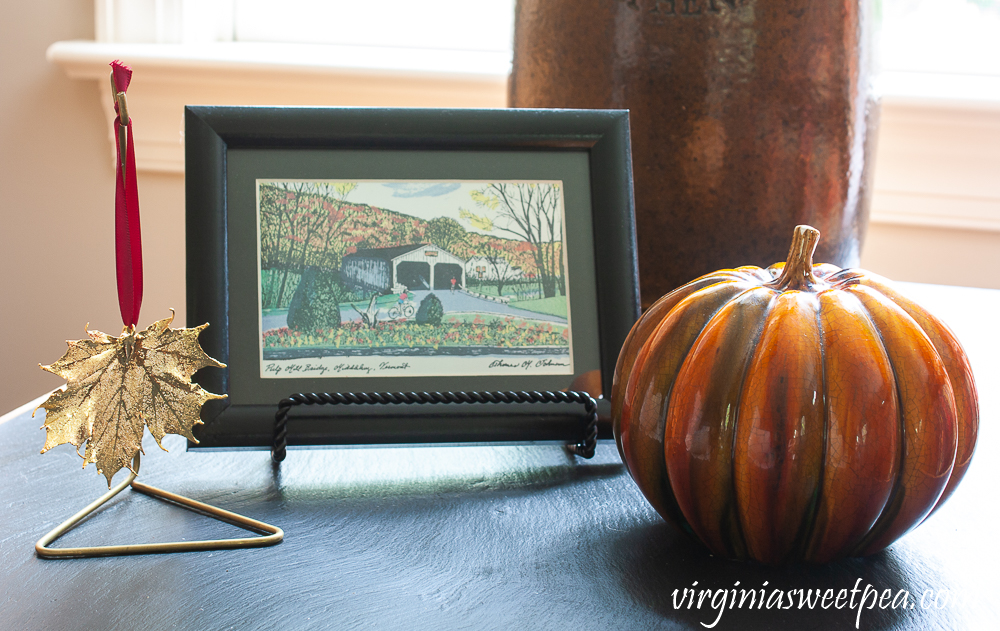 We've ridden our bikes through this bridge on past bike tours.
The Sugar Maple ornament is a souvenir from a Vermont vacation.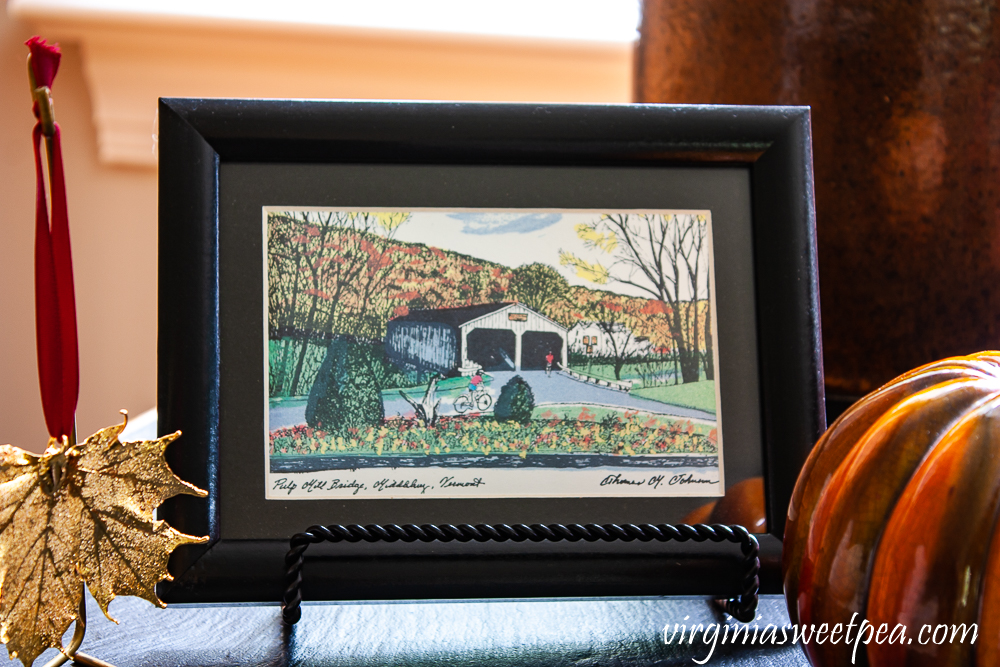 The matching 1968 end table to the right of the sofa is also decorated for fall.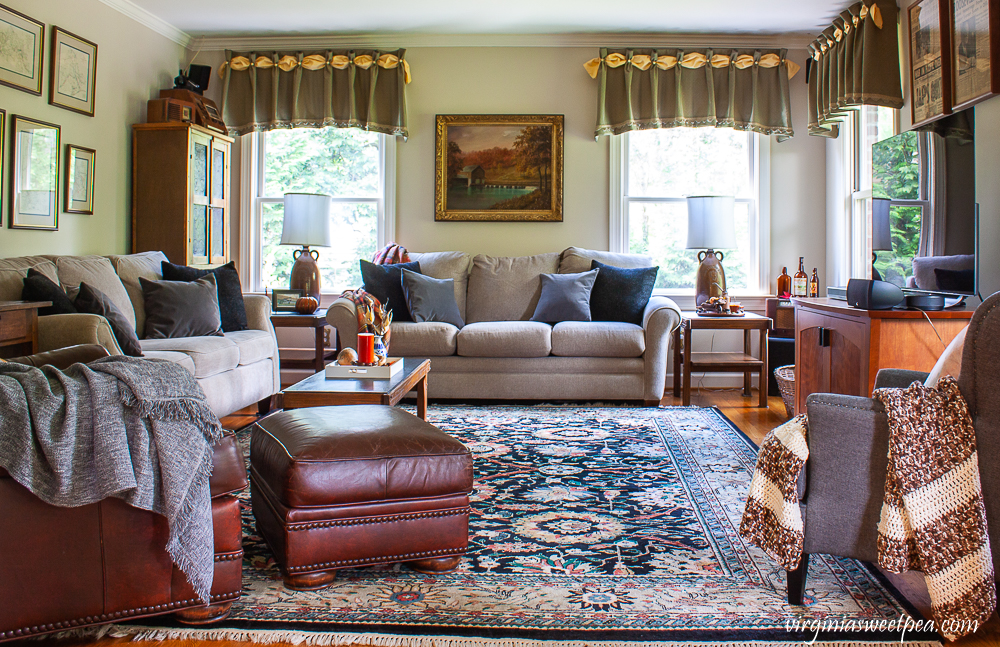 You've probably figured out that we love to travel to Vermont. Our TV console is a handmade Vermont piece that Mr. SP spotted one year and had to have.
One more thing before I show you the end table fall decor, the cream and brown throw on the gray chair is a prayer shawl made with love by a group of women in my aunt's Poquoson, VA church. They sent it to me when they learned about my brain gamma knife procedure in July. I had to display it as it meant so much to me to be thought of and prayed for by this special group of ladies.
I love to look around my house to find things that I can use for decorating that weren't meant to be a decor item like this vintage oil can.
I found it in our furnace room on a shelf and Mr. SP thinks that the former owner left it there.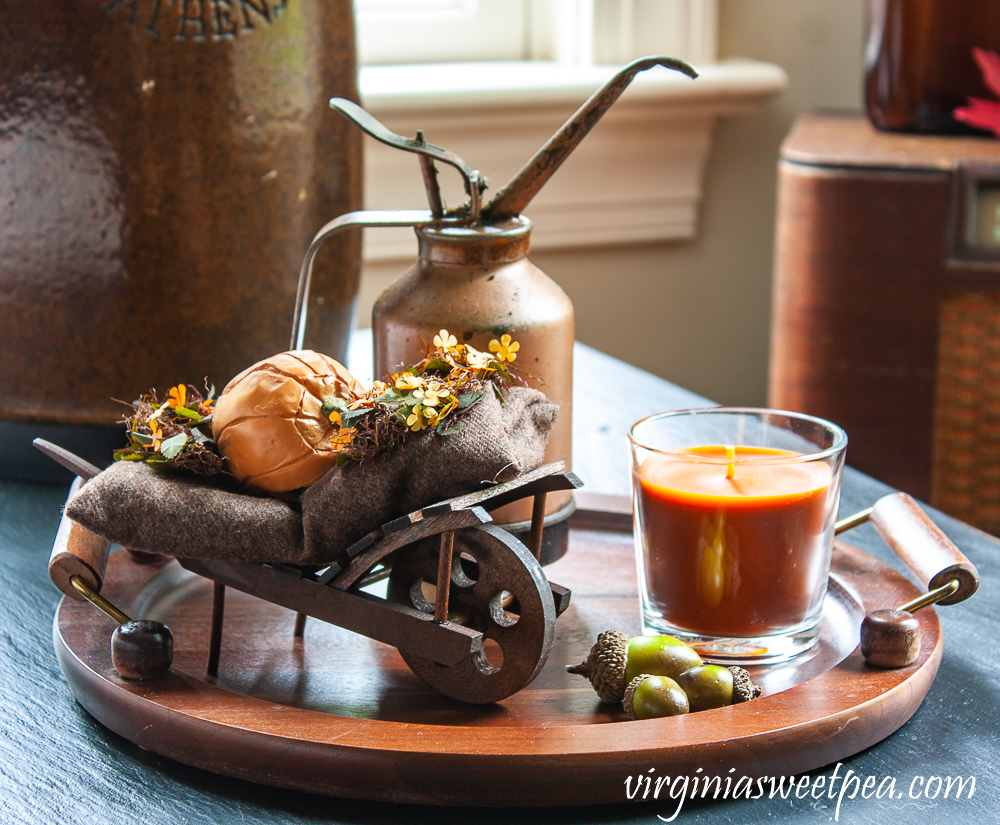 The tray was my grandmother's and the wheelbarrow a Byer's Choice fall piece.
On the vintage radio in the corner, I displayed three vintage bottles.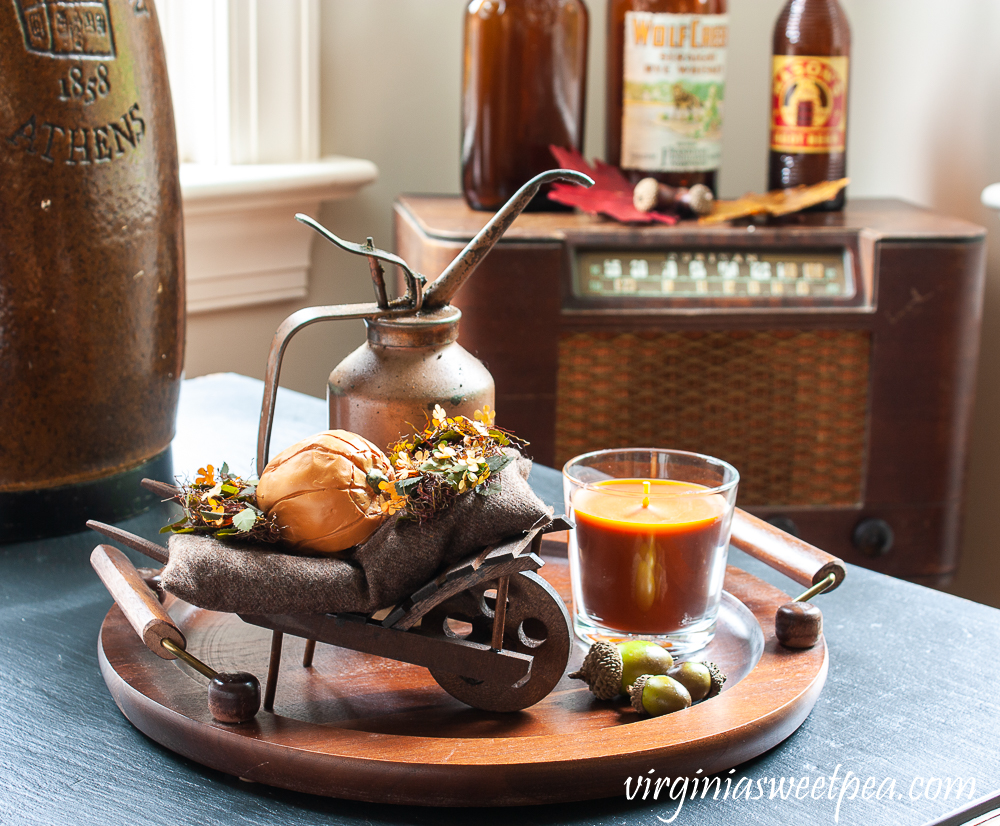 Two of the bottles held liquor and one root beer.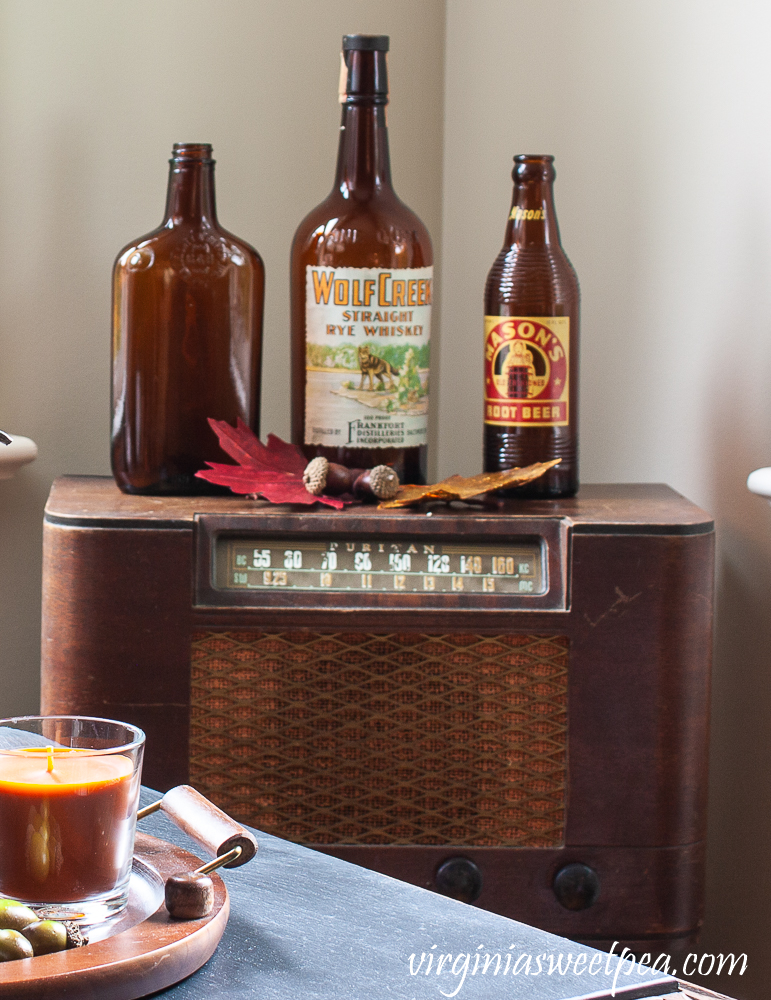 This corner of the room has been claimed by Sherman. At night he sits in "his" leather chair and snoozes while we watch TV.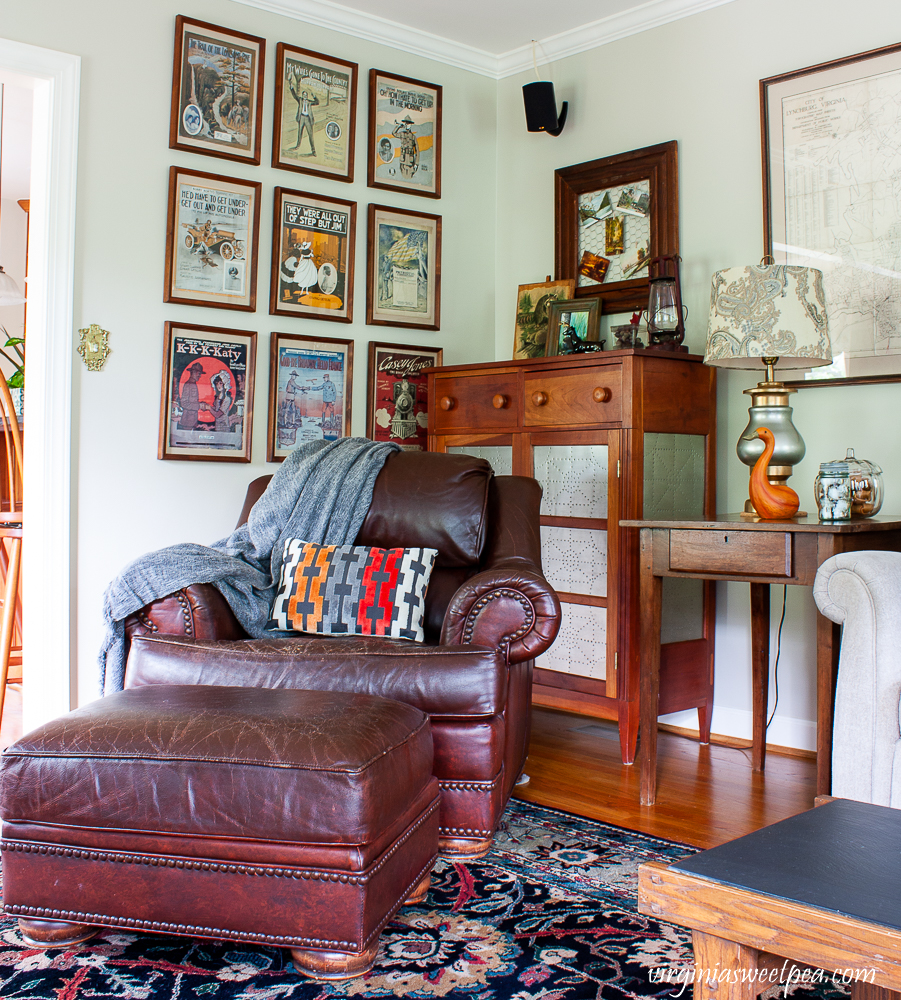 The framed sheet music is from the early 1900s and belonged to "Cousin Maggie" who grew up in my mom's 1912 home.
The pie safe is made from cherry harvested on the farm where my granddad grew up. The farm is still in the family and in operation.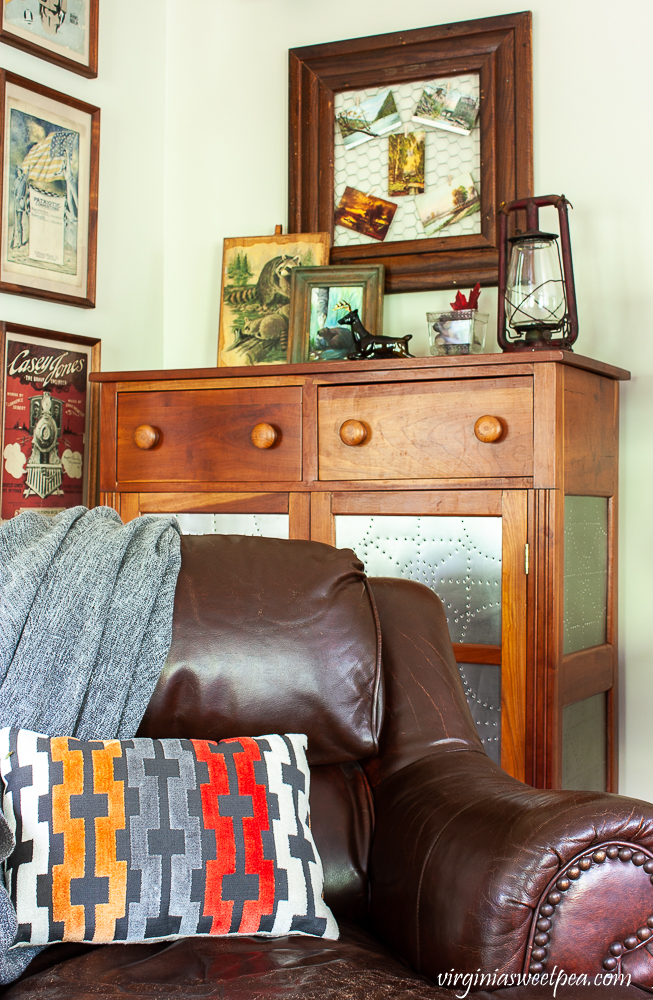 The pie safe is decorated rustically for fall.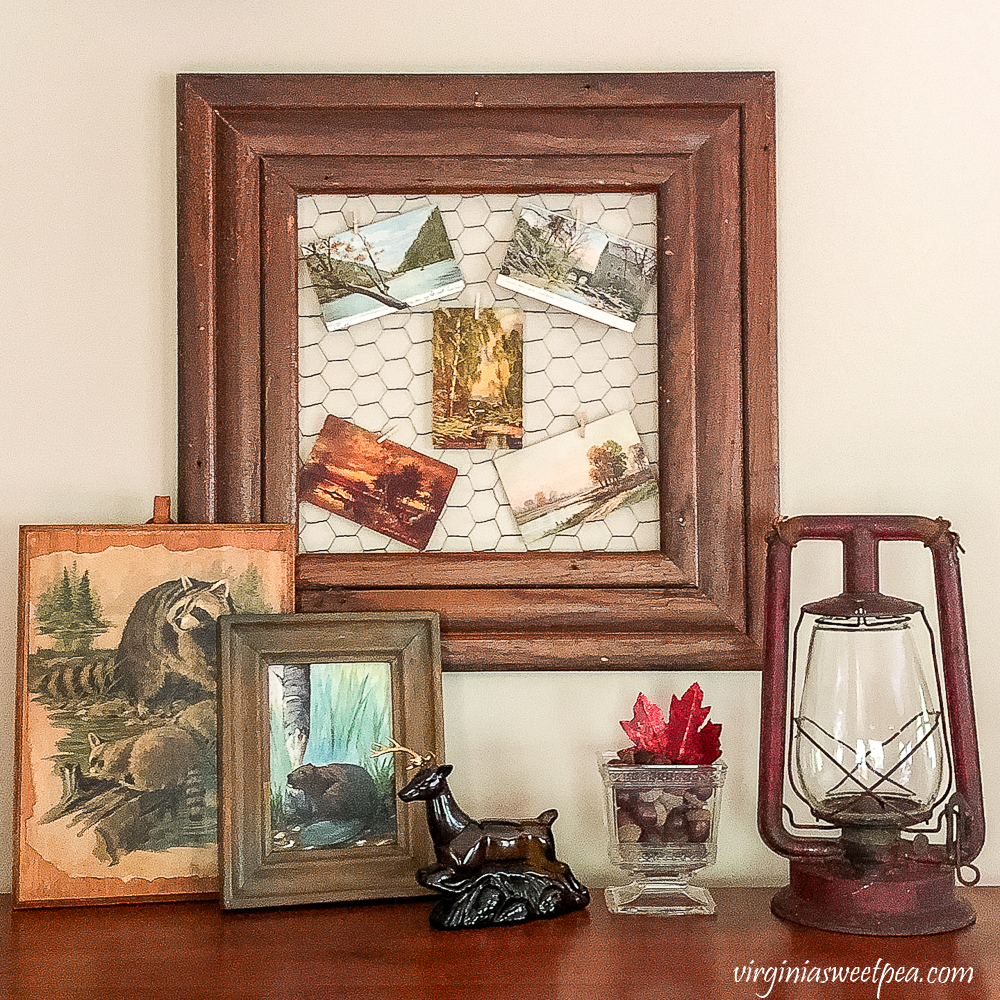 When decoupage was hot in the 1970s, my mom made this raccoon art. I remember her burning the edges of prints like this and then decoupaging them to boards that my dad cut and routed the edges of for her.
She also decoupaged purses like this one but I digress. I'm pretty sure that my decoupaged purse is in my attic.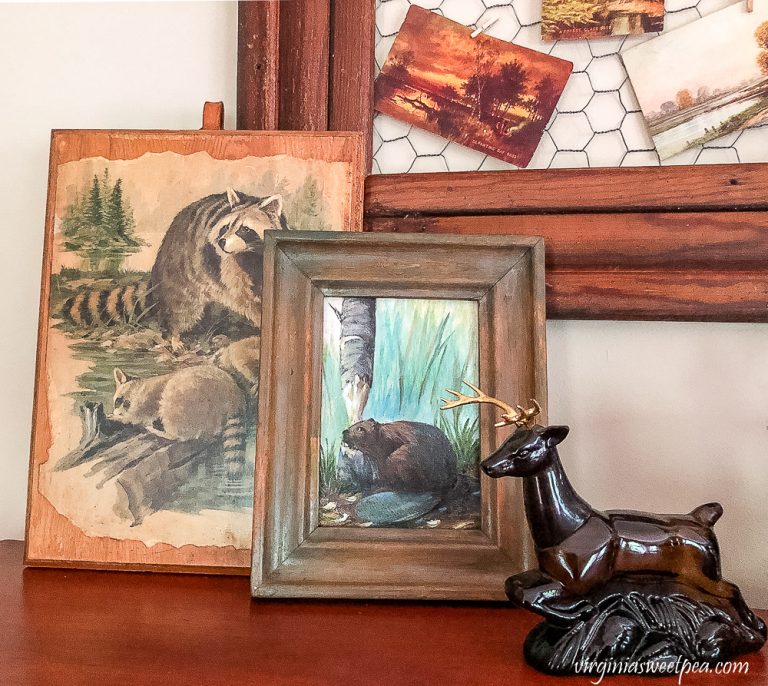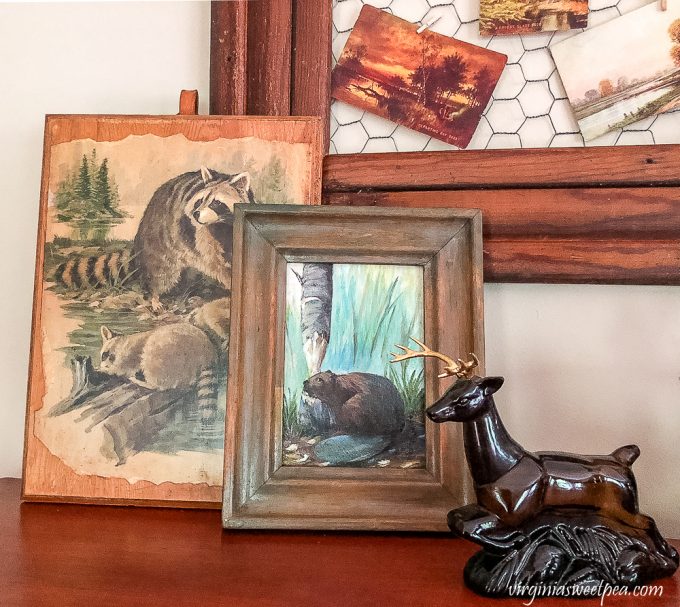 The beaver is an original that Mama bought long ago at a yard sale. The Avon stag cologne bottle was an antique shop find.
My granddad's lantern and a vintage compote filled with acorns and a fall leaf complete this fall vignette.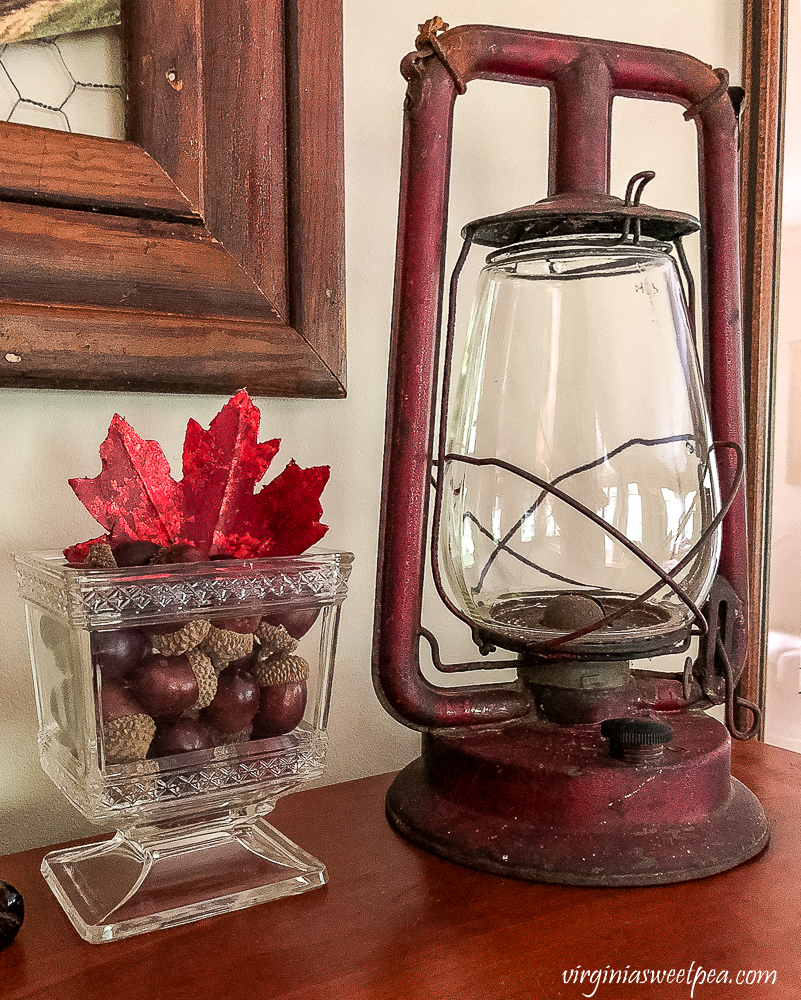 Over the pie safe is a display of early 1900s postcards with scenes that look like fall.
Lynchburg is on the banks of the James River.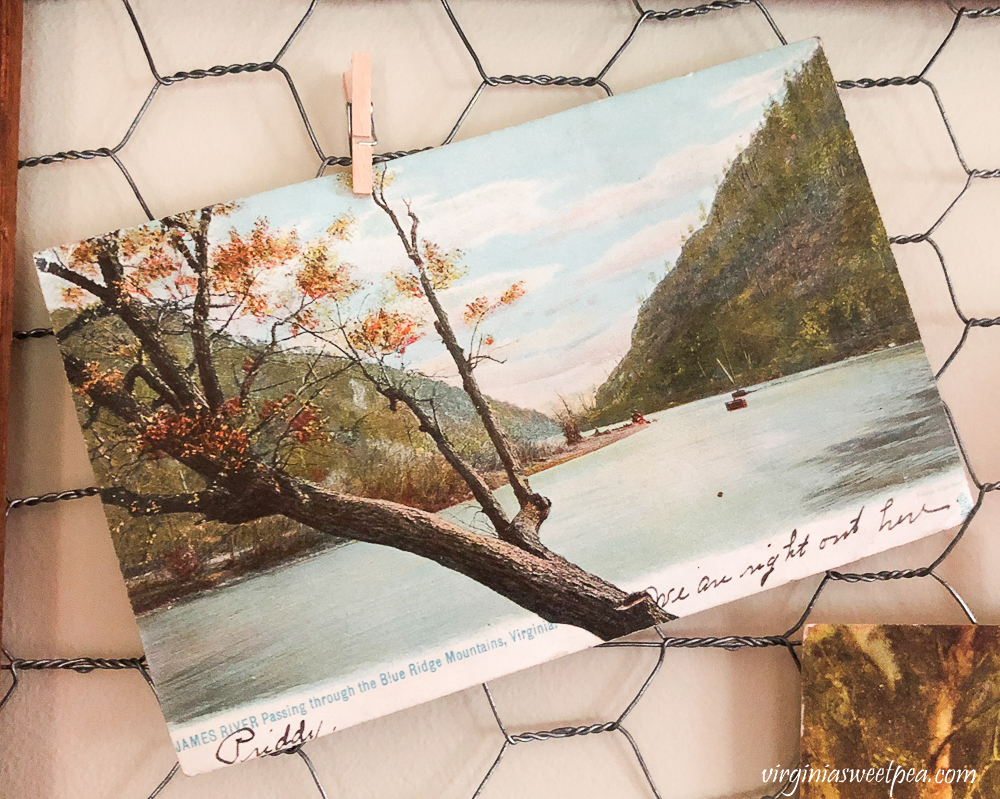 This pretty fall scene is definitely not from my area as it is flat. Lynchburg's nickname is the 7 Hills City, so if it were my area, you'd see hills and mountains.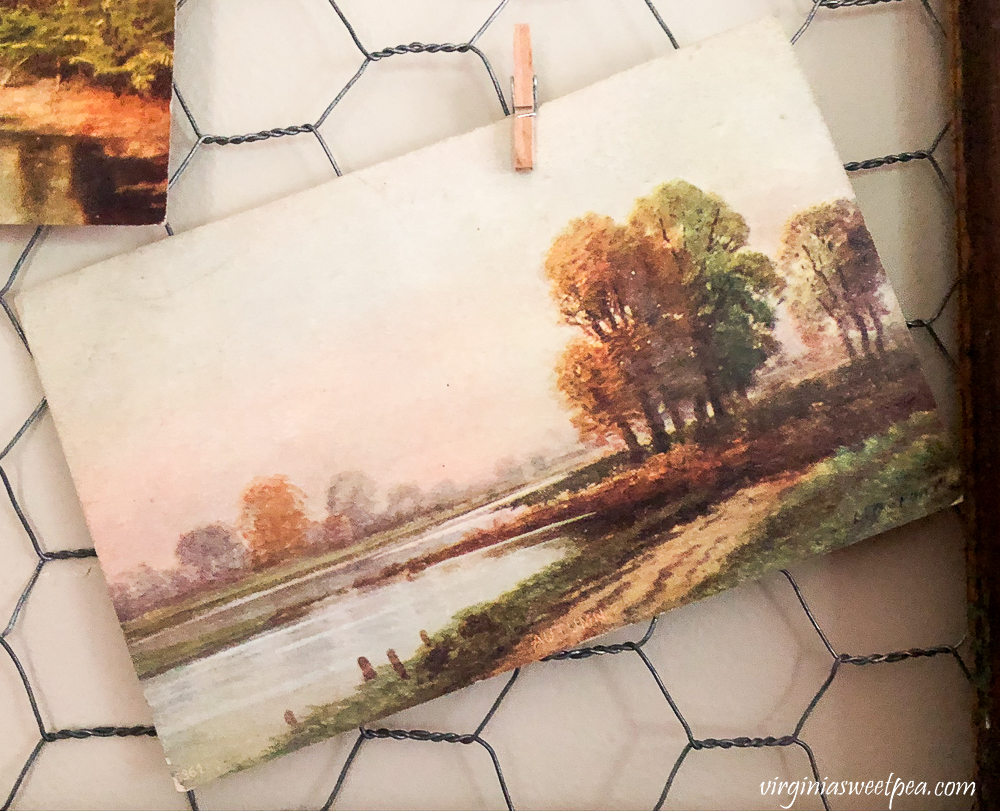 Galt's Mill is still standing though not in great shape.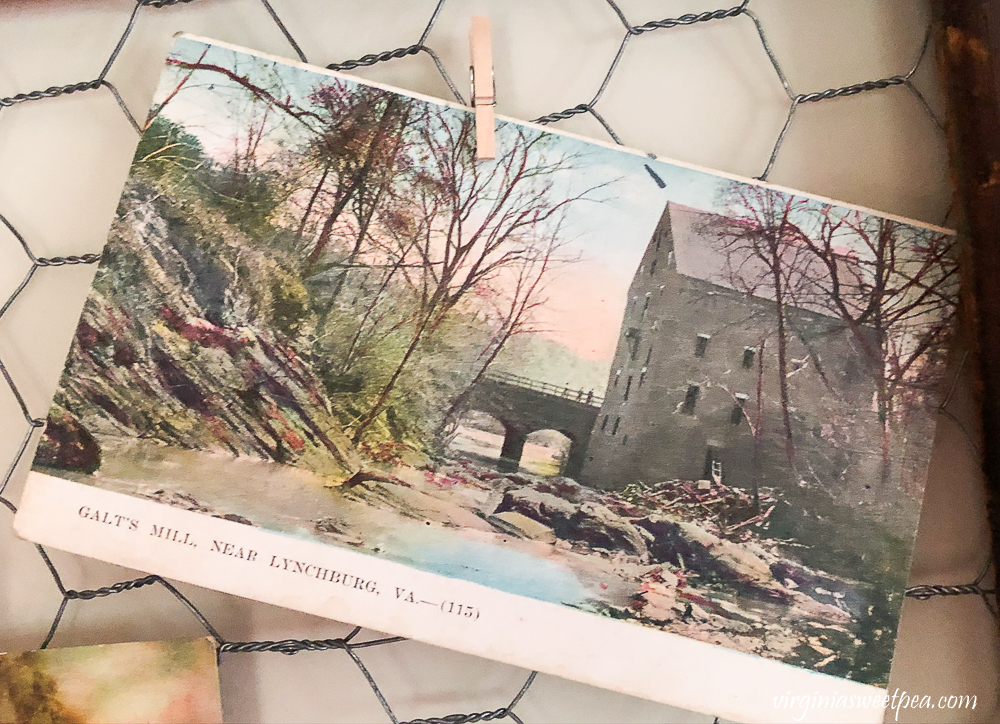 I can't think about fall without thinking about hunting season. If I had put this picture on my SmartBoard when I was teaching, instinctively, half of the kids in each class would pretend to shoot it. I loved teaching my country kids!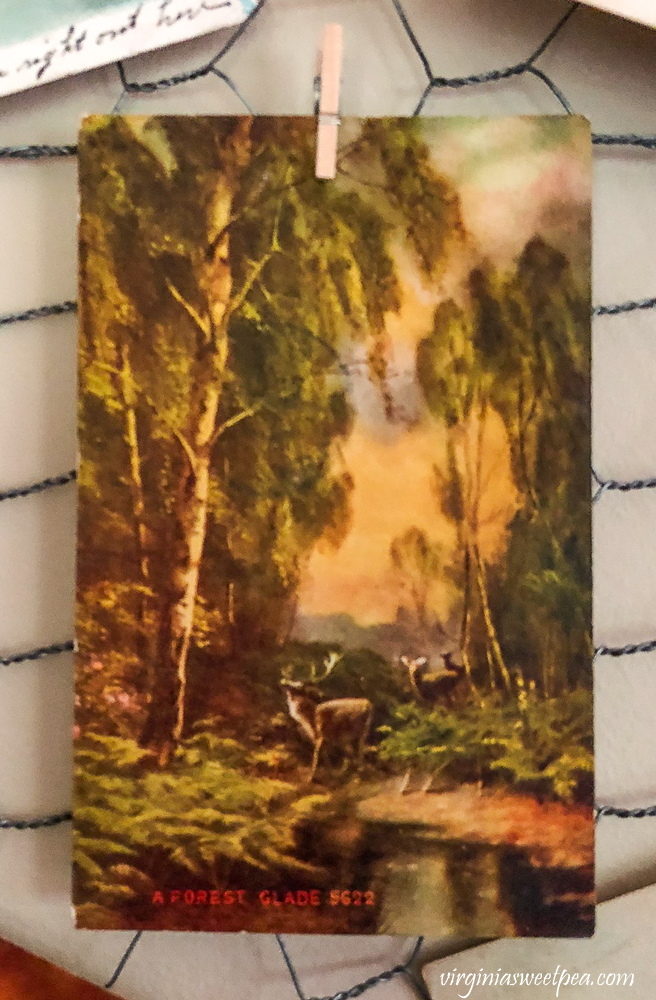 All of my postcards are family items, saved and collected by my grandmother and great-great-aunts.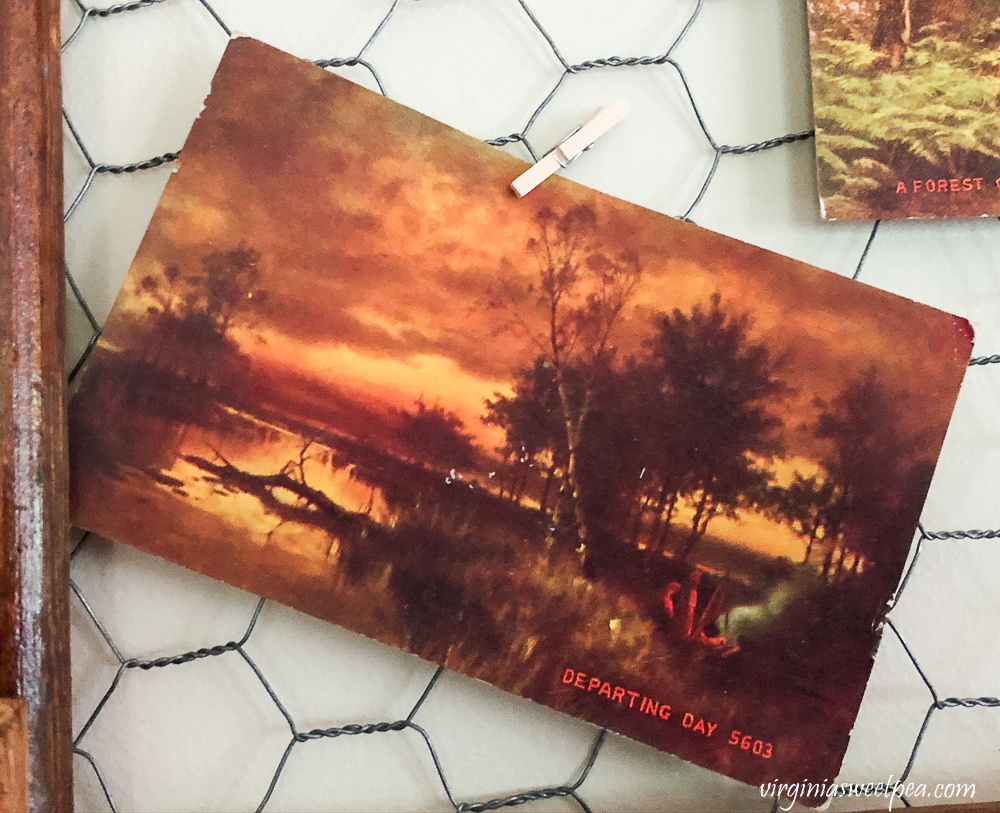 We have one more spot to see on my fall home tour, our breakfast room which is in between our family room and kitchen.
Fall Decor in the Breakfast Room
Our breakfast room became Mr. SP's office in March. He is now back at the office with the occasional work at home day on this table.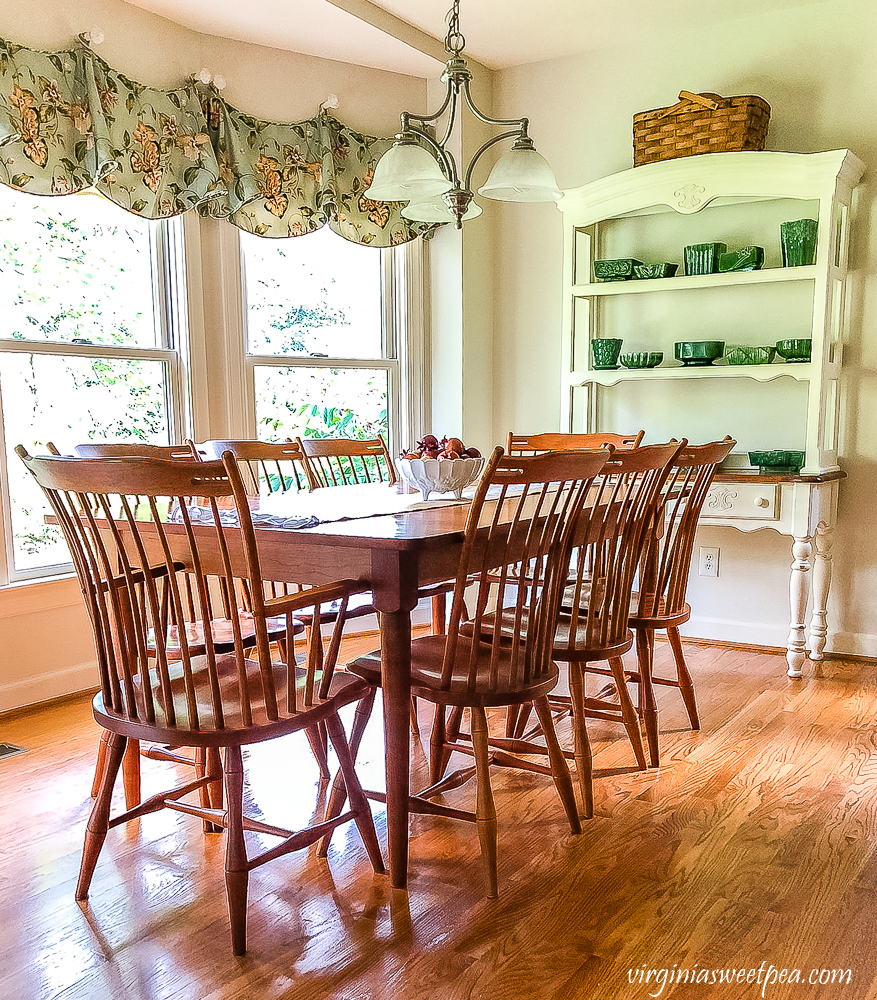 The only decor that I've done so far for fall in this room is a bowl of pomegranates on the table in a vintage milk glass compote.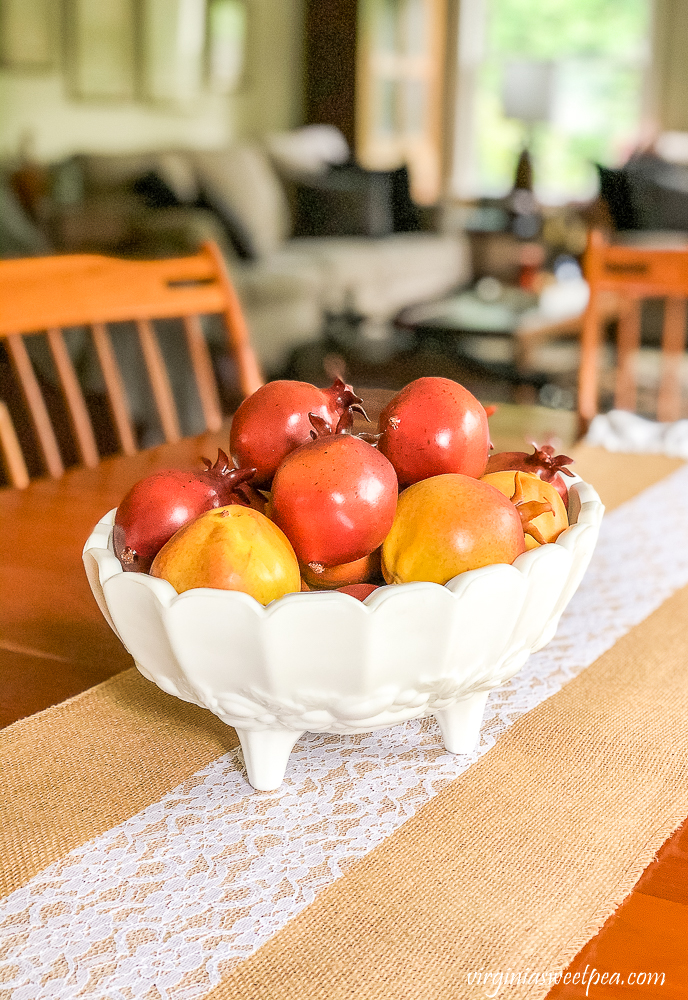 That concludes my fall home tour! Now it's time to tour the decorated for fall homes of my friends.
If you are hopping in order, next on the tour is my friend Kelly from The Tattered Pew. I love Kelly's style and visiting her blog is always a pleasure.

Sharing with me today…
Monday

Sweet Pea // The Tattered Pew // My Thrift Store Addiction
Shiplap and Shells // Stone Gable // Dabbling and Decorating
And sharing the rest of the week…
Tuesday
The Happy Housie // The Aspiring Home // Mint Candy Designs
This Is Simplicite // She Gave It A Go // Vintage Society Co.
Wednesday

Worthing Court // Kate Pearce Vintage //
A Blue Nest // Caitlin Marie Designs // Inspiration For Moms
Thursday

Aratari At Home // My Wee Abode // Midwest Life and Style
Simply2Moms // Stacy Ling | Bricks 'n Blooms // Open Doors Open Hearts
Friday

Up To Date Interiors // Simply Styled Inspo. // Love Create Celebrate

Noting Grace // White Arrows Home // Dans Le Lakehouse// Casa Watkins Living