Easy Burlap and Lace Table Runner
Can you believe that summer is winding down? Say it isn't so! I'm back at school and even though it is still summer, I feel like it is over now that I'm back at work. August can be a decor challenge since it's too early for fall but many are tired of summer. Over the weekend, I crafted an easy burlap and lace table runner that's perfect for making the transition from summer to fall decor.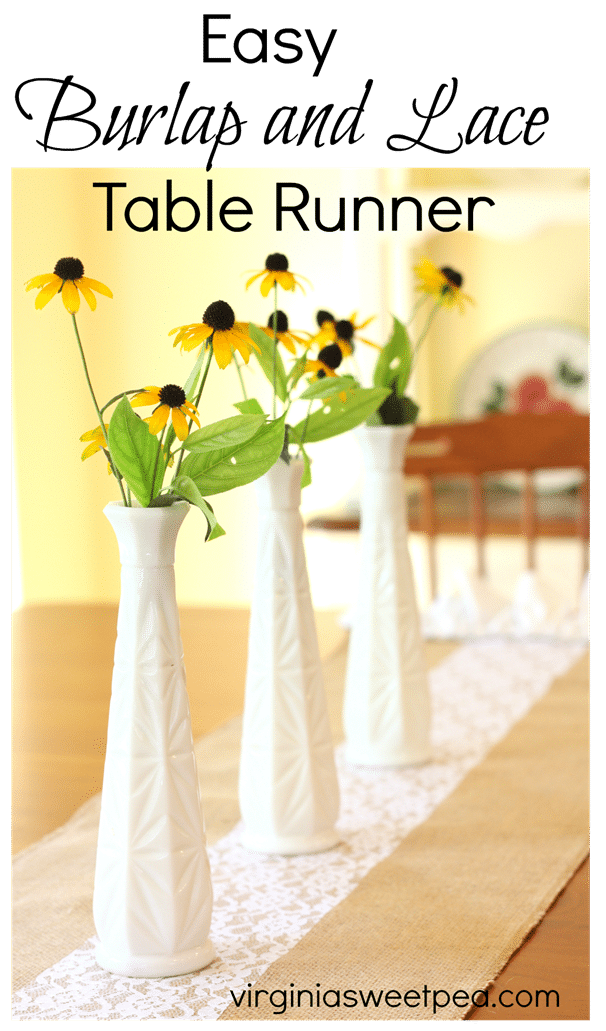 I made this easy table runner in about 30 minutes after school on Friday.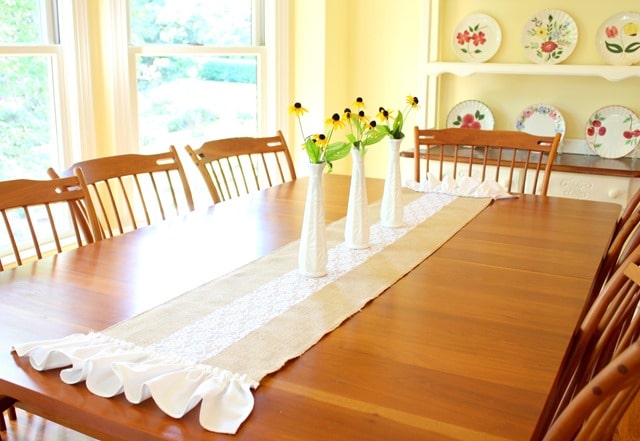 Back in the spring, I swapped out a handmade cherry pie safe for farmhouse style hutch in our kitchen. My new table runner complements the farmhouse look that the hutch gives this space. (I want a new light fixture but that's another story.)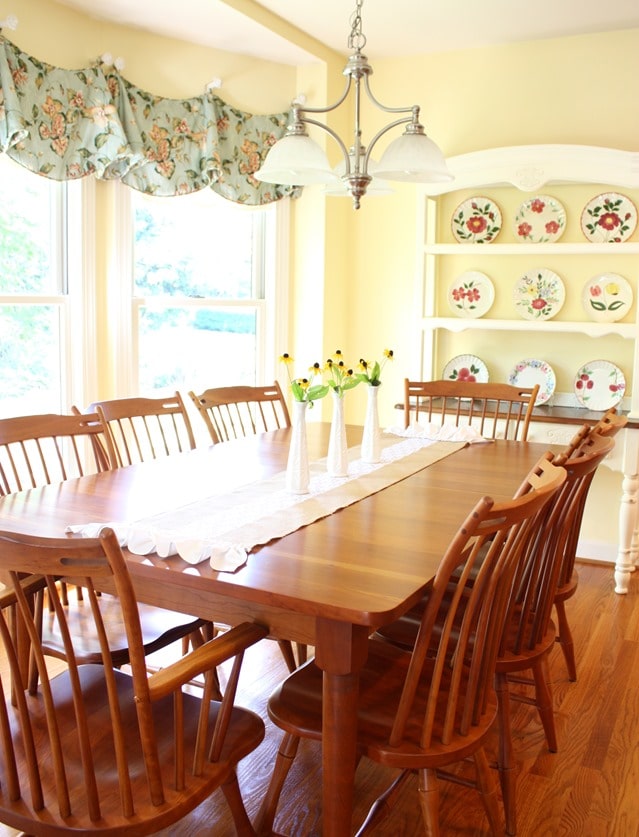 A few of my grandmother's milk glass vases filled with flowers from my yard make a pretty end of summer display. This runner can easily transition to fall by adding mums to the vases or a wooden bowl full of gourds.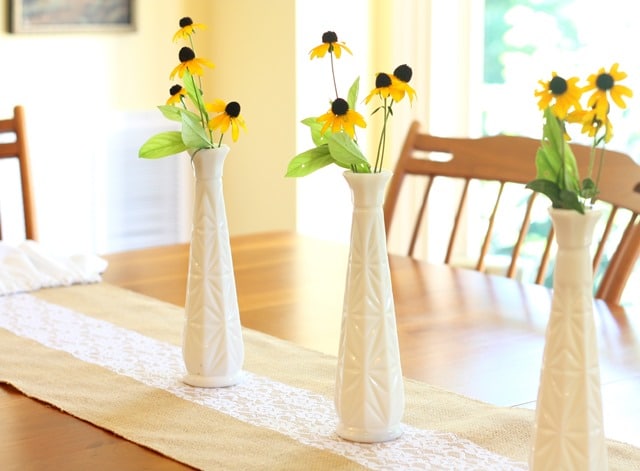 I added a ruffle to the end of the runner to add interest. I really like the look of burlap softened by lace and ruffles.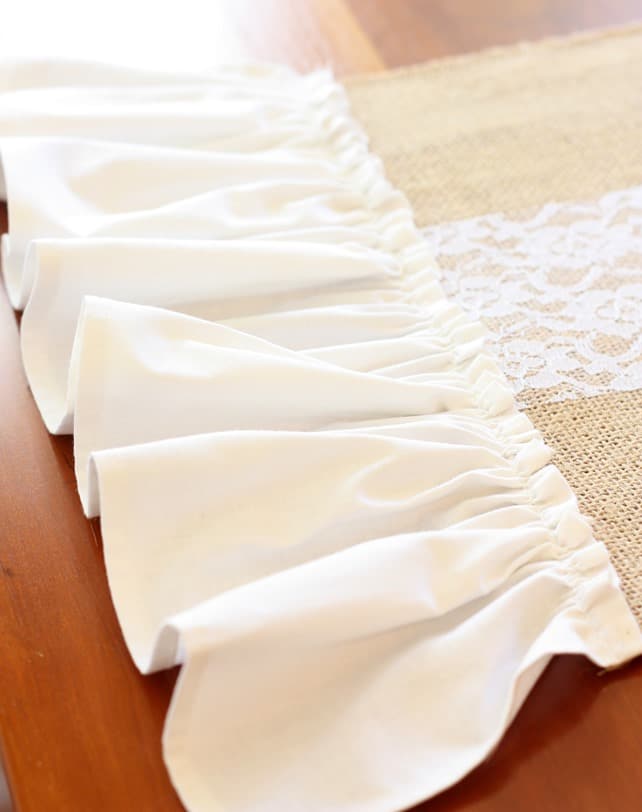 If you are like me and also like ruffles, check out my ruffled table runner.
How to Make an Easy Burlap and Lace Table Runner
Making this runner was super simple and took less than 30 minutes!
Materials
Unwired Lace Embellished Burlap (I got mine at Walmart in the wedding section.)
White Fabric (Mine is leftover curtain lining.)
Basic Sewing Supplies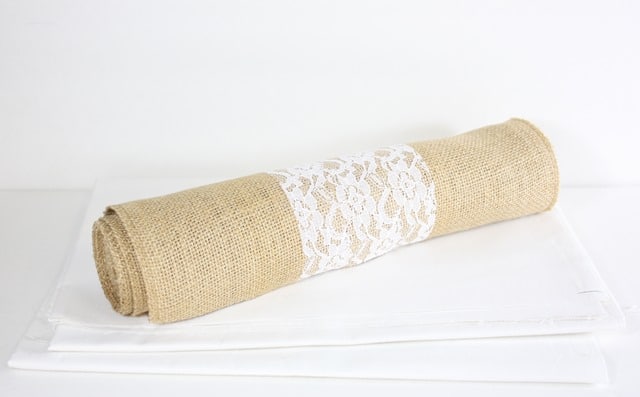 Procedure
1. Decide how long you want your runner to be.
My table is 68". I wanted two inches of table to show on either end of the ruffle, so my burlap was cut to 55". With the ruffle, the finished width of the runner is 64".
2. Cut and prep the ruffle pieces.
My finished ruffle is 5" x 12", so two strips of fabric were cut at 6" x 36". Six inches accounts for a half inch seam allowance on the top and bottom of the ruffle. I wanted the ruffle to be full, so I cut the fabric strip three times the width of the burlap. (12")
Hint: Use a rotary cutter and quilting ruler and quilting square to quickly measure and cut the pieces.
Fold the edges of the ruffle pieces under 1/4", ironing as you fold. Then fold over one more time at 1/4", again ironing the pieces in place.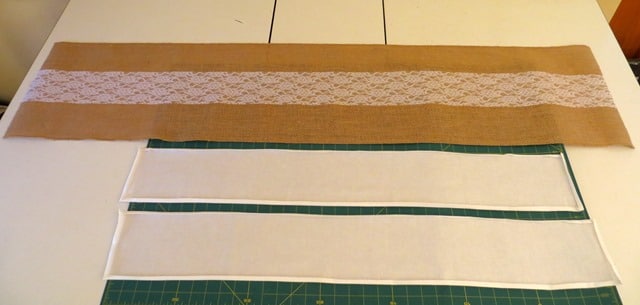 3. Make the ruffle.
Sew along all four edges of the ruffle pieces. Then increase your sewing machine's stitch length and sew just under one of the hemmed edges. You'll be able to gently pull one thread to create the ruffle.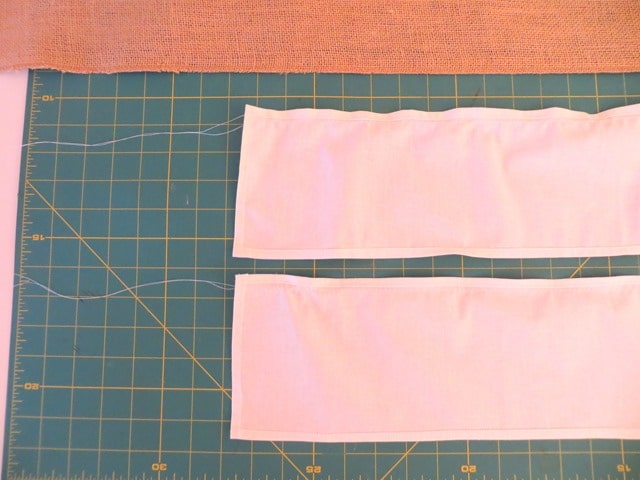 4. Sew the ruffle into place.
After pulling the threads to make the ruffle the correct width, 12" for my runner, sew it into place.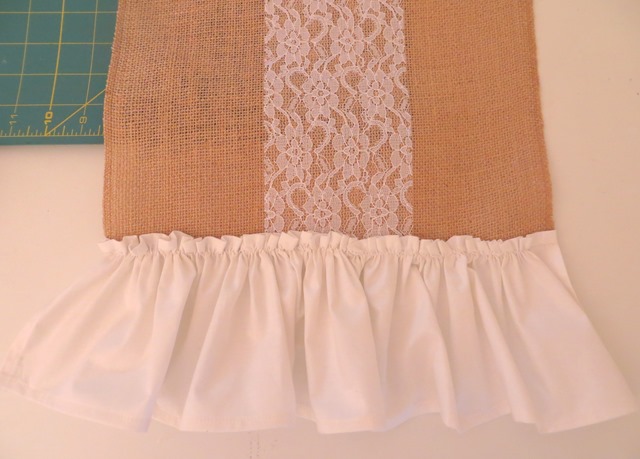 I'm so glad that I took a few minutes on Friday to make this easy burlap and lace table runner. I know that I'm going to enjoy using it for the rest of summer and into fall.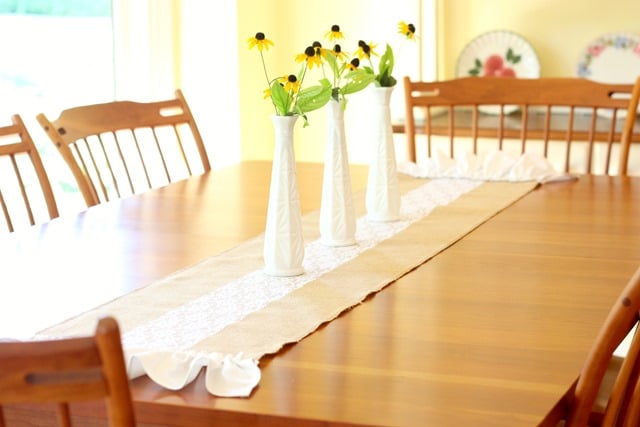 If you like this, I'd love for you to pin it for others to discover.