DIY Picture Frame Spring Wreath
A long time ago I purchased a few picture frames at a yard sale and never used them. For this month's Thrifty Style Team project, I used an oval picture frame to make a spring wreath.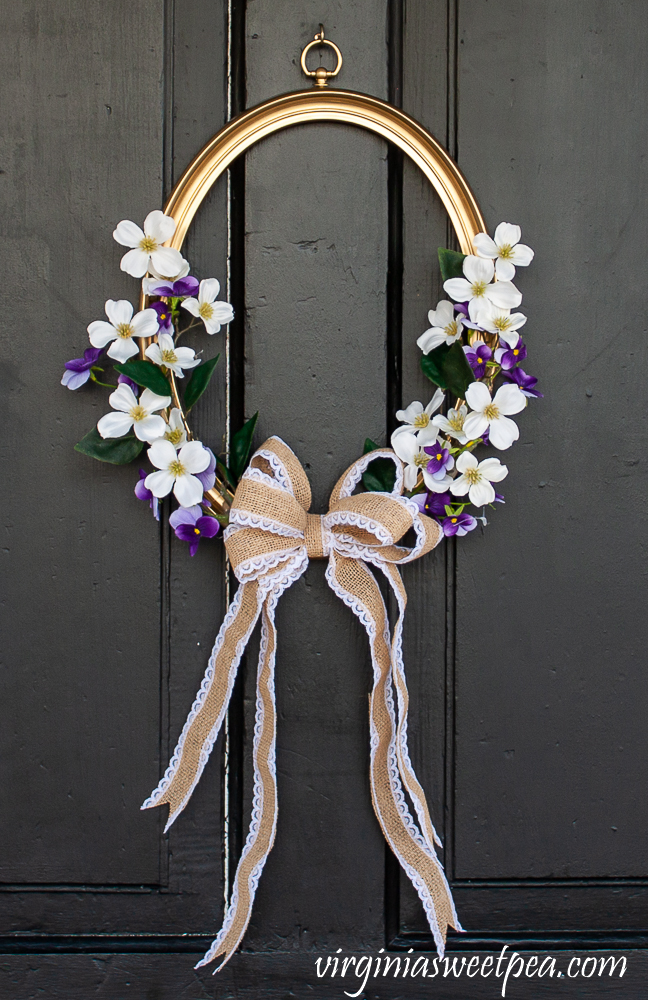 Last month I joined the Thrifty Style Team hosted by Julie of Redhead Can Decorate for the first time and shared a DIY Milk Glass Lamp Makeover.
The Thrifty Style Team shares thrifty projects on the second Friday of each month. You'll find links to all of the projects shared at the end of this post.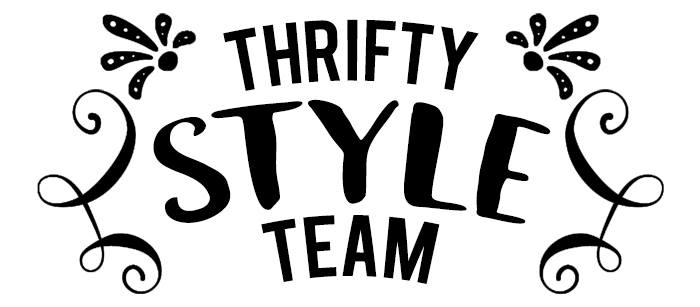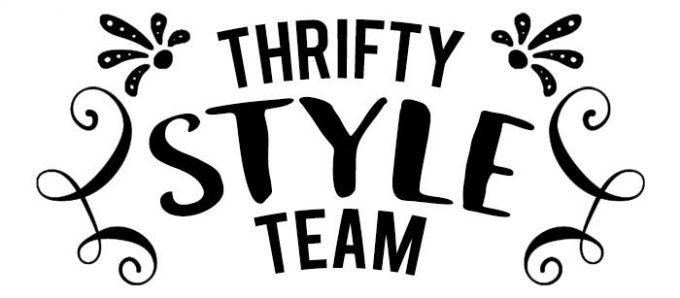 DIY Picture Frame Spring Wreath
This is an easy project. All that is needed to make this wreath is a picture frame, spray paint, faux florals, a glue gun, ribbon, and floral wire to make the bow.
How to Make a Picture Frame Wreath
Picture frames are commonly for sale at thrift shops. Mine was purchased without glass, but if yours has glass, carefully remove it.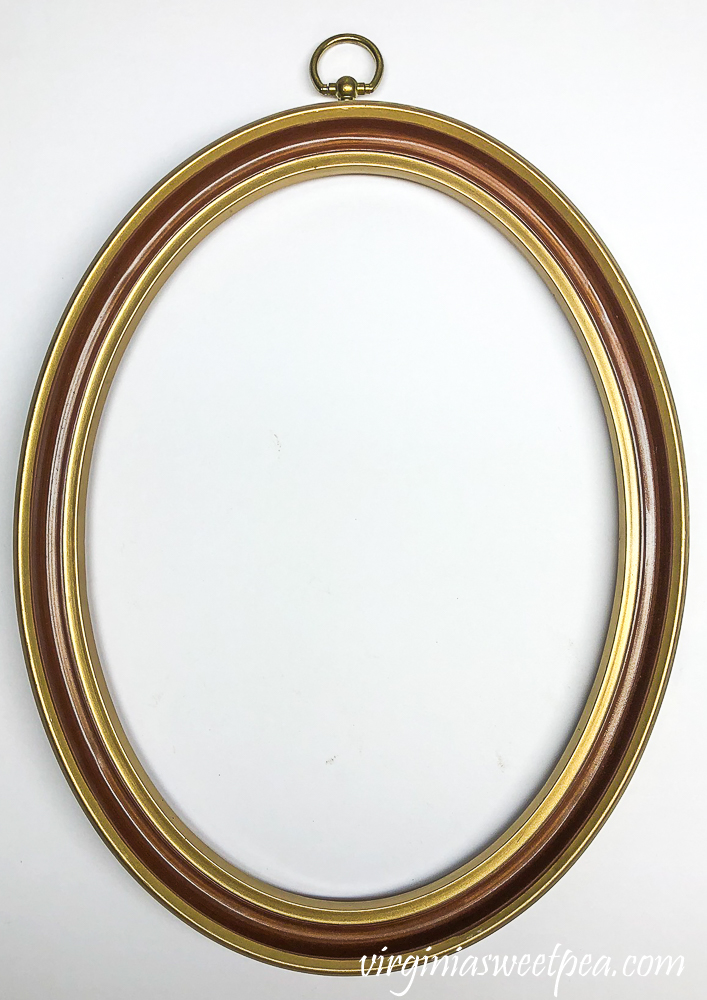 I paid $2.50 for this a few years ago and it's been in my attic ever since, just waiting to be used.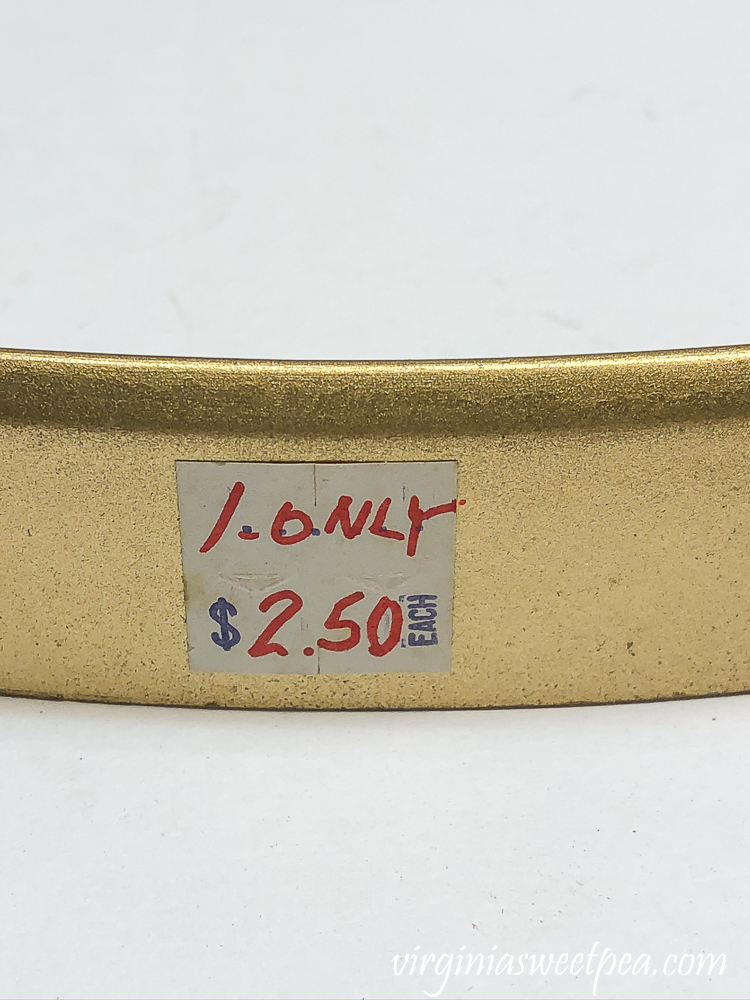 After wiping the frame down to get rid of the attic dust, it was painted with metallic gold spray paint.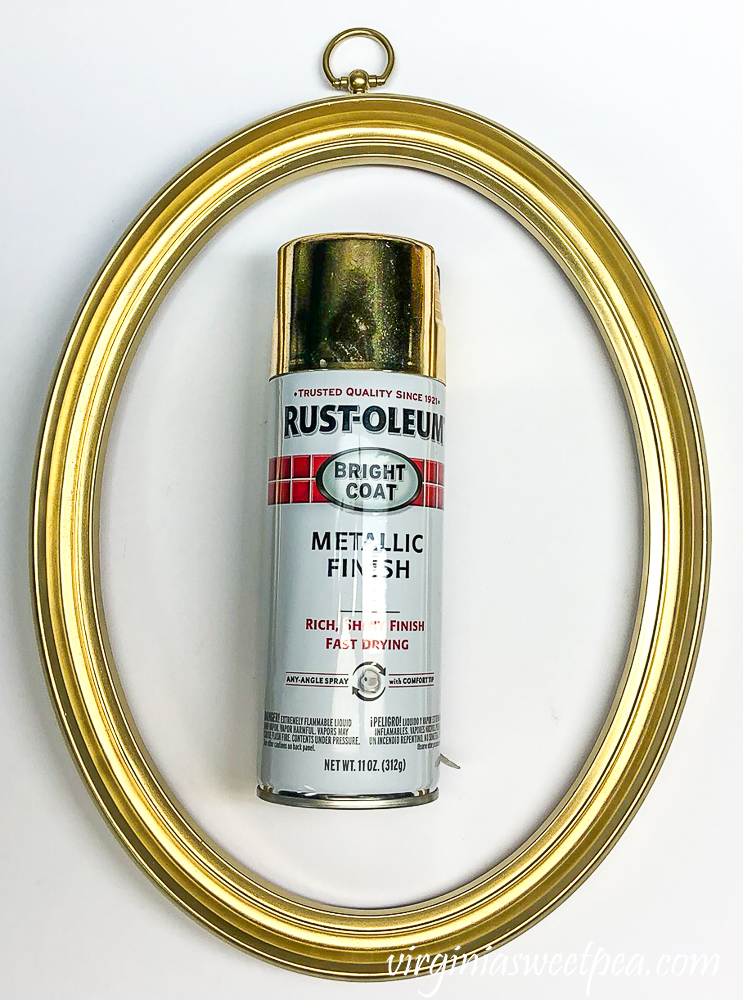 I then looked through my floral supplies and found some Dogwood and purple flowering branches. I didn't use the Hydrangea stems.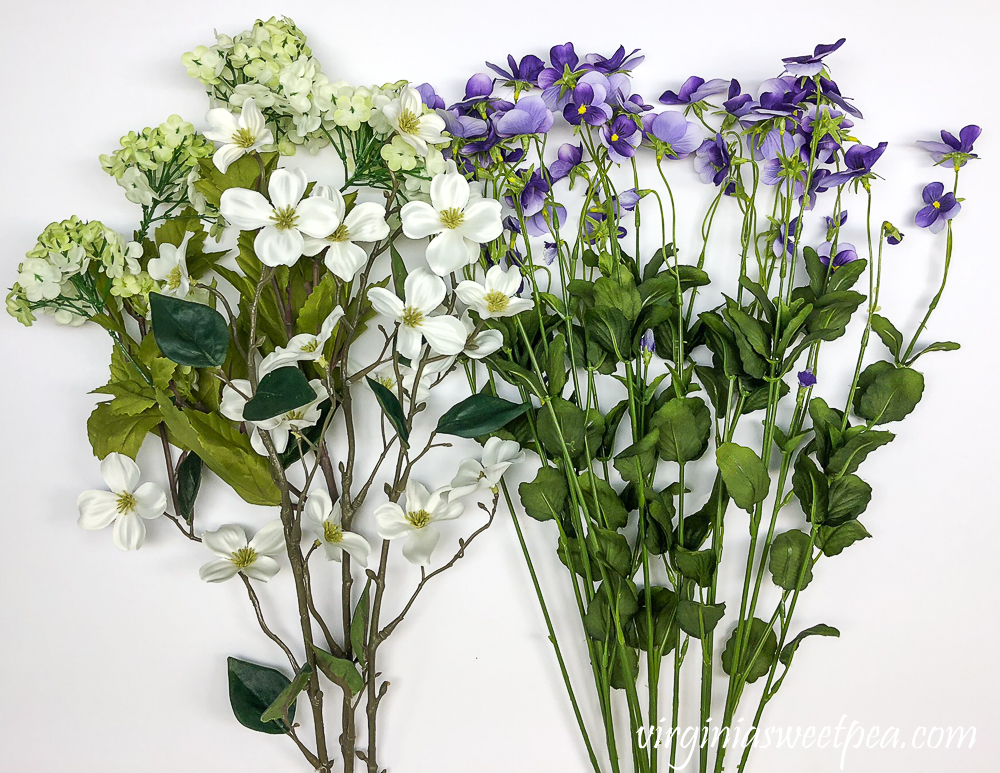 I cut short stems of both flowering branches and planned where I wanted to glue them along with the placement of the ribbon.
I planned on using this bow from my craft stash but ended up making another with burlap ribbon trimmed in lace.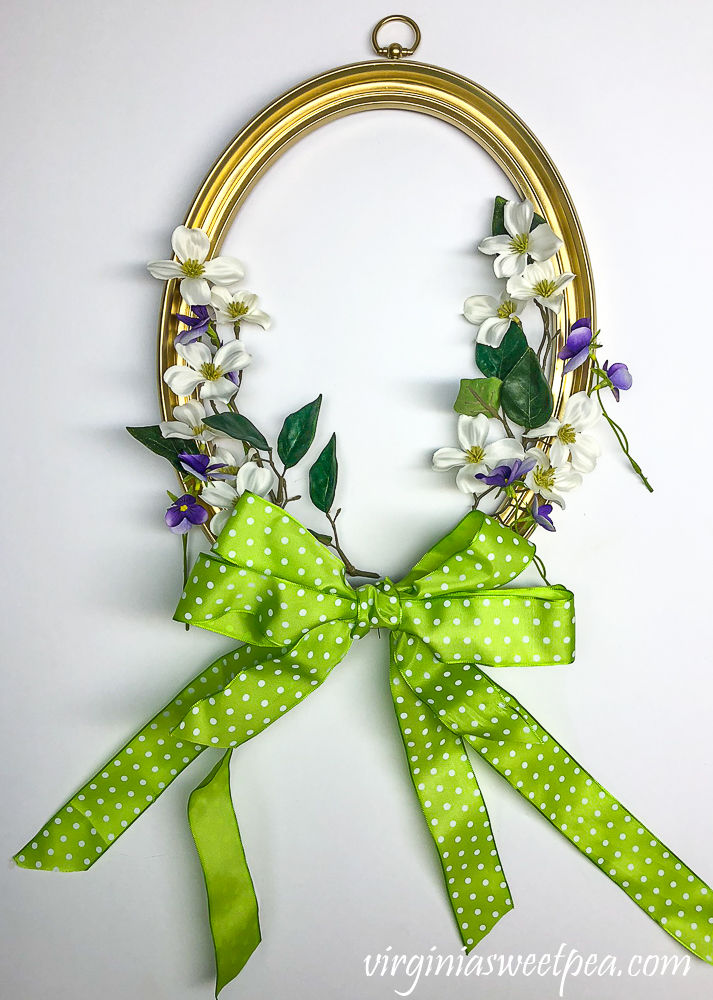 I then glued on the Dogwood stems.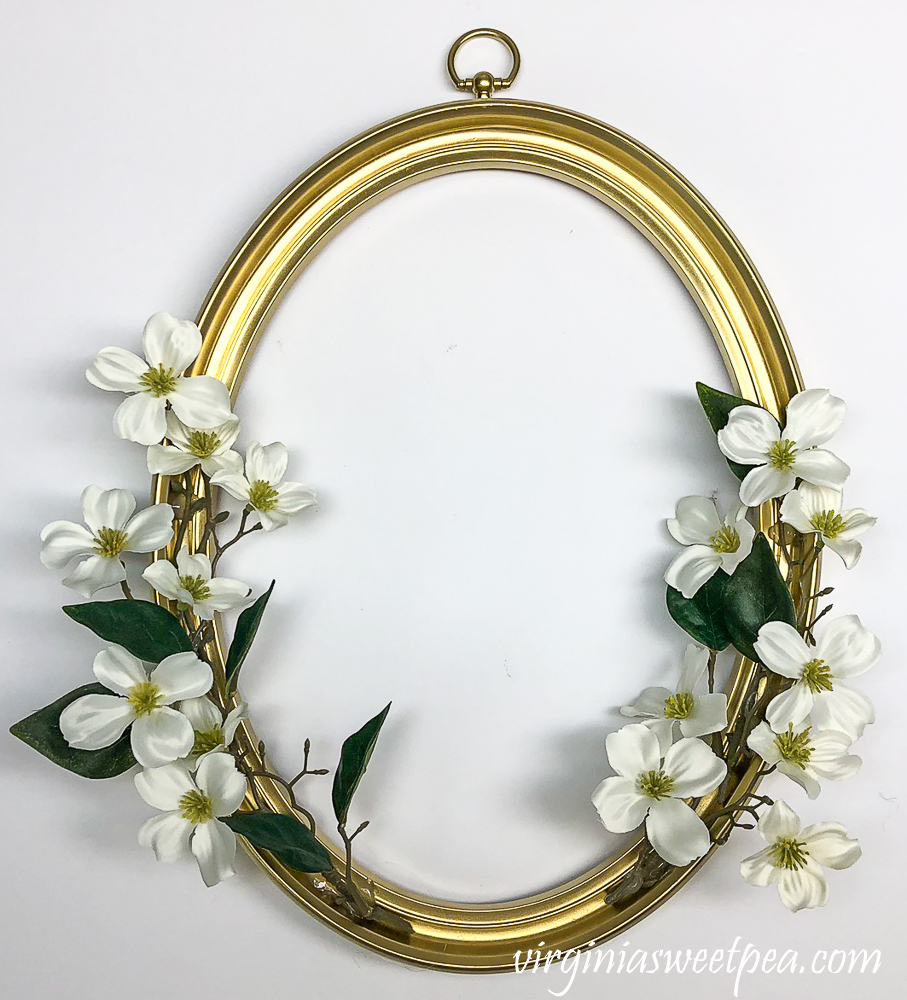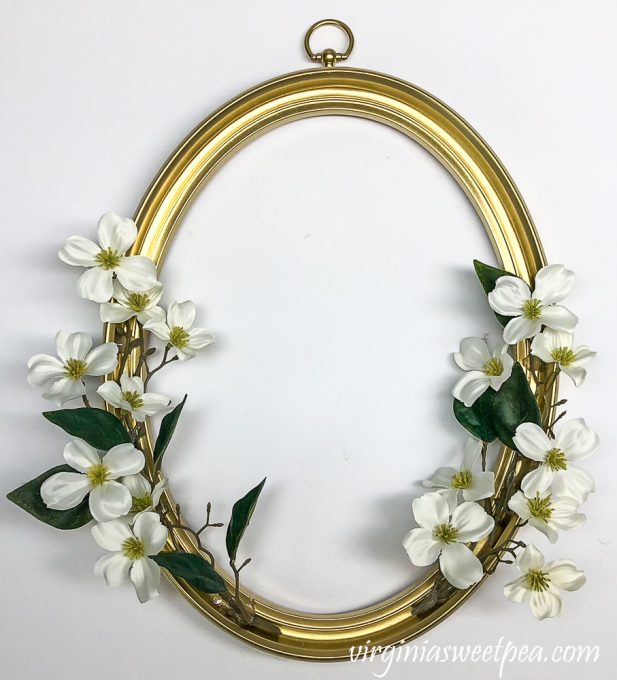 The purple flowers were then glued into place.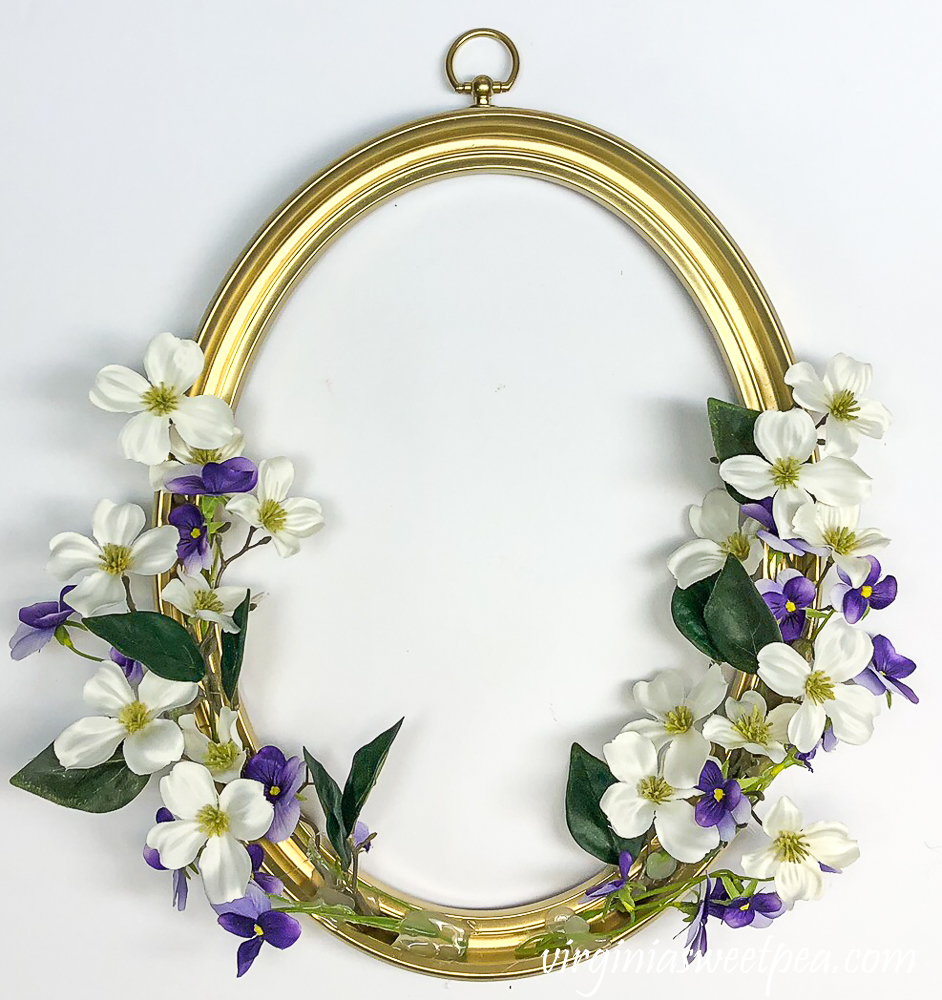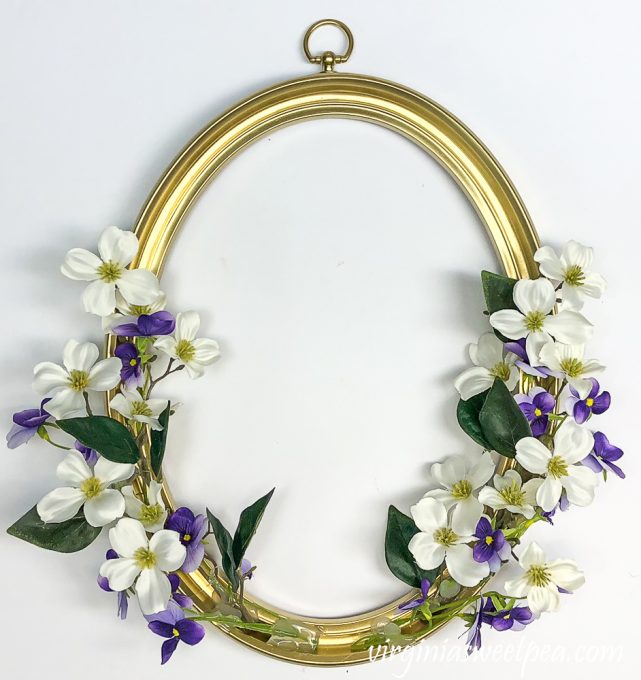 I glued my bow onto the frame but it also could be attached with floral wire.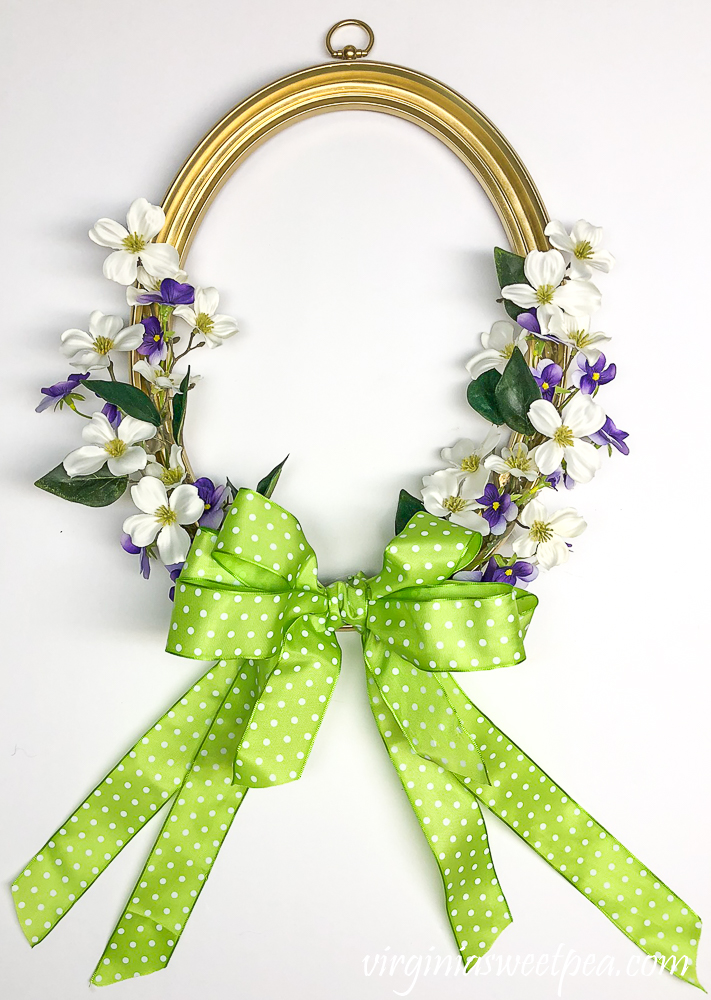 At this point, I had not spent a dime on this project since I had everything that I needed to make it in my stash.
I hung it on my porch and looked at it and it didn't seem quite right. I looked at it the next day and still wasn't satisfied with it, the bow just wasn't right.
I texted my crafty friend to get her opinion and she agreed that the green polka dot bow was not right for this wreath.
After a trip to Michaels, I made a new bow using lace trimmed burlap ribbon and liked the new look much better.
Enjoying the Picture Frame Wreath
I visited my mom last week so that she could help me pick out furniture for our lake house basement.
I knew that Mama's front door was painted black and suspected that this wreath would look great hanging on it.
I was correct, we both loved how this wreath looked on her door.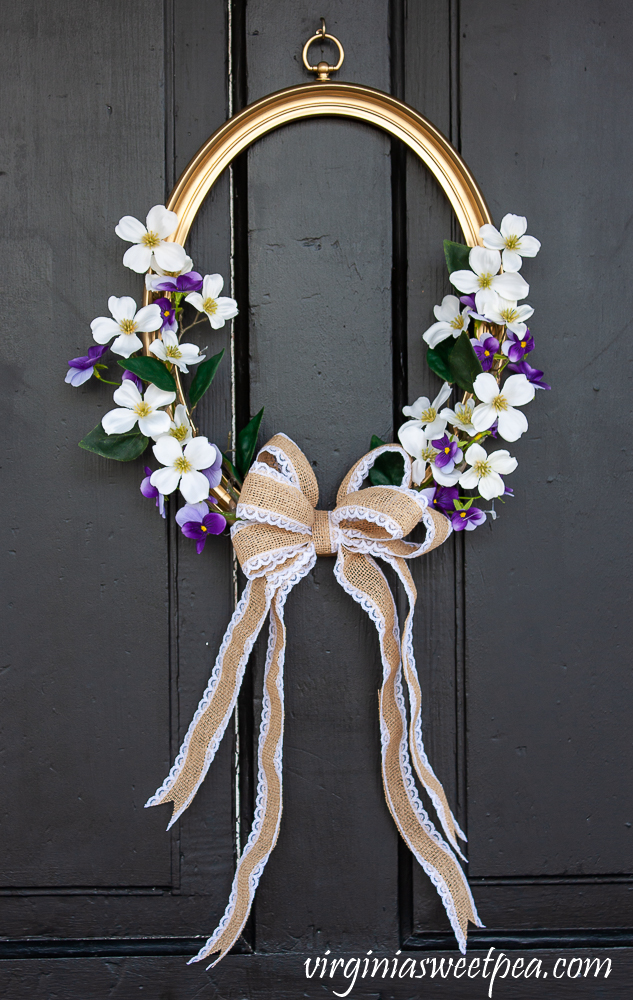 At my house, I had this wreath hanging on a brick wall on our porch. It definitely looks better on Mama's door, so I talked her into keeping it.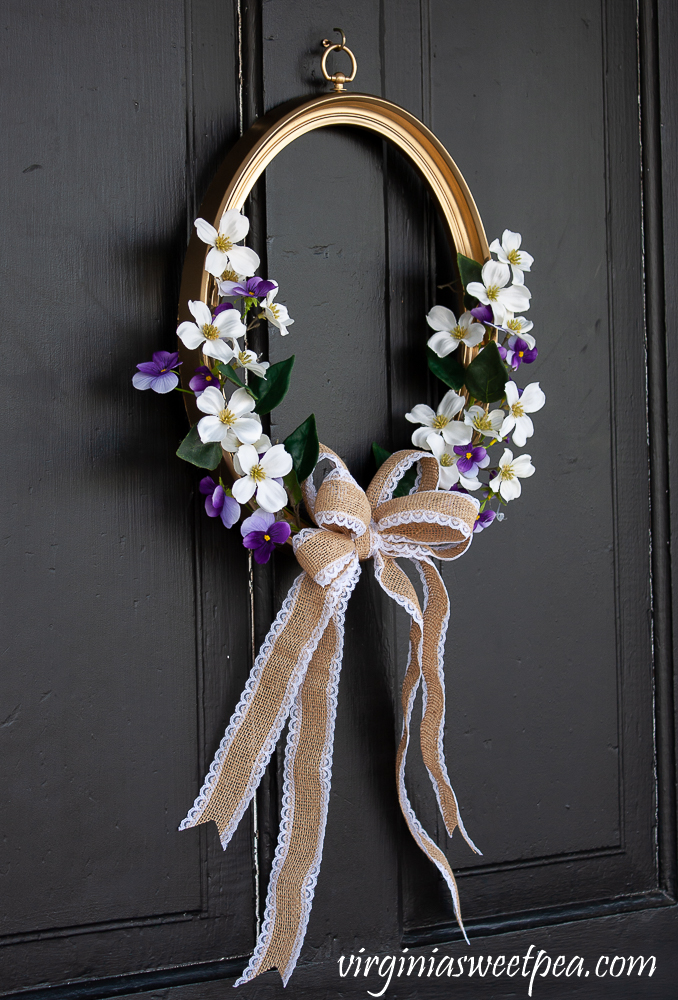 Dogwood is Virginia's state flower, so it is appropriate to have a wreath with Dogwood on it for spring decor in Virginia.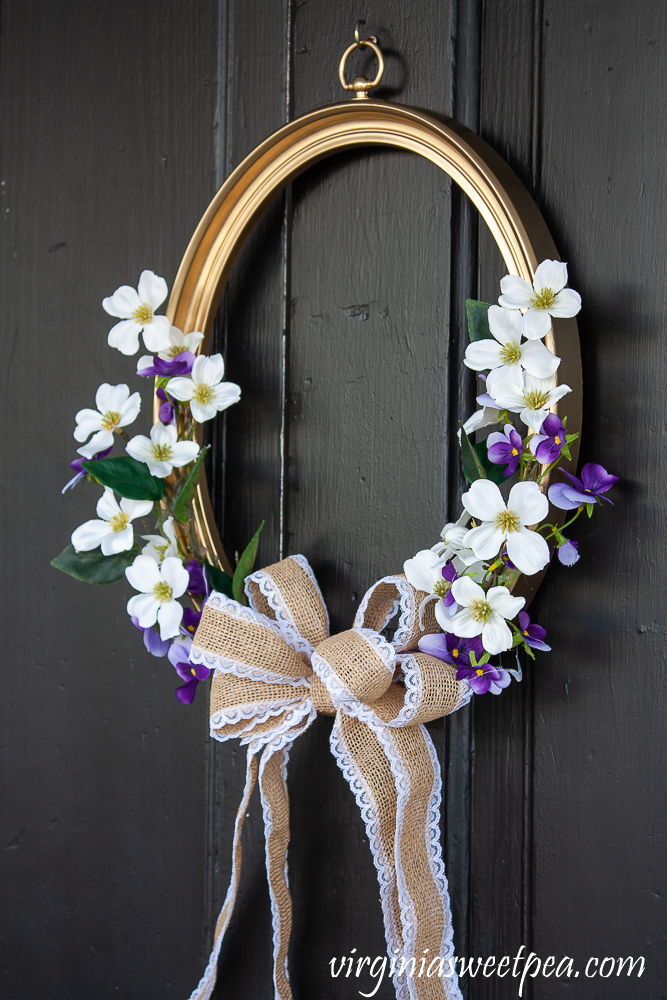 Mama's 1912 House
My mother completely restored her 1912 home. This home was built by my grandmother's uncle and has been in the family since it was built. It was rented for many years and that resulted in some damage to it. My grandmother inherited the home in the 1970s and her sister lived there until she was in her 90s. Mama acquired it and started restoring it in 2009. When I say Mama restored it, I mean she did the work.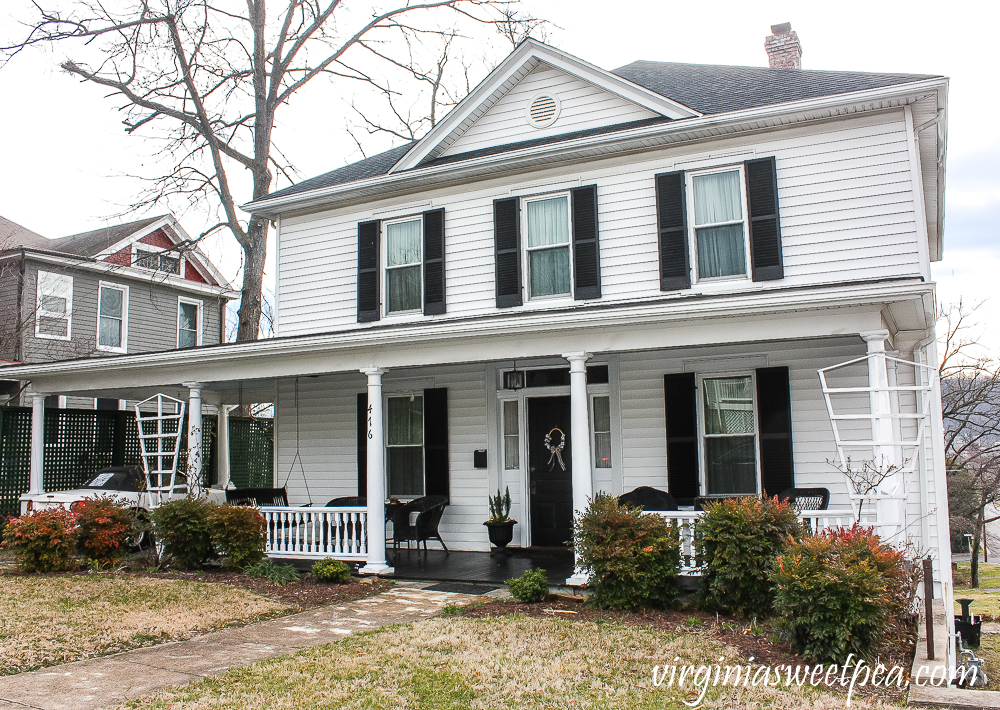 The original Model T Ford concrete tracks are still in her driveway.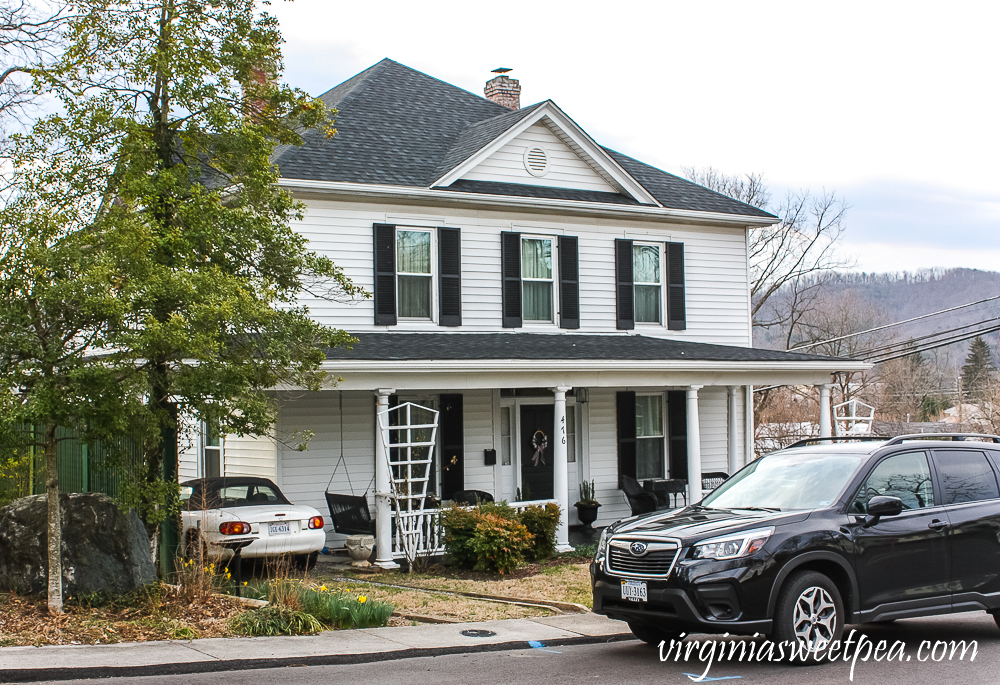 I went down a rabbit hole looking for posts that I wrote about my mom's house as she restored it. If you like old house restoration, you may be interested in these posts.
After spending a few hours finding all of these old posts to share, I realize that it is time to do an update on my mom's home. She is constantly working on this house and she has restored it beautifully.
Back to the wreath! Here it is on Mama's front door. If you are wondering why she has so many rocks in her planters, its because she has a terrible squirrel problem.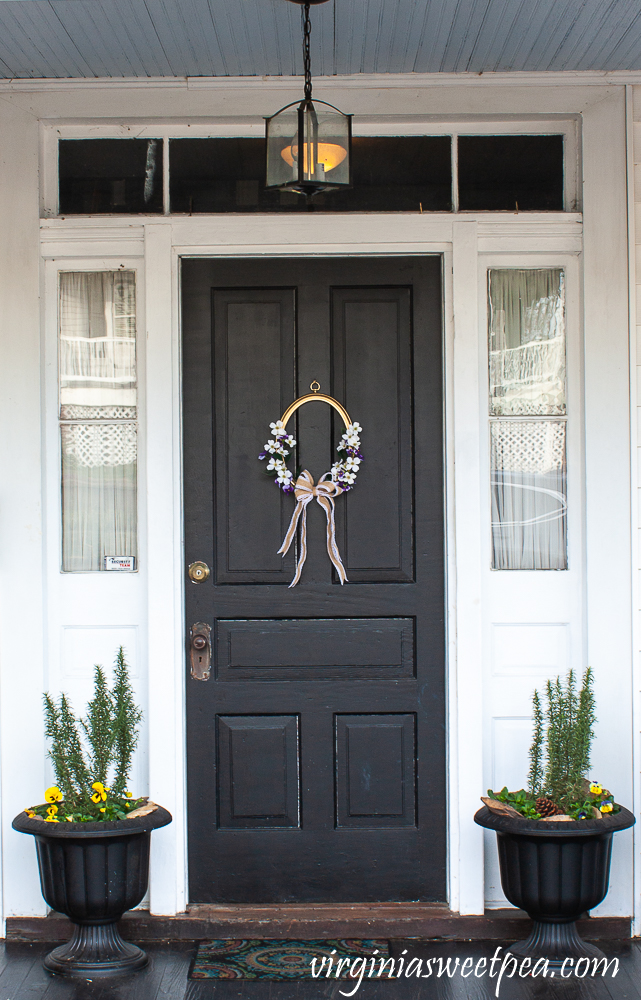 If you have a picture frame that you are no longer using, consider upcycling it into a wreath.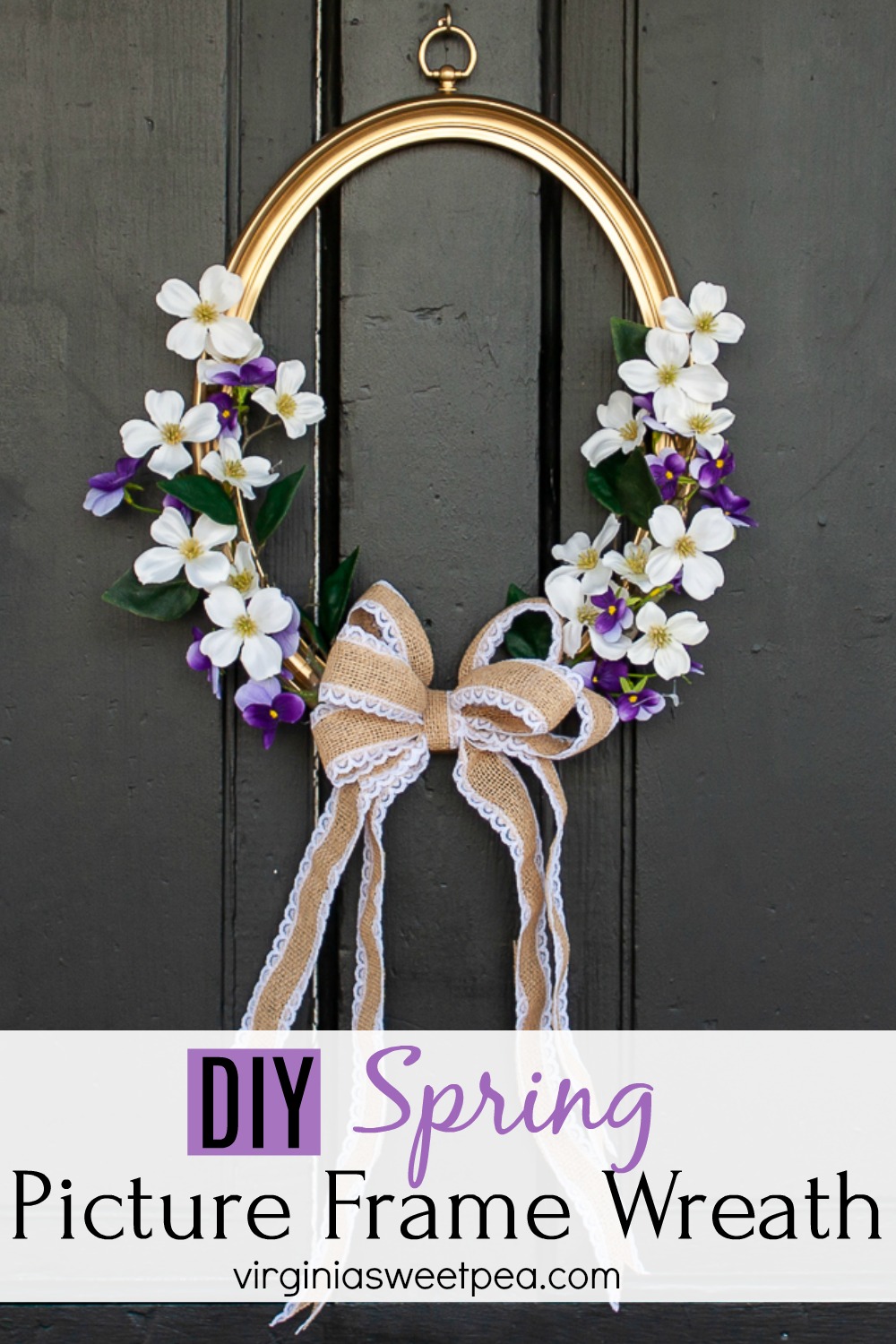 More Thrifty Projects to Enjoy
Now it's time to enjoy the projects that the rest of the Thrifty Style Team is sharing today. Click on the links below to see each thrifty project.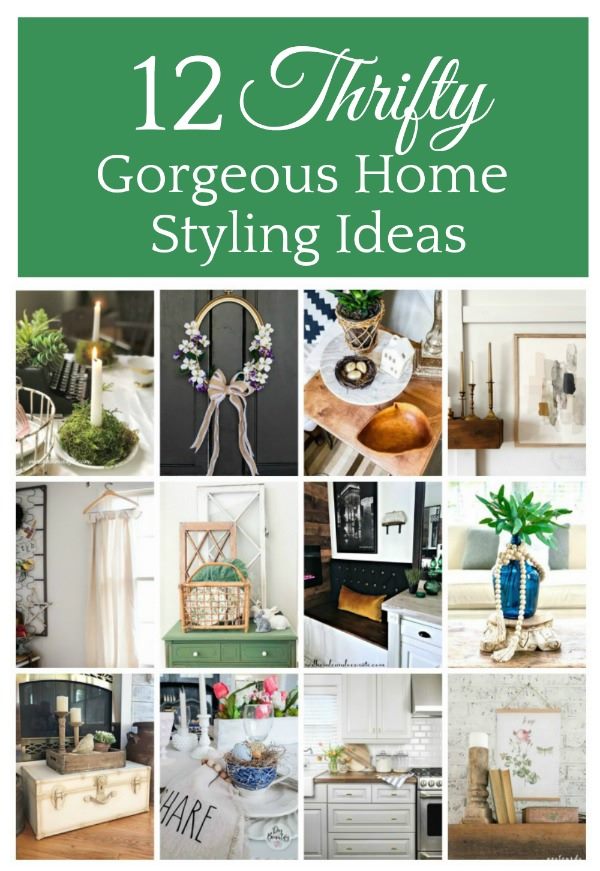 Yield: One Wreath
DIY Picture Frame Spring Wreath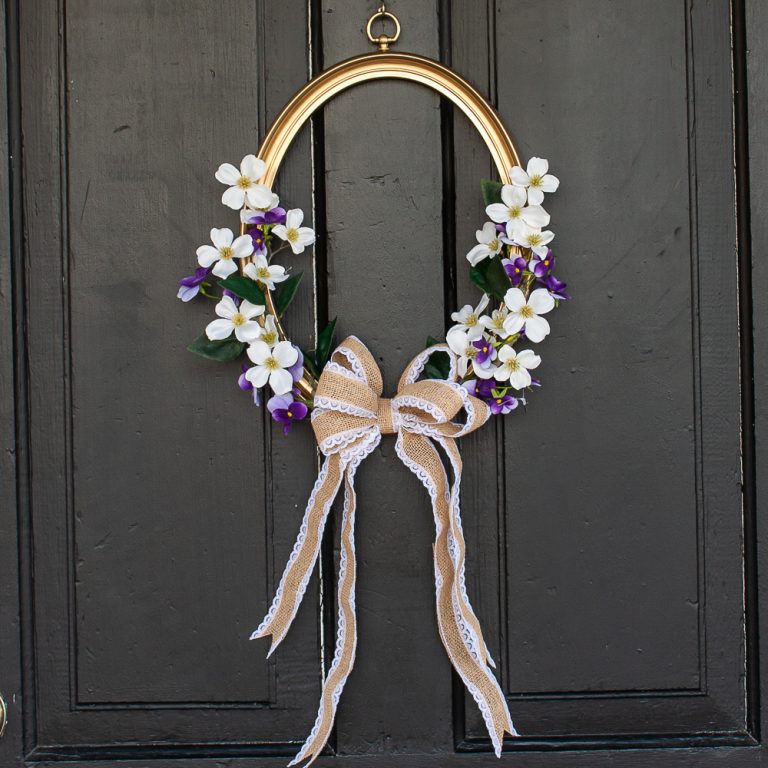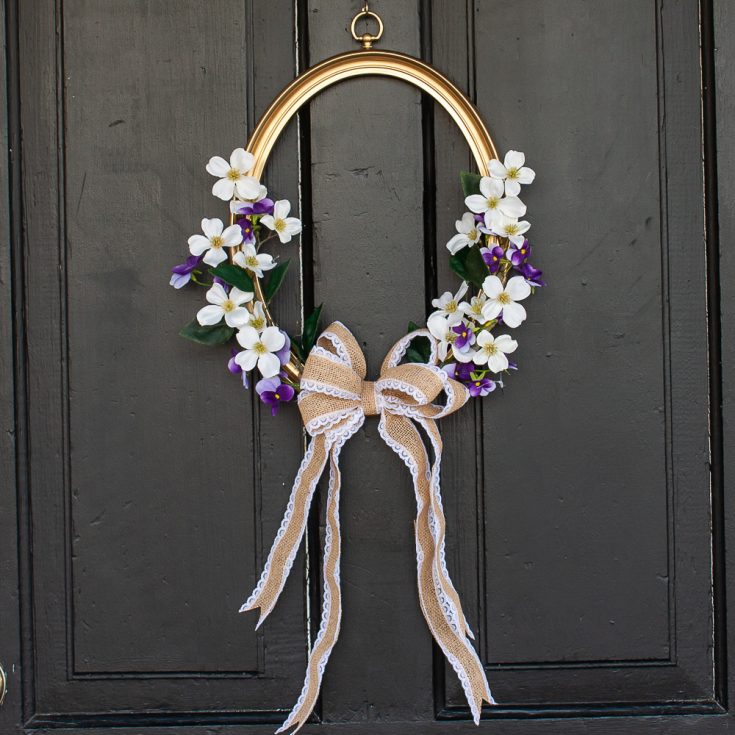 Use a picture frame to create a wreath for your home.
Materials
Picture Frame
Spray Paint
Faux Florals
Ribbon
Floral Wire
Instructions
Clean the frame if necessary and spray paint the desired color.
Clip flowers with short stems and plan where they are to be glued.
Use a glue gun to glue flowers and stems to the frame.
Make a bow using ribbon and floral wire. Glue to the frame. (I originally used a green bow and then changed my mind and switched it to a lace-trimmed burlap one.
Hang and enjoy! If your picture frame has a sawtooth hanger, make a hanger with floral wire and attach it to the sawtooth hanger.
Recommended Products
As an Amazon Associate and member of other affiliate programs, I earn from qualifying purchases.