Magazine Inspired Fall Pillows
My mom gets Women's Day magazine and kindly passes it along to me to enjoy. When I saw these pillows, I knew that I wanted to make a version for my screened porch.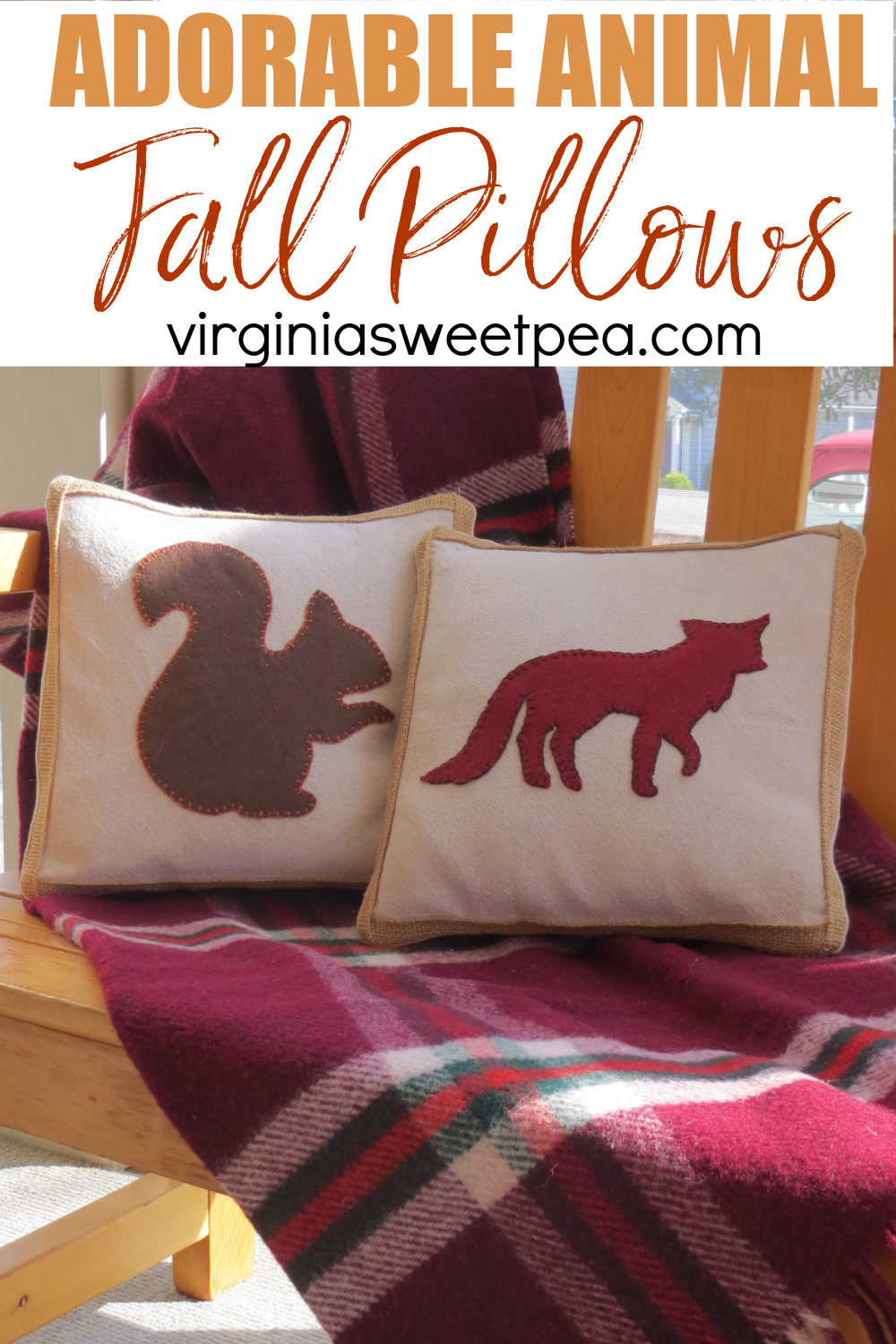 How To:
Print the squirrel template from the Women's Day website (see link above) and cut it out of brown felt.

I wanted another animal and decided on a fox. A quick Google search resulted in an image that I liked. It was enlarged it to a size that fit well on my pillow and cut out of burgundy felt.

For a full tutorial on how to make an envelope style pillow, click here. I made my pillows covers to fit two pillows that I had on-hand. It's less expensive to make covers to fit pillows I have rather than buying a new form for each pillow. This also helps with seasonal storage.
I made my pillow covers from a drop cloth and added a burlap band for a bit of interest. My original intent was to make a burlap ruffle, but I changed my mind when I realized how messy it would be to make a ruffle. The burlap is 3" wide and folded in half. It is pinned so that the burlap edges overhang. Burlap unravels very easily, so I left extra on the edges to make sure that it didn't all ravel away while I embroidered the squirrel and fox to the pillow front.

Here you can see that the burlap is two layers. I did this so that the drop cloth would not show through.

Here you can better see that the burlap overhangs the edges by 1/2".

After the burlap was sewn to the edges of the pillow fronts, I used embroidery thread and a blanket stitch to attach the squirrel and fox to each pillow front.

I like the contrast of the rust and brown.

After the squirrel and fox were attached, the excess burlap was trimmed away.

The pillow pieces were pinned, right sides together, and then sewn using a 1/2" seam allowance.

The corners were clipped and the edges trimmed. This picture shows the difference in trimmed and untrimmed.

After turning and pressing, the pillows are ready to be enjoyed.
I'm not sure which design I like better!

A vintage wool blanket that was my grandfather's adds color and contrast against the bench. Plus, if I'm on the porch on a cold night, I can wrap up in the blanket.

It's always fun to be inspired by a magazine and to add your own touches to the project. I'm 100% pleased with this one!